This Speaks For Itself
Here is a series of photos I have received from the Jewish Peoples' Liberation Organization about very disturbing Jewish settler graffiti in Hebron targeting Palestinians and those who support them. Most disturbing. If these statements were targeting Jews there would be headlines. But since these are done by Jews targeting Palestinians silence. The pictures have originally come from the Christian Peacemaker Team in Hebron.

Be reminded this is graffiti which Israel does not remove.

---
Description: On the side of Abraham's well graffiti has been sprayed calling for the same attack on Arabs that the Jews faced in Nazi Germany during the 1930's and 1940's.
Location: Hebron, West Bank, Palestine
Date: July 7, 2003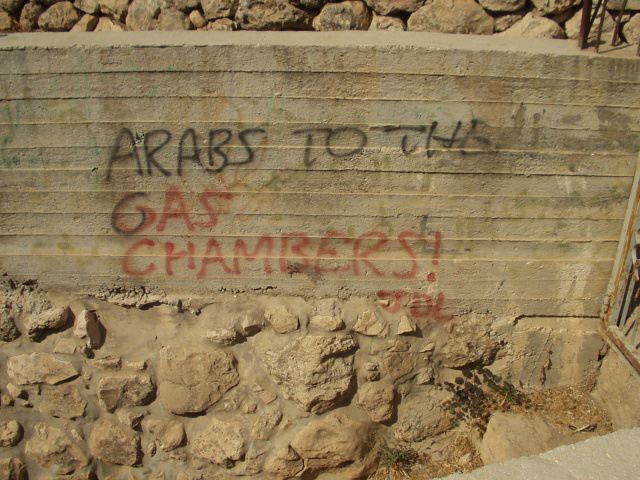 Description: Graffiti such as "Die Arab Sand-Niggers!" is often sprayed on Palestinian houses by Israeli settlers.
Location: Hebron, West Bank, Palestine
Date: May 3, 2002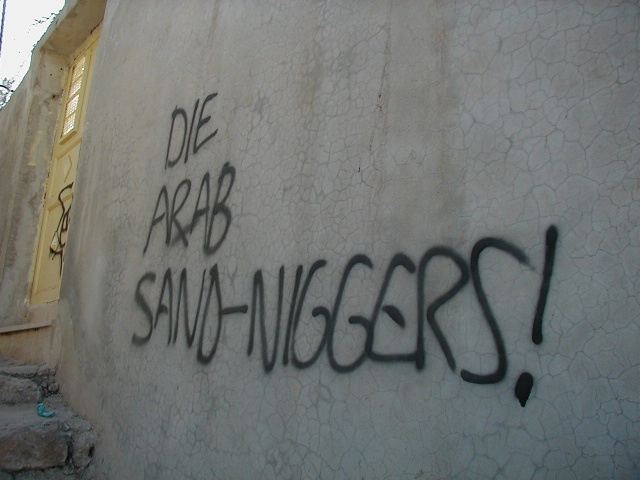 Description: Settlers covered a Palestinian house with racist graffiti of all kinds.
Location: Hebron, West Bank, Palestine
Date: May 3, 2002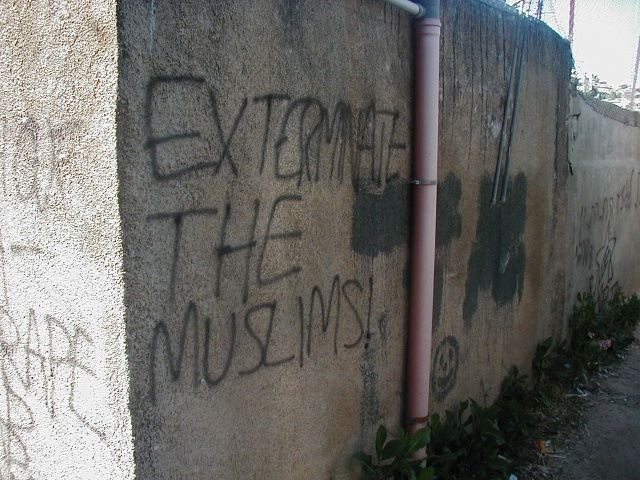 Description: "Gas the Arabs" was sprayed on Abraham's Well, a well considered holy by Jews and Muslims alike.
Location: Hebron, West Bank, Palestine
Date: July 7, 2003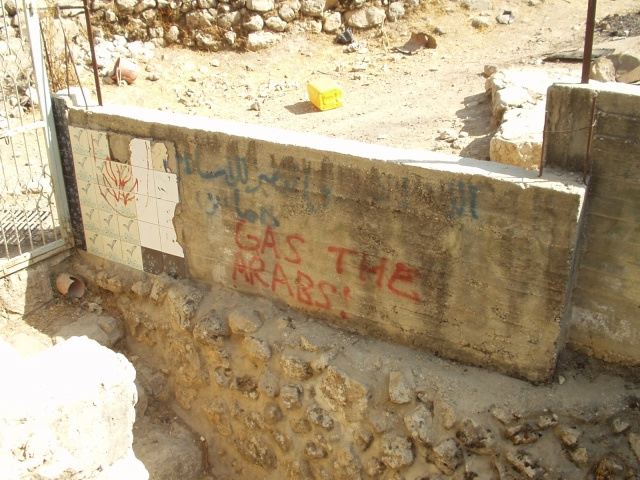 Description: Threats of rape spray painted on the wall of a Palestinian home.
Location: Hebron, West Bank, Palestine
Date: May 3, 2002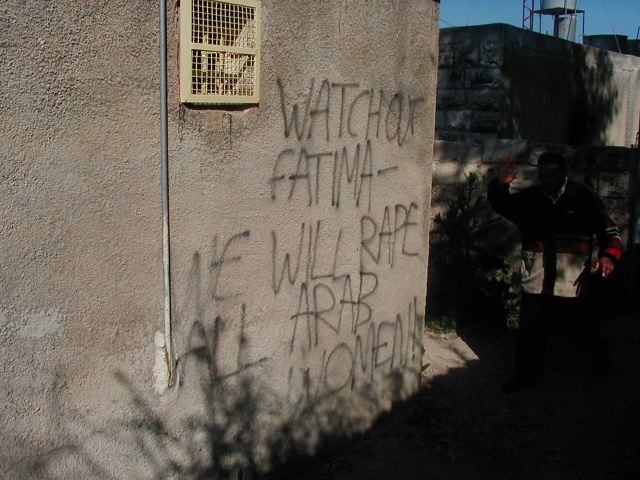 Description: Graffiti like this is often found on Palestinian houses near the Israeli settlements in Hebron.
Location: Hebron, West Bank, Palestine
Date: December 28, 2002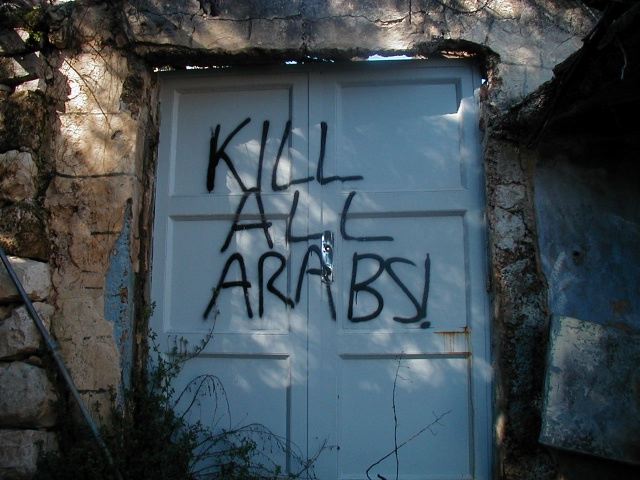 Description: The Kach party is an outlawed Jewish terrorist group that has been know to opperate in the Hebron area. The letters "JDL" in the corner stand for the Jewisah Defense League.
Location: Hebron, West Bank, Palestine
Date: May 3, 2002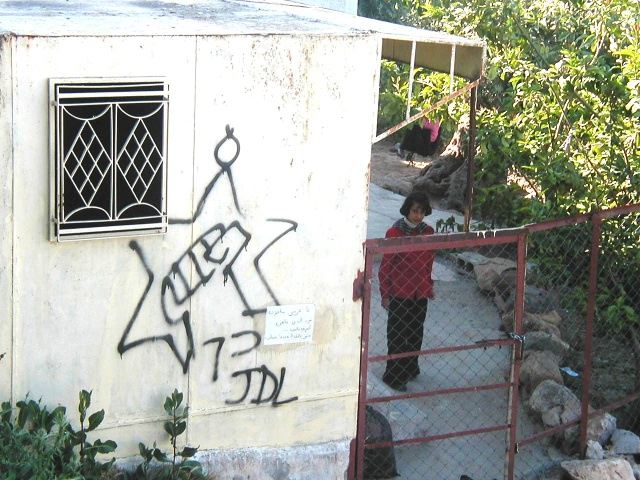 Description: Spray painted on a shop door across the street from the CPT apartment, the graffiti was an attack against CPTer Chris Brown, an African American CPTer.
Location: Hebron, West Bank, Palestine
Date: June 2, 2003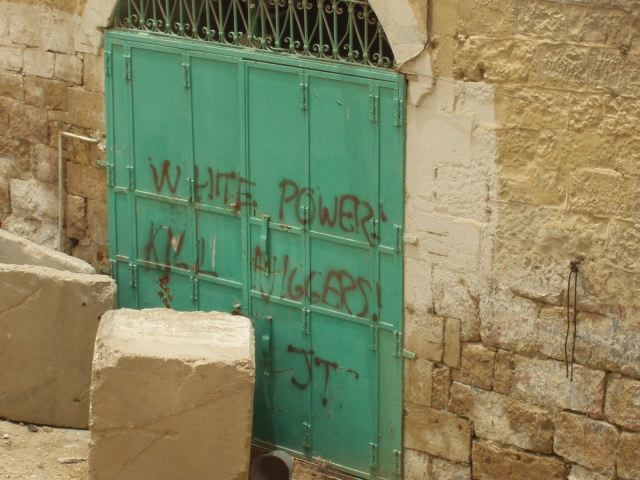 Description: Tel Rumeida is a hill that over looks the old city of Hebron. Settlers have been building a new structure there for the last four years. Often the settlers throw rocks at Palestinian houses and break all the windows. They also attack Palestinians on the street and steal olives from local Palestinian olive trees.
Location: Tel Rumeida, Hebron, Palestine
Date: November 11, 2003