NewTrendMag.org News # 1846
[ Click on NEWS for back issues ][ OUR BOOKS ][ Contact ][ Previous Issue ]

20 Jamada al-Awwal 1441 A.H. - January 19 2020 Issue # 3, Newsletter #1846

---


Hadith of the Week

Narrated by 'Abdullah bin 'Amr, r.a.:

The Prophet said, "Whoever has the following four (characteristics) will be a pure hypocrite and whoever has one of the following four characteristics will have one characteristic of hypocrisy unless and until he gives it up.

Whenever he is entrusted, he betrays.

Whenever he speaks, he tells a lie.

Whenever he makes a covenant, he proves treacherous.

Whenever he quarrels, he behaves in a very imprudent, evil and insulting manner."


Bukhari Volume 1, Book 2, Number 33



[With thanks to Sis. Kristi]



---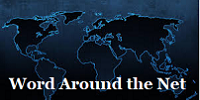 by Br. Nazeer, Texas

Israeli Soldiers Raid School, Terrorize Students near Ramallah
PalestineChronicle.com/israeli-soldiers-raid-school-terrorize-students-near-ramallah-video

US blocks deal, Pakistan extends deadline for delivery of Turkey military helicopters
MiddleEastMonitor.com/20200115-as-us-blocks-deal-pakistan-extends-deadline-for-delivery-of-turkey-military-helicopters

One missile targeted the mosque': Scores of Yemeni soldiers killed in attack on camp
MiddleEastEye.net/news/missile-and-drone-attacks-kill-scores-yemeni-soldiers

Libya's war: Who is supporting whom
alJazeera.com/news/2020/01/libya-war-supporting-200104110325735.html

Battle over impeachment witnesses escalates
Politico.com/news/2020/01/19/battle-impeachment-witnesses-sunday-shows-101008

Christian Delegation Call for Application of International Law in Holy Land
PalestineChronicle.com/christian-delegation-call-for-application-of-international-law-in-holy-land

Yemen: Dengue epidemic kills scores of vulnerable children
VaticanNews.va/en/world/news/2020-01/yemen-dengue-children-conflict.html

Iran to examine downed plane's black boxes
Reuters.com/article/us-iran-crash/iran-aims-to-examine-downed-planes-black-boxes-no-plan-yet-to-send-them-abroad-idUSKBN1ZI0C3

Lebanon: More than 300 people wounded in Beirut clashes
MiddleEastMonitor.com/20200119-lebanon-more-than-300-people-wounded-in-beirut-clashes

Political Prisoners :

AhmedAbdelSattar.org

FreeZiyadYaghi.info

FreeMasoudKhan.net

Civil Discord Show



---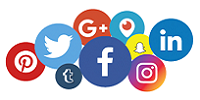 119,584
people reached with January 12 issue of
New Trend.
About 40,000 reached Pakistan and 20,000 in Bangladesh.


---


Pakistan

Jamaate Islami needs Info on Syria.

Terrible Ignorance.

Jamaate Islami is showing terrible ignorance about the crimes of General Qassim Sulaimanie against the Muslims of Syria and Iraq.

Collusion with Shias is basically coming from Liaqat Baluch and he might be misleading the entire Jamaat.

Liaqat Baluch's trip to Iran and Shia rally in Islamabad indicate a level of ignorance which can hurt the credibility of JI with the people of Pakistan.

New Trend has contacted the leadership of JI about this concern, but received no response.

Liaqat Baluch should be corrected before he creates more blunders.

May Allah guide us all down the right path.



---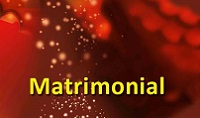 Female, Age: 34 yrs (born in Pakistan)
Currently residing in the UK (London) with her brother and his family.
She is a British Citizen.
Marital status: Divorced (marriage lasted only a couple of months)
Qualification: Masters in Mass Communication from the University of Punjab Lahore, Pakistan.
Masters in E.L.T (English Language Teaching).Finished both her degrees with distinction.
Just completed M.A in Creative and Collaborative Enterprise from UCL (University College London).
Parents live in Lahore Pakistan.
Father's Profession: He is an Advocate.
Mother: House Wife.
Siblings: 2 brothers, 2 sisters
All married Alhamdulillah
Brother: Lives in VIRGINIA USA. He is Lead VOIP Engineer working in T-Systems North America
Brother:Lives in LONDON U.K.
Sister: Lives in Ottawa Canada
Sister: Lives in Saudi Arabia.
Sunni, Ethnic Background:
Punjabi, Pathan



---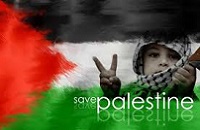 Jewish Settlers Attack Palestinian Homes in Hebron.

Jewish settlers carried out overnight attacks on Palestinian homes in the occupied city of Hebron (Al-Khalil), local media reported.

Dozens of settlers from the illegal Jewish settlement of Kiryat Arba threw rocks and glass bottles at Palestinian homes in the Hebron neighborhood of Jaber, according to Palestinian Authority's official news agency WAFA.

The settlers were protected by a military escort as they chanted profanities and racist slogans against local Palestinian residents.

Settler violence against Palestinians and their property is routine in the West Bank and is rarely prosecuted by Israeli authorities.

As journalist and author Ramzy Baroud commented:

"Jewish settler violence should not be analyzed separately from the violence meted out by the Israeli army, but seen within the larger context of the violent Zionist ideology that governs Israeli society entirely."

"Settler violence has long since become part of Palestinians' daily life under occupation," according to the Human Rights Group B'tselem. "Israeli security forces enable these actions, which result in Palestinians casualties - injuries and fatalities - as well as damage to land and property. In some cases, they even serve as an armed escort, or even join in the attacks".

Between 500,000 and 600,000 Israelis live in Jewish-only settlements across occupied East Jerusalem and the West Bank in violation of international law.



---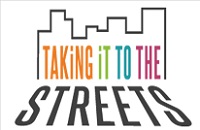 Local outreach
6-Pager to 76 Muslims after Juma'

On January 17, a Jamaat Muslimeen document of 6 pages was given to 76 Muslims mostly Pakistanis and Bangladeshis.

This was after juma at Masjid Fatima in Catonsville, west of Baltimore.

The khateeb spoke very well about freedom of expression in Islam, as exemplified by Hind, wife of Abu Sufian, r.a. objecting to the Prophet, pbuh.

The six pages given out were as follows:

US air raid which killed Afghan children.

Al-Shabab raid on US base in Kenya.

The crimes of Qassim Sulamanie against Muslims and why he thought he would not be hit.

Muslim political prisoner Samuel Baptiste.

China Desecrating Muslim graveyards

Syria and Gaza (oppressed by Assad and Israel).
---


SOUTH- WESTERN NIGERIA, A NEO CHRISTIANIZED EXTRACTION.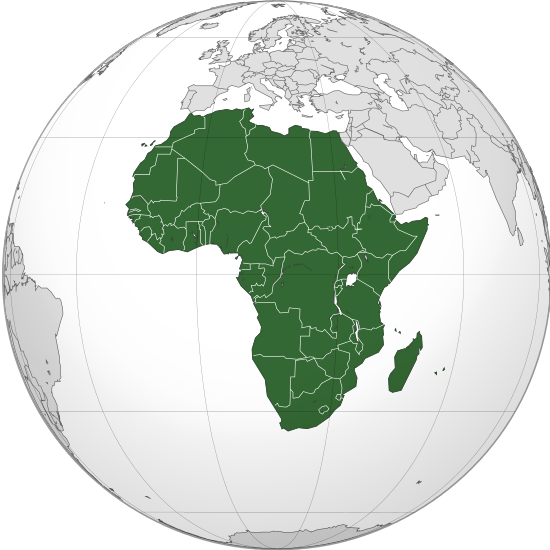 By Abdulkabir Oyemomi

Yoruba Muslims of Western Nigeria have been responsible for why it's difficult for Islam to hold sway in many issues bothering on religious dichotomy because the tribal bond top the list of their priorities.

For Yoruba Muslims, many things are excusable even at the expense of their Islam, or better majority of them do not place the deserved premium for the tenets of Islam when considering their non Muslim kinsmen, most especially the Christians: it only Yoruba Muslims that will rekindle all forms of idolatry practices upon attaining political authority. Yoruba Muslims sympathy for non Muslims is second to none!

The States of Western Nigeria comprising Yoruba are Oyo, Osun, Ogun, Lagos , Ondo and Ekiti States. Only Osun State has a Muslim governor even though Muslims are arguably in the majority.

A security outfit was created jointly by these states recently following the threat of insecurity in the region, while some people applaud the step, the Federal Government of Nigeria outlawed it because of plans of carrying arms . Our concern actually is the of mode of registration for the enrollment to become a member. You have to go through church!

It is certain that there are serious attempts at silencing the voice of Muslim in the West of Nigeria: Hijab on our daughters and mothers, Christians kick. Up till this moment, there several cases of hijab pending in our courts which could even have a Muslim as the presiding judge.

The writer appeals to the leadership of Muslims community in the world to kindly support the course of Islam here, especially our Muslim schools to enable sound minds inherit the good cause of Islam in this part of the world.



---


FATWA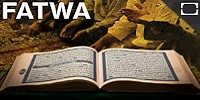 The Pen or the Sword?
Fatwa
Asalamu Alaikum
An Imam stated that Prophet Muhammad (pbuh) said: "The Pen of the Scholar is Mightier than the Sword of the Martyr." I have heard non-believers say, "the pen is mightier than the sword." I thought this came from the Ahmadiyyah sect.

Is that a weak hadith or one that is used out of context?

Response from Kaukab Siddique, PhD

asalamu alakum
Everything taught in the Qur'an and authentic Hadith is important, The question arises, which is more important?

A belief which is so important that every Muslim has to accept it, has to be in The Qur'an. This statement that the Pen is mightier than the sword, is not in the Qur'an.

Hence it cannot be considered a central lslamic belief.

Is it a hadith? No! It is not found in a book of authentic hadith such as the collections of Bukhari and Muslim.

The Qur'an was not revealed in written form. It was inspired into the soul and mind of the Prophet Muhammad, pbuh, and he memorized it and recited it with the help of the Angel.

He then recited it to his Companions, r.a., who also memorized it and at a ;later stage, wrote it down.

The hadith too were the words and deeds and preferences of the Prophet, pbuh, which were memorized by his Companions, r.a., and at a later stage written down.

The Prophet, pbuh, did not write, though the greatest wisdom has come to us from him, pbuh.

Thus the Qur'an and the authentic hadith are our original sources. Tafseer and Tarikh and opinions of scholars are secondary sources. They must not replace he Qur'an and authentic hadith. Modern research recognizes the difference between primary and secondary sources.

So, why is this narrative about the superiority of the Pen popular nowadays?

Muslims have come out of a colonial era during which they were so impressed by the western powers that they wanted to be like them. Among those who admired the British as the best people were the "ahmediyya" [qadianis]. A resurgent Pakistan declared them non-Muslims.

The British gave us the occupation of Kashmr by India and the occupation of Palestine by the Zionists,

The greatest wish of the Prophet, pbuh, was to be Shaheed, and again Shaheed and again Shaheed. There is nothing comparable to that hadith about his wish for shahadat.

Even in peace time, Muslims are required to struggle against the oppressors. Commanding the good and rejecting wrong are duties of everty Muslim. The Prophet, pbuh, went ALONE to the ka'aba to denounce the entire belief system of the oppressors. He was physically attacked but did not compromise. Sumayya, r.a., was Shaheed, Bilal, r.a., was tortured. Ruqayya, r.a., and Usman, r.a., did the first hijra in Islam, to Africa.

There was no question of sitting down to write scholarly treatises. An ordinary Muslim who stands against the oppressors is destined for al-Jannah. The biggest researcher and scholar who goes to al-Azhar [or Harvard] but does not stand against the oppressors is destined for jahannum. The slightest cooperation with oppressors is forbidden:

"And incline not to those who are oppressors, or the Fire will seize you; and ye have no protectors other than Allah, nor shall ye be helped." [11:113]

When the Muslim ummah is under attack, Muslims, ALL Muslims, are obliged to resist: Throughout the Qur'an Muslims are told to resist the military oppressors with the "sword."

"There has already been for you a Sign in the two armies that met (in combat): One was fighting in the cause of Allah, the other resisting Allah; these saw with their own eyes Twice their number. But Allah doth support with His aid whom He pleases. In this is a warning for such as have eyes to see." [The Qur'an 3:13.]

"Fight them, and Allah will punish them by your hands, cover them with shame, help you (to victory) over them, heal the breasts of Believers." [9:13]

Even when the situation seems hopeless and Muslims are surrounded and outnumbered, they must fight back with all facilities and stratagems available to them, as happened at the war with al-Ahzab.

'Say: "Running away will not profit you if ye are running away from death or slaughter; and even if (ye do escape), no more than a brief (respite) will ye be allowed to enjoy!" ' [33:16]

Scholarship, research, communication are very important in Islam. Knowledge is a requirement. We must constantly seek knowledge. Use the Pen but it is secondary to faith and sacrifice.

Today, some Muslims are fighting back in Syria and Iraq and Kashmir and Somalia.. Others are running away to Europe and even to dictatorial regimes. We can see right away who are the ones following Qur'an and authentic hadith. Both have families and worldly needs.


---


War News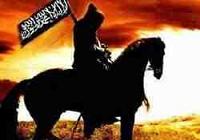 Russian Bombing resumes. Bitter fight on Irbid border. Serious IS ambush in Deir ez zor. Also Deraa in uprising.

January 19. Russian bombing of Irbid province has resumed with civilian casualties including children.

Face to face clashes with regime troops took place jan.17 to 19on the Ma'arat un Nu'man front when the shia forces tried to advance but were beaten back. One village changed hands repeatedly. Scores of dead on both sides.

In the Mayadein desert, IS forces ambushed Iranian military columns leading to heavy Iranian losses. The Iranian militias fled.

In Deraa province two regime intelligence officers have been killed, leading to arrests and torture of civilians by the regime.

Turkey is sending Syrian volunteers to help the Tripoli government in Libya.


---


Iraq
Protests against the Baghdad regime have resumed.
Islamic State raids in the north have resumed.
The joint Baghdad and US air strikes against IS have resumed.


---


LIBYA
General Hafter's forces are unable to resume advance on Tripoli.
However now Jordan, UAE and Saudi Arabia have joined Hafter along with mercenaries from Chad and Sudan In response Turkey is sending volunteers from Syria.
Turkey has expressed alarm on IS gaining ground owing to fighting between Tripoli and Benghazi.


---


News Within the U.S.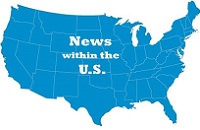 By Nadrat Siddique,
Washington, DC
January 18, 2020:

"My first Women's March. I went there hoping to bring to light the unjust imprisonment of Muslim women political prisoners like Aafia Siddiqui by the United States government. If you care about women, you must care about the innocent Muslimahs illegally detained by this country."

#WomensMarch2020 #WomenRising #FreeAafia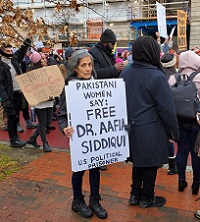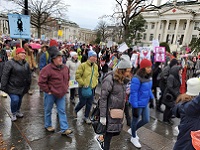 ---


Photos from the powerful protests in D.C. this past weekend, calling for a closure of the U.S. torture center at Guantanamo. Major kudos to the principled brothers and sisters involved! (Alas I was working and could not participate.. May Allah forgive me.) NONE OF US ARE FREE, TILL ALL OF US ARE FREE!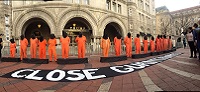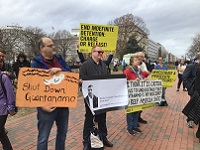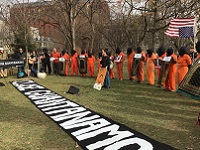 Photos courtesy of Mahmooha Hilal


---


CHINA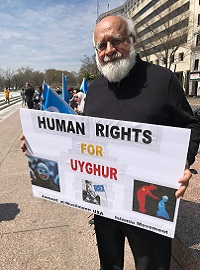 China's government poses a 'global threat to human rights,' report finds

The Chinese government increasingly poses a "global threat to human rights," according to NGO Human Rights Watch.

In its annual report reviewing human rights standards in nearly 100 countries, the NGO warned that the Chinese government is carrying out an intensive attack on the global system for enforcing human rights.

The report's release comes after HRW executive director Kenneth Roth said he was denied entry to Hong Kong -- with no reason given by immigration authorities. Roth had planned to launch the report in the city, which has been rocked by anti-government protests for over seven months.

HRW echoed longstanding concerns about China's use of an "Orwellian high-tech surveillance state" and sophisticated internet censorship system to catch and stamp out public criticism. The report also pointed to the detainment and intense surveillance of hundreds of thousands of Uyghur Muslims in the far western province of Xinjiang.

Beijing has faced increasing international pressure over its tactics in Xinjiang, with multiple, unprecedented leaks shining a light on a massive network of reeducation camps targeting Muslims. Former detainees have also spoken out, with a former teacher in the camps telling CNN they witnessed abuse and attempts at brainwashing of detainees.

Beijing has previously denied accusations of ethnic or religious discrimination in Xinjiang, which is home to 10 million Muslims.

It insists that its vast camps in the province are centers for "vocational training," and "de-radicalization," where people learn job skills and are then free to leave.

"Certain media are trying to smear China's counter-terrorism and de-radicalization efforts in Xinjiang by despicably hyping up Xinjiang-related issues, but their attempts will not succeed," Chinese Foreign Ministry spokesman Geng Shuang said last year. "Stability, ethnic solidarity and harmony in Xinjiang is the best response to such disinformation."

Beyond Xinjiang, HRW warned of "mass intrusions" on personal privacy including the forced collection of DNA and use of artificial intelligence and big data analysis "to refine its means of control."

High-tech surveillance and censorship tactics pioneered in Xinjiang have previously been rolled out to other parts of the country, and there have been concerns that other religious minorities -- including Hui Muslims and Tibetan Buddhists -- are facing similar restrictions to those placed on Islam in Xinjiang.

"Beijing has long suppressed domestic critics," Roth said in a news release after he was prevented from entering Hong Kong. "Now the Chinese government is trying to extend that censorship to the rest of the world. To protect everyone's future, governments need to act together to resist Beijing's assault on the international human rights system."
During a presentation of the report at the United Nations on Tuesday, Chinese diplomat Xing Jisheng denied the allegations contained in it and accused HRW of fabrication.

"The report is full of prejudices and fabrications and ignores the factual information provided by my government. We totally reject the content of this report," Xing said. "We have been making every effort to advance human rights in China."

'Lukewarm and selective support'

As well as criticizing China for undermining international human rights protections, HRW also took aim at democratic governments and world leaders for their "lukewarm and selective support" for existing standards.

The organization criticized US President Donald Trump, who was deemed to be "more interested in embracing friendly autocrats than defending the human rights standards that they flout."

It also singled out the European Union for a failure to adopt a "strong common voice" on human rights, both in China and around the world, and noted that it was instead distracted by Brexit, nationalism and migration.

In the report, the NGO calls for governments and financial institutions to offer alternatives to Chinese loans and development aid, and for universities and companies to promote codes and common standards for dealing with China. Beijing has emerged as the primary donor for much of the developing world, as well as extending major trade and infrastructure investment through President Xi Jinping's signature Belt and Road project.

The report also urges leaders to force a discussion about Xinjiang -- where detention centers are located -- at the UN Security Council.

Such international condemnation has been hard to come by, however, particularly among Muslim countries, which might be expected to speak out against China's hardline tactics.

At the UN General Assembly in late October, 23 mostly Western countries came forward to make a strong, official statement criticizing Beijing's Xinjiang detention centers. In response, Belarus issued a statement claiming 54 countries were in support of the Xinjiang system. Not all signatories were revealed, but a similar statement in July included several Muslim countries, such as Saudi Arabia, Pakistan and Iran.

"An inhospitable terrain for human rights is aiding the Chinese government's attack," the organization said in a statement. "A growing number of governments that previously could be relied on at least some of the time to promote human rights in their foreign policy now have leaders, such as United States President Donald Trump, who are unwilling to do so."

Source: CNN


---


India

A coalition of diaspora organizations and American civil rights groups to call on the US State Department to censure India for its attacks on human rights and religious freedom

FOR IMMEDIATE RELEASE: January 18, 2020

Thousands of Indian Americans along with American civil rights activists will mark January 26, India's Republic Day as a "Day of Action" with protests in 30 cities across the US. The protests, organized under the banner "Coalition to Stop Genocide," come in the wake of the Indian government's relentless undermining of India's pluralist and secular Constitution. The protests are intended to call on Congress as well as the Trump administration to censure India for passing the discriminatory "Citizenship Amendment Act (CAA)," and its continuing attacks on religious minorities and the caste oppressed. The human rights crisis in India has reached a boiling point with Genocide Watch issuing a formal genocide alert for India on January 7, 2020, in the wake of the passage of the CAA.

The CAA applies a religion based criteria to grant citizenship to immigrants. In combination with the National Register of Citizens (NRC) and the National Population Register (NPR) the CAA lays the legal foundation to potentially denaturalize millions of people who have been Indians for generations. Detention centers being built across India are explicit proof of the government's intent, given its ideology of Hindu nationalism and its abysmal track record on human rights and religious freedom.

The participating organizations and individuals in this international campaign seek to urge the US State Department to heed the recommendation of the US Commission for International Religious Freedom and impose sanctions on India's Home Minister Amit Shah. The rallies are intended to also urge the Secretary of State Mike Pompeo to include India in the list of 10 countries guilty of severe religious freedom violations.

WHAT - Rally to call for US censure of India for its attacks on religious minorities
WHEN - Sunday, January 26, 2020 11:00 AM Pacific Time
WHERE - Indian Missions in the US: New York, Washington DC, Houston, Atlanta, Chicago, San Francisco | Other Cities : Seattle, Austin, Detroit, Wisconsin, Cincinnati, Denver, Minneapolis, Los Angeles
WHY- To protest and condemn the rising fascism and police brutality in India. To petition and demand the repeal of the Citizenship Amendment Act (CAA) in India. To demand a withdrawal of the National Registry of Citizenship (NRC) and the National Population Register (NPR) in India.

To safeguard India's Constitution and civil liberties.

"The Hindutva brigade that is currently ruling India has grossly underestimated the resolve of millions of Indians to safeguard their country from hate and bigotry," said Thenmozhi Soundararajan, a Coalition member from Equality Labs. "The time to stop a genocide is before it starts," she added.

"We will commemorate January 26 as a day of resolve and action to demonstrate solidarity with the anti-CAA movement in India," said Dr. Shaik Ubaid, a coalition member. "The threat of ethnic cleansing of millions of Indian Muslims needs to be recognized by the international community as one of the top human rights issues in the world," added Dr. Ubaid.

"A global resistance is rising to hold the Modi administration accountable for its gross violations of human rights and religious freedom, and for leading India down the path of fascism," said Mr. Syed Ali a Coalition member from the Indian American Muslim Council (IAMC).

Contact: Coalition to Stop Genocide
Website: https://stopgenocideinindia.com
Email: media@stopgenocideinindia.com


---


Guidance by Sis. Yasmin.



'Bismillah Walhamdulillah Was Salaatu Was
Salaam 'ala Rasulillah'.


---


'As-Salaam Alaikum Wa-Rahmatullahi Wa-Barakatuhu'
Narrated Mu'adh ibn Jabal: (Allah be pleased withn him) ...
' I said to Allah's Messenger [Peace be upon him]...
"Inform me about an act which would entitle me to get into Paradise, and remove me away from Hell-Fire".
The Prophet [peace be upon him] said...
'You have asked me about a matter which ostensibly appears to be difficult but it is easy to those for whom ALLAH [the Exalted] has made it easy' , ' Worship Allah and do not associate anything with him, establish Prayer, pay the Zakat, observe the fast of 'Ramadan'. and ...perform 'Hajj' to the sacred House '.(Ka'bah).
The Prophet [peace be upon him] said...
'Should I not direct you to the gateways of good' ?
Listen to me... The Fasting is a shield against evil...
Charity extinguishes the fire of sin .. just as water extinguishes fire the Prayer of a person during the middle of the night... he then recited ..
'Who Forsake their Beds'... then he continued..Should I not direct you to the highest level of this matter... {?} to the pillar on which it rests and its top~ {?} I said...'Yes do tell me'... Prophet [peace be upon him] answered
The uppermost level of the matter is...Islam... its pillar is the Prayer and its top is 'Jihad' ' Should I not inform you of the sheet anchor of all his' ? I said... 'Yes Allah's Apostle of course do it' he [peace be upon him] took hold of his Tongue and said..
'EXERCISE RESTRAINT ON IT'.
I said... 'Prophet of Allah, would we be held responsible for what we say with it' ? Thereupon Prophet [Peace be upon him]-said...
'Mu'adh, may your mother be bereaved will anything else besides irresponsible talk cause the people to be thrown into the Hell-Fire upon their faces or on their nostrils' !
{Source: Hadith # 2 Tirmidhi Transmitted by Ahmad, Tirmidhi, Ibn Majah}

My 'Salaams' to All.
Sis. Yasmin


2020-01-20 Mon 15:10:59 ct

NewTrendMag.org