NewTrendMag.org News # 1648
[ Click on NEWS for back issues ][ OUR BOOKS ][ Contact ][ Previous Issue ]

25 JumaadaTHaany 1437 A.H.- April 3, 2016 Issue # 14, Newsletter #1648

---


Hadith of the Week

Scholars are needed to interpret what is Doubtful.

On the authority of an-Nu'man ibn Basheer (ra), who said:
I heard the Messenger of Allah (ﷺ) say,

"That which is lawful is clear and that which is unlawful is clear, and between the two of them are doubtful matters about which many people do not know. Thus he who avoids doubtful matters clears himself in regard to his religion and his honor, but he who falls into doubtful matters [eventually] falls into that which is unlawful, like the shepherd who pastures around a sanctuary, all but grazing therein. Truly every ruler has a sanctuary, and truly Allah's sanctuary is His prohibitions. Truly in the body there is a morsel of flesh, which, if it be whole, all the body is whole, and which, if it is diseased, all of [the body] is diseased. Truly, it is the heart." [Bukhari & Muslim]

عَنْ أَبِي عَبْدِ اللَّهِ النُّعْم¤انِ بْنِ بَشِيرٍ رَضِيَ اللَّهُ عَنْهُمَ›، قَالَ: سَمِعْت رَسُولَ اللَّهِ صلى الله عليه و سلم يَقُولُ: "إنَّ الْحَلَا¤َ بَيِّنٌ، وَإِنَّ الْحَرَا¥َ بَيِّنٌ، وَبَيْنَ§ُمَا أُمُورٌ مُشْتَبِ§َاتٌ لَا يَعْلَمُ§ُنَّ كَثِيرٌ مِنْ النَّاسِž فَمَنْ اتَّقَى الشُّبُه¤اتِ فَقْد اسْتَبْر¤أَ لِدِينِه¦ وَعِرْضِ§ِ، وَمَنْ وَقَعَ فِي الشُّبُه¤اتِ وَقَعَ فِي الْحَرَا¥ِ، كَالرَّا™ِي يَرْعَى حَوْلَ الْحِمَى يُوشِكُ أَنْ يَرْتَعَ فِيهِ، أَلَا وَإِنَّ لِكُلِّ مَلِكٍ حِمًى، أَلَا وَإِنَّ حِمَى اللَّهِ مَحَارِم¥هُ، أَلَا وَإِنَّ فِي الْجَسَد¦ مُضْغَةً إذَا صَلَحَتْ صَلَحَ الْجَسَد¥ كُلُّهُ، وَإذَا فَسَدَتْ فَسَدَ الْجَسَد¥ كُلُّهُ، أَلَا وَهِيَ الْقَلْب¥".
[رَوَاهُ الْبُخَا›ِيُّ]

Comment by Kaukab Siddique:

Muslims are surrounded by doubtful activities and things because of the power of kufr, nifaq and tughyan [Disbelief, hypocrisy and tyranny.] Hence we need scholars who can understand the world we live in and who can point out the doubtful. Many Muslims are talking interfaith to Jews who support Israel directly or indirectly. They argue that talking is not forbidden. There are women who wear the hijab but go to the White House. They say, our heart is good. Hence great scholars [fuqaha] are needed. Uncompromising leaders like Maulana Maudoodi, Syed Qutb and Shaykh Usama are essential because interpretation is important in many matters. .
At the personal level, we should purify our hearts through constant tazkiyya [self purification] so that we may know Islam without going to a scholar.
Dear Muslims, stop nibbling at doubtful things. Stop making excuses!


---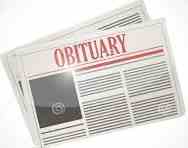 Dr. Mumtaz Ahmed Passed Away. Scholar, Professor, Researcher. Complex Personality.
by Kaukab Siddique

On March 30, the entire spectrum of Jamaate Islami old timers and other Islamically interested people received a message from Ariful Haque Arif who knew Dr. Mumtaz from early in his life. He was writing from California where he works for the daily JUNG newspaper of Pakistan. Arif's message was in Urdu and was full of genuine anguish and sorrow for his dear departed friend.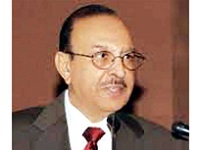 The passing of Dr. Mumtaz was so sudden that I was shocked. I completely forgot my differences with him and was lost in memories of the past from the days of the Islamic Research Academy in Karachi from which we both served the cause of Islam. As a result of my introspection, the first four responses to Arif's message were from me and not from many others who admire Dr. Mumtaz.

As the years passed since I met Dr. Mumtaz, I turned against ICNA and other Muslim American groups which work in support of the US government . Mumtaz remained loyal to these groups and got the support of IIIT, an abhorrent group which has a track record of support for the US government's infiltration of US Muslims.

He was a professor of political science at Hampton University, a historically Black college which I admire. Later he was appointed to head the Iqbal Institute at the International Islamic University in Islamabad. He was 76 when he died. Funeral prayers were held at his native village in Gujar Khan and in absentia at Faisal Masjid in Islamabad.

As I do not hold personal grudges, I always tried to urge Mumtaz to hold to his original ideals within the ambit of Jamaate Islami. My advice did not work. I pray that Allah will reward him for all the good he did in his early years and forgive what he did in his later years. I have been told by. Br. [Maulana] Humayun that he was on dialysis and that led to his passing away. May Allah have mercy on all of us.

I have received a number of messages on his sudden demise from his admirers like Salim Khalid, [Pakistan], supporters like Zubair Siddiqui [Chicago] and critics like Muneer Khalili [Dubai]. All who knew him respected him.

We come from Allah and unto Him we return.


---


10th Anniversary of Grave Injustice against Shifa Sadequee and Haris Ahmed

Atlanta

Real Talk about the "War on Terror": Islamophobia, Preemptive Prosecution, and the Attack on Dissent.
FaceBook.com/events/1683434525252951

Thursday, April 7, 6 - 8 PM, Masjid Al-Mu'minun, Atlanta, 1127 Hank Aaron Dr SW, Atlanta, Georgia 30315.

On the 10th anniversary of the unjust targeting of two Atlanta Muslim youth, Shifa Sadequee and Haris Ahmed, this event will shine light on post-9/11 human rights abuses affecting Muslims, Black communities, and immigrant communities of color from the perspective of family members, community leaders, and advocates.

[From NCPCF, Washington, DC]


---



Jamaat al-Muslimeen Activity north east of Baltimore.

Masjid Nur Collapsed: Natural Disaster or Warning from Allah?
On April 1, a four page multi colored document was given to 74 Muslims at Masjid Nur in the White Marsh area of Maryland.

The 4 pages consisted of:

Nadrat Siddique's letter on Dr. Aafia to Dawn daily and the Pakistani people.


Hadith on not making religion a burden.


Nadrat Siddique's article on Masoud Khan [political prisoner] and the silence of mosques on political prisoners.


Kaukab Siddique's critique of Ahmed Rashid's propaganda in Pakistan against Taliban.


British & Jordanian intrusion into Libya.


The distribution of Jamaat literature came to a sudden halt when a Syrian Director of the mosque strode out and interfered with the Islamic activity. As only a few papers were left, the effort was made not to get into a fracas with the controller of the masjid.

The vast majority of Muslims who come to Masjid Nur happily receive New Trend . However the few Syrian elites who control Masjid Nur have a problem with it.

Is it that these elites are supporters of the Syrian tyrant Bashar Assad? For 5 years of the terrible Syrian conflict, these controllers of Masjid Nur have not spoken against Bashar Assad. Instead, their old imam used to speak against the mujahideen because he thought Assad would win. When he saw that more than half of Syria is now in mujahideen hands, he stopped his subtle campaign.

It is indeed a terrible sin to remain silent about the tremendous crimes against humanity being committed by the Bashar Assad regime.

In February a snow storm hit Masjid Nur. The mosque structure was damaged and prayers are being held in a barn behind the mosque which is difficult to heat.

Now it has been discovered that the interior of the mosque collapsed on to its electrical system. The whole structure is reportedly facing demolition.

These Syrian elites have been silent about Syria year after year though they claim to be religious men and no one is stopping them from speaking out.

They collect money all the time. Now they will have to keep collecting and much more than before.


---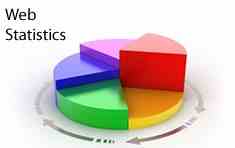 Our web site, NewTrendMag.org, continues to improve.

During March, New Trend's web site received 20047 visits, Alhamdulillah.
Thank you Br. Rich.

[Br. Rich also maintains web sites for innocent Muslim political prisoners like Masoud Khan, Ahmed Abdel Sattar and Ziyad Yaghi.

Political Prisoners :

AhmedAbdelSattar.org

FreeZiyadYaghi.info

FreeMasoudKhan.net


---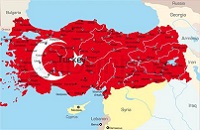 Erdogan Resents US Interference in Turkish Sovereignty
[Reuters] [April 3]

Turkish President Tayyip Erdogan accused U.S. counterpart Barack Obama of going behind his back for criticising Turkey's press freedom record and linked it to efforts to "divide" Turkey, media reports said on Sunday.

Obama said on Friday after meeting Erdogan on the sidelines of a nuclear summit in Washington that he was troubled by curbs on the press in Turkey and said he had urged Erdogan not to repress democratic debate in his country.

Turkey has drawn international condemnation for charging two journalists with treason for publishing footage that purportedly showed the intelligence agency shipping truckloads of weapons to opposition fighters in Syria in early 2014. Can Dundar and Erdem Gul of Cumhuriyet face life in prison.

"I was saddened to hear that statement made behind my back. During my talk with Obama, those issues did not come up," Erdogan told reporters, according to Hurriyet daily. He returned to Turkey after a five-day trip to Washington on Sunday.

"You cannot consider insults and threats press freedom or criticism," Erdogan said.


---


Erdogan Inaugurates Biggest Mosque Complex in America.
Turkey's President Erdogan says U.S. presidential candidates target Muslims [Reuters April 2] [Excerpted]
LANHAM, Maryland | By Tom Ramstack

Islamophobia is on the rise in the United States and U.S presidential candidates have targeted Muslims during the election campaign, Turkish President Tayyip Erdogan said on Saturday.

Erdogan, a pious man who has styled himself as a champion for Muslims in Turkey and beyond, spoke at the opening of a Turkish-sponsored mosque near Washington, reportedly the largest Muslim house of worship in the United States.
"There are still people walking around calling Muslims terrorists. I am watching with bewilderment and astonishment that some candidates still defend this position in the current presidential election in America," Erdogan said.

The Ottoman-style mosque where Erdogan spoke is part of a complex that Turkish media says is the largest campus of its kind, including a conference centre, library, lodgings and a Turkish bath.


---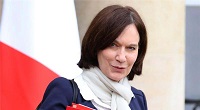 [10,000 Signatures against French Minister who compared Hijab to Slavery.]

French minister shocks with Muslim veil-slavery comment.

Outrage as women's rights minister says those wearing Muslim headdress are like "Negroes" who accepted slavery.

Rossignol told French media she thinks those who make Islamic clothing for women are 'irresponsible' [Reuters]

France's minister for women's rights has compared Muslim women who wear the veil to American "Negroes" who accepted slavery, in an interview with French media.

Laurence Rossignol made the comments to RMC radio and BFM TV, igniting accusations of racism on Wednesday across social media as a petition was launched calling on the minister to resign.

In just a few hours, the petition gathered more than 10,000 signatures.


---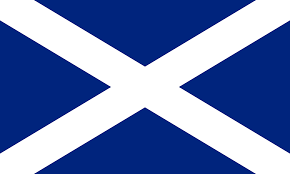 Scotland

Christianity's Debacle as Homosexuals/Lesbians Emerge as Leaders.

TheGuardian.com/politics/2016/apr/02/kezia-dugdale-relationship-with-a-woman-scottish-labour-referendum


---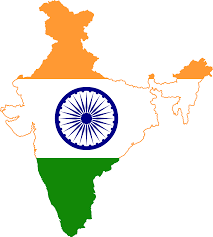 India:

Women Barred from Entry into Temple in Spite of Law.

alJazeera.com/news/2016/04/women-activists-blocked-entering-temple-india-160402143411284.html


---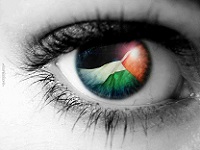 Palestine:

Hamas Holding Two Israeli soldiers Captive.

The armed wing of the Palestinian Islamist group Hamas showed photographs on Friday of four Israelis, two of whom it said were captives being held in Gaza. Two others were Israeli soldiers who were killed during the 2014 conflict in Gaza, Hadar Goldin and Oron Shaul.

The images of Mr. Goldin and Mr. Shaul were included in an announcement by the Qassam Brigades, Hamas' military wing, on Al Aqsa, a Hamas-run satellite channel. The identities of the other two people pictured were not immediately clear.

The announcement was the first time the group had released photographs of the people it said it had been holding captive. The spokesman for the Qassam Brigades, who goes by his nom de guerre, Abu Obeida, referred to all four of them as Israeli soldiers.


---


RESEARCH: ISLAM and WOMEN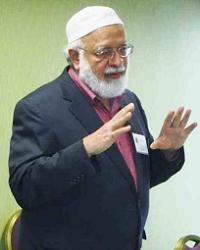 Perwezi sect's attack on Hadith: Attempt to Claim that Hadith permits Sex during Menstruation.
Libellous Attribution of Translation to Abdul Hameed Siddiqui
by Kaukab Siddique

A heretical Pakistani group called Tolu-e-Islam, organized by a Pakistani writer named Ghulam Ahmed Pervez, has been making frantic efforts to discredit Hadith. Known for its subservience to western ideas against Islam, Tolu-i-Islam claims that it is serving the true Islam by calling people to concentrate on the Qur'an "only."

One of the books this group published was titled MAQAME HADITH which can be called its magnum opus because it was published in four editions, 1953, 1965, 1975 and 1986 WITHOUT change.

MAQAME HADITH (written in the Urdu language) is packed with baseless attacks on Hadith, quoted out of context and twisted in a variety of ways.

In one of its most vicious attacks, MAQAME HADITH tries to give the impression that the Hadith teaches sexual intercourse during menstruation and thus violates the Qur'an. MAQAME HADITH achieves this "meaning" by translating a key word in the Hadith about menstruation as MUBASHIRAT which in Urdu means sexual intercourse. (See page 202 of MAQAME HADITH under the heading: halate haiz main mubashirat)

The Perwezi sect could not succeed in Pakistan owing to the Islamic resurgence led by Maulana Maudoodi and later by the Jihad movements. Perwezis in Pakistan are residual now and exist largely in minute sections of the westernized ruling class which can easily be led astray owing to their relative ignorance of both the Qur'an and the Hadith.

However, the Perwezis retreated to Canada and started spreading their heresies among Pakistani immigrants and sometimes even among recent converts to Islam.

Earlier on Pakistan Forum and more recently on Wide Minds (two Pakistani discussion groups), a number of Perwezis made the same claim as in MAQAME HADITH, that the Hadith violates the Qur'an by teaching sexual intercourse during menstruation. I pointed out to the readers of these groups that no scholar of HADITH had EVER taught that the Hadith permits sex during menses. As a result I was subjected to incessant abuse by a number of Perwezis on these lists. The attackers tried to make the claim that I was defending Hadith because I am a "Mullah."

However, after the Perwezis were put on the defensive, they came up with the claim that they had finally found a translation of SAHIH MUSLIM which has the Hadith about menstruation which clearly says that the Prophet (pbuh) [nauzoobillah min zalik] did intercourse with his wife during menstruation. They said the TRANSLATION WAS BY ABDUL HAMID SIDDIQUI and was published from India!

They have been transmitting ABDUL HAMID SIDDIQUI's "translation" far and wide and claiming victory against Hadith on that basis.

UNFORTUNATELY FOR THE PERWEZIS, the library of Masjid Jamaat al-Muslimeen has Abdul Hamid Siddiqui's translation of SAHIH MUSLIM. Here is the translation from page 173 of Volume 1:

"(577) 'Aisha (ra) reported: When anyone amongst us (amongst the wives of the Holy Prophet) menstruated, the Messenger of Allah (may peace be upon him) asked her to tie a waist-wrapper over her (body) and then embraced her."

Not only does Abdul Hamid Siddiqui's translation NOT say anything about doing sexual intercourse, the translator seems to be aware of the attack by the enemies of Islam on this Hadith and he writes this commentary on this hadith: (same page)

"499. This tradition has been the target of worst criticism by the hostile critics of the Hadith. They assert that it contravenes the teaching of the Qur'an (ii.222), in which it has been commanded to keep aloof from women during menstrual period. But these critics little realise that it is the sexual intercourse with the menstruating women which is prohibited. The hadith gives no indication that the Holy Prophet acted against this injunction of the Qur'an. The very wording that he ordered to tie a waist-wrapper on the lower part of her body gives a clear indication that the Holy Prophet did not have sexual intercourse with his wives during this period of menstrual discharge; he simply embraced them. The verb yubashira does not necessarily mean sexual intercourse. It denotes to have contact, to touch (Lane's Arabic-English Lexicon).

Notice also that ABDUL HAMEED SIDDIQUI produced his translation of SAHIH MUSLIM in Pakistan, not India as the Perwezis claim. He wrote it and published it in Pakistan.

The question arises, why did the Perwezis decide to libel Abdul Hameed Siddiqui? Allah knows what is in their minds but we do need to notice that Abdul Hameed Siddiqui's translation of Sahih Muslim into English was a unique event. There are not many (IF ANY) other translations into English.

The Perwezis might have chosen to smear Abdul Hameed Siddiqui because he was an associate of Maulana Maudoodi (ra). G.A. Perwez, the doyen of the Perwezi sect, wrote at length and very viciously and abusively against Maulana Maudoodi. Obviously the disciples of Perwez want to continue their leader's tradition of fabrication.


---


PAKISTAN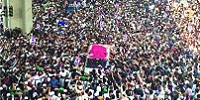 Photo shows a small section of the funeral mass with the beir piled with flowers in the middle.

The Voice of Pakistan: Islam and only Islam. The Response of the masses. Mumtaz Qadri gave his life for the Honor of the Prophet, pbuh. More than a million people came out to Honor Qadri Shaheed.
by New Trend's Media Monitor.

Pakistani Regime's Response to the Biggest Funeral in Pakistan's History.

Complete blackout ordered on the Country's ENTIRE media.

Instead Pakistan's TV stations focused on an Ismaili woman who had made a video of an atrocity against a woman and received an Oscar award for it.


---


Pakistani masses' Second Step.
On March 27, more than 50,000 people marched from Rawalpindi to Islamabad. They urged the regime to honor Qadri Shaheed. The government could not do it because Qadri had killed one of the top people in the regime, Salman Taseer, the governor of Punjab.

The protestors were met by a large police force and units of rangers who fired hundreds of tear gas shell and charged the surging crowds repeatedly with lathis [steel tipped staves]. Police arrested 700 people. That only angered the crowd as it surged into Islamabad, leaving government properties and transports in flames. They overwhelmed the forces who finally fled in panic.

More than 25,000 people started a sit in at the parliament. The military was called in. The protestors refused to disperse, stayed overnight, cursing and insulting the regime, calling the Prime Minister a dog of America.

On March 30, the government accepted some of the protesters demands and managed to get them to disperse. Thus a blood bath was avoided.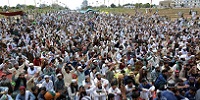 Photo shows a section of the unarmed crowd which occupied the Islamabad parliament area.

March 27-30.More than 25000 people occupied the key area of Islamabad and did a sit in for two days and nights.

The people could have overthrown the government but on March 27, when the crowds were out of control, there was a huge bomb explosion in a park in Lahore which led to the horrific death of 72 ciivilians and injuries to more than 300, including many women and children.

The timing of the bombing was a perfect diversion away from the takeover of Islamabad. The government claimed that a call had been received from a Taliban "faction" claiming the shameful killing.

It's very easy for the army to carry out such a bombing. The media which had totally blanked out the entry of the masses into Islamabad, just as it had done with the funeral rally, immediately switched to the bombing in Lahore.

Pakistanis lack the leadership to challenge the military. The masses are not armed and people do not realize that sooner or later they will have to fight the military.


---


Spotlights from Br. Badi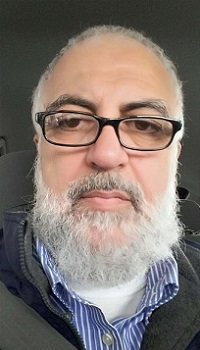 Technology and Employer-Employee Relations in Islam.
The relationship between the employee and the employer has to be similar to the way both parties treat the consumers. It is based on the importance and the value of the consumer.


It is important for the company to bring its' employees to love and value what they are doing, as well as to put each person in the best place where he/she can serve.


Free your work environment from whining and complaining, because if you don't, complaining is like a dangerous illness it will spread.


Nurture your dreams, because dreams will create jobs. But be careful - do not allow jobs to destroy dreams.


The relationship between the employee and the employer is complex. A touch of humanity is necessary for this relationship.


A good manager will recruit good employees.


Computer and digital technology dependence is the West's strength and weakness.


The nature of cyber security makes it hard for the West to secure itself.


America's leaders, military planners, and citizens are always acting on the assumption that in order for this country to be united and strong, they have to find an enemy, even if they don't have one.


Electronic and digital technologies are always good in theory, but have been a nightmare in reality.


- Imam Badi Ali leads a large Muslim Community in Greensboro, NC


---


War News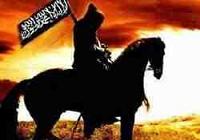 Syria
Hizbullah-Shia-militia-Alawites Beaten back from Aleppo by al-Nusra Mujahideen.

The al-Nusra offensive which began on Friday, April 1, resulted in the expulsion of Assad's forces from a strategic area south of Aleppo known as Talat al-Iss on April 3. At least 50 regime troops and 16 mujahideen were killed in the intense battle. As it was at close quarters, the Russian air force could not help the regime.

Most of those killed were Hizbullah from Lebanon, Shias from Iraq and Alawites from Damascus. [Source: Al-Jazeera.]


---


Islamic State
ISIS chief's ex-Wife says he is a Family Man, an Ideal Father.
I Could have lived with him as a Princess.
[April 2]

She left him, was Captured by the Lebanese, was released in Prisoner Swap by Nusra Front which Captured Lebanese Troops. Saja al-Dulaimi tells Sweden's Expressen TV that the last time she was in touch with Abu Bakr al-Baghdadi was 2009. She said she left him to end their marriage

She was married to the most wanted man in the world, the leader of ISIS.

In her first interview since her release from a Lebanese prison last year, Saja al-Dulaimi recalled to CNN Swedish affiliate Expressen TV what it was like to be Abu Bakr al-Baghdadi's wife and what she fears for the daughter she bore with him.

Expressen said it spoke to Dulaimi, 28, in a secret location near the border of Lebanon and Syria. CNN could not verify any of her claims, from those detailing her relationship with Baghdadi to her insistence she doesn't support terrorism in any way. (In fact, she was part of a prisoner swap with al Nusra Front, an al Qaeda affiliate, according to a Lebanese security official.)

Regardless, here is what Dulaimi herself had to say: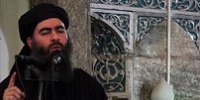 'He was a family man'

Born in Iraq to an upper-middle-class conservative family, Dulaimi was married off to Baghdadi in 2008. He was not a bloodthirsty terrorist back then, she claims. How al-Baghdadi rose to ISIS leadership

"I married a normal person, a university lecturer," she said. "He was a family man." "He went to work and came home to his family," Dulaimi said.

"He was great. He was the children's ideal father. The way he was with children ... he was a teacher -- you know how teachers are. He knew how to deal with children, better than how to deal with the mother."

But the two did not talk much like others couples do. The reason? He had a "mysterious personality," Dulaimi answered. 'I wasn't happy'

Dulaimi said she ran away from Baghdadi after she became pregnant. She wouldn't say exactly why, but explained, "I wasn't happy."

She told Expressen TV that she did not love him. "The fact that I got out is proof of that," she said.

He tried to get her back several times. "But I'd already made my mind up," she said. They last spoke in 2009, Dulaimi said, when Baghdadi again tried to get her back. She didn't tell him that she bore him a daughter. But he found out a while later, she said. "He said he'd take her when I remarry," Dulaimi said.

'The entire world's disaster on her shoulders'

Dulaimi is worried for her daughter's safety. "I'm scared of everyone; that's what's happened," she said.

She is very concerned for the girl, who reportedly wants to get an education abroad. "She's the one who now ... suffers," her mother said. "She has the entire world's disaster upon her shoulders."

Now the young mother dreams of a life with her daughter in Europe. She wants the girl to go to school. It will be a better and safer life, she believes.

"I want to live in a European country, not an Arab country," she said. "I want my children to live and get an education."

"Even if her mother was married to Abu Bakr al-Baghdadi, a terrorist ... what is the child guilty of there?" Bloom, the terrorism expert, said that Dulaimi has reason to worry about her children's safety -- both from Baghdadi's agents who might kidnap them or those who oppose ISIS who might take it out on his kin. "I think," Bloom said, "that these children are very much in danger."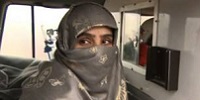 'I'm branded a terrorist, but I'm far from that'

Why Lebanon traded ex-wife of ISIS leader for soldiers Dulaimi was arrested in late 2014 in Lebanon after she'd crossed over from Syria in what a knowledgeable source called a "planned operation."

One year later, authorities released her and a group of Islamists in exchange for Lebanese troops captured by al Nusra Front, a Lebanese security official said on condition of anonymity.

Al Nusra -- which the Institute for the Study of War and American Enterprise Institute claimed earlier this year is "much more dangerous to the U.S. than" ISIS, its rival in Syria -- has several connections to Dulaimi. A brother is a senior al Nusra figure and her new husband is suspected of being involved in the group, a separate Lebanese security source told CNN.

Yet Dulaimi said she's sad to think she will always be thought of as Baghdadi's ex-wife, thus someone who supports terror. "I'm branded a terrorist, but I'm far from all that," she said.

Europeans should accept her, regardless of her past relationship with Baghdadi, she said. "No bearer of burdens shall bear another's burden.

"I mean, where is my guilt if I was married to him in 2008? We're divorced now. I was the one who left him, not the other way around."

"I'm a woman who's been through a lot and had to suffer in prison," said Dulaimi, who was arrested in Lebanon in December 2014 as she was trying to enter the country from Syria. "Now I want to settle down."

"If I'd wanted to live with him, I'd have lived like a princess," she said. "I could have moved in with them and had loads of money. But I don't want money." She wants something more. "I want to live in freedom, [to] live like everyone else."


---


Iraq #1
US & Western Air Strikes on Islamic State Occur Daily.

Exact Losses not Known but US estimates several Thousand Islamic Fighters & Supporters Killed in 6 months.

The air strike bulletins are issued every day. Here is sample from April 2.

U.S., allies conduct 26 strikes against Islamic State - U.S. military


---


Iraq #2
In Response to air strikes, Islamic State Attacks Baghdad Troops & Supporters and Kurdish Peshmarga along the entire Front North to South.

On April 2, Sky News reported figures for Baghdad & Kurdish Peshmarga forces and their civilian supporters for the month of March:

544 Baghdad troops and Peshmarga killed.


575 civilian supporters killed.


365 troops injured.


1196 civilians injured.


Sky News noted that Islamic State attacks are steadily increasing.


---


Our America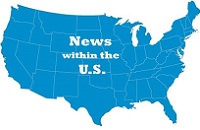 New York
The Oppressed and the Oppressors.
Brooklyn DA Kenneth Thompson Betrays Black Community, OF COURSE!
by Sis. Aisha [Jamaat al-Muslimeen]

On March 24th, Brooklyn District Attorney Kenneth Thompson recommended NO JAIL TIME for NYPD Officer Peter Liang in the shooting death of Akai Gurley. Officer Liang was convicted of manslaughter. Many in the Asian Community have been miffed over the fact that Officer Liang was even charged! He is recommending that Officer Liang serve 5 years probation with 6 months of home confinement and do 500 hours of community service for taking a life. The lone Black juror on the jury is not so critical of DA Thompson saying that he is just doing his job. This is what being a Black politician has come to mean in the Black community because we have been conditioned not to expect much from them. Other jurors are baffled with one stating that the pressure from the Asian community may have played a role in DA Thompson's about face.

Politicians in this oppressive system cannot be trusted to represent the interests of the oppressed. This system was meant to support Zionism, racism, and sexism. It is not designed for Marcus Garvey/Malcolm X types to run it. They would not even seek to become apart of such corruption. Strong-willed, self-empowered people seek to create their own path to success.

Of course, Police Commissioner Bill "The Brat" Bratton praised DA Thompson's recommendations. Many of these decisions are made pre-trial. We, the people, are left upset and feeling dejected, as if the fight for justice was real when all along it was fixed. I do not know what DA Thompson's political aspirations are. Staten Island DA Dan Donovan did his job in not allowing any indictment in the murder of Eric Garner by 7 to 8 cops and he was awarded a senatorial seat in a special election. DA Thompson should go far in this corrupt system. He already proved the type of DA he was going to be by allowing Manhattan DA Cyrus Vance to dishonor and further victimize his client, who had been allegedly raped by former IMF head Dominique Strauss Kahn. Officers Liang and Shaun Landau have both been fired. Officer Liang is a "free" man while appealing the manslaughter conviction.

Father Lucas of the Community Cop tv show has argued that Officer Liang should not have been charged with manslaughter but, murder. He has experience with the police department ad has always maintained that once you draw gun your intent is to use it. Officer Peter Liang and Officer Shaun Landau were both walking through a dark stairwell, a mission they were told to abort. Officer Liang used his gun so quickly because it was already drawn. However, there is the case of 19 year old Timothy Stansbury who took a shortcut using a housing project roof and was shot and killed by a trigger happy White cop, Officer Richard S. Neri, Jr., in 2004. No charges. His family was paid $2 million in 2007 for his wrongful death. Definite similarities and quite possibly similar outcomes, if Officer Liang serves no jail time.

(Source L.A. Times.com/NYDailyNews.com)


---


U.S. Elections
Black Women Voting Power - Pimped!
by Sis. Aisha [Jamaat al-Muslimeen]

Hillary Clinton has a strong following among Black women voters, who are democrat. It has been said that Blacks, and probably most of the country, started voting democrat because of the sweeping changes President Franklin Delano Roosevelt made to improve America to help it rebound from the 1929 Crash. Strange, since voting was very difficult for Blacks back then, and he avoided all efforts to create anti-lynching laws. But, everyone loved FDR.

Fast forward over 80 years later and the Democratic Party has "pimped" the Black vote to the hilt! Political observers have said that the Black vote alone is enough to help a democratic candidate win an election hands down. In the 2008, and 2012 Presidential elections President Obama received 68 to 70 percent of the Black female vote. Now that Obama will make his 2016 exit, Hillary Clinton is riding the coattails of Black women voters. People remark how relaxed and comfortable Clinton is in front of her Black crowds.

Hillary Clinton knows how to play the game, too, because she is a career politician. She has been marching with Black mothers of children killed by senseless gun violence, she has sat in the front pew in Black churches, and met with Black women business owners at their organization luncheons. She has done everything, except kiss a Black newborn!

There are three reasons why people would vote for Hillary Clinton in this Presidential election. They:

Want a woman President.


Are a democrat.


Believe in voting at all costs even if it means employing the "choose the lesser of two evils" philosophy.

Neither of these reasons are revolutionary forms of action but, it is what many are willing to settle for just to say they have done something. The Black Congressional Caucus has also thrown its support behind Hillary Clinton. The spell the Clintons have over Black voters is hypnotic. These types of voters are from the assimilative, corporate or professional sect or just easily misled by a sax playing hillbilly and his austere wife.

In spite of all of this, we still may have a woman President. Hillary Clinton has come so far from just being the wife of a sitting President. Politics has become a game. Let's have a Black president. Now, let's have a female president. But it will be the same old game: support for Israel, worldwide military enforcement of European imperialism in Black/Brown countries, racial oppression, economic oppression, etc......I say, let's stop playing the political game and start working on our own self improvement and empowerment. Stop depending on these politicians to do those things we can do for ourselves.

(Courtesy of Yahoo! News)

Islamic Philosopher: No One Who Wants to be Your Leader Will Hold that Position in a Just Manner"

Recently, District Attorney Kenneth Thompson betrayed the Black community by wasting time trying ex-cop Peter Liang, for killing Akai Gurley only, to request that Liang serve no jail time. D.A. Thompson had to give up a lot to get to where he is now as Brooklyn D.A., including his morals and ethics. According to Michael Greys, of The Community Cop Show, Kenneth Thompson has made backroom deals with the Democratic Party to help get to where he is, now. It was The Community Cop Show panel who revealed that Kenneth Thompson and Douglas Wigdor, acting attorneys for Dominique Strauss Kahn's rape victim, Nafissatou Diallo, failed to protect her interests. Manhattan D.A. Cyrus Vance released personal, unrelated information to discredit the Diallo and make her look untruthful but, neither attorney did anything to fight back and defend their client's honor.

An Islamic Philosopher once stated: "There is no one who wants to be your leader who will hold that position in a just manner." These "leaders" already have their own agenda. A woman called into to The Community Cop and said something similar in that you cannot trust Black men in these kinds of positions because they almost always have to stab a brother in the back to get that much higher on the devil's ladder.

Good attorneys are very difficult to come by, today. I do not know how it works: If these turncoat attorneys discuss things with their clients and try to get them to take a guilty plea or if these clients are broadsided. Many of these Black civil rights attorneys are showing they are tainted. They all travel in the same circle of distrustful people, which includes Rev. Al. Sharpton, Attorney Benjamin Crump, etc. Unfortunately, these shysters have mastered appearing when people are in despair.

Protecting yourself from these wolves in sheep's clothing entails researching these attorneys BEFORE you really need them.


---


Dallas, Texas
Sis. Krystal Muhammad and Armed Muslims Face Armed Supremacist Aggressors: Successfully Defending the Mosque
[With thanks to Br. Rich]

TheScoopBlog.DallasNews.com/2016/04/tense-anti-mosque-protest-draws-armed-demonstrators-in-south-dallas.html


---


Response & Rebuttal by distinguished Muslim Intellectual

An interesting exchange of letters with a gay sympathiser
Followed by Devastating Statistics on Homosexuality and Social Relations
by Dr. Javed Jamil [India]
[The British usage of "s" instead of 'z" has been maintained throughout. ... Editor NT]

Recently, Dr Zafar Islam Khan, Editor, Milli Gazzette, forwarded a letter to me, written by a gay sympathiser requesting him to forward the letter to myself. The gentleman is a renowned designer based in Pune. I had an interesting exchange of letters with him, which I am copying below. For the sake of propriety, I am not disclosing the name of the gentleman.

Dear Dr Khan,

Aadaab. Please have a look. Would you please forward this piece to Dr Javed Jamil? This is regarding his article on the movie Aligarh .

Regards,


---


I'm afraid, Dr Javed Jamil has got it all wrong in his article Aligarh (March 16-31). First of all, Hansal Mehta's Aligarh is not about eulogising homosexuality. It's about infringement upon an individual's privacy. His sexual preferences and orientation are secondary in the movie. AMU made a gross mistake that resulted in Dr Siras' suicide. You can't gloss it over. We all have a private space and three layers of personality-Public, private and secret. No person or organization, however big it may be, has the right to tinker with the second and third layers of a human being's personality. A strict disciplinarian and moralist like Dr Abul Kalam Azad was very well aware of Raghupati Sahay Firaq Gorakhpuri's avowed homosexuality, practised even on the campus of the famed Allahabad University (please refer to my M Phil dissertation in Urdu, 'Sukhan-e-Firaq mein humjinsi anasir'-Homosexual elements in Firaq's oeuvre, simultaneously received from Leeds and Islamabad varsities). Was the great Firaq ever questioned or sacked from his professorship? But here the professor in question (Dr Siras) was a poor HINDU Maharashtrian man who taught at a predominantly orthodox University, AMU, to be precise.

And as for homosexuality, it's existed in all societies, communities, races and religions since time immemorial. Homosexuality is engrained in human psyche. Muslims, like the followers of all other man-made faiths, have been equally fascinated and intrigued by homosexuality and wholeheartedly indulged in it. One can deny and defy but the fact remains that homosexuality is NOT alien to Muslims in their history of 1400 years. All Mughals were blatantly homosexuals. Babar wrote in his Turkish-Uzbeki autobiography (He knew no Persian)' Tuzuk-e-Babri ' (later translated into Persian as Babarnamaby Abdul Rahim Khankhana, one of the nine gems in Akbar's court) that, 'Farzeen infa'at ambeer/Faiqa'at infa'at suqeen' (Heterosexuality for procreation/Homosexuality for pleasure). Arab Sheikhs enjoy young boys as much as they relish girls. Years ago Egyptian Nobel laureate in literature Dr Naguib Moufiz enigmatically told me in a coffeehouse in Cairo that 'Arabs tilted and travelled both ways.' Being very young and not that good at subtle Arabic, I couldn't get what he meant at that time. But today I understand what he cryptically stated was right. The feudal Pathans of Pakistan's NWFP still keep catamites (passive partners in homosexual relations) for 'narrow-gauge humping' (Sir V S Naipaul's phrase for homosexual sex). Young boys, used for this purpose, are called 'umreez' (a local Pashto term for catamites). So drop this faux holier-than-thou attitude and accept what's universally widespread across all races and religions right from the beginning of human civilisation.


---


Mar 24 at 4:46 PM
Dear Mr.,

Thanks for your kind letter. I am pasting below excerpts from one of my books, which answers almost all the questions raised by you in your letter. Here I will like to make only a few comments:

I strongly believe in the human rights of homosexuals but not in homosexuality as a human right;


Any practice, which is extraordinarily dangerous for the life of man cannot be allowed in the name of personal right;


Bad tendencies are part and parcel of society. People tend to be violent to the point of murdering, cheating, stealing and raping. These cannot be allowed in the name of widespread tendencies and personal inclinations. To keep the effects of these tendencies, law and morality have to be applied.


Apart from the destructive effects of the homosexuality in real terms given in the below pasted excerpts, just imagine this: If the whole mankind becomes homosexual, there will be no human being left on the earth at the most in 80-90 years. There cannot be a bigger threat to human beings (to the persons involved and to the larger society) than homosexuality; and considering the medical fact that homosexuals on average have considerably less life expectancy, the real probability of the annihilation of human species is reduced to around 50 years;


Numbers or rates of incidences do not make anything good; goodness or badness has to be judged by their short and long term impact;


Even if all the religious scholars of Islam, Christianity, Hinduism and other religions declare it lawful; it would not in any way reduce the evilness of this act;


as said above, like murderers and rapists undergoing punishment, homosexuals also do have human rights. I am against their haunting by society. They need to be carefully tackled and weaned away. However those who institutionalise and commercialise homosexuality or the individuals who refuse to give up their habits, punishments have to be give.


No evil can ever be totally annihilated from the world but effective campaigns, legal measures and love of God tend to drastically reduce their incidences, and therefore, their impact;


A crime becomes a crime in real life only when it is caught by the Law. But its sinfulness remains even if it is committed under one thousand layers of secrecy.

Best Regards
Dr. Javed Jamil

· Note: article Homosexuality: the Harbinger of Death and Destruction given at the end of the post:

Thanks, Dr Jamil. I'm thankful to Dr Khan for forwarding my piece to you. Well, being brutally candid, let me say that somewhere your religious (read, Islamic) upbringing and Muslim background may be interfering with your medical profession which doesn't frown upon homosexuality any longer. You may be aware that even doctors till mid 60s believed that masturbation was wrong. But today, they're unanimous on one count that it's a part of growing up sexually. Things become clearer with the passage of time and misconceptions get dispelled eventually. What was wrong yesterday is right today. Homosexuality is natural and one needs to look at it rising above one's religion.

Thanks once again for condescending to mail back.

Warmest regards,


---


Dear Mr.

On the contrary, medical sciences strengthened my belief in Islam. When I was studying in King George's Medical College, Lucknow I started realising how Islam makes all its dos and don'ts in accordance with their impact on health. This strengthened my conviction that IUslam could not have been brought by anyone other than the Ambassador of God. Practices prohibited in Islam (gambling, alcohol, drugd, sex outside normal marriage between male and female) kills around 70 million humans or humans-in-making every year.

All human weaknesses are natural including tendencies to lie, to be selfish, to run after instant pleasures. Prohibitions are for natural weaknesses and not for things which humans are not inclined to do. Quran speaks of ban on pork, not on the meat of lions because the meats of lions or elephants are not savoured by humans.
Homosexuality is an addiction. Once exposed, like drugs and alcohol, one starts enjoying and then becomes an addict.

If you allow me, I would like you to send my book Quran's Dynamic Paradigm of Health (soft copy), in which I have severely criticised the current world order which gives supremacy to economics over health.

I am not sure if you are just a sympathiser of gays or a gay yourself. In case you happen to be the latter - I pray you are not - this book will help you understand many things, and will hopefully wean you away.

Forgive me if I hurt you in any way.

Regards
Javed

Dear Dr Jamil,

Don't mind, this is what I call a condescending attitude. Life and a little education have taught me to take things sportingly. I'm a straight person with no homosexual proclivities. Yet, I sympathise with those who've been marginalised by an insensitive world. I'll continue to fight for the rights of all those who're oppressed and suppressed by religious moralists like you. I'm a non-believer and have absolutely no faith in all damn man-made religions and their silly tenets. By the way, I studied Islamic theology and comparative religions at Oxford and realised that all religions and their practitioners were pseudo-intellectuals and also pseudo-spiritual.

Hope, I didn't hurt you. I call a spade a shovel.

Warmest regards,


---


Dear Mr..

I didn't mind what you said. Out of ignorance or self motives, people say things like that. It is the propagated "normalisation" followed by institutionalisation and large scale commercialisation that vices spread. I speak against the vices and not against those who become victims of the vices. My campaign against vices and their institutionalisation and commercialisation will continue. Fortunately, in almost all the religions with more sophistication in Islam, which is in truth the final version of all religions established by God, vices are not man made things, but are the practices that truly endanger the lives of not only those who practise them but also a larger humanity. When we campaign against vices, we campaign against death, destruction and chaos. When people campaign in favour of vices in the name of "freedom of choice" and "privacy" they are either doing so for purely commercial interests or have become misguided by the forces of economics that dominate the world today. In effect they bring death, destruction and chaos.

But I am happy that you have not been inflicted by the vice yourself. May God save all!

Thanks for your letters. You can continue to keep dialogue if you like or can stop any further exchange. I will keep praying for you. You don't believe in "man-made" God so you can at least wish if not pray good for me.

Best Regards
Javed Jamil


---


Dear Dr Jamil,

Aadaab. We're all stubborn individuals. You may be right from your perspective and I could be right from my angle. We'd better cease our exchange of mails before it turns murkier.

Nice to know your views.
Wish you well. Stay connected.
Warmest regards,


---


Homosexuality: the Harbinger of Death and Destruction

To meet the interminable demands, merchants are always ready to offer novelties to the customers. In order to compete with one another, and to further swell their coffers, they began to popu­larise sexual perversions. Mass sex, sadism and masochism became common. Homosexuality was soon introduced as a new brand in the market. The combination of heterosexual and homosexual promiscuity would entrap almost everybody on the surface of the earth, at least in their calculations. It is not that sodomy did not exist before in his­tory. Several religious scriptures have given grim accounts of how the citizens of the twin cities of Gomorrah and Sodom had become addicts of anal sex. So prevalent in fact it had become that there were not even ten righteous persons left in the city, according to Bible. Bible and Qur'an both have narrated how the twin cities were ultimately 'stoned to death' by way of a tempestuous rain of sulphur stones from the sky. It is a known fact that homosexuality is still very much there in most of the countries. According to some estimates, 5-10% of males may be having such propensities. But there is a basic difference bet­ween homosexuality rampant in West and the one in some other coun­tries. In Islamic and the majority of Asian countries, homo­sexuality is considered to be a big sin even by those who practise it. There is no question at all of glorifying or justifying it and the gays' associations have only recently been making clandestine appearance in some metropolitan and cosmopolitan cities. In Western countries, on the other hand, it has turned commercial.

The gay movement has also followed the commercialisation way. It is to facilitate business that sturdy gay movements have been organised; and under their pressure, one government after the other has chosen to legalise it. Gay clubs and literature are now booming in almost every city of Western world. Furthermore, while in Asian countries, homosexuality is not usually isolated, with most homosexuals also having heterosexual liaisons, in West, organised gay campaigns have led to exclusive homosexuality. Women too have not remained far behind, and lesbianism is also on the increase. The other reasons for giving huge publicity to the gay movements are that it would help in controlling population that occupies a central place in the strategy of the economic fundamentalists, and would also accelerate the disintegration of family system.

The demoniac march of the commercialised sex has necessitated that all perversions must be considered "normal and natural" behaviour and any stigma associated with them should be struck with a fatal blow. The chiefs of homosexual net and their marshals have been advancing the nonsense argument that relations between two persons belong­ing to the same sex are natural as a sizeable percentage of human population has such propensities. The commercial convenience makes them forget the truth that "natural" and "human" are not synonymous. The natural phenomena are essentially good for mankind; these defend humans against death, disease and destruction, for they are aimed at the common rather than the individual good. Even when they seem to be destructive (natural tragedies), they are the manifestations of an effort on the part of the Nature to bring back the harmony that has somehow been dis­turbed. The natural tragedies are therefore aimed at averting bigger tragedies in the future. The human tendencies, on the other hand, are generally the result of self-gratification and tend to disturb the natural equilibrium. It is the human (not natu­ral) weaknesses that have given rise to crimes, diseases and abnormal acts including sexual perversions. If homosex­ual proclivities are accepted as natural, murderous instincts and tendencies to rape, steal or impinge upon others' rights must also be regarded natural. And if the latter deserve outright condemnation, reform and punishment, the former also require the same treatment.

Homosexual relations, particularly man to man relations, need to be confronted with utmost severity. Homosexuality is the most unhealthy and unhygienic of all forms of sexual relations, as it carries the highest risk in spreading infections. Syphilis, Gonorrhoea and AIDS - all have started in homosexuals and spread later to heterosexuals. However, distinction has to be made between lesbianism and sodomy. I think lesbianism cannot be recognised as a full sexual activity, as it involves neither penetration nor an exchange of fluids. At the most, it can be described as a form of mutual masturbation. As it does not involve penetration or exchange of fluids, it does not pose such huge risks to life as sodomy. But studies have demonstrated that even lesbianism is responsible for significant reduction in life expectancy and has to be vigorously discouraged. But the punishment for lesbianism cannot be as hard as for sodomy. Gays should be given exemplary punishments, which should however be preceded by a period of intensive counselling and forced abstinence to wean them out of their addiction. Their actions threaten the very survival of mankind.

It is needless to say that the rise in the demand of legalizing homosexuality in the world has intensified with the rising fortunes of gay market. It is already a big market in western countries. The truth is that Sex market as a whole is the largest growing market, and gay market is the largest growing sex market. A report on gay tourism says:

"..They claim since same-sex marriage has been legalized in British Columbia in 2003, Whistler has been the ideal place to get married. They even advertise their own wedding planners, called "Two Dears and a Queer". And nothing is complete without a full advertisement to honeymooners as well, so after having the wedding, the couple as well as guests can stay to celebrate. Whistler then becomes a one-place stop for every wedding need, and they have event planners and organizers to prepare everything for you, enabling visitors to just be there to escape and have a fun relaxing time. It's an extremely clever marketing scheme: since the queer community comes here for two main reasons, to visit Whistler or to get married, why not get everything done at one spot?"

In short, according to a commentator, "The US has made a billion dollar industry off of homosexual media - HBO shows, movies, books, magazines. Like most things in the US anything that has the potential to generate profit will be considered15."

But that does not make homosexuality acceptable because it has huge effects on the longevity as well as the quality of life. Obviously, homosexuality is a threat to the whole mankind, and it is the biggest threat to the life of homosexuals themselves. In India , HIV prevalence, according to NACO surveys, is almost 8 times more than normal population. If legalising it helps anyone it is the market. Hardly any gays are punished by the court India . Legalising helps the big market bosses to float companies. Gay literature, gay clubs and gay porn will mushroom with the result that more and more people will fall victim to homosexuality. To argue that it will help in the control of AIDS is absolutely nonsense. A little change in the law that ensures care of gay of HIV patients would have sufficed for that. AIDS cannot be controlled unless there is an effective campaign against prostitution, pornography, homosexuality and promiscuity.

The following arguments are being given in support of homosexuality:

That it exists since antiquity: a fallacious argument because all sins and crimes exist in human society since ancient times. On the contrary, it is right time to try to reduce them rather than glorify them if we want to prove ourselves progressive.


That it is nonsense to object if it is between two consenting adult individuals (as if consent makes every act legal.)


That legalizing homosexuality would mean acceptance of right to life. In fact he exact opposite is true. If institutionalized, it threatens the whole human species; it is a threat to life of those who practice it as well as others who come in their sexual contact.


That it is based on the principle of Freedom of Choice: Freedom of Choice is understandable only if it is the freedom of good choices. Freedom of dangerous choices and death cannot be given to the people.


Normal hygienic and healthy behaviours are important components of civilisation. Perversions cannot be but the antidote of civilisation. The perversions that threaten the lives of individuals and peaceful survival of the most notable natural institution of family cannot be described anything but barbarism at its worst. What can then be said of the "Civilised World" that safeguards, promotes and commercialises the Sexual perversion of the most abominable kind and the most life threatening — the Homosexuality?

The attempt to legalise Homosexuality is nothing but the continuation of the same series of worldwide strategies of "development" in which every human susceptibility is first given a legal and social sanction, then it is glorified in the media as a victory of "Freedom of Choice" and "Human Rights" and then with all the obstacles removed it is commercialized at huge level.

But the truth remains that the economics of homosexuality cannot cover for the menace, which homosexuality is. The attempts to legalise homosexuality are shocking. This is like legalising murders, terrorism and rapes. Homosexuality is in fact much more dangerous than any of these, as it has led, leads to and can lead to a much bigger loss of life.

Obviously, homosexuality is a threat to the whole mankind, and it is the biggest threat to the life of homosexuals themselves. In India , HIV prevalence, according to NACO surveys, is almost 8 times more in gays than in normal population. If legalising it helps anyone it is the market. Hardly any gays are taken to the court and punished. What is then the need to legalise it? Legalising is surely meant for commerce. Once legalised, it helps the big market bosses to float companies. Media, literature and tourism - all get new avenues. Gay literature, gay clubs and gay porn will mushroom with the result that more and more people will fall victim to homosexuality. To argue that it will help in the control of AIDS is absolutely nonsense. A little change in the law that ensures care of gay HIV patients (rather than their habits) would have sufficed for that. AIDS cannot be controlled unless there is an effective campaign against prostitution, pornography, homosexuality and promiscuity. It is to be noted that sexual misdemeanours have a much larger depressing effect on life expectancy than other evils like smoking, drinking and gambling. This is because sex related problems affect foetuses and men and women of younger age groups. "Sexual Revolution" is killing either foetuses and infants or the young people of 20-45 years in such big numbers that it is bound to reduce life expectancy by 20-40 years.

By legalising gay marriages, homosexuality is being sought to be institutionalised. Otherwise what can explain why on the one hand marriages in general are being discouraged and on the other hand gay marriages are being aggressively promoted? This is surely aimed at boosting the population of gays. The children growing in the company of their gay "parents" will have bigger chances of succumbing to homosexual tendencies than the normal population. Moreover, these "parents" cannot be a replacement of natural parents. Their love for their "children" is not natural. The affection between parents and children can never be as fruitful as between the natural parents and children; and the probability of child abuse will surely be much greater.

To say that homosexuality is natural is like saying criminal tendencies are natural. These are not natural but human aberrations of most dangerous kind. Such aberrations are present in notorious criminals also. Can the crimes be legalized to help them? Can they be given protection by the law on the ground of not discriminating against persons? Even otherwise, homosexuality is a relationship that does not produce any progeny. So genes if any related to hardcore unadulterated homosexuality cannot be transmitted. Even if it is accepted as natural, it remains an anomaly like many other congenital diseases. The anomalies and diseases need treatment and counselling rather than acceptance and encouragement.

As already explained, homosexuality in West is very much different from that in Asian countries, and this is because Western countries chose to legalise, institutionalize and glorify it. In Asian countries, homosexuality is more often than not an opportunist encounter. Denied marriage after puberty, and girls hard to find, some men would lure young boys into having sex. Once they get married, most if not all would sooner or later give this up. Family pressures, fear of law and society and the desire to have a good family life keep people away from a long term homosexual life. Moreover, in Asian countries, this is normally a one way relationship. There is one who penetrates the other. In the Western world, with the institutionalization and commercialization of homosexuality, and the availability of porn literature and films, homosexuals act both ways; they penetrate and get penetrated. They are made to believe that the kind of sex they are enjoying is not possible in a heterosexual relationship. Soon they become addicts. The relationship between sex and homosexuality is the same as between nutrition and alcohol/drugs. Alcohol/drugs are not part of natural nutrition, but if someone is exposed to them, he or she may soon become addict of it. Homosexuality is an addiction that should be treated both through legal measures (including ban, boycott and detention) and medical treatment for those who seek to change their behaviour. Homosexuality has already become the harbinger of the death of at least 40 million people that have died of AIDS so far. (Promiscuous heterosexuality has also played its part but homosexuality is one of the major killers.) Its legalization will surely lead to more people succumbing to it with greater spread of AIDS and other sex related diseases. There is a need to sexually isolate the HIV infected rather than legalizing homosexuality in the name of AIDS so that they do not spread HIV to others.

There is a difference between "homosexual rights" of humans and "human rights" of homosexuals. The former are unacceptable but the latter should be ensured. Homosexuals need attention: social and medical. They need to be protected from unauthorised punishments by other members of society and they need the psychological support for giving up their habit so that they can join society as normal people. Once there is an effective ban on homosexuality and its commercialisation and institutionalisation, not only new homosexuals will not be produced in as many numbers but the already addicted ones will also find it easier to give up. It should remain a crime for those who want to sustain their habit; but those who want an escape route should be helped. The right to treatment is of course for every human including even the murderers.

Facts and Statistics about Homosexuals

One study reports 70% of homosexuals admitting to having sex only one time with over 50% of their partners,


One study reports that the average homosexual has between 20 and 106 partners per year. The average heterosexual has 8 partners in a lifetime. Many homosexual sexual encounters occur while drunk, high on drugs, or in an orgy setting.


Many homosexuals don't pay heed to warnings of their lifestyles: "Knowledge of health guidelines was quite high, but this knowledge had no relation to sexual behaviour".


Homosexuals got homosexuality removed from the list of mental illnesses in the early 70s by storming the annual American Psychiatric Association (APA) conference on successive years. "Guerrilla theatre tactics and more straight-forward shouting matches characterized their presence".


Since homosexuality has been removed from the APA list of mental illnesses, so has paedophilia (except when the adult feels "subjective distress").


Homosexuals account for 3-4% of all gonorrhoea cases, 60% of all syphilis cases, and 17% of all hospital admissions (other than for STDs) in the United States .


Homosexuals live unhealthy lifestyles, and have historically accounted for the bulk of syphilis, gonorrhoea, Hepatitis B, the "gay bowel syndrome" (which attacks the intestinal tract), tuberculosis and cytomegalovirus.


73% of psychiatrists say homosexuals are less happy than the average person, and of those psychiatrists, 70% say that the unhappiness is not due to social stigmatization.


25-33% of homosexuals and lesbians are alcoholics.


Of homosexuals questioned in one study reports that 43% admit to 500 or more partners in a lifetime, 28% admit to 1000 or more in a lifetime, and of these people, 79% say that half of those partners are total strangers, and 70% of those sexual contacts are one night stands (or, as one homosexual admits in the film "The Castro", one minute stands).


Also, it is a favourite past-time of many homosexuals to go to "cruisy areas" and have anonymous sex. 78% of homosexuals are affected by STDs.


Judge John Martaugh, chief magistrate of the New York City Criminal Court has said, "Homosexuals account for half the murders in large cities".


Captain William Riddle of the Los Angeles Police says, "30,000 sexually abused children in Los Angeles were victims of homosexuals".


50% of suicides can be attributed to homosexuals.


Dr. Daniel Capron, a practicing psychiatrist, says, "Homosexuality by definition is not healthy and wholesome. The homosexual person, at best, will be unhappier and more unfulfilled than the sexually normal person".


For other psychiatrists who believe that homosexuality is wrong, please see National Association for Research and Therapy of Homosexuality. It takes approximately $300,000 to take care of each AIDS victim, so thanks to the promiscuous lifestyle of homosexuals, medical insurance rates have been skyrocketing for all of us.


Homosexuals were responsible for spreading AIDS in the United States , and then raised up violent groups like Act Up and Ground Zero to complain about it. Even today, homosexuals account for well over 50% of the AIDS cases in the United States , which is quite a large number considering that they account for only 1-2% of the population. Homosexuals account for a disproportionate number of hepatitis cases: 70-80% in San Francisco , 29% in Denver , 66% in New York City , 56% in Toronto , 42% in Montreal , and 26% in Melbourne .


37% of homosexuals engage in sadomasochism, which accounts for many accidental deaths. In San Francisco , classes were held to teach homosexuals how to not kill their partners during sadomasochism.


41% of homosexuals say they have had sex with strangers in public restrooms, 60% say they have had sex with strangers in bathhouses, and 64% of these encounters have involved the use of illegal drugs.


Depending on the city, 39-59% of homosexuals are infected with intestinal parasites like worms, flukes and amoebae, which is common in filthy third world countries.


The median age of death of homosexuals is 42 (only 9% live past age 65). This drops to 39 if the cause of death is AIDS. The median age of death of a married heterosexual man is 75.


The median age of death of lesbians is 45 (only 24% live past age 65). The median age of death of a married heterosexual woman is 79. Homosexuals are 100 times more likely to be murdered (usually by another homosexual) than the average person, 25 times more likely to commit suicide, and 19 times more likely to die in a traffic accident.


21% of lesbians die of murder, suicide or traffic accident, which is at a rate of 534 times higher than the number of white heterosexual females aged 25-44 who die of these things.


50% of the calls to a hotline to report "queer bashing" involved domestic violence (i.e., homosexuals beating up other homosexuals).


About 50% of the women on death row are lesbians.
Homosexuals prey on children


3% of homosexuals ADMIT to minor/adult sex.


There is a notable homosexual group, consisting of thousands of members, known as the North American Man and Boy Love Association (NAMBLA). This is a child molesting homosexual group whose cry is "SEX BEFORE 8 BEFORE IT'S TOO LATE." This group can be seen marching in most major homosexual parades across the United States.


Homosexuals commit more than 33% of all reported child molestations in the United States, which, assuming homosexuals make up 2% of the population, means that 1 in 20 homosexuals is a child molester, while 1 in 490 heterosexuals is a child molester.


73% of all homosexuals have had sex with boys under 19 years of age.


Many homosexuals admit that they are paedophiles: "The love between men and boys is at the foundation of homosexuality".


Because homosexuals can't reproduce naturally, they resort to recruiting children. Homosexuals can be heard chanting "TEN PERCENT IS NOT ENOUGH, RECRUIT, RECRUIT, RECRUIT" in their homosexual parades. A group called the "Lesbian Avengers" prides itself on trying to recruit young girls. They print "WE RECRUIT" on their literature. Some other homosexuals aren't as overt about this, but rather try to infiltrate society and get into positions where they will have access to the malleable minds of young children (e.g., the clergy, teachers, Boy Scout leaders, etc.)16


Legalisation popularises homosexuality

The legalisation leads to commercialisation and the commercialisation is sure to influence the choices of the people. There are nearly 1.2 million gay people living with a same sex partner in America . This is a huge increase from the 1990 census, which identified only 145,000 same sex unmarried households. 17

The Popularity of Homosexuality

According to a report, "The hetero and homo "promiscuity index" (well, actually they called it "sociosexuality" and it didn't just measure promiscuity but we're going with promiscuity just the same) as it was dubbed, lists the 15 countries that do the most whoring around as follows 18:

United Kingdom


Germany


Netherlands


Czech Republic


Australia


USA


France


Turkey


Mexico


Canada


Italy


Poland


Spain


Greece


Portugal


Wikipedia report19 says: "These charts show a list of the top 10 US metropolitan areas with the highest LGB population in terms of numbers of total gay, lesbian and bisexual residents, based on estimates published in 2006 by the Williams Institute of the UCLA School of Law.



Top Ranked by Percent:

Rank

City

Percentage
of city
population

GLB Population

Population
Rank

1

San Francisco

15.4%

94,234

4

2

Seattle

12.9%

57,993

9

3

Atlanta

12.8%

39,805

12

4

Minneapolis

12.5%

34,295

16

5

Boston

12.3%

50,540

10

6

Sacramento

9.8%

32,108

20

7

Portland

8.8%

35,413

14

8

Denver

8.2%

33,698

17

9

Washington

8.1%

32,599

18

10

Orlando

7.7%

12,508

36

Top Ranked by Total Population:
Rank

City

Percentage
of city
population

GLB Population

Population
Rank

1

New York City

6%

272,493

1

2

Los Angeles

5.6%

154,270

2

3

Chicago

5.7%

114,449

3

4

San Francisco

15.4%

94,234

4

5

Phoenix

6.4%

63,222

5

6

Houston

4.4%

61,976

6

7

San Diego

6.8%

61,945

7

8

Dallas

7.0%

58,473

8

9

Seattle

12.9%

57,993

9

10

Boston

12.3%

50,540

10

11

Philadelphia

4.2%

43,320

11

12

Atlanta

12.8%

39,085

12

13

San Jose

5.8%

37,260

13


The statistics are truly alarming. The legalization of gay marriages, the gay pornography and gay associations are playing havoc with the sexual preferences of the people with the result that increasingly greater numbers of people are succumbing to provocations.

The argument that if there is consent between two adult individuals, what objections can others have to their homosexual liaisons is also fallacious. If consent is the only reason for deciding the criminality or non-criminality of an act, why is bribery by consent a criminal offence? It is well known that in many countries including India , bribe even for genuine reasons is arranged by consent of two or more individuals. Similarly, why is sex determination test of foetus a crime if it takes place between the consent of a woman/couple and a radiologist? And suicide too is a crime though it is an individual's own choice. If there is consent between two individuals about one helping the other in choosing death, is it not a crime? In Hindu community, according to the current Indian laws, if a man marries another woman with the consent of his wife, why does it constitute crime?

The human rights organisations and other advocates base their campaign in favour of gay rights on the ground of discrimination. This is indeed a fascinating logic. Unfortunately for the activists though, it is equally foolish. The whole fabric of moral and legal institutions is woven around 'discrimination'. Good and bad cannot be put on the same table. There has to be discrimination between good and bad acts, and between good and bad people. How can law breakers and law abiding citizens be placed in equal footing? How can murderers and common men be treated equally? Even the patients infected with communicable diseases are kept away from the public. How can then people with abnormal sexual behaviours threatening the life and peace of mankind be given the same treatment as given to the normal people who contribute to the health functioning of the humanity. Putting normal with the abnormal will in effect be a discrimination against the normal. Discrimination on the ground of acceptability or unacceptability of behaviours and acts is the essence of equality.

There is a need to define crime. Obviously evilness of an act neither depends on the time or place nor on the consent or choice. Evilness depends on the impact of an act on individual/individuals, family and society. The criminality of an act is proportional to the amount of damage to others. Unfortunately, in today's world controlled by economics, certain acts are accepted even if they have huge damaging effects, especially if the effects are not instant and dramatic. Homosexuality (and promiscuity of all kinds) has huge damaging effects on (1) the individuals involved (the life expectancy of individuals is considerably shortened, there are a number of physical, mental and social problems) (2) the survival of human species if large sections of people choose to adopt it (3) rest of mankind if gays are also promiscuous (which they are more often than not) and (4) on the lives of the children they choose to adopt exposing them to an unnatural parenthood and parents' sexual preferences.

The homosexuality needs to be treated at par with drug addiction. Those that choose to get out of this addiction can be de-addicted through rehabilitation centres. The first time caught gays can also be shifted to asylums, and the punishment can be increased in subsequent repetitions. The people who commercialise or institutionalise homosexuality must be severely punished.

LUT ( LOT ) (peace be on him)

Before concluding this chapter, it will be worthwhile to reproduce here Qur'anic account of the sexual corruption that prevailed at the time of Prophet Lot (AS) and the punishment they received for that. Qur'an says:

The people of Lut rejected the apostles. Behold, their brother Lut said to them: "Will you not fear (God))? I am to you an apostle worthy of all trust. So fear God and obey me. No reward do I ask of you for it: my reward is only from the lord of the Worlds. Of all the creatures in the world, will you approach males, and leave those whom God has created for you to be your mates? Nay, you are a people transgressing (all limits)!" (26: 160-166/A)


* We also (sent) Lut: He said to his people: "Do you commit lewdness such as no people in creation (ever) committed before you? For you practise your lusts on men in preference to women: you are indeed a people transgressing beyond bounds." (7: 80-81/A)


(He said to his people): "Do you indeed approach men, and cut off the highway-and practise wickedness (even) in your councils?" (29: 29/A)


And his people gave no answer but this: they said, "Drive them out of your city: these are indeed men who want to be clean and pure!" (7: 82/A)


But his people gave no answer but this: they said: "Bring us the Wrath of God if you tell the truth." (29: 29/A)


He said: "I do detest your doings. O my Lord! Deliver me and my family from such things as they do!" (26: 168-169/A)


He said: "O my Lord! Help me against people who do mischief!" When Our Messengers came to Abraham with the good news, they said: "We are indeed going to destroy the people of this township: for truly they are (addicted to) crime." He said: "But there is Lut there." They said: "Well do we know who is there: we will certainly save him and his following, except his wife: she is of those who lag behind!" (29: 30-32/A)


......He began to plead with Us for Lut's people. For Abraham was, without doubt, forbearing (of faults), compassionate, and given to look to God. Abraham! Seek not this. The decree of your Lord has gone forth: for them there comes a penalty that cannot be turned back! When Our messengers came to Lut, he was grieved on their account and felt himself powerless (to protect) them. He said: "This is a distressful day." And his people came rushing towards him, and they had been long in the habit of practising abominations. He said: "O my people! Here are my daughters: they are purer for you (if you marry)! Now fear God, and cover me not with shame about my guests! Is there not among you a single right-minded man?" They said: "Well you do know we have no need of your daughters: indeed you know quite well what we want!" He said: "Would that I had power to suppress you or that I could betake myself to some powerful support." (The Messengers) said: "O Lut! We are Messengers from thy Lord! By no means shall they reach you! Now travel with your family while yet a part of the night remains, and let not any of you look back: but your wife (will remain behind); to her will happen what happens to the people. Morning is their time appointed: Is not the morning nigh?" When Our Decree issued, We turned (the cities) upside down, and rained down on them brimstones hard as baked clay, spread, layer on layer,- marked as from your Lord: Nor are they ever far from those who do wrong! (11: 74-83/A)


But the (mighty) Blast overtook them before morning, and We turned (the cities) upside down, and rained down on them brimstones hard as baked clay. Behold! In this are Signs for those who by tokens do understand. And the (cities were) right on the high-road. (15: 73-76/A)


It is interesting to note that the story of Lot has been described even in greater details in Old Testament. The additional part in that story is the repeated pleading by Abraham to Jehovah to spare the twin cities if there were at least some straight people there. From 50, he kept pleading down to 5 people as a condition of averting the scourge, and ultimately it came out that there were not even 5 straight people there that could have saved the city from being destroyed.



2016-04-03 Sun 20:10:47 ct


NewTrendMag.org