NewTrendMag.org News # 1647
[ Click on NEWS for back issues ][ OUR BOOKS ][ Contact ][ Previous Issue ]

18 JumaadaTHaany 1437 A.H.- March 27, 2016 Issue # 13, Newsletter #1647

---


Hadith of the Week

Don't Make Religion a Burden.
Narrated: Abu Huraira

The Prophet said, "Religion is very easy and whoever overburdens himself in his religion will not be able to continue in that way. So you should not be going too far, but try to be near to perfection and receive the good tidings that you will be rewarded; and gain strength by worshiping in the mornings and the nights."
Hadith No: 39 [Sahih Bukhari]

Comment by Kaukab Siddique: Our striving should be for the rights of the people, opposing oppression and standing up to tyrants. Dont try to make the claim that you know more prayers than anyone else and that you make so many extra prayers. Stand up tp the oppressors! As Allama Iqbal noted, the prayers of enslaved nations are long and the prayers of mujahideen and strugglers are short.


---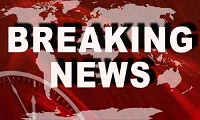 Syria: March 27. The Fall of Most of Palmyra after three weeks. IS battered by Russia.

Forces of Bashar al-Assad captured most of Palmyra [Tadmur in Arabic] in eastern Syria. The regime's forces were covered by the Russian air force which hit 180 Islamic State targets. The regime forces consisted of Alawites from Damascus, Hizbullah Shias from Lebanon, Afghan and Iraqi Shias led by Iranian officers, and Russians directing the artillery. The mujaheddin inflicted heavy casualties on the invaders, including the commander of a brigade. According to Interfax, Russians have suffered a few casualties. On the other hand, more than a 100 ISIS mujaheddin were killed. mostly in the intense Russian bombing campaign.

The Islamic forces withdrew in good order but some of them are refusing to withdraw from eastern Tadmur. However, most of them have gone to Deir az Zour, further to the south east.

Tadmur is known for its prison where Bashar Assad Alawites tortured and humiliated Syrian opponents, including women and children, for 35 years. Westerners call the city Palmyra because of its ancient pagan monuments some of which were blown up by ISIS who are strict monotheists.

America is also hitting ISIS in the northeast, supporting Communist Kurds, YPG. In recent weeks two top leaders of the Caliphate were killed by the US, including Omar Shishani [from Chechnia] and Haji Imam known for his piety as his name suggests. Daily air strikes by USA. as well as raids by US Special Forces continue.


---




Pakistan : March 27: In Memory of Mumtaz Qadri, huge crowds breach Islamabad's Red Zone.
[Very latest: Army has been called in as a large crowd marched on Parliament.]

Deadly explosion in Lahore.

More than a hundred thousand Pakistanis gathered in the Rawalpindi home of Mumtaz Qadri shaheed who killed the Governor of Punjab in defense of the honor of the Prophet, pbuh. A large segment of the crowd then advanced into Islamabad and breached the heavily barricaded Red Line. Tear gas is floating over the area as angry crowds, unarmed, clash with a large police force as we go to the press.

Meanwhile there has been a powerful explosion in a park in Lahore killing at least 50 civilians and injuring more than 100. No one has taken responsibility yet.

Pakistan is in furor over the capture of an Indian intelligence agent who was working with separatists in Baluchistan. He got a visa through Iran. Meanwhile the Iranian President Rouhani linked to western strategy against Islamic opposition arrived in Pakistan.


---




Baghdad: March 27. Huge crowds led by Shi'ite cleric Moqtada al-Sadr are doing a sit -in across from the Green Zone where government and western institutions are located. They are protesting against corruption in the government.

Meanwhile the Islamic State attacked Baghdad troops in the vast Al-Asad air base north west of Ramadi killing 16 troops and injuring others. [al-Jazeeera March 26]

Also there was a bomb attack in Iskandaria, south of Baghdad, killing 25, probably in retaliation for the daily US air strikes on IS targets.
---



Jamaat al-Muslimeen Activity in Gaithersburg, Maryland.
Eight Pages from New Trend given to 118 Muslims after Juma'

Gaithersburg is 42 miles from Baltimore. On March 25, at the main Islamic Center after Juma', an 8-page document was given to 118 Muslims of Pakistani and African origin.
It's a largely docile community but relatively independent.
Here is an outline of the far reaching 8 pages:


Massive governmental corruption in Pakistan. [Sirajul Haq, ameer JI]


Mobilize against Unjust imprisonment of Dr. Aafia [Sis. Karin Freidemann]


Much of the abuse against ISIS is false. [Khutba by Dr. Kaukab Siddique]


Taliban taking over Helmand Province+ Pak. Taliban defying Pakistan army. [Media]


Libya, Bangladesh, India etc. [Media]


Political Prisoners :

AhmedAbdelSattar.org

FreeZiyadYaghi.info

FreeMasoudKhan.net


---



We relate to each other not on the basis of race, ethnicity, language or culture.
Faith in Allah unites us.

A Letter from the widow of my blessed Friend Imam Dr. Alauddin Shabazz:
Bismillah hir Rahman nir Raheem
Dear Dr. Siddique

Thank you for your kind words and support throughout the years. Alauddin had great respect for you. He loved the Deen of Al-Islam and was always trying to educate others towards the Best Path in life. He always admired your steadfastness .

We pray to Allah that he continue to bless you. We also pray to Allah that He lift our brother up on the Day of Judgment and that Paradise be the Reward for his labor and deeds.
Ameen.

Dr. Constance D. Shabazz & family.
[Chicago]


---


Nobel Peace Prize Winner Full of Bigotry & Hatred for Muslims.
With thanks to Br. Bawany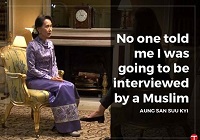 Myanmar's leader Suu Kyi loses cool with BBC's Mishal Husain
Tribune.com.pk/story/1072748/burmese-politician-aung-san-suu-kyi-loses-her-cool-with-bbcs-mishal-husain


---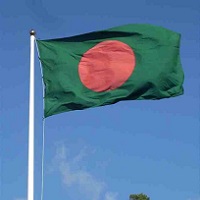 Bangladesh Opposition Gets Support from an Unexpected Source.

[Former Labour MP] Danczuk, who flew to the Bangladeshi capital on Friday, addressed tens of thousands of supporters of the opposition Bangladesh National party - telling them that since taking power, the current government had created a "culture of fear" with a "break down in human rights ... and political opponents disappearing".

Speaking of the ties between Britain and Bangladesh, Danczuk called on British ministers to say " the relationship has ... soured. Sanctions should be applied if there is not a return to true democracy".
TheGuardian.com/politics/2016/mar/24/bangladesh-government-angered-simon-danczuk-sanctions


---



Jamaat al-Muslimeen Activity to Large Community of Converts: Inner City Baltimore

A Transformation Message Given to 100 Muslims after Juma.

On March 25, at Masjid al-Haqq in the inner city of Baltimore, Maryland, a four-page document in color was given to 100 Muslims after Juma'. About 80% of them are African American converts to Islam [devout Muslims] and about 20% are Pakistanis and Arabs with small businesses in the area.

The imam gave a powerful khutba urging newcomers to realize that the society around them is full of crime, drugs, big and small vices which can affect them.

Here is an outline of the 4 pages which were given to 100 people:

Advice: Don't whine and complain: Serve the people. [Imam Badi Ali.] + hadith on daughters.


Rally for release of Dr. Aafia in Washington DC. [Br. Mauri Saalakhan] [Photos]


Bashar Assad must hang. Horrific crimes committed by Alawites in Syria. [ [Hanada al-Refai.] + Russian bombing.[media]


Imam Abu Hanifa, great supporter of Hadith vs anti-Hadith propaganda. [Kaukab Siddque.]
---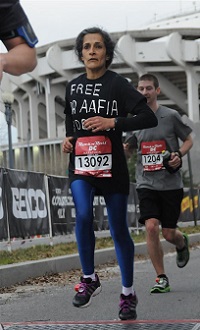 Pakistani-American Female Marathoner Speaks out on the Case of Dr. Aafia Siddiqui

When Will Pakistan Take its Daughter Back?

Letter to the Editor of Pakistani Newpaper, Dawn:

March 26, 2016

Dear Editor,

I am a Pakistani Muslim woman marathoner, living in the Washington, DC area. Since 2009, I have run 26 marathons in ten different states of the U.S. (A marathon, by definition, is 26.2 miles.) In at least five of these 26 competitions, I have qualified for the Boston Marathon. (The Boston marathon is an elite and exclusive race, for which one must first meet the rigorous qualifying standards set by the Boston Athletic Association in another marathon)

On March 12, I ran the Washington DC Marathon to call attention to the plight of another Pakistani woman: Dr. Aafia Siddiqui.

Dr. Aafia Siddiqui holds a bioscience degree from the prestigious Massachusetts Institute of Technology, and a PhD in neuroscience from Brandeis University. Although I have never met her, I can say with some certainty that she is highly intelligent, articulate, deeply Islamic, and cares about Muslim suffering in faraway lands. As such, she is a hero to me, as to many other Pakistani woman (and men).

March 31 will mark 13 years since Aafia was kidnapped from Karachi with evident collusion between the Musharraf regime and U.S. intelligence services operating on Pakistani soil. Her three children were captured along with her. Despite clear prohibitions on the imprisonment of children in the U.N. Declaration of Human Rights—to which Pakistan is a signatory—two of Aafia's children were imprisoned along with her. The third, an infant, appears to have been killed in the course of the rendition.

Running 26 miles without stopping is not easy. It can hurt. It can make one feel hopeless, very minute in the overall scheme of things. Many people never complete the race. Exhausted, they commence walking part way through.

There can be other complications like the one I had the night before the marathon. Due to some complication, the custom-made, professionally designed black and white "Free Dr. Aafia Siddiqui" tee shirt I had ordered to wear during the race had not arrived. So I took it upon myself to make one. The excitement of the race and painting the homemade "Free Dr Aafia" shirt kept me up the night before, and I only slept four hours. Around 20,000 people would be running the race, so parking near the starting line was out of the question. I got up before fajr, grabbed my gear, and boarded the Washington DC subway to the race start near the Washington Monument.

The race started at 7:30 AM sharp. As I ran up a steep hill near DC's famed Dupont Circle, the lack of sleep caught up with me and my muscles ached. I wondered how I would complete the race. For some reason, as I ran along DC's picturesque Southwest Waterfront, the picture of Aafia's angelic face in hijab came clearly to my mind. I thought about the horrors she had endured. Aafia, mother of three, who loved children so much that her PhD thesis centered upon them—watching helplessly as her baby Suleman slipped from her arms and fell to the ground, his skull fractured, as Pakistani police roughly arrested the young mother. Innocent, sweet Aafia, with the face of a flower, repeatedly raped and tortured in a remote U.S. military base in Baghram. What kind of sick bastards could do that to a Muslim woman? My physical pain melted away, to be replaced by psychic pain, and I ran faster, finishing the marathon in 3 hours, 57 minutes.

After five years of being held without charge, and denied even official recognition that she was a prisoner (her name did not appear in any prison, police, or military registry during this time), Aafia was officially handed over to U.S. authorities, and tried in a New York court. The trial was presided over by Judge Richard M. Berman, a Zionisst who was clearly biased against Muslims. Not surprisingly, she was convicted and sentenced to 86 years in U.S. prison.

What is surprising—and indeed was the reason I felt compelled to run the Washington DC marathon in Aafia's name—is that she remains in prison. She is in extremely poor health, has been denied proper medical attention, and can die in U.S. prison—without ever having seen her family. The Pakistani government has taken no effective steps toward her release. The ordinarily vociferous feminist groups, quick to deplore the violations of women's rights by "those horrible Talibans" have been completely silent on her case. In fact, it is noteworthy that feminists on both sides of the Atlantic, including those who embraced Malalai Yousafzai, have said not a word about Aafia and the very long range torture she endured. Similarly, the liberal U.S. media, such as the Daily Beast, Salon.com, and others, who are ordinarily extremely vigilant about the violations of Pakistani—and in general—Muslim women's rights because they love us so much [sarcasm intended], have uttered not one word about Aafia. The Pakistani press, too, appear to have written her off.

Aafia is a political prisoner, being held not for any wrong doing, but for the crime of being a Muslim and in the wrong place at the wrong time. "Israel," when its citizens are captured, sends commandos to free them. The U.S. government, under Jimmy Carter, sent a military mission to free American hostages then held by Iran. Other nations have interceded either militarily or diplomatically (eg, via prisoner exchange) when one of its citizens is wrongly held by a foreign government. General Musharraf, under whose reign Aafia was captured, is long gone, and largely discredited at least among some sectors. But- Pakistan, a nation headed by Muslim men—with Qur'an and hadith as their Guiding Light—continue to sit idly by while a Muslim woman is held captive, tortured, and raped for over a decade. What is wrong with us, that we can't stand up even in this most clear cut case of injustice?

As a Pakistani Muslim woman athlete, I urge the immediate release of Dr. Aafia Siddiqui, and a cessation of illegal and unmandated (by the Pakistani populace) U.S. intelligence activities on Pakistani soil which lead to tragedies such Aafia's.

Sincerely,
Nadrat Siddique


---


PAKISTAN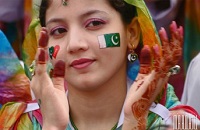 March 23 Resolution - Forgotten Imperatives of a Progressive Nation
By Mahboob A. Khawaja, PhD.

If you wish to view the screen of virtual reality of Pakistan's politics - come and see the mirror- how Pakistan is being governed by the wrong people, with wrong thinking and doing the wrong things. Continued daily bloodbaths of innocent civilians triggered by terrorism, overwhelming militarization of the public institutions, destroyed commerce and trades and non-productive economic culture have incapacitated the operational body of Pakistan. Its existence and freedom are challenged by its own political rulers. The thinking hubs of the nation must initiate planned steps and organize revolutionary collective ideas and ideals to deter threats to the national freedom, integrity and future of Pakistan. Those who embrace power through intrigue, gangesterism, political killings, military coups and backdoor conspiracies are not the legitimate rulers, nor do they answer to the aims of the peoples' aspirations for a strong Pakistan. The priorities must be focused on developing a new system of economic and political governance by disconnecting the interdependence on foreign aid, debts and dictates. The nation has been dehumanized to its critical and painful juncture of very survival. Under the circumstances, what is there to celebrate a Pakistan Day of March 23? The symbolic Pakistan Day celebrations will remain devoid of much needed change and reformation goal of the institutionalized corrupt system of governance. Pakistan is in desperate need of political change and a new political system of governance to safeguard its national freedom and a sustainable future.

How Absolute Rulers Betrayed the "Pakistan Resolution of March 23?"

Imagine, Pakistani people still celebrate the March 23, 1940 - the people's day of 'Pakistan Resolution' to have an independent State carved out of the British Empire of India. The Lahore Resolution (March 23, 1940) of the Muslim League unanimously demanded a separate homeland for the Muslim majority living in the Indian sub-continent, democratic rights, and freedom to establish and practice Islam as a system of life and to be a progressive country in the global community of independent nations. The legacy of Pakistan's formative history is full of moral, political and intellectual dishonesty to the aims and ultimate purposes of the originality of Pakistan Resolution overwhelmingly passed by democratic norms at its best. Today's Pakistan appears in a complete disconnect to the wishes and priorities of the masses. Politically, it is not just appalling but full of swindles and perversion to the idea and ideals of an independent state. Its political freedom and rights of the people who sacrificed all they had for the new nation. The nation experienced four military coups and continuous authoritarian dictatorships for over forty years. When martial laws govern a nation, it eradicate its values and principles of civic governance and freedom to think and to manage their own affairs. Democracy, freedom, law and order and social justice have succumbed to be words without meaning. There are distinctively visible moral and intellectual disparities and contrasts between the political powerhouses and those being governed by the "no system." Does the Pakistani nation foresee light at the end of dark tunnel? After 75 years of the Pakistan Resolution and more than 69 years of the national freedom, Pakistanis suffer the tyranny of political mismanagement, institutionalized corruption and missing systems of national politics and political accountability.

Large segments of the Pakistani nation know well how the so called political leaders have stolen time and opportunities for political correctness and looted the natural and financial resources to enrich their bank accounts in Europe and America as most continued to flourish without any accountability. The system of politics is the by-product of the military authoritarianism. The neo-colonial rulers seem to be obsessed with individualistic absolutism and strong elements of indifference toward the aspirations of the people for change and freedom from the authoritarian oppression manifested by the cooperation of some of the Western military powers and increasing sadistic policies to use force to dispel the demands of change and political reformation throughout the subjugated nation.

All the Time Politicians Use Blame Game

Pakistani politics has an opposition bloc - a symbolic framework of co-existence with the ruling elite. At times, few opposition leaders raise pertinent issues for their own image-making to influence the electorates. The irony of abstract noises and shouting matches lead to nowhere to address the real political issues of political change and systematic reformation of the institutionalized systems of corruption all over the body of the nation. What has been destroyed systematically by the few military dictators and the wicked politicians, cannot be recovered on its own. Educated Pakistanis used to describe the fertile lands of Sindh and the Five Rivers-Punjab, "our culture is agriculture." Not any more, once home grown foods like wheat, barley, sugar and other commodities are now imported from abroad. What went wrong with the fertile lands of Pakistan? Recently, an American scholar remarked on President Bush led bogus war on Iraq: "we know the enemy, he is in us", so do most Pakistanis. The military rule has stolen more than forty years of lifetime of the country. The nation's agriculture lifeline has been endangered by the official neglect and corrupt practices of urbanization. Economy makes no headways under the continued IMF debts of $64 billion dollars, being unable to pay the annual interest without additional borrowing. No national productivity except on bureaucratic papers, political institutions dismantled, only dummy Parliament and the Senate are in session to float the political thieves and deceive the masses. Would the Pakistani history offer any honorable reference to thugs and criminals politicians? When some legal accountability measures are taken, the current politicians blame the past rulers. It is well known that "wicked" people never harm one another.

Educated Pakistanis to Rethink about the Future of the Nation

Ruined agriculture cannot be restored nor lands ploughed by tanks and guns and criminal leaders. Educated people educate others, and build public institutions, not the armed forces, Bhuttos, Zardari, Musharaf or Sharif brothers. None had leadership traits but were conspirators to grab power and rule the nation at will. Nobody visits a country marred by violence, terrorism, military coups and lost sense of nationhood. Traders and private investors run economic markets; but nobody invests where military dictators and political thieves control the lifelines of a nation. Comparatively India enjoins a stable culture of politics and institutions where political power is transferred to elected common folks. It never happened in Pakistan. Whether you like it or not, look at today's Pakistan where the ruling elite and the masses seem to be living in two different time zones, without meeting of minds, necessities for survival and priorities for security. American led war on terrorism is killing Pakistanis and large scale daily civilian bloodbaths speak their own language of the political cruelty of the so called leaders. Tanks, guns and bullets produce nothing, they destroy all living things. With Bhuttos, Musaharf, Zardari and Sharif, Pakistan lost its genuine standing in global affairs, its respect and integrity. Shame to their common sense if India will talk on Kashmir. Shame to Pakistani Generals and their level of professional morality and intelligence if they expect politically strong Indian leadership to have a genuine dialogue on the settlement of Kashmir. Pakistan under Sahrif is operating from a position of extreme weakness, not of strength to search for a peaceful resolution of Kashmir. There is an overwhelming sense of political insecurity. There are widening gulfs amongst the rulers and the ruled. For over 50 years, Pakistan has not witnessed a single occasion of peaceful transfer of power. For so long, Pakistani nation has not produced a single credible leader to lead the nation for change and a promising future. To meet this challenge, Pakistan needs a morally and intellectually enriched leader of new vision and change for the future. Will you celebrate the Pakistan's 75 years of democratic demand for an independent homeland?

Towards Political Change and Pakistan's Future-Making

What has been lost during the past 50 years cannot be rebuilt by Sharif, Bhuttos, Zardari and the Generals. The rulers and the people live in conflicting time zones being unable to grasp the prevalent realities. Common Pakistanis breathe different air in a vicious encirclement of subjugation with a terrible sense of helplessness lacking political imagination and new ideas for future making. All public institutions look infested with indifference towards people's interest and corruption. The so called National Assembly appears to be a lukewarm of besieged political mindset. One cannot ignore the facts that some vital segments of the Pakistani nation must have been complacent in these schemes of things institutionalizing corruption and lack of political accountability and to support a class of the ruling Elite. Could the Generals, Bhuttos, Zardari and Sahrifs have stolen time and resources on their own without the large scale participation of the complacent segments of the society? The common folks want sense of security, normalcy in daily social affairs, business and trades, not wars. The egoistic rulers show deafening silence towards public interest and priorities. The major paradox of history spell out the strategic direction that Pakistan needs a navigational change to ensure its national freedom, human dignity and sustainable political future. Would the Generals and PM Sharif and all the sadistic collaborators see the mirror - who they were and where they are in public imagination? Had there been no military coups, no Bhuttos, no Zardari, no Sharif and no Musharaf making junk history, Pakistan under educated and intelligent visionary leadership would have been in the forefront of progressive nations in South Asia. Imagine the time and opportunities on the present horizon if there were proactive intelligent leaders, Pakistan could have taken initiatives to organize Afghanistan, Central Asian States, Iran and Turkey into a viable unity to usher a new age of economic and political strength and stability. Undoubtedly, those who crippled the nation with fake 'terrorism' and stole its resources and time for change and development, Pakistan's enemies are within, not elsewhere.

If Allama Iqbal, Chaudry Rehmat Ali, Quaid-e- Azam Mohammad Ali Jinnah and Liaquat Ali were alive today, most likely they would have refused to be identified as part of the current Pakistani political culture. The major paradoxes of Pakistan's history illustrate that its time for change, opportunities for development and resources for progress were stolen by its own egomaniac and insane rulers. If the Pakistani nation had produced new-age, educated and honest leadership, the nation would have been on the course of being a progressive nation and respected by the global community of nations. Not so, other nations across the globe use thrilling stories to label Pakistan as a culture of breeding "terrorism." To undo the darkened past and reshape the present, Pakistan urgently needs educated, visionary and proactive leadership and public institutions to rebuild its essential capacity to safeguard its integrity, survival and future as a progressive nation moving forward to pursue change and social and economic development infrastructures for the deprived people. It is obvious to draw from the past that unless some segments of the nation were complacent in some ways, Bhuttos, Sharifs, Generals and Zaradris would have never come to hold the highest offices to disgrace the nation. The solution must come from the living and thinking hubs of the new generation of educated, honest and proactive Pakistanis to facilitate hope and promise for a better future. The essence of time would demand prompt collective thinking and action for change and reformation process of the corrupt political governance, not a space for neutrality, confrontational argument, unthinking and inaction. This should be the agenda and resolve of the Pakistan Day Resolution- March 23.

-Dr. Mahboob A. Khawaja specializes in global security, peace and conflict resolution with keen interests in Islamic-Western comparative cultures and civilizations, and author of several publications including the latest: Global Peace and Conflict Management: Man and Humanity in Search of New Thinking. Lambert Publishing Germany, May 2012.


---


On Pakistan's anniversary, remembering how Pakistan's Elites were infiltrated by Alien Ideas
by Kaukab Siddique

Ahmed Rashid and the Mirror Image

Most Americans cannot get through to the real Pakistan. The people they meet on arrival are Pakistan's secular elite. Every Pakistani city has a secular enclave which is a world in itself, quite satisfied with itself. The Pakistani secular elite keep up with what goes on in "the states" and often know more about America than the average American. It may not be an exaggeration to say that just about all the young and many of the older people in these enclaves look forward to the day when they can (and will) leave Pakistan to move to "the states" (or if that doesn't work out, then to Canada, or "if worse comes to worse" to England).

The secular Pakistani buffer between the American public and the Pakistani masses has had tragic consequences in the form of the U.S. assault on Afghanistan. One of the most important books which came out of secular Pakistan was Taliban: Militant Islam, Oil & Fundamentalism in Central Asia by Ahmed Rashid. Extremely popular in America, the book was picked up by the major American media and publicized worldwide. It provided America the perfect excuse for war against the Taliban.

Ahmed Rashid's book was the toast of the entire Pakistani secular establishment. He raised the specter of "Talibanization" of Pakistan (page 187 and page 194 of the book, for instance, uses the term). His friends in publications like Herald, Dawn and other Pakistani periodicals picked up this alarm. The Pakistani ruling class, in particular the entrenched bureaucracy and segments of the military were infected by this fear of medressa trained young men carrying automatic weapons who would force every Pakistani woman to wear the top to toe burqa and every man to grow a long beard. [The beard would be measured by "religious police" carrying a foot ruler for the purpose.]

I want to look briefly at Rashid's book to look at its blind spots. In particular I want to show why Rashid should have been the last person western readers should have paid attention to. Taliban is a 274 page book packed with gossip, rumors, hearsay and some facts about Afghanistan. In America, we are familiar with the methodology Rashid uses. The New York Times is quoted by the New Yorker and the Washington Post is quoted by Christopher Hitchens. Larry King interviews Ted Koppel and NPR refers to its own reporters.

Ahmed Rashid admits that he got his idea of the danger of "Talibanization" of Pakistan from Olivier Roy. His guru was the Pakistani leftist Eqbal Ahmed. If that didn't work, Rashid had no qualms about quoting himself. Most of the chapters contain footnote references to Rashid's own articles in the Far Eastern Economic Review where he was a reporter for 16 years. He appears to have worked out a good working relationship with his Hindu supervisors at that paper. He gives "enormous thanks" to his editor Nayan Chanda and points out that doubts about his abilities were removed by the foreign editor of the paper, V. G. Kulkarni. [See preface to Taliban, page x.] One cannot blame Rashid for his blind spots: his heart was not with the Islamic peoples. He tells us that his wife's name is Angeles.

My purpose is not to analyze Rashid's book but to let my readers see the kind of "buffer" his type of person creates between Americans and the masses of Pakistan. He produced a book which suited the needs of America's power structure. Both the front and back covers of the book have this recommendation on it: "[A] valuable and informative work." Richard Bernstein, New York Times.

Evidently, the people who run America's media loved Rashid's version of the Taliban.


---


War News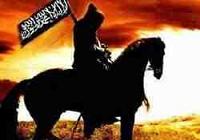 Afghanistan
Islamic State Supporters forced by Severe US Air Strikes to Move to Kunar
uk.Reuters.com/article/uk-afghanistan-islamicstate-idUKKCN0WQ1LL


---


Libya
SAS deployed in Libya since start of year, says leaked memo
King Abdullah of Jordan indicates US was briefed about plans for Jordanian special forces to operate alongside British.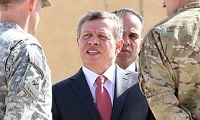 King Abdullah speaks to military personnel at a joint training centre in Zarqa, north-east Jordan. Photograph: Khalil Mazraawi/AFP/Getty Images

SAS forces have been deployed in Libya since the beginning of the year, according to a confidential briefing given to US congressional leaders by the king of Jordan.

A leaked memo indicates the US lawmakers were personally briefed by King Abdullah in January about plans for Jordan's special forces to operate in the country alongside the British.

According to the notes of the meeting in the week of 11 January, seen by the Guardian, King Abdullah confirmed his country's own special forces "will be imbedded [sic] with British SAS" in Libya.

According to the memo, the monarch met with US congressional leaders - including John McCain, the chairman of the Senate armed services committee, and Bob Corker, the chairman of the Senate foreign relations committee. Also present was the House of Representatives speaker, Paul Ryan.

King Abdullah said UK special forces needed his soldiers' assistance when operating on the ground in north Africa, explaining "Jordanian slang is similar to Libyan slang".

(Courtesy: Sky News)


---


Our America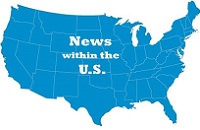 Masaud Khan Political Prisoner & His Mother: Why are the Mosques Silent?
Why have we Willingly Given Up our Right to Speak Out
[Guaranteed by the First amendment!}
by Nadrat Siddique

JUMA'AH REFLECTIONS: I visited the Islamic Center of Maryland (Gaithersburg) for juma'ah prayers today. Political prisoner Masaud Khan and his mother attended here (she still visits time and again), and I thought of them, as I stood distributing the New Trend (anti-imperialist Muslim newsmagazine). I thought about how he, incarcerated as a young man (and now in his thirties) lost his youth to an incredibly unjust System. And- I thought about her, a mother, fighting desperately to get her son out of the clutches of that System.

In the last four weeks, I visited four different masajid in the DMV (Baltimore-Washington, DC area) for juma'ah (including today). THREE OF THE FOUR MASAJID had political prisoner associations to them. That is, either a Muslim locked up on political (bogus) charges attends/ attended there, or the family of a political prisoner attends/ attended there. I realized what a tragic commentary this was on the state of affairs and suffering of the Muslim community: Many, many communities have been devastated by the targeting of political dissidents, or at least operate in fear. They dare not exercise basic First Amendment protected freedoms, not even in the House of Allah. Muslim-on- Muslim snitching is pumped as a solution to the "extremist problem"; all speakers/ imams other than government approved ones are excluded from most masajid; even imams on the government's "approved" list must sign agreements not to speak on certain topics, or to approach topics in ways objectionable to the authorities; local and national government officials and candidates are welcomed into the mosque, but dissident Muslim speakers are excluded; literature from Democratic and Republican candidates for office is welcomed while Islamic literature is frequently banned (or rules greatly impugning its distribution are enacted).

In the course of the FBI's "War on Terror," completely innocent men and women from communities across the U.S. have been locked up on the words of informants, or pursuant to instigating by agents, often to justify intelligence budgets, to keep the public in fear of the putative approaching Muslim Hoards; or to justify support for Israel and various dictators ruling Muslim lands.

Under such a climate, we have the choice of becoming apolitical, mindless drones, who question nothing, and swallow any nonsense directed at our people. Or we can speak, write, and go forth for that which we know to be just- at the peril of becoming political prisoners ourselves.

We then cannot afford to be silent. I encourage everyone to help the families of those unjustly detained; to write to Muslim political prisoners (as well as other political prisoners- and there are many) so that they know they are not forgotten; to join a committee to free a political prisoner; and to educate others on the reality of political imprisonment in this country.

FreeMasoudKhan.net


---


Los Angeles
Drug Corruption in America has Gone Beyond and Limits. NT Editor
Flight Attendant Who Ran From Security Arrested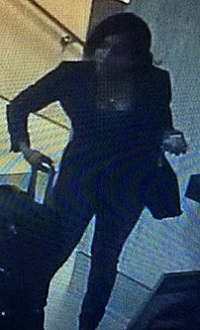 A JetBlue flight attendant who allegedly ran from security at Los Angeles International Airport leaving behind up to $3m of cocaine in her luggage has been arrested in New York.

Marsha Gay Reynolds surrendered to federal authorities at JFK International Airport on Wednesday, although it was unclear how she had arrived in New York, federal officials said.

She is expected to appear in federal court in Brooklyn on Thursday, US Attorney's spokesman Thom Mrozek said.

Incredibly, she cleared security at the same airport and took a flight across the country, just one day after running away.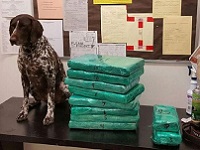 Nearly 70lbs of cocaine was allegedly found in her luggage

Officials blamed the lapse on "a security breakdown".

Transportation Security Administration (TSA) officials asked Reynolds to step aside for a random security screening on Friday, according to authorities.

She went to a secondary screening area, but dropped her bag, ditched a pair of Gucci heels and fled barefoot down an upward-moving escalator, LAX airport police said.

Reynolds was charged with cocaine possession with intent to distribute.

Mr Mrozek said prosecutors believe that Reynolds was a runner-up in Miss Jamaica World 2008.

New York University lists a Marsha-Gay Reynolds as having been on the school's 2004 women's track and field team.

On Friday, she had arrived at an LAX checkpoint in Terminal 4 wearing jeans, heels and a black suit jacket, with her "known crew member badge", according to an FBI affidavit.

It was unclear whether she was on duty at the time.

When she was chosen for random security screening, TSA officer Jamie Samuel said she became nervous and began looking around, before making a call on her mobile phone.

Mr Samuel said Reynolds was talking in a foreign language as she was moved to the secondary screening area, according to the affidavit.

Once inside, TSA officer Charles James asked for her identification.

"At this time, Reynolds dropped her carry-on luggage, removed her shoes and began to run away," the affidavit said.

Eleven packages of cocaine wrapped in green cellophane and labelled "BIG Ranch" were found inside one of the bags Reynolds left behind.

The cocaine weighed more than 68lbs and could be worth as much as $3m.

-Courtesy: LA Times


---


Zionists on CNN Spouting Propaganda. Daily Beast in Action.
March 24 [New Trend Media Monitor]

Michael Weiss, senior editor of the Daily Beast, is spouting propaganda on CNN, trying to spread rumors about ISIS. His name sounds Jewish but whatever kind of hatemonger he is, he spreads rumors in the most unethical way. Not a word from Weiss about the daily bombing of Islamic communities in Syria and Iraq by the air forces of America, Russia and Bashar Assad. These Zionists have sold themselves to the devil and with their control of the major media, they can say anything they want. There is no right of reply. Even O'Reilly is more honest that these street walkers of Journalism.

After Weiss, CNN has a hard core Jew, Dershowitz who too does not dare mention US bombing of civilians in Raqqa and a university in Mosul.



2016-03-27 Sun 17:38:05 ct


NewTrendMag.org