NewTrendMag.org News # 1646
[ Click on NEWS for back issues ][ OUR BOOKS ][ Contact ][ Previous Issue ]

11 JumaadaTHaany 1437 A.H.- March 20, 2016 Issue # 12, Newsletter #1646

---


Hadith of the Week

How precious is the daughter?" Whoever harms her, harms me."

" The Prophet, pbuh, said from the mimbar of the masjid:: "The People of Hisham ibn Mughira have asked my permission to marry their daughter to Ali ibn Abi Talib.

I DO NOT PERMIT IT. AGAIN, I DO NOT PERMIT IT. and AGAIN I DO NOT PERMIT IT.

Of course, if Ali divorces my daughter and marries their daughter, he has the right. My daughter is part of myself. Whoever harms her, harms me. Whatever hurts her hurts me."

[Sahih Bukhari, kitab-un-nikah]

Comment by Kaukab Siddique:
Thus Ali, r.a., one of the most pious men, was reprimanded THREE TIMES, in one speech by the Prophet, pbuh, and that too from the mimbar of the mosque. He did not reprimand any other sahabi like that.


---



Record Breaking Distribution of "Free Aafia" Movement message at Masjid Rahma [ISB]

Jamaat al-Muslimeen Activity at Biggest Mosque in Baltimore.

On March 18, more than 350 Muslims received a call to support the movement launched by Br. Mauri Saalakhan to free Dr. Aafia Siddiqui who is imprisoned in Ft. Worth Texas.

Jamaat al-Muslimeen is supporting Dr. Aafia's cause and was able to give out the message to Free Aafia to 350 plus Muslims. This high number was attained because now there are two congregations at ISB [Masjid Rahma.] Both were covered.

Another 40 people received the article by Br. Kaukab Siddique which critiqued President Obama's visit to the ISB

Political Prisoners :

AhmedAbdelSattar.org

FreeZiyadYaghi.info

FreeMasoudKhan.net


---


Spotlights
from Br. Badi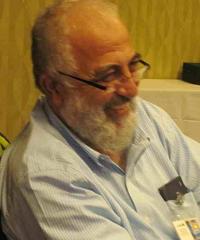 Serve the People. Teach Responsibility. Don't Whine and Complain.
I would rather spend my day serving people than spending my time sitting with a group of people that criticize, whine, and talk about their wealth.


Be above silliness and nonsense. Do the right thing, worry about yourself and stand by the truth.


I serve because I care.


Make it your mission to serve, lift people up, and lead them to the path of the truth.


Teaching your child to clean dishes in the sink without being asked is developing his/her sense of responsibility towards what they see and confront in the world. They will grow up to remove harm from the path of others.


Those, whom you serve, will love you in return.


Teach people to serve by serving them.


People learn by their eyes before their ears. Set an example.


A great leader is a servant of his community.


Serving others is better than receiving service from others.


- Br. Badi Ali leads a large Muslim Community in Greensboro, NC


---


Syria war: Speaking out on 'sadistic' government jails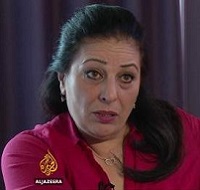 Regime Alawites, Shias, Hizbullah and Iran [indirectly USA] Protect.
Hanada al-Refai tells Al Jazeera about being tortured, losing her brother, and her campaign to free political prisoners.

A woman who says she was jailed in Syria for seven months has revealed the extent of torture she and her brother - who was killed in prison - suffered at the hands of Bashar al-Assad's government. I want to be a voice for the victims of this war. The conditions in jail are very sadistic, very criminal.

From being forced to eat from toilet pots and being interrogated in a room covered in vomit and blood, to being badly beaten for days on end and receiving constant death threats, activist Hanada al-Refai said the treatment meted out to her was inhuman.

"I want to be a voice for the victims of this war," she told Al Jazeera, speaking in Geneva where the latest round of peace talks are being held. "The conditions [in jail] are very sadistic, very criminal."

Refai on Thursday appeared on a panel in the Swiss city at an exhibition of photographs smuggled out of Damascus by a former military photographer code-named "Caesar". Also speaking on the panel were other Syrian activists and Britain's special representative for Syria.
Refai was a teacher, but when the uprising began she seized the opportunity to join peaceful protests.

"Before I was just a wife, mother and teacher. At that time I wasn't interested in politics, it was a red line. But we were hoping that we [Syrians] had the courage to have a revolution, like Egypt," she said.

"I started to be an activist when the revolution started from Deraa, my city. We call it the cradle of the revolution."

She collected videos of demonstrations and posted them online to "show the world what was going on in Syria". 'I saw men die'

But on March 15, 2012, she says she was arrested as she tried to run away from officers manning a checkpoint in Nabak. She was held in Harsata, an Air Force Intelligence base.

"I thought they wouldn't beat me. I am grandma, a teacher, a woman ... [But] they took me inside, covered my eyes and tied my hands behind my back."

The prison officers then forced her into a crouching position.

"I was stuck and couldn't move," she said. "They turned me so that my face was on the floor and my legs were up. They took off my shoes and socks and started beating my feet with a stick. I don't know for how long ... I was screaming like hell. I have never screamed like this, even when I had each of my four children."

Most of the other prisoners were men, many of whom began to suffer from mental illness, a condition al-Refai says she came to envy as the torture intensified.

"I saw a lot of men, they got crazy. We used to feel very jealous of them that now they were happy. They don't know what was going on. I saw men die," she said.

Others were hung from the ceiling as punishment for not giving information.

"Why would they deprive me from my family for seven months? Just because I asked for freedom? For dignity?" she said. "While they were beating me, they said, 'What more freedom do you want? You don't have to wear hijab, you drive a car, you went to university. This was all a favour from his excellency.'"

Her brother Naef, a military judge, visited her two days after she was jailed. But a week later, he was also arrested. Two years and two months into his imprisonment, he was killed.

"He studied law, he wanted fairness and justice," she said. "But he couldn't get justice for himself. I tried everything to save him but I couldn't and he died. They killed him." Naef's body has not been returned to the family.

"When I talk about him, I'm talking about them all [political prisoners in Syria]. We have to save whoever is still alive, set them free," said Refai. "I won't ask for the impossible, to bring him back to life. But at least I want my brother's body back. He deserves to have a grave like any human being."

There are no verifiable statistics on how many people have been jailed since the war started in 2011. But by some estimates more than 200,000 people may have been held as political prisoners, including thousands of women and children.

"In seven months, I met 65 women aged from 12 to 85 years old," Refai said, adding that the child was detained because her father fled the army, and the 85-year-old because her son had left.

She also met female university students in jail, and believes the government uses women "as a weapon of war".

The threat of rape silences dissent, she explained. "They [the university students] were scared of the regime and of society. They think, 'Who will want to marry me?' Even if nobody rapes them, others might think maybe somebody touched them."

Refai has now vowed to campaign for the release of all political prisoners, especially women and children. Asked what she thought should happen to those who ordered torture, she said: "They must be punished. For me or those who are relatives of detained, at least we need to know there is justice on planet earth. We don't want to wait for heaven for a judgement from God. They must be judged now, on earth


---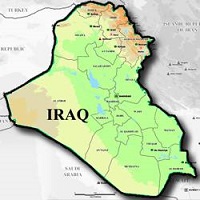 Breaking News
Growing Trouble for US and Shias.



March 18:

An IS attack on US troops in northern Iraq killed one US marine and "wounded several." [Pentagon].


March 19:

IS probing attacks around Baghdad killed 8 Baghdad Shia troops in one attack and 5 in another.


March 17:

A ferocious Islamic State attack coming out of Ramadi killed 50 Baghdad regime troops.
---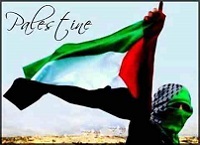 Israel seized 234 hectares of West Bank land.

News.Yahoo.com/israel-seizes-234-hectares-west-bank-land-officials-155125257.html


---



Jamaat al-Muslimeen Activity first in Catonsville, Maryland: Reaching an all-Pakistani Audience.

Support for Dr. Aafia+Khutba on Syria-Iraq+Report on Russian bombing.

Mar 18, Jamaat al-Muslimeen gave its literature to 109 people after Juma at Masjid Fatima in Catonsville, Maryland. This is an all-Pakistani masjid a little outside west Baltimore. They have a bayan in Urdu. The khutba in Arabic is very brief.

The 4 pages given out were as follows:


Call for "free Dr. Aafia" mobilization supported by Jamaat al-Muslimeen.


Dr. Kaukab Siddique's khutba on constant contact with Allah plus response to daily propaganda against ISIS.


Russian terror bombing killed hundreds of civilians plus ISIS retaliation.


The community was very sympathetic and made interesting comments about Dr. Aafia. The most interesting comment was that Pakistan should exchange Dr. Aafia for General Musharraf.


---


Genocide by Alawites and Russians in Syria

This is not an IS stronghold just outside Damascus.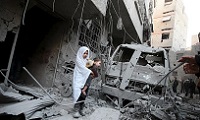 A girl carrying a toddler inspects damage, in a site hit by what activists said were airstrikes carried out by the Russian air force, in Douma


---


Unique "Free Dr. Aafia" Rally in front of the Justice Dept. in Washington. Organized by Br. Mauri Saalakhan, supported by Jamaat al-Muslimeen

Dr. Aafia Siddiqui and her children were abducted in Pakistan. Later she was "found" in Afghanistan and accused of attempting to fight US troops and sentenced to 86 years in prison. America has hurt hundreds of Muslims who were totally innocent but the violations of international law and the torment, torture and rape Aafia was reportedly subjected to boggle the mind. A graduate of America's best universities, Aafia is imprisoned in Ft. Worth, Texas, cut off from relatives and media.. No mail is received for her.

The American media have been silent about the case of Dr. Aafia, dismissing her as just another "terrorist."

It was difficult to hold the rally owing to steady rain and suddenly low temperatures. The media did not turn up but Jamaat al-Muslimeen recorded an extensive presentation by Br. Mauri Salaakhan in which he answered key questions, which was followed by a speech by Br. Kaukab Siddique.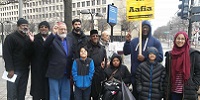 After the non-Muslim protestors left owing to steady rain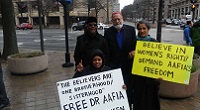 Jamaat al-Muslimeen placards.


---


Research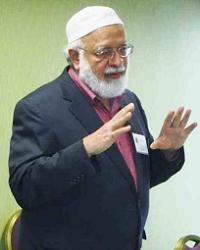 A Sect which is Attacking Islam From Within.

Pervez Spread Bogus Story that Imam Abu Hanifa Opposed Hadith. Abu Hanifa Not Only Accepted Hadith, but even Mursal Hadith and Narrations of Sahaba. Process of Ijtihad is Available in Hadith Itself

Question and Answer:

[The following is from a series of questions asked by M.......... in Canada. The questioner is refusing to give any information about her location and address but as her questions seem to be legitimate, they will be answered.]

Continuation from M. in Canada: Allama Pervez has shown us the weakness of Hadith by taking the example of Abu Hanifa whose School of Thought has the most followers in the Muslim world. Allama Pervez says that Abu Hanifa hardly ever used Hadith, no more than 18 Hadith in his life time. The Allama quotes page after page, nine pages, from the Tarikh of Khateeb Baghdadi (volume 13) which show that Abu Hanifa rejected Hadith as source of Islam and instead used the Qur'an and did Qiyas on its basis. All the scholars of that time were upset with Abu Hanifa, as you are upset with Allama Pervez, and accused him of starting a "new Islam." Allama Pervez ends the discussion of Abu Hanifa with these points:


In DEEN, only the principles and laws of Qur'an do not change, and it is this Book which is above doubt and suspicion.


Traditions have a historic value which can help in doing Ijtihad but they cannot be declared a permanent and unchanging part of DEEN.


In the light of principles of the Qur'an, we should organize Fiqh by our Ijtihad but this Ijtihad too cannot be declared unchanging till the Day of Judgement." [Maqame Hadith by Pervez, p.170]


This will help you to understand Pervez and stop attacking him.

Note: The three points from Maqame Hadith were photocopied by the writer from the original Urdu. We have translated them with great care and we hope the writer will have no problem with the translation.

REPLY BY KAUKAB SIDDIQUE:

Discussion of Imam Abu Hanifa is relevant at this time because his mosque in Baghdad was hit in the U.S. bombing. I have a photo of it received from Baghdad. The top of the mosque's turret was blown off. It also received damaged to its front entrance and to various parts of its structure.

The followers of the Parvezi sect should protest to the U.S. over the damage if they think Imam Abu Hanifa was a supporter of their line of thinking. I notice that the Parvezis are among the few people in the Muslim world who have not come out against the U.S. bombing of Iraq.

Parvez was a dishonest writer and hence tied himself into knots while trying to mislead the Muslims. We should pay attention to the FITNA he started because he now has followers in America trying to use his bogus arguments in their attempts to help the Zionists by undermining the Hadith of the Prophet (pbuh). [One recent "gem" the Parvezis have produced is that Masjid al-Aqsa, mentioned in the Qur'an, is not in Jerusalem!]

Let's look at the absurdities of Parvez as evidenced in M's question:



Does M. know that Imam Abu Hanifa was a non-Arab? In fact his grandfather, Zuti, was a fireworshiper from KABUL, who embraced Islam and, to avoid persecution by his family, traveled to Iraq and settled in Kufa where Abu Hanifa's father Thabit was born.

Parvez's theory was that there was a "PERSIAN Hadith conspiracy" against Islam, as evidenced by the non-Arab origins of the six famous collectors of Hadith. So, if Abu Hanifa was a Persian and an OPPONENT of Hadith, according to Parvez's way of thinking, then obviously the conspiracy theory is again seriously damaged.


I have MAQAME HADITH by Parvez, and you are right: he does have nine pages of quotes from Khateeb Baghdadi which indicate that Imam Abu Hanifa rejected (most) Hadith. Here Parvez has undermined himself owing to his dishonesty and lack of scholarship. Note:



Parvez does not tell his readers that Khateeb Baghdadi died in 463 (H). [He does not even mention the full name of the author, Ahmad bin Ali al-Khateeb al-Baghdadi, nor the title of his work, TARIKH BAGHDAD, though he quoted nine pages from him.] Perhaps Parvez was banking on the non-availability of the book he was quoting from for most Pakistanis.


Notice that Parvez has created suspicion about Hadith owing to the 3rd century productions of six of the collectors of Hadith. Here he wants to use a FOURTH CENTURY collection of history-related narrations [no comparison in quality to the books of Hadith] and bases a major argument upon it.


Did you notice that ALL the quotes he has given are by OPPONENTS of Imam Abu Hanifa. These are no more than the polemical writings of scholars of that era. Many of them opposed Abu Hanifa because he used Qiyas (reasoning by analogy). [Some of these opponents were great scholars like Ahmed ibn Hanbal who considered Hadith sufficient to answer all exigencies.] They were trying to put him down by saying that he opposed Hadith, which only shows that Hadith was valued by all scholars in the golden era of Islam.


Parvez, being dishonest, left out what Imam Abu Hanifa said about his own position on Hadith. This will surprise you, because it's from the same volume of Khateeb Baghdadi's book from which Parvez quoted page after page of what Abu Hanifa's opponents said. Here are Abu Hanifa's words:

"When I find some command in the Book of Allah, I grasp it, and when I do not find it in the Qur'an, I take the example of the messenger of Allah, pbuh, and I grasp what has been narrated about him correctly by honest people. Then if I find it neither in the Book of Allah nor in the example of the messenger of Allah, I take the words of the Companions of the Messenger, and if there is a difference among the Companions, I take the word of the Companion I prefer to over that of another. I do not go outside the words of all of these to take anyone else's word. As for people other than these, I have the right to Ijtihad just as they have." [Tarikh Baghdad, vol.13, p. 368]


A Shafi'ite scholar, Sha'arani, in his classical work Al-Meezan, has quoted from Imam Abu Hanifa. Note that Abu Hanifa not only accepts Hadith of the Prophet (pbuh) but even the narrations of the Khulafa as BINDING before using his Qiyas:

"I first act on the Qur'an, then on the Sunnah of the Prophet (pbuh), then on the teachings of Abu Bakr, 'Umar, 'Usman and Ali." [Al-Meezan, vol. 1, page 61]


Study the life of Imam Abu Hanifa. After learning the Qur'an, he went to the city of Basra and learned Hadith from two famous people in the generation after the Companions (tabain), Qatada and Sho'ba. Then at the age of 24, he went to Makka and learned Hadith from another eminent scholar named 'Ata. Then he went to Madinah and learned Hadith from Imam Baqir (from the line of the Prophet, pbuh). Imam Baqir also accused him of putting Qiyas above Hadith and Imam Abu Hanifa gave an example to show that this was not so. He said:

"Obligatory prayer is more important than fasting. If I were using Qiyas first, I would have said that a menstruating woman should make up for the prayers missed. I don't: instead I say that she should make up for the missed fasts."

Imam Baqir died in 114 Hijri and then Imam Abu Hanifa learned Hadith from Imam Jafar Sadiq, also from the line of the Prophet (pbuh). Then he went back to Kufa to learn from Imam Hammad.


Imam Abu Hanifa went on to become one of the greatest teachers of Hadith. He was so well versed that instead of writing it down, he narrated Hadith orally to his students. His students, giants of Islamic scholarship like Imam Abu Yusuf and Imam Muhammad, wrote down the Hadith he narrated to them verbally. Of the 4,000 Hadith, he narrated, one MUSNAD of Imam Abu Hanifa exists even in Urdu with 523 Hadith in it. Incidentally, it begins with the same Hadith with which the Sahih of Bukhari begins.


The Musnad of Imam Hanifa, and all his narrations of Hadith, have been collected and transmitted by numerous scholars of Hadith. One of the greatest tributes which can be paid to him is that his MUSNAD was transmitted even by differing scholars from non-Hanafi schools of thought. I will mention only one: Ibn Asakir, a Shafi'ii, from Damascus, 499-571 H.


ABU HANIFA EVEN ACCEPTED MURSAL HADITH;

Let alone rejecting or opposing Hadith, Imam Abu Hanifa even accepted Mursal Hadith in which the name of the Companion who narrated from the Prophet (pbuh) is not given. Such Hadith from Abu Hanifa can be seen in the Kitab al-Athar by Abu Yusuf (famous student of the Imam). Such Hadith would be a problem for later collectors, like Imam Bukhari, who would usually reject them. Imam Abu Hanifa was able to accept them because he got them via great scholars of Hadith like Nakha'i and Hasan Basri who had met the Companions of the Prophet (pbuh).

In conclusion, Parvez's entire story about Imam Abu Hanifa and Hadith is BOGUS. As for the principle of Ijtihad (independent reasoning), it is already given in the Hadith and is based on the Qur'an and the Hadith. I'll quote it from a good book of Hadith which I have in my personal library:

"Ma'az narrates that when the messenger of Allah (peace be on him) sent him to Yemen to become its governor, he asked Ma'az: Tell me, when something happens, how will you decide about it? (Ma'az replied) I will judge it according to the Qur'an. (The Prophet asked) If it is not in the Qur'an? (Ma'az replied) Then I will judge according to the hadith of the messenger of Allah. (The Prophet asked) If it is not in the hadith of the messenger of Allah? (Ma'az replied) Then I will use my own thinking and do my best. (Ma'az narrates) Then the messenger of Allah hit Ma'az on the chest with his hand and said: thanks be to Allah Almighty that He gave Ma'az the inspiration which pleased His messenger." (Darimi's Sunan, chapter 20, hadith 12. Darimi died 255 H.]


---


PAKISTAN





Doctrine of necessity still alive .
General Musharraf fled after Major Crimes.
Jamaate Islami Lauds Mumtaz Qadri Shaheed. Prime Minister is Following Washington Dictates.
Huge Poverty in Sindh Owing to Neglect by PPP and PML groups.
by Qaiser Sharif

LAHORE, Mar. 20. Ameer, Jamaat e Islami, Pakistan, Senator Sirajul Haq, has said that Pervez Musharraf's fleeing the country despite his abrogation of the constitution, the bloodshed in Karachi on 12th of May, and several other crimes amply proved that the doctrine of necessity was still alive in the country. He was addressing a large Namoos e Risalat Conference at Kundyaro, during his Sindh tour on Sunday.

The JI chief said that Prime Minister Nawaz Sharif had not learnt a lesson from history and despite paying respects at the Holy Kaaba and the Roza e Rasool (PBUH), he was always acting on Washington's dictation. He said the execution of Ghazi Mumtaz Qadri and the talk of liberal and secular Pakistan was in pursuance of the US agenda.

Sirajul Haq termed Mumtaz Qadri's execution was the execution of the Pakistan ideology and the Pakistan movement and added that the historic gathering at Mumtaz Qadri's funeral despite the media blackout and the government conspiracies was a slap on the face of the rulers. Whoever sacrifices his life for the Namoos e Rasool would remain alive for ever. He said that Mumtaz Qadri's blood would continue to chase Nawaz Sharif till eternity.

He said the people of Pakistan were fully awake and were ready to lay down their lives for the respect of their Holy Prophet, and added that the slaves of the Holy Prophet were destined to be victorious while Obama's slaves were doomed to be defeated.

While addressing a public meeting at Sakkhar, Sirajul Haq that status quo had crushed the masses and ruined the entire system. Corruption had spread all over as the PPP and the PML(N) had entered a pact in the name of Charter of Democracy to hide each other's corruption and misdeeds. Therefore, the conscientious people must rise against the status quo.

He said the JI was struggling for a just socio-economic system wherein the rulers and the ruled stood in the same line.

The JI chief blamed the rulers of Sindh for the backwardness of the province as they were always running after their personal interests and never bothered for the welfare f the people or the development of Sindh. He said there was no government worth the name in Sindh, and remarked that while the pet dogs of the rich were getting treatment abroad, the common man did not get pain killers from the government hospitals. As such, there was dire need to remove the political pundits from the scene.

He said that the motherland was a sacred as the mosque and the other and added that the JI was striving for the unity of the Ummah by rising petty differences.

JI deputy chief Asadullah Bhutto, JI provincial chief Dr Merajul Huda Siddiqui, and other party leaders also addressed the conference.


---


Beware the Avaaz Group which Successfully infiltrated Pakistan.
Clever Propaganda for "Women's Rights."
New Trend media watch.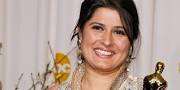 The dirty propaganda work in Pakistan about women was done related to Avaaz group by an Ismaili woman: Ubaid-Chinoy (picture on right). She took an atrocity story and gave the impression that women are treated horribly all over Pakistan. Imagine how easily this could be done for women in America.

The Pakistani Prime Minister honored Chinoy the same day as Mumtaz Qadri was martyred and her story was used as a diversion all over Pakistani media.

Now a reader has sent us the whole story about Avaaz. It is a Jewish-Hindu attempt to infiltrate Muslim countries on the basis of women's rights. It has developed big time owing to innocent readers who don't understand anti-Muslim propaganda techniques. 1843magazine.com/content/features/robert-butler/man-behind-avaaz


---


War News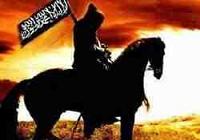 Turkey

3 Israelis Killed 11 wounded in Human Bomb Attack in Istanbul.

On March 19, a group of Israelis gathering in a street of Istanbul was hit by a martyrdom operator. Three Israelis were killed and 11 injured in the attack, 7 of them seriously, Israeli media report.

An Iranian was also killed in the attack in addition to the bomber identified as a Turkish Muslim named Yildaz.

Israelis had warnings before hand to be cautious. Turkey is plagued with attacks by the PKK communist group and Turkish bombing of PKK in south eastern Turkey and northern Iraq.

However this is the first attack on Israelis. The US and France have expressed deep shock and anger. Turkey wants to be friends with both Israel and the Islamic fighters against Bashar Assad of Syria.


---


Syria #1

55 civilian Syrian citizens killed in massacres carried out by Russian warplanes in Al-Raqqah within 24 hours

March 20, 2016

The Syrian Observatory for Human Rights make sure that Russian warplanes are the ones which committed two massacres of civilians during the past hours in the city of Al-Raqqah, killing 55 people including 13 children and 12 citizen women and one of the women was pregnant and she was killed with her unborn child.

Yesterday's massacre killed 16 civilians including 8 children and five citizen women when the Russian warplanes intensively raided the areas of al-Sur, the silo, al-MoJamma' Square near al-Thakneh neighborhood and other areas in the city of Al-Raqqah city, while in the second massacre 39 civilians were killed, including five children and seven citizen women and one of the women was also pregnant and she was killed with her unborn child too when the Russian warplanes carried out more than 10 airstrikes targeting different areas in the city of Al-Raqqah. Also 5 members of the Islamic police in the "Islamic state" organization were killed in the bombing today; it is worth mentioning that the death toll is expected to rise because there are some people in critical situation.


---


Syria #2

Russians target Tadmur city. Islamic State Advances in Aleppo
March 20, 2016 from SOHR.

Homs province: Russian warplanes went in dozens of airstrikes on Tadmur city which is taken over by IS. Clashes taking place between IS and regime forces around al-Qaritin amid advances for IS in the area.

Aleppo province: IS took control on Kafar Saghir near the industrial city after violent clashes against regime forces; the clashes continue around the town in an attempt by the regime to advance. Bombardment continues on Shekh Maqsoud neighborhood, leading to injuries.


---


Iraq

U.S., allies target Islamic State with 20 strikes in Syria, Iraq - statement

March 18: The United States and its allies conducted 20 strikes against Islamic State militants in Iraq and Syria on Thursday, the coalition leading the operations said.

In a statement released on Friday, the Combined Joint Task Force said nine strikes near three cities in Syria hit several tactical units, destroyed fighting positions and a vehicle-borne explosive device, and damaged other targets.

In Iraq, 11 strikes near seven cities targeted headquarters and tactical units and destroyed vehicles, heavy machine gun positions, a tunnel and other targets, the statement said.

(Reporting by Megan Cassella; Reuters)


---


Our America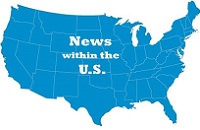 Washington, DC

Supreme Court Nominee Garland is Jewish. Here's How Jews Are Reacting.
Courtesy Mark Weber, California

Jews make up just over two percent of the American population. They could soon take up almost half the Supreme Court bench. If Merrick Garland --- announced Wednesday as President Barack Obama's choice to fill the late Justice Antonin Scalia's seat - is confirmed, a record four of the nine Supreme Court justices would be Jewish. Garland would join Jews Ruth Bader Ginsburg, Stephen Breyer and Elena Kagan on the court. Jewish reaction to the news was rapid, and varied ... On Twitter, Jews appreciated the historically high ratio Garland's confirmation would create. Others felt three out of nine is enough. And there were the inevitable Bernie Sanders comparisons.
JTA.org/2016/03/16/default/merrick-garland-is-jewish-heres-how-jews-are-reacting


---


Rochester, NY
Key Role of Informants in Max Sentencing of New York Muslim.
Israel Gets Open ended Huge Late Model Weaponry from USA.
Try Sending a computer to the Islamic State, this happens. Note "wanting" vs Doing.
[NT Editor]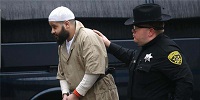 US hands down longest-ever sentence for ISIL support. New York state resident sentenced by district court to 22-and-a-half years in prison for trying to recruit fighters.

Pizza shop owner Mufid Elfgeeh pleaded guilty only to trying to recruit two individuals to join ISIL [AP]

A New York state resident was sentenced to 22-and-a-half years in prison for trying to recruit fighters to join Islamic State of Iraq and the Levant (ISIL, also known as ISIS), the longest prison term handed out yet to an American convicted of supporting the group.

Mufid Elfgeeh, a 32-year-old pizza shop owner of Rochester, New York, was sentenced in a Western District court on Thursday after the district's attorney, William Hochul, called Elfgeeh "one of the first ISIL recruiters ever captured".

Convictions for ISIL-related activity by US citizens have become more frequent in recent months as more than 80 such cases brought by US prosecutors since 2013 work their way through federal courts.

Although Elfgeeh pleaded guilty in December only to trying to recruit two individuals to join ISIL, he was also originally charged with trying to kill US service members and unlawfully possessing firearms and silencers.

From 2013, the FBI paid two informants to help investigate Elfgeeh, according to court records.

The informants recorded conversations in which Elfgeeh talked about wanting to kill members of the US military and Shia Muslims in New York. One of the informants eventually sold Elfgeeh firearms and ammunition.


---


Sexual Predators Face Little Retribution for Rape. Only 5% of Rape Victims Come Forward.
Rapists Play with the Lives of their Victims.
by Sis. Aisha [Jamaat al-Muslimeen]

New York City - The penalty for being a sexual predator is very lenient, in many instances, in the justice system. There are rapists still being given plea deals, many of which involve a judge handing down a sentence for probation. Now, these rape victims must also contend with parental custody fights with these rapists!

These rapists, usually, play a game called "leverage." Of course, they have no interest in the child but, there are some states that force convicted rapists to pay child support. In Massachusetts, rapist Jaime Melendez sued for visitation rights of his 14 year old victim's child BUT, said he'd drop the demand IF he no longer had to pay any child support. In another case, in North Carolina, a rape victim wanted to put her baby up for adoption but, she also needed the permission of the baby's father, as well. At the time, she was about to testify against him in court for the rape. However, the rapist agreed to give consent to the adoption ONLY IF the rape victim did not testify against him in court. The victim was at a crossroads: protect society from this predator or the adoption? Unfortunately, the laws do not help these victims.

These are all legal maneuvers used by astute predators in a country who's justice system is very much at their service. There are 15 states, one is too many, that provide no legal protection for rape victims against their tormentors. For women deciding to keep the baby, this has led to harassment, manipulation, intimidation and the increased difficulty with trying to recover from the rape.

On record, there are 35 states that terminate a rapists' parental rights BUT, only if a conviction results. There are many instances where either rape is difficult to prove or that area's justice system handles rape accusations rather nonchalantly. Let's not forget that only 5% of rape victims come forward at all. Although Muslim women are allowed to terminate pregnancy due to rape (and incest or a life threatening pregnancy), for women of other religious backgrounds abortion is not an option. Fortunately, there are states that allow abortion for rape. Even pro-lifers have a rape exception.

Congress, finally, approved the Rape Survivor Child Custody Act (RSCCA), which pledges money to states that deny male rapists parental rights, iF the mother can prove he raped her in family court. But, these laws need to be careful because women rape too! There are many women who have given birth to the children of their male rape victims. There needs to be protection for all rape victims whether a child is sired or not: men, women, children, and animals.

Some people feel that family court is not appropriate for handling criminal cases, such as rape. People are questioning that the same way they are questioning how universities handle rape cases. A University of California at San Diego male student sued and won his case getting the penalties imposed by the university thrown out. He was accused of sexually harassing a female student but, claimed he did not get a fair trial. So, there may be challenges to this RSCCA law, yet.

This society tries to take too much into consideration when creating certain laws: the needs of the rape victim versus the longterm care of the child sired form a rape. This only comes into consideration when the rape victim decides to keep the baby. The question becomes, "Is it right to deny a child access to its father?" But, should the parent be separated from the crime? I believe answered that question when Prophet Muhammad (saw) ordered a woman's rapist to be stoned to death, even after he came forward to confess when the wrong man was accused (Sahih Bukhari Hadith). Islamic law measures the ramifications of an individual's or groups's egregious act on an entire society. The act itself is punished and it outweighs the personal rights of the one guilty of such crimes.

Unfortunately, in America, male politicians still make decisions that affect women detrimentally. Women have no voice and wicked female politicians, such as Hillary Clinton, have made very little strides up until now.

(Source: Eric Berkowitz - MSN.com)



2016-03-21 Mon 19:54:09 ct


NewTrendMag.org