NewTrendMag.org News # 1599
[ Click on NEWS for back issues ][ OUR BOOKS ][ Previous Issue ]

7 Rajab 1436 A.H. - April 26, 2015 Issue # 69, Newsletter #1599

---


Hadith of the Week

Narrated Anas, r.a. Allah's messenger, pbuh, said, "Whoever possesses the (following) three qualities will have the sweetness of faith (1): The one to whom Allah and His messenger become dearer than anything else; (2) Who loves a person and he loves him only for Allah's Sake; (3) who hates to revert to disbelief as he hates to be thrown into the Fire."

[Sahih Bukhari.]


---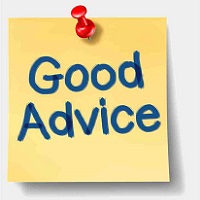 From Br. Shamim Siddiqi Long Island, NY

The Basic Message of the Qur'an: In it is Guidance Sure.

Salaam to all,

The Qur'an is the book of Guidance as to how to live, act and behave on this earth. It corrects the teachings of other Prophets who came before and gives the history of people who refused the Messengers of their time before hand that then all were destroyed except those who were Muslim of their time. It further tells about the Day of Judgment. the Hell and the Heaven and describes many favors and bounties that God has provided magnanimously to human society and how He fulfill the physical and the spiritual/moral needs of man.

It clearly warns the people who do not accept His authority on self and society and worship idols and man-made laws and their authority; they all will be punished and be thrown in hell fire, if they do not repent and beg His pardon before death.

If you study the Qur'an in detail, your will get all these topics discussed somewhere in short and somewhere in detail.

This is the message of the Qur'an and we have to share it with the world around us declaring: that you all will get your Salvation only when you accept this message of the Qur'an whole heartedly. ONLY THEN YOU WILL GET PEACE IN HUMAN ABODE AND PARADISE {ETERNAL PLEASURE} AFTER DEATH.

Shukrun wa Jazakallah
Shamim Siddiqi
www.dawahinamericas.com


---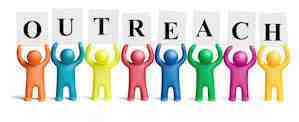 Jamaat al-Muslimeen Activity in Laurel, Maryland

On April 24, an 8 page document was given to 157 Muslims after Juma at the Islamic Center of Laurel, Maryland, not far north of Washington, DC.

Most of the worshippers were Muslims from Pakistan and India with a few Africans and African Americans. Many Muslim women worship here..

The khutba was about the rearing of children along Islamic lines.

The eight pages were as follows:

Facts on Rape in Hindu India and Buddhist Cambodia,


&
&
Br. Kaukab's research on the rights of women and punishment for rape in Islam.


Sis. Asqfish on Murders of Muslims in Chapel Hill, North Carolina.


Imam Badi Ali on Community Action


Imam Ali Siddiqui on Love of the Prophet [Houston, Texas]


Islamic State's historic defense of Tikrit against overwhelming odds in Iraq.
---



Shoora

Jamaat al-Muslimeen will hold its National Islamic Shoora on May 16, InshaAllah.

Sis. Ashira who has returned from a three month trip to Ethiopia will address the Shoora.

The Shoora is a planning and study group which looks at key issues like:

Palestine.


Political Prisoners in USA


Africa


Police Brutality in USA.


Women's Rights & Opposition to Exploitation.


Effective ways of giving the message of Islam.
---


WAR NEWS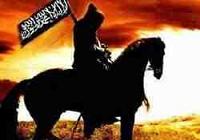 Syria

BBC Admits al-Nusra Led Islamic fighters are Advancing in Syria.
[Here is the BBC report.]
Syria conflict: Islamists capture Jisr al-Shughur.

The rebels began their offensive on Thursday Islamist rebels in Syria have taken over the key north-western town of Jisr al-Shughur, activists say.

It was the last major town under government control in Idlib province. Correspondents say it may give rebels a route to the ruling elite's heartland.

The Islamist forces, including the al-Qaeda-affiliated al-Nusra Front, began the assault on Thursday.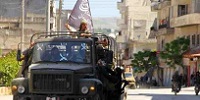 State media said the army had redeployed outside the town "to avoid civilian casualties".

They quoted a military official as saying that, before withdrawing, troops had engaged in fierce fighting with "armed terrorist groups" who arrived in large numbers from the Turkish border.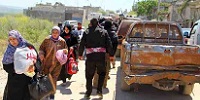 Activists from the London-based Syrian Observatory for Human Rights said government forces had fled. The bodies of at least 60 pro-government fighters were lying in the streets, the observatory added. Before the rise of Islamic State, the Nusra Front was seen as the strongest and most militant rebel force. The city of Idlib was overrun by the rebel groups last month.

Residents of the town have been fleeing the fighting.

Since then, government forces have been trying to protect their supply route between Aleppo and Hama province on one side and Latakia on the other.

Latakia is home to the core of the Alawite minority to which the family of Syrian President Bashar al-Assad belongs and is so far largely untouched by the war.

BBC World Service Middle East analyst Sebastian Usher says that if the rebels can drive the government completely out of Idlib province, they would open the way to Latakia.

The town of Jisr al-Shughur has been under government control since the early stages of the conflict. In June 2011, large protests against the regime led to the deaths of 120 troops in circumstances disputed by the government and its opponents.


---


Nigeria

Boko Haram Take Strategic Town. Nigerian troops Flee.
Islamic Fighters of BH also beat Back military Assault on Sambisa Forest.

[This is an anti-Islamic report, given below, but it does admit defeat of the Nigerian army.... editor]

Maiduguri (Nigeria) (AFP) - Suspected Boko Haram insurgents have forced hundreds of soldiers to flee Marte, a border town along the shores of Lake Chad, a local official and witnesses said.

"The terrorists, numbering over 2,000, appeared from various directions on Thursday and engaged the soldiers in Kirenowa town and adjoining communities in Marte," said Imamu Habeeb, a local community leader.

"They fought with soldiers over the night and the fight continued today (Friday), forcing hundreds of soldiers to flee," he added from Borno state capital Maiduguri.

Local fighter Shehu Dan Baiwa said the more than 2,000 fighters had been armed with bombs and tanks. "They used the weapons without restraint and succeeded in killing several people," he said.

This is the third time Boko Haram has seized control of Marte in restive Borno state, a key battleground of their six-year insurgency, which has killed more than 13,000 and left 1.5 million homeless.

The city is among several retaken in recent weeks by Nigeria's military, which has launched an offensive against the Islamists as part of a regional operation supported by Chad, Cameroon and Niger.

But Boko Haram have been fighting back, and Nigerian troops were also forced to retreat from Boko Haram's Sambisa Forest stronghold this week after a landmine blast killed one soldier and three vigilantes.

A senior local politician confirmed, on condition of anonymity, that the insurgents had retaken Marte.

"We lost many (people) because some of our people that fled to Chad and Cameroon have return after Nigerian troops recovered the town recently," he added.

A senior military official confirmed the attack on Marte, but refused to say whether Boko Haram had retaken the town, describing the army's retreat as "strategic"


---


Iraq

ISIL fighters make gains in Iraq's Anbar province.

Fighters took partial control of a dam and base guarding it, as group's advance on Ramadi forces civilians to flee city.

Fighters from the Islamic State of Iraq and the Levant (ISIL) group have taken partial control of a water dam and the military barracks guarding it in western Anbar province, security sources and witnesses said.

The armed group launched an offensive on the dam late on Friday with explosive-laden vehicles, and engaged in gun battles with Iraqi soldiers that continued through to Saturday.

Dozens of Iraqi troops were killed in the fighting, with poor communications making it difficult to confirm the precise number, Athal al-Fahdawi, an official in Anbar told the Reuters news agency. Army sources said two senior officers were among the dead.

A video posted on YouTube purported to show fighters from the group walking around the dam and the base nearby with no Iraqi soldiers in sight. The bodies of several Iraqi soldiers were seen lying on a road leading to the encampment.

The latest gains by ISIL come amid a new Iraqi government offensive to recapture parts of Anbar from the group. The armed group seized large parts of the mainly Sunni Arab province, during its summer offensive in 2014.

The Iraqi government has had successes, clearing Tikrit in neighbouring Salahuddin province of ISIL fighters, but the group has hit back by attacking Ramadi, the provincial capital of Anbar.

Border attack

ISIL has also claimed responsibility for multiple suicide car bombings at a border crossing between Iraq and Jordan, killing four soldiers.

The group admitted it was behind the attacks in a video released on Saturday, saying it had targeted a government complex, border crossing control point, and army patrol, according to monitoring group SITE.

A Jordanian official said his government had responded by stepping up security measures at the Tureibil crossing, while an Iraqi defence ministry spokesman said Baghdad would investigate the assault.

Source: Al Jazeera And Agencies


---


Khutba




A Strategy of Engagement. Applied Islam.
Imam Ali Siddiqui's Khutba at Masjid Jamaat al-Muslimeen.

Imam Ali's khutba on April 24 in Baltimore, Maryland, was full of deep meaning and delivered with grace. Here is summary of the khutba.

In the inner cities across this land people live in very dire conditions. As I drove in, and as you do it, often, this community, around our masjid is no exception. As Muslims, we are duty bound to uplift these our brothers and sisters in humanity.

We cannot do much as outsiders! For that reason we shall develop a strategy: A Strategy of Engagement.

I have an humble 8-Step Strategy. It consists of Propagation (Tabligh), Invitation (Da'wa), Education (Ta'leem), Organization (Tanzeem), Cooperation (Ta'wun), Action/Struggle (Jihad 'E-maa-run), Sabr (Struggle, hope, steadfastness, perseverance, consistency), and Victory, Celebration, and Rest.

Insha-Allah, I will talk about it in the future Khutbahs couple of steps at a time.

Belief is to act Fe Sabeel Allah, and for the Love of Allah
وَمَثَلُ الَّذِين¤ يُنفِقُو¦َ أَمْوَال¤هُمُ ابْتِغَاŸَ مَرْضَات¦ اللَّـهِ وَتَثْبِ تًا مِّنْ أَنفُسِه¦مْ كَمَثَلِ جَنَّةٍ بِرَبْوَٍ أَصَابَه¤ا وَابِلٌ فَآتَتْ أُكُلَهَ› ضِعْفَيْ¦ِ فَإِن لَّمْ يُصِبْهَ› وَابِلٌ
فَطَلٌّ ۗ وَاللَّـ§ُ بِمَا تَعْمَلُ¨نَ بَصِيرٌ ﴿٢٦٥﴾
And the example of those who spend their wealth for the love of Allah and assuring [reward for] themselves is like a garden on high ground which is hit by a downpour - so it yields its fruits in double.

And (even) if it is not hit by a downpour, then a drizzle (is sufficient). And Allah, of what you do, is seeing. Q 2:265

وَمَا لَكُمْ لَا تُقَاتِل¥ونَ فِي سَبِيلِ اللَّـهِ وَالْمُس¨تَضْعَفِɢنَ مِنَ الرِّجَا¤ِ وَالنِّس¤اءِ وَالْوِل¨دَانِ
And what is (the matter) with you that you fight not in the cause of Allah and [for] the oppressed among men, women, and children ... Q 4:75

Victory, Celebration, and Rest

It's one of the steps of the Strategy. But break it down and celebrate every little success at every step and at the Final Victory. For a believer it is thanking Allah, as Allah said "... so glorify Allah for that Allah has guided you; and perhaps you will be (for the blessings)." Q 2:185
وَلِتُكَœِّرُوا اللَّـهَ عَلَىٰ مَا هَدَاكُم¨ وَلَعَلّ¤كُمْ تَشْكُرُ¨نَ ﴿١٨٥﴾

When we are in the Path of Allah, also take rest, engage in Zikr and Salat so you will not burn-out, insha- Allah. Take time out and meet for a Potluck dinner or for coffee and snacks: Bring the team together, pray together, and thus the celebration also becomes a motivation when we thank Allah and appreciate the work of each member of the team.

Step 1: Propagation (Tabligh)

يَا أَيُّهَا الرَّسُو¤ُ بَلِّغْ مَا أُنزِلَ إِلَيْكَ مِن رَّبِّكَ ۖ وَإِن لَّمْ تَفْعَلْ فَمَا بَلَّغْت¤ رِسَالَت¤هُ ۚ وَاللَّـ§ُ يَعْصِمُ£َ مِنَ النَّاسِ ۗ إِنَّ اللَّـهَ لَا يَهْدِي الْقَوْم¤ الْكَافِ›ِينَ ﴿٦٧﴾

O Messenger, spread the message revealed to you from your Lord, and if you do not, then you have not conveyed Allah's message. And Allah will protect you from the people (who may hurt). Indeed, Allah does not guide those who reject Faith. Q 5:67

يَا أَيُّهَا الْمُدَّŸِّرُ ﴿١﴾ قُمْ فَأَنذِر¨ ﴿٢﴾ وَرَبَّك¤ فَكَبِّر¨ ﴿٣﴾

O You wrapped one! Arise and deliver your warning! And magnify Your Lord! Q 74:1-3

The example of Abu Durr Ghaffari (ra): He ran around Kaaba while crying out: La ilaha illlah. He got repeatedly beaten up, but he didn't give up.

Target Messaging (Tabligh)

Allah identified a community to send a Prophet or messengers of Allah to guide those people and send them both Good News and a Warning. The Prophets/Messengers were chosen from that selected community and they knew about their community: language, ethnicity, religion, social concerns, economic status, family concerns, and whatever. Allah sent them Wahy, revelations, to prepare them with material and speech. It made them effective. The selected community knew about caring, genuine, and honest. In the modern lingo it is called Target Marketing.

Target Community (Tabligh)

Target Marketing is a very effective tool. We can learn and apply to Tabligh. Identify your Target Community. Choose a segment of the community as the Target community. Learn about them: Ethnicity, religion, social concern, economic status, family concerns. And brush up on the language.

Prepare yourself, prepare your material, and prepare your speech. It will make you effective and target group will feel that you care; however, we shall always be genuine and honest.

The Message (Tabligh): Talking Points

The message shall cover at least following three areas. Prepare message as Talking Points so that everyone talks the same language: Islam, Prophet, and Quran

Islam

A Path of Peace


One achieves peace by surrendering to the Creator.


Islam is the Path of Liberation


Islam is about human dignity, family love, and the strength of community to support us all.


Islam is submission to the Creator, to Stand up for our rights, the weak, and the oppressed.

Muhammad (pbuh]


Universal Messenger


وَمَا أَرْسَلْ¦َاكَ إِلَّا كَافَّةً لِّلنَّاِ بَشِيرًا وَنَذِير¡ا وَلَـٰكِ¦َّ أَكْثَرَ النَّاسِ لَا يَعْلَمُ¨نَ ﴿٢٨﴾


"And We have sent you (O Muhammad) as Universal Messenger to humanity as a bringer of Good News and a Warner. But most of the people notال know Quran


الم ﴿١﴾ ذَٰلِكَ الْكِتَاœُ لَا رَيْبَ ۛ فِيهِ ۛ هُدًى لِّلْمُت§َقِينَ ﴿٢﴾


"This is the Book about which there is no doubt, a guidance for the God-conscious people." Q 2:2


الر ۚ تِلْكَ آيَاتُ الْكِتَاœِ الْحَكِي¥ِ ﴿١﴾
• Alif, Lam, Ra. These are the verses of the wise Book. Q 10:1


إِنْ هُوَ إِلَّا ذِكْرٌ لِّلْعَا¤َمِينَ ﴿٢٧﴾


It is a reminder to the worlds. Q 81:27


بَلْ هُوَ قُرْآنٌ مَّجِيدٌ ﴿٢١﴾ فِي لَوْحٍ مَّحْفُو˜ٍ ﴿٢٢﴾


But this is an honored Qur'an; it is preserved on Tablet. Q 85:21-22


Small Acts: Spread the Message

Small act and actions are pleasing to Allah: Just do it often. It will insha-Allah allow us to meet all our obligations. The Messenger of Allah (saw) said:

"The most pleasing of actions to Allah is that which is done continuously, even though it may be small." (Hadith Narrated by Ummul Mumineen 'Aishah (ra) in the books of Bukhari and Muslim (Agreed upon)).

Our approach shall be just that: Small acts, done again and again, without worrying about setbacks, disappointments, and negativity. Any one of us can do it. In the American slang: "Keep on trucking!"

Step 2: Invitation (Da'wa)

Extend a genuine invitation to a non-Muslim to study Islam: Quranic Study, Book Club; provide opportunity to learn on their own. Invite them to masjid, an event, Muslim Family gathering, picnic, or whatever. At some time in their study, invite them to Islam - a simple encouragement, motivation, and rest is up to Allah: "Allah guides whoever Allah pleases.

Step 3 and 4 will be discussed in the next Khutbah.

Br. Ali is Imam, Khatib, Quran Teacher, Chaplain, Interfaith Leader, Faith -based Counselor, Public Speaker Director, Muslim Institute for Interfaith Studies & Understanding, Lorton, VA 22079;


---


Protest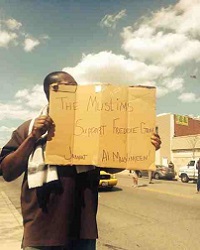 Thousands Protest Police Brutality in Baltimore: City in turmoil as Clashes with Police erupt at Night.

What Should our communities do to win?

by Kaukab Siddique
[Input for this report came from Br. Ali Randall, Sis. Ayesha, Br. Musa, Sis, Aamira Ibrahim, Br. Salim, Br, Atiba and others.]

Organizational directions for the crowds were provided by Ms. Ameejill Whitlock.

Jamaat al-Muslimeen activists were with the protestors till 11 at night. [They also went to the Wake on April 26.] Through the western district of Baltimore, the crowd ebbed and flowed after the formal rallies of the day ended peacefully.

A huge police force was activated to block protestors who emerged in so many small groups at so many intersections that it was impossible for the police to control them. These were the poor, the oppressed, the downtrodden who were not afraid of the heavy police activity.

As the night came in, sections of demonstrators were handled brutally by the police. The official figure is that 32 people were arrested. Many of the young people, though daring, were terrified of the way the police treated those it arrested.

Some groups became violent and smashed police cars and broke shop windows. Visitors at an Orioles game had to wait in the stadium till things calmed down.

Most of the demonstrations, especially at City Hall, were peaceful and disciplined. The people want justice and an end to horrible atrocities like the breaking of Freddie Gray's spinal cord while in police custody. The Black community across the nation is alarmed at the ongoing incidents of police aggression which have lead again and again to the deaths of unarmed Black people.




The people of Baltimore came out in big numbers, with some support from Muslims and White people, and showed that Baltimore will no longer tolerate heavy handed police action against defenseless people.

Some pro-government groups took advantage of the situation to gain popularity in blatant attempts at opportunism. Black police were also used on a big scale to calm the people down. However, the level of anger and desire to show defiance was strong.

My advice is that the Black communities, supported by Muslims, should come up with organization, leadership and strategy to defeat the power structure. The people being victimized by the police are the most defenseless and the weakest people who have no idea how to win. All they can do is protest, which is good but does not defeat the oppressors. There should be a peaceful and planned effort to stop the power structure. Mere demonstrations will not do it though they do reflect the spirit.

The rich Zionists are quite strong in Baltimore. They also control and often own the media. They seldom if ever allow an intelligent discourse by Black leaders to appear on mainstream TV. In fact the Zionist backbone of the forces of oppression is not even discussed.

The mayor of Baltimore, Ms. Rawlings, made some nice talk to calm people down but did not take a clear stand against the police. O'Malley, Maryland's head honcho, who is preparing to run for president of USA was even worse. Unless the people with real power are confronted, peacefully but decisively, nothing will change.

(Photo sent out during the rally by Sis. Ayesha and Sis. Aamira)


---


Editorial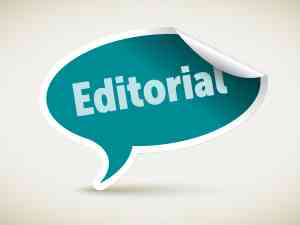 Why we cannot Endorse Saudi Arabia, Iran, the Western Powers & the Eastern Powers.
Are we Crazy? No! That's Simply Islam of the Qur'an and Authentic Hadith.
by Kaukab Siddique

We are able to accept GOOD from both sides [or all sides] because we are only on the side of Allah and His Prophet, pbuh.


We cannot endorse Saudi Arabia.



Kingship is haram in Islam


Family rule and wasteful spending of the country's wealth makes the regime illegitimate.


Support for American policies against Muslims makes the Saudi regime illegitimate.


Suppression and oppression of women makes Saudi Arabia a male dominated regime which is degrading women around the world.


A Muslim regime, even if not a monarchy, does not have the right to support dictators outside its borders.


Saudi's military aggression in Bahrain and now on a huge scale in Yemen indicates that Saudi Arabia will not tolerate dissent not only within its borders but also in its neighborhood.


The restructuring of the holy cities on western patterns indicates Saudi lack of Islamic responsibility.




We cannot endorse Iran




Iran has receded from revolution to nationalism to sectarianism to militarism.


Iran is fuelling sectarianism in just about every Muslim country. Shi'ism is more important for Iran than the basic norms of Islam.


Iran worked in underhand ways with the Americans in the occupation of Afghanistan and Iraq.


Iran supported and enforced the US/UN sanctions on Iraq and was thus in part responsible for the slow death of a million poor Iraqis, including children.


Iran is supporting and defending the worst tyrant on the planet, Bashar Assad of Syria, militarily, financially and politically.


Iran is supporting the US-installed regime in Baghdad both militarily and financially.


With the slow but steady talks between Iran and the US, Iran is going to work for America not unlike the way Israel does. The US-Iran combination could prove deadly for Islamic movements. America needs "boots on the ground" which Iran can provide in large numbers. Iranian forces are already active in Syria and Iraq.


Iran has emboldened the tiny but affluent Shia minority in Pakistan to the extent that it is openly defying the great majority of Muslims.


USA and the Western Powers will continue to arm and protect the Saudi regime and its affiliates in Bahrain, Kuwait, UAE and for now Egypt.


Russia has a weekly supply line of weapons and supplies to the Assad regime and also in many projects to Iran.


So, only tell us of the good they do. As Muslims they cannot be supported in their main endeavors.
---


Spotlights & Guidance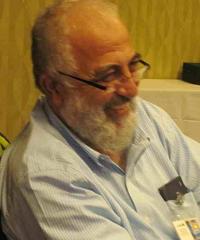 What does Unity Mean in Islam? How to achieve it? Are we Facing the Wrath of Allah?
The Muslim nation has been divided into 57 nations instead of one.


We divide ourselves according to race, sect, our pre-Islamic cultures, political opinions, ancestry and even on the imams we follow!


None of these excuses for separation are considered valid by Allah (subhanahu wa ta'ala]), and therefore we should not consider them valid either.


The Quran instructed us to unite and warned us of division.


The Quran warns us not to differentiate among Prophets.


The Prophet, in his final speech to the Ummah, said that between Muslims, there are no races or tribes. We have divided the Ummah which our Prophet tried so hard to keep together. Allah warns us, in the following verse:


3:105 "And be not like those who are divided amongst themselves and fall into disputations after receiving clear signs: for them is a dreadful punishment ".


Islam, being a flexible religion, allows for a variety of opinions and customs, as long as they do not contradict the religion.


A Muslim is defined as one who submits and surrenders to Allah and one who follows the religion of Al-Islam.


Allah said: 21: 92 "Verily, you are one Ummah. I am your Lord, worship me."


We are only as strong as we are united, as weak as we are divided


Imagine the blessings and the benefits if there were no borders or boundaries between Muslim countries.


The sun was given to all. It does not shine only on the rich and famous and it does not shine on one race.


As a Muslim, I have no problem if Saudi Arabia takes over Yemen, Kuwait, Jordan, or Egypt and rulesz them by Islam, where there is no difference between a Saudi citizen and an Egyptian citizen.


- Imam Badi Ali is a Palestinian American who leads a large congregation in Greensboro, North Carolina


---


China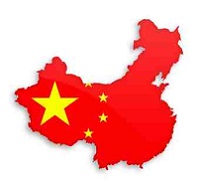 China's Huge Investment in Pakistan is seemingly economic but its real Target is to stop Islamic Resurgence In Eastern Turkistan [Sinkiang.]
by Omar Waraich
With thanks to Br. Ather in Canada.
[Also read Imam Ali Siddiqui's article on What China is doing to Islam and Muslims. New Trend April 19 issue.]

For much of the half-century since China and Pakistan forged close ties, the relationship has been one based on mutual military and security needs. They both, for example, had India as an adversary. But now China is rolling out its largest infrastructure development project in Pakistan through a flurry of investment deals worth $46 billion, building on Beijing's vision of a new Silk Road connecting the world's largest economy to different parts of Europe, the Middle East and other parts of Asia.

The deals were signed in Islamabad on Monday amid extravagant displays of pomp and ceremony. As Chinese President Xi Jinping flew over the capital for his first visit to Pakistan, a flock of Pakistani jets guided his plane to its descent. On the tarmac, Pakistan's entire civilian and military leadership were arrayed to greet him. The road leading into Islamabad was festooned with Pakistani and Chinese flags, and signs with Xi's image dangled from lampposts.

For Pakistan, the Chinese plans promise a much-needed boost to the country's creaky infrastructure. They include, for example, a slew of power projects for a country where some areas suffer up to 18 hours without electricity each day. Other plans involve a network of roads and railway lines for an economy that is estimated to lose up to 6 percent of its gross domestic product because of poor transport links. The Arabian Sea port of Gawadar will be developed, and a highway linking the Arabian Sea to the western provinces of China is to be the central artery of what planners call a Pakistan-China economic corridor.

"This will put China much more center stage politically in Pakistan than ever before," said Andrew Small, the author of the book "The China-Pakistan Axis: Asia's New Geopolitics." Traditionally, he said, "The economic dimension of the relationship has been thin." With the exception of a few road projects, the numbers — including bilateral trade figures — have been quite small when compared with the rest of the region. "Now they are adding a serious economic dynamic to a relationship that has always been a security-based relationship," added Small, who is a transatlantic fellow at the German Marshall Fund think tank in Washington, D.C.

Security remains a key component. During their speeches, Pakistan's Prime Minister Nawaz Sharif and Xi both emphasized China's support for Pakistan's ongoing counterterrorism efforts. For the Chinese, Small said, counterterrorism is central to the relationship and to bringing stability to their western periphery. "It's about stability in Pakistan itself, Afghanistan in the wider picture and safe havens in Pakistan's tribal areas that have served as training bases and sources of ideological inspiration for militants from China's Xinjiang province," he said. The far-western province Xinjiang is home to China's Muslim Uighur minority, many of whom complain of cultural and economic repression by the government in Beijing and the country's ethnic Han majority.

'This is the one relationship that if Pakistan fails to deliver, it will render itself friendless.'
by Mosharraf Zaidi former adviser to Pakistan's Foreign Ministry

For several years, the Chinese have been discreetly lending their voice to a chorus of Western alarm about the presence of insurgent fighters along the Pakistan-Afghanistan border, particularly in North Waziristan, where the Pakistani army is finally conducting a military offensive.

Taming radicalism will be crucial to seeing the infrastructure development take place. For example, many of the projects are contingent on security in Pakistan's restive southwestern province of Baluchistan. A Baluch separatist insurgency has flickered there for the past decade, involving the sabotage of gas supplies - which the Baluch believe are rightfully theirs - to the rest of the country. The Chinese have studied the risks for some time and see the planned projects as a long-term means of addressing the problem. "The Chinese are willing to press ahead despite these risks," Small said. Although the plans could be derailed by security problems, he added, they could help stabilize the country economically and politically.

One of the projects in Baluchistan is an Iran-Pakistan gas pipeline, which had been shelved under the threat of U.S. sanctions but is now being revived - with the Chinese willing to finance it - as Tehran looks poised to finally emerge from pariahdom. At the same time, Pakistan is negotiating a deal for the import of 3,000 megawatts of electricity from Iranian gas power plants based, a Pakistani government minister told Al Jazeera.

As China assumes a larger political role in Pakistan, it wants to act as a moderating influence. It wants Islamabad to improve relations not just with Iran through energy links and with Kabul through talks on a postwar political settlement in Afghanistan but also with the one regional capital with which they have both gone to war: New Delhi.

"The Chinese still see the Pakistanis as playing a counterbalancing role," Small said, referring to how Pakistan has played a subsidiary role in the India-China rivalry. "But they want Pakistan to be stable and at peace with major powers."

The United States wants this as well. But the big contrast with the U.S.-Pakistan relationship lies in domestic popular support. A Pew Research Center survey conducted last year showed that 78 percent of Pakistanis view China favorably, the highest figure for any country polled. A mere 14 percent said they view the U.S. favorably. Analysts put the vast difference down to the fact that the Chinese sit primly aloof from domestic politics and aren't militarily involved in Pakistan. The infrastructure projects are likely to cement China's popularity because they involve investment rather than aid and the results will be concrete, visible developments rather than scattered through myriad donor projects.

The Chinese do not want to displace the U.S. as a player in Pakistan. Beijing will still want Islamabad to turn to Washington for economic assistance and arms procurement. Pakistan has just put in an order this month for 15 new AH-1Z Viper helicopters from the U.S. worth $1 billion to replace its ailing fleet. Even when Islamabad's relationship with Washington nosedived to its lowest point after the 2011 U.S. raid that killed Osama bin Laden in Pakistan, Beijing encouraged Islamabad to rebuild its relationship with the U.S.

The investment program will be rolled out slowly, in stages. For the Chinese, it is a means of countering slowing growth at home by recycling its trade surpluses through Pakistan, with companies in China's interior hopefully benefiting from the new infrastructure projects. The Chinese have turned to their own banks to finance the plan and have insisted that Pakistan provide some of the financing as a way of having a stake in the project.

It will be up to the Pakistanis to get the projects up and running within the next couple of years and to stabilize the security situation to ensure that happens. The Chinese have a lot riding on these deals, and the Pakistanis have raised their expectations. "There's an urgency in measuring up to those expectations," says Mosharraf Zaidi, a policy analyst and former adviser to Pakistan's Foreign Ministry. "This is the one relationship that if Pakistan fails to deliver, it will render itself friendless."


---


Pakistan





Tragedy of Sabeen Mahmud and others
Soft Targets:
US Drones have killed more than 1,400 Muslims. Now a westernized Pakistani woman & an American Teacher killed. Also, Weinstein and Gadahn.

April 25: In Karachi, Sabeen Mahmud was shot and killed in broad daylight as she drove with her mother [who was severely wounded]. The unknown gunmen got away. She was an activist for Pakistani secularism and had set up an institute for art, poetry, music, dance, discussion of human rights [in particular in Baluchistan] and much else.

The Prime Minister of Pakistan has sent his deepest condolences as has the leader of Jamaate Islami. The secularist daily Dawn published a number of articles praising Sabeen's contributions to culture and civilization.

Sabeen dressed and looked like someone from Canada and did not take security precautions.

Earlier an American Christian teacher, Debra, who had settled down in Karachi was similarly shot dead while driving her car.

Meanwhile the US has announced that on the Pak Afghan frontier, one of its air strikes killed two hostages taken by al-Qaida, Weinstein, an American Jew, and Giovanni Porto, an Italian contractor with the Pakistani government. An American Muslim who had joined al-Qaida, Ahmad Farouq, was also killed in the air strike.

In another American air strike, Adam Gadahn, an American Jew who embraced Islam and became spokesman of Al-Qaida, along was killed with a number of Pakistanis.

The US says these air strikes took place in January 2015. Why was this announced so late in April? Looks like the government thought this through. The killing of a Jewish hostage is serious in a country controlled by Jews. Also the killing of two American Muslims without due process [which is the right of every American] required good thinking before presentation before the American public.

Adam Gadahn & Pro-Iran Propaganda.

When an American Jew, Gadahn, embraced Islam, he was not well received by the upper class Muslim community of Orange county California led by Dr. Muzammil Siddiqui. This might have contributed to his alienation . He disappeared and later surfaced in an al-Qaida video. The pro-Iranian conspiracy theorists proclaimed that there is no such thing as al-Qaida. It is, they claimed, a CIA concoction!

The Iranian types went to great lengths to discredit Gadahn. How can a Jew become a staunch Muslim, they whispered, thus forgetting Islamic teachings that embracing Islam cancels out ones past.

Looks like he was well received by al-Qaida and became their spokesman, challenging and threatening America. He was declared a traitor [rare in US history]. The US put a $1,000, 000 bounty on his head.

Is it not strange that an American Jew helping America and an American Jew who embraced Islam have been killed in this war on soft targets who cannot shoot back.

More than a thousand Muslims have been killed in US drone strikes, most of them civilians, soft targets.

The Pakistani army is helping in these inhumane strikes slaughtering defenseless people. Here is what a Pakistani writer has to say:

"I sincerely think that USA alone is not responsible for this drone attacks. Pakistan Army provides full security to these drones. Remember US Drone was brought down when it entered Iranian airspace. The Iranian Government is quiet clear about such intrusion into its airspace. Pakistan, on the other hand, turns a blind eye on the atrocities and destruction caused by the US drone strikes. The reason is the US Military aid that Pakistan Army receives. In other words, Pakistan Army is a mercenary army on hire by Washington. Will the Government in Islamabad wake up and end these murderous drone strikes? I wonder."
[Shaikh Mohammod,]

For a detailed report on the Obama's announcement of latest drone strikes, read the Guardian report.: TheGuardian.com/world/2015/apr/24/obama-drone-strikes-killed-hostages#comment-50990040


---


Our America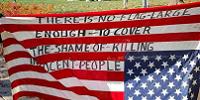 Los Angeles
Ambassador says Pakistan Did not Know about Shaykh Osama's presence in Abbottabad.
[Courtesy Dawn]

April 15: Former US ambassador to Pakistan Cameron Munter said on Tuesday that "Pakistan probably didn't know about Osama bin Laden as there is no evidence to suggest there was a link".

Giving a talk at the UCLA Luskin School of Public Affairs on re-envisioning US-Pak relations, the former ambassador presented a prologue to the year 2011 which he says was "a terrible year if you happen to be an ambassador to Pakistan".

In a clear and candid manner, Mr Munter touched upon the past and said, "We had very high expectations and [through] a system set up by late Richard Holbrooke wanted to put an end to the negativity of the past [between the two countries]. But the imbalance of US-Pak relationship, a relationship of perfidy and exploitation depending on which side you are looking at it from, manifested itself through the series of events that took place."

The subsequent raid on the Abbottabad compound of OBL in May, came six weeks after Raymond Davis, a contractor who worked for the CIA, was bailed out by the ambassador after he shot dead "two thugs who tried to rob him" by paying blood money to the family.

"These incidents came at a time when the trust we were trying to build, the whole Richard Holbrooke project about maintaining trust and not falling back to the old ways, was buckling a bit."

During the course of his talk, he didn't mention the drone programme saying instead that the attack in the tribal areas a day after Davis's release from Pakistan, "was bad timing".

Just as the diplomats on both sides were figuring out how to work on the "badly damaged relationship", the Abbottabad raid came about.

Mr Munter said Pakistan probably didn't know about OBL's presence. "Because everything was taken out during the raid and if there was a link it is hard to imagine there would have been no trace of that."

The raid and its implications made cooperation between the two countries difficult, the former ambassador said. He believes the relations between the two countries are getting better. He said the policy of looking at Pakistan through the lens of Afghanistan is a problem. Continuing, he said the nature of US-Pak relationship is more linked to counter-terrorism than creating regional associations, philanthropic or economic links, as a result.

"American popularity in Pakistan is about five per cent. Lowest in the world. Yet in the same Pew poll, more than 90 per cent of the people want to see better relationship with the United States."

There were many cultural affinities that we could play on, he said, "but unfortunately the focus that most Pakistanis see from us is of a counter-terrorist. The idea of the allegiance of uncaring people who are only concerned with counter- terrorism." He said he was not suggesting that counter-terrorism should be overlooked, "but we can still look towards people-to-people contact and find cultural affinities".

"What do Karachi and Los Angeles have in common? Seashore, culture, gang warfare. We are made for each other. They got twenty million people, we got South Central. This is the link to have."

In the same vein, Mr Munter said that "Pakistan works because of its people" and counted Balochistan, Karachi and the tribal areas as the "three problem zones, in terms of setting state writ, for Pakistan".

"What's interesting about diplomacy at present is that there are many bilateral, trilateral, quadrilateral discussions going on between India-Pakistan-China, Afghanistan-China-Pakistan, all trying to find a common ground.

"Pakistan does tend to be myopic but it can use its potential to have better relations with India, to continue the relations it has with China and to work with Iran and Afghanistan. That might have a whole lot more impact than worrying about issues of civic identity." When he was asked to give a proper prescription for Afghanistan in the immediate future, he said Afghanistan must establish multi-pronged diplomacy with its neighbours. "Ashraf Ghani has skilfully balanced Pakistan and India. One of my nightmares is to see India and Pakistan fighting through proxies in Afghanistan rather than on their borders.

"Thankfully the possibility of that is less, thanks to Ghani's diplomacy."

According to him, much of Afghanistan's future depends on the relations between India and Pakistan, and between India and China.

Published in Dawn, April 16th, 2015


---


Chicago

Easily Available Women & Movies like 50 Shades of Grey Influencing Muslim Students

Student leader cleared of sexual assault while re-enacting scenes from '50 Shades of Grey.'
[Excerpted from Chicago Tribune.]

'This kid is a star, OK?' says lawyer of UIC student cleared of sexual assault in '50 Shades' case

Alleged victim in '50 Shades' case testifies sex was consensual until he started to hit her with belt A student leader at the University of Illinois at Chicago was cleared of a rape charge Thursday by a Cook County judge in a case that had drawn attention because he was accused of re-enacting scenes from the film "50 Shades of Grey."

Judge Peggy Chiampas found no probable cause after a lengthy preliminary hearing in which the alleged victim testified.

The defendant, Mohammad Hossain, 19, a biology student, was released from custody Thursday evening. He had been held in protective custody at the Cook County Jail since his arrest last month.

Prosecutors have not decided whether they might still seek an indictment against Hossain, a freshman who contended the sex was consensual.

"Generally speaking, non-stranger sexual assault or acquaintance rape cases present unique challenges and can be difficult to prove due to the fact that prosecutors must contend with defense assertions that the victim consented to the sex act or acts and there are typically no witnesses to the crime," Sally Daly, a spokeswoman for the Cook County state's attorney's office, said in a statement. "Having said that, the charges in this case were brought in good faith based upon the evidence available, and in our view the victim provided very sincere and credible testimony at today's hearing," the statement continued. "In light of today's ruling we will continue to evaluate our legal options moving forward."

The woman testified that she had met Hossain as freshman last fall and they soon became "friends with benefits," occasionally having sex. She testified that they had previously experimented with bondage, with Hossain tying her hands together with a rubber band before they had sex in a public student lounge. The woman said she had just finished watching the "Fifty Shades of Grey" film by herself downtown on Feb. 21 when she received a text from Hossain asking if she wanted to hang out. They met in a student lounge, and Hossain asked her about the film. "I said that it was a good movie but that toward the end it scared me because the main character had a mental issue," she said.

The two went to Hossain's room. As she sat on the edge of his bed, "he asked me if I wanted to do something dangerous," the woman testified.

She testified that she thought at first he was referring to one of the "adventures" the two would go on, exploring the city or once talking all night while sitting on the campus building ledge 20 feet off the ground.

Hossain refused to tell her what he had in mind but told her to disrobe, blindfolded her with a knit cap and then tied her hands above her head to his roommate's lofted bed using belts, she said. He then bound her ankles together with a belt, put a necktie over her mouth as a gag, undressed her and began hitting her softly with a belt.

All of the activity was consensual, she testified. But then Hossain told her he wanted her to resist and struck her so hard it hurt, the woman testified, and she began to tell him no, to shake her head, to tell him he was hurting her. When she managed to get a hand free, he retrieved another belt from his closet and tied it again. Eventually he removed her hands from the bindings, pinned her arms to her back and sexually assaulted her, the woman testified.

She denied they were re-enacting scenes from "Fifty Shades" and said she didn't know what Hossain meant when he told her he wanted her to resist.

"The two of you were role-playing the movie, correct?" Kutnick asked during cross-examination. "I didn't see it that way," she replied


---


Salt Lake City, Utah.
Muslims and Africanists Urged to Support Each Other

Hi Noelle,

Thanks so much for keeping me updated. I don't know whether you remember me, because it's been years since I met you (in the College Park suberb of DC, where we were doing an event for a Muslim political prisoner, Dr. Omar Abdel Rahman, and you were kind enough to come out and support).

I'm a Pakistani supporter of Mumia's, based in the Baltimore area. I work with DC Jericho, as well as Jamaat al-Muslimeen, a Muslim organization which supports all political prisoners.

So, I just wanted to let you know that I did call two of the numbers in the email:


When I called the "new" number for Wetzel, the man answering put me through to the VM of a woman. I left a message with her, stating most of the demands in your email.


I dialed the extension for the superintendent in Mahoney. This time, I got a life person (a woman) on the line, I stated my name and where I was calling from, and asked if she needed Mumia's register number. She said no. I then stated my concerns. She said she would pass them along.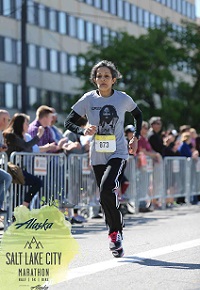 BTW, being a marathoner, I ran 26.2 miles across the Salt Lake City (the Salt Lake City Marathon), in Mumia's name this past weekend. I wore the famous tee bearing artwork from Red Onion prisoner Kevin Rashid. Most people, including the police, who were there to "protect us" while we were running, seemed clueless about the case. There were a few quizzical looks, so hopefully, the shirt may have tweaked some interest in the case. Perhaps you can pass this tidbit along to Mumia at some point (obviously there are far greater concerns right now). I'm hoping it will lift his spirits to know that he is remembered in places as far away as Salt Lake.

I've copied this to the editor of New Trend Magazine, which is affiliated with the organization I mentioned I work with, Jamaat al-Muslimeen. New Trend carries updates and reprints action alerts on many political prisoners, including Mumia.

Thank you for all the work you do for the downtrodden and oppressed.
Peace--strength,
Nadrat Siddique


---


Baltimore & New York

The Impotence of Black Political Leadership and Why It Will Always Be This Way :Baltimore's Black Mayor & Others.
(by Sis.Aisha, New York City)

Yet, another young Black man has died in Baltimore police custody. The police are playing coy and claiming that they don't know how Freddy Grey's spine got severed. According to Democracy Now, eyewitnesses state that the he was bent backwards "like a pretzel."

How horrific! You see the film of Freddy Grey running upright from cops and then, there is another video of him laying on the ground surrounded by Baltimore police. He can barely walk. They had to drag him to the police van. The report then, showed the victim on a respirator. He later died. The most the police will admit is that the six arresting officers did not follow procedure simply because they did not have 25 year old Gray in a seat belt in the van. The van also made several stops en route to the police station. He was not taken to the hospital, immediately, either.

Many activists accuse the Baltimore police of "rough riding." It is a form of torture they engage in by speeding and stopping short, which causes an unbuckled passenger to fly around the van. This can cause serious injury. Many people believe that the police also engaged in this type of misconduct. However, Freddy Grey looked injured when he was being taken to the van. This jarring around in the van from rough riding could have further exacerbated his injuries.

The only concern the police have, right now, is the identity of the witnesses to the Freddy Grey arrest. They are looking for the public's help. Police have been known for harassing and threatening witnesses to their arrests to the point where these people move far away and are no longer an asset to the victim's families, who are looking for justice.

The Mayor of Baltimore is a Black woman, Stephanie Rawlings-Blake. Baltimore has had many Black politicians. It is considered a Chocolate City (predominantly Black). There are many chocolate cities: Detroit, New York City, Chicago, St. Louis, etc. These Black populations also have the same issues with police criminality. These so-called Chocolate Cities have many Black politicians at the helm. You see them walking around all dolled up in their fancy dresses or wearing expensive suits with expensive haircuts to match.

But, where is their power? Former Black radio host, Bob Law, often referred to these Black politicians as "Black faces in high places." They carry themselves like the CEOs of multibillion dollar corporations but, have no powers. They are nothing more than figure heads. What really exposed the impotence of Black political leadership was the flooding of New Orleans. That was a very unfortunate chain of events that also revealed White America's racist vitriol toward their fellow Black Christians....again! Nothing new.

The Congressional Black Caucus did absolutely nothing for New Orleans! One of the greatest soothsayers in Uncle Jesse Jackson stated that we are doomed to repeat history if we don't learn from it. Well, Black America has not learned from the Reconstruction Era. This was not only the period of America rebuilding from the Civil War of the 1860s but, of "assimilating" former African slaves into society. If the power of voting was ever realized it was during this period.

You had former cotton and tobacco pickers being elected to Senate and Congress or even becoming Mayors of towns. Usually, they ran under the Republican Party ticket because that was President Lincoln's affiliation. The Democrats ( Or Dixiecrats as Malcolm X called them), were opposed to such assimilation. However, White politicians, generally, felt threatened by Black voting power. This is why both the Republicans and Democrats worked together to create the Black Codes, later known as Jim Crow laws. These were the laws that established segregation and other forms of oppression for non-Whites.

Jim Crow laws reversed any "progress" any Reconstruction Era laws made. But, how can the Reconstruction Era be considered progress when the White man was able to take back what he gave so easily? These were the same politicians who marched the Native Americans on the Trail of Tears. Over one million Native Americans died on that trek. Guess who joined the efforts to march Native Americans to reservations so, that European settlers could claim new land under the Homestead Act? The Buffalo Soldiers. Buffalo was a nickname given to Africans by Native Americans because our hair resembled the, now extinct, Buffalo's.

This is another issue with assimilation: taking over the reigns to continue evil acts. But, I imagine, the Buffalo soldiers did not have much of a choice. It was no different during slavery when Black overseers were chosen to run the plantation, under watchful eyes, of course.

Assimilation is the White liberals' motto of keeping your friends close but, your enemies closer. If you can't beat them, join them is how the browbeaten Black believer in assimilation feels. They feel powerless. They buy into the illusion of White Power and domination and believe that through them all things are possible, which is in complete contrast to their Christian beliefs (Philippians 4:13). A similar verse in the Qur'an would be: " O you who have believed, seek help through patience, perseverance and prayer. Indeed, Allah is with those who patiently persevere. (2:153)" The Qur'an has so many anti-oppression verses. Many of them are repeated for emphasis.

Islam teaches Muslims to make a way for ourselves, not to depend on our enemies. We are to avoid mingling with the oppressor and their systems, which were meant to help them maintain their domination.

The White Political System is a very well oiled, corrupt piece of machinery. It is still a good old boys club. However, when one of their own steps out of line, he gets spanked, which is what happened to Illinois's former Governor George Ryan. He commuted over 160 death sentences of all Illinois prisoners, citing serious disparities in its application. He served 5 years on federal corruption charges.

As for Black politicians, they cannot get away with what their White colleagues do, such as using tax payer money for personal trips. Congressmen Adam Clayton Powell Jr and Charlie Rangel learned this the hard way. However, Powell Jr stood up to his White racist colleagues while Rangel licked their boots. White politicians such as Franklin D. Roosevelt and Lyndon B.Johnson could get close enough to their fellow White colleagues to see the skeletons in their closets. This is the main reason why Roosevelt and Johnson were able to get so many laws passed where other Presidents failed. They had dirt on fellow congressmen! (Courtesy of Zinn)

Black political leadership is made to look like a sham for the following reasons:

White dominance is still the rule here in America and there are strong efforts to make this illusion appear real.

The Blacks nominated for such political positions are happy with the title, even if it comes with no power.

Black people in America still don't buy into their own self-empowerment. The media pushes too many examples of White dominance on us.

The Black politician's goal is to line his pockets with cash. His Black skin is a barrier to any good old boys club membership. But, Black politicians also fail to create any networking opportunities within their own communities. We are the only group in this country who view voting as a way to uplift us instead of uplifting ourselves. Politics has failed everyone.

This is why many Blacks have become apathetic to voting. But, there are still those who do the same things over again and expect different results by imploring us to register and vote. They are dumb, deaf and blind. They know no other way to overcome oppression and they don't even seek out new ways to do so. We are stuck in a rut and we keep ourselves there. For most of us, unfortunately, it is a very comfortable place.

(Source: ABCNews.com)



2015-04-26 Sun 22:03:27 ct


NewTrendMag.org