NewTrendMag.org News # 1577

[ Click on NEWS for back issues ][ OUR BOOKS ] [ Women in Islam ][ Our America ][ Hadith ][ Kaukab Siddique's khutbas ][ Latest photos. ][ Imam Badi Ali's Thoughts ][ Muslim Political Prisoners ] [ Previous Issue ]

29 Muharram,1436/November 23, 2014 Issue # 47, Newsletter # 1577

---


Hadith of the Week

The Prophet quoted the devil as saying to God: "I shall continue to lead Thy servants astray as long as their spirits are in their bodies." God replied: "(And) I shall continue to pardon them as long as they ask My forgiveness."

Al-Tirmidhi, Hadith 742



---
---


Breaking News

Iraq
New Islamic State Victory: Eastern Ramadi Captured. Attacks on Erbil and Baghdad.
4 civilians killed by jet bomber.

Nov 21: A day long battle ended with the capture of the eastern segment of Ramadi by Islamic State [IS] fighters. The Iraqi regime forces suffered heavy losses.

A western power's air strike hit the town of Hit killing 4 civilians including 2 children. [Nationality of jet bomber not revealed.]

Nov 22: Iraqi regime forces launched a counterattack to re-take the eastern tip of Ramadt. Battle is raging but without success for the regime. Several Sunnis fighting for the regime were not able to flee and were gunned down.
[Three fourths of Ramadi has been under Islamic control for months.]

Nov 19: IS hit the military center of Erbil in north east Iraq causing casualties among pro-US Kurds but missed the US "advisers" stationed in Erbil.

Nov 22. There were several attacks on Baghdad including a bomb attack near the international airport.


---


Syria
by Suleiman Al-Khalidi (Reuters)

Fighters from Al Qaeda's Nusra Front and other insurgents attacked and briefly entered Baath City in southern Syria on Thursday, the army's last major bastion in a province flanking the Israeli-occupied Golan Heights.

The battle is part of a campaign launched by the insurgents this week to take control of the entire Quneitra province. Only Baath City and neighboring Khan Arnaba town remain under President Bashar al-Assad's forces.

"If they fall the rebels will have secured the second province after Raqqa," said Abu Said Jolani, an activist in the area.
Raqqa, in northern Syria, is held by the militant group Islamic State and has been targeted by U.S.-led air strikes.

The insurgents were locked in street fighting with government troops in the city centre overnight and were pushed back to the outskirts on Thursday, activists said. Thousands of Baath City's 30,000 residents have already fled.

The city was named after Syria's ruling Baath Party as an act of defiance after the destruction of nearby Quneitra city in the 1967 war with Israel. Quneitra was abandoned and Baath is now the provincial administrative centre.

About 2,000 fighters were taking part in the southern offensive. Their advances, which expand insurgent control close to the Golan Heights and Jordan, are also important because Assad's power base in Damascus lies just 40 miles (65 km) to the north. The fighters want to open a path towards the capital and link up with insurgents there.

Before entering Baath City, the insurgents said they had captured several villages on the outskirts and claimed control of most of the countryside.

"The rebels are using all kinds of weapons from tank fire to mortars, as well as raiding groups," said Abdullah Saif Allah, a Nusra Front field commander in Hamidiya town near the frontier with Israel.

Syrian state media and pro-government newspapers have said the army, backed by loyalist militias, had repelled the rebel push in Baath City. They reported heavy fighting after a barrage of rebel mortar and artillery fire hit the city centre and municipality building.

Hundreds of Nusra fighters who fled from the eastern Deir al-Zor province after being driven out by Islamic State earlier this year have regrouped in southern Syria, boosting the rebel presence there, activists say.

"It gave the fighters in the area the upper hand," said Abu Yahya al-Anari, a fighter from Ahrar al-Sham.

The army depends on aerial bombardments in the area. On the ground, it has been exposed since moving thousands of troops from bases to reinforce Aleppo in the north, rebels say.

Insurgent gains since earlier this year have been mainly achieved by Nusra Front together with other Islamist brigades and rebels fighting under the umbrella of the Western-backed Free Syrian Army. Unlike rebel in-fighting further north, they have coordinated well so far.

Most of heavy weaponry and fighters in Quneitra province are drawn from hardline Islamist brigades such as Ahrar al-Sham and al Muthana alongside Nusra, activists and analysts say.

They have eroded the dominance of the Western-backed rebels that control areas further southeast towards Deraa city and along the Jordanian border.


---


Why People are Confused about Islam?

Excerpt from Shamim Siddiqi's latest book Global Islamic Movement.


Islam is not what is being presented today by the Muslims around the world through their actions and deeds. It has taken the format of a "religion", constituting a very small segment of the whole of Islam and that too is practiced in a much obscured form, creating and giving an extremely distorted impression of Islam to the contemporary human society at different levels.


Muslims couldn't produce its Truthful and immaculate Model so far in the context of modern world anywhere in their respective societies even where they hold majority. As such, amazingly, though there are fifty seven Muslim countries but Islam is nowhere visible as a "political entity".


However, the secular West has been and is opposing tooth and nail the emergence of Islam anywhere in the Muslim world as a "political entity" due to its centuries old accumulated "historical prejudices", self-conceived reservations, "self-innovated" misinterpretations or distortion of facts, culminating into a global hate campaign against Islam and Muslims through its entire print and electronic media.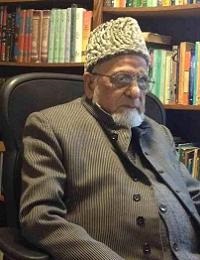 Shamim Siddiqi
is known as the leader of the da'wa movement in America; he has a large following all across America.
He is also the adviser of Jamaat al-Muslimeen


---


Pakistan





50,000 Women Attend Jamaat-e-Islami's Mammoth Gathering in Lahore.

JI wants to build an Islamic Pakistan wherein the women enjoy such enormous rights that women in Britain and the US would envy them.amaate Islami Ameer Makes Specific demands for Rights of Women. Islam is the only Religion which Guarantees Inheritance rights for women.

LAHORE, Nov. 22; Ameer, Jamat e Islami, Pakistan, Sirajul Haq, has said that the JI wanted to build an Islamic Pakistan wherein the women enjoyed so enormous rights that the women in Britain and the US would envy them. He was addressing the participants of an international women's conference held at the Minar e Pakistan, on the second day of the JI Ijtema. More than fifty thousand women from all over the country are attending the Ijtema along with their small children. The topic of the women's conference was the role of the women in the changing world.

Sirajul Haq said the presence of such a large number of women at the Ijtema was a manifestation that the Pakistani women were not impartial in the war between right and wrong, between Islam and the forces of Kufr. These women stood with Islam in its war against hypocrisy. These women believe that Allah alone was Supreme and none other was supreme. They did not consider the US, Britain or Russia as supreme, he added. He said that with such a large attendance of women at the Ijtema, he was seeing an Islamic revolution as close as the Minar e Pakistan.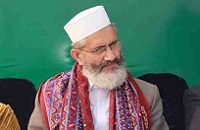 The JI chief debunked the west propaganda that Islam denied the womenrights and said the fact was otherwise. He said it was Islam that gave the women the right to inheritance and ownership of her property.

He said that fourteen centuries ago, Islam had established a paradise on the earth in the form of a household with the sacred relationships of husband and wife, mother and son, sister and brother, aunt and niece and so on. He said that the west had demolished all these sacred relationships, denied the women their genuine rights and even thrust upon her shoulder the responsibility of earning livelihood. In spite of all this, the west claimed to be the champion of women rights.

The JI chief said that the Holy Prophet (PBUH) was the greatest benefactor of the humanity as also the women. The Prophet had said that whoever had two daughters, and he brought them up with love and affection, would be with him in the paradise as two fingers of his hand. It was the Prophet who preached sanctity of the mother for her children and declared that the paradise for a son lay at his mother's feet.

The JI ameer said that the women comprised fifty one per cent of the country's population but the country's banks did not grant loans to them although they liberally grated loans to corrupt politicians and industrialists. He declared that an Islamic government would grant interest free loans to the women so that they could bring up their children and make them as useful citizens.

He said some people were of the view that the country could progress only if its womenfolk worked shoulder to shoulder with the men as in the west. He said in fact, these people wanted that the fortress of the home which Islam had given us, be demolished as in the west. He said this was a Satanic idea. Satan who had expelled Adam and Eve from paradise, now wanted to demolish this fortress of the home. However, he said that the Pakistani women would frustrate this conspiracy.

Sirajul Haq asked the womenfolk present at the conference if they would take Hazrat Fatima (RA), as a model or a Hollywood woman: they shouted that their model was Fatima(RA).

He said that every movement that had the support of the women had always been successful in human history. Therefore, he was sure that the JI's movement for an Islamic Pakistan enjoying the support of the women folk, would Inshallah be successful.


---


Munawar Criticises Military Operations: General Raheel Should Present Fact Sheet; Oppression of our own people by military is creating Chain Reactions: Address to Huge gathering; Calls for unity with Tablighi Jamaat.

Lahore -Former Ameer of Jamat-e-Islami (JI) Syed Munawar Hasan has expressed desire for joining hands with Tebleeghi Jamat for change in the society saying both the religious parties were struggling for common good and formation of a just, Islamic society in Pakistan.

"JI and Tableeghi Jamat have very commonalities and similarities in their beliefs and teachings and both are struggling for freeing people from the slavery of other human beings and bringing Islamic rule of law in the country", he said while addressing on the second day of All Pakistan Ijtema-e-Aam of JI being held at Minar-e-Pakistan in Lahore.

Former JI Amir and a harsh critic of prevailing system in Pakistan, Munawar Hasan said Tablgheei Jamat concentrates on the moral character of a person and trying to make common people as better Muslims while JI had the same goal but it was also struggling for reforming the society through democratic struggle.

He also called for waging Jihad for elimination of oppression from Pakistan Society along with democratic struggle, saying Jihad was the fundamental principle of Islam, which had nothing to do with terrorism and militancy.

"Due to propaganda against Jihad, people are now even ashamed of using this word as Jihad has been declared as terrorism. We need to wage Jihad in the way of Almighty Allah along with democratic struggle to eliminate oppression and injustice", he observed.

Criticizing the ongoing military operations in FATA tribal areas of the country by the Pakistan Army, he reiterated that military operations had never been the solution of insurgency anywhere in the world, adding that military operations had created more problems and chain reactions than bringing peace in the country.

"Neither the military operation in Swat nor the ongoing war in South Waziristan by the Pakistan army is solving any problems faced by the country. Only people in a large number are suffering and have become displaced persons in their own country", he said while addressing the All Pakistan Ijtemah-e-Aam .

Demanding that free media should be given access to FATA tribal areas of the country, he said claims were being made that a large number of terrorists were being killed in aerial bombing by Pakistani forces and in drone attacks but nobody had any ways and means to confirm these claims.
He also demanded Chief of Army Staff General Raheel Sharif to present the 'balance sheet' of war against terror in the country and said people wanted to know if Pakistan had gained through this war or the conditions worsened during last one decade when Pakistan owned this futile war.

He also mentioned the sufferings of people of Khyber Pakhtunkhwa and tribal areas due to insurgency and military operations and said some groups of people had to migrate even for three or more times but nobody was concerned anymore about Pashtuns of KPK and tribal belt of the country.

JI Naib Amir also praised presence of such a large number of women, who traveled from across Pakistan to reach Lahore to attend the JI congregation, saying this shows that Pakistan women were also determined and ready for the long struggle for end of oppression, formation of a just society as per principles of Islamic Shariat.

On the occasion, he urged the participants of the JI Ijtemah-e-Aam and people in general to intensify struggle for reconstruction of presence system of governance in Pakistan, saying current system of governance was highly flawed and need immediate reforms.


---


Satanic Forces at Work in the Heart of Pakistan.
Pakistani military's Direct Link to the US: Billions received to Kill Islamic Resistance
BBC 11/19/14

"One of the biggest concerns for the Pakistani army is to ensure the continuation of the Coalition Support Fund (CSF), a kind of reimbursement from the US for the costs it incurs in military operations.

As per Congressional Research Service reports, Pakistan has received close to $28.4bn (£12bn) in military and non-military aid from the US post 9/11. Of that, $11bn came from the CSF.

Experts say convincing Congress to continue the CSF will be a tough ask for Mr Sharif. Many of the senators who control the purse strings have put conditions on the release of funds to Pakistan. Pakistan also gets close to $300m worth of military aid per year from the US to buy conventional weapons"


---


Army Chief Holds Talks at Pentagon.
Dawn 11/19/14

WASHINGTON: Talks between US and Pakistani militaries moved to the Pentagon on Tuesday where Army Chief Gen Raheel Sharif also met his host, Chairman Joint Chiefs of Staff Gen Martin Dempsey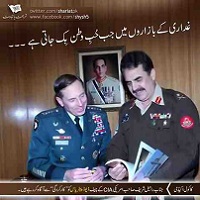 Photo: Pakistan army chief and his American buddy; They got away with genocide in North Waziristan.

Gen Sharif and his delegation received the US Army's full honour guard when they arrived at the Pentagon for the second phase of their week-long visit to the United States. After the ceremony, the Pakistani delegation attended a roundtable with the US delegation, which included Gen Dempsey and Deputy Secretary of Defence Robert O. Work.

Also read: COAS in US: Army praised for Zarb-i-Azb, fight against terror

The army chief and his delegation also had separate meetings with Raymond T. Odierno, Chief of Staff of the US Army and Gen Joseph F. Dunford, Commandant of the Marine Corps. They could not meet US Secretary of Defence Chuck Hagel as he was out of Washington.

The talks focused on the situation in Afghanistan and on the military operation Pakistan launched earlier this year to destroy militant hideouts in its tribal belt. A clarification from the Ministry of Foreign Affairs saved the Pakistani delegation from possible embarrassment over a statement by the prime minister's senior adviser Sartaj Aziz.

In an interview to BBC on Monday, Mr Aziz said that Pakistan was not going to target militant groups that did not "pose direct a threat to the state".

The statement, immediately picked by the US media, allowed some Pakistan experts in Washington to claim that Islamabad would continue to support the Haqqani network because it was only targeting US and Afghan forces in Afghanistan. Some also claimed that the statement reflected a growing gap between the civilian government and the country's defence establishment over the Afghan issue.

The Pakistani delegation plans to visit Capitol Hill on Wednesday to deliver the same message to US lawmakers: Pakistan has no favourites among the militants and wants to eliminate each and every terrorist group from its territory. But the US media warned that the Pakistanis might "not find a particularly engaged audience" on the Hill.

"There doesn't seem to be a huge level of interest in this trip," a congressional aide told the Congres­sional Quarterly news service. But the same report acknowledged that despite "distractions and distrust", the bilateral relationship "remains critical to both countries".

The report said that Gen Sharif is expected to update the US lawmakers on progress in combating terrorists in North Waziristan and his country's view of the situation in Afghanistan.

"Lawmakers also will want to hear what the general thinks about greater civilian control over Pakis­tan's military," the report added.

In an interview to Congressional Quarterly, Maj Gen Asim Bajwa, the chief spokesman for the Pakistani military, urged US lawmakers also to remember the sacrifices Pakistan had made in the war against terrorists.

"No one has given as much sacrifices and has paid as much cost as has Pakistan," he said. "This is the understanding that needs to be built here and we only hope and appreciate if this understanding does exist."


---


Historic Gathering:
Jamaate Islami Supports Christians & Other non-Muslims.
Also, gives Awards to Youth Group

LAHORE - A representative of the minorities including Christians, Sikhs, Hindus, including ex-MNA Gopal Singh Chawla, attending the JI mass gathering on Saturday, called on the JI Ameer, Sirajul Haq, and expressed their deep gratitude for the love and affection given to them at the huge gathering.

The JI chief told the delegation that he was the first man who had moved a resolution in the Khyber P. assembly that the non- Muslims living in the country should be termed as part of the Pakistani community and not minorities. He said he was the first political leader to visit the house of the Christian couple burnt to death at kot Radha Kishan, recently.

Sirajul Haq said that the small elite class ruling the country had no religion, because no religion- Islam, Hinduism, Christianity permitted corruption. These rulers were not human beings as they were sucking the blood of human beings. He said that such people should be in the Odyala jail and not in the corridors of power. He also lashed at the NAB for writing off the bank loans of Rs. one billion on the recovery of Rs. fifty million only, and said that the NAB did not have any authority for this.

The JI chief said the non- Muslim Pakistanis were a big force and the JI would unite and gather this force soon. H said the JI would hold meetings with the non-Muslim community in Sindh, the Punjab, the Khyber P. and Balochistan and announce a line of action for the solution of their problems.

Speaking for the Christian and non-Muslim community, Younus Khan advocate lauded the efforts of the JI to eliminate distances between the believers of different religions. Speaking on the occasion, Chairman, Punjabi Sikh Sangat Gopal Singh, said that the country needed a leadership that could see India eye to eye, and said that such a leadership was available in the person of Sirajul Haq.

Addressing the Youth Convention organized by different students bodies associated with the JI, Sirajul Haq said that the west was making every effort to deprive the Muslim youth from Islamic character. Despite that, the ideals for the Muslim youth even today even today were Muhammad bin Qasim, Mehmud Ghaznvi and Salahud Din Ayubi. He said that one of the motives of the 9/11 was to change the educational syllabi in the Islamic counties. Huge funds the US had been allocated huge funds in the Kerry Lugar Bill for the media and changes in the educational syllabi but the Muslim youth had foiled all US conspiracies.

He said the Pakistani youth had unlimited talent because despite lack of support by the government, they were setting new educational records in the world, and the names of Pakistani young men were decorating the Roll of Honour of prestigious universities of the west.

The JI chief also gave awards to several youth for their achievements in different educational fields. These included a blind young man who had done his Ph.d. despite being handicapped.


---


Hadith Analysis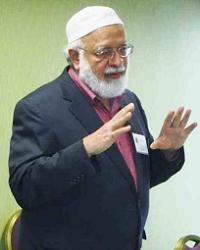 The Word "Hadith" in the Qur'an
by Kaukab Siddique, PhD

The word "HADITH" occurs in the Qur'an 23 times. It has a variety of meanings depending on the context. In none of these references is it related to the role of the Prophet (pbuh) and definitely not to the Companions of the Prophet (pbuh) narrating the teachings of the Prophet.

It's part of the trickster role of the Parvezis and their offshoot rejecters of Hadith that they bring a word fr om the Qur'an which has no relevance to the issue and try to fool innocent readers into thinking that the Qur'an is rejecting the teachings of the Prophet (pbuh) narrated by the Sahaba (companions of the Prophet)

The use of the word "Hadith" in the Qur'an does show that narratives outside the Qur'an can have validity. For instance, the Qur'an says: "Has the Hadith of Musa (Moses) reached thee?" [20:9] Or the Qur'an asks: "Has the Hadith reached thee, of the armies - of Pharoah and Thamud?" [85-17-18

Thus the Qur'an validates narrations outside itself as truthful. The earlier Prophets like Moses and Salih, for instance, are known from valid Hadith narrations passed down for centuries, and the Qur'an is validating them.

The only time the word "Hadith" refers to the Prophet (pbuh) in the Qur'an, it is a neutral reference: "When the Prophet disclosed a matter (hadith) to one of his wives, and she then divulged it (to another), and Allah made it know n to him, he confirmed part thereof and repudiated a part ......." [66:3

These references have nothing to do with the role of the Prophet Muhammad (pbuh) in Islam. If the Parvezis had been honest people, they would have never played these word games in their attempts to distort the message of the Qur'an

Unfortunately, the people whom the Parvezis address seldom open the Qur'an and certainly have no understanding of the Hadith. They do not know that the QUR'AN AND HADITH of the Prophet (pbuh) are linked to each other.


During his life, the Prophet (pbuh) had started explaining and implementing the Qur'an. His words were taken as decisive by his Companions.


These words of the Prophet (pbuh) were transmitted, both orally and in writing, by the Sahaba to future generations. That's what we call Hadith today.


Does the Qur'an say anywhere that the Prophet's (pbuh) teachings are of temporary importance and that the Qur'an can be interpreted by scholars as they wish regardless of the words of the Prophet (pbuh)? The answer is a clear NO.


Did any of the Companions of the Prophet (pbuh) think that the Prophet's words and actions were of a temporary nature, and that the Sahaba could interpret the Qur'an as they wished after Prophet (pbuh) passed away? Again, the answer is a clear NO.

The decisive role of the Prophet (pbuh) was enshrined in Hadith narrations by his Companions. The Prophet's work which is extra-Qur'anic is validated by the Qur'an as decisive:

"Similarly We have sent among you a Messenger from among you, reciting to you our verses, and purifying you, and teaching you the Book and Wisdom, and teaching you new Knowledge." [2:151

The Parvezis try to give the impression that the task of the Prophet (pbuh) was only to recite the Qur'an. This verse tells us otherwise.



He recites,


Purifies,


Teaches the Book and Wisdom


Teaches new knowledge.


The "purification" or spiritual growth is a world in itself and is exemplified in the life of the Prophet (pbuh). What did he teach about the Book? What Wisdom did he provide? What was the new knowledge?

The Companions (sahaba), who were the original audience of the Qur'an and the Prophet, have preserved all this for us in the Hadith .


---


Africa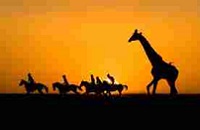 Kenya:
Non-Muslim Regime Closed down 4 Mosques in Mombasa. Muslims tried to re-Open them. Clashes and Oppression.

Nov 20 Crowds of unarmed Muslims tried to re-open Safwaa mosque in Mombasa, one of four mosques closed down by the regime.

In the clashes which followed, one Muslim was killed and several injured by Kenyan police. BBC's report says discontent owing to police repression is spreading in the larger Muslim community.

A large non-Muslim Kenyan military column invaded Somalia last year. Ever since then Muslims have started supporting the al-Shabab movement in Somalia.


---


Al-Shabab Strike in Kenya after Muslims killed, Mosques closed in Mombasa.

Kenya - After reports of mosque closings and killing of several Muslim protestors in Mombasa, al-Shabab raiders from Somalia entered Kenya and attacked public transportation.

At least 28 non-Muslims are reported killed in the al-Shabab raid

A Kenyan military column with tanks earlier this year captured the Somali city of Kismayo. Al-Shabab, unable to face tanks, withdrew into the countryside. Most of Somalia is in their control.


---


Nigeria:
Back and forth battles in North East. Boko Haram capture 11 towns, lose 2. How and why Boko Haram became so aggressive.

In the Lake Chad area, extreme north east of Nigeria, Boko Haram raiders are reported to have killed fishermen who were working as spies for a united military force from countries supported by the US, Israel and other western powers. The attack disrupted the trade in the entire area. The report could not be verified owing to the remoteness of the area. [Source:BBC]

Boko Haram guerrilla fighters have captured 11 towns in north eastern Nigeria. The Nigerian army fled after severe battles. Christian settlers have been armed in several areas to fight supporters of Boko Haram as vigilantes.

BBC which listed the 11 towns says the Nigerian army counterattacked and has retaken Chibok and Mubi. Boko Haram allegedly kidnaped Christian girls from Chibok months back and they have not been heard from.

New Trend analysis is that Boko Haram is trying to outflank the city of Maiduguri, the biggest city in the region, most heavily guarded by the army.

In Kano, the Emir, the traditional Muslim leader, who considers Boko Haram "extremist radicals," has called on the population to fight Boko Haram.

The fighting in Nigeria began several years back when the Nigeria military summarily executed the leader of Boko Haram, Yusuf, after torturing him. After that Nigerian tanks entered mosques controlled by Boko Haram and slaughtered more than 500 unarmed Islamic people. Since than the army has carried out more a than a dozen massacres of Muslims supporting the group which is against western education. Several thousand Islamic women and children from the Boko Haram families are in the prisons of the Nigerian army, thus inciting the "extremists" to capture Christian women for exchange.


---


Egypt:
Islamic State flag starts to appear in Muslim brotherhood protests in Egypt!
YouTube.com/watch?v=Hg1k47N4lDU


---


War News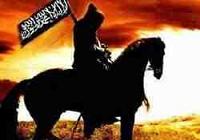 Egypt:
Egypt's Ansar Beit al-Maqdis pledges allegiance to ISIS.

Egypt's main Islamist militant group, Ansar Beit al-Maqdis, pledged allegiance to the Islamic State of Iraq and Syria (ISIS), in a recording posted on its Twitter account on Monday.

The announcement is the most significant pledge of support for ISIS in the region outside of Iraq and Syria, suggesting the group's influence over militant groups is overshadowing its once dominant al-Qaeda rivals.

"We announce our pledge of allegiance to the caliph Ibrahim Ibn Awad... to listen and obey," the audio recording said, referring to ISIS leader Abu Bakr al-Baghdadi.

"We call on all Muslims everywhere to pledge allegiance to the caliph and support him," the recording said.
The militant group posted the clip, which is nine minutes and 26 seconds in length, early on Tuesday morning on a Twitter account that calls itself the official mouthpiece of Ansar.

Especially active in northeastern Sinai, Ansar Beit al-Maqdis has claimed responsibility for numerous high-profile attacks against police and army personnel in recent months.

In September, ISIS issued a statement urging insurgents in Sinai to push ahead with attacks on the country's security forces. Over the last year, the restive peninsula in particular has seen a sharp increase in attacks on Egyptian security personnel, the most recent of which left 31 troops dead late last month.

The group also claimed responsibility for a failed assassination attempt last September on Egyptian Interior Minister Mohammed Ibrahim.

Several of the group's members who conducted attacks fought in Syria alongside militants before returning to Egypt to join the group.

The group had previously expressed support for ISIS but stopped short of pledging its allegiance before Monday, even denying it last week.

Addressing Egyptians, the group demanded they take up arms against President Abdel-Fattah al-Sisi, the former army chief who toppled Mohammed Mursi and unleashed a crackdown on Islamists.

"What are you waiting for after your honor has been violated and your blood spilled... by this stupid tyrant and his soldiers," it said. It also made a thinly veiled appeal to Mursi's Islamist supporters, who have held regular protests often quashed by police.

"Humiliating non-violence will not be of use to you, nor heretical democracy, and you have seen what happened to its adherents," it said.

Interior ministry spokesman Hani Abdel-Latif told AFP the announcement would make no difference to Egypt's fight against the militants.

"They are just different names for the same terrorists," he said.

Ansar Beit al-Maqdis, which means Partisans of Jerusalem, was formed during the security vacuum that followed the overthrow of longtime president Hosni Mubarak in the revolution of 2011.

It has said it wants to avenge Islamists killed in the crackdown that followed Mursi's overthrow.

Egypt has been dogged by turmoil since last year's ouster of elected president Mursi by the army, which was followed by a harsh crackdown on Mursi's supporters and members of his Muslim Brotherhood group.

Ansar Beit al-Maqdis's pledge comes a month after six key Pakistani Taliban commanders, including the spokesman of Tehrik-e-Taliban - Pakistan conglomerate of various Pakistani insurgent groups - announced their allegiance to ISIS in mid-October.

ISIS has captured large swathes of land in Iraq and Syria, declaring what it calls a cross-border Islamic "caliphate," killing thousands and displacing millions in the two countries.
(AFP, Anadolu, Reuters, Al-Akhbar)


---


Tunisia:
Tunisian Elections a Farce: 1500 Arrested, Young Women Killed by Security. Largest Number of Volunteers for ISIS in Syria are from Tunisia

According to the BBC, among the 16000 volunteers for ISIS from around the globe, the largest number are from Tunisia.

Within Tunisia, the farce of elections has covered the fact that security forces have arrested 1500 people, a large number for such a small country.

On top of that, security forces attacked and killed a group of young women who had embraced Islam [or "radicalized" according to the secularist establishment

Some idea of the tragic murders of these Islamic women comes out in a New York Times report. The language is misleading and the perspective anti-Islam. Read it with care and see what crimes are being committed against the young women of Islam:

Tunisians Are Shaken as Young Women Turn to Extremism
By CARLOTTA GALL NOV. 20, 2014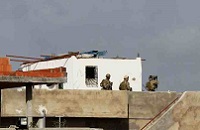 TUNIS- Leila Mustapha Saidi returned home on a recent day to find her daughter Henda missing, along with her computer. Mrs. Saidi, who had watched her daughter grow religious and "obsessed" with the conflict in Syria, said she feared she had run off to join Islamist fighters there.

Instead, the police called four days later. Her daughter Henda Saidi was holed up in a house outside Tunis with a group of suspected insurgents. A day later, security forces stormed the house. Of six people killed in the raid, five were young women.

"They classified her as a terrorist," Mrs. Saidi said bitterly.After more than two years of mounting attacks and assassinations, Tunisians are no longer surprised by shootouts between gunmen and anti-terrorist units, even in the capital. But the standoff in which Ms. Saidi was killed nonetheless shocked many here for the sheer number of women involved.

It has also driven home the fact that — nearly four years after events in Tunisia set off the Arab Spring, and with presidential elections Sunday — the lure of extremism has touched virtually every part of society, men and women, the poor and the comfortable alike.

It has reached even the relatively affluent district of La Marsa, where the Saidis live in a pretty house with arbors of flowers in an enclosed front garden. Henda was the third person from her high school to die for the Islamist cause in the last year, teachers and acquaintances said.

"We are all uncomprehending," said Linda Ben Osman, an art teacher who worked at the high school several years ago and knew Ms. Saidi. "These were smart kids, kind kids, ready for life — very beautiful in the case of Henda."

"The youth are desperate, I think," Ms. Ben Osman added. "Before Syria and ISIS," she said, referring to Islamic State militants in Syria and Iraq, "people self-immolated, or took boats to escape to Europe and died in the sea."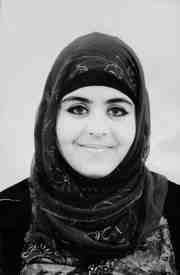 She and others consider the outburst of extremism to be a reaction to the authoritarianism of Tunisia's former ruler, President Zine el-Abidine Ben Ali, whose overthrow ushered in a free-for-all democracy.

Radical Islamists released from prison and returning home from exile were quick to exploit the new freedoms, taking over mosques, setting up associations, and recruiting thousands of young followers. Tunisia has been grappling with a surge of Islamist extremism since.

"We were in some sort of prison," Ms. Ben Osman said. "The former president worked to keep our minds closed. When freedom came, people didn't understand it. And maybe it did not bring what people wanted, and they look for it elsewhere."

Young women have been as susceptible as anyone. In an interview, the interior minister, Lotfi Ben Jeddou, said all the women killed in the October raid were in their late teens or early 20s, and had joined the insurgent cell over the past several months. "They were educated," he said.

Government officials said the women had refused to surrender, even using two children as shields. One small girl was shot in the head. Two men were also in the house; one was killed and one wounded.

Barely a week after burying their eldest child, Ms. Saidi's parents sat at home stunned at the turn of events.

Mrs. Saidi said she could not bring herself to view her daughter's body when it was brought home for the funeral. Her husband, Hedi Saidi, left the house and refused to attend the burial. "I could not accept the fact that it was my daughter," he said. He criticized the government for hastiness in shooting at a house with women and chiildren.

The Saidis described their daughter as highly principled but sometimes stubborn. "My daughter was a good girl, a hardworking student," Mrs. Saidi said. "I do not think she was unjust. She did not do any wrong to anyone."

Ms. Saidi, a 21-year-old law student, had become radicalized, and they knew she often hid her true intentions from the family, they said.

"For a year and a half she kept a system so we would not notice when she left," Mr. Saidi said. "She was always reading, on the Internet, painting in her room."

Ms. Saidi's former high school French teacher, Dejla Abdelhamid, posted a heartfelt message on Facebook lamenting her death and wishing she had done more to prevent her being lured into extremism.

"Henda Saidi with her long fair hair, her radiant smile," Ms. Abdelhamid wrote. "Her death is our failure, and the failure of a whole society, and in some part it is my failure as a teacher who fell short, missed something."

Her post received a storm of comments, some accusing her of leading Ms. Saidi into radical Islam when they saw from her photo that she wore a veil. After Ms. Abdelhamid called on Ms. Saidi's grieving parents, a colleague berated her for visiting the family of a terrorist.

"People do not know what is happening," Ms. Abdelhamid said in an interview. "People are scared of each other."

"The youth are lost, they do not have a reference," she added.

She had met Ms. Saidi on the street a year after she had graduated from high school, she said. When she saw that she had abandoned her jeans and makeup and was dressed in the full black covering and gloves often worn by radical Muslims, Ms. Abdelhamid burst into tears. Ms. Saidi nevertheless seemed happy.

"She just smiled," her teacher said. "I did not feel she was the girl who was lost." Ms. Abdelhamid attributes the turn to extremism by Ms. Saidi and others to the forced secularization under the dictatorship, which she says has left Tunisians ignorant of their religion, and now easily misled by radical preachers who have rushed in with new ideas.

"It's like a tsunami we have not had time to understand," she said. "We have to teach them to defend themselves in a solid way."


---


Syria:
Assad on Defensive as Nusra Front & IS Slowly Advance

Fighting continued all along the fronts in Syria stretching from Idlib to Quneitra. In Kobani, IS volunteers are holding 50% of the city in spite of pounding by the US air force.

Nusra is attacking two heavily defended Shia villages in northern Aleppo province. In Hendrat, another area in Aleppo province, is being defended by Hizbullah from Lebanon and Shi'ite militia organized by Assad.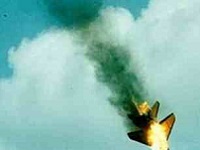 In Damascus province, Assad's elite troops fell into an ambush by Al-Nusra [victory] front. 25 of Assad's troops were killed and the rest are falling back towards the capital Damascus.

Assad's air force is on the daily attack pattern targeting Muslim populations in the entire country. When the Syrian jets attacked targets in Deir Ez-Zor province held by the Islamic State [IS], one of the jets was shot down by IS ground fire much to the elation of the people.


---


This America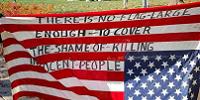 Five Gitmo Detainees being released. but being sent to Georgia [Russia's neighbor]!
Thanks to hard work by Center for Constitutional Rights, New York.
via Jamaat al-Muslimeen Virginia

CNN -- Five detainees at Guantanamo Bay were transferred to the nations of Slovakia or Georgia as part of the U.S. plan to reduce the facility's population of detainees who were suspected of terrorism after the September 11, 2001, attacks, officials said Thursday. All five detainees "were approved for transfer by consensus of" a review task force that also looked at security issues, the U.S. Department of Defense said in a statement.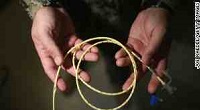 As of Thursday, 143 detainees remain at the U.S. naval base in Cuba, the Pentagon said. That number compares to the facility's population height of more than 750 people after it began accepting post-9/11 prisoners.

Three of the detainees -- Salah Mohammed Salih Al-Dhabi, Abdel Ghaib Ahmad Hakim, and Abdul Khaled Al-Baydani -- are slated to be sent to Georgia, in the Caucasus region at the border of Europe and Asia.

The other two -- Hashim Bin Ali Bin Amor Sliti and Husayn Salim Muhammad Al-Mutari Yafai -- are scheduled to be transferred to Slovakia in Central Europe.

Hakim was represented by the Center for Constitutional Rights, which identified him as Abd Al Hakim Ghalib Ahmad Alhag. Alhag (Hakim), who is from Yemen, had been detained for more than 10 years and been cleared for release "for years," but his transfer was delayed "as the U.S. inexplicably opposed his release in court," the center charged.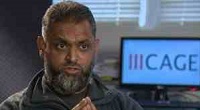 "The U.S. finally transferred him on the eve of new litigation by the Center for Constitutional Rights challenging his continued indefinite detention based on or because of his Yemeni citizenship. Such arbitrary detention violates U.S. and international law, including the Geneva Conventions, which the U.S. is obligated to uphold," the center said.

Attorneys for the center praised Alhag's transfer out of Gitmo.

"We are grateful to the Republic of Georgia for offering our client a new home where he can begin to rebuild his life after more than a decade in Guantanamo without charge or trial," the center said in a statement.

Of the 143 men in Guantanamo, 84 are from Yemen, and 54 of them have been approved for transfer, the center said. Alhag's transfer makes him the first Yemeni to be released since 2010, the center said.

In 2008, the U.S. Supreme Court ruled that detainees have a constitutional right to challenge their detention, and the following year, President Barack Obama signed an executive order to close the detention facility within a year, which has been delayed due to difficulties in relocating the prisoners.

Last May, the U.S. government transferred five detainees to Qatar in exchange for the Taliban's release of U.S. Army Sgt. Bowe Bergdahl, who was held captive for five years .


---


Media, U.S.:
Homosexuals, well organized, trying to shut down Critics.
Obama has given the LGBT a Big Edge vs Christians.
[The following aggressive language is from aol.com.]

Tens of thousands of people are calling for the cancellation of a popular reality show because the stars have spoken out against LGBT people .

The Change.org petition signed by nearly 90,000 people (as of Thursday morning) demands TLC remove "19 Kids and Counting" from its lineup immediately on grounds Jim and Michelle Duggar, both conservative Baptists, and their family are fear mongering against the community .

"The Duggars have been using their fame to promote discrimination, hate, and fear-mongering against gays and transgendered people," Jim Wissick wrote on the petition .

"You need to take a stand on the side of justice and cancel their show.

A Michelle Duggar robocall trying to sway public opinion against an anti-transgendered discrimination bill is among the slights cited by Wissick .

"Males with past child predator convictions that claim they are female," Duggar insisted in the call. She also called for transgendered women to not be allowed in female restrooms .

A picture of the Duggars kissing to celebrate their wedding anniversary was posted last week to Facebook. John Becker, of LGBT blog The Bilerico Project, was banned from the page after posting a picture of him kissing his husband in the comments. The picture was also removed, Bilerico told E! News .

The Duggar offspring have also taken anti-gay positions in the past, and eldest son Josh Duggar currently works at an organization that routinely denounces gays .

The Family Research Council has previously linked homosexuality with pedophilia and also trumpets the use of anti-gay therapy as a solution to the "problems associated with homo sexual conduct.

"The Learning Channel & Discovery Networks need to separate [sic] themselves from this bigotry and put an end to the Duggar's show," says the petition.


---


Media, Richmond VA:
American Woman trapped and arrested: Fooled by and Lied to the FBI

WTVR.com/2014/11/17/henrico-woman-jailed-accused-of-attempting-to-aid-isis


---


New York and Cleveland, OH: Suspicious Arrest of Hijabi woman+Another Police Kill+ Ferguson tense, Activists ready.
by Sis. Aisha [New York Jamaat al-Muslimeen]

New York City - A Muslimah substitute teacher has been charged with sexually assaulting a student at Manchester Regional High School! According to Prosecutor Carmelia Valdes, Linda Hardan, 21 years old, sexually assaulted a 16 year old High School student on November 20th and she was arrested on November 21st after an investigation. She is charged with sexual assault, endangering the welfare of a child and criminal sexual contact. That is a very quick arrest after only a one day investigation. Linda Hardan is seen in a picture wearing a hijab. There are no further details about this case. (Courtesy CBS New York News).

---

Another police shooting. This time the New York Police Department is claiming that it was accidental. Akai Gurley was leaving his girlfriend's apartment in the Pink Houses - a project development. Two officers were patrolling the area when they came upon Gurley in the stairwell between the 7th and 8th floors. A rookie officer shot Gurley in the chest. Rev. Charlatan is already involved calling for an investigation.

Ferguson, Missouri, where Rev Charlatan [Sharpton] and Uncle Jessie Jackson were run out of, may very well be the hot bed for another movement or revolution similar to the Civil Rights Movement in the 1950s/60s. Michael Brown's Body may be the catalyst the same way Emmett Till's lynching was for the start of the Civil Rights Movement. Nothing or no one has been able to deter or distract the Ferguson Protesters. Al-humdulillah !

It has been stated that Whites in Ferguson have been buying firearms in record numbers in anticipation of violent unrest should the grand jury vote not to indict. The Police Union has already stated that they do not believe that there will be an indictment. There was violent unrest when California officers were acquitted of beating motorist Rodney King in 1992. That lasted for days. A so-called Black militant group has already put a bounty on officer Darren Wilson's head. He is the officer accused of killing unarmed Michael Brown and is in hiding. The group RbG Black Rebels is offering $5000 for Wilson's whereabouts. Many take that as a threat to officer Wilson's life.

Strange Note (from Sis Aisha): I was looking up information Online about Halal chickens when I came across comments and two Youtube videos slamming Halal slaughtering. The critiques against Halal slaughtering was that the animal is killed while it is awake. The way non-Halal cows and bulls are killed is by farmers banging these animals in the head with a sledgehammer! I believe that these critiques are unwarranted and biased against Muslim culture the same way these animal rights activists attack the Lakota Nation for killing one whale, which feeds them for a whole year. Many of these activists are White and are just protesting this whale killing event to attack the Lakota and their ways.


---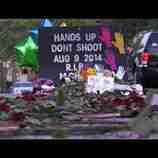 American Dissidence
My friend Commissiong speaks so well on police brutality and the situation developing in Ferguson, Missouri.

Emmett Till's anniversary was five days back. America is still victimizing and denying.

"Who ever thought race issues in America would change because of Obama was delusional"

Just ahead of a grand jury verdict which decides the fate of the police officer who killed...
YouTube.com/watch?v=euKAuN-HSio&list=UUbGif2gxFLxGDxG9CeA_fvg


---


Boston: Government Asked him to become an Informant: He Refused.
Matanov wins lawyer, moved to federal prison
by Sis. Karin Friedeman

Sitting outside the Boston courthouse the morning of November 20, I saw a black van with black windows drive up just past 11am. There is a security entrance in the back that is normally sealed shut. The door opens, and the van drives into the building. Within moments, the van backs back out. I looked into the garage type place within two seconds of the van driving away. There was nobody there. Just some copy machines and I don't know what else, not much. They hurried that kid out of there like lightning !

Quincy cab driver from Kyrgyzstan, Khairullozhon Matanov, charged with obstructing the Boston Marathon bombing investigation, appeared in court that Thursday with a change of attorney motion. Matanov has been held in pre-trial solitary confinement since in May 2014.

In October, reports came out that Matanov was severely brutalized by Plymouth County prison guards, who kicked him in the head calling him "Muslim terrorist" while blasting the US National Anthem on the loudspeakers.

"Matanov has told supporters in letters that he has been beaten by corrections officers, ridiculed and harassed, and he watched another inmate attempt suicide," reported Milton Valencia in the Boston Globe. He has since been moved to Wyatt, a federal prison in Central Falls, Rhode Island.

His friends also wrote letters to the judge, which ended up in his docket, mentioning how the government asked him to become an informant in exchange for his freedom but he refused.

Entering the courtroom, Matanov kept his eyes downcast. His hair is longer, and he looked somewhat unkempt. He was suddenly moved to a new prison yesterday so he was looking tired and perhaps stunned. His head may still be aching. Matanov wore olive green prison clothes, which were thin like hospital garments.

Judge Young began with: "I don't want a discussion of what happened between Hayden and you, or the charges against you: Why don't you want Hayden as your attorney?

"I have been working before with Glickman. I felt more confident while working with him," answered Matanov.

"Mr. Matanov has been a perfect gentleman during these difficult times at prison. I couldn't do anything to alleviate his conditions," explained Hayden humbly.

"Mr. Matanov was not a problem client. This is not a complex case. It is not difficult to get ready for this case," said Hayden. "Because of the high notoriety of this case, I had to go to Plymouth two or three times to put out fires.

Judge Young seemed to sympathize with the defendant. "This young man has the right to a speedy trial. I am ready to give him a prompt trial.

Glickman agreed to take the case. He assured the judge there would be no delay.

"There can only be one attorney," said Judge Young to Hayden. "I do thank you for everything you have done under these unique circumstances.

At that point the judge allowed Matanov's motion to withdraw his attorney. "I mean no disrespect. You have been ably defending your client.

Matanov's previous lawyer, Edward Hayden, said he did not oppose the assignment of a new lawyer. Hayden was appointed after Matanov's arrest because Matanov could no longer afford to pay Glickman, his former immigration consultant.

Glickman is not on a list of lawyers who represent indigent clients in US District Court, and Young rejected an earlier request for him to be assigned at taxpayer expense. But the judge has now agreed to appoint Glickman. Glickman said he has been following the case and will be prepared for the scheduled June 2015 trial.

"The Plymouth conditions are deplorable. I think it's fair to say that he may not have been treated well. There have been three suicides. The information the client gave is not unreasonable," Glickman told reporters after the hearing, assuring them about how prepared he was for trial and clarifying the lack of any behind the scenes plea deal.

"This is a very triable case.

When asked, "Is the trial going to get pushed up?

"I don't know," said Glickman

Matanov is not accused of playing any role in the April 15, 2013, Boston Marathon bombing but faces up to 15 years after he went to the police to identify the Tsarnaev brothers when their faces came on television.

Judge Young presided over the trial of the notorious "shoe bomber," Richard Reid in 2003.


---


Chicago, IL: Rasmea Odeh Imprisoned, US Citizenship Revoked. Israel Rules US System
by Sis. Karin Friedemann

Palestinian rights activist and organizer, Rasmea Odeh, 67, was arrested by Homeland Security on October 22, 2013 at her suburban home outside Chicago, and was indicted the same day in federal court, where she was accused of responding incorrectly to a question on her naturalization application ten years ago. In front of a courtroom packed full of supporters on November 10, after just two hours of deliberation, the jury declared Odeh guilty of "unlawful procurement of citizenship." She was then detained as a "flight risk" awaiting sentencing to take place on March 10, 2015.

Odeh's attorneys refuted the government attorneys' assertions that she was a flight risk. Odeh rejected a plea deal that would have seen her deported without serving jail time.

She chose to fight to remain in the US where she has strong community ties.

The case against Odeh centered on her failure to disclose on her US immigration papers her conviction in an Israeli military court in 1969, which was based on a confession she made after 25 days of torture. The US judge refused to allow Odeh to detail the circumstances of her false conviction. The jury was not allowed to know. Odeh insisted that she'd always believed questions she's been accused of answering falsely were asking about her time in the US, not Palestine.

"If I knew it was about Israel, I would have said, " Odeh explained. "It's not a secret that I've been in jail. Even the embassy knows." The U.S. embassy in Israel became involved in the initial arrests because her father was a US citizen.

Hatem Abudayyeh, executive director of the Arab American Action Network (AAAN) told the Electronic Intifada, "This was not a full or fair trial.

"Palestinian people around the world are doing effective work; we're getting stronger and stronger and Israel is on the ropes. And when Israel is on the ropes, the US government cracks down," he added.

This targeted prosecution appears to be connected to Assistant US Attorney Barry Jonas, who led a federal investigation of Chicago area Palestinian and Colombian human rights activists in 2010, in which the FBI conducted simultaneous raids on the homes of seven community members in the Chicago area, seizing their computers with search warrants that stated they were looking for hints of "material support for terrorism." Twenty-three other activists were subpoenaed by grand jury, as well as a subpoena of AAAN records.

Jonas, who also prosecuted the secret government case against the Holy Land Foundation, was seen actively consulting with the assistant US attorney that presented the case against Odeh, reported the Detroit Free Press in an article written by former political prisoner, Angela Davis.

"As a person with first-hand knowledge of the devastation wrought by politically motivated prosecutions — during the era of COINTELPRO, I was falsely charged with three capital offenses — I see Rasmea Odeh's case as a continuation of the embarrassing history of decades of suppression of social justice activists in the U.S.

The courts are being used to retaliate against Palestinian activism," wrote Davis.

Charlotte Silver reports in the Nation, "When she was 21, in 1969, Odeh was arrested in the middle of the night by Israeli soldiers at her home, and for twenty-five days her interrogators tortured her. She was beaten from head to toe with sticks and metal bars; her body, including genitalia and breasts, was subjected to electric shocks after she was forced to watch a male prisoner tortured to death in this very way. All the while, she was told she would die if she did not confess. But it was not until they brought in her father, threatening to force him to rape her, that she agreed to sign a confession stating that she had helped orchestrate two explosions in West Jerusalem that killed two civilians. Even then, her torturers raped her with a thick wooden stick.

"Standing before a military court less than one month later, Odeh renounced the confession. But the panel of judges ignored that, and Odeh was sentenced to ten years plus life in prison. Ten years later, she was released in a prisoner exchange, along with seventy-five other Palestinians.

Judge Gershwin Drain forbid Odeh from testifying on her Israeli torture experience and warned her that mentioning the forced confession was inadmissible. She however ended up delivering an impromptu heartfelt speech that left many people in the audience in tears; detailing her family's history through the Catastrophe of 1948, the 1967 war, and the 1969 raid on her home.

When Odeh told the court that she spent 45 days in an "interrogation center, prosecutor Jonathan Tukel objected. Judge Drain sustained the objection.

Defense attorney Deutsch asked her if she was convicted. She answered, "They convicted me falsely.

The government objected and the judge sustained the objection. Judge Drain barred Rasmea from using post-traumatic stress disorder as a defense.

University of Illinois-Chicago (UIC) professor Nadine Naber, a leading scholar on Arab women and other women of color, who first met Rasmea back in 2006, had testified to their work together, describing Rasmea's organizing resulting in changing the lives of hundreds of Arab immigrant women by creating a space for them to face their collective challenges they experience. She testified about Rasmea's character, a truthful person and community mentor.

Odeh told her tear-filled supporters: "I don't want to be weak in this situation. I am strong and I ask you all to be strong."



2014-11-27 Thu 14:39 cst
NewTrendMag.org