NewTrendMag.org News # 1563

[ Click on NEWS for back issues ][ OUR BOOKS ] [ Women in Islam ][ Our America ][ Hadith ][ Kaukab Siddique's khutbas ][ Latest photos. ][ Imam Badi Ali's Thoughts ][ Muslim Political Prisoners ] [ Previous Issue ]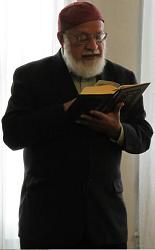 Shawwal 21,1435/August 18, 2014 # 33

---

One faith: One Ummah: More than a million rally for Gaza in Karachi, Pakistan: Scroll to report and photo.

---

President Obama Woefully misinformed on Ferguson and ISIS:

August 18: 5 .30 PM: The president of the United States blamed the oppressed people of Ferguson, Missouri, and supported the police. He went into considerable detail to claim violence by the cdemonstrators though none has been shown on TV [other than comments by police and the controlled media]. Obama said peaceful protests are allowed. If so why are rallies are being broken up by indiscriminate teargas shelling? It was obvious which side he is on: A Black president blaming Black people!

On ISIS he seemed to be whistling in the dark. Perhaps intelligence was kept back from him to let him make his speech. He claimed [sort of] that Mosul Dam has been retaken by forces opposing the Islamic Caliphate. New Trend urges the President to at least read the latest news reports, not just the headlines from the Baghdad regime:

ABC News: August 18:"... a senior Kurdish commander told The Associated Press that his peshmerga forces had withdrawn from the dam complex on Monday afternoon because it was heavily rigged with explosives. He spoke on condition of anonymity because he was not authorized to talk to media. In an Internet statement, the Islamic State denied losing control of the dam, dismissing the government claim as 'mere propaganda war.' The statement, which could not be independently verified, was posted on a website frequently used by the militants."

[For more on ISIS and fighting in Syria, please scroll way down. ]

---

Breaking news:

August 18: National Guard forces in armored vehicles rolled into the Missouri, St. Louis, town of Ferguson.

Jamaat al-Muslimeen Condemns repression in Ferguson town.

August 17: latest is that curfew was imposed in Ferguson. Military style vehicles and swat teams are being used.

On behalf of America's Muslims we urge all people of conscience to condemn police brutality and the use of military type equipment against unarmed people.

Police brutality is well known and repetitive in cities across America. It is our Islamic duty to unite the people against the monstrous machine of repression which has reared its ugly face across America.

Zionism and racism have combined to terrorize the people of America. Israeli connections with the brutal police forces have emerged.

Demonstrations in support of Ferguson's people have emerged in city after city. We urge Muslims to join the protests.

Oppose media manipulation opposing the people's uprising. Media should reveal Israeli connection with US police.

Black Uncle Toms are being used in police and media to fool the Black communiy.

Notice that the media DO NOT show the protesting crowds. This is censorship against the American people.

---

Leading the struggle for Palestine is Central
by Imam Badi Ali [North Carolina]

Gaza in particular and Palestine in general is sacred for Muslims. Its central mosque is mentioned in the Qur'an.


It is the land of the prophets of Islam.


All the prophets were led in prayer at masjid al-Aqsa by Prophet Muhammad, pbuh. One leads prayers in his home. This is the Prophet's, pbuh, home,


Sura al-Fatiha shows us that there is a right path and a wrong path. In Gaza this is very clear. It is a conflict between HAQQ [the truth] and BATIL [falsehood]. It is not a struggle which is not clear.


Israel is an enemy created for us. These are the Jews who killed many prophets, hundreds of prophets. Here is evil incarnate.


Gaza has defined the reality for us. It is no longer a question of group or party or color or nation. It is the question of humanity.


South America has sided with Gaza. They have shown that it is not a question of nationality or region. This is the issue of Good vs Bad.


Hypocrisy has also become a central issue with so many rulers claiming to be Muslims but denying any support to the people of Gaza.


The future of Zionism is in doubt. All these crimes and brutalities by Israel have given rise to global anti-Jewish sentiment. The world does not like Israel any longer.


As the struggle continues, attempts will be made to limit the power of social media because it has made it possible for the people to challenge the version put out by those in power.
---

ISNA's Treachery & Islamic Leader Tariq Ramadan
Tariq Ramadan's Departure from ISNA is welcome:
Is it Moral revulsion or Opportunism of the lowest kind?
by Imam Badi Ali [North Carolina] and Dr. Kaukab Siddique [Pennsylvania]

Tariq Ramadan has done well to delink himself from ISNA and the Canadian sufi group.

We welcome his step. His future activities will show his sincerity or his opportunism. We do not know his intentions.

The comments made by Br. Ramadan do point to some serious flaws in his thinking. These are serious errors of judgment and related to a view of life which is morally indefensible. Let's look at the points he made.:

He praises ISNA's etc past record very highly. This contradicts his charge that he won't go to ISNA because it is not facing the issues.


Does our brother really not know that ISNA has worked hand in glove with the FBI for decades? He has never looked at ISNA's Islamic Horizons which has advertised recruitment by the FBi? He never knew of the FBI booth at ISNA Conventions?


Has our brother been unaware of ISNA's admiration of the Pentagon?


Did he not know that an ISNA convention was sponsored by the White House itself.


Does he not know that ISNA does not support any Muslim political prisoner, be it Dr. Omar Abdel Rahman, Imam Jamil, Dr. Kifah Jayyousi, Masaud Khan, Dr. Aafia Siddiqui, Ahmed Abdel Sattat, or any other?


Is Tariq Ramadan naïve enough not to know that ISNA does not question, let alone condemn Israel's legitimacy?


Is this well versed brother unaware that ISNA does not question, let alone condemn Zionism?


Is it indeed possible for Tariq Ramadan to not know ISNA's stance in support of the US invasion of Iraq and Afghanistan and its silence on the drone attacks on Pakistan, Yemen and Somalia?

He highly praises all that ISNA has done and claims that NOW ISNA is not facing the issues and he will not go!

It is quite possible to excuse Tariq Ramadan's plea on the basis of his lack of knowledge about the difference between the Islamic Movement in Europe and that in America. Perhaps he really is unaware of the track record of ISNA.

On the other hand his sudden deviation from ISNA can be seen as opportunism owing to the great pressure on public opinion created by the latest crimes of the Zionist entity in Gaza. The slaughter of hundreds of children and the deaths and injuries of thousands of civilians has made it impossible for anyone with the slightest credibility to support ISNA's White House brand of "Islam."

We wish Tariq Ramadan the best for the future and we hope and pray that he will stay on the Islamic path and not go back to ISNA

---

An American Visits Gaza: Is USA under Israeli occupation?
via Ms. Carolyn in Florida

My friend Fadwa, a Palestinian, now living in Oakland, CA, just returned from Israel after spending about six weeks there during Ramadan. She and her family were treated awful by the Israeli soldiers, everywhere they went including entering mosques. Most Americans don't realize that the Pal. people are under siege with guards at all of the gates/Apartheid Walls that surround the Palestinian cities. She could not fly into Tel Aviv, but had to fly via Jordan and then cross over at the Allenby Bridge. Sometimes it takes two days to travel the few miles from Jerusalem to that bridge. It's by bus and the passengers are constantly harassed by the Israeli military. (Most Palestinians are stateless and have no passport.)

While there, she heard Netenyahu speak on t.v. how he has American wrapped around his little finger. Unfortunately that is true. If only the Americans could hear that. Could we be under occupation as well!

She said you have no idea how awful the situation is there. The Israelis relish when they kill a pregnant woman as they are killing two at one time. Medical care is almost impossible for these people and they are not allowed to rebuild as the Israeli government will not give them a permit to do so. The people in Gaza are finished with no housing, electricity, food, water, sewage, etc. They are like caged animals with no where to turn. Of course Obama has given the government of Israel the ok to do this saying. "they have a right to defend themselves". (Never mind that it was Israeli snipers that started the uprising in Gaza.) It's a David and Goliath situation, with a lying media sympathetic to the Israelis.

I don't think the Americans realize that Gaza is not the only city being destroyed. Fadwa has a friend in Ramallah that lived in an apartment building. The Israelis bombed the structure. The U.N. Relief came in with tents for them to move into, but the Israelis destroyed them too. This is the worst crisis on earth and backed with U.S. dollars and government.

Of course the truth won't come out as the media has blacked it out. Cover stories and program interruptions are about Robin Williams and his suicide, nothing about the holocaust taking place in Gaza. This is parallel to what went on in Germany during WWII. HItler would not allow the papers to print anything about what was happening in the prison camps. The Germans didn't have a clue. I have spoken to many Germans that have verified this. It was all a cover-up.

On the plane home from New York to Oakland, Fadwa sat next to two Jewish women that were very rude to her. They wouldn't move to let her pass to go to the bathroom. She said they were just awful. She thought they were American Jews, which are probably bigger Zionist than the Israeli ones.

Well, this is a first hand account of my friend's visit to the Valley of the Shadow of Death, which many Christians refer to as the "Holy Land".

---

Numbers were false, atrocity stories were false, US rescue story was not true.
Yazidis: Many Attacks Carried Out by Neighbors, Not ISIS
Jason Ditz, August 16, 2014
[Courtesy : anti.war.com

Somewhat lost in the first-hand account of last week's helicopter crash by NY Times reporter Alissa Rubin, who was injured in the incident, was a potentially important revelation about the attacks on the Iraqi Yazidi minority.

The pilot really made a big impression. You know, the Yazidis feel so betrayed by the Arab neighbors they had lived among for so many years; they all turned on the Yazidis when ISIS came. Many of the atrocities were carried out not by the militants but by their own neighbors.

The focus in the story is on the pilot, himself a Sunni Arab from the region, trying to save his neighbor Yazidis even as others had turned on them. That's important, without a doubt, but ignores the more important point, that ISIS didn't actually carry out many of the attacks on the Yazidis.

So to sum up, President Obama started a war to save 40,000 trapped Yazidis from ISIS, and there weren't 40,000 of them, and they weren't trapped, and now it turns out ISIS also wasn't nearly so involved as previously indicated. America was lied into the first Iraq War in 2003 on some mightly flimsy pretexts, but it seems the administration didn't learn any of the lessons, even bad lessons like keeping your lies less transparent, and the whole pretext collapsed in just over a week. The war, however, will go on much, much longer.

---

Islamic State on the Roll
Militants Hold Seven Iraq Oil Fields After Syria Blitz, IEA Says
By Nayla Razzouk Aug 12, 2014 10:11 AM ET
[Courtesy Bloomberg Business News.]

Islamic State fighters have captured seven oil fields in Iraq with a total output capacity of 80,000 barrels a day, adding to energy deposits they seized earlier in neighboring Syria, the International Energy Agency said.

The insurgents, who swept into northern Iraq in June, grabbed the Ain Zalah and Batma fields in Nineveh province this month, the IEA said today in its monthly oil market report. They already controlled the Najma, Qayara, Himreen, Ajeel and Balad fields, the agency said. The potential flow of oil from deposits they hold in Iraq would fetch about $8.4 million a day on international markets, based on yesterday's closing price for benchmark Brent crude of $104.68 a barrel.

The militants, tapping oil fields to supply their own fuel needs and generate revenue by smuggling, have advanced toward Iraq's self-governed Kurdish region and its capital Erbil, the IEA said. They were about 30 kilometers (19 miles) from the Bai Hassan field near Kirkuk, a northern oil hub and Iraq's fourth-biggest field, it said.

"Everyone is watching very closely to see whether the Islamic State can make any further advances toward Erbil or toward the fields like Bai Hassan that are closest to the frontline because there is a very real threat there," Richard Mallinson, an analyst at Energy Aspects Ltd. in London, said by phone. "A number of international oil companies working in the Kurdish region are concerned" and have withdrawn their staff, he said.

Political Crisis

U.S. airstrikes have slowed Islamic State's expansion, though the al-Qaeda breakaway group holds swaths of territory in north Iraq and in Syria, where it controls oil fields and installations. The political crisis in Iraq has escalated, with Prime Minister Nouri al-Maliki rejecting a push to replace him yesterday.

The seven fields seized by Islamic State are currently pumping no more than 30,000 barrels a day, Mallinson said.

When Islamic State fighters have captured oil fields, they've ordered local engineers and workers to remain in place and continue operating the facilities, he said. "They also have some limited experience from the oil fields they have controlled in Syria for the last year or two" and may have brought in workers from those areas to help.

Iraq, with the world's fifth-biggest crude reserves, is the largest producer in the Organization of Petroleum Exporting Countries, after Saudi Arabia. While fighting spurred companies including BP Plc (BP/) and Exxon Mobil Corp. (XOM) to evacuate workers from the country's north, Iraq pumps and exports most of its crude from the Shiite-dominated south, where the Sunni insurgency has had little impact.

Baiji Refinery

Total Iraqi output from areas controlled either by the central government or the Kurdistan Regional Government dropped to an average of 3.1 million barrels a day in July, down 120,000 from June, the IEA said. Much of the decline stemmed from a halt at the country's biggest refinery at Baiji due to hostilities, according to the report.

Exports from Iraq's southern fields rose to 2.44 million barrels a day in July, though scheduling and technical glitches at the loading terminal prevented larger shipments of Basrah Light crude and may impede increased loadings in August, the agency said.

The Kurdish region produced 310,000 barrels a day in July, down about 40,000 from June as a lack of additional storage at the Mediterranean port of Ceyhan interrupted pipeline flows to Turkey, the IEA said. The capacity of this link is set to double to 300,000 barrels a day, possibly within weeks, according to the report.

The Kurds, seeking to secure independent crude sales by pipeline, have loaded six cargoes since the end of May, delivering only one of them successfully, to Israel, in the face of legal challenges from the central government.

---

Unknown but Ugly Facts
High Praise for Robin Williams: Much Ado About Nothing?
By Nadrat Siddique [Jamaat al-Muslimeen Washington, DC]

The eulogies are pouring out of the Israeli press: the Times of Israel, Ha'aretz, the Jerusalem Post and others are raving about the life of one recently departed soul. Well it sure ain't Ruby Dee, Amiri Baraka, Maya Angelou, or Rubin "Hurricane" Carter—all well known public figureswho contributed significantly to downtrodden communities and died within the last one year.

The Zionist media, both here and in Israel itself, are gushing over Robin Williams. I hate to be a naysayer or uncouth, in having the audacity to speak critically of someone who has just passed. And—as anyone who knows me is aware, I have a seemingly endless reservoir of empathy for anyone suffering from mental or physical illness. Sufferers of clinical depression, manic depressive illness, Parkinson's and other diseases deserve all the support in the world. However, as a Muslim, I subscribe to the Islamic maxim that "Allah alone is without fault," and that conversely, every human is fallible and fault-ridden. Lionizing some, as the corporate media is prone to do, is not helpful, even in the case of an untimely death such as Williams.

In Williams case, we should, at the very least be aware of his pro-war and pro-Israel actions.

Pro-War

Williams was one of the first entertainers to travel to Afghanistan after the onset of the U.S. war there. In 2002, he entertained U.S. troops in Afghanistan when that country was being pounded by U.S. missiles. In December 2010, he performed for U.S. troops at Baghram Airforce Base.

Recall this is the same base at which political prisoner Dr. Aafia Siddiqui was detained and tortured. She was already in custody at the time Williams visited. However, the comedian did not bring up her name, even as a humanitarian gesture.

Williams' trips were not limited to Afghanistan. According to the Washington Post, he accompanied the United Service Organizations (USO) to Iraq and Afghanistan. One of the main objectives of the USO is to maintain troop morale. Williams spoke to and entertained groups of servicemen in both countries, thanking them for their service--in other words, big ups on maintaining an illegal occupation. ("Remembering Robin Williams' strong support for the troops," Dan Lamothe, August 11, 2014)

Support for Israel

Williams rise to celebrity in a heavily Zionist-dominated Hollywood did not occur by chance. He was a major apologist for the colonial-settler state, performing a major tribute to Israel at its 60th Anniversary Celebration in Times Square. The celebration occurred in 2008 while the economic blockade on Gaza was in full swing, and as Palestinians were being killed daily by the IDF. You can see his salute to Israel (along with that of several other celebrities) in Times Square here:
https://www.youtube.com/watch?v=edIZyz3OdKA

Raised as an Episcopalian—and not a Jew—he helped build sympathy for the Jewish Holocaust, playing roles such as that of an occupant of the Warsaw Ghetto in "Jakob the Liar."

Interestingly, Williams described himself as an "honorary Jew." The actor recently posted a picture on Twitter depicting himself in a white yarmulke (while on the set of a TV series he was recording). The photo was accompanied by a quip that it might be time for a career change (i.e., to rabbi).
You can see the picture here:
http://www.breakingisraelnews.com/19955/robin-williams-honorry-jew-friend-israel/#w3ygqboihklyAej7.97

And--in many of his skits, he plays a stereotypical elderly Jewish lady or a New York rabbi. One wonders why he would go to such lengths, particularly in this time when the world is increasingly questioning Israel (and those viewed as associated with it), on many different levels:
humanitarian, Islamic, racial, or international law.

In other words, Israel is no longer the prima donna who cannot be questioned, and the worldcommunity is finally finding its voice in questioning the last colonial settler state to exist. And even Jews are questioning Jews on their support for Israel. One result of the scrutinizing and increased reporting on Israel's massive human rights violations is that among some politically unaware types, anti-Semitism is on the rise. So the question arises, why would someone like Williams refer to themselves as an "honorary Jew," particularly in this day and time? One possible answer might be that Williams wished to maintain and further his career in a Zionist-dominated Hollywood. The censure received by actors Penelope Cruz and Javier Bardem for their recent vocal support for the Palestinians, never mind that they are extremely accomplished film personalities, demonstrates that Hollywood remains Zionist enclave.

Meantime, to all the Muslims gushing with praises for Robin Williams, I say save your energy. It would be better spent in fighting to liberate Muslim political prisoners like Dr. Aafia, to whom Williams turned a blind eye—or rebuilding one of the many countries destroyed by the imperialist armies whose spirits he sought to maintain.

---

[From Jamaat al-Muslimeen New York City.]
Hypocritical Report on Fighting Homegrown Terrorism. Stopping Help for Syria.
by Sis. Aisha

I watched the Jonathan Hunt Show, On The Hunt, video clip titled: "Is There A Threat of US-Born Terrorists?" In this video Hunt interviewed former NYPD detective, Tom Ruskin. When I saw the title and the video, their concern was over Muslim Americans fighting in Overseas conflicts and coming back to declare war on America. However, I realized that if there are any homegrown terrorists it is the American Jews who the American government has allowed to join the terrorist-state of Israel's military any time they want! Any time Israel, which occupies Palestine, wants to take more Palestinian land and engage in genocide against the indigenous population, American Jews are free to engage in this criminal behavior without any fear of retribution from the U.S. government.

If Americans do go overseas to fight in Syria they are not fighting the U.S. government. Why is that these people are being criminalized for fighting Assad, a well-known dictator? It was proven that he used chemical warfare on his own people: men, women, and children. The videos of his victims writhing in pain were extremely disturbing! His type of actions have led many people from all over the Muslim World to join with those trying to oust Assad's regime. Is there any wonder why this is the case?

It seems like Ruskin's biggest fear are Muslims going to fight in Palestine to help the Palestinians end the Israeli occupation of their homeland. I am very well aware of the American government's support of Israel. In spite of its continued genocide against the Palestinians, the U.S. government gave the Welfare State of Israel $255 million dollars for weapons to continue this genocide! It is no wonder that Muslims are angry with the American government but, with an exception or two, no one is fighting America. Muslims are always arrested on suspicion of terrorism but, are only convicted owing to poor legal representation.

The American government will have to learn that it can't eat its cake and still have its cake! You can't use tax payer money to fund the terrorist-entity known as Israel, as well as other dictators throughout the world, and try to use every measure possible to protect this government from possible retaliation. I did not say protect "us" because the people who suffer from U.S. foreign policy is us - the American tax payer forced to disrobe at airports and government buildings all over America. The American tax payer has become criminalized as a result of the American government's fear of retaliation, real or imagined!

---

Syria: Breaking News: August 18
Bashar Assad, with Russian & Iranian support Bombs ISIS and al-Nusra but Can't advance.

Fighting in Dera'a, Aleppo, Damascus, Latakia, Raqqa, Hama, Damascus suburbs.

In bombing raids in the eastern districts of Aleppo province, Assad's jets killed 8 civilians, including 2 children and wounded 10. The jets also hit the famous Ummahat al-Momeneen mosque and several homes.

Mujahideen forces advanced into Latakia province, the Alawite heartland, with heavy clashes with Hizbullah.

Reports of torture coming out of Assad's prisons indicate that the Alawites tortured two people to death in Dera'a province and one in Homs.

The Shia forces tried to advance into Raqqa province held by ISIS but retired after violent clashes.

In Islamic held areas of Damascus, Assad's jet fighters killed a child, 2 women and 3 men. The clashes with the Shias as mujahideen try to advance can be heard in the city.

In western Ghouta, outside Damascus, Islamic fighters tunneled under Assad's stronghold and blew it up, killing 20 of his troops.

---

Boston case
Tsarnaev Defense Thwarted
by Karin Friedemann

"In this type of case it should be cut and dry. Why the dance?" read a tweet commenting on ongoing arguments between government prosecutors and the defense attorneys representing Dzhokhar Tsarnaev during the latest status hearing for Tsarnaev on Thursday, August 14.

The first item under discussion was leaks to the media, which unfairly present the defendant as guilty before trial. This has been an ongoing problem, which the defense has repeatedly asked the judge to do something about. Once again, Judge O'Toole claimed that "this concern is taken to heart" but denied the Tsarnaev motion to seek relief, other than advising government officials not to talk to the media. He once again refused to create consequences.

Next, the "firewall" issue came up. An FBI agent is monitoring all conversations during prison visits between Tsarnaev, his sisters, and his attorneys. The defense has repeatedly stated that they cannot speak freely in front of the FBI, given that the FBI is part of the prosecution team and this violates client-attorney privilege. However, the judge felt "there is prudence in monitoring some way." He ordered the government to keep a log of communications but not content, for example, "spoke to warden." He saw no reason for further relief.

Regarding the defense request for further discovery regarding the murder of Ibrahim Todashev," whose alleged confession that he and Tamerlan Tsarnaev had committed a triple murder of some drug dealers in Waltham, Massachusetts, was written into the legal case of Dzhokhar Tsarnaev as if it were fact, the judge said he had reviewed the classified government document this claim was based on "in camera" and he saw no reason to compel further discovery in order to allow the defense to question it. Once again we are seeing the use of secret evidence that the defense cannot see, in a prosecution of a Muslim.

Next, the defense complained that the government is demanding to know who the defense will call as witnesses during the penalty phase of the trial. They said revealing their arguments against the death penalty before their client has even gone to trial would "chill the defense." They complained that although the prosecution handed over a 108 page list of expert witnesses they might call on during the trial along with their biographies, the defense feels entitled to more specific information on what the government's case against Tsarnaev will be. They are still completely "in the dark" about the government's position, they said, beyond the media leaks they have come across on TV. Tsarnaev's defense is asking the judge to compel the government to deliver "more complete disclosure."

"We are 'mystified' as to what evidence the defense is looking for," claimed US attorney Weinreb most cynically. "We've given them everything we have!"

At the same time the government is claiming that the defense has not handed over any information to them. The defense retorted, "We don't have any information other than what the government gave us!" Tsarnaev's attorneys complained that the government has access to a worldwide network of investigators while the defense has nothing to work with other than the 6-7 terabytes of data that the government handed over: thousands of hours of audio and video recordings, tens of thousands of photographs, every email Tsarnaev ever sent, as well as forensic evidence such as fingerprints, DNA, bullet casings, test results, witness injuries and the like. However this information is neither labeled nor indexed in any way that the information can be searched easily, nor matched with each other; for example photos are not in the same file as the description of what expert witnesseses plan to say about the photos. So the defense has no idea what point the government is trying to make, and would have to click on literally millions of links trying to piece together this information.

The amount of evidence given to us from the government is "massive and disorganized... breath taking!" stated the defense. They want more time to sort through all this madness. Similar tactics of overwhelming the court with huge amounts of irrelevant information have been used against many other Muslim defendants: for example if they ever watched a video of a beheading online, this video would be used as "evidence" against them, even though realistically, who knows what their opinion of the video actually was?

The government accused the defense of "trial by ambush" and insisted that the defense lay down all their cards on the table regarding their anti-death penalty arguments. "We will have no opportunity to prepare our witnesses. The result will be that the jury will only be hearing one side of this case." The defense responded, "It is a weightier discussion to take a life than to spare it. We have more rights to discovery than the government." The judge will consider the matter.

"The fact that they threw in the bathtub and the bathwater doesn't excuse not disclosing their expert witness opinion summaries." It will take months, if not years, even if all three defense lawyers work to figure out which files are interesting. "It's too important to put a secretary on it."

The defense complained that in the past, the FBI has mismatched fingerprints and photographic evidence. They need more information about how the evidence was collected, before trial, to determine if the evidence is "reliable." The defense wants the government to "contextualize" the data, saying "it's almost a random process."

O'Toole refused to rule on this issue immediately. The change of venue request is to be addressed orally next week, while mid-September is the target for jury summons.

In short, Tsarnaev's legal proceedings are "at a standstill" since O'Toole refuses to compel the government to play fair.

---

A Million Rally for Gaza in Karachi: US & Israeli flags burned.
Broad support for Jamaate Islami: Siraj & Munawar Speak: Khalid Mishal by phone
[Information from a variety of reporters.]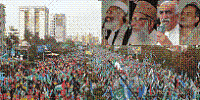 KARACHI: Jamaat-e-Islami (JI) Chief Siraj-ul-Haq has said that the international community after the "Gaza Million March" has fully understood about the real issue of Muslim Ummah, as the entire Ummah wants independence of Gaza.

He expressed these views while addressing a mammoth gathering of Gaza Million March at Shara-e-Faisal on Sunday.

Millions of participants on Sunday took part in a mammoth public march with the name of "Gaza Million March" from Baloch Colony to FTC at main Shahra-e-Faisal in order to express solidarity with the people of Gaza.

Millions of people belonging to different walks of life including women, children and elderly men participated in the March.

The participants raised the flags of Pakistan, Palestine and Jamaat-e-Islami and chanted slogans against Israel and United States and in favour of the people of Gaza.

They also raised placards and banners inscribed with "Get Free Gaza", "Down with Israel and USA", "Labbaik ya Gaza" and others.

On the occasion, the workers of JI disguised themselves in the army dress of Hamas and raised flags of Palestine and Pakistan.

Social Media Camp and Media Gallery for media persons were also setup in the Million March.

Addressing the rally, JI Chief said that the people of Karachi are with the people of Gaza till its independence.

On the occasion, Siraj-ul-Haq made it clear that the JI will not accept the existence of Israel at any cost.

He regretted that more than 7 million army are in Muslim countries, but the people in Gaza are being killed by the Israeli barbarism.

"JI has already sent a funds of Rs50 million, convoy of paramedics staff and ambulance for the people of Gaza", he added.

He said that the 180million people of the country were ready to sacrifice their lives for the independence of Gaza.
On the occasion, he appealed the Chief of Army Staff (Gen) Raheel Sharif to work for the safety of the ideology on which the country came into being.

He assured the nation that the Jamaat-e-Islami will give a true welfare state for the people of country, where the supremacy of law and justice would be prevailed.

"I do not want imposition of Martial Law in the country, as the nation had already been witnessed it in the past", he added.

He said that JI wants reforms in electoral reforms and transparency in electoral process.

JI Chief termed the election in Karachi, as a "selection" and plunder on public mandate.

"The political parties should adopt the ways of discussion and deliberations for the prosperity of the country", he added.

He further said that both the leaders including Nawaz Sharif and Imran Khan believe on the supremacy of constitution.

On the occasion, Syed Munawar Hasan, former JI Chief lauded the efforts of Jamaat-e-Islami, as it has held a massive rally for expressing solidarity with the people of Gaza.

He regretted that the rulers of 56 Muslim countries in the world remained silent over the Israeli aggression on Gaza.

"The government should play its role in fostering the emotions of Jihad among the people", he added.

On the occasion, he demanded immediate cease-fire and removal of siege Gaza.

He said that the Hamas and Taliban were fighting for the real cause of Muslim Ummah, adding that if the rulers of Muslim countries are not playing their due role in this regard, hence those Muslim fighters came into play for safeguarding the Muslims' interest.

Hafiz Naeem-ur-Rehman, JI Karachi Chief thanked the participants of "Gaza Million March".

"USA and Israel are our enemies and people of Gaza are the friends of ours", he added.

He urged the Muslim rulers to come forward and play their due role over the issue of Gaza.

On the occasion, Hafiz Naeem thanked the leaders of different political parties, business community and people belonging to various spheres of life for attending "Gaza Million March".

IJT Nazim, Karachi Muhammad Bilal said that the gathering of millions of people has proved that the hearts of Karachiites were beating with the people of Gaza, adding that the people of Karachi stand with the oppressed Muslims in any part of the world.

Dr Muzzamil, President Jamat-ut-Dawa (JuD), Karachi said that the courage of the people of Gaza will defeat the Israeli army in Palestine, adding that the identity of the Israel would be erased completely in near future.

Dr Siddiq Rathore, leader JUP said that Muslim rulers have accepted the slavery of United States of America, adding that the Israel attacked the infants, children and women in Gaza.

He appealed the muslim community to come forward and play its due role to express solidarity with the people of Gaza.

Mehfooz Yar Khan of AML said that the international community should play its role for the resolution of Palestine issue.

Basharat Mirza said that the entire Muslim Ummah stands with the people of Gaza; however; the rulers of Muslim Ummah were busy in enjoying luxuries. He congratulated Jamaat-e-Islami for holding such a successful March.

Maulana Umer Saddiq said that millions of people have united against the aggression of Israel in Gaza in Karachi.

Younus Sohan said that the people of Pakistan strongly condemned the Israeli bombing in Gaza.

Nihal Hashmi, leader of PML-N congratulated JI Chief Siraj-ul-Haq and his workers for holding such a massive rally in order to express solidarity with the people of Gaza.

He termed the issue of Gaza, the matter of entire Muslim Ummah and stressed for its early redressal.

Mirza Yousuf Baig, leader of MWM said that the "Gaza Million March reflected the unity of Muslim Ummah and this unity will bring Muslim rule in the world.

Qadir Patel, PPP leader congratulated JI leadership for arranging such a huge rally in the favour of the people of Gaza. The Muslim Ummah needs Organization of Islamic Conference (OIC).

He further said that the prevailing issues are Gaza and Operation Zarb-e-Asb, as the country was passing through a critical juncture. Qadir Patel appealed to the people to unite for the rights of Muslim Ummah.

Khursheed Shah, Opposition leader in NA said that the "Gaza Million March has proved that the Muslim Ummah is united against Israeli aggression in Gaza.

"This rally is a clear message to international community that the Muslims of the entire world are united on Gaza issue", he added.

He urged the present government to organize OIC meeting for uniting the Muslim Ummah at a single platform.

President KPC Imtiaz Faran saluted the JI leadership and other parties for highlighting Gaza issue.

He, on the behalf of entire journalist community, expressed solidarity with the people of Gaza.

He informed that the KPC office-bearers have also held a walk for expressing solidarity with the people of Gaza.

Khalid Mashal, Hamas leader in his telephonic address lauded the efforts of the Muslims of Pakistan for expressing their solidarity with the people of Gaza.

On the occasion, Khalid Mashal vowed that the Hamas and the people of Gaza will continue their 'Jihad' against USA and Israeli army.

On the occasion, newly elected JI MPA Abdul Razzaq presented 'Nishan-e-Imtiaz' to JI Chief Siraj-ul-Haq.

Nazim IJT Karachi also presented a cheque of Rs 5 million to JI Chief Siraj-ul-Haq for the people of Gaza.

Later, the participants set ablaze the flags of United States of America and Israel.



2014-08-19 Tue 17:40:36 cdt
NewTrendMag.org