NewTrendMag.org News # 1562

[ Click on NEWS for back issues ][ OUR BOOKS ] [ Women in Islam ][ Our America ][ Hadith ][ Kaukab Siddique's khutbas ][ Latest photos. ][ Imam Badi Ali's Thoughts ][ Muslim Political Prisoners ] [ Previous Issue ]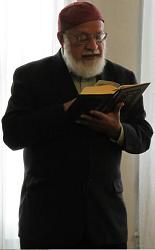 Shawwal 10,1435/August 7, 2014 # 32

---

Shocking report on Ebola. Please scroll to the end.

---

There are reports that the US started bombing IS late August 7. Pentagon is denying the reports.
For Libya, Syria, Iraq, please scroll to end. Amazing reports.

---

From the imam leading the Islamic response to Israel in USA.
Gaza's Horrific Tragedy is a symbol of Worldwide Oppression by Zionism.
Muslims must prepare to face Evil and not be surprised when Occupiers show their hand.

by Badi Ali [Greensboro, North Carolina]

The Prophet Muhammmad, pbuh, taught that the life, honor and property of the Muslim is sacred, even more sacred than the Ka'aba itself.


Israel has shown its evil intent, slaughtering unarmed men, women and children.



People, innocent children, sleeping in places of refuge, injured people in hospitals, families in the privacy of their homes, wiped out by the murderers in tanks and planes.


Mosques are specifically targeted by the worshippers of the synagogue of satan. 1400 schools have been damaged.


Water and electricity have been cut ff, sewage cannot be cleared. Diseases are spreading.


The plan seems to be to decimate the entire population as was done through sanctions in Iraq.




Our struggle with Zionism is the eternal struggle between Haqq and Batil. [Truth vs Evil.] In a war there are many battles. Do not see what happened as a war and end of war. This was one battle.


Be prepared. Take advantage of the break to re-group for the next battle. They are preparing too. So do not waste your time.


Palestine is central to the ummah. All of us need to understand that.


Our struggle with Zionism is ideological, cultural, civilizational and not just military.. We must use all our capabilities and not become inactive.


Do not think that you do not have a role or cannot do anything. Social media is available to us. Use facebook, twitter, emails. You can help your ummah from the desk in your own home.


The Qur'an teaches us to strive and struggle. It is the uphill task. The challenge of Zionism can help us to enhance our abilities. We must get used to striving and hard work.


Nobody who has faith in Allah and is sure of the Hereafter has the right to side with Zionists. The slightest help for Zionism, even ONE WORD in support of Zionism, is BETRAYAL.


Palestine is the issue of Islam. All differences must be forgotten. Think of the children who have sacrificed everything. They are the children of the entire ummah.
---

Continuing our stand for gaza!
PROTEST FOR PALESTINE! #5

This Friday (August 8th, 2014) from 6:00-7:00 PM
On W. Wendover in front of Verizon Wireless across the street from Rooms to Go!
...

Join us in solidarity against the war crimes taking place against the people of Gaza!

Over 1,940 Palestinian civilians murdered, over 15,000 injured, half of them fatally injured.

We will not rest until these brutal, barbaric, unjust attacks on the Palestinian people in Gaza stop! Stand for the dying innocent civilians and let your voice be heard. Scream for those who are not being heard in Palestine. Make a difference. Do what the media doesn't.

Wear black and Palestinian kuffiyehs (if you have them) to show your support. No fake kuffiyehs please

Bring flags, signs,candles, your friends, your family, and your voice.

Join us to stop the massacre of innocent children, women, and men.

See you at our continuous program to Protest Israeli Genocide in Gaza

UNITE FOR GAZA!

For more info:
Br. Abbas Neel 336-541-4008
Sis. Yaffa Ali 336-754-2321
Sis. Mona Risheq 336-862-0708
Sis. Sumaiyah Ali 336-617-3763
Br. Amine Hamlil 336-554-3841

Please like our Facebook pages: MUSLIMS FOR A BETTER NORTH CAROLINA & ISLAMIC CENTER OF THE TRIAD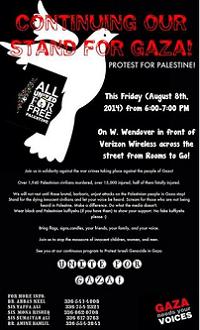 ---

Live Interview with Dr. Kaukab Siddique on Gaza.
The specter of Imperialism hidden behind the evil of Israel: We'll have to face it.
Poet Iqbal saw this coming long Ago

Solomon Commissiong [University of Maryland] is the most analytical and hard hitting critic of Israel in the Black community. At the height of the assault on Gaza, he interviewed Dr, Kaukab Siddique, LIVE, on his radio program.

Check some of his writing on Urworld News posted on facebook.

Here is a summary of Dr. Siddique's main points in response to Prof. Commissiong's questions:

USA is the main supporter and supplier of Israel both in weaponry and in intelligence services.


American Jewish community and the US Congress have placed Israel at the center of the American power structure.


Gaza cannot counter Israeli attacks because an American air defense system is protecting Israel.


US media and government give total support to Israel in spite of opposition by many Americans.
Why is this so?


The answer came as early as 1928 from Iqbal, the Poet of the East, the visionary who made Pakistan a reality.


When the Zionist movement was developing, Iqbal's analysis was that the putative Israel is meant to be the base of western imperialism in the heartland of Islam. The propaganda about the homeland of the Jews is the veneer to cover up the ugly reality.


Muslims do not hate Jews. In fact for centuries Muslims protected Jews from Christians including the blood thirsty crusaders.


The terrorism propaganda against Muslims is comparable to that against Nat Turner. The ongoing evil of slavery and rape of Black women was not seen as evil but when Nat Turner rose up and killed numbers of White people, this was seen as the greatest evil. Every Black male was publicized as "dangerous". Black churches were burned down and much later Black people were allowed into churches but as secondary people.


You can see the condition of Black colleges, the last refuge of Black freedom. There is a constant erosion of Black identity.
I am thankful that there are people like you who can permit someone like me to speak.
---

Hamas Charter and Holocaust Story.
By Sis. Aisha [New York city]

One Weinstein attacked the charter of Hamas on New York's Daily Caller. Here is the response

Hello Jamie Weinstein:

Your article on "the 9 Things You Need To Know About Hamas - Straight From its Charter " contains flaws in your explanations of some of its passages.

Hamas' ONLY concern is to get its homeland of Palestine back from Israeli occupation. You accuse Hamas of being anti-Semitic. Semite is a term that many European Jews claim for themselves but it is a misnomer. Semitic peoples come from regions that covers parts of Africa and Asian countries. European Jews are not Semites. Accusing Hamas of being anti-Semitic is accusing them of being anti-self!

Muslims are ONLY peaceful with people who are peaceful with us. There is nothing in the Qur'an that tells Muslims to fight or kill ANYONE because of his/her faith. The Qur'an says the opposite:

Holy Qur'an: Chapter 109:The Disbelievers

In the name of Allah, the Beneficent, the Merciful.
109.1 Say: O unbelievers!
109.2 I do not serve that which you serve,
109.3 Nor do you serve Him Whom I serve:
109.4 Nor am I going to serve that which you serve,
109.5 Nor are you going to serve Him Whom I serve:
109.6 You shall have your religion and I shall have my religion.

The conflict in Palestine has to do with European Jews occupying Palestine and calling it Israel. They also continue to violently take homes from Palestinians, raze entire villages, and then build more Jewish settlements on them. The premise of your article completely ignores this fact! You argue from the standpoint that israel has the right to exist on stolen land, which is a completely tyrannical viewpoint.

Hamas' viewpoint, and rightfully so, is that there can be no peace with the Israelis as long as they want to take, dominate, and control Palestine.

In the end of of your article you state: But don't accuse Hamas of being intellectually consistent on the question of the Holocaust. Though its charter repeatedly accuses Jews of being like Nazis, in 2009 the organization protested the United Nations over teaching the history of Holocaust to Palestinian children because it was, according to Hamas, "a lie invented by the Zionists."
The issue that many thinkers have with the Jewish Holocaust story is that many people have been bullied into accepting only one version of it - the WW II Allies' Version. Unfortunately, in many Western countries, no one is allowed to question ANY aspects of it. Many careers have been ended over any attempt to question or challenge Holocaust Survivor accounts. World War II Scholar, David Irving, was even imprisoned in Austria for being a Holocaust Denier. So yes, I can see the Hamas not wanting their Palestinian children being indoctrinated with a biased, unchallenged version of the Jewish

---

Our America: From Sis, Karin Friedemann [Boston]
Young Americans increasingly support Palestine. The Older Ones still support Israel

On August 2, 2014 the House of Representatives voted to approve $225 million in "emergency aid" for Israel on account of their feeling "attacked." The Senate had just passed the bill unanimously, but in the House, it only passed 395 to 8.Four Democrats and four Republicans voted against it.

Four Democrats and four Republicans voted against it. At least we can say our patriots are bipartisan. The four Democrats were Keith Ellison (MN-05), Zoe Lofgren (CA-19), Jim Moran (VA-0 (TX-16). The four Republicans are Justin Amash (MI-03), Walter Jones (NC-03), Tom Massie (KY-04), and Mark Sanford (SC-01).

Keith Ellison has been calling for an end to Israel's blockade of Gaza but nobody else in Congress has backed him up on that one. He penned a letter to President Obama and Secretary Kerry urging a cease-fire agreement between Israel and Palestine on July 18, 2014 that was also signed by Reps. Jim Moran (D-VA), John Conyers (D-MI), Hank Johnson (D-GA), Barbara Lee (D-CA), and Alan Lowenthal (D-CA).

John Conyers, who has a long track record of always doing the right thing, astonished many, to approve funding for Israelis to commit genocide. He was the guy who got Rosa Park a job after she was blacklisted. When Detroit held a town meeting at the Unitarian Church to talk about the sanctions on Iraq, he quoted his voters verbatim. So if he voted for Israel it means nobody contacted him to say anything about Palestine but a lot of people called to say they support Israel. I know he listens to his constituents.

Israel has a GDP of over $300 billion however, and, at the end of last year, experienced its highest ever GDP per capita. It is a developed country with a booming tech sector. Israel has the ability to pay for its defense system itself. Israel does not need us. Which is good, since Americans are losing emotional interest in funding them.

David Palumbo-Liu, the Louise Hewlett Nixon Professor at Stanford University writes for salon.com that "international support for Israel is ebbing because the Holocaust narrative can no longer offer an omnipotent shield against a critique of the second [Palestinian] narrative regarding the founding of the state of Israel... In sum, there is now a widening band of light in between the heretofore seamless merger of the Holocaust and founding narratives, resulting in a weakening of the former in its capacity to act as an alibi for the latter."

Younger Americans do not accept the Holocaust narrative as a good reason to support the horrible killings in Gaza. As they learn more, their support will wane further. Israel is in fact risking losing the narrative war altogether. Israel's actions are now increasingly regarded not as survival tactics but as violent colonial tendencies, reports Liu.

Women who say "Israeli actions are unjustified" outnumber the pro-Israel American female by 44 to 33 percent. Nonwhite, by 49 to 25 percent. "That's two-to-one, reflecting the attitudes of the young," reports mondoweiss. 18 to 29-year-olds regard Israel's actions as "unjustified" by 51 to 25 percent. Among 30-49 year olds, a similar attitude: 43 to 36 percent. Since 2006, the number of people who "don't know" if Israel has gone too far has increased from 14 to 25 percent while those who think Israel has acted rightly has decreased from 44 to 35 percent, reports the Pew Center.

"While all age groups north of 30 years old clearly blame Hamas more than Israel for the current violence, young adults buck the trend in a big way. Among 18 to 29-year olds, 29 percent blame Israel more for the current wave of violence, while 21 percent blame Hamas," reports Aaron Blake in the Washington Post.

"Latest Gallup poll shows young Americans overwhelmingly support Palestine," reports mondoweiss.net. Most support for Israel comes from ages 50 and up."

Americans over the age of 65 are most likely to think that Hamas is at fault for the death toll in Gaza by 53 vs 15 percent.

Sen. Lindsey Graham (R-S.C.) officially stated on July 31: "Any person who thinks that the Iron Dome is unnecessary needs to go to the floor and tell us why, why we don't need to help Israel right now."

It sounds like a dare for us to talk to our Senators and Representatives. They may just need us to give them the words.

---

Breaking News: Iraq, ISIS thrashes Peshmerga

August 2-7: In a series of battles in Kurdish areas, the fighters of the Islamic Caliphate [IS, previously ISIS] put the best Kurdish fighting force, peshmerga, to flight. The towns of Qaraqosh Sinjar, Tiklaif and al-Kurus have fallen to thr mujahideen. Irbil, with US troops in it, and Dohuk, in the far north are not far away from the mujahideen.

Most importantly, the mujahideen have taken control of the Mosul dam, north of the city of Mosul. Here the al-Maliki troops are counterattacking and trying to take it back.

According to NPR, President Obama has met his security group and is very near ordering air strikes on the Islamic State [IS]. This may be needed as a diversion from the Gaza horrors.

Western media are in a propaganda mode claiming that the Christians and the Yazeedis in these areas are dying or are going to die at the hands of IS. However, the media has not been able to show even one Yazeedi or Christian dead or dying.

[This negative campaign may be aimed at taking attention away from the horrific crimes Israel has committed in Gaza].

Al-Maliki's air strikes on Mosul's prison went awry and killed 30 civilians.

Also, on August 7, a martyrdom operator hit a police post in Baghdad killing 12 officers.

---

Breaking News: Libya. Benghazi in Islamic hands.

August 4: After 4 weeks of intense fighting, Islamic fighters led by Ansar al-Sharia captured the vast city of Benghazi. The forces of General Haftar [pro US] have been forced out but are re-deploying in the desert.

Fierce fighting is continuing in Tripoli between pro-Qaddafi tribals from Zintan and Islamics from Misrata. The American embassy staff and security unit fled to Tunisia by land, with drone cover because the airport has been destroyed in the fighting. A large fuel dump is on fire. Other European delegations are also fleeing. The Parliament, largely Islamic, met in Tobruk to avoid a Sissi style attack by General Haftar.

---

Breaking News: Syria: ISIS enters Lebanon & Withdraws.Damascus under fire.

August 7: Fighting ender in the border town of Arsal in Lebanon. A local Al-Nusra leader joined ISIS and was then arrested by the Lebanese army. ISIS from Syria came to his help. In 4 days of heavy fighting, Lebanese troops suffered heavily but then started firing artillery on Syrian rdfugee encampments in Arsal killing and wounding numerous civilians. To stop the suffering, ISIS withdrew back into Syria.

40 miles of north of Raqqa, ISIS captured Basr 93 from Assad's troops killing scores of the dictator's soldiers. The dead soldiers are littering the streets.

Assad's air force hit various Islamic towns killing more than a hundred civilians, including women and children and 40 fighters. . Hizbullah and Assad's tanks then advanced in four provinces but were beaten back with 80 killed and many wounded.

Al-Nusra once again approached the city of Damascus and fired into the bastion of Assad but was stopped by air strikes. [August 7: Fighting continues near and around Damascus.]

---

Ebola
If true, then African lives are of no value

http://www.empr.com/did-a-secret-ebola-drug-save-us-patientsarticle/364438/?DCMP=EMC-miscellaneous_cp&CPN=levitsp,gilen,edtron,via_uro,mpr_andtes&spMailingID=9157474&spUserID=ODExMUyMDIyNTIS1&spJobID=360350062&spReportId=MzYwMzUwMDYyS0



2014-08-08 Fri 17:44:11 cdt
NewTrendMag.org