NewTrendMag.org News # 1547

[ Click on NEWS for back issues ][ OUR BOOKS ] [ Women in Islam ][ Our America ][ Hadith ][ Kaukab Siddique's khutbas ][ Latest photos. ][ Imam Badi Ali's Thoughts ][ Muslim Political Prisoners ] [ Previous Issue ]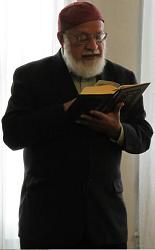 Jamada al-thani 28,1435/April 28, 2014 # 17

---

Breaking news from Syria, Afghanistan, Yemen, Libya, Sudan. Please scroll to end. [Keep children away.]
Indonesia's big anti-Shia conference. Back lash to Syria and Iraq is spreading.. Scroll to end.

---

Final Reminder

Jamaat al-Muslimeen National Islamic Shoora: May 3, inshallah

The shoora will formulate a program to counter the daily attacks on Islam and Muslims in America., inshallah.

Br. Shamim Siddiqui is advising us. All well thought out advice is welcome.

---

Congratulations
Scholarly daughter of a learned Imam gets PhD

Tasneem Siddiqui, daughter of Imam Ali,, completed her PhD from University of Soutern California with a major in American studies and Ethnicity.

---

Please scroll down for Imam Ali's khutba on Man's responsibility towards his family.

---

Book received #1

The Role of Opposition in Islam: A case Study of the Life of 'Umar ibn al-Khattab by Assad Nimer Busool, PhD. The Qur'an Society,, Chiccago: www.busool.com.

---

Book received #2

Javed Nama by Muhammad Iqbal. Translated into English by Mukhtar A. Chaudhry, PhD. Rumi Educational Services, 910 Red Fox Lane, Oak Brook, IL 60523.


---

Outreach:
Jamaat al-Muslimeen Activity in North East Baltimore, Maryland

On April 25, 4 pages of Jamaat al-Muslimeen literature were given to 100 Muslims after Juma salat at a mosque in north eastern Baltimore. Most of them were Arabs and Pakistanis. These were the 4 pages:

Exposing Agha Khan, Ismaili extremist
who is using big money to infiltrate Pakistan and Afghanistan. Huge welcome by Canadian right wing Prime Minister Harper. Photo of both, looking alike.


Br. Kaukab's khutba on key role of Sahaba [companions of the Prophet, pbuh, in the victory of Islam. Qur'an 9:100.


Mujahudeen resisating Bashar Assad's war machine in Syria: Bombing of civilians supported Rusiia and Iran.


Distinguished speakers to address Jamaat al-Muslimeen shoora on May 3: Dr. Shabazz, Imam Badi, Sis. Ashira....




Tatars in Crimea and their tragic suffering at Russian hands.

An old Syrian imam gave a boring khutba emphasizing the need to pray for those who die.


---

Pakistan: The strange Defeat of Munawar Hasan:
US & Military Combined wanted him out.

by Kaukab Siddique

Jamaate Islami's top level elections for ameer do not permit lobbying and canvassing. It is direct democracy with a secret ballot.

How is it that Munawar Hasan has been unseated in midstream just when he was at his strongest? Jamaat people will not admit that anything has gone wrong. In fact Sirajul Haq is a very pious, humble and active worker for Islam. He was identified and brought up by Munawar Hasan himself. So what's the problem?

Word has gradually leaked out that more than 5000 full members [Arkan] of the Jamaat abstained from voting. Pakistani media have speculated about this matter. Jamaat Islami members are obligated as a religious duty to vote. So why did they not vote?

New Trend's analysis is as follows:

For the first time in Apakistan's history, a political party, Jamaate Islami, took Ameria's removal from the Muslim world as its ONE POINT agenda. Munawar Hasan was the leader of this anti-America campaign.


Behind America is Israel which hates everything Pakistan stands for. Munawar Hasan was so strongly anti-Israel, that his stance has no equal in Pakistani history.


Munawar and Jamaate Islami could not be banned as a terrorist organization because he was persistently and thoroughly non-violent. This was a dilemma for the USA.


Munawar has a good understanding of the way of thinking prevalent in the West. He knew what to say to be effective.


He drew huge crowds even in sensitive and dangerous areas of Pakistan such as Karachi and Frontier [Pakhtunkhawa] province.


He drew large numbers of women, totally new in Islamic gatherings. Also, there was a growing interest in supporting him among the very poor, still small but growing.


Then he made two moves which could have brought about a revolutionary surge:


Who are the martyrs: Taliban killed by the US [with Pakistani military help] or Pakistani troops fighting for America against the Taliban? This struck at the core of the military's ongoing propaganda that Pakistani troops are fighting Taliban are trying to save Pakistan and when killed are martyrs.


Peace talks with Taliban are essential to save Pakistan from internal conflict and to achieve national unity.



The military, closely linked to the US for all its resources, was alarmed at Munawar's moves backed by a huge peaceful anti-US surge which was supported even by Imran Khan and numerous Islamic groups.


Pro-US media and pro-military media saw "red" and started spreading the idea, round the clock, that criticism opf the military will weaken Pakistan and Munawar's moves were dangerous for the country.


Jamaate Islami's Arkan, about 31,000, are spread across the country. Some of them voted against Munawar, but the biggest chunk, the 5000 plus, were so affected and made uncertain, that they did not vote at all.

Thus Pakistan's only Islamic leader who knew how to thwart US-Zionist moves by peaceful means has been removed in a very sophisticated campaign to get rid of him. Jamaate Islami's own election process has been turned against it.
Sirajul Haq is a very God fearing person and for the time being he will follow the path trodden by Munawar. Liaqat Baluch has been retained as Secretary General, so there will be an element of continuity.
But can Sirajul Haq oppose the nationalistic tyranny of the army? I doubt it.
Can he understand how America operates through the economy and through the secularist groups it funds? I doubt it.
May Allah have mercy on Pakistan. The munafiqueen have struck a heavy blow!

---

Archive; old story which desrves inclusion in Pakistani history.
She wanted to marry a mujahid: Pakistanis arrested the top family. Other Pakistanis had helped. How Shaykh OSAMA evaded the Americans.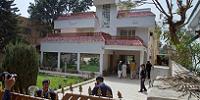 Police officers at a house in Islamabad, Pakistan, where family members of Osama bin Laden are thought to be held.
Anjum Naveed / Associated Press
By DECLAN WALSH

March 29, 2012

ISLAMABAD, Pakistan — Osama bin Laden spent nine years on the run in Pakistan after the Sept. 11 attacks, during which time he moved among five safe houses and fathered four children, at least two of whom were born in a government hospital, his youngest wife has told Pakistani investigators.

The testimony of Amal Ahmad Abdul Fateh, Bin Laden's 30-year-old wife, offers the most detailed account yet of life on the run for the Bin Laden family in the years preceding the American commando raid in May 2011 that killed the leader of Al Qaeda at the age of 54.

Her account is contained in a police report dated Jan. 19 that, as an account of that frantic period, contains manifest flaws: Ms. Fateh's words are paraphrased by a police officer, and there is noticeably little detail about the Pakistanis who helped her husband evade his American pursuers. Nevertheless, it raises more questions about how the world's most wanted man managed to shunt his family between cities that span the breadth of Pakistan, apparently undetected and unmolested by the otherwise formidable security services.

Bin Laden's three widows are of great interest because they hold the answers to some of the questions that frustrated Western intelligence in the years after 2001. They are currently under house arrest in Islamabad, and their lawyer says he expects them and two adult children — Bin Laden's daughters Maryam, 21, and Sumaya, 20 — to be charged on Monday with breaking Pakistani immigration laws, which carries a possible five-year jail sentence.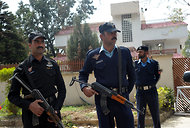 The wives have cooperated with the authorities to varying degrees. Investigators say the older women, named in court documents as Kharia Hussain Sabir and Siham Sharif, both citizens of Saudi Arabia, have largely refused to cooperate with investigators. However, Ms. Fateh, who was wounded in the raid that killed her husband, has spoken out.

The report, by a joint investigative panel made up of civilian and military officials, was first noted by the Pakistani newspaper Dawn on Thursday; The New York Times later obtained a copy of the filing. In Washington, United States officials said that while they could not confirm every detail of the report, it appeared generally consistent with what is known and believed about Bin Laden's movements.

In the report's account, Ms. Fateh said she agreed to marry Bin Laden in 2000 because "she had a desire of marrying a mujahid." She flew into Karachi in July that year and, months later, crossed into Afghanistan to join Bin Laden and two other wives at his base on a farm outside Kandahar.

The Sept. 11 attacks caused the Bin Laden family to "scatter," the report said. She returned to Karachi with her newborn daughter, Safia, where they stayed for about nine months. They changed houses up to seven times under arrangements brokered by "some Pakistani family" and Bin Laden's elder son, Saad.

Other senior Qaeda figures were also in Karachi, a sprawling city of up to 18 million people. Khalid Shaikh Mohammed, the architect of the Sept. 11 attacks, claims to have personally killed the Wall Street Journal reporter Daniel Pearl there during this period; he was captured at a house in Rawalpindi in March 2003.

Ms. Fateh said she left Karachi in the second half of 2002 for Peshawar, the capital of Khyber Pakhtunkhwa Province, where she was reunited with her husband. The American pursuit of Bin Laden was running high: Qaeda operatives had attacked an Israeli-owned hotel in Kenya and nightclubs in Indonesia, and with C.I.A. intelligence resources not yet diverted to Iraq, the search was firmly focused on the Pakistan-Afghanistan border area.

Bin Laden, according to his wife, took his family deep into rural mountain areas of northwest Pakistan — but not, notably, into the tribal belt where much Western attention was focused. First they stayed in the Shangla district in Swat, a picturesque area about 80 miles northwest of the capital, Islamabad, where they stayed in two different houses for eight to nine months.

Then in 2003 they moved to Haripur, a small town even closer to Islamabad, where they stayed in a rented house for two years. Here, Ms. Fateh gave birth to a girl, Aasia, in 2003 and a boy, Ibrahim, in 2004 — both of whom were delivered in a local government hospital. The police report states that Ms. Fateh "stayed in hospital for a very short time of about 2-3 hours" on each occasion. A separate document states that she gave fake identity papers to hospital staff.

Finally, in mid-2005, according to Ms. Fateh, Bin Laden and his family moved to Abbottabad, 20 miles east of Haripur, where she gave birth to another two children: Zainab in 2006 and Hussain in 2008.

Mr. Fateh told investigators that the houses in Swat, Haripur and Abbottabad were organized by their Pashtun hosts, identified as two brothers named Ibrahim and Abrar, whose families stayed with them throughout. Ibrahim is believed to refer to Abu Ahmed al-Kuwaiti, a Pakistani-born Pashtun who grew up in Kuwait and who was known for a time to American intelligence as "the courier," because he carried the Qaeda leader's messages.

When Navy SEAL commandos stormed the Abbottabad house last May, they killed Bin Laden and shot Ms. Fateh, who was in the same room, in the leg. She survived but four others were killed in the raid: the courier, his wife Bushra, his brother, Abrar, and Bin Laden's 20-year-old son, Khalid.

Bin Laden's three wives are now confined to a rented house in Islamabad. On Tuesday, a cousin of Ms. Fateh's in Yemen claimed that she was being held in a basement. "She limps from a bullet wound in her knee, and she's suffering from psychological trauma and very low blood pressure," Hameed al-Sadeh told Reuters.

Ms. Fateh's account, if proven, suggests that American military forces came tantalizingly close to Bin Laden in late 2005. In October of that year, a giant earthquake struck northwestern Pakistan, killing at least 73,000 people. For weeks afterward, American Chinook helicopters, diverted from Afghanistan and carrying relief supplies, passed overhead on their way into the quake zone. Meanwhile, Pakistan's military ruler, Pervez Musharraf, then a close ally of the Bush administration, repeatedly asserted that Bin Laden was sheltering across the border inside Afghanistan.

The Pakistani decision to prosecute the three wives and two children goes against an earlier recommendation from the police that they be deported to Saudi Arabia and Yemen. Pakistani analysts said that suggested that Pakistani intelligence may have hidden reasons for detaining the family. "I think the government wants to hang on to them through a trial procedure so that the investigation can be completed," said Riffat Hussain, a defense analyst. "And I think the Americans are quite keen to have access to Osama's wives, too."

Scott Shane contributed reporting from Washington.

---

Pakistan
Sirajul Haq speaks on the rights of women, the poor and Kashmir

LAHORE, Apr. 23: Ameer, Jamaat e Islami, Pakistan, Sirajul Haq, on Wednesday announced a new public agenda of the party with the objective to free the nation from the clutches of the exploitative forces and appealed to the masses to join the JI to achieve the goal.

He was addressing a press conference at Mansoora, at which he also announced the new central office bearers of the Jamaat. He said that the Jamaat e Islami was the only Islamic and democratic party in the country in real sense, and a model, and it was striving to establish the supremacy of the Quran and the Sunnah and the service of the masses. He said a handful of the elite had taken the masses as hostages and were in full control of the country's resources. This class had been exploiting the masses during the last sixty five years, and the JI needed public cooperation to get rid of them. The JI would protect the interests of the workers, the women folk, the minorities and all the poor, he added.

In the new JI set up, Liaqat Baloch has been reappointed the Secretary General. The Naib Ameer of the party include Prof. Khurshid Ahmed, Hafiz Muhammad Idrees, Asadullah Bhutto, Rashid Naseem, and Mian Muhammad Aslam.

Referring to the talks with the Taliban, Sirajul Haq said that the entire nation and all the parties had given the government mandate for talks, and if any party was opposing dialogue at this stage, it was going against the national agenda.

The JI chief said that the nation wanted a quick decision in regard to Pervez Musharraf as there were apprehensions that a new NRO was being signed to save the former military dictator.

Sirajul Haq said the JI had serious reservations on the PPO, which had been passed by the assembly as this would deny the rights of the citizens. He said, instead of enacting new laws, the government should implement the constitution in real spirit.

He called for complete withdrawal of the US and NATO forces from Afghanistan, and said it appeared that the US wanted to retain some of its troops in Afghanistan. He said that real peace could not return to the area if even a single US troop remained here. He said that the US was influencing the dialogue with the Taliban.

To a question, he said if there were any differences between the government and the armed forces about talks, these should end. He said that the negotiating committees should be given all powers in order to make the talks fruitful.

He again condemned the attack on Hamid Mir, and demanded that the enquiry commission should submit its report within three weeks so that all apprehensions on this score were removed.

Referring to the Kashmir issue, Sirajul Haq said that the entire Pakistani nation stood behind the Kashmiris' freedom struggle. He was sure that Kashmir would be free some day. He however urged the government not to adopt such a Kashmir policy as was in conflict with national stance on the issue

---

A man's Responsibilities towards the Family
Khutba-tul Jummah, by Imam Ali Siddiqui
Gift of Allah

Life is the Gift of Allah and with life comes responsibility. It is time to understand our responsibilities and live our lives in fulfilling them faithfully. Prophet (saw) told us: "At evening do not expect (to live till) morning, and at morning do not expect (to live till) evening." (Hadith narrated by Ibn Umar (ra) in the book of al-Bukhari) In other words, we shall not delay in the fulfillment of Haqu-qul (A)llah and Haqu-qul Ibad. There is no better time than
now!
Reliance in Allah
Allah reminded us:
"Rely upon Allah who is sufficient of disposer of affairs." Q 33:3
Trust in Allah
A man said, "O Messenger of Allah, should I tie my camel and trust in Allah, or should I untie her and trust in Allah?" The Messenger of Allah (saw) said, "Tie her then put your trust in Allah."
Narrated by Anas ibn Malik (ra) reported in the book of Sunan At-Tirmidhi 2517; Hasan (fair) according to Al-Albani
Trust in Allah requires Efforts
Having trust in Allah does not mean to resign to our Qismat or Naseeb and do nothing. It requires of us to plan, prepare, struggle, strive, and work hard. Thereafter we shall place our trust in Allah who will give us the fruits of our labor.
Planning
The Prophet (saw) said: "Work for the affairs of the world as if you were going to live forever but work for the Hereafter as though you will die tomorrow." [Darimi; Mishkat]
In other words "Plan as if you will live forever; and live as if you will die tomorrow." (Paraphrased the above Hadith of Prophet Muhammad (saw) - [Darimi; Mishkat]).
Men: Maintainers of Women
"Men are Quwwam - maintainers and administrators of women; because Allah has blessed the one more than the other; and because they are (obligated) to support them from their means." Q 4:34
Allah has set the stage for the men!
Maintenance for the Widow
"Those of you who die and leave widows should leave a Waseea', Will to leave for their widows:

A year's maintenance (Q 2:240),


Or 2 years' maintenance if breast feeding (Q 2:233),


A place for their residence." (Q 2:240)

Expense at Death
When somebody dies there is enormous cost associated:

Expenses for Burial


Death tax


Cost of medical bills


Property taxes


Payment of debts


Zakat on the wealth


Protection of home for the family

These are the challenges your wife who will face all alone after your death. It will be great burden; I do not want to leave it for my wife. Would you?
What are Our Responsibilities?
In a region, where Islam is the law of the land, the state or community takes the responsibility to care of the people in need when they cannot provide for themselves either widows, orphans, old, sick, week, their skill do not match with the time and technology.
In the absence of an Islamic government who is conscientious of its responsibility, an Islamic community who cares for its citizens, what a Muslim shall do? Fend for himself or herself by other means. What are the means available? Even in the Muslim countries it has become very difficult. And there is continued turmoil everywhere.
If anyone counting on Social Security or Pension; don't count on it! This, I am telling you from my personal experience. It will not meet the bear minimum of your family's basic needs You may have Business, Real Estate, or any other means. You would need all that and more in a portfolio for your wife and children to comply with the Commandment of Allah.
Prophet (saw) reminded us "You do not spend anything seeking the Pleasure of Allah but you are rewarded for it, even for that which you put in the mouth of your wife." (Hadith narrated by Saad Ibn Abi Waqqas (ra) in the book of Bukhari 23:36)
Who Will Care for them?
If the widows and children have other families in the Muslim world, they may take care of them if they are with them.
Repeating myself! Even in that case it will be very difficult. And there is continued turmoil everywhere. In the absence of husband and father who didn't plan for after death as we, men are required, and if there is no family member to take care, they will turn to charitable organizations.
Although, it is the responsibility of the community, but needy has to beg day in and day out to get some help.
There is no dignity. It is very sad!
Prophet (saw) has commanded us "Do not to leave one's heirs in want, begging of (other) people." (Hadith narrated by Saad Ibn Abi Waqqas (ra) in the book of Bukhari 23:36)
Your Wife may make a Different Decision
Our Wife may make a different Decision:

Get married after our death after completing Iddat


Decide to go to work or start a business

That will be their choice; but, it does not relieve us of our responsibility. Let's understand, our responsibility and their RIGHTS. Allah does not look kindly when we usurp the rights of the others.
Challenges while Living in the West
Living in the West has its challenges:

We face issues of family and future.


We face taxes and death.


Or it may be the same everywhere else?

But as husbands and fathers, it is our responsibility to plan and prepare "For after our Death".
From Your Life for Your Death
Prophet (saw) advised us: "... Take from your health for your illness and from your life for your death." (Hadith narrated by Ibn Umar (ra) in the book of al-Bukhari)
While we are young, healthy, or relatively wealthy, and fewer responsibilities, let's plan to set aside a little money for our wives, children, and love ones on a regular basis in some secure and reliable investment.
From Your Life for Your Death
Let's also understand the consequences of death, laws, and taxes and plan for the future.

Prophet (saw) advised us: "... Take from your health for your illness and from your life for your death."
(Hadith narrated by Ibn Umar (ra) in the book of al-Bukhari)


While we are young, healthy, or relatively wealthy, and fewer responsibilities, lets plan to set aside a little
money for our wives, children, and love ones on a regular basis in some secure and reliable investment.


Let's also understand the consequences of death, laws, and taxes and plan for the future.

Then put Your Trust in Allah
A man said, "O Messenger of Allah, should I tie my camel and trust in Allah, or should I untie her and trust in Allah?" The Messenger of Allah (saw) said, "Tie her then put your trust in Allah."
Narrated by Anas ibn Malik (ra) reported in the book of Sunan At-Tirmidhi 2517; Hasan (fair) according to Al-Albani
Start a Conversation
Let's start a conversation: what the future holds for us, what are the concerns, and the difficulties we face every day and will be faced by our families after our death.
Let's talk about the big question: How will the wife and the children cope with it all? The method. The means. The process. The sources of income.

---

Jordanian ambassador seized in Libya, kidnapers demand prisoner release
Wed Apr 16, 2014 6:57am GMT
By Feras Bosalum and Suleiman Al-Khalidi

TRIPOLI/AMMAN (Reuters) - Jordan's ambassador to Libya was kidnapped on Tuesday by gunmen who demanded an Islamist militant be released from a Jordanian jail in exchange for the diplomat's freedom.

The masked gunmen shot and wounded the driver of Ambassador Fawaz al-Itan's car as they snatched the diplomat from a street in the capital Tripoli, Libya's Foreign Ministry said.

Essam Baitelmel, a member of the Libyan team investigating the abduction, said the kidnappers had demanded the release of Mohamed Dersi, a Libyan Islamist militant jailed for life in 2007 for plotting to blow up the main airport in Jordan.

The kidnappers made their demands in a call to the ambassador's own cellphone, which was left behind in the car after the abduction, Baitelmel said. They said the diplomat was unharmed.

Libya's foreign minister Mohamed Abdelaziz could not officially confirm that the government had received demands from the kidnappers.

Jordanian Prime Minister Abdullah Ensour told parliament the government would take "all necessary measures to protect his life and release him".

But agreeing to the kidnappers' demand could set a dangerous precedent for Jordan which is an important U.S. ally in the fight against al Qaeda.

"Jordan has currently locked up some of the top global al Qaeda scholars and jihadists like Mohammad al Makdisi and Abu Qatada. A deal over Dersi may encourage other jihadists to follow suit, so, very tricky," a senior Jordanian intelligence official told Reuters

---
Breaking News: Syria
April 27:

Helicopters supplied to the Shiite regime in Baghdad by the US, entered Syria near al-Bukamail and hit 8 oil tankers bringing fuel for the Islamics. The drivers of all 8 were killed.



April 26:

Latakia province: Al-Nusra captured Chalma hill, south of the town of Kasab. Assad's air raids continue.



April 24-25.

Al-Nusra captured Tal al-Jabiyeh in Deraa region Heavy fighting with Alawite elite military.



April 26.

Mujahideen trying to capture Tal Jamir, 3 miles from Jabiyeh. It would connect the Islamic all the way to Deraa and qwuneitra region alongside Israeli occupied Golan.



April 24:

Syrian air force dropped barrel bombs on the town of Atareb, north of Aleppo, killing 27 civilians, many injured.

Fighting is reported in regions of Hama and Homs where Assad's forces are in back and forth fighting with the Islamics.

Malaaoula: Islamics have come back and are fighting Assad's army.

Near the Iraqi border, ISIL is finally being counterattacked by al-Nusra after ISIL killed another Nusra commander. Group fighting is doing damage.

Fighting reported all around Damascus. Syrian air force stops mujahideen advance into Damascus.

Millions of people have fled Syria but Assad is getting ready to hold "elections" in the western strip he still holds into the coastal Latakia.

---

[Courtesy Jamaat al-Muslimeen Virginia.]
.Inside Aleppo, Syria
SYRIA. Jaish al-Muhajiroon wal Ansar, al-Nusra and others enter military base of Assad's air force intelligence (map)
Publication time: 17 April 2014, 02:09

Sources from Syria reported that during the ongoing military operation in Layramoun (aka Balleramoun) district, Mujahideen of the Jaish al-Muhajireen wal Ansar/Army of Emigrants and Supporters (AES), the Jabhat an-Nusra/Victory Front (VF) and other units captured a complex of buildings directly on the territory of the base of Assadites in az-Zahra (the southern part of Layramoun).

In response, infidels started intensified bombings of Mujahideen positions and residential neighborhoods of Aleppo.

Here is a map of the combat disposition in az-Zahra, as of 17 April 2014. The yellow line are Assadites, green one - the Mujahideen.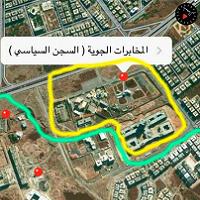 Department of Monitoring
Kavkaz Center

---

Breaking News: Afghanistan:

April 26: In Kandahar province Taliban shot down a British Westland Lynx MK9 helicopter killing FIVE British air men. Britain quickly claimed "technical problems" but then said an inquiry will be held.

[453 British troops have been killed till now in Afghanistan.

In the high security area of Kabul, an Afghan guard shot and killed three American doctors, one of them prominent in Chicago.

---

Breaking News: Yemen after Drone Massacre

Following three days of US drone attacks in several southern provinces, 65 people were killed, mostly civilians but also 3 al-Qaida. [Two of these attacks killing 40 were reported in the previous New Trend.]

April 22: In Sanaa, Yemen's capital, al-Qaida related gun men killed 4 senior Yemeni officers and 2 soldiers in separate incidents. Yemenis see these as retaliation for the drone attacks.

April 24: Two police were killed in a retaliatory attack in Hadramaut province.

Saudis are entering Yemen to help al-Qaida after 65 people were killed in US drone attacks. On April 24 Yemeni border guards arrested 2 Saudi women with their 4 children who had crossed from Jazan [southern Saudi province] to help the Islamics.

---


[Thanks to Abdullah Abdullah.
Sudan
Huge Massacre of Unarmed Muslims by Christians in South Sudan.

BENTIU, South Sudan - Hundreds of unarmed civilians from South Sudan and abroad have been brutally killed inside a mosque, church and a hospital after rebel forces captured the city of Bentiu, the capital of oil-producing Unity state.

"We believe that at least 400 people were killed in Bentiu in the past week," Toby Lanzer, the top United Nations official in South Sudan, told CNN on Wednesday, April 23.

The massacre occured when rebel forces seized the key town on 15 and 16 April, searching a number of places where hundreds of South Sudanese and foreign civilians had taken refuge.

Residents sought shelter in churches, mosques and hospitals when the rebels raided Bentiu town, the United Nations Mission in South Sudan (UNMISS) said.

South Sudan Whirling into Domestic Struggles?

Threats Clouding Independence of South Sudan

Non-Nuer South Sudanese and foreign nationals were singled out and killed, Unmiss said.

Some 200 civilians were reportedly killed at the Kali-Ballee mosque where they had sought shelter.

At the hospital, Nuer men, women and children, who hid rather than cheer the rebel forces as they entered the town, were also killed, it said.

"These atrocities must be fully investigated and the perpetrators and their commanders shall be held accountable", said the Officer in Charge of UNMISS, Raisedon Zenenga, in a press release by UNMISS on Monday, April 21.

Along with horrifying reports of mass killings, the UN mission lamented the fact that rebel forces used local radio stations to broadcast hate speech, saying certain groups should leave the town and urging men to rape women.

South Sudan, one of the world's poorest countries, was thrown into turmoil last December when presidential guards splintered and fought along ethnic lines.

The Nuer community backs rebel leader Riek Machar while his rival, President Salva Kiir, is a Dinka.

Although both men have prominent supporters from various communities, there have been numerous reports of rebels killing ethnic Dinkas and the army targeting Nuers since the conflict broke out.

Since then, more than a million people have fled their homes in what was already among the world's poorest nations.

Shocking Scenes

Visiting the scene of the killings on Monday and Tuesday, the UN's top humanitarian official in South Sudan, Toby Lanzer, described horrifying scenes of death.

The scenes in Bentiu were "perhaps [the] most shocking set of circumstances" he had ever faced, Lanzer told the BBC's Focus on Africa program.

He said he saw "piles of [the bodies of] people who had been slaughtered" last week, adding that they all appeared to be civilians.

Many of those killed were Sudanese traders, especially from Darfur, Lanzer said.

The UN officials added that the situation in South Sudan is "in a downward spiral", describing the stakes as "very, very high".

Moreover, he warned that the conflict has driven more than 22,000 people to seek refuge at the UN peacekeeping base over the border in Sudan, including families from the majority community in the state.

He added that the UN base was not built for such large numbers, and that there was currently only one litre of drinking water for each of the 22,000 civilians in the base, and one latrine for every 350 people.

"When I asked them why [they were seeking refuge] they said: 'When the violence has such a cycle of revenge you can't tell what will come next'," Lanzer said.

In the United States, the Obama administration said it was "horrified" by reports of hundreds massacred.

"Images and accounts of the attacks shock the conscience: stacks of bodies found dead inside a mosque, patients murdered at a hospital, and dozens more shot and killed in the streets and at a church -- apparently due to their ethnicity and nationality -- while hate speech was broadcast on local radio," the White House said in a statement.

"This is exactly the violence and suffering the South Sudanese people fought for decades to escape."

http://www.onislam.net/english/news/africa/471667-ssudan-rebls-massacre-civilians-in-mosque.html

---

Indonesia
Anti-Shia Conference: Shia Crimes in Syria and Iraq are creating Backlash in the Muslim World.

"Calls for Jihad, Purges Emerge at Hate-Filled Anti-Shiite Gathering in Indonesia," by Yuli Krisna, Jakarta Globe, April 20:

Bandung. A planned declaration in Bandung to denounce the Shiite community turned into a fiery call for jihad, or holy war, against the much-maligned minority group.

Thousands of people showed up for the event on Sunday hosted by the Anti-Shia Alliance, a gathering of hard-line Sunni Muslim organizations.

Ahmad bin Zein Al Kaff, the head of one of those organizations, the Anti-Heresy Front, said that Indonesia must be cleansed of Shiite teaching to prevent sectarian strife between Shiites and Sunnis — all the while inciting violence against Shiites.

"It's time that we declared jihad against them," he said in an impassioned speech to the crowd gathered at Bandung's Al Fajar Mosque.

"We should not tolerate them any more because we can't hold any more dialogues with them."

West Java Governor Ahmad Heryawan, who has made no secret of his distaste for minority religious groups, was expected to attend the declaration but stayed away at the last minute, instead sending his assistant for welfare, Ahmad Hadadi, who expressed support for the alliance's cause.

Also in attendance was Ahmad Cholil Ridwan, a leader of the Indonesian Council of Ulema, or MUI, the highest Islamic authority in the country and ostensibly a moderate body.

Cholil's message on the day, however, was anything but moderate as he called for a "purge" of the Shiites.

"As long as we [Islamic parties] are not in power, we will never be able to purge the Shiites," he said.

"We need to strengthen our political base. The ruling coalition must be controlled by Islamic parties."

The declaration itself called for "preventive and anticipative" action to deal with the "Shiite threat," which observers say amounts to unprovoked attacks on Shiite communities in West Java and elsewhere, which continue to be carried out by hard-line groups like the Islamic Defenders Front, or FPI.

FPI members were present at Sunday's gathering, dressed in black ski masks and camouflage jackets stencilled with "Heresy Hunters."

Prior to the declaration, the West Java chapter of the Association of Jamaah Ahlul Bait Indonesia (IJABI), an umbrella group for Shiite organizations, had requested that the police not allow the gathering, on the grounds that it would incite hatred — a crime under Indonesian law.

"The police should take the necessary steps because this event will spread hatred and could invoke violence," said Hesti Rahardja, the IJABI West Java chairwoman.

However, rather than preventing the gathering, the police deployed dozens of officers to secure the event.

"We respect freedom of expression. But we have to be careful because the presidential election is approaching," Hesti said.

Bantarto Bandoro, a defense and security expert at the Indonesian Defense University, said it was precisely because of the upcoming election that the alliance had chosen this moment to call for the eradication of the Shiite faith from Indonesia.

"They perceive themselves as representing the majority. So they think that if any politician wants to become president, they must listen to their demands," he said.

This was borne out in the message to the crowd from Muhammad Al Khaththath, the secretary general of the Indonesian Ulema and Congregation Forum, or FUUI, which in 2012 issued a call to build "anti-Shiite posts" to protect the Sunni faithful.

"The presidential election must be used as a momentum," Al Khaththath said on Sunday.

"We will support any candidate who wants to make an MOU to purge the Shiites from Indonesia. If Prabowo [Subianto] is ready to do that. he will become the president," he added, referring to the candidate from the Great Indonesia Movement Party, or Gerindra.

Bantarto urged President Susilo Bambang Yudhoyono to quickly take action to prevent he spread of the hate speech and protect Shiite communities from attacks.

"The conflict between Sunni and Shiite, which started in the Middle East, has arrived in Indonesia. We must not let ourselves be consumed by this conflict as we risk our own plurality and our unity as a nation. It will be a long and bloody conflict if we fall into the trap," he warned.



2014-04-28 Mon 20:18:59 cdt
NewTrendMag.org