NewTrendMag.org News # 1543

[ Click on NEWS for back issues ][ OUR BOOKS ] [ Women in Islam ][ Our America ][ Hadith ][ Kaukab Siddique's khutbas ][ Latest photos. ][ Imam Badi Ali's Thoughts ][ Muslim Political Prisoners ] [ Previous Issue ]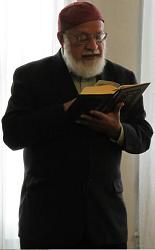 Jamada al-thani 1,1435/March 31, 2014 # 13

---

Breaking News: Syria
Mujahideen in Latakia province

March 31: Mujahideen are advancing slowly but steadilly in Latakia province towards Latakia city, If they take the city, that will be the end of Bashar Assad's regime as it is the stronghold of Alawites and Armenian Christians, the minorities who have been helping Assad to slaughter the Muslims.

After capruring Kassab crossing to Turkey, the mujahideen led by al-Nusra and several smaller groups captured Kassab town on March 25. From there they advanced and captured the small coastal town of Samra from where weapons can be smuggled in.

The Syrian air force is putting in a big effort to stop the Islamic advance. Only one air strike was successful and killed 10 fighters.

The mujahideen are advancing into the Latakia countryside. Christians supporting Assad are fleeing to Latakia city where they and the Alawites are terrorizing the Sunnis.

In the mountains the Assadi elites have captured the villages of Flita and Ras Mara and are moving on Rankous. This is Assad's escape route and the Shiites from Lebanon are desperately helping Assad to keep it open. The Sunni population of these villages has fled to Arsal across the border in Lebanon.

Most of Syria is now in Islamic hands other than a few forts in various places which are holding out because the mujahideen lack heavy weapons.

On March 29, Lebanese forces threatening Syrian refugees in Arsal [Lebanon] were attacked by a martyrdom operator who killed 3 Lebanese troops and wounded 4.

---

Breaking News: Iraq

March 25-30. Across Iraq there have been mujahideen attacks against military and police forces of the US-installed government. Several hundred troops have been killed and wounded.

Another Shi'ite government attempt to recapture Fallujs failed with heavy government losses. This was followed by air attacks on Fallujah with weapons recently sent to the Shiite government by the US.

Ramadi and Fallujah remain in al-Qaida [ISIL] hands.

A mujahideen human bomber blew up the bridge into Ramadi with heavy heavy casualties to the Shiite troops crossing it. [Please go to end for report on ONE DAY of turmoil in Iraq recorded by non-Muslim.]

---

Breaking News: Egypt

March 29. General Sisi's air force bombed several villages in the Sinai which are supporting the mujahideen. The village known as Mahdeya received direct hits by the planes

March 28: Ikhwan supporters continued peaceful demonstrations in Egyptian cities after Juma. General Sisi tried to bring Mubarak's supporters and Copts to counter the Ikhwan but with little success..

A Judge under General Sisi's auspices ordered mass executions of Islamic prisoners. It has not stopped the demonstrations by Ikhwan, 2500 of whom have already killed since last year.

---

Breaking News: Saudi Arabia

March 28: President Obama paid a surprise visit to King Abdullah. The King is interested in getting the US to give heavy weapons to the FSA opponents of Assad in Syria who are pro-West. He is concerned that most Syrians are supporting al-Nusra and ISIL whom the king has declared are "terrorist" groups in agreement with Assad's definition.

---

Breaking News: Iran

Three Islamic opponents of the Shiite regime in Tehran were hanged in public in eastern Tehran recently. Jamaat al-Muslimeen Virginia has sent us a video of the hangings. It is too graphic to be published. The Islamic opponents of Iran were chanting "Allahu Akbar" even to the last minute as they were hanged to death. In the background Iranians can be heard shouting "marge bur Wahhabi." The Iranians use this Zionist term to insult those Muslims who strictly follow Qur'an and Hadith.

---

Our America
Jamaat al-Muslimeen's National Islamic Shoora to meet on May 3
The Shoora will meet in Baltimore, inshallah, Advice and writings are welcome.

We thank Br. Shamim Siddiqui [Long Island, New York] for his books and his advice.

It is a planning committee meeting and will be addressed by:
Sis. Ashira [Organizer]
Dr. Abdulalim Shabazz [ DrAAS.info ]
Br. Robert Solano
Br. Ali Randall
Sis. Ayesha [Richmond,]
Br. Abu Talib
Sis. Nadrat
Br. Salahuddin
Br. Abdur Rahman
Br. Kaukab Siddique

---


Lincoln University, Pennsylvania: Countrywide Conference on BORDERS.

On March 29, 2014, Dr. Kaukab Siddique presented a research paper on his novel Man's Twin related to Allama Iqbal's dream of a unique country, Pakistan, and the struggle of women in Pakistan . A summary of the presentation and selected bibliography is published below. Please scroll to end.

---

Election Result for Jamaate Islami's Ameer by Secret ballot.
Sirajul Haq, known for his humble life style, elected.

On March 30, Jamaate Islami Pakistan announced the result of its elections for the top position of Ameer. It is Sirajul Haq from Frontier Province. He is from Dir, in the northeast of Pakistan.

Munawar Hasan's position ends in April. Munawar sahib is an unequalled activist in the entire history of JI. Sirajul Haq is a worthy successor and he may be exactly the right person, though it will be difficult to follow up on Munawar.

Congratulations to Jamaate Islami for its excellent shoora process.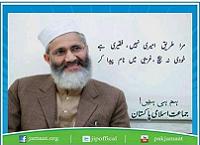 ---

Our America:
Jamaat al-Muslimeen Activity in Silver Spring, Maryland.
Women's Rights, Syria, Egypt, Education Help for US Prisoners.

On March 28, a 4 page Jamaat al-Muslimeen document was given to 75 Muslims after Juma' salat at Muslim Community Center, an upscale masjid, in Silver Spring, Maryland, about 10 miles north of Washington, DC. Of the 75, there were 25 women and 50 men. It was well received.
The 4 pages were:

&
Debunking the idea that Muslim husbands have the right to beat their wives. Qur'anic discussion.


Heavy fighting in Syria and Assad regime's ongoing atrocities against Muslims.


Anti-Sisi rallies in Egypt plus Educational outlet for ex-prisoners from Br. Boatwright in Michigan.
---

Our America #2.
Jamaat al-Muslimeen Activity in Newark, Delaware, 50 miles north of Baltimore.
Hail Turkey, Huge Jamaate Islami rally in Karachi, Ikhwan face Sisi, Syria.

On March 28, after juma in the main Islamic center of Newark, Delaware, Jamaat al-Muslimeen literature was given to 50 Muslims. These were 6 pages as follows:


Turkey shoots down Assad's jet bomber: First Islamic air strike in Mid East.


Br. Kaukab Siddique's article on Peace and War in Islam. We are against oppression, not against anyone's religion.


Syria: Assad's forces fired on civilians fleeing Yabroud. Mujahideen's first step into Latakia.


Br. Kaukab's khutba on Prophet Muhammad, pbuh, and Khalid, r.a., Saifullah.


Taliban teenagers raid Serena hotel in Kabul. & Unnarmed Ikhwan demonstrators face General Sisi's tyranny unafraid.


Huge UNITE PAKISTAN rally in Karachi, addressed by Munawar Hasan, Hafiz Naeemi and others.
---

Our America: #3
Strong Khutba against Liquor in Masjid Jamaat al-Muslimeen.

On March 28, an African imam gave the juma khutba in Masjid Jamaat al-Muslimeen. He spoke strongly against liquor and its devastating results in America.

A delicious African meal was served after khutba and sunnah prayers.

A young African American man embraced Islam at the hands of the imam.

---

With thanks to Jamaat al-Muslimeen Virginia.
Hollywood
British Muslimah rebuts Noah the Movie.
Go to Youtube and enter: Noah the Movie & Russel Crowe: A Muslim Response.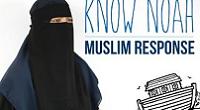 ---

Our America: #4
New York City
Rally for Bengali Islamic Youth, falsely Imprisoned in the US Gulag: April 7, 6 PM
Family appeals to Muslim Community

Dear Friends in Justice!
Greetings of Peace,
Stand by the family of political prisoner Shifa Sadequee and community members and activists in NYC on April 7 and support the No Separate Justice Domestic Human Rights Campaign! Come and learn about Shifa's case and the plight of post-9/11 Muslim prisoners in the American Federal Prison System!

Each month, the No Separate Justice vigils spotlight an individual case to reveal a part of the larger systematic abuses happening across the criminal justice system in these cases. April's vigil will focus on the case of Ehsanul Sadequee, who is known as "Shifa" to his friends and family. The US government started monitoring Shifa in 2001 when he was just 15 years old. In April 2006, Shifa was kidnapped and arrested in Bangladesh just days after he had married his wife, "Happy." The charges against him were that he had made false statements in an August 2005 interview with the FBI. These charges would later be dropped and changed instead to four terrorism charges that included taking "casing videos" of Washington, DC landmarks and by engaging in "rudimentary paramilitary training" by going to a paintball park in Georgia. The evidence against Shifa was marked "secret" until a few months before his trial and consisted mostly his translations of Arabic religious and political texts for Tibyan Publication and online conversations of teenagers about religion.

During the time of his capture in Bangladesh and extradition to the US, his family said he was stripped of his clothes and wrapped in plastic and later abused and tortured. Upon his transfer to a prison in Atlanta, Georgia in the summer of 2006, Shifa was put into solitary confinement where he remained for three years until his trial began in August 2009. Leading up to his trial, government prosecutors requested that no mention of the conditions of Shifa's capture, rendition or his pre-trial detention in Bangladesh and the United States be allowed into his trial. The judge allowed for this request. Shifa defended himself at his trial. In August 2009, Shifa was convicted of aiding terrorist groups and sentenced to 17 years in prison plus 30 years probation. He is currently held in the "Communication Management Unit" in Terre Haute, Indiana.

Please bring a flashlight or candle with you on April 7 as we will be shining a light together to expose the human rights abuses happening at MCC, the federal government's domestic torture site in New York City, and across our country in these cases. We have plenty of signs to share.

LOCATION:
No Separate Justice Vigil for Shifa Sadequee
Monday, April 7 @ 6:00pm - 7:00pm
Metropolitan Correctional Center
New York, New York
Facebook page for more information: April 7 Vigil -- No Separate Justice
Help us spread the word!

---

Burma
[With thanks to Br. Hyder, Canada]
Buddhist Mob terrorizes Aid Workers, Loots Relief Goods for Muslims.
27 March 2014, Thursday /YANGON, AP

Buddhist-led mobs tore through streets hurling stones at the offices and residences of international aid workers in Myanmar's western Rakhine state on Thursday, prompting the evacuation of some staff members, residents and officials said.

There were no immediate indications anyone was hurt in the violence, which started in the state capital, Sittwe, late Wednesday and picked up again early Thursday, with angry crowds swelling in size from several hundred to more than 1,000. At least one building was looted and three cars damaged, officials said on condition of anonymity because they feared retaliation.

---

Iqbal's Poetry and the struggle of a Muslim woman in Pakistan.
Borders between Countries and between Men and Women.
by Kaukab Siddique [The Lincoln University, Pa.]

Muhammad Iqbal is known as the Poet of the East in Pakistan. His philosophy of Selfhood [khudi in Persian] led him to think about the future of the Muslims of India. The concept he developed was that of autonomy of the individual which brought him to the concept of a separate homeland for Muslims which came to be specified as sovereign Muslim homelands to be carved out of Hindu India. Gradually, at the popular level, it was formulated as PAKISTAN [the land of the pure]. What began as a political resolution in 1940, when it was accepted by a political party known as Muslim League which was led by a westernized attorney Mohomed Ali Jinnah, gradually became the rallying cry of the Muslims: Pakistan Zindabad: [Long Live Pakistan.]

Iqbal taught that only in sublime separation can the individual achieve apotheosis or perfection. After the completion of his studies in the Persian and Urdu languages, Iqbal went to England and Germany and received his PhD from Heidelberg University. A street in Heidelberg is named after him. He achieved expertise in the philosophy of the West as he had done for the thought of the East. He was influenced by Neitzsche and later by Marx and Lenin but they became merely the prologue to his greatest poetry which was about the essential autonomy of the individual which he saw in its excellence in the Prophet Muhammad, peace be on him.

Iqbal's favorite image was that of the pearl which achieves selfhood [khudi] by strictly separating itself from the ocean. Pakistan was to be a nation which demanded that its essence and its difference be recognized. The Hindu majority of India in its assimilative power would have liked the Muslims to be just another of the scores of minorities and sub-minorities in India. Hinduism projected this assimilative power through its myriad gods and smaller deities. For Iqbal such assimilation was unthinkable owing to the stark monotheism of Islam. He successfully projected this concept of selfhood through the political leader of the Muslims, the charismatic lawyer Mohomed Ali Jinnah. With his western education in law, Jinnah was able to thwart all the moves of the British and the Hindus to nullify the idea of Pakistan. Under Iqbal's influence, Jinnah's mental horizons changed and he realized that the boundaries marked by Islam were the only guarantee of a modern state created for Muslims.

Hindu India looked with contempt at separatist Pakistan and thought it could never survive. The heroine of my story, Gulnar, was swept away in this sunami of contempt and hatred and yet survived and achieved selfhood.

During 1947, one of the biggest mass migrations in modern history took place in the Punjab, the land of five rivers, as more than ten million Muslims fled from India to Pakistan, two new countries created by the British. The birth of Pakistan on August 14 was ushered in by an outburst of mass killings of Muslim civilians by Hindus and Sikhs. Khushwant Singh, himself a Sikh, has written about the arrival of trains from India to Pakistan packed with the bodies of mutilated and chopped up men, women and children.

My story focuses on a young woman, Gulnar, who arrived with a flood of refugees from India to the Pakistani city of Lahore. She had been extricated by a turbaned Sikh from a mob which was getting ready to kill her after committing gang rape on her. He encouraged her to live and to go to her people in Pakistan.

The borders of India and Pakistan, particularly in the province of Punjab, were determined by the top Englishman in the province who was relinquishing control over India. One of his historic blunders was to use a pencil marker to scratch a wavy line across the eastern Punjab, leaving millions of Muslims on the wrong side of the border. He probably never heard of this young woman in a dusty little village who was victimized by a crowd of frenzied men drunk with power and liquor.

Here in Punjab 1947 we meet not only the blood red border of eastern and western Punjab, but also the border between men and women. For most men, woman is the "other." She is objectified and is subjected to brutal violence when male voices rise across defenseless borders.

A woman may escape across a border from one country to the other, but she cannot cross the border from the world of the male because the male world is endless.

Men say that a woman was responsible for the expulsion of Adam from Heaven. Also, that she was produced from the male's rib and that her punishment is to go to the male, become pregnant, carry the fetus for nine months, give birth with great pain, and then go back to the male and repeat the same "punishment." Prophylactics have changed the situation but most of history was true to the story of Genesis.

Prophet Muhammad, peace be on him, described woman as "man's twin" with sexual autonomy and full empowerment of her sexual, physical and spiritual being. [Sunan of Abu Dawood.] Men, however, go through a process of learning woman as woman and not as merely the object of their desires.

Gulnar arrives in Pakistan, scarred but alive. Here too her torment continues. She is picked up by a pimp and "broken" to serve his clients through his Madam. We move to the Pakistani hinterland and she gets used to the existence described as the Gilded Cage. She is comfortable in her sexual enslavement and has all the luxuries she gets used to. The survival tactics of women who are trapped in sexually untenable situations mark the border between men and women. Japanese women accepted self-degradation at the level of the physical to achieve economic survival

Is there a way out for Gulnar?

She hears voices from the cafeteria below her apartment which discuss choice and determination. These are two Pakistani men of the new generation who think the world can be changed. As they leave the café each afternoon after their discussion, she looks at them out in the hot Pakistani sun. Those who are in the bright light cannot see the one in the darkness. Her existence is hidden from them. Finally one day she calls them up to her apartment and urges them that based on the philosophy they had discussed, one of them should marry her and get her out of her Gilded Cage. They refuse, but days later the hero of the story comes back and marries her in defiance of the religious network of conservatism. What is a gilded cage?

"There is a painting by Evelyn De Morgan called The Gilded Cage. It was her final work before her death in 1919.

In this painting, a woman looks out a window with her hand stretched out and up in a gesture of yearning. She is looking at a group of gypsy figures, dancing under the open sky. The principal figure among the gypsy group is a woman who dances while holding her baby close to her, thus suggesting an alternative vision of maternal duty.

Soaring free above the dancing group is a bird, which contrasts sharply to the captive bird in the gilded cage that hangs beside the woman's older husband. The husband seems oblivious to his wife's state of mind.

On the floor and disregarded is jewelry and an open book, which signifies her rejection of tradition, convention, and old ideas." [Dave Carey's Starfish Ministries.]

Borders are also created by immigration. The immigrant in the first generation finds it difficult to assimilate into her new nation. But if she visits her country of origin, she is an alien there too in a reversal of cognition. She does not belong anywhere.

In a double reversal, the Sikhs on the borderland of Punjab, who had joined the Hindus during 1947 in persecuting the Muslims, in 1964 find themselves at war with the Hindus. Like the Muslims, they wanted self-determination and found it unacceptable to the majority. Gulnar returns to her home to meet the Sikh who had saved her 17 years earlier.

Gulnar is a metaphor for the Pakistani and Sikh drive for self-determination. Like the high ideals spelled out by Pakistan's founder, Mohomed Ali Jinnah, she dreams of going to the mosque built on justice and equality but cannot find her way there. Like her, Pakistan, which means The Land of the Pure, becomes embroiled in the wars of self-destruction and corruption.

Gulnar finally emerges strong and sure of herself. A good man is at her side but she is morally stronger than him.

---

Bibliography for Borders....

Ahmed, Akbar. Jinnah, Pakistan and Islamic Identity: The Search for Saladin. Routledge (First Edition): 1997
Ali, Yusuf, trans. The Qur'an. Tahrike Tarsile Qur'an. Canada. 2011.
Ansari, Sarah. Life after Partition: Migration, Community and Strife in Sindh 1947-1962. Oxford University Press:2005
Alter, Stephen. Amritsar to Lahore. A Journey Across the India-Pakistan Border. University of Pennsylvania Press: 2000
Bacque, James. Crimes and Mercies. The Fate of German Civilians Under Allied Occupation, 1944-1950. Warner. UK. 1997.
Butalia, Urvashi. The Other Side of Silence: Voices from the Partition of India. Duke University Press Books: 2000
Cohen, Stephen P. The Idea of Pakistan. Brookings Institution Press (2nd Edition):2006
Dower, John W. Embracing Defeat. Japan in the Wake of World War 11. W.W. Norton. 1999
Husain, Saleha Bilal. In Karachi. University of Karachi, Pakistan. 1990.
Iqbal, Javed. Kulliyate Iqbal. [Urdu]. Shaikh Niaz Ahmad. Lahore: Pakistan. 1979.
Jalal, Ayesha. The Pity of Partition: Manto's Life, Times, and Work across the India-Pakistan Divide. Princeton University Press: 2013
Jones, Ann. Next Time She'll be Dead. Battering & How to Stop it. Beacon Press. 2000
Kaul, Suvir. The Partitions of Memory: The Afterlife of the Division of India. Indiana University Press:2002
Khan, Yasmin. The Great Partition: The Making of India and Pakistan. Yale University Press: 2008
Kothar, Smitu. Bridging Partition: People's Initiatives for Peace Between India & Pakistan. Orient Blackswan:2014
Kraybill, Donald. Amish Enterprise. From Plows to Profits. Johns Hopkins University Press. 1995.
Mehdi, Rubya. Gender and Property Law in Pakistan. Vanguard Books, Lahore, Pakistan.2002.
Menon, Dr. Jisha. The Performance of Nationalism: India, Pakistan, and the Memory of Partition. Cambridge University Press: 2013
Pasha, Kamran. Mother of the Believers. Washington Square Press. 2009.
Phillips, C.H..The Evolution of India and Pakistan: 1858-1947. Oxford University Press:1962
Renou, Louis. Hinduism. George Braziller. 1962.
Roy, Haimanti. Partitioned Lives: Migrants, Refugees, Citizens in India and Pakistan, 1947-65. Oxford University Press: 2013
Riesman, David et al. The Lonely Crowd. Doubleday Anchor. 1953.
Sayeed, Khalid. Pakistan. The Formative Phase. 1857-1948. Oxford University Press: 1978.
Siddique, Kaukab. Man's Twin. Noor Publishing House, Dhaka, Bangladesh. 1995
Return to Pakistan. American Society for Ed. & Re., Maryland. 2010.
The Struggle of Muslim Women. Jamaat al-Muslimeen, Dhaka, Bangladesh. 1983.
Women in Hadith Narratives. New Trend. Maryland. 2013
Singh, Jaswant. India, Partition, Independence. Oxford University Press: 2010
Singh, Khushwant; Lall, Arthur. Train to Pakistan. Grove Press (Reprint Edition):1994
Stewart, Frank; Kumar, Paul. Crossing Over: Partition Literature from India, Pakistan, and Bangladesh. University of Hawaii Press: 2007
Talbot, Ian. The Independence of India and Pakistan: New Approaches and Reflections (Subcontinent Divided: A New Beginning). Oxford University Press: 2014
Tudor, Maya. The Promise of Power: The Origins of Democracy in India and Autocracy in Pakistan. Cambridge University Press: 2013
Talbot, Ian. Freedom's Cry: The Popular Dimension in the Pakistan Movement and Partition Experience in North-West India. Oxford University Press: 1997
Vance, Carole, ed. Pleasure and Danger. Exploring Female Sexuality. Rutledge & Kegan Paul. 1989.
Watch, Human Rights. No Escape. Male Rape in U.S. Prisons. HRW. 2001
Wahid-uz-Zaman, trans. Sunan Abu Dawood. Quran Mahal, Karachi. N.D.
Weaver, Mary Anne. Pakistan in the Shadow of Jihad and Afghanistan. Farrar, Straus and Giroux. 2002

---

March - 16 - 2014
Who is Dr Aafia Siddiqui?
BACKGROUND

Dr. Aafia Siddiqui was born on 2 March 1972 in Karachi, Pakistan. She is one of three siblings. Aafia's father Mohammad Siddiqui was a UK-trained doctor and her mother, Ismet, is a homemaker. Aafia has three children: Ahmed (b. 1996), Maryam (b. 1998), and Suleman (b. 2002), the latter of whom remains missing to this day.

Aafia moved to Texas in 1990 to be near her brother, and after spending a year at the University of Houston, transferred to Massachusetts Institute of Technology (MIT). Siddiqui's fellow students say she was a quiet, studious woman who was devout in her religious beliefs but far from the media characterisation of 'Lady Qaeda'. A fellow student, Hamza, recalled in an interview with the BBC, "I remember Aafia as being sweet, mildly irritating but harmless".

During her time at MIT, Aafia joined the campus Muslim Student Association (MSA) and was actively involved in efforts to portray the teachings of Islam to non-Muslims in order to better their understanding of her faith and invite them to Islam. Her emphasis in her life on bettering the conditions of Muslims even pervaded her academic achievements. During her sophomore year at MIT, she won a grant of $5,000 to study the effects of Islam on women living in Pakistan. In addition to her many academic achievements, Aafia earned the honourable status of committing the entire Qur'an to memory.

Following her graduation, Aafia married a medical student Mohammed Amjad Khan. She subsequently entered Brandeis University as a graduate student in cognitive neuroscience. Citing the difficulty of living as Muslims in the United States after 9/11 and following FBI harassment of her husband, Aafia and her husband returned to Pakistan. They stayed in Pakistan for a short time, and then returned to the United States. They remained there until 2002, and then moved back to Pakistan. Some problems developed in their marriage, and Aafia was eight months pregnant with their third child when she and Khan were separated. She and the children stayed at her mother's house, while Khan lived elsewhere in Karachi. After giving birth to her son, Aafia stayed at her mother's house for the rest of the year, returning to the US without her children around December 2002 to look for a job in the Baltimore area, where her sister had begun working at Sinai Hospital. On 1 March 2003, Pakistani authorities arrested Khalid Sheikh Mohammed, Aafia and her children disappeared just 27 days later.

DISAPPEARANCE

According to Aafia's mother, Aafia left their home in Gulshan-e-Iqbal in a Metro-cab on 28 March, 2003 to catch a flight to Rawalpindi, but never reached the airport. In February 2010 Aafia's eldest son returned to the scene and described how, when he, his mother and siblings came out of their home, fifteen to twenty people, including a 'white lady' and members of the ISI, were waiting in three to four vehicles on the next street and subsequently kidnapped them. Aafia was placed into one black car and the crying children into another. She described to her lawyer that she was immediately hooded and drugged. When she awoke she was tied to a gurney in a place that could not have been Karachi because the air was very dry.

Following her trial, Aafia's lawyer Elaine Sharpe, described how Aafia's baby, Suleman, was believed to have been killed during the arrest. Dr Siddiqui was later shown a picture of her baby, lying in a pool of blood. It is not known if Suleman, who would now be 7 years old, is alive.

Pakistani papers mentioned reports the following day that a woman had been taken into custody of terrorism charges and confirmation came from a Pakistan Interior Ministry spokesman. The media reported that Aafia Siddiqui had been 'picked up in Karachi by an intelligence agency' and 'shifted to an unknown place for questioning'. A year later, the press quoted a Pakistani government spokesman who said that she had been handed over to US authorities in 2003.

Aafia Siddiqui had been missing for more than a year when the FBI put her photographs on its website.

Aafia's mother described in a BBC interview in 2003, how a 'man wearing a motor-bike helmet' which he did not remove, arrived at the family residence and warned her that if she ever wanted to see her daughter and grandchildren again, she should keep quiet. Both the Pakistan government as well as US officials in Washington denied any knowledge of Aafia's custody. Aafia's sister, Fowzia also says that she was told by the then Interior Minister Syed Faisal Saleh Hayat in 2004 that Aafia had been released and would return home soon

At almost precisely the same time that Aafia went missing, two other alleged Al Qaeda suspects disappeared from Karachi - Majid Khan and 'Ali 'Abd al-'Aziz 'Ali. They would be amongst hundreds arrested by the Pakistani intelligence services and handed over to the FBI and CIA as part of the War on Terror. Like Khalid Sheikh Mohammed, Khan and Ali would not reappear again until September 2006, following their transfer from CIA custody, where they were reportedly tortured including the use of waterboarding, to Guantanamo.

SECRET DETENTION

Aafia claims that she was kidnapped by the Pakistani intelligence services with her children and transferred into US custody. She further alleges that she was detained in a series of secret prisons for five years during which time she was repeatedly abused, tortured and raped. Aafia's claim is substantiated by former Bagram detainees who affirmed the presence of a female detainee of Pakistani origin at Bagram, with the prisoner ID "650". The International Committee for the Red Cross also confirmed that a woman had been detained at Bagram. Immediately after his release from Guantanamo in 2009, ex-Bagram detainee, Binyam Mohamed declared that the woman he saw in Bagram, with the prison no. 650, was indeed Aafia Siddiqui.

The US has previously denied the presence of female detainees in Bagram and that Aafia was ever held there, bar for medical treatment (after they shot her) in July 2008.

Little is known about what happened to Aafia and her children in the five years in which they were missing. However, in October 2009, when Aafia was visited by a Pakistani parliamentary delegation she spoke a little about the five years in which she had been disappeared, saying "I have been through living hell". She described being given an injection and when she came to, she was in a cell. She said she was being brainwashed by men who spoke perfect English, who may have been Afghans. She did not think they were Pakistanis. She described being forced to make false confessions and sign statements. She alleged that she had been tortured although she provided no details. She was also told by her captors that if she did not co-operate, her children would suffer. During her trial, Aafia alluded to being tortured in secret prisons, to being raped, her children being tortured, and being threatened to be "sent back to the bad guys" - men she described as sounding like Americans but could not be "real Americans" but "pretend Americans" due to the treatment they had subjected her to. After her trial it emerged that the government of Pakistan had put a gag order on Aafia's family in exchange for releasing her eldest son Ahmed.

Aafia's lawyers, Elaine Sharpe and Elizabeth Fink, would later corroborate this by stating publicly that she had "been through years of detention, whose interrogators were American, who endured treatment fairly characterised as horrendous" and that she had been "tortured".

RE-ARREST IN AFGHANISTAN

On 7 July 2008, a press conference led by British journalist Yvonne Ridley, in Pakistan resulted in mass international coverage of Aafia's case as her disappearance was questioned by the media and political figures in Pakistan. Within weeks, the US administration reported that she was arrested by Afghani forces along with her 13 year old son, outside the governor of Ghazni's compound, allegedly with manuals on explosives and 'dangerous substances in sealed jars' on her person. Her lawyers claim that the evidence was planted on her. Aafia would later testify during her trial that the bag in which the evidence was found was not her own and was given to her, being unaware of its contents. She also claimed that the handwritten notes were forcibly copied from a magazine under threat of torture of her children. She recalledthe presence of a boy at the Ghazni police station whom she believed could have been her son, but could not know with certainty since they had been separate for several years.

On 3 August 2008 an agent from the FBI visited the home of her brother in Houston, Texas and confirmed that she was being detained in Afghanistan. On Monday 4 August 2008, federal prosecutors in the US confirmed that Aafia Siddiqui had been extradited to the US from Afghanistan where they alleged she had been detained since mid-July 2008. They further allege that whilst in custody she fired at US officers (none being injured) and was herself shot twice in the process. Aafia confirmed during her trial that she was hiding behind a curtain in the prison, as the US claim, with the intent of escaping as she feared being returned to a secret prison, but categorically denied picking up the gun or attempting to shoot anyone. Aafia was charged in the US with assaulting and attempted murder of US personnel in Afghanistan.

RELEASE OF AHMED SIDDIQUI

In late August 2008, Michael G Garcia, the US attorney general of the southern region confirmed in a letter to Dr Fowzia Siddiqui that Aafia's son, Ahmed had been in the custody of the FBI since 2003 and was he was currently in the custody of the Karzai government. Earlier the US ambassador to Pakistan, Anne W Patterson had earlier claimed that Washington has no information regarding the children.

According to an Afghan Interior Ministry official quoted in the Washington Post, Ahmed Siddiqui was briefly held by the Interior Ministry after his arrest in July 2008 and was thereafter transferred to an Afghan intelligence agency, the National Directorate of Security (NDS), notorious for its brutal treatment of detainees, despite the fact he was too young to be treated as a criminal suspect under both Afghan and international law. Under Afghanistan's Juvenile Code, the minimum age of criminal responsibility is 13 and according to the UN Committee on the Rights of the Child a minimum age of criminal responsibility below the age of 12 is "not internationally acceptable."

Ahmed was finally released to the custody of Aafia's family in Pakistan in September 2009.

He later gave a statement to police in Lahore, Pakistan, that he had been held in a juvenile prison in Afghanistan for years. On being reunited with his father for the first time, he ran away screaming in horror, claiming that his father was amongst those who used to beat him in Afghanistan.

THE TRIAL

The trial of Aafia Siddiqui began Tuesday 19 January 2010, in a Manhattan federal courtroom. Prior to the jury entering the courtroom, Aafia turned to onlookers saying; "This isn't a fair court, (...) Why do I have to be here? (...) There are many different versions of how this happened," referring to the alleged shooting.

Three government witnesses testified on the opening day of the trial; Army Capt. Robert Snyder, John Threadcraft, a former army officer and John Jefferson, an FBI agent. Both were stationed in Afghanistan at the time of the alleged assault and murder attempt.

During the trial, while Snyder testified that Aafia had been arrested with a handwritten note outlining plans to attack the Empire State Building, the Brooklyn Bridge and Wall Street, Aafia disrupted the proceedings with a loud outburst aimed at Snyder, after, which she proclaimed her innocence stating; "Since I'll never get a chance to speak, if you were in a secret prison.. where children were tortured... This is no list of targets against New York. I was never planning to bomb it. You're lying."

In the morning before the closing remarks, the last government witness, FBI Special Agent, Angela Sercer testified. Sercer monitored Aafia for 12 hours a day over a two week period while she was at a hospital in Bagram. She tried to rebut Aafia Siddiqui's testimony, by saying that Aafia told her she was in "hiding" for the last five years and further that she "married" someone to change her name.

However under cross examination, Sercer admitted that while at the hospital Aafia expressed fear of "being tortured". Sercer also admitted that Aafia expressed concern about the "welfare of the boy" and asked about him "every day". Moreover, that Aafia only agreed to talk to her upon promises that the boy would be safe. According to the testimony Aafia said that the Afghans had "beaten her"; that her "husband had beaten her and her children"; and that she was "afraid of coming into physical harm".

When Sercer was further questioned about what Aafia said about her children during that two week period, she admitted that Aafia expressed concern about the "safety and welfare of her children", but felt that the "kids had been killed or tortured in a secret prison". "She said that they were dead, didn't she" asked Defence attorney, Elaine Sharpe; reluctantly Sercer answered, "Yes."

The trial took an unusual turn with an FBI official asserting that the finger prints taken from the rifle, which was purportedly used by Aafia to shoot at the U.S. interrogators, did not match hers. Another event complicated the case further, when the testimony of witness Masood Haider Gul appeared different from the one given by U.S. Captain Schnieder earlier. The defence denied all charges, stating that "the soldiers had given different versions of where she was when the M-4 was allegedly fired and how many shots were fired."

The trial lasted for 2 weeks and the jury deliberated for 2 days before reaching a verdict. On February 3, 2010, she was convicted and found guilty on all counts. , despite the following discrepancies:

The court proceedings were flawed, and limited to the incident in Ghazni, which itself lacked concrete evidence.

It is still unexplained how a frail, 110 pound woman, confronted with three US army officers, two interpreters and two FBI agents managed to assault three of them, snatch a rifle from one of them, open fire at close range, hit no one, but she herself was wounded.


There were no fingerprints on the gun.


There was no gunshot residue from the gun.


There were no bullet holes in the walls from that particular gun.


There were no bullets cases or shells in the area from the specified gun.


The testimony of the government's six eyewitnesses contradicted each other.


The statements Aafia made to FBI agent Angela Sercer were made whilst she was under 24 hour surveillance by FBI agents in the hospital at Bagram, with her arms and legs tied to a bed for weeks, several types of meidcation, sleep-deprived and at the mercy of the agent for food, water and in order to relieve herself. Sercer did not identify herself to Aafia as a FBI agent. The use of these statements in court were objected to by the defence on the basis of 'Miranda laws' which mandate that a detainee must be informed of their rights, have access to an attorney, or in the case of international law, consular staff and law enforcement officials must identify themselves. Despite this the judge denied the motion and allowed this to form part of the questioning.

Aafia's disappearance, torture and missing children were not at all addressed during the court case.

POST CONVICTION

Following her conviction, Aafia remained at the Metropolitan Detention Centre in New York where she has spent the best part of her detention in the US. Throughout that time, she has been subject to humilitating and degrading strip and cavity searches, prompting her to refuse legal visits on many occasions. Since the beginning of March Aafia has been refused all contact with her family and has not been permitted any letters, phonecalls, visits or reading material under the pretext of "the security of the nation."

In April 2010, a 12 year old girl was left outside the resident of Fowzia Siddiqui in Karachi by unidentified men claiming she was the missing daughter of Aafia Siddiqui. Although initially it was thought that she was not Aafia's daughter, following DNA tests conducted by the Pakistani government, the Interior Minister Rehman Malik confirmed that the tests proved that the child was indeed Aafia's daughter, Maryam, and that her DNA matched that of Ahmed Siddiqui (Aafia's eldest son) and their father, Amjad Khan. Dr Fowzia intended to carry out their own independent investigation to confirm the girl's identity. In a press conference Senate Committee for Interior Chairman, Senator Talha Mehmood reported that Maryam Siddiqui was recovered from Bagram airbase in the custody of an American - in the Urdu-language press, an American soldier - called "John". He also said that she had been kept for seven years in a 'cold, dark room' in Bagram airbase.

After several postponements, Aafia was finally sentenced to 86 years in prison, on 5 counts, on September 23rd 2010, making her eligible for release in 2094. She would be 122 years old at the time of her release, if she remains alive at that time.

The whereabouts and welfare of Aafia's youngest son, Suleman remains a mystery.

[Taken from www.justiceforaafia.org]

---

Bridge Collapses in Iraq Attack; 56 Killed, 55 Wounded
by Margaret Griffis, March 30, 2014 [Wire services]

At least 56 people were killed and 55 more were wounded in scattered attacks across Iraq today. In one attack, an important bridge fell into the Euphrates, killing several people.

Anbar:

Seven people were killed and wounded 11 more were wounded when a suicide bomber blew up his explosives and demolished the al-Houz Bridge in Ramadi. This leaves only one bridge on the Euphrates River that can still be used by civilians. Two bridges are reserved for security forces, and two others were destroyed this year.
A clash near Falluja left nine soldiers dead and 14 more wounded. Air strikes killed five militants.
Two young people were killed after they were abducted in Qaim. Yesterday, a kidnapping victim from Qaim was found in Haditha, but it is unclear if he is related to this abduction.

Elsewhere:

Gunmen attacked an Aiyn al-Jahash checkpoint where they killed seven soldiers and wounded nine more.
In Baghdad, a bomb killed four people and wounded nine more at a Yusufiya market.
A roadside bomb in Tikrit killed two police officers. A sticky bomb killed a colonel.
In Mosul, gunmen killed a doctor.
A roadside bomb killed a solider and wounded two civilians in Qayara.
A bomb in Jurf al-Sakhar wounded seven policemen. At least three policemen were killed in this or another bombing. Security forces killed three bombers.
Gunmen killed a man at a school in Arab Jabour.
Gunmen in Taji killed a civilian and wounded two more.
A roadside bomb in Shura killed two policemen and wounded an officer.
Security forces in Iskandariya killed a suicide car bomber and his passenger.
A suicide bomber was killed in Jbela last night and his bomb was safely defused.
Two militants were killed in the Hamrim region.
A militant leader died from injuries received during security operations in Buhriz.



2014-03-31 Mon 19:58:59 cdt
NewTrendMag.org