NewTrendMag.org News # 1494

[ Click on NEWS for back issues ][ OUR BOOKS ][ Previous Issue ]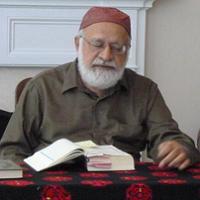 Jamada al-thani 17,1434/April 28, 2013 # 17

---

Many Muslims pray to dead saints for wasila. For a correct understanding of intercession, go to hadith from Sahih Muslim right at the end of this issue. Please scroll to end.

---

How can Palestinians stand against Israel when they allow gangsterism within their own ranks?

Imam Badi Ali's little daughter Appeals to the Palestinian Authority in the West Bank

Yesterday, I received some terrible news about my uncle (Jihad Ali). He was beaten severely by some gang members known as the Tanzim. After that, he went to complain about them to the Palestinian Authority Police, but they arrested him instead. This is unfair and I want the Palestinian Authority Police to release him and bring those members of the Tanzim to justice. You just cannot beat people like that. What kind of world are we living in where the victim gets arrested?

Maitha Ali

---

Spotlights are back! From North Carolina
Imam Badi Ali, National Islamic Shoora Leader, Invites you to think.

Spotlight #1:

Human Rights are given by Allah Almighty. No one has the right to restrict them without proper guidance from the Qur'an and the Sunnah.



Spotlight #2:

The problem is not only oppression but people who allow oppression.



Spotlight #3:

Racism is a form of oppression. Exploitation of women is a form of oppression.



Spotlight #4:

If you are a sincere Muslim, you will not tolerate oppression, persecution or abusive action.



Spotlight #5:

Oppression is forbidden, no matter how sacred your motives.



Spotlight #6:

There is no acceptable excuse for oppression.



Spotlight #7:

The Western Powers are following a policy of oppression.



Spotlight #8:

He who allows oppression is an oppressor too.



Spotlight #9:

Poverty can be the producer or product of oppression.
---

Breaking News
New Trend's condolences go to the families of working women who died in a huge building collapse in Dhaka, Bangladesh. The death toll has reached 370 and another 600 are feared to be still buried in the rubble. The corrupt pro-India rulers of Bangladesh have done nothing for the masses and working conditions and structures are extremely poor. The owner of the building has been arrested while fleeing to India. He is connected with the rulers and hence is protected from the masses.

DRUM, a grassroots organization in New York led by Fahd Ahmed, is organizing relief for the suffering families. Western corporations have been exploiting Bangladesh. Please scroll down and donate.

---

Breaking News 2:
Assad's Crime Against Islamic World vs "Chemical weapons" Hype.

On April 24, Syrian tyrant Assad's tank fire destroyed the minaret of the historic Ummayed Mosque in Aleppo. Parts of the mosque had already been reduced to rubble by Assad's shelling after the mujahideen took over the area last month.
The US completely ignored the attack on the mosque although it is a protected monument under UNESCO. [See photo of mosque, before and after attack, below. Please scroll down,]
Intead the US is propagandizing about "chemical" attacks by Assad. It looks like a barely concealed preparation for intevention in the future. Can't find evidence, the US says! Then why the hype? Assad has killed 60,000 Muslims without using chemical weapons.
For news of the fighting and Hizbullah's intervention, scroll way down.

---

Breaking News 3.
Afghanistan: Taliban Open Spring Offensive.

The Taliban announced their Spring Offensive in April.
According to icasualties, 14 NATO troops have already been killed in April. Also, a Taliban attack in Ghazni killed 16 Karzai police officers including the police chief.
In the north, in Kunduz province, a police officer poisoned 6 other police officers, killed them and fled to join the Taliban.

---

Breaking News #4:
Rallies against Iran-US regime in Iraq. Protestors Massacred.

For two weeks, western and northern Iraq have been in upheaval with demonstrations, non-stop, against the Shii Maliki regime installed in Baghdad by the US.
On April 23, the Maliki regime tried to crush the rallies and massacred at least 26 people in the north. That stirred up the masses even more.
On April 26, 4 Maliki agents who tried to infiltrate a rally in Ramadi were killed. Now the Maliki regime is vowing revenge.

---

Breaking News #5:
Pak Taliban Trying to Disrupt Elections. Bomb Attacks on Seculars.

April 28: For more than a week now, Pak Taliban have been attacking the election offices of secular parties, MQM, ANP and PPP in Karachi and in Frontier [known as Pakhtunkhawa]. Some of these offices have been blown up with heavy casualties to party workers.
The background is that MQM, ANP and PPP supported the army's attack on the Red Mosque and Women's Seminary Jamia Hafsa in Islamabad. They have fully supported the army's operations in the north leading to the death of more than 30,000 Muslims and more than 2,000,000 made homeless.
The mosques, medressas and libraries run by the Pak Taliban and Sharia supporters were destroyed by the army along with the homes of Islamic leaders. Helicopter gunships, jet fighters, tanks and heavy artillery were used against the Islamics for several years. All these efforts of General Kayani and his predecessor General Musharraf were supported by PPP, ANP and MQM.
MQM has led a reign of terror in Karachi with dozens of murders of opponents every month. Finally MQM, a fascist party, became over confident and challenged the Pak Taliban to battle. The terrorist leader of MQM lives under British protection in London.

---

Re: Boston:South Africans want to know what's wrong with USA
Live Interview with Dr. Kaukab Siddique by South African Radio
Jamaat al-Muslimeen is censored by US Media which supports CAIR

One of the blessings of Fajr, on April 27 at 6 AM, I received a phone call from Abu Bakr Dawjee, veteran radio broadcaster of Al-Ansaar radio, Durban, South Africa.
He talked to me for 40 minutes live on air asking a variety of questions about the Boston tragedy and the overall situation of Muslims in America.
Dawjee began by reminding listeners of the countrywide campaign by Zionist Jews and right wing extremists against me after I denounced Israel in a public speech at Dupont Circle in Washington DC. This was the first instance in American history that the Zionists failed to bring down a Muslim professor at an Amerivcan university.
Here is a summary of the answers I gave to the questions Dawjee asked me. Obviously he is very well versed in American politics.

American major media work as extensions of the government. They are heavily infiltrated by Zionists, Jews and Israel Firsters. Factuality is almost impossible to be obtained from US media. BBC at least gives the basic facts.


US intelligence services have a track record of using informants to entrap excitable young Muslims, opening the way for them to carry out an "attack" and arresting them when they press the "button."


The Boston tragedy was preceded by interaction between US and Russian intelligence services. The attack was either "allowed" to be carried out or was meant to be false flag but the explosives turned to be live! Who messed up and why is not clear.


UN official Falk has blamed Israel as the source of the conflict in Boston. Many agree with him..


Boston was placed under thinly veiled martial law. The population was ordered to hide and 5,000 security forces were sent in to hunt two people.


Muslims in America are unable to express themselves owing to the existence of bootlicker groups which do and say exactly what the government wants. Among them are CAIR, ISNA, ICNA and others. The Zionist media identify them as the leaders of the Muslims of America.


There is considerable dissent in America against the war, against drone attacks, against Guantanamo Bay, but most of it is by non-Muslims. The Muslim leadership is so timid or sold out that without non-Muslim dissenters, Muslim suffering would not be heard of.


My organization Jamaat al-Muslimeen is steadily vociferous against Israel, against occupation and bombing of Muslim countries, against the continuing imprisonment of Islamic political prisoners, but our voices are blocked by the corporate media [heavily infiltrated by Zionists] which insist on pretending that CAIR, ISNA, ICNA represent the Muslim voices of America.


The Muslims in the mosques and in the civil society, support our viewpoint, anti-Israel, anti-occupation, for freedom of political prisoners, but they are systematically censored.


Imam Jamil al-Amin and the Blind Shaikh, Dr. Omar Abdel Rahman, remain in prison, mistreated and in peril of their health. Visits with them are forbidden and when allowed are extremely expensive. [Lynne Stewart, Dr. Omar's pro bono attorney, and Ahmed Abdel Sattar, his translator, are also in prison.]


Egypt's President Morsi wanted the Blind Shaykh to be released, probably because he wanted the Salafist votes, 25% of the voters in Egypt. Nothing came of it.


Press TV [of Iran] has mislead many people into thinking that Syrians support Assad which is indeed a shameful lie and has demolished Press TV's influence although it does have some authentic stories about American oppression.


In Syria, the mujahideen are now the major force but are poorly armed. America is helping the secular Free Syrian Army and trying to counter the mujahideen al-Nusrah and other Islamic fighters.


The US is working on a plan for Syria according to the Bosnia-Kosova model. If the mujahideen are weakened by Assad's still intact armor and air force or Assad is about to be toppled, the US will rush in as saviors of the Syrian people,


Shifa is the nickname of a devout Bangladeshi Muslim, Ehsan El-Sadequee, who went to Bangladesh to get married. The US arrested him on wild claims of terrtorist contacts. The Supreme Court of Bangladesh exonerated him but the Dhaka-Washington nexus would not allow him to be released.


US Muslims are treated like second class citizens. Recently a Somali Muslimah was arrested and given 6 years in prison because she sent about $1400 to Somalia.
---

Mother of Bombing Suspects Speaks out

Zubeidat Tsarnaeva has denied that she or her sons were involved in terrorism. She has said she believed her sons have been framed by U.S. authorities.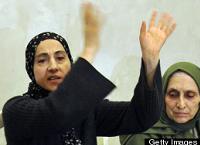 Zubeidat Tsarnaeva (l), mother of the suspected Boston bombers, brothers Tamerlan and Dzhokhar Tsarnaev, and their aunt Patimat Suleymanova attend a news conference in Makhachkala on April 25, 2013. (SERGEI RASULOV/AFP/Getty Images)

---

Richard Falk Says US-Israeli Policies responsible for Marathon Bombing
[With thanks to Br. Mark Glenn of The Ugly Truth, or TUT]

jns.org
Jewish organizations are calling for Richard Falk of the United Nations to step down following comments he made in an online essay suggesting that U.S. and Israeli policies were responsible for the Boston Marathon explosions.
Falk, who serves as a special rapporteur with the UN Human Rights Council (UNHRC), wrote in an article titled "A Commentary on the Marathon Murders" on the Foreign Policy Journal website that the Boston Marathon explosions were "retribution" for the actions of the U.S. military in the Middle East, which he considers part of the "the American global domination project."
Falk also blamed Israel for the attacks, writing "[a]s long as Tel Aviv has the compliant ear of the American political establishment those who wish for peace and justice in the world should not rest easy."
American Jewish Committee Executive Director David Harris questioned the UN's judgment in allowing someone like Falk to serve for the international body.
"Given his public record, the question is why Richard Falk still occupies a UN position. Is there no shame?" Harris said in a statement.
"Falk's latest commentary demonstrates his total insensitivity to the victims of the terror attacks in Boston," Harris added. "His malicious propaganda regarding the U.S. and Israel—and his glaring inability to see the stark truth about extremist violence and terrorism—has no place in any international body that takes itself and its mission seriously."
B'nai B'rith International also called for Falk to be removed from his UN position.
"We once again call for Falk's removal from his position within the UNHRC. His latest string of inflammatory remarks—whether it be on the Internet or in one of his "reports" to the council—has no place in the United Nations and his continued presence at the UNHRC further undermines the credibility of the system," B'nai B'rith International said in a statement.
The watchdog group UN Watch also sent a letter to UN Secretary-General Ban Ki-moon and U.S. Ambassador Susan Rice urging them to "speak out" against Falk.

---

Major Western Corporations have benefited from Bangladeshi Workers.
Here is their Chance to help the people.

www.drumnyc.org
ALL DONATIONS WILL BE SENT TO THE BANGLADESH CENTRE FOR WORKER SOLIDARITY
South Asian Workers in Solidarity with Bangladeshi Garment Workers and Demand Corporate and Governmental Accountability for Factory Collapse that Killed more than 300 Workers
Walmart, Benetton, and numerous other European and North American corporations and local factories must respect workers rights and organizing, compensate the affected families, and join the Bangladeshi Fire and Building Safety Agreement
As an organization of South Asian immigrant workers, DRUM (Desis Rising Up & Moving) members and leaders are heartbroken but also outraged by the devastating loss of life caused by the collapse of a Rana Plaza garment factory in Bangladesh. So far, we know that at least 300 workers have lost their lives, over a 1000 have been injured, and the recovery efforts are still underway.
The factory produced garments for Wal-Mart, Benetton, and many other clothing corporations.
It is outrageous that despite the fact that workers saw and complained about major cracks appearing in the building a day earlier to the collapse, the workers were forced to go back in and work in the factory. We know that not only local contractors and factory owners are responsible for this, but that foreign corporations must take responsibility and be held accountable for their own practices, and the practices of their subcontractors in Bangladesh. For years now, local labor organizations and workers have been pressuring the corporations to sign the Bangladesh Comprehensive Fire and Building Safety Agreement, and yet numerous corporation have declined to do so in the name of costs. Wednesday's accident shows that the pursuit of corporate profits comes at the expense of the lives and livelihood of Bangladeshi workers.
It is also outrageous that the Bangladeshi government has repeatedly chosen to prioritize the interests of foreign corporations and factory owners, rather than the lives of the Bangladeshi workers. Even as hundreds of workers remain trapped underneath the rubble, Sohel Rana, the owner of the building was rescued and protected by the Bangladeshi authorities as a result of his affiliations with the ruling government.
In partnership with the Bangladesh Centre for Worker Solidarity, who organize and support garment workers and resistance, we will be collecting donations to provide support for the workers and their families, and to give solidarity to their efforts to organize workers for their rights and for justice. We will be collecting donations from through our website, or through donations at our office.
In addition to organizing low-wage and undocumented South Asian workers here in the United States, DRUM has recently launched the Global South Asian Migrant Workers Alliance (GSAMWA) with partners in 11 different countries. GSAMWA is linking and organizing migrant workers displaced and impacted by neoliberalism within their home countries and across the world (from Bangladesh to Greece to New York) to fight and change local and global economic policies to support workers rights, and for global justice.

---
Syria: On April 24, Assad's tank fire destroyed the minaret of the world famous historic Umayyed Mosque which was constructed in 715 AD.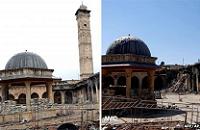 Pictures show the once famous landmark reduced to a pile of rubble
The area came under shelling by Assad's troops after the mujahideen took over a month back. Portions of the mosque had already been destroyed but now Assad's forces, hard core Alawites, hit the beautiful turret which is a protected monument under UNESCO.

---

Syria: Airport Battles
April 28: Mujahideen of al-Nusra have successfully overrun a major military airport, one of a string of three strategic air bases around Aleppo and Idlib. Heavy fighting is going on at the other two air bases.

---

April 24-28: Major Incursion by Hizbullah from Lebanon to Help Assad.
Heavy fighting is going on between the Lebanese Shi'ite Hizbullah forces and mujahideen of al-Nusra. Hizbullah has entered Syria in large numbers and is determined to keep Assad's escape route open through the border town of Qusair. Hizbullah was beaten back in its first attempt but now it has returned with large reinforcements.

---

Your good deeds matter.
This should be a good lesson for those who look for human intercessors.

Abu Umamah (May Allah be pleased with him) reported: I heard the Messenger of Allah (PBUH) saying, "Read the Quran, for it will come as an intercessor for its reciters on the Day of Resurrection."[Muslim].

Commentary:
This Hadith tells the excellence of reciting the Qur'an and acting upon its injunctions. Intercession (in this Hadith) means that the Qur'an will be endowed with the power of speech by Allah and it will request Allah to forgive the sins of its reciters who acted upon its teachings. Allah will accept the request of the Qur'an, as signified in other Ahadith.

180/991 - Riyad Us-Saliheen (Gardens of the Righteous)



2013-04-28 Sun 20:36:32 cdt
NewTrendMag.org