NewTrendMag.org News # 1489

[ Click on NEWS for back issues ][ OUR BOOKS ][ Previous Issue ]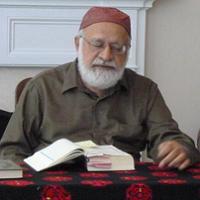 Jamada al-Awwal 10,1434/March 23, 2013 # 12

---

Three Pakistanis speak: A. Q. Khan, Imran Khan and Munawar Hasan. Please scroll down.

---

Thousands have been arrested in Bangladesh. More than 170 unarmed Islamics killed. Scroll to end for Amnresty International's report.

---

Breaking News:
Syria: March 23. Reuters reports that after 2 weeks of severe fighting, Islamic fighters under al-Nusra, Yarmouk Martyrs brigade [Palestinians] and smaller Islamic groups have taken control of the Damascus-Amman Highway. Assad's forces retreated after Assad's 38th Military Air Base was captured along with its commander.

There is great suffering in the refugee camps in Jordan and Turkey which are housing about a million people. Assad has killed nearly 60,000 Muslims. Rape is being used to terrorize the population by the Alawites death squads, al-Shabiha. Lebanese Shia militias have entered Syria to help Assad keep control of the central area of Homs.

March 22: Al-Bouti, Assad's favorite "Sunni" preacher has been killed. His "khutbas" were broadcast on Syrian government's TV and Radio and helped Assad's claim that he represents ALL Syria. A human bomber struck his congregation, killing him and 48 of his supporters and wounding 84. It is a serious blow to the regime. Other than long range bombardment, totally false propaganda through puppet preachers is Assad's method of spreading confusion.
US is taking control of the secular opposition by getting a TEXAN Iraqi to head the secular wing of the opposition to Assad. Also, the US is giving charitable funds to counter the charitable activities of the Islamics. Also, the US has contacted the Alawites and their conference is being held in Cairo, so if Assad retreats to the Alawite mountain areas, a "democratic" regime can be set up in Syria to counter al-Nusra and other Islamics.

---

Iraq: March 19. The armed opposition remembered the US invasion of Iraq with 17 car bombings, 7 roadside bombings and 2 shootings, all in Baghdad, leaving 53 people dead and more than 200 wounded.
During the US occupation of Iraq, Shi'is and US Special Forces set up 20 torture centers across Iraq to break the Islamic [Sunni] resistance. It is a horrific report and video. [ See way down. Keep children away]

---

Final notice for Jamaat al-Muslimeen's National Islamic Shoora on April 6.

Imam Siddique Abdullah Hasan will talk to the shoora by phone from Youngstown, Ohio, inshallah.

Dr. AbdulAlim Shabazz [ DrAAS.info ] from Louisiana will share his wisdom in person.

Can you spare a little time to write to Sis. Laila Yaghi's son [ FreeZiyadYaghi.info ] in prison in Florida?
Can you send a few words of support to Br. Shifa, Bangladeshi Islamic in prison in Terre Haute, Indiana?
Where has the Somali sister Nima Ali Yusuf been taken after she got 8 years for sending about 1400 dollars to Somalia. Can you find her on the BOP web site? [ bop.gov/iloc2/LocateInmate.jsp ]

---

In East Flatbush area of New York, people are protesting against a police murder. See report from Jamaat al-Muslimeen activist Br. Abu Talib. Scroll way down.

---

Don't waste water. The environment is drying up. This is water saving month.
Prophet Muhammad, pbuh, began the movement to stop water wastage. [Hadith.]

---

Breaking News
March 18-22. Muslims in Burma, this time in central Burma, are under horrific assault by Buddhist mobs. Think of ways of protecting Muslim minorities. Scroll way down for report and support.

---

Obituary by Kaukab Siddique
Chinua Achebe, Author of THINGS FALL APART, passed away on March 22.
I met him when he Visited Lincoln University.

Achebe was 82 when he passed away. I met this Nigerian novelist and intellectual when he visited Lincoln University in Pennsylvania years back. I teach his book, Things Fall Apart, in a World Literature course, so it was an unusual experience to meet a great author.
The book is about a village in eastern Nigeria, non-Muslim, and is a perceptive account of the peaceful, passive values of the village and the advance of British colonialism and militant Christianity. I would recommend the book for its insght into the process by which European powers and religion enter countries which do not understand their imperial ideologies. The novel also brings out internal weaknesses of the Africans which made it possible for the Europeans to undermine the positive values of the indigenous culture.

---

Our America
54 Schools Closing Down in Chicago while Obama Doles out Millions to Israel.

It's quite ironic that while Obama was in occupied Palestine, promising total support to the occupiers, Chicago, Obama's home base, announced that it was closing down 54 schools for lack of funds.

Even more ironic, the man running Chicago these days, a hard core Zionist Jew, Rahm Emmanuel, Obama's right hand man, has disappeared from public view after the news came out.
In addition there is plethora of murders of Black youths in Chicago who never received the kind of attention the shooting in Newtown, Connecticut, has been receiving.
Institutional racism?
It is to be hoped that the followers of Minister Farrakhan and W.D. Muhammad will catch up with the Israeli-American, Mayor Rahm Emmanuel, and question him about the closings and the killings.

---

March 22: Even Palestinian dust flies up against Obama. A dust storm forced Obama off his helicopter. He had to go by land to Bethlehem. Thus Allah forced him to see the Israeli check points and the settlements set up where Christian Palestinians used to live.

---

Obama's Surreal Visit to Israel: Is he being Used?

March 19: "Barack!" "Bi Bi" They were calling each other by first names as if it was a family get together.
The meeting took place in the Israeli's house in Jerusalem. The city is under Israeli occupation but "Barack" seemed to have swallowed the Jewish story that it is Israel's "eternal capital." [The Jewish entity was imposed on Palestine by the victors of the Second World War in 1948!]

The press conference was boring in the extreme.: The usual affirmations of love by Obama and the grudging [I hope you'll do more] banalities by Natanyahoo.]

Obama heard that a couple of rockets fired from Gaza had fallen into occupied Palestine. These were symbolic gestures by Palestinians. Homemade fire crackers which didn't kill even one of the occupiers. Obama immediately issued a condemnation.
Natanyahoo announced that Israel is going to get a massive new package of weaponry from "the Black Messiah" in addition to its regular bleeding of America's tax payers,.
The intelligence agencies of both sides are now united in spirit and fact, the two affirmed.

Then came the usual threats against Iran: "All options are on the table." Iran is not impressed. It has quietly absorbed the sanctions. [The Israeli President expressed his confidence that Obama is ready to attack Iran. The signal will come from Israel and the "Black Messiah" who has deserted the Black people of America, with soaring rates of unemployment, record rates in Detroit, will plunge America into another senseless war.]

---

The Victims "Deserve" To Get Something: Obama's Crumb to the Palestinians.
Gaza? What Gaza?

March 20: In a visit with Mahmoud Abbas whom the Americans want as the leader of Palestine [don't laugh!], Obama proclaimed that the Palestinians deserve to have a state of their own! Telling the victims that they "deserve" a rump state is the height of arrogance. This time Obama did not show concern even for Jewish settlements on Palestnian land set up during the last few years. Last time the Jews "cussed him out" after he begged them to stop building in the new "settlements."

Obama pretends that Hamas and Palestinians not controlled by Abbas are not Palestinians. Twice Israel has assaulted Gaza and slaughtered hundreds of defenseless people. Israel used late model jets, helicopter gunships, tanks and heavy artillery . The Jewish bombers used phosphorous. Among the Palestinians killed were scores of children.

For Obama, Israeli crimes against humanity come under the rubric of "Israel has the right to defend itself." No wonder the Jews gave him the Nobel Prize for Peace!
Medeleine Albright, the Jewish adviser of Clinton, said about dead Iraqi children that the million who died a slow death were "worth it." People are now wondering if 9.11 was Osama bin Laden's response to the one million Iraqis dead under the sanctions.
But note: Medeleine Albright, thoroughly Jewish and Israel Firster though she was, at least recognized that Iraqi children had died [though it was a slow death], but Obama has gone one better. He pretends that Gaza doesn't exist! This is equal to the Israeli Jew's statement who said: Palestinians? What Palestinians?


---

Has Obama Studied the Holocaust story? Or is he Jewish himself?
No one says the Jews didn't suffer. What about Afghans, Kashmiris, Palestinians, Iraqis, Africans, Russians, Germans, Japanese, Chinese?

One would expect that Obama would be interested in the 400 year long horrors of slavery. Instead he is fascinated by the 4 years of German persecution of Jews.

Some observers are under the impression that Obama is a Jew. The depth of his Jewish ritualism creates that impression.
Just as he gave his 100% support to homosexuality, Obama has given his 100% support to the Jewish holocaust story.
We urge supporters of Obama to study scholarly works by critics of the holocaust narrative. None of them are Nazis and their scholarship is at such a high level that the entire mainstream media has censored them for fear that the government story would be debunked and emotional support for Israel would end.
None of the scholars says that nothing happened to the Jews. There is no doubt in anybody's mind that the Jews suffered tremendously at the hands of Adolph Hitler. However, the scholars say that the reports are grossly exaggerated and there is no evidence that there were German gas chambers for the Jews.
Also, there was a great war going on. All the nations suffered , the Russians most of all, followed by the Germans. The cities of Germany, all of them without exception, were set on fire and burned down systematically even when they were defenseless after December 1944 when the German air force had become largely unable to defend the cities and was only operative on the front lines.

---

Read the monumental works and articles by Germar Rudolf, David Irving, Mark Weber, Bradley, Lawson, Butz and others. [Some of these are available from New Trend. Go to newtrendmag.org [ order.htm ] , click on NEWS, click on books and make your choice.]

---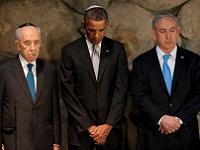 Obama, Peres and Netanyahu at Yad Vashem. Photo by AFP all courtesy : Haaretz


---

Iraq War Document. Shi'ite Death Squads and US Special Forces United
[Please keep children away. Ed] [Scroll way down.]

The US was forced to withdraw inilaterally from Iraq. The Islamic resistance led by Islamic elements of al-Ba'ath of Saddam plus al-Qaeda in Iraq fought so long and so hard that the US was defeated. The American public voted Obama into power on the basis of his promises that he would withdraw from Iraq, which he had to in any case.
Eastern Iraq is under the rule of the al-Maliki regime installed by the US and supported by Iran.
However western Iraq is under the control of al-Ba'ath Islamic groups and al-Qaeda and various smaller Islamics. Parts of the West are under Sunni groups which sold out to the US.
In the north pro-US Kurds are in control but areas around Mosul are under al-Qaeda as are parts of the north east.
Baghdad itself, a huge city, is divided three way between Shias, Baathists and al-Qaeda.

---

A look back at the British role in the Iraq Invasion
by Anthony Lawson

Gordon Brown's Shocking - "It was the right decision"
http://www.youtube.com/watch?v=0Wmx-iQHI4I


---

Hitler's Secret Indian Army
BBC News
http://news.bbc.co.uk/2/hi/europe/3684288.stm

... Thousands of Indian soldiers who had joined Britain in the fight against fascism swapped their oaths to the British king for others to Adolf Hitler - an astonishing tale of loyalty, despair and betrayal that threatened to rock British rule in India, known as the Raj. The story the German officers told their interrogators began in Berlin on 3 April 1941. This was the date that the left-wing Indian revolutionary leader, Subhas Chandra Bose, arrived in the German capital ... By the end of 1941, Hitler's regime officially recognised his provisional "Free India Government" in exile, and even agreed to help Chandra Bose raise an army to fight for his cause.

---

Pakistan #1
Imran Khan Promises Justice and a new Leadership Style.

March 23. Imran Khan, leader of the Justice Party, spoke near the Pakistan memorial to a very large crowd of secular level opponents of the outgoing government of Zardari.
He promised justice, an end to corruption, as well as personal honesty.
Imran spoke against the US drone attacks as well as government atrocities in Baluchistan

However, earlier at a press conference, he said that we cannot fight America or free Kashmir by fighting.

During his speech there was a monster rain storm and the meeting was severely disturbed.

---

The same day there was a US drone attack in North Waziristan in which 4 "suspected" militants were killed.

---

According to Fox TV, March 20, the latest polls show that Pakistanis lead the entire world in opposition to America followed by 7 other Muslim countries.

---

Pakistan #2
Top Scientist Promises Justice for the Masses & Terror for enemies of the Nation.

LAHORE, Mar. 22; Nuclear scientist Dr Abdul Qadeer khan, has said he would not rest until those who rendered the country bankrupt had their securities forfeited in the elections.
Addressing a big public election meeting of the Jamaat e Islami candidate from NA 128 at Raiwind, Mian ahoor Ahmed Wattoo, Friday afternoon, he declared that voting for the Jamaat e Islami candidates would be tantamount to voting for his party.
Dr. Khan, Chairman of the Tehrik e Tahafuz e Pakistan (TTP), which has been allotted missile as election symbol, said that while scale symbolized justice, missile stood for terror.

" We have a message of terror for the enemies of Islam and Pakistan and a message of justice and fair play for the masses," said the father of the country's atomic bomb. "We will provide security to the masses and ensure them equality and we will give a deadly blow to the enemy," he said.

He reiterated his appeal to the students and the youth to come out of their homes and hearths and convince the people to vote for the scale.

Dr A.Q. Khan said that the Jamaat e Islami is a spiritual force while he had made the country a nuclear power. Both these forces would Inshallah, defeat the enemies of Islam and Pakistan in the coming elections, he said.
He said during the last five years, the rulers had made the country bankrupt and the nation was in the grip of price hike, unemployment and poverty. We have decided to join hands with the Jamaat e Islami for building Pakistan a truly respectable state in every respect, he added.

" If you don't support me in the elections, this would mean we are among hypocrites," he added.

In his address, Liaqat Baloch said that Dr A. Q. Khan had made the country a nuclear state because of which India and Israel could not dare to cast an evil eye on it. He said the JI and Dr A.Q. Khan would build the country a welfare state where the poor and the common man regained their respect.

Mian Zahoor Wattoo welcomed the chief guest on the occasion.

---

Our America [With thanks to Br. Abu Talib.]
Response to the Village Voice:
People Rose Up in Righteous Protest Against Murder of Kimani Gray - And They Should Be Supported

March 22, 2013 | Revolutionnewspaper | revcom.us

The righteous uprising of the youth of East Flatbush and others from across the city of NY who were outraged by the murder of Kimani Gray has been met with riot-clad, baton-wielding cops and mass arrests. Accompanying these assaults has been a chorus of NYC elected officials, "community leaders" and others in NY and across the country who are "appealing for calm" and "furious" over those from "outside the community" who supposedly are inciting very angry youth to resist. The message? The youth are easily manipulated and NOT actually fed up with the dead end future they are trapped in and seeing and protesting the murder of Kimani as a concentration of that ugly future. And the further message: The youth should refuse to unite with those who are joining them in struggle.

But this is wrong...this struggle--which is just and not futile or destructive--is most welcome and in the interests of all the people. It is right to stand up and resist.
Now, this chorus has been joined by the Village Voice, a paper which began as an alternative and progressive paper, but this week joins in on the reactionary attacks on the people who are rising up in East Flatbush. In a major article published in March called "Everybody Wants a Piece of Kimani Gray" the Village Voice characterizes the outraged youth as emotional and basically unthinking in their struggle while at the same time describing the situation with Kimani's murder as "complicated." It ridicules the struggle: "The rolling protests and unrest that have roiled East Flatbush for the past week have at times felt like a 21st-century Bonfire of the Vanities, a dysfunctional and tragicomic variety show, as postures of rage and ideology, solidarity and self-promotion share the stage, and moments of dark absurdity overlie stark calamity." Fuck you Village Voice. It's a fine thing that people are rising up against yet one more outrage perpetrated on the people.

First, ask yourself: In a country where the police murder of a Black youth is so routine that most people are not aware of how often this happens, if there had not been the outpouring of resistance in response to this callous murder, what would be the outcome? Would anyone even know about it? Would this murder and uprising be a subject of discussion on airwaves across the country? Wouldn't the only story out there be the enforcers' picture of Kimani as a gang banger with a gun who deserved to die and the police as heroes? Would there be any hope of justice?

And then think about this: Is it a bad thing or a good thing if youth are joining with each other and others, raising their heads and beginning to go up against those who maintain a boot on their neck? Is it a bad thing or a good thing if, now, the youth are acting on their outrage and hopes for something different? Is it a good thing or a bad thing if people from different backgrounds and from across the city are a part of the struggle to demand justice for Kimani and calling out the continual brutality the police inflict on people?

Let's be real: The powers-that-be, including elected officials, like city councilman Jumaane Williams, fear this kind of awakening and rebellion on the part of the people on the bottom. They also fear the unity that is being built between different kinds of people. With such outbreaks of struggle the nature and legitimacy of this whole set-up/system get called into question. People begin to ask big questions. And those defenders of this system also go into high gear, working overtime to shut down the struggle and steer and confine the resistance of broad numbers of people into "acceptable" channels which don't challenge the whole set-up.

So, what's the real deal? What riled up the youth--and broad numbers of people--was the murder of Kimani, and the brutal--and constant--repression the Black and Latino youth face at the hands of the police. People were saying NO MORE! The source of the unrest is the actions of the police, not the actions of people in the community "riled up by outsiders"! And to these mouthpieces for the system (including those who speak in the Village Voice), we say there are no outsiders in the struggle against injustice and oppression. If you didn't live in Sanford, Florida, should you not have said anything about the murder of Trayvon Martin? If you are the parent of a child killed by the police in a DIFFERENT neighborhood, are you supposed to be silent? Are you an "outsider" stirring up trouble if you speak out against injustice, the thousands of murders of Black and Latino youth by the police, if you join in protest against these crimes which happen every day in this society?

Actually, we need to squarely face the fact that far too many people have stood aside and been silent when Black, Latino and other youth have been gunned down by the police and/or railroaded to prison. It is a very good thing that people from across the city of New York--from beyond the community of East Flatbush--have joined in the protests and uprising. And many more need to protest this murder and the massive incarceration of over 2 million people in this society, mainly Black and Latino.

And to the Village Voice we say: NO, IT'S NOT F...ING COMPLICATED. As Carl Dix said: "There are only 2 sides in this struggle--either you stand with the people against the repression they face or, whatever your intentions, you're siding with those who carry out this repression." The Village Voice should be ashamed for giving its backing to those who are condemning these actions and calling for an end to the righteous struggle. The police murdered Kimani Gray as a part of their ongoing terror and brutalization.

---

[With thanks to Br. Hussain Khan in Tokyo, Japan, scholar, teacher and dai' of peaceful Islamic transformation.]

A VIDEO OF AMERICAN TORTURE IN IRAQ

http://www.youtube.com/watch?v=1pK3Lo2vpAA&feature=player_emedded

Maggie O'Kane, Executive Producer, tells the story revealed by the Guardian documentary about the role of Col. James Steele in supporting torture, death squads and brutal sectarian conflict during the height of the Iraq war. Steel's reports went directly to Rumsfeld and Cheney.

PAUL JAY, SENIOR EDITOR, TRNN: Welcome to The Real News Network. I'm Paul Jay.
A new investigative documentary by The Guardian and BBC tells a story of one Colonel James Steele, a veteran of the Latin American Dirty War and the Vietnam War and his involvement in the Iraq War. Apparently, Colonel Steele was involved in helping organize and finance Shia death squads, torture, helping to instigate, perhaps, the civil war in Iraq. His reports went directly to the desks of Rumsfeld and Cheney.
Now here's a trailer, five-minute trailer from the documentary film. And after that, we'll meet the executive producer of the project.

---

SOLDIER (SINGING): First to fight for the right and to build a nation right, and the army goes rolling along.
NARRATOR: This is one of the great untold stories of the Iraq War, how just over a year after the invasion, the United States funded a sectarian police commando force that set up a network of torture centers to fight the insurgency. It was a decision that helped fuel a sectarian civil war between Shia and Sunni that ripped the country apart. At its height, it was claiming 3,000 victims a month.
This is also the story of James Steele, the veteran of America's Dirty War in El Salvador. He was in charge of the U.S. advisers who trained notorious Salvadoran paramilitary units to fight left-wing guerrillas. In the course of that civil war, 75,000 people died and over 1 million people became refugees.
Steele was chosen by the Bush administration to work with General David Petraeus to organize these paramilitary police commandos.
This is the only known Iraqi video footage of Steele, a shadowy figure always in the background observing, evaluating. The man on his left is his collaborator, Colonel James Kaufmann. He reported directly to General David Petraeus, who funded this police commando force from a multibillion dollar fund.
The thousands of commandos that Steele let loose came to be mostly made up of Shia militias, like the Badr Brigades, hungry to take revenge on the Sunni supporters of Saddam Hussein.
Steele oversaw the commandos, mostly made up of militias. They were torturing detainees for information on the insurgency.
GILLES PERESS, PHOTOJOURNALIST: He hears the scream of the other guy who's being tortured, you know, as we speak. There is the blood stains in, you know, the corner of the desk in front of him.
GENERAL MUNTADHER AL-SAMARI, IRAQI MINISTRY OF INTERIOR, 2003-2005 (VOICEOVER TRANSL.): The things that went on there--drilling, murder, torture, the ugliest sorts of torture I've ever seen.
VOICEOVER: The U.S. was desperate for information on the insurgency, and Steele's expertise was turning that information obtained from thousands of detainees into actionable intelligence.
TODD GREENTREE, U.S. EMBASSY OFFICIAL, EL SALVADOR, 1980-1984: Colonel Steele is one of the few people who understands how to conduct intelligence-driven operations against operational cells of an insurgency or terrorist organization.
NARRATOR: The Iraqi leader of these feared commandos was Adnan Thabit. In the city of Samarrah, his commandos and their American advisers turned the main library into a detention center, where torture was a routine occurrence.
PERESS: We were in a room in the library interviewing Steele, and I was looking around. I see blood everywhere. You know.
PETER MAASS, NEW YORK TIMES JOURNALIST: There were these terrible screams. There was somebody shouting, "Allah! Allah! Allah!" But it wasn't, you know, kind of religious ecstasy or something like that; these were screams of pain and terror.
GENERAL ADNAN THABIT, COMMANDER OF SPECIAL POLICE COMMANDOS, 2004-2006 (VOICEOVER TRANSL.): The prisoners do start shouting. They are a bit like whirling dervishes. They love to scream Allah, Allah.
JERRY BURKE, CHIEF POLICY ADVISER TO IRAQI MINISTRY OF INTERIOR, 2003-2004: We lost the support of a lot of Iraqi citizens who became very cynical and very anti-American. Even the ones who were friendly with us couldn't understand why we were allowing this to happen.
VOICEOVER: The commandos quickly grew into a powerful 12,000-strong force with a national network of torture centers. They became involved in death squad activities. They were completely infiltrated by the Shia militias. But General Petraeus claimed not to see that coming.
LIEUTENANT GENERAL DAVID PETRAEUS, MULTINATIONAL SECURITY TRANSITION COMMAND, IRAQ, 2003-2005: We kept hearing this all the time, Martin, that--this or that. To find the absolute evidence of this has actually been quite difficult.
BURKE: Pretty much the whole world in Iraq knew that the police commandos were Badr Brigade. He must have known about the death squad activities. It was common knowledge across Baghdad.
VOICEOVER: The Bush administration also denied any knowledge of these death squad activities.
DONALD RUMSFELD, U.S. SECRETARY OF DEFENSE: I've not seen reports that hundreds are being killed by roving death squads at all. I'm not going to get into speculation like that.
VOICEOVER: But the bodies were turning up every day on the streets of Baghdad. Many of the victims were so badly tortured they could not be identified. Those who couldn't be named found a final resting place in desolate town dumps like this one. A rusty tin can marks each grave.
James Steele was decorated by Donald Rumsfeld for his work in Iraq. He lives in Texas. He is registered with the Motivational Speakers Bureau to give speeches about counterinsurgency and his experience in conflict zones.

---

Bangladesh: Resist pressure to push for death sentences at war crimes tribunal

The Bangladesh government must not let a proposed new legal amendment lead to a push for death sentences for those convicted in its ongoing war crimes tribunal, Amnesty International said.
Bangladesh's International Crimes Tribunal (ICT) was set up in 2010 to try people suspected of crimes under international law, including genocide, war crimes and crimes against humanity, committed during the country's 1971 war of independence.
On Sunday, Parliament is likely to pass an amendment to the law governing the ICT's proceedings, which will enable prosecutors to appeal for the death penalty for those sentenced to imprisonment in the tribunal. Current procedures allow the defence the right to appeal in all circumstances, but permit the prosecution to appeal only against an acquittal.
"Given the extremely tense situation in Bangladesh, there is a real risk that the government will use this amendment to push for those tried in the ICT to be sentenced to death," said Abbas Faiz, Amnesty International's Bangladesh researcher.
"We urge the government to resist this. The death penalty is the ultimate cruel and inhuman form of punishment, and the government should abolish it altogether, not call for it."
The amendment, proposed by Bangladesh's Cabinet, will allow the prosecution an equal right to appeal sentences handed down by the ICT - creating an opening for the prosecution to ask the Supreme Court to increase sentences of imprisonment to death sentences.
The ICT delivered its first verdict in absentia on 21 January 2013, sentencing one of the accused, Abul Kalam Azad, to death for crimes against humanity. Azad's defence intends to appeal the verdict.
On 5 February, the ICT sentenced Abdul Quader Molla, a senior member of Jamaat-e-Islami (an opposition party), to life imprisonment for crimes against humanity.
That second verdict sparked mass protests across Bangladesh with tens of thousands of people rallying in Dhaka calling for the death penalty for Molla. Opposition activists have called both verdicts politically motivated
A further seven individuals, all members of political opposition parties, are currently on trial in the ICT.
"The ICT is a historic opportunity to end over 40 years of impunity for the horrendous crimes committed during Bangladesh's independence war," Faiz said. "Victims deserve justice, but the accused also must have their human rights respected. Imposing the death penalty, which is a human rights violation, is not the answer."
"The government must not simply use their majority in Parliament to change the law so that they can ask the Supreme Court to impose a death sentence."
"This is the time for a calm and considered approach to these trials, if they are to bring justice and help ensure redress for the victims of the mass scale human rights violations in 1971. The government must ensure that the ICT maintains its independence and does not come under pressure from the public and the authorities to deliver the verdict that they want."
Amnesty International has also received disturbing reports that some individuals critical of the ICT have been threatened and may be at risk of retaliatory violence.
"It is absolutely vital that the government ensures that those critical of the ICT are given protection and do not have to fear for their safety simply for exercising their right to freedom of expression," Faiz said.
"People must be able to express their views about these trials freely and without being subjected to harassment or intimidation, and without fear of retaliation."
Amnesty International opposes the death penalty in all cases without exception, regardless of the nature or circumstances of the crime, as a violation of the right to life as proclaimed in the Universal Declaration of Human Rights and as the ultimate cruel, inhuman or degrading punishment.
The International Criminal Court and all other international criminal courts established since 1993 have excluded the death penalty as a sentence for crimes against humanity, war crimes, and genocide.
AI Index: PRE01/079/2013
Region Asia And The Pacific
Country Bangladesh
Media Centre



2013-03-24 Sun 07:36:38 cdt
NewTrendMag.org