NewTrendMag.org News # 1488

[ Click on NEWS for back issues ][ OUR BOOKS ][ Previous Issue ]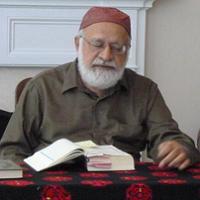 Jamada al-Awwal 4,1434/March 16, 2013 # 11

---

Sectarian buster
Point from marriage of Umm Kulthum [Ali's daughter, r.a.] and Umar, r.a.
by Kaukab Siddique
According to authentic hadith narrative, during the marriage of Umm Kulthum and Umar,r.a, the second Caliph of Islam, a man from the eastern front in Khorasan brought a bag filled with the precious jewels and diamonds captured from the Persian rulers. He wanted to give it to Umar, r.a., in the hope that Umar would reward him highly for such an expensive gift. He went to the Caliph's home and saw him sitting on a rough pillow. Umar, r.a., offered him a similar pillow and then Umm Kalthum sent in the meal. It was a little olive oil with a piece of bread and a piece of uncut salt. The man was shocked to see the lifestyle of the most powerful ruler of the world.

Umar, r.a., called out to his wife to come and sit with him. She answered from behind a curtain that she could hear a strange male voice with Umar, r.a. She said, you'll have to buy me a special covering such as Jafar's son bought for his wife [her sister] if you want me to come in front of men.

Umar's, r.a., answer is worth quoting word for word:

"Is it not enough honor that men should say that Umm Kulthum is the daughter of Ali ibn Abi Talib and the wife of the ameer of the believers Umar?" [ Tarikh al-Umam wa al-Muluk, by Abi Jafar Jarir al-Tabari, Hijri 310, Vol. 3 Urdu translation.]

The point here is that when a woman is identified as part of the Islamic revolution and works with its top echelons, a little laxity in dress should not be a big ;problem. In our times we have women wearing extremely strict hijab but going to the White House Inaugural to support a ruler who endorses homosexuality, or in other cases, sisters being told that their prayers will not be accepted if a hair is showing.

[As the report continues, Umar, r.a., then scolded the man who had brought the gift and told him to take it back to the mujahideen on the front and distribute it carefully otherwise Umar, r.a, would punish him severely. Dear Muslims, we need such rulers.]

---

Kashmir makes a come back. On March 13, two Islamics entered an Indian army camp in occupied Kashmir and battled the Indian force for several hours. India has admitted 5 of its officers killed and a dozen or so injured. Both "militants" were martyred.
There have been rallies and shut down strikes in Kashmir following India's execution of a Kashmiri "militant" whom India held in prison for 10 years but could bring no evidence for the charge that he attacked the Indian parliament. [Readers might remember that after the US attacked Afghanistan following 9.11, intense pro-Taliban rallies were held in Pakistan. Both the US and the Musharraf regime were concerned . India helped them to take the pressure off by claiming that its parliament had been attacked by Pak backed "militants." India massed its troops on the Pak border and tension with minor clashes took the pressure off Musharraf.]

---

Breaking News: Pakistan is in a big mess but thankfully the corrupt government of Zardari has ended with completion of its five years. A caretaker government is getting ready to takeover with elections to be held in 90 days. Looks like Jamaate Islami's movement has been successful in stopping Zardari's plans to contiinue..
March16. Jamaate Islami Pakistan takes big step with support of nuclear scientist. Please scroll to end.

---

Breaking news #2:
Bangladesh: Clashes spread as Bangla nationalist party [BNP] supports Jamaate Islami. More than 100 unarmed Islamic youths and a few police have been killed so far. On March 11, during countrywide strike, police swooped on high level meeting of BNP and arrested more than 100 activists. The Islamic-BNP opposition has announced that general strike will be implemented on March 18-19 if activists are not released. Pro-India regime has mobilized border security force in Dhaka to crush unarmed protestors.

---

Breaking news #3:
Syria: March 16: Heavy fighting is reported from the suburbs of Damascus as mujahideen advance into the Ghouta area, the agricultural belt around Damascus. Reports say that Damascus International airport is now serving only military flights taking off to attack "rebels" and Iranian flights said to be bringing ammunition for Assad's regime. Assad's forces attacked mujahideen in Aleppo but were repelled. Assad is holding on to the strategically placed city of Deir el-Zour in eastern Syria. About 30% of the city is now in the hands of the mujahideen.

French newspaper Figaro reported on March 13 that 50 French converts to Islam have joined the mujahideen in Syria. Figaro is worried that they want to help al-Nusra establish an Islamic state in Syria.

Adhan in the middle of battle in Syria while Assad's army attacks Islamics:
[With thanks to Br. Ather in Canada.] [Copy and paste into your server.]
http://www.youtube.com/watch?v=IFfrNL9JTjY


---

Cheyney lied, people died, but what aboit Obama? Is he merely a puppet? A Canadian Muslim intellectual Dr. Khawaja carries out an in depth study of Obama's options. Long article but worth reading for thinkers. Please scroll to end.

---

Breaking news #4
Nigeria: March 13. In Maiduguri, the northern city where most people support the anti-western Islamic movement known as Boko Haram, weekly executions are being carried out by the Nigerian military [backed by the US and Israel]. Two BBC reporters were able to enter the city incognito and reported the horrific atrocities being carried out against the Islamics [first treported by New Trend last month]. Every week the army rounds up Muslims, interrogates them and then executes about 20 and buries them in a mass grave.

The report continues that a few days back Nigerian President Jonathan visited Maiduguri. The elders of the city urged him to release hundreds of people whom the military has arrested at random. Jonathan refused. Thus it's become a Christian-Muslim conflict.

---

Breaking news #5:
Afghanistan: Another 11 elite NATO troops have been killed in the first two weeks of March although NATO is in defensive positions. Two of them were in two helicopters which crashed according to NATO [shot down according to Taliban]. Others were killed by small arms fire. [icasualties reports.]

The number of NATO troops killed till now is 3269, of which 2189 are Americans. The long range loss is that more than 18,000 US troops have been wounded [first disclosed by FOX TV on March 14]. Many have lost legs and arms and eyes but were saved by body armor.

---

Francis, New Roman Catholic Pope, is Bad News for the Muslim World.
Close ties with Jewish-Zionist Communities documented.

It is no surprise that a man closely allied to the Jewish-Zionist organizations has been chosen as Pope by a small, closed group. The most virulent Zionist organizations in America, ADL and Simon Wiesenthal Center, are joyous about the new Pope.
Mark Glenn [Crescent and Cross organization] writing from Idaho has as usual been on top of the Jewish activities. Along with much other information, here is an excerpt from an item which Mark sent from a Jewish source:

Ynet

Jorge Mario Bergoglio of Argentina, who was elected Wednesday to be the new leader of the Roman Catholic Church on Wednesday, is said to be a close friend of the global Jewish community, and the Argentinean community in particular.

Jewish organizations worldwide welcomed his election and expect to see him strengthen the relationship between the Jewish community and the Vatican and continue the work of Pope Benedict XVI, who spoke against anti-Semitism and Holocaust denial.

Bergoglio, who took the name Francis I, has a long history with the Jewish community in Buenos Aires from the time he served as the city's archbishop.

According to the Jewish Telegraphic Agency (JTA), in September 2007 he attended Rosh Hashana services at the Benei Tikva Slijot synagogue in the Argentinean capital.

Rabbi David Rosen, the director of interfaith affairs for the American Jewish Committee, told JTA that the new pope was a "warm and sweet and modest man"

---

From Br. Solano:
Please expose this 4/26 CAIR meeting with the top Maryland Prosecutor. Scroll to end to note these snakes in the grass.

---

Africa
A glimpse of Women's Right in the Masjid: More than 2,000 came for Juma'

by Sis. Ashira Naim [Masjid Jamaat al-Muslimeen, Baltimore]

The writer recently returned from Ethiopia.

Throughout this bustling capital city, Addis Ababa, women of various persuasions are seen going about their daily schedules, be it shopping in the markets, grabbing a quick bite to eat before returning to their work routine or simply enjoying the view. While I was never given any written rules, there seemed to be a kind of intelligentsia working: that no one was to cross the limits in terms of clothing or the lack thereof. There are women of every hue seemingly from every part of the world, wearing an array of styles, Muslim, Christian, Jew, etc.....There are some Ethiopian women trying to dress American and some American women trying to dress as Ethiopian (chuckle) all aiming to please "somebody."

Anyway, as the world turns--automaticlly, at the caller's voice [Adhan] women can be seen briskly making their way to the masjid for the prayer. This visit to the masjid occurs throughout the day as women seek refuge in prayer routine daily basis. On Jumah, it is amazing to see the masjid, Masjid An-Nour, filled with 2,000 women and the women's yard area equally swelling with hundreds more who have carried their own prayer rugs for the purpose.

After the khutba, circles are formed inside the masjid where the women listen to a female teacher who offers special prayers and gives direction to her students. The women who assist in the administration and cleanup of the facility and grounds, can be seen checking windows, providing water and slippers for the wudu area, etc. They, too, are beautifully dressed and give the appearance of strong and happy women.

Outside the gate there are female vendors serving tea, coffee, oats and bread, cookies, gum, etc. Occasionally, a travelling man vending samosa will appear and join them and/or the several male vendors selling scarves of various sizes and colors.

There is no deterring these women from the masjid. It is rooted in their souls to attend the masjid and it is seen for what it is--a place of refuge. Strange it is that those who have the least of provisions seem to show more gratefulness than those who have the most provisions and should be more grateful.

---

Wedding Day Advice: Imam Ahmed Ibn Hanbal's 10 golden Guidelines
[With thanks to Br. Muzaffaruddin Ahmed.] ["Ladies" is old English for women.-- Ed.]

Dear son, you will not attain good fortune in your home except by 10 characteristics which you show to your wife, so remember them and be enthusiastic in acting upon them.

As for the first two; women like attention and they like to be told clearly that they are loved. So don't be stingy in expressing your love for your wife. If you become limited in expressing your love, you will create a barrier of harshness between you and her, and there will be a decrease in affection.

Ladies hate a strict, overcautious man, yet they seek to use the soft vulnerable one. So use each quality appropriately. This will be more appealing for love and it will bring you peace of mind.


Ladies like from their husbands what their husbands like from them, i.e. kind words, good looks, clean clothes and a pleasant odour. Therefore, always remain in that state.


Indeed, the house is under the sovereignty of the woman. While she remains therein, she feels that she is sitting upon her throne, and that she is the chief of the house . Stay clear of destroying this kingdom of hers and do not ever attempt to dethrone her, otherwise you will be trying to snatch her sovereignty. A king gets most angry at he who tries to strip him of his authority, even if he portrays to show something else.


A woman wants to love her husband, but at the same time she does not want to lose her family. So do not put yourself and her family in the same scale, because then her choice will be down to either you or her family. And even if she does choose you over her family, she will remain in anxiety, which will then turn into hatred towards you in your daily life.


Surely woman has been created from a curved rib, and this is the secret of her beauty, and the secret of the attraction towards her. And this is no defect in her, because 'the eyebrows look beautiful due to them being curved'. So if she errs, do not rebuke her in a manner in which there is no gentleness, attempting to straighten her; otherwise you will simply break her and her breaking, is her divorce. At the same time do not let her off upon that mistake, otherwise her crookedness will increase and she will become arrogant with her ego. Thereafter, she will never soften for you and she won't listen to you, so stay in between the two.


It is in the women's nature to be ungrateful towards their husbands and to deny favours. If you were to be nice to her for her whole life but you grieved her once, she will say, "I have never seen any good from you". So don't let this attitude of her make you dislike her or to run away from her. If you dislike this feature of hers, you will be pleased with some other good habits within her, so create a balance.


Surely there are times when a woman goes through some conditions of bodily weakness and fatigue of the mind. Such that Allah has relieved her of some of her compulsory worships during that period; Allah has totally pardoned her from praying, and has postponed the days of fasting for her within this break to a later date until she regains her health and becomes normal in her temperament once more. Thus, during these days, treat her in a godly manner. Just as Allah has relieved her of the duties, you should also lessen your demands and instructions from her during those days.


Last but not least, know that a woman is like a captive with you. Therefore, have mercy upon her.

Translated by Abdul Rahim Edited by Mawlana Abdus Subhan

---

Austria Joins the German Reich
Video http://www.youtube.com/watch?v=t75ldUNc2Xw&feature=related

This portrayal of the 1938 union ("Anschluss") of Austria with the German Reich, includes contemporary film footage with recent English-language voiceover commentary. Runtime: 4:14 mins. For decades American officials and historians, along with the US media, have portrayed the union of Austria with the Reich as an act of "aggression" or "rape." The truth is exactly the opposite. Rarely in history has a historical event taken place with broader and more joyful popular approval.

---

Pro-India regime crushing unarmed Protestors
Legal Experts say Trial of Bangladesh Islamics is not Legitimate

LAHORE, Mar. 13: Speakers at a seminar organised by the Islamic Lawyers Movement here strongly condemned the trials of the Jamaat e Islami leaders in Bangladesh on war crimes and said that Dhaka government was pushing the country into civil war with New Delhi's blessing.

While deploring the apathy of the Pakistan government on this score, they said that if the Turkish President could write to the BD government to stop the injustice to the JI leaders, why the Pakistan President could not do that.

Those who addressed the seminar included Islamic Movement's Secretary general, Ziaud Din Ansari, Secretary, Supreme Court Bar Association, Raja Javed Iqbal,
eminent writer and columnist Orya Maqbool Jan, writer Shafiqur Rahman. And PPP's Navid Chaudhary and JI foreign wing director, Abdul Ghafaar Aziz.

Raja Javed aiqbal, in his address, underscored the need for forging unity in our ranks for making a strong call to the world community to stop the genocide in Bangladesh.

Abdul Ghaffar Aziz, in his address, said that the resignation of the War Crimes Tribunal President in itself implied that the trials were a farce meant to pave war for political genocide.

---

Our America
CAIR Snakes in the Grass Claim to be Muslims but support Kafir.

On 3/3/2013 8:26 PM, A Ahmed wrote:
Dear Community Members:

I am forwarding following email to you for your kind response to the call of MD-CAIR. It will be a great opportunity to show our community's support to the MD-CAIR that is working tirelessly for the best interests of all citizens, especially for the Muslims in Maryland, USA. For registration, please go to the link: http://md.cair.com/event/cairmd_inaugural_fundraising_banque.html

Thanks,

Anis Ahmed
Recipient, US Congressional certificate 2012

---


Asalamualaikum Commissioner Anis,
We are honored that you will be attending CAIR-MD's inaugural banquet on April 28th at Martin's Crosswinds in Greenbelt, MD. I will be forwarding your confirmation shortly.

The CAIR-MD team is planning an excellent program. Our keynote speaker will be MD Attorney General Douglas Gansler. CAIR Executive Director Br. Nihad Awad, State Senator Brian Frosh, Wajahat Ali, and Imam Johari Abdul Malik will also be speaking.

I have attached our event flyer. Please feel free to distribute to your networks. More information about our work can be found at md.cair.com. Tickets for your friends, community members, and colleagues can be purchased at http://md.cair.com/event/cairmd_inaugural_fundraising_banque.html

Our organization is committed to serving our communities' needs. We can only be as effective as our supporters allow us.

Best, Zainab
Zainab Chaudry, PharmD Vice-President, CAIR-MD

---

Pakistan
JI begins election campaign March 17. World Famous Nuclear Scientist Joins Effort.
by Anwar Sajjad.

LAHORE, Mar. 16: The Jamaat e Islami is launching its campaign for the next elections tomorrow, Sunday, with a big public meeting at Gujrat. Ameer, JI, Syed Munawar Hasan and nuclear scientist and father of the country's nuclear bomb, Dr A. Qadeer Khan, will address the opening public meeting at the Jail Chowk, in the afternoon.

The entire city has been decorated with banners, posters and flexes of the JI Ameer, Dr A.Q. Khan and JI candidates from the area.

---

Global Peace and Security: America Needs Soul Searching

Thursday, 14 March 2013 10:17 Mahboob A. Khawaja, PhD
Canada 14 march 2013. Today, the Obama administration was quick to blame Hamad Karzai- the puppet president of Afghanistan for his remarks of " America colluding with the Talaban." Talabans are not intruders but native people and political organization of Afghanistan. America and its allies are aggressors and are called occupation forces. The crucial challenge Obama faces is how to exit from Afghanistan and to cope with change and adaptability to a New Beginning that he envisaged but betrayed by conscientious compromise to ensure his own political survival. Paul Craig Roberts called him "The World's Least Powerful Man - the Obama Puppet." Obama did not pave the way to hell for the unwanted wars but found it already in place by George Bush to keep on solo walking to entrapment - the Madness of Unthinking. Obama needs people of new ideas to deal with the future. Surely, Obama administration without help from Pakistan and Iran cannot effectively disembark from Afghanistan. What a tragedy that American strategic planners are so ignorant of the facts on the ground. They always THINK BIG and get hurt and lost. American politicians failed to learn anything from the present and past. For all its wrong thinking, American politicians continue to use the false pretext of 9/11 to encroach other nations.

"The World According to Dick Cheney" documentary soon to be aired at ShowTime, Cheney admits to have lied to the American people about the 9/11 events and its threats to the US security. He narrates that "I got on the telephone with the president, who was in Florida, and told him not to be at one location where we could both be taken out." Mr. Cheney kept W.. flying aimlessly in the air on 9/11 while he and Lynn left on a helicopter for a secure undisclosed location." G. Washington ("Cheney admits that he lied about 9/11" OpenEdnews: 3/11/2013), explains how Cheney acted on his own and made conflicting statements: "When they testified together before the 9/11 Commission, W. and Mr. Cheney kept up a pretense that in a previous call, the president had authorized the vice president to give a shoot-down order if needed. But the commission found "no documentary evidence for this call....In other words, Cheney pretended that Bush had authorized a shoot-down order, but Cheney now admits that he never did. In fact, Cheney acted as if he was the president on 9/11." Cheney convinced Bush that Iraq was linked to the 9/11. Undeniably, Cheney pushed the Justice Department to claim that torture was legal and established its effective administration to victimize innocent people at Guantanmo Bay.

Politics is a game of new and creative ideas not a fixed entity or an end to itself. Those who perceive "points of no return" and scramble "red lines" indulge in self-geared acts of absurdity and can hardly relate to the contemporary informed global intellect and changing priorities of the mankind, open and flexible to change and futuristic developments. George Bush and his neo-conservatives warmongers invested heavily to make America morally, politically and financially bankrupt by waging the bogus wars on terrorism. There was a strategy in No Strategy after the 9/11 events to demonstrate to the fearful American masses that some forceful measures and foreign war engagements will be on the active Bush's agenda to protect the US security interests. The ultimate aims of the wars on terrorism were to create more terrorism and to destabilize those nations having reservoirs of untapped oil and gas resources and to crop up new markets for the American corporations to sell more arms and weapons to the oil-pumping single-minded Arab rulers.

To spotlight the cruelty of the on-going wars of terrorism for fun and enjoyment, Gordon Duff ("The Baggage of America Extremism: No Enemy, No Negotiation, Only the Dead are Real", ICH, December 16, 2009), outlines the dilemma: "We had become addicted to the "black and white" version of Bushitism to the extent that we, as a nation, have given up thought entirely. We know we can't win. Do we expect an army of angels to come down from heaven, the ones Cheney, Bush and Rumsfeld dreamed of, or are we going to start acting like a world leader again."

Obama's politics does not generate any creative enthusiasm to observers expecting rational thinking. In times of crises and adversity, he appears confused to face the facts of life and global affairs. It is not the Audacity of Hope but consequential dictate of history when nations and leaders violate the Laws of God, and challenge the limits of reason; they end-up in self defeat and destruction. If diplomacy was the foremost choice to search for feasible political accommodation, President Obama did not use it; instead he continued the Bush dictum of insanity in Iraq and Afghanistan. "Negotiations cannot convince al-Qaida's leaders to lay down their arms," in reality, there is no al-Qaeda organization operation anywhere. Even General MCrystal admitted that there are hardly less than 100 al-Qaeda operatives in Afghanistan. In his Oslo Nobel Peace Prize speech, President Obama claimed: "to say that force is sometimes necessary is not a call to cynicism, it is recognition of history." History offers a learning role that Obama could not comprehend it.

There is something fundamentally wrong with the American thought process on the War on Terrorism and the emerging conflict with Iran. David Perez ("Imagine", Information Clearing House, 02/2009), attempts to set out the humanistic concerns:

"Imagine being in a room of maimed, deformed and tortured Iraqis, Afghans and Palestinians, accompanied by widows and orphans mourning because their entire family has been exterminated. I imagine this roomful of walking dead sitting around while my friends and I discuss how "realistic" we in the U.S. must be with our electoral politics, how our expectations need to "practical," how peace is just so damn "complicated." .... imagine these victims looking at us with blank, scarred faces as we congratulate ourselves for selecting a new President who talks about "our God-given right to lead," about our duty to spread U.S.-style democracy throughout the globe, and how we are now just so "proud to be American."

America failed to learn from the despotic Europeans who fought and killed millions during the Two World Wars before settling in at the EU tables to define their religious unity and common economic and political interests. Those who conspired animosity and conducted the warmongering against the mankind of which they were a part, are long buried in graveyards and not available for accountability. Surely, they knew how to escape the dictate of history and now the futuristic European generations are pretending to be civilized after having been in the dark ages for centuries. Recently, one 111 years old British soldier - the last remaining WW1 British veteran made it clear before dying (BBC, 10/2009), "we don't know why we fought and killed other fellow human beings. Wars do not seem to solve any problem." One wonders, why human beings fight with their fellow human beings. Edward Glover (War, Sadism and Pacifism) noted: "human beings fight because they are afraid, afraid that worse will happen to them if they do not... to pugnacity and hatred, we must add fear."

Could we - the rational human beings, take notice of the continued insanity and help to stop its overwhelming convergence to safeguard the future generations from the scourge of wars? This was the role and responsibility of the creations of the UNO, the Security Council and other institutionalized systems to make the humanity safe and secure. Perhaps the human nature is at least part wicked and in part foolish, not realizing the consequences of actions of the few war lords of the world, C.E.M Joad wonders, "the pacifist's question becomes, how can human beings be prevented from suffering from the results of their wickedness and folly?" C.E.M Joad (Guide to Modern Wickedness), makes the obvious facts abundantly clear that war diminishes happiness and lowers morality....and that men simply do not see that war is foolish and useless and wicked. Now as President Obama claimed that it is necessary and wise and honorable. The bigger question may be asked: how can we induce other leaders to perceive their error of perception and judgment and to make them realize the truth that wars are wrong, and those waging the wars are not peacemakers but wicked enemies of the humanity and certainly not suitable to be prized for wars but to be held accountable for the death and destruction of millions of the fellow human beings.

David Perez ("Imagine", Information Clearing House, 02/2009), attempts to recall the forgotten consequences - the untold sufferings and agony of the civilian victim population of the War on Terrorism in Iraq, Afghanistan and Pakistan, and how do they reason the unreason in a language of silence:

"Imagine these charred visitors with missing limbs bowing their heads and wondering if they should somehow envy us for always finding a way to celebrate and party and bask in our entertainment-soaked culture - even when it comes to our "handsome" President being sworn in at the same time their homes were being incinerated, courtesy of our state-of-the-art weaponry. Perhaps these "unfortunate" sufferers will understand that we can't prosecute our own war criminals, because, you see, we simply "have to move on." And maybe they'll understand that not one U.S. leader has ever - ever - called our bombings and invasions a terrorist act.........May be they'll understand us when we shake our heads and say, "Well, this is just how politics work here. Sure it's corrupt but, hell, what can we do?"

"I face the world as it is," President Obama explained at the Oslo Nobel Peace Award ceremony (December 10, 2009), but refusing to renounce the war for his nation or under his leadership, saying that he is obliged to protect and defend the United States. But Obama misled the informed and conscientious global intellect as no nation is threatening the American people or their security. "No matter how justified, war promises human tragedy", he said. Norman Soloman "Mr President War is not Peace", Commondreams: 12/10/2009), questions the intent and eloquence of Obama's speech and strikes a warning note:

"War is not peace. It never has been. It never will be.......in the name of pragmatism, Obama spoke of "the world as it is" and threw a cloak of justification over the grisly escalation in Afghanistan by insisting that "war is sometimes necessary" -- but generalities do nothing to mitigate the horrors of war being endured by others."

America's political elite so often remembers Dr. Martin Luther King, Jr. to fill the moral and intellectual blanks but neglects his advice: "The chain reaction of evil... wars producing more wars... must be broken, or we shall be plunged into the dark abyss of annihilation." In a war propelled economy of the few, and given the US history of wars for more than 220 battlefield engagements in its two centuries of evolutionary history and the perpetuated insanity of the warlords to make more wars, Mike Prysner ("Amazing speech by an Iraq war veteran": 12/25/2009), an Iraqi War veteran has these daring observations to share with the informed and concerned humanity:

"Our real enemy is not the ones living in a distant land whose names or policies we don't understand; The real enemy is a system that wages war when it's profitable, the CEOs who lay us off our jobs when it's profitable, the Insurance Companies who deny us Health care when it's profitable, the Banks who take away our homes when it's profitable. Our enemies are not several hundred thousands away. They are right here in front of us."

To reconstruct a different and more sustainable future for the besieged humanity, it is incumbent upon the intellectuals, academics, visionaries, poets, philosophers and the thinking people of the Universe to perceive and articulate new and creative ideas, new political imagination for the 21st century organizations to be functional for the people, by the people and accountable to the supremacy of the people's will.

The 21st century's new age and opportunities for peace and global unity of the mankind warrant New Thinking, New Leaders and New Visions for change and the future-making. But change and creativity and new visions will not emerge out of the obsolete, redundant and failed authoritarianism of the few insane leaders. A reflection on the on-going wars and resulting destructions in Iraq, Afghanistan, Pakistan, To challenge the deafening silence of the global warlords for sustainable global peace and security, the mankind must find ways and means to look beyond the obvious and dreadful horizons dominated by the few warlords and continued to be plagued with massacres, barbarity against human culture and civilizations, destruction of the habitats and natural environment as if there were no rational being and people of Reason populating the God-given splendid and evolving Universe. The informed and politically conscientious global community looks toward those thinkers, educated politicians and honest proactive leaders enriched with coherent unity of moral, spiritual and intellectual visions and abilities to be instrumental to rescue it from the planned encroachment of the few Western warlords actively supporting politics of War Economy against the mankind.

(Dr. Mahboob A. Khawaja specializes in global security, peace and conflict resolution with keen interests in Islamic-Western comparative cultures and civilizations, and author of several publications including the latest: Global Peace and Conflict Management: Man and Humanity in Search of New Thinking. Lambert Publishing Germany-May,2012)



2013-03-17 Sun 16:11:29 cdt
NewTrendMag.org