NewTrendMag.org News # 1487

[ Click on NEWS for back issues ][ OUR BOOKS ][ Previous Issue ]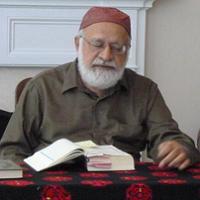 Rabi' al-Thani 26, 1434/March 9, 2013 # 10

---

Sectarianism Buster
Think about it:
A note from Kaukab Siddique

Ali, r.a., gave his daughter, Umm Kulthum, in marriage to Umar, r.a.
She turned out to be a great First Lady. She loved Umar, r.a., and cried uncontrollably when he was assassinated.

Ali and Umar were great friends. The Shi'ite sectarians say they were enemies.
See more in the next issue.

---

Islamic Marriages:
Congratulations to Br. Salim Muhammad and the hijabi sister who married him. [Baltimore]

Congratulations to Br. Ali Randall and the hijabi sister who married him. [Richmond, Virginia,]

---

3-day Conference at Columbus State Community College, Ohio

A Second Look at Lucasville Uprising Southern Ohio Correctional Facility: April 19-21

On April 19-21, 2013, there will be a conference to commemorate the 1993 Lucasville Prison uprising's 20th anniversary. The conference will examine the causes, effects, and specific particulars of the 1993 rebellion. The following prisoners will, inshallah, discuss these issues.

Siddique Abdullah Hasan, Keith Lamar, Jason Robb, Greg Curry and George Skatzes. To reach them in the conference, please call their outside supporters:
Staughton Lynd: Phone: 330-652-9635. Email: salynd@aol.com
Richard Kerger: Phone: 419-255-5990. Email: rkerger@kergerlaw.com
Niki Schwartz. Phone: 216-696-7100. Emaill: NSCHWARTZ@SPLDA.COM

---

Outreach
Jamaat al-Muslimeen Literature given to 100 Sleepy Muslims

March 8, 2013: After Juma prayers at Masjid Rahma [known as ISB] in western Baltimore, JAM literature was given to 100 Muslims. It was a 7 page document including:

Fraud charges against the "imam" of Ground Zero mosque: "Imam" was supported by ICNA-ISNA.


Br. Kaukab's Khutba on Taghoot [rejection of authority other than that of Allah].


News on the upcoming JAM shoora on April 6.


Pro-India Bangladesh regime oppressing Islamic scholars & the protest rallies of Bangla Islamics.


[This is known as the "sleepy" masjid because its leadership has nothing to say about anything concerning the suffering of the ummah.]

---

Baltimore Journalist's Case: Black activist MacArthur will be in court on March 11

Nadrat Siddique reports that James MaCarthur will be in court on March 11 at 9.30 AM.

He was targeted after he started observing police actions against local people and broadcasting them on his live radio program.

Be on time. It will be brief:

Courthouse West, Lexington & St. Paul St., Room 420, Baltimore, MD 21202

---

Breaking news:
In Bangladesh, police forces have killed more than 70 unarmed protestors in ONE DAY. Barrister Nazir Ahmed, a Bangladeshi intellectual living in England, points out the abyss of political disaster which is facing Bangladesh. He also introduces Moulana Syedee who has been sentenced to death by the pro-India tribunal installed by the Hasina regime. The death sentence brought protestors into the streets in a dozen Bangladeshi cities. Syedee is not only Jamaate Islami leader but also popular among many sectors of Bangla people. Long article but brilliant. Don't miss this. Scroll to end.

---

[Editor's note: Pakistani army and Zardari regime are silent about the suffering of protestors in Bangladesh. Bangla Islamic leaders are being scapegoated for the atrocities which Pakistan army committed. Bangla Islamics wanted united Pakistan. Why is Pakistan behaving as if it has nothing to do with it? This is disgraceful behavior of General Kayani who is doing another "Bangladesh" in the northern areas of Pakistan.] [In 1974, a tripartite agreement absolved Pakistani troops of all that they did in East Pakistan.]

---

Breaking news #2:
Syria:
Islamics capture Raqqa and Sefira. Assad's tank column knocked out. Syrians Ambushed in Iraq

March 9. After 3 days of heavy fighting, mujahideen wrested the provincial capital of Raqqa. Among those captured is the Assad appointee Governor Hasan Jalili and the provincial Ba'ath party leader Suleiman. Assad's air force is bombing the city, attempting to force the Islamics to leave. [Daily Telegraph report.]

An Assad tank column trying to enter Aleppo via Sefira met heavy resistance from Syrian mujahideen of al-Nusra and Ahrar al-Sham. Also in action were mujahideen from Saudi Arabia, Iraq and other countries. The entire tank column was destroyed. It's an area packed with refugees and Assad's air force [Alawite] pilots are bombing the area indiscriminately, causing heavy civilian casualties. [Based on detailed BBC report.]

March 5. On the north eastern border of Syria with Iraq, known as Yaarabiya, Assad's military units retreated into Iraq. The Iraqi police organized by US installed regime of al-Maliki, escorted the Syrians down the border to take them to a border point controlled by Assad's men. On the way, the convoy was ambushed by fighters from Al-Qaeda in Iraq . Nine escorting Iraqi police and 42 of Assad's troops were killed.

---

Breaking news #3
Pakistani air force attacks Islamics.

March 8: Pakistani jet fighters attacked Islamic villages in Khyber area's Tirah valley as well as in Orakzai tribal agency. Eleven Muslims were killed ["suspected" militants says Dawn paper] in Orakzai and three in Tirah.

[Pakistan's Jamaate Islami leader Munawar Hasan visited Turkey. Erdogan is winning the hearts and souls of Muslims owing to support for Syria and Burmese Muslims and criticism of Israel. On his return, Munawar condemned state terrorism against Islamics in Bangladesh and urged worldwide condemnation of oppression of Bangla Islamics.]

---

Breaking news #4:
Nigeria: Military on rampage. Hostages Killed. Hostages Taken.

On March 9, Nigerian military attacked unarmed Islamic people "suspected" of supporting Boko Haram in the northern city of Maiduguri. Twenty Muslims were killed by the Nigerian forces. Some Muslims resisted and killed 2 Nigerian troops.

March 8: A group known as Ansaru killed 7 hostages, three Europeans and 4 Lebanese Christians, when they saw a Nigerian military force coming to rescue the hostages. The Ansaru wanted Muslim prisoners to be exchanged for the hostages.

March 5: In retaliation for the French invasion of Mali and the torture and killing of Malian women and children by the French, a group in northern Cameroon [allegedly Boko Haram] captured 7 French tourists and took them across the border into Nigeria. Three of them are children.

---

Obituary by Kaukab Siddique.
Farewell Commandante Hugo Chavez. Long Live Venezuela.

March 9: Millions of people said farewell to Hugo Chavez today. He used the wealth of Venezuela to help the poor and the downtrodden. Even is his death he defeated US imperialism and Zionism. The South American leaders were there. The President of Iran Ahmedinejad was there.
Sitting here in the USA, it's almost impossible for us to know, unless we do research, that the world is very different from what Obama and Schumer and McCain and O'reilly tell us.
Think of the ridiculous caricature of Chavez which was always presented to the American people.
We were never told that Chavez was a follower of Jesus, pbuh. Just because he distributed wealth, the label of "socialist" was put on him as if that is something bad.
Muslims can never forget when at the height of the "war on terror" Bush was bombing Muslim countries, Chavez, from the podium of the UN, compared Bush to the devil from hell. Bush had spoken from the same podium and Chavez said he could smell the sulfur of hell fire there and crossed himself to drive away el diablo.
Our best wishes go out to the people of Venezuela. As long as the masses are awake, imperialism will never win, inshallah.

---

Our America: Osama bin Laden's son-in-law being tried for conspiracy
Hitler Did not Put US Air Men on trial for bombing the cathedral of Cologne or British pilots for Fire Bombing the entire city Hamburg.
Why Should Islamic Enemies of America be tried as criminals?

March 8: Abu Ghaith, who we are told is Shaykh Osama's son-in-law, was brought to court today to be tried for "conspiracy." Is it a conspiracy to hail the destruction of America's high value Twin Towers and the Pentagon by 19 young men who used American aircraft, not their own weapons, to do it?

There are millions of people in the Muslim world who saw the 9.11 attacks as retaliation for US support of Israel, US bases in the Islamic countries and the sanctions on Iraq which brought slow death to 1,000,000 Iraqis including large numbers of children. Why just Abu Ghaith? Why not bring ship loads of Muslims from the east and put them on trial in New York? At the height of Osama's global uprising against America, his favorable ratings were 75 to 95% in Pakistan, Turkey, Jordan, Nigeria, Egypt and Saudi Arabia. Only Iran hated him because he was rivaling Imam Khomeini's popularity.
Should the Muslim world put Bush, Clinton, Israeli leaders and Madeleine Albright on trial for conspiracy to kill millions of Muslims? Madeleine Albright infamously said that the slow death of ONE MILLION Iraqis was "worth it."
If our Drone Master is right that the backbone of al-Qaida has been broken, what's the point of these show trials which keep popping up in New York? We should be sorry for the families of those who died on 9.11 and for the families of those massacred by the US in Iraq, Afghanistan, Pakistan, Yemen and Somalia. Behind all this suffering are the Zionist Jews who have occupied Palestine.

---

Joe Biden Reaffirms 'Unequivocal' US Backing For Israel

EJP

http://www.ejpress.org/article/65321

US Vice President Joe Biden opened the second day of the annual conference by the America Israel Public Affairs Committee (AIPAC) Monday, as he insisted that "there is only one nation -- only one nation in the world that has unequivocally, without hesitation and consistently confronted the efforts to delegitimise Israel." ... "I've served with eight Presidents of the United States of America, and I can assure you, unequivocally, no President has done as much to physically secure the State of Israel as President Barack Obama," he emphasised.

---

War News
[Student captured by US Special forces beheaded.] Even US ally Karzai was shocked and demanded US withdrawal from Wardak province on the outskirts of Kabul.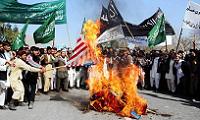 March 4, 2013. Afghans in Jalalabad burning US flag after news spread that an Afghan student captured by US Special Forces in Wardak province had been found beheaded with his fingers sliced. US has issued a long winded denial which on the one hand accuses the youth of being a "Taliban facilitator" and on the other says: "We didn't do it." [Source Los Angeles Times.]

---

Afghanistan War News

Breaking News: March 9: Taliban attacked Karzai's Defense Ministry while Chuck Hagel, US Sec of Defense, was there. Nine people working for the ministry were killed sand 12 wounded.

March 6: Taliban raiders struck Afghan army units installed by the US in Badakhshan province killing 17 troops. The Taliban also captured some of the troops and used them to get their own prisoners released in exchange. A large arsenal of weapons and ammunition was seized by the Taliban. [Source: Agence France Press and Gulf News.]
[Badakhshan, in north eastern Afghanistan is a stronghold of Northern Alliance which supports the US.]

March 7: In a raid on Karzai's police forces in Farah province [western Afghanistan], Taliban raiders killed 3 police officers and wounded 9.

Women can do it too:

March 8: Tonya Long, a female US soldier has been arrested in her home base in Fayetteville for smuggling $1 million from Afghanistan in CASH hidden in cases of emptied video cassette recorders. " According to the Daily Mail, Long -- also known as Tonya Long Keebaugh -- spent nearly $500,000 on gifts for her family, which included an 18-wheeled tractor-trailer, a car, a vacation and plastic surgery." [Source: Fayetteville Observer.]

If you put them all in prison, you can proclaim that there is no one opposed to you:

March 9: Sudden stoppage to the US transferring 3,000 Afghans being held in the notorious Bagram prison outside Kabul, to Karzai's custody. Karzai has admitted that his forces with the US are involved in systematic torture of opponents. [Source: Pak Tribune.] [Many of the torturers are Hazara Shias working for Karzai and their familities are under attack in Pakistan.]

---

With thanks to Mohommed Basirul Haq [facebook], Dhaka, Bangladesh.
Bangladesh is heading towards a dangerous destination
Barrister Nazir Ahmed

I have divided my paper into three parts. Firstly, I aim to discuss whether it is safe and conscionable to authorise normal Police Constables to take public lives by open shooting/firing. Secondly, I will briefly discuss on the 'yellow journalism' that has been widely practised by most of the media in Ba...ngladesh. Thirdly: I will bring some facts and points in relation to Moulana Saydee for conscious citizens to think and consider. Towards the end, I will draw some conclusions.

Killing public by Police through direct shooting/firing Taking life is the highest punishment [capital punishment] that one can be given. Police in Bangladesh have been openly firing and killing people indiscriminately and mercilessly. People have every right to demonstrate. This is their fundamental and constitutional rights [Article 37, 38 and 39 of the Constitution]. If they break any law, they have to be dealt with in accordance with law, nothing but only in accordance with law. How can a mere Police Constable get free licence to kill mass people [equivalent to executing the 'death penalty'] by direct firing/shooting? How can the Police Constables be given approval to give the general public highest punishment - taking their life, which even no Judges below Additional District Judges rank/level are given, and again not without High Court's approval and, of course, not before exhausting automatic appeal right to the Appellate Division of the Supreme Court of Bangladesh [Article 103(2)(c) of the Constitution]? This is a dangerous precedent set by the current government. Is it the way and method of controlling people's democratic rights? In the widespread riots in London in 2010, not a single bullet came from the Police's gun, let alone killing an individual. Yet they successfully contained and then controlled the widespread riots. Legally, an officer with Magistrate rank would have to authorise firing/shooting. There has been no such authorisation. Even if the Police are attacked, they can act in self defence but that self defence would have to be measured and proportionate. What we have seen on last Thursday (28 February 2013) is unprecedented in the 42 years history of independent Bangladesh. More than 70 people were brutally killed and more than 1000 were seriously injured by the Police in a single day in open shooting/firing. Death tolls have been rising. There has been not a single report that the Police were attacked by any weapon or gun. The Police have been killing mercilessly by direct shooting/firing for the last few weeks. Last Thursday was unprecedented in terms of number of death. Not a single inquiry has so far been set up for such barbaric killing and atrocity. Human lives have appeared to be very cheap in Bangladesh. The former Prime Minister Begum Khaleda Zia rightly said in a press conference on 02 March 2013 that this was a mass killing/genocide - crime against humanity. She has already shown her firmness and boldness. She should come out and take the lead by proving her uncompromising unique leadership that she had shown in the 1980s. Concerned Police Officers with their commanding officers, both civilian and uniformed, including the Home Minister and Prime Minister must be held into account. A list of the concerned Police Constables should be made and kept so that specific murder charges can be brought against them in appropriate time to secure exemplary punishment.

Yellow journalism Media is the reflective mirror of a nation. In fact, it is the fourth pillar of the democracy. Through true, honest and objective reporting, the media and journalists play a greater role in a democratic country. Unfortunately, most of the print and electronic media in Bangladesh are biased, partial and keeping their blind eyes on what has exactly been happening. Most of their reporting is either one sided or false or concocted. These have made the matters worse. They appear to be over curious and over anxious to blame Jamaat-Shibir for all incidents, attacks and provocations. Almost 95% people killed in the last few days are of Jamat-Shibir and general public. They were almost all killed by direct indiscriminate shooting/firing of the Police. Most media have failed to report properly. As a result, true pictures have not been coming from up and down the country. The time of calling 'yellow journalism' has probably gone. In fact, what the most of the media are doing in Bangladesh can now be called 'media terrorism.' Moulana Delawar Hussain Saydee has millions of supporters, sympathisers and well wishers around the country beyond the party line. Those general public have been showing their spontaneous outburst and reaction since last Thursday. Most of the media have been reporting these as of Jammat-Shibir's terrorism. These have escalated the current situation and put the country into the barge of civil war. The country's situation has been getting worse day by day. The media, through their one sided and partial news/reporting instead of true and objective ones, have been harming and misleading the nation at this critical stage more than anything else. The nation should be united against these yellow and syndicate journalism of most of the print and electronic media.

Moulana Saydee: some points for conscious citizens to think and consider Moulana Delawar Hussain Saydee is an exceptional God gifted orator having a unique ability to convince the people regardless of their education, class, profession and background. He is the most living popular personality [legendary] in the Islamic arena in Bangladesh - perhaps even more popular than Sheikh Hasina and Begum Khaleda Zia, both former and current Prime Ministers. Sheikh Hasina has, no doubt, popularity in her own party and so does Begum Khalida Zia. But, hardly Sheikh Hasina has any popularity in the Bangladesh Nationalist Party (BNP) and similarly Begum Khaleda Zia hardly has any popularity in the Awwami League (AL). The true exception is Moulana Saydee. No doubt, he is a Jammat leader. But this is not his one or only identity. Outside Jammat-Shibir arena, he has huge popularity and supporters both in the AL and BNP. He has hundreds of thousands of supporters and sympathisers in the armed forces, civil service and private and voluntary sectors. Not only this, beyond political boundaries, Moulana Sayedee has millions of supporters and followers among the mass people in the rural and urban areas. He has sympathisers and well wishers around the globe. Arrange two meetings nearby, one with Moulana Saydee as the Chief Guest and the other one with Sheikh Hasina as the Chief Guest, and you can compare their respective popularity with public attendance/turn out. It was proved in London around 20 years ago. Public meetings of Moulana Saydee [not waj mahfil] and eminent lawyer Dr Kamal Hossain were held nearby in the East London at the same time: one in York Hall and the other one in Osmani School. The writer had seen and compared the both meetings. Dr Kamal's public meeting was attended by maximum 100 people, whereas more than 3000 people attended at Moulana Saydee's meeting. Having a public meeting with more than 3000 expatriate Bangladeshis in London 20 years ago was really exceptional and uncommon.

Deep public reaction and giving/sacrificing lives in the last few days in Bangladesh clearly show Moulana Saydee's unique popularity. Unfortunately, this has been reported by most of the media to have been done by the Jamaat-Shibir. We have lost our two Presidents in the past in the most barbaric and cruel ways. Have the mass public shown any reaction like this? More particularly, would the people of around 100 have been prepared to give their lives with almost laughing face for their leaders? Would the honourable Prime Minister find 100 people in her own party who would be able to really give/sacrifice their life for her? The government must realise this. The government must understand people's pulses, nerves and sensitivities before it is too late. The country is heading towards an unimaginable dangerous destination.

Moulana Saydee said time and again that he was not a razarak [a member of the auxiliary forces created by the Pakistan government during the 1971] nor was he involved in any political party in 1971. This was believed by the International Crimes Tribunal (ICT). He also said that he was not known by any other name. Now all the conscious people wonder whether he has been made a sacrificial lamb due to his unique popularity and political reason. Have all responsibilities and culpabilities of Diluwar Sikdar also known as Dilu or Dailla, a known razakar who was killed after the independence, been shifted and transferred to Moulana Delawar Hussain Saydee's shoulder? This is a serious question that needs to be answered fully and properly.

One injustice creates multiple injustices. Miscarriage of justice happened even in the developed country like the UK [for example, Birmingham 6, Tottenham 3 and Guildford 4]. In a volatile, politicised [of all sectors including the judiciary], divisive [along political line] and hostile [for vengeance and retaliation] country, injustice may easily be inflicted. If apparent injustice is inflicted to a personality, through conspiracy and drama, who has preached the message of Quran [Holy book of Allah Almighty] for nearly five decades and if all human beings are failed to stop this injustice, I fear that divine intervention from Almighty God may come, the wrath from which no one can escape. The whole history of the mankind has seen many of such intervention in the past.

Conclusion Democratically elected leader can be a Monster. Hitler is the best example: he was democratically elected and what he then became the world knows it very well. Police brutality and government's techniques for restraining public by killing through direct shooting have crossed the boundary. Killing an innocent person has been said to mean as if killing the entire humanity. A well known great philosopher said "an injustice to an individual threatens justice to entire humanity." Therefore, the expatriate Bangladeshi, British Bangladeshi and international community should come forward to raise their voice and put pressure on the government of Bangladesh to behave with its citizens in accordance with law and Constitution. The government should be pressured to stop police brutality and respect mass people's constitutional rights. Instability, civil unrest and possible civil war of a nation with 160 million people must not be taken lightly, for civil war in Bangladesh could destabilise the whole region which, in turn, affect the entire world in one way or other.

Barrister Nazir Ahmed is a legal expert, analyst, writer and author.

**This paper was presented as a Key Note paper at an International Seminar on "BANGLADESH TOWARDS A CIVIL WAR" organised by the Association of Islamic Teachers (AIT), UK, held at Water Lilly in London on 05 March 2013.



2013-03-10 Sun 15:56:48 cdt
NewTrendMag.org