NewTrendMag.org News # 1477

[ Click on NEWS for back issues ][ OUR BOOKS ][ Previous Issue ]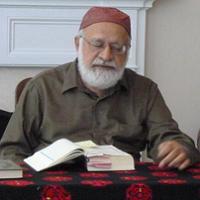 Safar 15, 1434/December 29, 2012 # 57

---

Special treat: Top Ten Idiots of the year: Scroll to the end.

---

O Canada: Let my people go!
Why should Momin Khawaja be sentenced to life in prison for victimless, non-violent "crime."

Dear readers of New Trend, asalamu alaikum
Don't let Canada's rulers get away with punishing an Islamic man for "thought crimes."
Please take a few minutes and write to the Chief Justice of Canada. Here are the main points.


What rational or justifiable criteria is implied to deliver an exceptionally harsh and unfair sentence to Momin Khawaja? The original sentence of 10.5 yrs was increased to a life plus 24 years consecutively to be served with 10 years for parole. The final judgment lacked any evidence-based reasoning to substantiate the conclusion.


It is clearly a political and religiously indoctrinated sentence with perpetuated animosity towards Muslims.



Momin was not considered for double credits of the time seved (9 years) as it is applicable to all inmates under the law and justice system.


The defense team is not sure if he will be allowed even for parole by the same courts and unfair system.


The writer should ask the Chief Justice ( politely and logically) to review the case and to deliver justice based on the merits of the case. Surely, public concerns will have impact. The chief justice (she) is a former academic and lawyer from British Columbia province.

Her address is as follows:
Right Honorable Beverley McLachlin, P.C.. Chief Justice, Supreme Court of Canada.
301 Wellington Street, Ottawa, Ontario K1A 0J1, Canada. Phone: 613-995-4330. Fax: 613-941-5817

---

Baltimore, Maryland
Black Journalist MacArthur denied Bail: He wanted to stop Police Brutalities.

On December 28, James MacArthur, a well known independent journalist was denied bail by the government. The judge took only a few minutes to deny the plea for bail. According to Br. David Wiggins, leader of the Black Think Tank in Baltimore, and Nadrat Siddique, Jamaat al-Muslimeen activist, it looks like MacArthur is being framed. The hearing was held at 8.30 in the morning, making it difficult for working class supporters to come to the court to show support for MacArthur. Despite that, 15 people turned up.
The reporter from Fox 45 was there and while interviewing Nadrat Siddique expressed shock at the way the police was treating a journalist. He will not be allowed any visitors for 60 days though he has committed no crime and as his community support shows, he is not going to run away somewhere.
It appears that more protests and rallies are planned for supporting MacArthur.
Police brutalities against Black people have become common across America. MacArthur's idea was to videotape policemen when they stopped people of color.
Photo below shows some of the protestors in front of the jail where MacArthur is being held.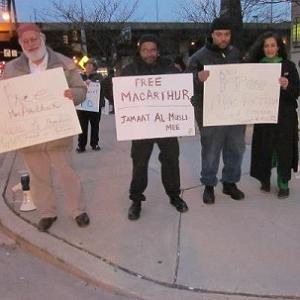 ---

New Trend's MAN OF THE YEAR:
Dr. Mohammed Morsi, President of Egypt elected by popular vote. Dr. Morsi has stepped into a situation of great difficulty. He moved against the military commanders in a very clever way. He has defeated both the supporters of Hosni Mubarak who have garnered great wealth and influence over 30 years of dictatorship and the westernized liberals and seculars and Copts allied to the West who were able to flourish because Mubarak suppressed the Islamic groups led by Dr. Omar Abdel Rahman and Dr. Ayman al-Zawahiri with great ferocity and brutality. The Constitution which Dr. Morsi presented gained 64% support. It is certainly far below the Islamic aspirations of the Egyptian people but it is the best which could be done in the circumstances.
Dr. Morsi has foiled American moves without antagonizing America. In fact the main man of the West Al-Baradei, who is more brainwashed than Mubarak, has been soundly defeated in his attempts to disrupt Dr. Morsi's efforts. There are Islamically weak elements within the Muslim Brotherhood who will be much more of a problem for Dr. Morsi than al-Baradei.
Dr. Morsi will be really tested when he will try to break Egypt's chains linked to Israel. Let's see if he can do it.
For the time being, Congratulations Dr. Morsi.

---

New Trend's WOMAN OF the YEAR.
Dr. Rukhsana Jabeen, Secretary General of Jamaate Islami Pakistan's Women's Wing.
Dr. Jabeen believes that authority and guidance comes from Allah Almighty. She has steeped herself in the ethos of Islam. She is extremely outgoing, working constantly for the betterment of humanity in general and women in particular. She leads an organization which carries on unpublicized work to help oppressed women in Pakistan. At the same time she and her associates are in contact with women's organizatons throughout the world. She stands against Imperialism, Zionism and tyranny of all kinds.
With her complete hijab, Dr. Jabeen rejects the western concepts of womanhood. She believes that Islam has its own context. Through a peaceful, moral, revolution, Islam has come to defeat oppression and exploitation.
Let's look at a summary of the work Dr. Jabeen is doing through Jamaate Islami's women's wing.

In Pakistan, due to the incompetence of its rulers, justice is still out of reach for the common man. Even after 65 years of independence, justice here is often so much delayed that many times its whole purpose is lost. Even when justice is available, it is so costly that the common man cannot cover its expenses. In the country millions of people are waiting for justice in jails. The situation of women in this context is so bad that their plight could only be called a condition of the greatest brutality. Particularly the poor women are absolutely helpless. In this scenario, Jamaat-e-Islami Women's Wing has established a separate department for helping the women apprehended by law under different allegations. Many branches of the department are active in the bigger cities of the country. Last year this department took part in the proceedings of 2000 cases. Out of these, verdicts were made in 1500 cases. As a result of these hearings, 200 women were granted bail, the department spent 1.5 million rupees under the head of fine and bail for helpless and poor women. This department also works for the medical treatment of thousands of women and endeavors for providing jobs to them. For the purpose, three centres of handicrafts have been set up.

---

A Christian leader opposes bigotry and war and brings misled followers of big churches to the Path of Jesus, peace be on him. Please scroll to end for this insightful article written by a true friend of Muslims.

---

Women's Rights
December 28: New Delhi, India: The 23 year old woman gang raped by 6 Hindu youths has died in Singapore where she was sent for treatment. After daily demonstrations by hundreds of protestors, resulting in clashes with the police, the Indian government has promised to implement laws against rape more strictly. [Some of the protests are led by Muslim women in support of their sisters-in-humanity Hindu women.] The degradation of women in India is fed by the Indian movie industry, which is second only to Hollywood. This anti-woman movie garbage has also been exported to Pakistan and the Middle East.
India's traditions of non-marriage of widows, suttee [burning alive of widows], prostitution in temples, "accidental" death of brides who don't bring enough dowry, female infanticide/abortion, are so deeply embedded in the Hindu religion that respect for women as equals is not possible. Women are embracing Islam in growing numbers.

---

Italian women in very large numbers are victims of domestic violence, a report from Italy indicates. Italian politicians have mistresses. Every THIRD house wife is severely mistreated.

---

In the US, victims of domestic violence from among Muslims [and some non-Muslims] are cared for by Baitul Salaam in Atlanta. Georgia, led by Sis. Hadayai Majeed, and in Baltimore by Al-Mumtahinah Home led by Sis. Nadia McCintosh.

---

Book Received
A Blockbuster study of Pakistani Secularism.

Secularism: Mubahis wa Mughaltey [Secularism; Debates and Misconceptions] by Tariq Jan, published in 2012, 643 pages. It's in the Urdu language. We'll publish some of the most important points. Urdu readers should buy it and introduce it. Available for Rs. 880 or $20 from: 12 Mujahid Plaza, Second floor, Blue Area, Islamabad, Pakistan. Phone: 92-51-2803096.

---

Breaking News:
Iraq: December 28. After Juma' prayers, there were rallies in all Sunni majority cities against the Maliki regime installed in Bagdad by the US. More than 60,000 people have blocked the Ramadi-Fallujah highway. They burned the Iranian flag and chanted slogans against al-Maliki's Iran connection. In the western parts of Anbar province Islamic groups known as al-Qaida have regrouped and are connected to the uprising in Syria. [News summarized from Reuters report.] [Last month New Trend got a report that 3,000 US have returned to Iraq to shore up the Maliki regime.]

---

Breaking news #2.
December 28: The Pakistani Taliban have offered cease fire to the Pakistani government if it implements Islamic law and cuts off relations with the US. The regime angrily dismissed the Pak Taliban offer.
December 27: Pak Taliban raided three Pakistani check posts guarding the strategic city of of Peshawar. They captured and took away 21 Pakistani paramilitary troopers after killing two in their late night attack.
December 25: A human bomber sent by the Pak Taliban blew up and killed Bilour and 8 of his closest supporters at a public meeting in Peshawar. Bilour headed the ANP movement of secular Pashtuns who are working with the military to defeat the Pak Taliban. ANP denies Pakistan's Islamic roots and wants a secular Pakistan.

---

Breaking News #3:
December 28: Afghanistan's emirate led by top Taliban leader Mullah Umar has distributed a video which shows the bombing of Afghanistan by long range US aircraft carrying block buster bombs. The video shows very big explosions in Taliban territory. The message on the video in Pashtu with English dubbing says that the Islamics have survived the worst the US could do and will continue the struggle till victory. It categorically debunks western news reports that the Taliban are talking to the US and Karzai directly or indirectly. It says, the Taliban will not deviate from their objective of an Islamic state and the expulsion of US and NATO troops. The video is framed in recitation of verses from the Qur'an. There is absolutely no question of secret talks, it concludes.

---
Our America: Outreach and Da'wah by Jamaat al-Muslimeen
December 28. Ambridge, Pennsylvania: Imam Badi Ali's Spotlights on Egypt, Br. Kaukab's khutba on Asma, r.a. [binte Abu Bakar, r.a.,] and news of Syrian upsurge were given to 30 people, mostly from Gulf and Egypt.


December 21: Newark, Delaware: Jamaat al-Muslimeen literature was given to 100 Muslims after Juma's, mostly Pakistanis and Arabs with a handful of African Americans. The literature included intro on two top Muslim Americans, Dr. Abdulalim Shabazz and Dr. Teepu Siddique. Also included were Imam Badi's Spotlights on Egypt, Br. Kaukab's khutba on Asama, r.a., and media report on Zionist support for homosexuality.


December 14: White Marsh, Maryland. After Juma, thirty people, African Americans and Arabs, were given, as a special gift, DVD of Dr. Kaukab Siddique's presentation on Hadith and Women produced in Augusta, Georgis and copied by a supporter.


December 14: Abingdon, Maryland. A very small mosque. After Juma, 20 people were gifted with Dr. Kaukab's DVD on Hadith and Women [his speech in Augusta, Georgia]

---

Three Massive Crowds in Pakistan.

A Feudal Crowd on the Anniversary of Benazir Bhutto.

December 27: A very large crowd, tens of thousands, gathered in Larkana [Sindh province] to venerate Benazir Bhutto. The main speech was by Bilawal Bhutto, Benazir's son who arrived from London. He vowed to fight against the Islamics, calling them "militants" and "terrorists." He said he would not give up on Pakistan and would bring "democracy."
The massive crowd was largely from feudal estates in Sindh. President Zardari, Benazir'ds widower was center stage, along with a whole array of secularists and pro-West elements.
President Zardari spoke at length about "democracy." He left out the fact that his regime is the most corrupt in Pakistan's history.
At Benazir's grave, women were beating their chests and wailing as if she had just been killed!
The gathering was highly publicized by BBC along with a strongly pro-Bhutto interview with the ambassador of Pakistan in UK.

---

An Islamic Crowd on the Funeral of Prof. Ghafoor Ahmad: More than 100,000 people

December 27: Pakistan's Geo TV and ARY TV showed clips of Karachi's people who came to the funeral prayers for Prof. Ghafoor, Deputy Ameer of Jamaate Islami who passed away at the age of 84. The crowd was massive, filling up New M.A., Jinnah Road to the horizon. An estimated 100,000 and more people were there.
Prof. Ghafoor, a prominent student of Maulana Maudoodi, spent 62 years of his life in the peaceful struggle waged by Jamaate Islami to shape and formulate Pakistan's Islamic core. He is famous for his soft spoken attitude and civility towards enemies. He was a part of successive anti-dictatorship movements in Pakistan and helped to negotiate the Islamic aspects of the Constitution of 1973.
The funeral prayers were led by Ameer of Jamaate Islami, Syed Munawar Hasan. All Islamic schools of thought, both Shi'a and Sunni were in the crowd, as were radicals like Hafiz Saeed of Jamat ud-Dawa and Maulana Sami-ul Haq of Jamiat Ulema-e-Islam.

---

Pakistan: from our Urdu language media observers.
A bought crowd. Pakistan's new "savior." Tahir Qadri : Who is behind this religious clown?

On December 25, a huge crowd gathered in Lahore to hail Tahir al-Qadri as the new leader. Pakistan's power structure spent countless millions of dollars to bring tens of thousands of people from all over Pakistan to Lahore. Suddenly, a man without an organization, who has been living in Canada and got Canadian citizenship, emerged as the one who has the answer to Pakistan's problems!
From Karachi, the fascist junta led by Altaf Hussain [who lives in London] threw in its weight behind Tahir. Train loads of people were transported from Karachi to Lahore. Field laborers from many districts were paid to go to the gathering.
Tahir Qadri is a strong supporter of the West's "war on terrorism" and debunks all notions of jihad in our times. Our observers say that the military and MQM are supporting Tahir. The combination which kept General Musharraf in power has re-emerged.
How could a man without an organization suddenly have a record breaking crowd listening to him? In an interview with Najam Sethi, a noted opponent of Islamic groups, Tahir proclaimed that he has supporters in 50 countries and they provided him the funds. [Our readers in UK, USA and Canada surely know that Tahir was lying. Hardly anyone knows him in America and those who know him ridicule him.]
Unfortunately poverty is so extreme in parts of Pakistan that people can be trasnported anywhere in large numbers if sufficient funds are availabe.
Tahir's game will not last long but he will help the people in power to confuse Pakistanis. He is a slick talker. He spoke for hours and hours a few years back when someone pointed out that according to Sahih Buklhari, the sahaba, including Ali, r.a., used to drink liquor till the Qur'an banned it. Tahir spoke for hours praising Ali, r.a., but could not disprove what is recorded in Sahih Bukhari. He is a talker. Now he has challenged Pakistan to change, otherwise he will take over Islamabad in mid-January! [Army commandos were on the dais guarding him when he spoke. Police on horse back "organized the crowd."]

[On a personal note from Dr. Kaukab Siddique: I met Tahir al-Qadri in Baghdad when I went there for a peace rally against the impending American attack. I visited the tomb of Abdul Qadir Jilani, the greatest of all Sufi saints. Though I don't accept any saints, I simply went there because Jilani was a scholar, a man of great piety, and devoted to Allah Almighty. At that time Saddam Hussain was in power and had put a red carpet in the saint's tomb to fool the sufi types. Tahir and his crowd of Sufis was there. Tahir comes across as a very arrogant man but he lowered himself, though with disdain, to meet me because of my visit to the tomb. His followers wanted to kiss my hands but I was repulsed. At that time Tahir did not know that Saddam had given up his old ways and had embraced jihad. Thus he was fooled by Saddam. Perhaps he is being fooled now by General Kayani.]

---

Sectarianism Being Nourished in America
Shi'a Extremists Gearing up for Attack on Islamic Values and holiest Personalities.
Around the beginning of the Islamic new year, Mohurram 1, 1434, a concerted attack on the Companions of the Prophet, pbuh, began on the Internet and is continuing a month and a half later. It is abusive in the extreme and any attempt to have a rational discussion leads to more abuse.

On December 6, 2012 the New York Times, the flagship publication of the Zionist lobby, published a front page article claiming that Hazara Shi'as were being killed in Pakistan. It completely left out the context of the war in next door Afghanistan where the Hazaras sided with the Northern Aliiance and the US and indulged in indiscriminate killing of supporters of the Taliban, especially in Mazare Sharif. Some Shi'as are working closely with the Karzai regime installed in Kabul by the US and there is constant spillover of the war into Pakistan.

FIRST TIME IN USA: On December 7, 2012, Shi'as travelling from all over the US gathered in New York to protest what they claim are the killings of Shi'as in Pakistan. This was not a political rally. If it had been political, it would have supported Iran and the Israeli attempts to disrupt Iran's nuclear program. This rally had a purely sectarian agenda in support of Pakistani Shi'as. Again the context of war was left out that Shi'as are backing the US-supported Pakistani military which has been operating in the northern areas of Pakistan and has killed an estimated 30,000 people and displaced several million from their homes. General ATHAR ABBAS, a Shi'a, was the propaganda chief of the Pakistan army for many years, extolling the army's atrocities as "victories against terrorism."
In America, rallies by Muslims are few, if any, for fear of persecution by the authorities. Now suddenly we have Shi'as, in a coordinated move, coming from all over America, all the way to New York, and the US did not object at all. The number of Shi'as in the December 7 rally, possibly exaggerated, was claimed to be 10,000 by the organizers.
Another such rally is said to be coming up in London on December 30. Millions of dollars were spent to bring the estimated 10,000 people to New York.

---

Knowledge can squash Sectarianism
Here are the facts which can minimize Shi'a-Sunni Conflict.
Ali, r.a., and Umar, r.a., were great friends. [See evidence.]
by Kaukab Siddique, Phd


The Prophet, pbuh, had more than one daughter.
Fatima, r.a., was not his only daughter. The Qur'an refers to the Prophet's, pbuh, daughters. [1]


Hadith give the names of the daughters Prophet Muhammad, pbuh, had with Khadija, r.a., Zainab, Umm Kulthum, Ruqayya and Fatima [Allah be pleased with them]. Of these Ruqayya, r.a., outdid the others in carrying out the greatest duty of Muslims, second only to Jihad. She did the first hijra in Islamic history which was to Africa. [2]


Zainab, r.a., was married to an Umayyad, Abu al-'As, r.a., who embraced Islam and turned out to be a great fighter for Islam. So the sectarian attacks on Ummayads are actually attacks on the Prophet's, pbuh, in-laws.[3]


Ali, r.a., and Umar, r.a., were great friends. In fact Ali, r.a., gave his daughter in marriage to Umar., r.a. She loved Umar. r.a, though much younger than him, and gave him two children. She cried uncontrollably when Umar, r.a., was assassinated. Thus the sectarian hatred aimed at Umar, r.a., which has gone beyond all limits of decency, is absurd and baseless as far as the facts of Ali.'s, r.a., own life are concerned. [4]


Ali, r.a., was part of Umar's, r.a., shoora council, [decision making body] when Umar, r.a., became the second Rightly Guided Caliph of Islam.


Ali, r.a, never insulted or abused Abu Bakr, Umar and Usman, Allah be pleased with them. In fact he accepted their leadership, gave his oath of allegiance [ba'yat] to them and prayed behind them. They in turn loved, respected and honored him. Ali, r.a., became Caliph and never said a word against his predecessors.


The sectarian Shi'is have extended their hatred to Muawiya, r.a., because he was the father of Yazeed who is blamed for the tragedy of Kerbala and the martyrdom of Hussain, r.a, the grandson of the Prophet, pbuh. This endless stream of abuse directed at Muawiyya, r.a., is guilt by associaton which is totally unacceptable in Islam. Here are the facts in authentic narrations which Shi'a sectarians try to hide



Muawiyya, r.a., was a katib-e-wahy. The Prophet, pbuh, trusted Muawiyya, r.a., to the extent that he had the revelations of parts of the Qur'an written down by Muawiyya, r.a.,


Muawiyya, r.a., never fought against the Prophet, pbuh.


The idea that he fought against Ali, r.a. to gain the Caliphate is not correct. He was fighting to punish the killers of Uthman, r.a., one of the greatest Muslims of all times and the third Rightly guided Caliph of Islam.


Muawiyya, r.a. served Islam on the battlefield and as an organizer and leader and was fully trusted by the first three rightly guided Caliphs. Ali, r.a., never objected to any of the actions of Muawiyya r.a., during the time of the three Caliphs.


Both Hasan and Hussain, Allah be pleased with them, gave their oath of allegiance to Muawiyya, r.a., when he became Caliph.


A story has been concocted that Muawiyya, r.a., had Hasan, r.a., poisoned by his wife. The story is far fetched to say the least because after Hasan, r.a., passed away, his brave and fearless brother Hussain, r.a., retained his allegiance [ba'yat] to Muawiyyah, r.a., for TEN YEARS while Muawiyyah, r.a., remained Caliph.


All historians agree that during the Caliphate of Muawiyya, r.a., the Muslim Ummah, which went through fratricidal war during the caliphate of Ali, r.a., was once again solidly united and the jihad against the powers of that time gained tremendous momentum.


Thus the roots of Shi'ite sectarianism and hatred against the Muslim ummah derive from attempts to extend the blame on Yazeed to Muawiyya, r.a., and then to Usman, r.a., then to Ayesha, r.a., then to Umar, r.a., and then to Abu Bakr, r.a., and then to all who were not from the family of Fatima, r.a., and Ali, r.a., and in particular to great Mujahideen like Khalid, Abu Sufian, and Ikrima [Allah be pleased with them]

By attacking the holiest personalities of Islam, the Shi'a sectarians have isolated themselves from the Muslim Ummah and opened up the doors of Muslim countries to invading armies coming in from the West.

---

References

"O Prophet! Tell your wives and your daughters, and the believing women, that they should draw their coverings over their bodies. That will be better that they should be known so as not to be annoyed. And Allah is ever Forgiving , Most Merciful." [The Qur'an 33: 59]


From Hadith narrations: "Ruqayya, was the daughter of the Messenger of Allah, pbuh, and her mother was Khadija, the daughter of Khuwaylad. Before receiving prophethood Muhammad, pbuh, had married her to Utba, the son of Abi Lahab bin Abdul Mutallib who divorced her soon thereafter before taking her as his wife because in the meantime the prophet received prophethood and the verses condemning Abu Lahab were revealed in the Qur'an. She never went to Utba's home."

"She embraced Islam the very day her mother, Khadija, r.a., embraced Islam." [Among the very first to embrace Islam.]
"She was among the first women to take the oath of allegiance [baiat] to the Prophet, pbuh."

"She was married to one of the greatest Companions of the Prophet, Usman, r.a."

" She did hijra TWICE to Africa with Usman, r.a.. The Prophet, pbuh, said this is the first hijra in all of human history for the sake of Allah since the time of the Prophet Lut."

"Ruqayya suffered greatly [for Allah's sake] during hijra and lost her unborn child through miscarriage."

All quotes are from Tabqat al-kubra by Muhammad Ibn Sa'ad, first and earliest collection of biographical Hadith.

[Comment: By the standard of the Qur'an, the Hijra by Ruqayya, r.a., puts her above other women, including Fatima, r.a. who was also a great woman. We love Fatima, r.a., but facts must be above feelings.]

"And their Lord has accepted of them and answered them: 'Never will I allow to be lost the work of any of you, be you male or female, you are one community: those of you who have done hijra from their homes or been driven out therefrom ......... [The Qur;an 3:195.]


A Shi'i scholar admits what most Shi'is do not like to know, that the Prophet, pbuh, married three of his daughters to Ummayads, that is outside his family & tribe: " The Prophet gave two of his daughters in marriage to Usman and his daughter Zainab to Abi al-Aas, and both were not of the Bani Hashm." Zainuddin in his book Masalik al-Afham, published from Tehran, original in Arabic and now in Urdu translation." Famous Iranian philosopher Ali Shariati writes about Usman, r.a., : "He did two hijras in Islam and was the son-n-law of the Prophet and known as the keeper of the Two Lights. He was the husband first of Ruqayya and then of Umm Kulthum, both of whom were daughters of the Prophet." [ Fatima Fatima ast, original in Persian, p.176, now available in English as Fatima is Fatima.]


Shi'i scholars admit this though for Shi'i sectarians it is unbearable. "Ali had two daughters from Fatima Zahra, peace be on her, Zainab and Umm Kulthum. He gave Zainab in marriage to Abdullah the son of Ja'afar Tayyar and Umm Kulthum to Umar. Zayd, the son of Umar, was from her." [ Lughat Nama by Ali Akbar Dehkhuda, an almanac published from Tehran in Persian, now available in Urdu.] This fact is mentioned quite casually by Shi'i scholars: " The marriage of Umm Kulthum and Umar Khattab is narrated in our books." Abbas Qummi in Muntaha al-'Aamal, published from Iran. I have the Urdu translation of this segment. Ali, r.a., and Umar, r.a., were definitely NOT enemies.

---
Top Ten Idiots of the Year 2012
Compiled for New Trend by Imam Badi Ali, National Shoora leader, North Carolina
Mahmoud Abbas, President of Palestine Authority. He recognizes Israel but Israel gives him nothing. He thinks he is the head of state which does not exist.


Hollande, the new President of France. He is the most boring president France has ever had. He simply does what President Obama wants him to do. His speech is unimpressiove. His movement is slow. He has no idea what he wants and why.


Saad al-Hariri, political leader of Lebanon, plays with vast sums of money, works for foreign forces, a ready tool for the imperialists and agents of all kinds.


Ban ki-Moon, Secretary General of the United Nations. He does not seem to know who he is. He serves those in power and has no expression of values or ideals. Why is he secretary general? Perhaps he himself does not know.


King Abdullah of Jordan, better known as the playboy of the western world. He travels overseas all the time, seemingly working for western intelligence agencies. His habits are bad, with liquor, gambling and women. America desperately needs idiots like him.


Zardari of Pakistan and Karzai of Kabul. These are to be taken as twins as they jump equally well at the orders of the imperialists. Corrupt beyond limits, they have put their countries into deep debt and the countries are unable to stand against western intrusions.


The Ameer of Qatar. He has a huge US military base in his tiny country and he spends his oil wealth where his western controllers order him to do so. He has no idea that his "country" is not independent.


The Ameer of Bahrain. This tiny "country" too has a huge US military base on it, this time of the navy. All kinds of American playboys enjoy their stay in Bahrain. Michael Jackson was not the first and American prostitute Kardashian is not the last. The majority of the people are facing suppression and state terrorism.


The Nigerian President, a non-Muslim ruling a Muslim country, is at the beck and call of the US and Israel. He looks quite funny wearing a hat in Nigeria. His idiotic policies have ignited uprisings in the north and disturbances in the South of Nigeria. The people's lives are insecure and major accidents take place owing to poverty.


Tunisia is being ruled by a lack lustre "leader" named al-Munsif al-Marzooki. In this country where the 'Arab Spring' began, no one knows where the "leader" is going and what he wants. No vision, no understanding.

---

Also a Spotlight from Imam Badi Ali: " A man with a doctor's gown and an ID does not become a physician. That is the condition of "Islamic" leaders in America, such as Tariq Ramadan of ISNA who is being used to slice away at Shar'ia, bit by bit. He thinks no one understands his tricks. He is being used by the imperialists and he loves it: A fake physician."

---

Understanding Evangelical's Prophesy of War and the "End Times" (extract)
From Charles E. Carlson in Colorado
Finding Hope in the Era of the Neo-Crusades
Is America's warring in the Middle East politically or religiously motivated? ANSWER: War is a political expedient, and the "Christian Right" is its enabler, not the reverse. War is the politician's return ticket to office, the only sure answer to full employment. In the 11th Century the landed gentry and their politicians looked to the Catholic Church for its enablement of the 11 Crusades ending with the shameful Children's Crusade two centuries later. What has caused those who say they follow Christ to become the enablers of serial wars, and where is the hope? A young Southern Baptist family friend, a pro-life activist named Mike, distributed Edgar Whisenant's epistle (88 Reason Why Jesus is Coming Back in 1988) in his and my large men's church breakfast in the early months of 1988. Mike absolutely believed the book, and considered the rapture not only imminent, but was scheduled by God for October 14 of that very year. Regretfully, this writer did nothing at the time to dissuade Mike, even though the book he gave me appeared to be full of holes. At first glance it might appear that 88 REASONS could only harm those who believed the stretched myths found in its pages. Mike was married and had a young family, yet he made a mission project of giving the books to all who would carry one out the door of the church, as I did. I am sure 88 Reasons made a difference in Mike's life, and it could hardly have been positive, for he was truly convinced the world would end only months away.

Mike gave up causes he believed were saving lives. He was an activist in the pro-life movement, and the volunteer leader of an important group. But as the spring came, he phased out of this commitment to spend more time with his young family in the months remaining on earth. Mike believed in preserving life, but no one showed him or warned him he was playing into the hands of two political regimes that had little respect for human life.

As you have guessed by now, "the Rapture" did not happen in 1988. But the first war on Iraq was already in the political hopper, and the first blood of the Iraqi innocent would be poured out on us two years later. Edgar Whisenant's book of trash prophesies contributed to the slaughter. Its pages are filled with hints and innuendos of racism and bigotry in the name of Christianity. 88 Reasons to make war in the Mideast

Most of the 88 Reasons given for the imminent rapture had to do with the State of Israel, directly or indirectly. In fact, Edgar tells us the dating of the "great event" was based on the 40th Anniversary of the creation of the new Zionist state of Israel in 1948. Edgar was most creative in inventing exactly 88 reasons, but almost all of them involved his belief in world Zionism incorporated as a part of his "Christianity." Here are just a few of the 88 Reasons Whisenant suggested that God needed a Rapture to realize the destiny of the Zionist State: REASON #7 (in part) "this is the last generation, [M1]started on 14 May 1948, the day Israel became a nation. Israel is the time clock of God throughout history, Israel is the blooming fig tree, (Jer 24:4-8) and the last generation will end 40 wicked Gentile years later on 14 May 1988." REASON # 66: "Israel is the key to this whole scenario. You read again to see how time begins and ends and moves with the nation of Israel. You have noticed how our news events seem to be constantly bringing our attention to the Middle East these last days. And that is just where God wants it"...

Another reason men like Whisenant take themselves seriously is they had a cheering section made up of the most radical element of anti-Arabs in the Mideast: Israel. Elmer quotes none other than Meir Kahane, a man who was among the most violent killers in Israeli history. And Whisenant justifies Kahane: REASON #8 "Rabbi Meir Kahane, who wants to throw out all of the Arabs in Israel, is acutely aware of the 40-year grace period given by God, beginning in 1948." Edgar Whisenant goes on quoting Rabbi Kahane page after page, supporting his militancy against Arabs with words of respect. To him Kahane was an oracle for God carrying out His will against the Philistine tribe. Meir Kahane was in fact an angry terrorist who deliberately incited documented brutality against the Palestinian people. Few Israelis openly advocated the Kahane program for deportation or liquidation of 3.5 million Arab people. He was an embarrassment to the Jews in Israel, who claimed that they themselves were victims of a similar liquidation a generation before. Kahane was founder of the Kach Party, which was committed to violence and repeated assassinations of Arab villagers, encouraging them to leave. Kahane's public statements had much to do with agitating the Arabs toward the first Intifada in 1987. Whisenant used Kahane as a scripturally justified weather vane for war. Most of Whisenant's "88 Reasons" were either tied to present happenings in Israel or based on Hebrew Old Testament prophesy. All 88 pointed unequivocally to war ("Armageddon") being "God's will." Anyone who took the book seriously could not help but be conditioned to accept bloodshed in the Middle East. Most of my friends accepted the little book from Mike, who wanted no money for it. After all, what good would money be after October 14th? Most of us probably did not take it seriously, and I would be surprised if many copies, save my own, survived these 18 years. I was later surprised to learn that the 88 Reasons had a national following, especially in the heartland. Edgar prospered, and is said to have sold a million copies at $2.00 each. But I was wrong about the little book doing no damage. Mike's distribution of the books and the distribution by thousands like him, damaged minds and bodies. He innocently helped convince some that the Arabs were dirt under the feet of the Israelis, and that anything that helped Israel was God's will, no matter how mean and vile it might seem. American churchgoers are conditioned to the idea that war in the Mideast is inevitable and planned by God, and that nothing can be done to stop it. Nor should "Christians" try to prevent it. There is a cost. The blood is already pouring out on the hands of those who contrived the Neo-Crusade. Rivers of scarlet are trickling down all of our arms, staining each one of us. We, who call ourselves by Christ's name and did nothing to stop it, are guilty of the shedding of innocent blood. Sad to say, we are in a conflict between the justice and humanity Christ taught, and the pagan superstition and bloodletting of a self-serving few who thrive on war. They have found their support in the Judaized, dispensational institutions. Resistance to this is not an option to those who follow Christ. Where is the hope? There are "Mikes" in every church in America. You will find them leading, teaching, volunteering, passing the plate and paying tithes. They are doing their best, working, as they know God commands them to work, but not doubting the leadership's acceptance of war. When they correctly place the blame on their churches for the blood that is on their hands, Judaized Christianity will be finished; it cannot survive in an environment of truth. Christ's words tell us He is still waiting for men like Mike to follow Him out of the corrupted church. Project Strait Gate's purpose is to find the "Mikes" with millions of letters like this one. Please pass it on.

Charles E. (Chuck) Carlson is a pro-peace activist who, with others, organized We Hold These Truths in 1996, and phased out his business interests soon thereafter.



2012-12-29 Sat 19:05:22 cst
NewTrendMag.org