NewTrendMag.org News # 1455

[ Click on NEWS for back issues ][ OUR BOOKS ][ Previous Issue ]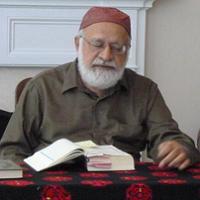 Ramadan 23, 1433/August 12, 2012 # 35

---

Our reports on Egypt and London Olympics criticized. See letters below. Please scroll

---

From Jamaat al-Muslimeen's Advocacy Director
Br. Yusuf Irlandi sent us this beautiful article from al-Qarni, a scholar in Riyadh, Arabia.
"Today is all we have." Scroll to the end please.

---

National Islamic Shoora of Jamaat al-Muslimeen to meet on September 1.

The central planning committee of Jamaat al-Muslimeen, known as the Shoora, will meet on September 1, inshallah, to study peaceful but uncompromising ways of resisting oppression, exploitation and the moves of the Zionists and occupiers. The following are the confirmed speakers till now:

Br. Robert Solano [Texas]

Br. Yusuf Irlandi [Tennessee]

Br. Abu Talib [New York]

Sis. Ashira [Maryland]

Br. Kaukab Siddique [Pennsylvania]

Imam Badi Ali [North Carolina]

As well as a number of observers.

Readers should send issues which they think should be discussed to:
butshikana@hotmail.com

---

Spotlights on Ramadan: Final
Imam Badi Ali, National Shoora leader, invites us to think

Spotlight #1:

Little sacrifices: Before the adhan for iftar, my 13 year old prepares the table and takes care of her younger brother and sister. It is the sweetness of these little sacrifices which makes the difference in life.



Spotlight #2:

When I was in high school in Kuwait, TV became very popular and it was not Islamic. Our study group decided to abandon TV for a week. Try it. Give up Internet and Facebook for a week. After the withdrawal symptoms, you'll feel much better!



Spotlight #3:

Ramadan is a precious time. Fuel your soul!



Spotlight #4:

Learn! Even a little is sufficient!



Spotlight #5:

Ramadan is a chance to prepare for the future!



Spotlight #6:

You can defeat the senses and feel the joy of worship.



Spotlight #7:

In Ramadan, a different kind of energy is released which motivates you to excel and to do what is right.



Spotlight #8:

Ramadan creates unity regardless of race, praying together, fasting togeher, doing iftar together.



Spotlight #9:

Ramadan brings the family together and teaches us to be patient with each other.



Spotlight #10:

Each spouse absorbs the values of the other, becoming one in spirit and soul.

---

Turkey Takes Giant Step Towards Muslim Unity:
Delegation in Burma [Myanmer] to help Rohingyas.

On August 9, a Turkish delegation led by Foreign Minister Ahmet Davutoglu arrived in Biurma with relief goods for the Rohingya Muslims of Arakan province who have been devastated by Buddhist mobs and Burmese troops. After giving relief goods to Muslims, the delegates also went to Buddhists affected by the conflict and gave them goods too. The Turks said we are doing this because we want both Muslims and Buddhists to live together in peace. [Source: RTT News.]
On August 10, Prime Minister Erdogan's wife Emine went to Bandubda refugee camp where the Muslims worst affected are living. Sis. Emine could not control her tears when she saw the conditions of the oppressed Muslims.
In Turkey, TL 3.4 million have been collected for the Rohingya Muslims. [Source Zaman newspaper of Turkey.]
[Ed. note: What a beautiful sight. "White" Turks embracing "Black" Rohingyas.]

---

Turkey Looking at Massive crime committed by British in World War I. 1500 Prisoners killed
The Turkish delegation, while organizing new ties with Myanmer, is also exploring the information about 1500 prisoners who were taken by the British in the war against Turkey in World War I, transported all the way to Burma and EXECUTED there. Transportation of prisoners out of the area of war, as the US has done in Gtmo, is a violation of international law and humanity. Then to kill prisoners, that tells us a hidden fact of the brutality of the Brits.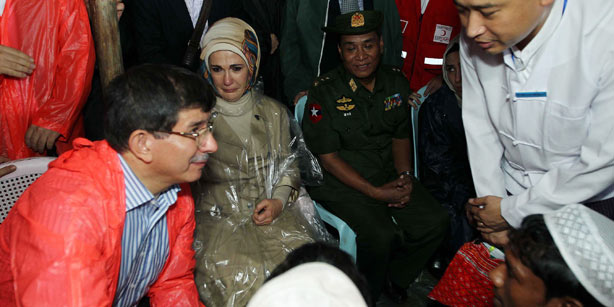 Emine Erdogan, the Turkish prime minister's spouse, seen in tears in her visit to the troubled Rohingya Muslims with Foreign Minister Ahmet Davutoglu in Myanmar. (Photo: AA)

---

Our America
Top US Air Force Base: Instructors involved in Sexual Assaults.
Commander Removed

August 10: Teachers forcing students to have sex with them. That's the situation at Lackland Air Force Base in Texas. The situation is out of control and the commander of the base has been removed. Where the female students resist, they are assaulted. Rape conviction in one serious case blew the cover on the hidden terrorism being practiced against female recruits.[Source: Associated Press.]
[Ed. comment: The air force is supposed to have top level discipline and adultery, let alone assault, is considfered a serious offense. But with the rest of America, it's not working out for women.]

---

Our America #2
CNN and Time Magazine's Indian "Muslim" Caught Cheating:
Fareed Zakaria Suspended

August 10: Fareed Zakaria has been suspended [for the time being] from both his jobs, one in Time Magazine and the other in CNN. He was spotted by a conservative critic for plagiarism. He had copied a comment, almost word for word, from the New Yorker magazine. He apologized but was still suspended. [Source Huffington Post, etc.]
[Ed. comment: Fareed Zakaria is known among Muslims as a liar and a fool. He commented for days on the Mumbai attacks and did not mention the word "Kashmir" even once. Critics noted that no honest report on conflict betweem India and Muslims can avoid a discussion of Kashmit, but Fareed, being an expert in telling lies, did. He is so pampered by Jews in CNN and Time, both Zionist media, that he became over confident.]
[I hope our students are not reading this. Zakaria thinks you can plagiarize and simply apologize if you are caught!]

---

Pakistan
Gen. Kayani's US-backed plan to Attack North Waziristan
Uncovered & Opposed
Lahore, Aug 11: Ameer Jamaat-e-Islami Pakistan, Syed Munawar Hasan has expressed his deep concern over media reports that military leadership has decided to launch a military operation against terrorists after Eid in North Waziristan.
In a statement issued here at Mansoora on Saturday, he said the decision had been taken under US pressure. "At last, the military leadership has yielded to the US pressure and decided to launch a military operation in North Waziristan," he deplored.
He warned that military operation in North Waziristan would result in further destruction of the country. "It will prove a fatal decision and inflict harm to the security and integrity of the country," he added.
Syed Munawar Hasan said the decision had been taken soon after the DG ISI visit to the US which indicated that the operation in North Waziristan was being launched under US pressure.
He demanded of the government to withdraw the decision forthwith and warned of US demands of 'Do More'. "After military operation in N Waziristan, the US would certainly demand for another operation in Southern Punjab on the pretext that the terrorists had taken shelter there and the operation would spread to all parts of the country," he added.
He said the US wanted to spread anarchy in the country as it could destroy the nuclear program of Pakistan.He demanded of the government to take the decision back as it would have serious consequences against security and integrity of the country and it should come out of the US war on terror.

---

War News: Egypt
Egyptian Troops Pour into the Sinai: Kill Islamics trying to infiltrate Israel
August 12: Egyptian troops in armored carriers attacked Islamic fighters trying to enter Israel, killing 5 and capturing 6.
August 9 and 10: Hundreds of Egyptian troops with armor entered the Sinai and attacked Islamic fighters under cover of missile fire by helicopters killing 20 Islamics and capturing 3.
The activation of the Egyptian army followed a mujahideen attack on Egyptian troops guarding an entry point into Israel killing 16 Egyptians. The attackers captured 2 armored cars and advanced two and a half miles into Israeli occupation before Israeli helicopters knocked them out killing 8. The bodies of 6 of the shuhada were handed over by Israel to the Egyptian army. The other two were decimated by the missiles

---

War news: Syria
Heavy Fighting in Syria: Poorly Armed Islamics Holding Assad's forces.
Iranian Conspiracy Propaganda is Misleading non-Syrian Muslims

August 9, 10, 11, 12. A massive assault by Assad's armor and helicopters, was preceded by Jet Fighter strikes [all in a crowded city]. The Islamics could not resist the Assad onslaught and withdrew from the Saleheddin district of Aleppo. However, two days later the fighters re-entered the city and ferocious urban warfare is underway.
Syrian troops, mostly Alawites and Syrian Christians, struck at islamic strongholds in Homs, Idlib and Deraa but failed to capture them. The death toll for August 11 tells the story: 85 civilians and 20 Islamics killed but the Syrian troops too suffered: 43 killed. The resistance is stiffening.

US Concerned about al-Qaida takeover of Resistance.
August 10: Ms. Hillary Clinton has openly expressed the fear that after Assad is gone, the serious problem in Syria will be the substantial al-Qaida presence.
August 6: MSNBC reporter Richard Engel reported that Syrian "rebels" are running low on ammunition and even secular groups are linking up with al-Qaida for the sake of weaponry. Numerous mujahideen are coming in from Arab countries, particularly iraq, as well as Africans and some European converts to Islam.

Iranian Propaganda.
Iran's Press TV is extremely busy spreading conspiracy theories to make Muslims feel that Syria is not an Islamic cause. The propaganda is built around a correct assumption that western powers will take advantage of the situation in Syria and Israel wiill benefit. Iran goes to the abusive extent of saying that Israel is behind the resistance!
The fact is that Assad has never fought Israel. Today too he is fighting the Islamics, not Israel. In fact Syria's frontier with Israel is very quiet.

---

Letter: Critical Comments on Mr. Carlsen's Article on London Olympics
Just some comment about the article about Olympics in London.
The writer fails to give credit to the British for their ability to laugh at themselves. It is sorely lacking in many cultures. It gives them an edge in times of trouble like now.
Also he is remarkably denigrating about the achievement of the National Health Service - yes it has many problems. It was a landmark in the world when first set up in 1948. You know very well the suffering of people to this day in the US who don't have health insurance.
He didn't notice as well that the ceremony was about the British society changing into something new - yes it will be facing problems! But the message was about giving confidence to people as they are today, that they can do it together.

S. Qureshi
Sutton, UK

---

Letter: Egyptian professor Rebuts New Trend's Report on Egypt

Seriously, what is this talk about "The Islamics attacked a Israel-supporting Egyptian border post to create an opening against Israel"? Please check the accuracy of the news you post. A terrorist group (gamah takfeereyah) attacked an Egyptian border checkpoint station and killed more than 17 Egyptian soldiers who were starting their iftar (as you all know, in Ramadan, Muslims fast). I am outraged at the slant of this post/article. If this is an outspoken support of terrorism, I have no interest in receiving any of the emails for this "publication."
If our religion and our sense of humanity and morality allow us to justify killing other Muslims (who are the sons, fathers, brothers, husbands of others), then there is something very skewed about our worldview. This has nothing to do with the teachings of Islam and the Sunna of the Prophet.
Egypt had already opened the borders between it and Gaza. Palestinians were allowed in and out freely. After the terrorist attack that killed our soldiers, all the borders have been closed and the army launched attacks on these terrorist groups to exterminate their threat. The reference to "Islamics" implies that only these fighters are Muslim and worthy of life, while our Egyptian soldiers are not Muslim and thus unworthy of life. The "Islamics" you are referencing here are terrorists who shoot innocent civilians, kill our police officers, and have no sense of morality apart from their perverted and sickenning worldview.
These types of posts make Islam seem like a terrorism-supporting religion. Please know that if non-Muslims view our religion negatively, it is because of the acts of our people who distort our religion and make it appear as a violent, ruthless, and bloody one, when it is the kindest and most humane of all religions. Please make more responsible posts, as our religion is all what God has entrusted us with.

[Dr]. Samaa Gamie, [Pennsylvania]

---

First Person Account from Criterion - The Illuminator list. [Courtesy Arshad Chaudhury,, Rolla. Missouri]
How Difficult it is for an American Woman to be Muslim.
Muslims are the Problem

Asslamualikum
Hi, My name is Dominica (Nikki). I am a 40 year old female widow, that lives in the USA, Ohio. As a kid my Mom raised us to believe in One God, but we were not Muslim. We did not eat pork, but we were not Jews. My mother has since passed, but her teachings stuck with me. We went to church, but my Mom always said pray to God only. She was a big reader of the Holy Bible, Old testament, and use to tell us as kids, that man has tampered with it, but God has put his clues here and there for his people. I don't know where she got all her thinking, but I'm glad she had it. I went to Baptize schools, where they would say my sister and I were products of a sin. (we were biracial, my Mom is black, and my dad white).
So as you could see I did not think they had the right religion. I can remember praying as a child, asking God why I cannot believe in Jesus as God? But for some reason I could never.
I stopped going to church for a long time after school. I went back as an adult in my early 30s. I even joined a church, but I always prayed to God, saying, that I just wanted a place to worship him. So every time I went to church I had to say this prayer to God, to let him know I was only praying to him, not Jesus. (It's funny now, that I know more about Islam.)
I did eventually go to a Mosque to study, but the men Muslims I worked with, and knew, would brag how many wives they could have. That just turned me off. And when I went I did not feel very comfortable because of all the nationalities that seemed to have clicks, and the only Muslims I knew at the time were men. So I only went to a few classes. I stopped going. I look back on this, and say going to the Mosque is not user friendly:o)
You cannot just walk off the street, you have to know things, (how to dress, and why the prayers are in a different language than your own) or you will really feel like you don't fit in. I could never really get into the church thing either. But I wanted to be close to God.
I became a foster parent when I turned 35, (we, in the USA, have a lot of black older children in foster care, and up for adoption). So I became a foster parent. I had 2 kids, that ended up staying with me for 5 years, and came up for adoption, and because I knew they would just stay in the system, and be moved from home to home, I adopted them, 2 years ago. They are now 13, and 12. Right before the adoption, I got married, and my husband was going to adopted them with me, even though I had them before he came in my life. He was a very good man. He died 10 weeks after we got married, a heart attack in bed.
Everything went down hill from there. The kids with their back ground, losing their family, through foster care, and now losing what was the closest thing to a dad that they knew, went off the deep end. And I did too. It was a bad time for us. I began to drink wine at night to sleep, and I began to drink more. I desperately need God in my life, but with the drinking, I thought I would not be clean enough to even ask God for help. I did go through with the adoption, and then I got some help for the drinking. I had a real hard time not wanting to drink, until this 1 prayer I prayed, I remember this prayer!
It was this past year. I remember telling my kids, that they would not make 1/2 the mistakes in life they would make, if they just listen to their mother. Then I thought about that when I said my prayers that night, I would not make 1/2 the mistakes I made if I gave my will over to God. And let God run my life.
I prayed that night to God, and I told him, I don't care if I never have a husband again, I don't care what material things I have in this world, I just want you in my life, and your Will not mine. I had said prayers like that before, but this time I really meant it. I did not care about anything on this earth at that time, but God.
Since that prayer I have not wanted a drink since.
Then came a friend I knew a long time. He had been checking on me about once a month since my husband had died, he knew us both before. He asked me if I would be interested in learning about Islam. I told him how I felt before when I studied that short time, but I would read the Quran. I read the Quran, and then I took my Shahadah!
Thank God Almighty, I am a Muslim. I have only been a Muslim since July 19th 2002, but I can say this, it is the most peaceful I have ever felt in my life! I know I have a lot to learn, but what I can say, is I have a place to worship the One and Only True God, Allah. This is my story, Praises be to Allah! I cannot Praise God enough! God is Great!

Thanks for letting me share my story, Nikki
http://muslimconverts.com/converts/Nikki.htm

---

Today is all you have
By Aaidh ibn Abdullah al-Qarni

In the name of Allah, Most Gracious, Most Merciful.
When you wake up in the morning, do not expect to see the evening — live as though today is all you have. Yesterday has passed with its good and evil, while tomorrow has not yet arrived. Your life's span is but one day, as if you were born in it and will die at the end of it. With this attitude, you will not be caught between an obsession over the past, with its anxieties, and the hopes of the future, with all its uncertainty. Live for today: During this day you should pray with a wakeful heart, recite the Quran with understanding, and remember Allah with sincerity. In this day you should be balanced in your affairs, satisfied wiyour allotted portion, concerned with your appearance a health.
Organize the hours of this day, so that you make years out of minutes and months out of seconds. Seek forgiveness from your Lord, remember Him, prepare for the final parting from this world, and live today happily and at peace. Be content with your sustenance, your wife, your children, your work, your house and your station in life.
...So hold that which I have given you and be grateful. (Quran 7:144)
Live today free from sorrow, bother, anger, jealousy, and malice.
You must engrave onto your heart one phrase: Today is my only day. If you have eaten warm, fresh bread today, then what do yesterday's dry, rotten bread and tomorrow's anticipated bread matter?
If you are truthful with yourself and have a firm, solid resolve, you will undoubtedly convince yourself of the following: Today is my last day to live. When you achieve this attitude, you will profit from every moment of your day, by developing your personality, expanding your abilities, and purifying your deeds. Then you say to yourself:
Today I shall be refined in my speech and will utter neither evil speech nor obscenity. Also, I shall not backbite.
Today I shall organize my house and my office. They will not be disorderly and chaotic, but organized and neat.
Today I will be particular about my bodily cleanliness and appearance. I will be meticulous in my neatness and balanced in my walk, talk, and actions.
Today I will strive to be obedient to my Lord, pray in the best manner possible, do more voluntary acts of righteousness, recite the Qur'an, and read beneficial books. I will plant goodness into my heart and extract from it the roots of evil — such as pride, jealousy, and hypocrisy.
Today I will try to help others — to visit the sick, to attend a funeral, to guide the one who is lost, and to feed the hungry. I will stand side by side with the oppressed and the weak. I will pay respect to the scholar, be merciful to the young, and reverent to the old.
O' past that has departed and is gone, I will not cry over you. You will not see me remembering you, not even for a moment, because you have traveled away from me never to return.
O' future, you are in the realm of the unseen, so I will not be obsessed by your dreams. I will not be preoccupied about what is to come because tomorrow is nothing and has not yet been created.
« Today is my only day » is one of the most important statements in the dictionary of happiness, for those who desire to live life in its fullest splendour and brilliance.
La Tahzan (Don't be sad)

Translated by: Faisal ibn Muhammad Shafeeq, 2nd ed. Riyadh 2005. Publisher: International Islamic Publishing House. ISBN Hard Cover: 9960-850-36. ISBN Soft Cover: 9960-850-44-7 P31



2012-08-13 Mon 17:28:35 cdt
NewTrendMag.org