NewTrendMag.org News # 1345

[ Click on NEWS for back issues ][ OUR BOOKS ][ Previous Issue ]



Sha'ban 11, 1432/ July 23, 2010 # 29

---

Verse of the Week

"And there are those who put up a mosque by way of mischief and infidelity - to disunite the Believers, and in preparation for one who warred against Allah and His Messenger aforetime. They will indeed swear that their intention is nothing but good; but Allah doth declare that they are certainly liars.
Never stand thou forth therein. There is a mosque whose foundation was laid from the first day on piety; it is more worthy of thy standing forth therein. In it are men who love to be purified; and Allah loveth those who make themselves pure." - Holy Qur'an 9:107-108

Submitted by Sis. Abigail.

---

From Imam Badi Ali [National Shoora Jamaat al-Muslimeen] North Carolina

Spotlight: Giving power and authority to rulers who have neither piety, nor vision nor understanding is like giving the car keys to a teenager who does not have a driver's license and does not know how to drive


---

President Obama is taking pressure from the extremists on the right. A distinguished African American scholar Dr. Wilmer Leon explains the situation with the example of Ms. Sherrod's sudden dismissal from the NAACP [now reversed]. Please scroll way down for this illuminating article.

---

Jamaat al-Muslimeen [News]

Outreach in Washington, DC: Literature given to 125 Muslims after Juma' at Prestigious Islamic Center

July 16, 2010: After Juma' at the Islamic Center on Massachusetts Avenue, Jamaat al-Muslimeen literature was given to 125 people. It included article on the military action in Jamaica as well as reports on battles in Afghanistan and horrific Pakistani military losses at the hands of the Pak Taliban. The case of 5 US Muslims handed over by CAIR was highlighted. Also included was Ms. Carolyn's letter to Obama, advising against attack on Iran. Finally there was a report on 5 Muslims trapped by an informer in the Newburgh, New York case.

An interesting feature of the distribution of literature was that some expensively dressed men, probably from Muslim embassies refused to take the paper. Some people, on seeing the sister distributing the literature thought she might be from the Asra Nomani clique. Asra Nomani has been visiting mosques and trying to disrupt them in the name of "women's rights." [She got major coverage from the Zionist media.] The sister told people that this is Islamic literature and we reject Asra Nomani. After that the distribution became easy.

One brother was so enthused by the literature that he gave an impromptu offer of marriage to the sister distributing the literature. [l.o.l] Some of our new Muslim brothers are like that.

---

The Voice of Eddie Conway: Baltimore, Maryland

July 16: At the Red Emmas bookstore on St. Paul's street in Baltimore, Eddie Conway spoke to his supporters from prison. He was railroaded many years back but has refused to compromise.

New Trend was given to the left wing audience. A woman from the American Friends Service Committee told our sister who was giving out New Trend that there are good numbers of prisoners who have embraced Islam. She took a bunch of New Trends for her next visit to the prison on the outskirts of Baltimore.

---

Two important items on Africa

Hail Sudan: July 21, 2010. The Sudanese President Omar Al-Bashir visited Chad and was given a great welcome. Readers may remember that through Zionist intrigues and International Court had tried to accuse the President of crimes in Darfur and neigboring Chad had been given the responsibility of arresting him. [!] This is indeed a victory for Africa and Islam.

---

Uganda to send more troops to fight Somali Muslims: July 21, 2010: The west-backed regime in Kampala decided to send more troops, about 2,000 more, to help shore up the tottering regime in Mogadishu, Somalia. This follows a Somali attack on Ethiopian liquor houses in Uganda which the Somalis carried out in response to Uganda troops in Somalia which have been firing artillery at village markets. Almost all of Somalia is in Islamic hands. [New Trend observers say that Somalia may become another Afghanistan for west-backed African regimes like the ones in Uganda, Ethiopia and Burundi.]

---

Bangladesh
Jamaate Islami elders being treated like criminals
India-Backed Attempts to Crush Peaceful Islamic Movement in Bangladesh Continue

http://www.youtube. com/watch? v=hvoJ12Yo2hg

From Rafique Alam [Bangladesh]

---


Kashmir: Nara-e-Takbir in the streets: Protestors being Gunned down by Indian Security.

http://www.youtube.com/watch?v=rIpM6_vq13k&feature=player_emedded

[Indian army is searching for the movie maker who filmed this.]

---


Ramadan Hilal Visibility . Data Issued by islamicmoon.com [Dr. Omar Afzal]
Look for Ramadan crescent on August 11. Sighting is NOT possible on Aug.10 in Makka or Cairo

The waxing crescent moon (Hilal) of Ramadan will take 3-4 days to become visible over the globe. Here are a few places where Ramadan moon's visibility on August 10-12, 2010 are predicted.

August 10, 2010 (Tuesday)
Australia to Karachi No
Makka S. Arabia/ME No
Turkey, All of Europe No
Durban, S. Africa No
Lagos, Nigeria No
Rabat, Morocco No
Brazil (Rio) Maybe
Argentina (B. Aires) May be
Chile Maybe
Panama Maybe
US & Canada: No
Hawaii Maybe

August 11(Wednesday)
Australia, Asia (except Japan, China and Central Asia) Yes
Istanbul, Turkey No
London, UK No
US Southern states Yes
US Northern & Canada No

August 12 (Thursday)
Southern Europe, southern Canada, etc.
Northern regions of Europe and Canada including Alaska may not see Ramadan Hilal before August 13
Please note that by the sighted Hilal, Thursday, August 12, 2010 is the first day of Ramadan in the US as well as Australia, parts of Asia, Africa and southern regions of Europe.
Saudi date is August 11, though the Hilal CANNOT be seen in Makka, Medina or Cairo on August 10. ISNA follows Saudi date. Sighting in the Caribbean is also not possible on August 10.

---

Recommended for your summer reading:

After the Reich: The Brutal History of the Allied Occupation



Giles MacDonogh
Softcover book. 620 pages $21.95

http://www.ihrstore.com/product_info.php?products_id=268
This shocking account of brutal occupation and massive "ethnic cleansing" is a bold reframing of the history of World War II and its aftermath. In this sobering and courageous book a British historian details how the ruined and prostrate Reich (including Austria) was systematically raped and robbed, and how many Germans who survived the war were either killed in cold blood or deliberately left to die of disease, cold, malnutrition or starvation. Probably the best work available in English on this shameful chapter of twentieth century history. With photos, source references and index.

---

Return to Pakistan :
Media Perspectives on Bush's Iraq & Afghanistan Wars
Kaukab Siddique
200 pages. $14.00 till August 31

NewTrendMag.org/order.htm

* Red Mosque & Jamia Hafsa
* Interviews with Abdur Rasheed Ghazi & Umm Hasan
* Introduction to Syed Munawar Hasan [now leading Jamaate Islami]
* Fallujah
* The bombing of Afghanistan after 9.11
* An unusual look at the city of Karachi.
* Where did Ahmed Rashid go wrong in his Taliban story?

---

Israeli Exceptionalism. The Destabilizing Logic of Zionism
by M. Shahid Alam.
274 pages.

Order from amazon.com

Israeli self-identity.
Why genocide became possible against Palestinians.
Why Israel blocks peace moves
Israel in its own analysis.

---

Man's Twin
by Kaukab Siddique
[A novel based on real history.]
150 pages. $5.95]

NewTrendMag.org/order.htm

The story of a woman caught up in the birth pangs of Pakistan, victimized both in India and Pakistan, saved by a Sikh.
Mass migration to Pakistan and the sacrifices of entire Muslim populations.
Ordinary Pakistanis face tyranny at the hands of the military and the bureaucracy.

---

Three Personal notes from Br. Kaukab Siddique, editor of New Trend:

It is summer time and I have been traveling.
At a large bookstore at the University of Chicago, I saw Ayan Hirsi Ali's book Nomad displayed right in front. A Muslim woman went to the manager and very politely asked him why Hirsi Ali's book was displayed up front while Mearsheimer's book Israel Lobby and Mullah Zaeef's My Life with the Taliban were hidden way in the back. He smiled and answered that it is a routine arrangement and books are circulated.

I then went to the manager and said: Do you know that Hirsi Ali's book is a hate book attacking Islam and Muslims and suggesting genocide of Muslims?. Why are you projecting it? He started giving me the same answer when I interjected and said: Would you put books critical of or denying the Holocaust in front like this? This book is condemning Islam and Muslims globally. At this the manager started stuttering: "I mean no harm. It is not deliberate." A crowd had started gathering. I said: "I mean no harm either but you should not spread hate." The manager became very apologetic, so I left.

[Readers should know that Ayan Hirsi Ali's books are being given top priority by the Zionists. Philadelphia's NPR radio WHYY-FM has had Ms. Hirsi Ali on its shows repeatedly, trying to connect fgm to Muslims and, sneakily to Islam. When you see her books displayed, talk to the manager. A few words can change the situation. She is Abu Lahab's wife modern style.].

---

At Islamic Centers in Gaithersburg, Maryland and Newark, Delaware I distributed Br. Shamim Siddiqui's book Al-Fateha and its Significance after prayers. I also distributed a stack of general books on Islam at the Newark center. [If you want some books on various aspects of Islam, write to my New Trend address.

A positive encounter at the Gaithersburg Center. While I was distributing an article about Zahid Bukhari's [ICNA leader] involvement with the State Department and other anti-war info, an elderly gentleman came up to me. He asked: What's your name? I said: Siddique. He asked : First name? I said: "Kaukab, are you investigating me ..." He said: "No. I just wanted to say: You have guts to speak the truth. I get your paper regularly." I said: "Thanks" and kept distributing papers. He then added: "No, I meant to say: You have guts of steel. No one else writes like this." Then I turned around and shook his hand and asked him to make du'a for me.

Masaud Khan's mom [FreeMasoudKhan.net] was at this prayer gathering. She looked drawn and worn out. Her son was given 90 years by the Bush administration for a non-violent crime [opposition to Indian occupation of Kashmir before 9.11]. She has tried all kinds of appeals but the light of justice is not there. It's incredible how much injustice has been heaped on US Muslims, and ICNA's Zahid Bukhari had the nerve to go all over the world telling Muslims that US Muslims are doing very well!

---

Temple University, Phildelphia, July 17, 2010: In connection with the annual Riyadah [youth gathering] I went to show support to the imams of Philadelphia communities backing Imam Jamil al-Amin and other prisoners of conscience of the African American community. It was a distinct honor to meet Imam Khalil Abdur Rahman, Imam Jamil's representative.
Imam Jamil's wife Sis. Karima was the main speaker and graciously came over to speak to me. It was wonderful to meet Br. Jihad Abdul Mumit [former Black Panther who embraced Islam in prison]. He embraced me and joked that I was looking younger. [I had met him at an Islamic prayer meeting I visited in a maximum security prison many years back.] An important activist from New York, Br. Kwame, whom I had not met for years, exchanged views with me and we decided to stay in touch.

A sister who recently embraced Islam and joined Jamaat al-Muslimeen distributed a letter from Sis. Karen English urging Muslims to boycott businesses connected to or supporting Israel . Thank you.

---

Letter: US Muslims in Distress. [1] Latest Info on Bangladeshi Political Prisoner
[He was imprisoned on fake charges. Instead of asking for mercy challenged the grave injustice right in court .]

As Salaamu Alaikum,

InshAllah, I hope you find this message well and in good spirit. We appreciate you sharing Shifa's stories with your readers and wanted to send you Shifa's new prison address where you could write to him. I think any words of encouragement and inspiration would be greatly appreciated.
He is right now held in Marion, IL, in one of the two CMUs (Communication Management Unit), where all his communication is monitored. He is there among other Muslims.

Following is the address:

Ehsanul Sadequee
#1524-0006
USP Marion
United States Penitentiary
P.O. BOX 1000
Marion, IL 62959

Thank you so much for all your support and help. Please make dua for us.
Jazzak Allah Khair,

Sharmin [Atlanta, Georgia]

---

Letter: US Muslims in Distress [2] Political Prisoner: Seifullah Chapman May Die in Prison

Now Seifullah Chapman has been put "into the hole" and is not receiving the medical care he was supposed to receive at the medical facility in Springfield, Missouri. He is not allowed out of the "hole" unless 2 or 3 guards are there (as though he is the terrorist they need to control). I think it is because they don't want him sending any more letters against the Bureau of Prisons (Dept. of Justice). Yes, they are trying to kill him and should be successful very soon. His wife is totally devastated yet remains strong in the faith of Allah's will. She is trying to find a way to travel and see him -- and there is no guarantee that even after struggling to get there (by plane to St. Louis (over $300); then rent a car ($35 a day) and drive 6 hours to Springfield; spend nights in a motel ($47) with her two children -- that she will be able to see him. The last time they saw each other, was in front of a tv screen and he looked so ill, that she managed to get the emergency court hearing for him. However, the judge said the federal courts have no jurisdiction over the Dept. of Justice!!!

[Writer's name withheld on request.] [Fact check shows the letter is genuine.]

---

Please send letters of support, with no political messages, to:

SEIFULLAH CHAPMAN, Reg. # 46868-083
MCFP SPRINGFIELD
MEDICAL CENTER/FEDERAL PRISONERS
P.O. BOX 4000
SPRINGFIELD, MO 65801

---

Abu Ali is undergoing more torture in the supermax. If anyone complains, the abuse becomes worse.

---

Letter: Ismailis Learned of Islam after coming to the West

Isn't it amazing that many of us the Ismailis after coming to the Western Christian
Countries learned about Islam and for the first time got the Quran in our hands that
was hidden from us, or rather forbidden to even touch it.
This reminds me of the time of Prophet/Messenger Muhammad s.a.s (peace be upon him),

when the local people were being persecuted for accepting him as a Prophet and accepting

One God-Creator, so he advised them to move to the neighboring Christian Country Abyssinia
(Ethiopia) whose Ruler the King Negus was a Just Ruler: they did, and in the King's Chamber,
the King wanted to know about the Prophet and his teaching, in answer H. Jaffer (RA) Brother of Caliph H.Ali (RA) recited the verse from the Quran regarding H. Mary (RA) the Mother of Messiah Jesus (AS),
And the King was so overwhelmed and said: "we are so close, and between you (Muslims) and us Christians the difference is just the thickness of this line little thicker than the thread, and said: "You can live here for as long as you like".
After reading the Al-Quran for the first time and read the other verses: "Jews and the Christians are the people of the Book", and so many verses regarding Prophets Moses (AS) and Messiah Jesus (AS) the Son of Mary (RA), which are recited in Muslim daily prayers,
and so it confirmed how we the holders of the Holy Scriptures are all intertwined with each other and we are all one community (Quran 23: 52/-2: 213), which brought me so closer to
our brethren Jewish, Christians and all the people within this world. Such a miracle!

It was also overwhelming for me to know all the Prophets of GOD mentioned in the Quran,
from Adam a.s, to Noah a.s, to Issac a,s, Jacob/Israel a.s, Jonah a.s, Abraham a.s., Ismael a.s, John The Baptist a.s, Lot a.s, etc., which of course we the Ismailis never heard before as
we were never introduced to the Holy Quran.

The Message of the Holy Scriptures (Bible & Quran) is just one: Obey, Worship and

Serve One GOD-Creator, who created you, the Universe and all within, and that is
the true Religion of respect and integrity of Creator-GOD.
The worship of human god is not the worship of GOD but the worship of Iblis, and Lucifer.
Salaam/Peace.

Sis. Shanin [UK]
[The writer is a convert to Islam from Ismaili cult. The story of her acceptance of Islam appeared in our July 15 issue.... Editor.]


---


Two Faces of Pakistan: Both on July 19, 2010

First photo: Ameer of Jamaate Islami Syed Munawar Hasan speaking to a historic mass rally in Chitral [northern Pakistan]. He urged the people to defend Pakistan, Islam, human rights and the rights of the poor and the downtrodden. Hasan wants a peaceful revolution. See his comments below the photos.

Photo 2: General Ashfaque Pervez Kayani, Pakistani army chief, taking his orders from Obama's representative Hillary Clinton. The Pakistani military is bent upon destroying the Islamic resistance in the northern areas of Pakistan. Kayani's military liberally uses heavy artillery, helicopter gun ships and jet fighters against Islamic villages, mosques, medressas and homes of Pak Taliban imams. However, analysts say Kayani's military has taken a bloody nose from the Pak Taliban. Thousands of Kayani's troops and 600 ISI officers [according to Pak ambassador to the US] have been killed in hand to hand fighting and martyrdom operations. Several thousand Pak Taliban have given their lives for Islam.

---

Pakistan has one man rule serving US agenda . Syed Munawar Hasan
Posted by ??? ????? at 10:28 PM [By Shamsuddin in Lahore.]

LAHORE, July 19: Pakistan presently has a one-man rule of an individual receiving dictation from the US, Jamaat e Islami chief, Syed Munawar Hasan, said on Monday.

Addressing a large public meeting at Chitral polo ground, he said the Muslim Ummah was the US target at present while the Muslim rulers were lining up with the Americans.

He said the Pakhtoons were staunch Muslims and that was why the US wanted to annihilate the Pashtoon belt and the tribal areas. He said lasting peace in the region was possible only if the Muslim masses rose up against the US and its agents. He however believed that the US was fast nearing its end with a defeat in Afghanistan after which all its agents would also disappear.
The JI chief deplored that the ruling party members were busy stuffing their pockets with public money and had least concern for public problems. He said the rulers talked much of democracy but the on going confrontation between institutions was the negation of democracy. He said, the terrorist activities in Pakistan were being carried out by Black Water and Indian agencies but the rulers in Islamabad did not have the courage to name India.

JI provincial chief Prof. Muhammad Ibrahim, deputy chief, Sahibzada Haroon ur Rashid, and former MNA Maulana Abdul Akbar Chitrali, also addressed the meeting.

---

Ed note: The Chitral trip is very important. The area has an Ismaili community supporting the corrupt government and the US agenda. Looks like Munawar Hasan has pre-empted anti-Pakistan moves by rallying the Muslims of Chitral.]

---

Interesting: Not for Endorsement but for Information
MEMRI, which Monitors Al-Qaida messages, noted this latest from Dr. Ayman al-Zawahiri

In a new 1-hour 3-minute audio recording, Al-Qaeda second-in-command Ayman Al-Zawahiri reaffirms Al-Qaeda's basic strategy regarding Palestine and promised imminent victory in Afghanistan, and addresses words of praise and encouragement to the jihadist groups in North Africa, Somalia, the Arabian Peninsula, Iraq, the Caucasus, Afghanistan, and Pakistan. The video, dated Rajab 1431 (June-July 2010), was produced by Al-Qaeda's media wing, Al-Sahab, and posted on jihadist websites on July 19, 2010. Despite the date shown on the release, it is likely that Al-Zawahiri' s audio was recorded earlier, since there is no mention of the Gaza flotilla incident, which took place in late May.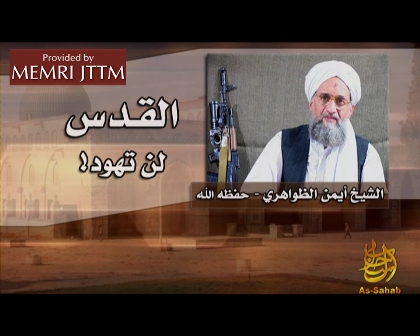 Al-Zawahiri opens with the "good tidings" that victory is near in Afghanistan. He ridicules the U.S. for its early confidence in the Marjah operation and for its hopes that the arrest of senior commander Mullah Baradar would adversely affect the Taliban, saying that these hopes were crushed by the Taliban's stiff resistance in Marjah and subsequent martyrdom operations in Kandahar and Kabul. He also accuses the Arab and Western media of underreporting the Taliban's achievements - contrasting it with the wide coverage given to Hizbullah if it so much as fires a missile - and likewise blasts Turkey and a number of Arab states for their support for the coalition in Afghanistan, as well as 'ulema who have ruled that such support is permissible.
In the portion of the video from which its title is taken ("Jerusalem Will Never Be Judaized!"), Al-Zawahiri places the blame for the Judaization of Jerusalem, and for the situation in Palestine in general, on...

To read the full dispatch, visit http://www.memrijtt m.org/content/ en/report. htm?report= 4461&param=GJN.
To view this report, you must be a paying member of the Jihad and Terrorism Threat Monitor Project (JTTM). For membership information, send an email to jttmsubs@memri. org with "Membership" in the subject line.
You can also subscribe to a year of the JTTM Weekly Digest for $200.00. The Digest includes a selection of material from the JTTM. To subscribe to the JTTM Weekly Digest, visit https://secure3. convio.net/ memri/site/ Donation2? df_id=1253&1253.donation= form. (Sign up today - subscription price is set to increase in September)
Note to media and government: For the full report or a copy of the viedeo, send an email with "Al-Qaeda's Second-in-Command Ayman Al-Zawahiri: The Only Hope for Palestine is to Depose the 'Arab Zionists'" in the subject line to media@memri.org.

---

Hadith Studies by Dr. Kaukab Siddique

Rebuttal of the Attacks on Abu Huraira (r.a) [Part II]
Did 'Umar ibn al-Khattab, r.a., stop Abu Huraira, r.a. from Narrating Hadith
[In Part I, the love of the Prophet, pbuh, for Abu Huraira was pointed out, along with Abu Huraira's participation in jihad both during and after the time of the Prophet, pbuh.
For most Muslims, the qualities of Abu Huraira, r.a., documented in the first part of this study would be enough to love him. However, the Shias and the Pervezis find that difficult because it would demolish the premises of their sectariam theories.

For Shias, it should have been very difficult to attack Abu Huraira, r.a., because he loved the Ahlul Bait and narrated beautiful Hadith about the grandsons of the Prophet, pbuh. Shia scholars should know that Ali, r.a., Hasan, r.a., and Hussain, r.a., did not speak against Abu Huraira, r.a. There are a few Shia fabrications to this effect but they are from later times and cannot be traced back to the three greats of Shia'ism.

However, the Shias work by way of "guilt by association." They try to make the claim that Ameer Muawiyya and Yazeed were identical in their behavior. For them, connection with Ameer Muawiyya and Yazeed is equally bad, and because Abu Huraira, r.a., cooperated with Ameer Muawiyya they condemn him.

The Shias forget that Imam Hasan, r.a., made peace with Ameer Muawiyya, and he and Imam Hussain both received respect and copious gifts from Ameer Muawiyya. Ameer Muawiyya was KATIBE WAHI [writer of the revelation, the Qur'an] and was accepted by the Prophet, pbuh. During his rule, there was general consensus and peace within the Muslim domain, and as a result Jihad of great significance was carried out against the oppressive empires in the West.
The attacks of the sect known as munkareene Hadith [deniers of Hadith] on Abu Huraira, r.a., are much more dishonest than those of the Shia. These sectarians, following the line of Jewish abusers of Hadith, like Goldziher and Schacht, resort to outright intellectual dishonesty. For instance, G.A. Pervez wrote:

"Once Abu Salama asked hazrat Abu Huraira, who is well known for being prolific in Hadith narration, did you narrate Hadith this way in the time of Hazrat 'Umar? He replied, if I had done so in his time, he would have beaten me." [Maqame Hadith, in Urdu language, p.52]

G.A. Pervez gives a reference for this supposed narration but it is not from a primary book of Hadith but from a secondary scholar named Tahir bin Salih al-Jazairi.

Thus Pervez, whose entire book is aimed at proving that Hadith is not to be trusted, tries to use a supposed Hadith narration to oppose Abu Huraira, r.a., and then does not give a primary source. In fact, Pervez's study of Hadith was very poor and he had collected a whole series of quotes from various secondary writers, taken out of context, to attack Hadith.

Let's see what the original texts on which Islam and Islamic history are based, say about the relations between Umar, 'ra., and Abu Huraira, r.a., regarding Hadith :

The context of the personality of 'Umar ibn al-Khattab is that he was very strict with HIMSELF and with ALL the companions of the Prophet, pbuh. But when he would hear Abu Huraira, r.a., reciting Hadith, 'Umar, r.a., would take back his own opinion. There is NO evidence that he wanted to stop Abu Huraira, r.a., from narrating Hadith. Quite the contrary. Here are specific instances:

"A woman who blew on knots (a form of witchcraft) was brought to 'Umar, r.a. He asked the people (assembled): Have any of you heard anything from the messenger of Allah, pbuh, regarding blowing on knots. Abu Huraira, r.a., got up and said: O Commander of the Faithful! I have heard. 'Umar, r.a., asked: What have you heard? Abu Huraira replied: He (the Prophet, pbuh) said: O women who blow on knots, do not do so and and do not ask anyone to blow on knots. 'Umar, r.a., accepted Abu Huraira's words [in front of the entire assembly].
[Sahih Bukhari, vol.2. Urdu translation]

"Once 'Umar, r.a., took Abu Huraira, r.a., with him from Madinah to Makka for Hajj. On the way, a storm started blowing. 'Umar, r.a., asked his Companions, does anyone remember anything from the messenger of Allah regarding a strong breeze.? No one answered. Abu Huraira, r.a., who was trailing behind the caravan learned of the question 'Umar was asking. He put his mount to the gallop, reached 'Umar, and said: I learned of the question you were asking. I heard the messenger of Allah, pbuh, say, the wind is a sign of Allah's mercy."
[Musnad of Ahmad ibn Hanbal. vol. 14]

"Hissan ibn Thabit, r.a., was reciting poetry in the mosque. 'Umar, r.a., passed by and forbade Hissan, r.a., from reciting poetry in the mosque. Hissan replied: I used to recite poetry in the mosque when one better than you [the Prophet, pbuh] used to be there. Then he turned to Abu Huraira, r.a., and asked him: O Abu Huraira, I ask you in Allah's name, didn't you hear the messenger of Allah, pbuh, say about me: "(O Hissan) answer the unbelievers from my side (in poetry). O Allah support him (Hissan) with the sacred spirit." Abu Huraira, r.a. replied: "Yes, I did hear him. (say that)." [Sahih Muslim, vol. 2]

In each case, Abu Huraira's words were accepted by 'Umar, r.a.

There is NO EVIDENCE that 'Umar, r.a., or any other Companion of the Prophet, pbuh, stopped or tried to stop Abu Huraira, r.a., from narrating Hadith. Ayesha, r.a., corrected two of his narrations but did not stop him and did not make any general comment against his narration of Hadith. In fact he used to sit outside her door and narrate Hadith, so that in case he was wrong, she could correct him.
It's possible that in later times Abu Huraira, r.a., might have quipped that if 'Umar, r.a., had heard me reciting so many Hadith, he would have hit me. Abu Huraira, r.a., was very humble and would often say things against himself. He even told of the time when he was an employee of the woman who later became his wife, and he said, she used to push him like a servant, and he said jokingly, after she became his wife, I'll now make her work for me!

Once during Muawiyya's Caliphate, Abu Huraira, r.a., sneezed and then made fun of himself, what a time of wealth has come that the poor man who used to pass out from starvation in front of 'Ayesha's home (he himself) cleans his nose in a fancy kerchief. [Sahih Bukhari]

In any case, NO COMPANION of the Prophet, pbuh, EVER claimed that Abu Huraira, r.a., was narrating too many Hadith.

Only people like G.A. Pervaiz make such false claims against this beloved servant of the Prophet, pbuh.

---

[Obama and Bush are singing the same tune. This injustice has outdone Bush. NT Editor.]
Lynne Stewart sentenced to ten years in prison
BY JEFF MACKLER

(Jeff Mackler is the West Coast Director of the Lynne Stewart Defense Committee.)

The full force of the U.S. criminal "justice" system came down on innocent political prisoner, 30-year veteran human rights attorney and radical political activist Lynne Stewart today, July 15, 2010.

In an obviously pre-prepared one hour and twenty minute technical tour de force designed to give legitimacy to a reactionary ruling Federal District Court John Koeltl, who in 2005 sentenced Stewart to 28 months in prison following her frame-up trial and jury conviction on four counts of "conspiracy to aid and abet terrorism," re-sentenced Stewart to 120 months or ten years. Koeltl recommended that Stewart serve her sentence in Danbury, Connecticut' s minimum security prison. A final decision will be made by the Bureau of Prisons.

Stewart will remain in Manhattan's Metropolitan Correctional Center for 60 days to prepare an appeal.

The jam-packed New York Federal District Court chamber observers where Koeltl held forth let out a gasp of pain and anguish as Lynne's family and friends were stunned - tears flowing down the stricken and somber faces of many. A magnificent Stewart, ever the political fighter and organizer was able to say to her supporters that she felt badly because she had "let them down," a reference to the massive outpouring of solidarity and defiance that was the prime characteristic of Lynne's long fight for freedom.

Judge Koeltl was ordered to revisit his relatively short sentence when it was overturned by a two-judge majority of the U.S. Court of Appeals for the Second Circuit. Judges Robert D. Sack and Guido Calabresi ruled that Koeltl's sentence was flawed because he had declined to determine whether Stewart committed perjury when she testified at her trial that she believed that she was effectively operating under a "bubble" protecting her from prosecution when she issued a press release on behalf of her also framed-up client, the blind Sheik Omar Abdel Rahman. Rahman was falsely charged with conspiracy to damage New York state buildings.

Dissenting Judge John M. Walker, who called Stewart's sentence, "breathtakingly low" in view of Stewart's "extraordinarily severe criminal conduct" deemed the Second Circuit's majority opinion "substantively unreasonable." Walker essentially sought to impose or demand a 30-year sentence.

The three-judge panel on Dec. 20, 2009 followed its initial ruling with even tougher language demanding that Koeltl revisit his treatment of the "terrorism enhancement" aspects of the law. A cowardly Koeltl, who didn't need this argument to dramatically increase Stewart's sentence, asserted that he had already taken it under consideration in his original deliberations.

Government prosecutors, who in 2005 sought a 30-year sentence, had submitted a 155-page memorandum arguing in support of a 15-30 year sentence. Their arguments demonstrated how twisted logic coupled with vindictive and lying government officials routinely turn the victim into the criminal.

Stewart's attorneys countered with a detailed brief recounting the facts of the case and demonstrating that Stewart's actions in defense of her client were well within the realm of past practice and accepted procedures. They argued that Koeltl properly exercised his discretion in determining that, while the terrorism enhancement provisions of the "law" had to be taken into consideration, the 30-year-prison term associated with it was "dramatically unreasonable," "overstated the seriousness" of Stewart's conduct" and had already been factored into Koeltl's decision.

Stewart's attorneys also argued convincingly in their brief that the Special Administrative Measure (SAM) that Stewart was convicted of violating by releasing a statement from her client to the media was well within the established practice of Stewart's experienced and mentoring co-counsels- former U.S. Attorney General Ramsey Clark and past American Arab Anti-Discrimination Committee president Abdeen Jabarra. Both had issued similar statements to the media with no government reprisal. Clark was an observer in Koeltl's courtroom. When he testified in support of Lynne during her trial one overzealous prosecutor suggested that he too be subject to the conspiracy charges. The more discreet team of government lawyers quietly dropped the matter.

As worst in such matters, government officials refuse defense attorneys client visiting rights until an agreement on a contested interpretation of a SAM is reached. This was the case with Stewart and her visiting rights were eventually restored with no punishment or further action. Indeed, when the matter was brought to then Attorney General Janet Reno, the government declined to prosecute or otherwise take any action against Stewart.

But Koeltl, who had essentially accepted this view in his original sentence, reversed himself entirely and proceeded in his erudite-sounding new rendition of the law to repeatedly charge Stewart with multiple acts of perjury regarding her statements on the SAM during her trial.

Koeltl took the occasion to lecture Stewart regarding the first words she uttered in front of a bevy of media outlets when she joyfully alighted from the courthouse following the judge's original 28-month sentence. Said Stewart at that time, "I can do 28 months standing on my head." A few moments earlier Stewart, with nothing but a plastic bag containing a toothbrush, toothpaste and her various medications, had stood before Koeltl, who had been asked by the government to sentence her to a 30-year term, effectively a death sentence for Lynne, aged 70, a diabetic and recovering breast cancer victim in less than excellent health.

Koeltl dutifully followed the lead of the Second Circuit judges, who feigned outrage that Stewart could possibly appear joyful that her life was spared despite 28 months in prison. Koeltl insisted that Stewart's remark was essentially contemptuous of his sentence and insufficient to convince Stewart of the seriousness of her "crime." Lynne's defense was that while she fully understood that 28 months behind bars, separating from her "family, friends and comrades," as she proudly stated, was a harsh penalty, she was nevertheless "relieved" that she would not die in prison. Koeltl needed a legal brick to throw at Lynne's head and ignored her humanity, honesty and deep feeling of relief when she expressed it to a crowd of two thousand friends, supporters and a good portion of the nation's media.

The same Judge Koeltl who stated in 2005, when he rendered the 28-month jail term, that Lynne was "a credit to her profession and to the nation," clearly heard the voice of institutionalized hate and cruelty and responded in according with its unstated code. "Show no mercy! Thou shall not dissent without grave punishment" in capitalist America.
Lynne was convicted in the post-911 generated climate of political hysteria. Bush appointee, Attorney General John Ashcroft, decided to make an example of her aimed at warning future attorneys that the mere act of defending anyone whom the government charged with "conspiracy to aid and abet terrorism," could trigger terrible consequences.

On July 15 Judge Koeltl made the decision of his career. Known for his meticulous preparation in such matters, and already having enraged the powers that be with his "light" sentence of Stewart, he bent full tilt to the reactionary political pressures exerted on him by the court hierarchy. He had the option to stand tall and reaffirm his original decision. The "law" allowed him to do so. He could have permitted Lynne to leave prison in less than two years, recover her health, and lead a productive life. His massively extended sentence, unless overturned, will likely lead to Lynne's demise behind bars - a brilliant and dedicated fighter sacrificed on the alter of an intolerant class-biased system of repression and war.

Courage is a rare quality in the capitalist judiciary. For every defiant decision made, usually driven by a change in the political climate and pressed forward by the rise of mass social protest movements, there are thousands and more of political appointees that affirm the status quo, including its punishment of all who struggle to challenge capitalist prerogatives and power.

Lynne Stewart stands tall among the latter. We can only hope that the winds of change that are stirring the consciousness of millions today in the context of an American capitalism in economic and moral crisis keeps the movement for her freedom alive and well. The fight is not over! What we do now remains critical. Lynne's expected appeal to the U.S. Supreme Court cannot be written off as absurd and hopeless. What we do collectively to free her and all political prisoners and to fight for freedom and justice on every front counts for everything!

Write to Lynne at:

Lynne Stewart 53504-054
MCC-NY 2-S
150 Park Row
New York, NY 10007

For further information call Lynne's husband, Ralph Poynter, leader of the Lynne Stewart Defense Committee
718-789-0558 or 917-853-9759

Send contributions payable to:

Lynne Stewart Organization
1070 Dean Street
Brooklyn, New York, 11216

---

The Case of Shirley Sherrod, another Teachable Moment

By

Dr. Wilmer J. Leon III, Ph.D.

The conservative spin machine is at it again. The attack on the USDA's former Georgia director of Rural Development, Ms. Shirley Sherrod by conservative blogger Andrew Breitbart is the most recent example of the dangers that come from reactionary sound-bite politics being put in the context of race.

In an attempt to shift the focus away from the NAACP's justified condemnation of the "...extremist elements within the Tea Party, calling on Tea Party leaders to repudiate those in their ranks who use racist language in their signs and speeches," conservatives are once again attempting to create the illusion of "reverse discrimination". They are trying to show a "blacklash" of radical racist behavior by African Americans by distorting events, editing video, and race-baiting. They want to "flip the script" by using race based attacks as a defense against or rational for their own raciest behavior.

Unfortunately, in an attempt to demonstrate a "zero-tolerance" policy towards any perceived actions based upon race, the Department of Agriculture and the NAACP allowed themselves to be baited into taking action against Ms. Sherrod that the facts (upon further investigation) do not support. After Breibart's video went "viral" on the internet, Ms. Sherrod told the Associated Press (AP) that she was called by the USDA's deputy undersecretary Cheryl Cook and told that the White House wanted her to resign. "They called me twice...The last time they asked me to pull over the side of the road and submit my resignation on my Blackberry, and that's what I did."

Agriculture Secretary Tom Vilsack summarily dismissed Ms. Sherrod based upon a video on the internet? He did not put Ms. Sherrod on administrative leave pending further investigation and did not provide Ms. Sherrod the opportunity to defend herself. Vilsack was so afraid of a baseless attack from the conservative right that he cut and ran instead of taking the time to insure that what was presented was factual and her dismissal justified.

According to the AP, Vilsack is now saying that he will "conduct a thorough review and consider additional facts." Such a through review should have been conducted on the front-end of this fiasco not after the fact. He will "consider additional facts?" No, he should consider "the facts" since his initial actions were baseless and reactionary.
In a similar knee jerk reaction, the NAACP issued a statement (which they later retracted) supporting her firing, "We concur with US Agriculture Secretary Vilsack in accepting the resignation of Shirley Sherrod...Her actions were shameful...she gave no indication she had attempted to right the wrong she had done to this man."
Additional facts have come to light since the release of this video. Conservative blogger Andrew Breitbart intentionally edited the video to misrepresent Ms. Sherrod's message. She actually told the audience at the NAACP Freedom Fund Dinner how she was able to overcome her personal bias and help the white farmer, Roger Spooner and his wife to save their farm. Spooner's wife Eloise told CNN that Sherrod was "getting in there and doing all she could do to help us."

Ms. Sherrod's personal story of overcoming racial bias was intentionally misrepresented as a story of racism in order to further a larger agenda. The event she recounted took place 24 years ago while she was working for the Federation of Southern Cooperative/Land Assistance Fund not the USDA. Her actions had no relation to her current position or employer.
The NAACP went on to state, "The NAACP will continue to advance the ideals of America and fight for freedom, justice and fairness for all Americans." If that is true they need to fight for justice and fairness for Ms. Shirley Sherrod, hold Secretary Vilsack accountable, and call upon President Obama to speak out on her behalf and condemn the race baiting tactics of the right.
The firing of Ms. Sherrod is the most recent example of the dangers that come from reactionary sound-bite politics being put in the context of race. Former Obama Special Adviser for Green Jobs Van Jones was dismissed after conservative talk show host Glenn Beck took issue with Jones' "activist radical past" even though Jones is a leading expert in the field of the environmental economy. Attorney General Holder is accused of not pursuing a voter intimidation case in Philadelphia against the New Black Panther Party even though the decision not to file a criminal case occurred before President Obama was even in office.
These are a few examples of manufactured distractions, intentional distortions, and conveniently omitted facts, and for what reason? The Andrew Breitbart's of the world and the media outlets that support them want the electorate to ignore the fact that on Rep. John Lewis (D-GA) and Rep. Emanuel Cleaver (D-MO) were spat upon and called "nigger" and Rep. Barney Frank (D-MA) was called a "faggot" by members of the Tea Party.
They want Americans to ignore the fact that former Republican congressman Tom Tancredo opened the Tea Party convention by calling for a reinstatement of Jim Crow type literacy tests for voters and saying, "This is our country,...Let's take it back." Ignore the fact that during President Obama's speech to a joint session of Congress on health care, Rep. Joe Wilson (R-SC) shouted at the President "you lie". Wilson would have never thought to do that to any of the former Presidents. Ignore the fact that there have been numerous cartoons featuring the Obama's as monkeys, terrorists, or Muslim suicide bombers.

The case of Ms. Shirley Sherrod has given America another "teachable moment." Even though the president wants to stay as far away from the race issue as possible, he can not give racists a pass. By continuing to run from race and ignoring the racists, America will remain mired in its middle.

---

Dr. Wilmer Leon is the Producer/ Host of the nationally broadcast call-in talk radio program "Inside the Issues with Wilmer Leon," and a Lecturer in the Department of Political Science at Howard University in Washington, D.C. Go to www.wilmerleon.com or email: wjl3us@yahoo.com. www.twitter.com/drwleon
© 2010 InfoWave Communications, LLC.

---


Website Challenging Elie Wiesel is Now Online

"Where's the Tattoo?" is the question asked by a new website that has just gone online at www.eliewieseltattoo.com.

Elie Wiesel Cons the World will confront contradictions and what appear to be falsehoods and inventions about himself and others by the world's most famous Holocaust survivor, and expose those that are demonstrably false, oftentimes on the face of it. It will question Wiesel on key testimony where Holocaust scholars have failed to question him at all.
Elie Wiesel presents himself as an advocate for free speech even as he calls for the criminalization of what he calls "Holocaust denial" in every European and Anglo-American nation. This is a disturbing contradiction in itself. By raising the right questions, this website becomes an important voice in the search for truth about Holocaust and Holocaust testimony.

Contact: Carolyn Yeager
c/o CODOH
PO Box 439016
San Ysidro , CA 92143
Email: ewtattoo@codoh.com
Web: www.eliewieseltattoo.com



2010-07-23 Fri 17:37:31 cdt
NewTrendMag.org