NewTrendMag.org News # 1787
[ Click on NEWS for back issues ][ OUR BOOKS ][ Contact ][ Previous Issue ]

16 Rabi' al Awwal 1440 A.H. - December 2 2018 Issue # 48, Newsletter #1787

---


Hadith of the Week

Narrated Abu Huraira, r.a: I said: "O Allah's Apostle! Who will be the luckiest person, who will gain your intercession on the Day of Resurrection?" Allah's Apostle said: O Abu Huraira! "I have thought that none will ask me about it before you as I know your longing for the (learning of) Hadiths. The luckiest person who will have my intercession on the Day of Resurrection will be the one who said sincerely from the bottom of his heart "None has the right to be worshipped but Allah."

And 'Umar bin 'Abdul 'Aziz wrote to Abu Bakr bin Hazm, "Look for the knowledge of Hadith and get it written, as I am afraid that religious knowledge will vanish and the religious learned men will pass away (die). Do not accept anything save the Hadiths of the Prophet. Circulate knowledge and teach the ignorant, for knowledge does not vanish except when it is kept secretly (to oneself)."

Sahih Al-Bukhari - Book 3 Hadith 98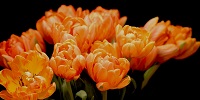 [With thanks to Sis. Kristi]


---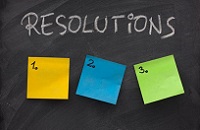 December 1, 2018 Resolutions of Jamaat al-Muslimeen's National Islamic Shoora



Domestic




We welcome the Caravan—refugees from Honduras, Guatemala, Nicaragua, and other Central American countries—to the United States. The spirit of Islam through the centuries has always been one of welcome to refugees. Muslims condemn the intolerant policies of the current U.S. administration, which includes internment of political asylum seekers, separation of children from their parents, teargasing of migrants who have endured dangerous and arduous journeys to the U.S.-Mexican border, and other forms of mistreatment of our Central American brothers and sisters.


We urge the leaders of American Muslim organizations, like ISNA, ICNA, CAIR, MAS, and RIS to include in their agenda the incarceration of clearly innocent Muslim political prisoners, like Imam Jamil Al-Amin and Dr. Aafia Siddiqui. These issues should be formally discussed at the conventions, meetings, juma'ah gatherings of the aforementioned organizations. To continue to ignore such blatant injustice is an abdication of the responsibility of organizations which claim to represent Muslims in America.


We applaud the conviction of Officer Jason Van Dyke in the murder of black teenager Laquan McDonald in Chicago, IL. However we recognize that this is an aberration from the norm of police impunity in the U.S., and call for international oversight into police killings of Black men by U.S. police.


We applaud Temple University professor Marc Lamont Hill for his courageous stance for freedom for the Palestinian people. We insist that the First Amendment apply not only to Zionists but to opponents of Israeli apartheid.


We applaud the release of MOVE members Debbie Africa and Mike Africa, Sr. after decades of political imprisonment by the U.S.
government on fraudulent charges.


We opposed, on principle, the attempts to discredit then-Supreme Court nominee Brett Kavanaugh on flimsy, decades-old accusations. Both men and women need be responsible for their public behaviors, and no one should be judged without credible evidence and the opportunity to confront one's accuser. At the same time, the U.S., while not a Muslim country, ought independently consider the utility of punishment accorded to rapists under Sharia (Islamic law): Execution.





International




We congratulate the governments of Ethiopia and Eritrea on the attainment of a ceasefire. Such actions show that peaceful resolution of conflicts is possible. The assumption of power by President Sahle-Work Zewde in Ethiopia is a hopeful sign that African women are returning to the decision-making roles traditionally accorded them in many African societies.


On the Syrian front, we condemn the U.S., Russia, and Iran for their role in the destruction of E. Aleppo, the bombing of cities around Damascus, and the total destruction of Raqqa. We beseech all parties involved to reconsider their support for the tyrant Assad.


We cautiously welcome Imran Khan to the seat of the Pakistan prime ministership. We urge him to remain strong in putting Pakistani and Muslim interests first, in the face of U.S. pressure, even to the extent of rejecting U.S. aid to Pakistan (if any is proffered).


We condemn as utterly reprehensible the killing of journalist Jamal Khashoggi by the Saudi government. Similarly, we condemn the targeting and killing of journalists in "Israel" and other lands under occupation/ neo-colonial rule.


We condemn the renewed attacks on the population of Gaza—effectively imprisoned within refugee camps—by the Israeli occupation authority, and the glossing over of such attacks by the U.S. corporate media. Such attacks are clearly a violation of international law.




Political Prisoners :

AhmedAbdelSattar.org

FreeZiyadYaghi.info

FreeMasoudKhan.net

Civil Discord Show


---


We have received several requests to re-publish the name of the organizaiton in Gambia that Br Abu Talib helps promote and support.
The name of the organization is:
Public Association for Educating Orphans and Helping the Needy.
This is the link to their
Facebook page.
FaceBook.com/Public-Association-for-Educating-Orphans-and-Helping-the-Needy-1510208169228270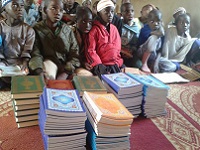 We will have additional information about this organization in an upcoming issue.
________________________



Br. Abu Talib is a member of Jamaat al-Muslimeen. The Jamaat is proud of the work he does, which includes assisting this organization in Gambia. May Allah reward him for his efforts.


---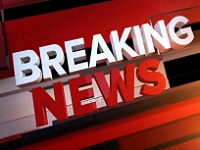 Re-Emergence of Jamaate Islami in Bangladesh

Jamaate Islami Bangladesh is presently the third largest party.They have strong footing in 150 out of 300 seats .However in the present situation they have to contest in limited seats , not to give advantage to dictatorial and anti Islamic forces.


---


Rashidul Hasan
Jamaat has finally decided that its aspirants will contest the December 30 parliamentary election with "sheaf of paddy", the electoral symbol of BNP, party insiders said.

Jamaat-e-Islami, a key partner in the BNP-led 20-party alliance, has so far got 25 seats to run under the banner of the combine, claimed Syed Abdullah Md Taher, a member of the party's central executive council.

Talking to The Daily Star last night, Taher, who has been picked for Cumilla-11, added that they were in talks with the BNP to get four more seats.

However, this newspaper could not get any confirmation from the BNP.

According to the Representation of the People Order, if Jamaat candidates win the polls, they will be considered BNP lawmakers.

Of the 25 Jamaat aspirants, Shamim Sayedee, second son of convicted war criminal Delawar Hossain Sayedee, has been picked to contest in Pirojpur-1.

Earlier, a number of Jamaat leaders had said their election aspirants would not use "sheaf of paddy" as their electoral symbol as they would contest as independents.

Recently, Jamaat leaders started saying that they would come up with their decision before the election whether the party's aspirants would run independently or with the BNP's electoral symbol.

The party's policymakers yesterday finally decided to use the BNP's electoral symbol as they feared that it would be hard for the party's aspirants to ensure victory as independents, said Jamaat insiders.

On October 29, the Election Commission scrapped the registration of Jamaat in line with a High Court verdict that declared Jamaat's registration illegal.

The EC's move made it clear that the party would not be able to contest the upcoming national election.

On August 1, 2013, the HC in a landmark verdict had declared Jamaat's registration with the EC illegal. The commission the same year had suspended the registration.

Jamaat then filed an appeal with the Supreme Court challenging the HC verdict which is still pending.

The government of independent Bangladesh in its first decision had banned five communal outfits, including Jamaat, which not only opposed the nation's independence but also actively helped Pakistan occupation forces commit genocide and other war crimes.


---


Top Issues and Solutions.





Shoora of Jamaat al-Muslimeen.
Far reaching analysis of Issues.

The Islamic Shoora committee met in Reisterstown, Maryland on December 1.

The meeting continued for 9 hours with breaks for prayers and concluded with halal dinner at a Bangladeshi restaurant.

The program organized by Dr. Kaukab Siddique and Sis. Kristi involved intense and far reaching analysis of issues facing the Muslim Ummah.

Prayers were led by Br. A. Q. Sennaar and duas were led by Imam Muammar.

A keynote speech came from Br. Kalem on "Why men in America cannot protect women."

Important presentations on support for children in Africa, particularly Ethiopia and Gambia, were made by Sis. Ashira and Br. Abu Talib.

Concern for political prisoners came from Br. Ali Randall with support from Sis. Nadrat Siddique. Latest information on Imam Jamil al-Amin, now imprisoned in Arizona was presented.

Sis Ayesha brought a presentation about POVERTY in America and its impact on oppressed communities.

Several hours were spent in open discussion of issues facing Muslims owing to racism and media control.

Bombing and occupation of Muslim countries and populations in Palestine, Somalia, Syria, Iraq, Afghanistan, Burma [Rohingyas], Kashmir and China was strongly condemned.

The concerns of the Shoora committee meant to reflect viewpoints of America's Muslims have been expressed in the form of resolutions published in the right column of this issue of New Trend.


---


PAKISTAN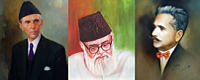 Sikh Pilgrims are welcome but India can't Fool us. [Islamic leader.]
by Qaiser Sharif

LAHORE, Nov. 28; Secretary General, Jamaat e Islami, Liaqat Baloch, in his reaction to Prime Minister Imran Khan's address at Kartarpur, has said that India had already turned down Pakistan's offer for dialogue and it would continue to sabotage our efforts to improve bilateral ties.

The JI Secretary General said it was good that the opening of Kartarpur corridor would facilitate the Sikh pilgrims in reaching their religious places. However, he said, the issue was not merely of an additional corridor. He said that India had been carrying out the genocide of the Kashmiris, demolishing their homes and mosques, besides continuing shelling across the LoC. He said it was unfortunate that Prime Minister had not touched any of these issues in his speech, at Kartarpur.

Liaqat Baloch said that the core issue between Pakistan and India was of Kashmir and India had killed hundreds of innocent Kashmiris during the recent months but the Pakistan government was begging for dialogue.

He said the way Indian Foreign Minister had turned down the Prime Minister's offer was a matter of humiliation for the country. He said that the parliament had been silent on the Kashmir issue for quite some time.

He said the political and religious parties had been demanding a permanent Kashmir policy to counter India's obstinacy and treachery. He said that India would not tolerate good gestures from this country nor would it like the Sikhs to be happy over the facilities extended by this country.


---


War News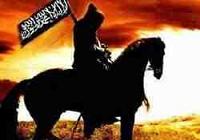 Afghanistan
Deadly war continues.

November 27.[Reuters]
Taliban hit a US armored vehicle in Ghazni city with an IED, killing 3 US troops and wounding 2 troops and a US contractor. [Most of Ghazni province is in Taliban hands, except the city.] [According to Brietbart, the three were in a special operations force.]

November 28
Kabul: Taliban hit a British Security company, G4S, with a car bomb, killing 10 and wounding 29.

US Air Strikes

December 2. A US air strike in Paktia province killed 12 members of a village family. The villagers have brought the bodies gto the capital, Gardiz, to show people that none of those killed are Taliban.

November 27. A US air strike in Helmand province killed 23 civilians, including 10 children, 8 women and 5 men. [Source UN]

November 30 A US air strike in the Tora Bora area of Nangarhar province [where Osama bin Laden once lived] killed 6 supporters of the Islamic State.

December 1. A US air strike killed Mullah Abdul Mannan in the Helmand province. He was one of the top commanders of the Taliban in the area. Ten others with him were also killed.

The US dropped more bombs on Afghanistan in 2018 than ever in recorded history.



---


Syria

Latest Slaughter of Civilians in US bombing of IS towns. Heavy clashes in Southern Deir ez Zor. IS Advancing.

Iranian Allies of Assad shelling 8 northern towns. Shia Shrines being established in Daraa. Iranian religion in Deir ez Zor.

Syrian Observatory for Human Rights [SOHR] has documented the human losses in the ongoing operation by US and SDF [Kurdish Communists] against the Islamic State [IS] in southern Deir ez Zor on the eastern banks of the Euphrates river.

The bombing by the US air force from November 23 to December 1 has killed 74 civilians, including 24 children and 12 women.

At least 115 mujahideen of IS were also killed in fighting with SDF and due to US bombing.

The SDF advance was blunted and 104 troops of SDF were killed. SDF fighters fled during the fighting and IS has captured a large area along the river bank. 5 SDF captured by IS were killed when US bombed the prison where they were held.

November 26 to December 2.

Iranian artillery has been shelling 4 towns in Idlib province, 2 in northern Hama province, one in northern Latakia and one in northwestern Aleppo province. Owing to the random nature of the shelling, civilian deaths and injuries are increasing.

In exchange Islamic groups [FSA supported by Turkey] have been responding to the Iranians with mortars and machine guns.

In Deir ez Zor near Bokamal and Mayadein, areas for SHIAS ONLY have been set up by Iran. Shia shrines have been set up.

In Daraa province, Hizbullah shias of Lebanon have set up Shia shrines. They are also recruiting unemployed local people with funding three times higher than any local job when available.

Areas of Afrin, north central Syria, captured by pro-Turkey FSA are facing sneak attacks by YPG Communist Kurds.
Raqqa is facing sneak attacks by Islamic State sleeper cells..


---


Iraq
Top Commander of Shia Militia Killed.
IS Attacking hit-and-Run Across Iraq.

November 29
Northeast of Baquba, top commander of Hashad al-Shaabi, Abu Jamal al-Janabi was killed in an attack by Islamic State fighters. He led the 110th Brigade.

November 30-December 2.

Gunmen killed a police lieutenant and wounded two companions on a highway by a roadside restaurant near Chamchamal. Falah Hassan Khalil was a Shi'ite Turkmen working in the Kirkuk directorate of police.

A bomb at the Karama border crossing with Jordan seriously wounded four Iraqi border guards. The men were transported to a hospital in Amman for treatment that included amputations.

Two policemen were killed and another was wounded in a shooting in Mosul.

Iraqi regime has launched air strikes [jets provided by the US] against IS but missed its targets.

One million Muslims evicted from Mosul by the US-Iran-Shia forces are still homeless in the desert after a year.
The city of Mosul was destroyed by the US air force and its coalition air forces, killing more than 40,000 civilians. [The Independent, UK]

A Turkish bazar in Kirkuk has been set on fire by Kurds hostile to Turkey.


---


Invitation to Think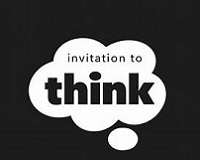 Do Muslims know what they are up against?
The Crown Prince, who controls the Holy Cities of Islam, is the best friend of three of the worst enemies of Islam.
See pictures below (enjoy!)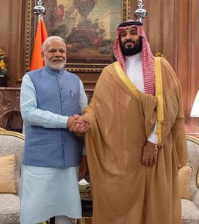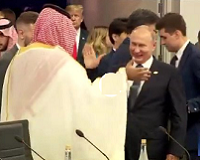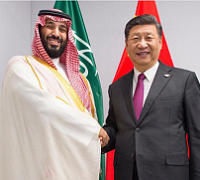 ---


Guidance by Sis. Yasmin.

Conditions for Sincere Repentance
"And those who, when they commit an indecency
or do injustice to their souls remember Allah..."

Allah says:
"And those who, when they commit an indecency or do injustice to their souls, remember Allah and ask forgiveness for their sins and who forgives sins but Allah. and (who) do not knowingly persist in what they have done. For such the reward is forgiveness from their Lord, and Gardens with rivers flowing underneath an eternal dwelling. How excellent a recompense for those who work (and strive)!" [Source: 'Qur'aan'~ Sûrat Al 'Imrân : 135-136]

This is one of the many passages of the Qur'âan that discusses sincere repentance, informing us that when a person repents sincerely and fulfills the conditions of true repentance, then his reward is forgiveness for his sins, atonement for his mistakes, and admission into Paradise. In the same vein are two other passages of the Qur'aân that we should make note of... Allah says:

"And those who do not invoke any other god along with Allah, nor take the life which Allah hath forbidden save in (course of) justice, nor commit adultery - and whoso does this shall pay the penalty; The punishment will be doubled for him on the Day of Resurrection, and he will abide therein disdained forever, unless he repents, believes, and works righteous deeds, for Allah will change their evil deeds to good deeds, and Allah is Oft-Forgiving, Most Merciful"
[ Source: 'Qur'aan'~ Sûrat al-Furqân : 68-70]

Allah also assures us:
"Say: O my Servants who have transgressed against their souls! Despair not of the Mercy of Allah: for Allah forgives all sins: for He is Oft-Forgiving, Most Merciful." [ Source: 'Qur'aan'~ Sûrat al-Zumar : 53]

Ibn 'Abbâs relates to us the context in which these two passages were revealed. We can see in this account a firm assurance of forgiveness for those who repent sincerely. Ibn 'Abbâs says:

A group of people had killed and been excessive in killing, had committed adultery and been excessive in doing so, and had committed heinous crimes. They came to the Prophet (peace be upon him) and said: "O Muhammad! What you say and what you call towards is something good. If only you could inform us of some atonement for what we have done."

Then Allah revealed:
"And those who do not invoke any other god along with Allah..." up to the point "Allah will change their evil deeds to good deeds."
The Prophet (peace be upon him) said: "Allah will change your
polytheism to belief and your adultery to chastity."
Also revealed at this time was: "Say: O my Servants who have transgressed against their souls ! Despair not of the Mercy of Allah: for Allah forgives all sins: for He is Oft-Forgiving, Most Merciful."

[Source: Sahîh al-Bukhârî # (3855) and Sahîh Muslim #(122)]
The conditions of repentance, as can be understood from the texts, are as follows:


Abstinence from committing the sin .


A firm resolve never to return to the sin.


Regret for having committed the sin in the first place. [If his sin involved any injury to another party, then one or both of the following two conditions may apply]


Restoring the rights of others that may have been violated.


Redressing the wrong or the injury that he may have inflicted upon others. There are those who transgress the limits of Allah and die in such a state without ever bothering to repent for their sins, or who offer repentance without fulfilling its conditions.

They meet their Lord carrying their sins upon their backs unatoned for, and when their deeds are weighted in the balance, their evil deeds outweigh the good that they have done.
Abû Hurayrah (r.a.) relates how the Prophet (peace be upon him)

described such people to his Companions: Prophet (peace be upon him) asked: "Do you know who is bankrupt ?"

They replied: "The bankrupt person is one who has no silver coin and no provision." He said: "In fact, the bankrupt person from among my people is the one who comes to the Day of Resurrection with prayers, fasts, and charity to his credit, but he had spoken ill of someone, slandered someone else, misappropriated someone's money, shed someone's blood, and assaulted someone else. Thereupon his good deeds will be given over to this one and to that one. If his good deeds run out before his account is complete, then some of their evil deeds will be taken and cast upon him. Then he will be cast into the Fire." [Source: Sahîh Muslim # (2581)]

The Prophet (peace be upon him) also said:
"Whoever has upon his account some injustice that he has
perpetrated against his brother, then he should free himself from it, for there will be no gold or silver coin (in the Hereafter) that will avail him against his good deeds being taken from him and given to his brother. And if he has no good deeds, then his brother's sins

will be taken and foisted upon him." [Source: Sahîh al-Bukhârî # (6534)]

Worse than that are those who commit evil deeds while construing them as lawful, who feel secure in what they are doing from Allah's scheme and His punishment. Thawban relates a discussion the Prophet (peace be upon him) had with him wherein he describes some people whose transgression against Allah's limits is most severe: The Prophet (peace be upon him) said: "I know of a people from within my 'Ummah' who will come on the Day of Resurrection with good deeds like the Tihama Mountains in quantity, pure and white. Allah will make those deeds like dust scattering in the wind."

Thawban then said: "O Messenger of Allah! Describe them to us. Make them known to us so that we will not be of them without realizing it."

He said: "They are your brethren and your countrymen. They take from their nights (for prayer) as you do. However, they are people who when they are alone with the limits of Allah, they violate them."

[Source:Sunan Ibn Mâjah (4235) - authenticated by al-Bûsîrî]

And Allah is the one who grants success and who guides to the path of true guidance. {'In Shaa Allah' ~ 'Aameen'~}
Courtesy ~ Sis Yasmin.
~My 'Salaams' to All~
~ Y a s m i n ~



2018-12-03 Mon 10:09:46 ct


NewTrendMag.org