NewTrendMag.org News # 1612
[ Click on NEWS for back issues ][ OUR BOOKS ][ Previous Issue ]

9 Shawwal 1436 A.H.- July 26, 2015 Issue # 82, Newsletter #1612

---


Hadith of the Week

Holding Fast to the Qur'an and Sunnah - Honesty is Essential

Narrated by Hudhaifa:

Allah's messenger said to us, "honesty descended from the Heavens and settled in the roots of the hearts of men (faithful believers), and then the Quran was revealed and the people read the Quran, (and learned from it)."

Both Quran and Sunna strengthened their (the faithful believers') honesty.

[Sahih al-Bukhari, 9.92.381]


---


PERSONAL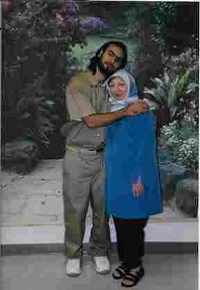 The Tragic Suffering of Masaud Khan and his mother.
With endless hope, Sis. Bilquis is petitioning President Obama
by Kaukab Siddique

Sis. Bilquis [Elisabeth] Khan, a White American Muslimah, lives in Gaithersburg, Maryland. On July 14 she was our community's guest for iftar. As the room filled up with Muslims enjoying the end of another long day of fasting, she looked so worn out and exhausted after ten years of trying to get her son out of prison.!

Masaud Khan was sentenced to life in prison. For what? Did he kill anyone? No! Did he hurt anyone? No! Was he working against the US government? Absolutely not!

I looked at Sis. Bilquis at prayer time. She has become so weak that she has to pray sitting in a chair.

She is a middle class widow. She Lives in a nice house. Her Pakistani husband was well to do. No one could have ever thought her son would be in prison. sentenced to life.

She has spent all her funds on high quality lawyers, on appeals for her son. She visits him regularly, further depleting her time, money and energy. With the passage of time, families in America break up as time goes on and on without signs of relief and with hope getting dimmer by the day. Sis. Bilquis has not faltered in the least. Her faith is strong and her hope that one day he will be out of prison is unending.

Where President Bush dealt so mercilessly with American Muslims, Masaud was just another of his victims. The young man had gone to Pakistan to reclaim his father's property. As it usually happens in Pakistan, the property-related wrangling with relatives stretched out. Masaud became attracted to Pakistan's religious ethos. One day he visited the Pakistani frontier with Indian occupied Kashmir. He fired three shots, symbolically in the general direction of India. He wanted Kashmir to be free.

This was before the 9.11 attack on America's high value targets.

After the attacks, the American government went out on "fishing expeditions" to capture alleged terrorists. A whole group of young Muslim men, who played pain ball, were arrested. Bush called it the Virginia Jihad! Among them was Masoud.

It's very difficult to sentence a totally innocent, middle class, person with no criminal record, to life in prison! How was it done? The government dredged up what is known as the Neutrality Act. That is if you attack a country friendly to the USA, you can be punished. Even then it was severe . He was sentenced to 33 years for each of the three shots he fired! That's a total of 99 years,

India and USA have become friends. The occupied people of Kashmir have been forgotten. Masaud paid the price .

Sis. Bilquis has exhausted all her appeals and her funds for Masaud, but she has not given up. Now she is appealing to President Obama for mercy. He has reduced the sentences of scores of persons in prison on drug charges, some for life.

Will the president pay attention to the petition for Sis. Bilquis?

That's where the Muslim community comes in. Please sign the petition to Obama for Masaud. We will give or mail or email you the petition . Please sign it and get others to sign it .

Check our web site for Masaud khan linked to newtrendmag.org.
FreeMasoudKhan.net


---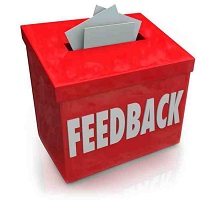 Dear Brother/ Editor,

Asalam O Alequm, I am a regular reader of your online/ email magazine and found it very informative and a very good source of explaining Islam and its point of view to the world.

This edition with Iran and its nuke deal or say Vienna Deal article is really good and express many peoples thoughts who with obvious reasons find Iran a US Natural Allies. For me now US has two wives in Middle east and the IRAN is the second and newest one so we can understand a bit unease from the previous and the FIRST one i.e Israel.

Iran in so many ways supported Iran and west specially in US Afgnan then IRAQ invasion still the recent killing of Iranian General in Syria says it all.

IS which is emerging with quite a good pace despite of ALL WEST as well Middle Eastern Tyrants opposition has to deal with the Iranian backed shiat Militias too.

I appreciate your good work and wish you best of Luck.

Ali Hashmat SAJAWAL
Islamabad Pakistan


---



Jamaat al-Muslimeen Activity on July 24th. Six Page Document Given to 76 Muslims

At the Nur masjed in eastern Maryland near White Marsh, after Juma' exactly 76 Muslims were given a six page document.

Most of the recipients were Pakistanis, Arabs and a few African Americans.

It attracted the attention of young people; Ten of them stood in a circle outside the masjid and discussed the document.

Here is what the six pages were about:

Syria: Heavy fighting as mujahideen advance into Lattakia, Allepo and Hasakeh & Assad moves on Palmyra. Iran Going all out tp save Assad.


Introductory message about Masaud Khan in prison for life & appeal to Obama to release him


In India [Ambur, near Vellore] Muslims fight police all day after torture death of a Muslim in police custody.


&
Critique of ISB, a million dollar mosque in West Baltimore where non-Muslim oppressor was supported in Khutba. [Nadrat Siddique.]


Failure of leaders of million dollar mosques in Ameroca, disconnecting US Muslims from global Ummah.[Ramadan musings by Br. Kaukab.]
---


AFRICA

Kenya

President Obama Faced Stiff Resistance on Homosexuality in Kenya even at the Official Level

Text below quoted verbatim from AOL News. July 25.

Obama did little to paper over policy differences with Kenya's government, most notably on gay rights. He drew on his own background as an African-American, noting the slavery and segregation of the U.S. past and saying he is "painfully aware of the history when people are treated differently under the law."

"That's the path whereby freedoms begin to erode and bad things happen," Obama said.

"When a government gets in the habit of treating people differently, those habits can spread." Kenyatta was unmoved, saying gay rights "is not really an issue on the foremost mind of Kenyans. And that is a fact."

A number of Kenyan politicians and religious leaders had warned Obama that any overtures on gay rights would not be welcomed in Kenya, where gay sex is punishable by up to 14 years in prison.

The Kenyan gay community also complains of sometimes violent harassment.


---


Somalia
US Air Force Bombed Somalia just Prior to Obama's Trip to Kenya. According to wire services, the US air force carried out bombing raids in various areas of Somalia to hit the al-Shabab Islamic fighters.

A large non-Muslim force consisting of troops from Burundi, Uganda and Kenya marched with such overwhelming force on an-Shabab town that the fighters evacuated the place without a fight.

Kenya was on high alert because al-Shabab has been raiding high value soft targets in Kenya to pressure Kenyan troops to withdraw from areas it has occupied in Somalia.


---


India:
Eid Gifts to Kids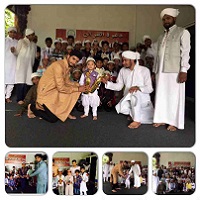 On the special occasion of Eid-ul-Fitr Dawatul Quran celebrated EID MILAN and distributed gifts as in kind of eidee for kids at St.Rumi International School (St.Rumi Kids) Jayanagar Bangalore.

The proceedings of a program began with Qirath, Hamd o Qasida Burda by the students of Dawatul Qur'an.

Syed Nasir Ahmed addresses the gathering, General Secretary - Shaik Nazim Ahmed enlightened the gathered by giving a prosperous advice on the occasion .... He said: *Ramadan may be leaving , but dont let it leave from within you.

*Yes, sadly its almost over and said that we can experience Ramadan vibes through out the year by keeping up with the good deeds and abounding the bad ones just like we did for the whole month.

He concludes saying that - Let the end of this month be the start of a new journey towards attaining the pleasure of Allah the Almighty.

Insha Allah this good deed and a prosperous work will be followed up in upcoming fruitful years.

The occasion was taken up to end by Dua.


---


Rebuttal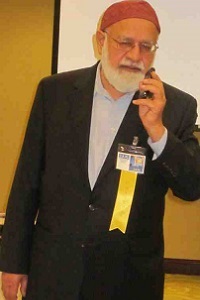 Daily Beast's Smear Job on Kaukab Siddique: July 22, 2015.
by Kaukab Siddique

For 30 years I have stood for first amendment rights, against censorship, against tyranny, against kings and despots, for the rights of women, for Palestine, against occupation and aggression, against the bombing of defenseless people. I have a track record of support for the oppressed and the downtrodden in America, particularly African Americans and the poor.

I have spoken up and written about the plight of political prisoners year after year. Whatever wealth or property I got, I gave away. So I don't recognize the "Kaukab Siddique" the Daily Beast attacked in its July 22 issue.

I decided to talk to the Beast because I considered it qualitatively better than bigots and fabricators in the media. I was wrong.

Most egregious is the Beast's claim that I am against women's rights. To be able to make this claim, Beast had to leave out the fact that I have published books and scores of articles in support of the rights of women. Beast went through my publication New Trend but somehow ignored what I wrote about women. Beast could have easily read or at least mentioned that I wrote THE STRUGGLE OF MUSLIM WOMEN and LIBERATION of WOMEN THRU ISLAM.

Beast was very interested in claiming that I called American women SLUTS. That was inaccurate. I took the trouble to point out that I am looking for reasons why the women allegedly molested by Cosby took decades to speak out. I asked 5 questions. Beast couldn't get away with accusing me of a general statement against women but still put the questions way down in the interview and put the word SLUTS at the top. None of the other questions were discussed by the Daily Beast.

I have been at my job for 30 years and no one has ever claimed that I am against the rights of women or that I don't respect them. Beast claims to have received an email from my job claiming that I don't respect women. Of course it is anonymous. So, this is the brave new world of journalism that Beast can receive an anonymous email and turn that into a story.

Every good student knows that CONTEXT is important. The Daily Beast ignored that basic principle.

A high school student would know that quotes should not be in the headline. Beast put bits of what I said about "Zionist Jews" and the "homo lobby" in the headline. With such sensationalism, one would have to read the entire article to find out what I was talking about. I was referring to Pamela Geller's gang and the blasphemous attacks on the Prophet Muhammad, pbuh. Geller and Spencer insulted and ridiculed all that is sacred for Muslims. I'll say that again about these haters.

About the homo lobby, I was factual that this group, with the support of the White House, has turned people of religion into a persecuted minority.

Just as homosexuals are expressing their viewpoint, people who follow religion should have the right to express opposition.

Beast repeatedly refers to my job and that the institution is paid by the State, as if that means I don't have the right to think for myself, and then only parenthetically admits that I do have the right to express myself on my own time.

Beast thinks I teach journalism. I don't. I used to and she picked that up from my old web site. [ KaukabSiddique.net ] I now teach Shakespeare and Literary Criticism. Let's see what Beast can make of that.

Then Beast latches on to war reporting in New Trend about ISIS. I have been studying the Second World War since I was a teenager. I know what is war time propaganda. The mainstream media tell us that ISIS is enslaving women for sex, in particular Yazeedi women. I told Beast that women are rushing to JOIN ISIS, not to leave it, and many of these are "liberated" women from western countries. If ISIS is enslaving women, why are western women rushing to join ISIS, even defying laws against joining it? Beast put my point right at the end of its report without explaining what I was saying.

The BBC has put together a report on Yazeedi women "enslaved" by ISIS but there is no evidence in the BBC report. It is about three Yazeedi women who were feted by top British people in London and who told atrocity stories. I asked Beast, don't we know that Yazeedis are among the most westernized people in Iraq with links to the West. Many of them have cell phones and could within a couple of minutes have sent photos to relatives and friends in the West depicting their arrest or mistreatment. How is it that that there is NOT ONE such photo?

I also tried to teach Beast that Britain is embarrassed by the flight of 'A' level British female students to ISIS and is trying to react by making up the stories of enslavement of women by ISIS. Beast left that out.

I also spoke about Muslim political prisoners and that some of them [like Masaud Khan] have been sentenced to LIFE in prison for victimless crime. I spoke about police brutality. Again Beast left all that out.

Does The Beast have a very poorly educated audience? By the time I read the report, there were 51 comments on it, almost all about why do I have this teaching job, or I should be fired forthwith, or suggestions for my deportation, or attacks on Islam and Muslims. There was nothing there which would indicate that the 'master race' can think!

To assure its audience that Beast was doing a good job, it also brought in the 5 year old story that I am a Holocaust Denier, which the likes of Blaze and the friends of Steve Emerson had propagated. Dear Beast, I am not a scholar of the holocaust story but specialists like Germar Rudolf, David Irving, Prof. Butz, Bradley and many others have studied the Jewish claims. If Beast has not read any of them, don't try to engage with me. I have


---


PAKISTAN





In Pakistan, Detainees Are Vanishing in Covert Jails
Source: AP

Niaz Bibi's son disappeared into the night, whisked away by Pakistani soldiers who accused him of being a Taliban fighter. For 18 anguishing months, she could find no word of his fate. Then she got a phone call.

"Come to Kohat prison," said the man on the other end. "Tell nobody."

At the prison, in northwestern Pakistan, she was directed to a separate, military-run internment center where her son, Asghar Muhammad, was brought to her. They touched hands through a metal grill, and she wept as he reassured her that he would be home soon.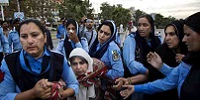 But when the phone rang again, one month later, an official delivered crushing news. "Your son is dead," he said. "Come collect his body."

Photo: Sis. Amina, organizer of protests, being dragged away. New Trend supported her efforts.

Mr. Muhammad was one of dozens of detainees who have died in military detention in Pakistan in the past year and a half, amid accounts of torture, starvation and extrajudicial execution from former detainees, relatives and human rights monitors. The accusations come at a time when the country's generals, armed with extensive new legal and judicial powers, have escalated their war against the Pakistani Taliban by sweeping into their strongholds and detaining hundreds of people.

Critics warn that those gains may be coming at the cost of human rights, potentially weakening Pakistan's fragile democracy and, ultimately, undermining its counterterrorism effort.

"People live in abject fear of speaking out about what the military is doing," said Mustafa Qadri of Amnesty International, which received reports of more than 100 deaths in military custody in 2014.

At issue is a network of 43 secretive internment centers dotting Khyber Pakhtunkhwa Province and the tribal belt. Little is known about the centers, formally established in 2011 and given greater powers by a tough antiterrorism law passed last year. Most are based in existing jails and military bases and operate far from public view. The total number of detainees has not been made public.

Relatives of missing people have filed 2,100 cases with the Peshawar High Court, seeking news of their fates.

In many instances, the first news comes when a body is sent home.

Last year, for instance, a man from the Kurram tribal district told the court that three of his six sons who were detained in Kohat had died in custody. The man's lawyer said he had not brought a criminal complaint against the military out of fear that his remaining sons would meet a similar fate.

The chief military spokesman, Maj. Gen. Asim Bajwa, did not respond to a detailed list of questions about conditions at the internment centers.

Classified documents leaked last year by the former National Security Agency contractor Edward J. Snowden made clear that American officials were aware of widespread human rights violations by the Pakistani military, even as billions of dollars in American military aid kept flowing to Pakistan.

Pakistani military officials tortured and killed people suspected of being militants "with the knowledge, if not consent, of senior officers," said one American assessment in 2011.

"The military took care to make the deaths seem to occur in the course of counterinsurgency operations, from natural causes, or as the result of personal vendettas," said the document, first cited by The Washington Post.

The Obama administration, which has gradually improved its relationship with Pakistan this year, has been muted in its public criticism of the violations and has not invoked a provision of American law that limits assistance to foreign militaries guilty of human rights abuses.

Instead, the administration approved more weapons for the Pakistani military: In April, it approved almost $1 billion worth of helicopters and laser-guided Hellfire missiles for use in counterterrorism operations.

State Department officials say they have warned the Pakistani military that the accounts of rights violations could lead to future restrictions on military assistance.

Until recently, accusations of such abuses by Pakistani soldiers and intelligence officers have been sharpest in western Baluchistan Province, where the army has faced accusations of abducting, torturing and killing people suspected of being Baluch nationalists as part of a decade-old effort to quell a separatist rebellion there.

The deaths at internment centers have come in conjunction with the military's battlefield gains - in the past year, it has seized control of much of North Waziristan - and a general hardening of public opinion against the Pakistani Taliban.

Tough new antiterrorism laws have given the army greater legal powers, and the number of deaths in military custody has declined in recent months since a military court system, authorized by Parliament in January, became active. Fayaz Zafar, a journalist in the Swat Valley, counted 48 bodies being returned to that area in 2014 and five so far this year, the latest on June 2.

Experts say the military-run courts fall far short of international standards, and their authority is being challenged in Pakistan's Supreme Court. But public opposition to the courts has been muted, particularly since a Taliban massacre that killed 150 people, most of them children, in December. The authorities have taken harder action against militants on other fronts, too, lifting a moratorium on executions that has led to 178 convicts being hanged.

The executions have drawn repeated protest from the United Nations and the European Union but barely a whimper of public complaint.

By several accounts, conditions at the internment camps can be brutal. One former detainee from Swat said he had been thrashed with barbed wire, reduced to eating soap because he was fed so little and forced to give false testimony against other detainees in court.

"I felt guilty, but I knew I would be beaten if I refused," said the man who, like others, spoke on the condition of anonymity to avoid further trouble.

Relatives of detainees who die in custody say they have been pressured into conducting hurried funerals, often at night, and sometimes coerced into declining an autopsy, even if the corpse bears signs of ill treatment. In other instances, they say, local mullahs are forbidden from offering prayers for the dead.

Asma Jahangir, a leading human rights lawyer, has brought a Supreme Court case challenging the detention of 33 men. When brought to court two years ago, two of the men said they had been tortured. They have since died in custody. "They supposedly had heart attacks," Ms. Jahangir said.

In Swat, several women have formed a protest group to seek news of their missing relatives through street demonstrations and court actions. Their leader, Jan Saba, said in an interview that she had "knocked on every door" in search of news of her missing husband, but that she still had heard nothing.

Few dispute that many of the military detainees are linked to the Taliban. Mr. Muhammad, the detainee who died in Kohat last year, admitted to his family that he had spent eight months in the company of Taliban fighters before being arrested, relatives said.

One of his brothers, Abid, said that when the family asked Mr. Muhammad what he was doing during that time, he replied, "The less you know, the better."

Such tales have led civilian officials to turn a blind eye to conditions at the internment centers. Jamaluddin Shah, the top civilian official in Kohat, said in an interview that he did not believe the military practiced torture or conducted executions at the center. But, he added, "even if such cases were true, why would that be an issue?"

"Have you seen them slaughtering people and distributing those videos?" Mr. Shah asked, referring to Taliban execution videos. "Do you think they deserve any human rights?"

But although the army has clearly weakened the Taliban in recent months, experts warn that reports of abuse could ultimately hurt its counterterrorism effort, in much the same way that harsh American tactics after 2001 led to global condemnation and bolstered militant recruitment.

Ms. Jahangir, the lawyer, calls the network of internment centers "Pakistan's little Guantánamo Bay."

"These laws risk turning Pakistan into a security state," Ms. Jahangir said. "We cannot afford torture and killings on a mass scale, even in a time of war."

Taha Siddiqui reported from Kohat, and Declan Walsh from London. Eric Schmitt contributed reporting from Washington, and an employee of The New York Times contributed from Pakistan.


---


Analysis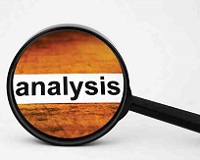 Women's Equality in the Mosque: [Answering the latest fatwa from England. Br. Shoaib knew this thinking way back.]
How to explain Hadith which seem to discourage Women's Participation in the Masjid?
by Kaukab Siddique

Br. Shoaib, a well-read, thoughtful and thought provoking Muslim, active in the Muslim community in the London, England area has asked how one can explain hadith which seem to create an impression that it is better for women to pray at home and not go to the mosque. Here is my response:

The Qur'an gives the broad principle about the kind of people who should be in charge of mosques:

"The mosques of Allah shall be visited and maintained by such as believe in Allah and the Last Day, establish regular prayers, and pay the zakat, and fear none (at all) except Allah. It is they who are expected to be on true guidance." [9:18]

Obviously 9:18 includes all believers, men and women, who have the given qualities, as those who are entitled to visit and maintain mosques. As Yusuf Ali's commentary points out (p.502), "ya'amuru" (roughly translated as 'visited and maintained') includes all mosque activities, four of which he lists:

To build or repair.


to maintain in fitting dignity


to visit for purposes of devotion.


fill with light and life and activity.


The concept of "masjid" or mosque as taught by the Prophet Muhammad (pbuh) is so broad and comprehensive that there is no question of keeping anyone out of it who means well:

"Abu Huraira (r.a.) narrates that the messenger of Allah, pbuh, said: The ENTIRE earth has been made for me pure and a masjid." [Literally: place of prostration in worship.] Hadith, Sahih Muslim, kitabus salat, Tirmizey Sunan, kitabus siir, Ibn Maja's Sunan, kitabut taharah.

In the pre-Islamic ethos, women were given a secondary position in places of worship. In pagan temples, as in the Hindu religion, they were sent into places of worship to be made into servants of men and sources of entertainment. Pagan men often thought that women should bring enjoyment for men in places of worship. Islam rejected pagan use of women for entertainment. Hence the new entrants into Islam were very sensitive to the idea of women visiting places of worship. They did not want mosques to go the way of pagan temples. [This fear was similar to the one related to rituals of Hajj which the pagans had corrupted. The Qur'an, for instance, taught Muslims that they should run up and down the hills of Safa and Marwa and not stay away just because they had seen the pagans going there. Islam was reclaiming the original worship for those who had cast paganism aside.]

Hence the Prophet (pbuh) commanded:

[From Nafi', who narrates from Abdullah ibn 'Umar (r.a.): The Prophet, pbuh, said]: Do not stop the maid servants of Allah from the mosques of Allah. (Hadith, Muwatta of Imam Malik, compiled late in the first century of Islam, published in the second.)

Then there was the element of lawlessness because Madina was under attack and the streets of the city were not lighted. In spite of the element of danger, the Prophet, pbuh, insisted:
[From 'Amash, from Mujahid from Ibn 'Umar] The messenger of Allah, pbuh, said: "Do not stop women from going to the mosque at NIGHT." [Hadith, Bukhari, Muslim, Abu Dawud, Tirmizy, kitabus salat.]

Imam Abu Hanifa, who began his hadith studies in the first century of Islam, and completed his work in the first half of the second century compiled this specific hadith about women's participation in the mosque prayers at the difficult times of morning, before sun rise, and at night:

"Abu Hanifa narrates from Hammad from Ibrahim from Sha'abi from Ibn 'Umar (r.a.): The Prophet, pbuh, permitted women to go forth and participate in fajr and 'Isha. (Musnad of Imam Abu Hanifa, under the heading: The benefit of participation in Fajr and Isha prayers.]

Hazrat 'Ayesha narrates the ongoing process of women coming for collective [jamaat] prayers in the mosque so early that it was pitch dark and the women could not be recognized:

"From the Mother of the believers, 'Ayesha (r.a.): After the messenger of Allah completed the fajr prayer, the women, wrapped in their outer garments, returned home. It used to be so dark that they could not be recognized." [Hadith, Bukhari, Muslim, Abu Dawud, Nasai, kitabus salat.]

IT APPEARS THAT NOT ONLY WOMEN PARTICIPATED WITH THE PROPHET (pbuh) in the PRAYERS, with male sahaba, companions of the Prophet, the women also HELD THEIR OWN COLLECTIVE PRAYERS IN THE MASJID:

Tamima, the daughter of Salama, narrates that the Mother of the Believers, 'Ayesha (r.a.) led the women as their imam in Maghrib prayers. She stood in the center (of the first line) and recited loudly. [Darqutni, with reference to the musannaf of Abdur Razzaq, 3:141]

Hujaira, the daughter of Husaain, narrates: Umm Salama, mother of the believers, led us in Asr prayer and stood in the middle (of the first row). [Compiled by Ibn Saad in his Tabaqat, vol.8, p.356. Darqutni has collected this narration from Ibn Abi Shaiba, Abdur Razzaq and Imam Shafi'i.]

Taus narrates that the mother of the believers, 'Ayesha Siddiqa, (r.a.) used to call the adhan and the iqama (before leading prayers). (The musannaf of Ibn Abi Shaiba, 1:223)


---


Nearly 99.9% of hadith collected by the scholars of Islam are authentic. There are a very few, however, which are defective or out of context. There are even a couple of fabrications which managed to survive the intense scrutiny of scholars; hence the hadith is put second to the Qur'an, and not equal to it, as the source of Islamic knowledge.

Related to the issue of women's equal participation in mosques, here is a discouraging hadith which opponents of women's rights in the mosque, use:

"From Ibn 'Umar (r.a.): The Prophet (pbuh) said: Do not stop your women from going to the mosque and their homes are better for them." [Hakim in his Mustadrak vol.1, p.209.]

It is also related in Abu Daw'ud's Sunan under the heading: "Collective prayer and its blessings."

As we noticed above, there are hadith with excellent chains of narration from Ibn 'Umar (r.a.) accepted by the imams of Hadith, Bukhari and Muslim, in which the Prophet (pbuh) commands: Do not stop women from going to the mosque. So why the contradiction in this hadith attributed to Ibn 'Umar (r.a.) himself?

My understanding is that this hadith is narrating two pieces of narration and has left out what went on between them. It is narrated that when 'Ibn 'Umar (r.a.) narrated the Prophet's (pbuh) command not to stop women, Ibn 'Umar's son objected and said their homes are better for them and that people will use the hadith permitting women to go "to weave the webs of deception." His son insisted that he would stop his wife. At this 'Ibn 'Umar was extremely upset. He said to his son: "I am telling you what the Prophet said and you are saying you will stop your wife!" (Musnad of Abu Hanifa) Other narratives say that 'Ibn 'Umar cursed his son for opposing the Prophet's command. Some even say that he thereafter refused to talk to his son.(Musnad of Ahmed)

My understanding is that the words "their homes are better for them" are a fragment from the bitter words between father and son and have been inserted along with the Prophet's command into the collections of Hakim and Abu Dawud. [Note that Ibn 'Umar's son was not a sahabi and his opinion does not count as a religious text.]

Imam Bukhari and Imam Muslim left the fragment "their homes are better for them" out of their collections which are universally accepted as the most authentic of Hadith collections.

Opponents of women in the mosques also bring a narration which says:

"Abdul Hamid bin al-Mundhir Ansari narrated from his grandmother or his mother's aunt, not clear which, Umm Humaid, as follows: The Prophet, pbuh, said, your prayer in your home, is better than the one you pray with me" (in masjid nabawi): (Ahmed in his Musnad, vol.6, p.371)

This has a number of variations, one of which appears in Ibn Khuzaima's collection to the effect that "it is better for a woman to pray in the inner little room of her house than to pray in the main room of the house, better to pray in the local mosque than in the main mosque ..." (Attributed to hazrat 'Ayesha in Baihaqi's Sunan.)

Abdul Hamid al-Mundhir's narration is not acceptable because the scholars of Hadith say that he is MAJHUL. No one knows who he was. The narrations which support women's rights have well known, in fact famous, narrators at every level of narration.

The narration attributed to hazrat 'Ayesha (r.a.), if taken at face value, contradicts the numerous narrations which assert that women used to pray in the mosque in the time of the Prophet (pbuh) and in the caliphate of Abu Bakr, 'Umar, Usman and Ali (Allah be pleased with them). In fact 'Umar and Ali (Allah be pleased with them), leaders, along with 'Ayesha (r.a) of Islamic thought, took extra efforts to appoint imams to lead women in prayers in the main masjid, especially when the crowds were big in Ramadan and the main imam could not be heard by the women.

'Ayesha the exalted (r.a.) not only prayed in the masjid BUT LED PRAYERS in masjide nabawi.

I have been trying to trace the cause behind this narration from 'Ayesha (r.a.) given by Baihaqi. It appears that there was a woman who was so poverty stricken that she did not have enough clothes to cover herself to travel from her home on the outskirts of Madina to the mosque of the Prophet (pbuh). At the same time she was too self-respecting to accept charity. The Prophet (pbuh) understood her dilemma and her modesty. He gave her a blessing that if she prayed in the innermost closet room of her home, she would get the same rewards as if she was praying in the mosque of the Prophet (pbuh). [Allahu Akbar wa lillahil hamd.] This it was not an effort by the Prophet (pbuh) to curtail the participation of women in the mosques, which would have contradicted his entire mission, but to give special blessings to a woman's vibrant faith and sincerity.

It would be extremely CONTRADICTORY for all those women to be going to the masjid at FAJR and 'ISHA (as quoted in sahih hadith above) if they could have just stayed at home and gotten more rewards for praying at home. I don't think the opponents of women's rights have a case here.

Finally there are some narrations which claim that 'Umar (r.a.) did not like his wife to go to the masjid. [Perhaps he remembered how women were used as sources of corruption in the pagan forms of worship even in the most sacred of places, the Ka'aba.] However, remembering the command of the Prophet (pbuh) he never actually stopped his wife. In fact the relevant narration is very instructive about the tension created by the emergence of the new revolutionary Islamic community coming out of a background of jahiliyya and exploitation of women:

"Mu'ammar narrates from Zuhri that 'Atika, the daughter of Zaid ibn'Umru bin Nufail, was marrried to 'Umar ibn al-Khattab (r.a.). She used to pray regularly in the masjid. 'Umar used to say to her: By Allah! You know that I don't like this. She would reply: I will not stop until you actually forbid me. 'Umar would say:, No, I will not forbid you. The day 'Umar (r.a.) was assassinated, 'Atika was in the mosque." (Abdur Razzaq's collection, vol.3:148)

Ibn Hazm has a superb comment on this situation. He says, 'Umar (r.a.) could have said that 'Atika you are doing something inferior (praying in the masjid) as opposed to praying at home which according to the narration we discussed above is superior. Also, I, as husband, disapprove of it. How could a sahabia ('Atika, r.a.) continue to act in a way which was inferior in worship and aroused the displeasure of her husband, and a husband who was a great Muslim, a great teacher of Islam and the greatest Khalifa the Muslims have ever had. Obviously both 'Umar (r.a.) and 'Atika (r.a.) knew that 'Umar was simply expressing his gut feeling and not an Islamic edict. She was torn by the assassination of 'Umar (r.a.); she loved him beyond herself. All the women of Madina respected him as their older brother. Their mourning knew no bounds when he was assassinated. He is the one who got down from the mimbar in humility when a woman of Madina objected to a point he had made in his khutba in MASJIDE NABAWI. [I have referenced this incident elsewhere in my writings.]

In 'Umar's armies there were thousands of Islamic women, both married and unmarried, who went forth to topple the empires of Rome and Persia. I have documented this fact in a critique I wrote of Fatima Mernissi who was ignorant of basic facts about 'Umar (r.a.) and made some false statements about this great servant of Allah, great leader and mujtahid.


---


War News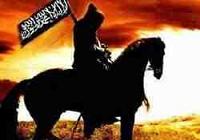 Syria

Battles and Bombing Across the Country. Mujahideen Advancing on Several Fronts.

July 20-25. Al-Zabadani in the Qalamoun mountains is under severe bombardment by Hizbullah and Assad air force. UN has shown concern that heavy civilian losses are being inflicted by the attacking forces. A core group of al-Nusra mujahideen and Ahrar al-Sham are defending the center of the town with amazing tenacity.

In the suburbs of Damascus, mujahideen are engaging the Alawites to take the pressure off Zabadani. Alawite jets are bombing the suburbs.

In the center, Islamic State fighters are advancing on Homs and inflicting casualties on the regime forces. Clashes are also reported near Hama.

In the north, the mujahideen are continuing their slow advance into Lattakia, the Alawite heartland, and have hit Assad's hometown.

Fighting in Aleppo continues and continuous Alawite air raids have stopped the advance. Assad's advance to retake Palmyra has failed.

In the north east, in Hasakeh, Islamic State is now battling the combined forces of Communist Kurds, YPG, and the Alawites. US air attacks are hitting the Islamic State fighters.

Iranian and Hizbullah forces are increasingly taking over defense of Assad's strongholds in Damascus and elsewhere.

Of special worry for them is the battle for Deraa in the south which, if it falls to the Islamics, would open the door to Damascus


---


Iraq

After two weeks of Fighting: Counterattack on Fallujah and Ramadi Fails. Heavy Shi'ite Losses.

Finally US and Baghdad sources admitted that the "offensive" to take Fallujah and to re-take Ramadi has failed. Baghdad, which seldom admits losses, has admitted that 77 of its Shi'ite militia and Baghdad troops have been killed. There were probably huge losses. The Islamic State uses trucks filled with explosives to counter movement by US-supported tanks.

The US air force is bombing Islamic State forces on daily basis causing steady casualties among the mujahideen.

In response, Islamic human bombers are hitting Shi'ite soft targets in Baghdad, causing daily death and destruction.

US is said to be trying to spot and kill Abu Bakr al-Baghdadi, the leader of the Caliphate.

A Sudanese origin British doctor supporting the Islamic State has been killed either in an air strike by the US or in combat [its not clear].


---


Turkey

Obama's Call to Erdogan Leads to Turkish Attacks on the Islamic State [as well as on Iraqi Kurds]

The change in Turkish attitude to the Islamic State [IS] came on July 20 when a human bomber hit a gathering of Communist/Socialist activists in Suruc, just across the Syrian border from Kobane. The activists had come to organize the rebuilding of Kobane.

Kobane is the Syrian-Turkish border town where the US air force killed the most Islamic people till now. The Syrian Observatory says that 1075 Islamics were killed in three months of US bombing. Imams, teachers and medics serving IS were among those killed. The Communist YPG rode into Kobani under a wave of US air force bombing. In the actual fighting more than 800 Communist Kurds and 300 mujahideen were killed.

The IS withdrew from Kobane but has carried out some audacious raids on the occupying Kurds.

The July 20 human bomber who struck the Communist activists was a Turkish Kurd, probably sympathetic to IS. It is said 32 Communists were killed and over 100 wounded.

After Obama's call to Erdogan, the Turkish air force bombed Islamic State positions killing 11 Muslims. There has also been an exchange of fire with the fighters.

In Turkey, there have been clashes between IS and Communist sympathizers which led to the arrests of 600 people by Turkish police, about equal numbers of Islamics and Communists.

The Kurds also killed two Turkish policemen whom they claimed facilitated the Suruc attack. This led to Turkish air raids on PKK Kurds in Iraq


---


Nigeria

Nigerian Leader Visits Obama: Seeks Help Against Boko Haram. New Attacks in Nigeria, Cameroon and Chad

July 18-25: Associated Press and Reuters report that newly elected Nigerian leader Buhari, who had pledged to quash Boko Haram, visited President Obama and sought help against the Islamic movement known as Boko Haram. Obama and Buhari discussed a join strategy. Looks like Boko Haram are too strong for Nigeria to fight alone.

Meanwhile Nigeria admitted that Boko Haram still holds FIVE municipalities in northern Nigeria along with its stronghold in the vast Sambisi forest.

New Boko Haram attacks were reported from Yobe province although the fighters retreated from Maiduguri itself.

Attacks are also reported against the forces of Cameroon and Chad with heavy casualties on both sides.

It's very difficult to verify news about Boko Haram because the Nigerian military issues atrocity stories but refuses to let journalists enter the war zone to authenticate the stories.


---


War News Snippets:

Afghanistan
July 26: After three days of fighting, a police garrison of the Kabul regime in Badakhshan province surrendered to the Taliban. These are 100 men and their commander , ammunition, weapons and supplies. Reinforcements could not reach them owing to floods.

A US drone strike killed three Taliban activists in Nangarhar province.

Pakistan
July 26. In Islamabad, an employee of the US embassy belonging to the Ismaili sect was shot dead. The gunmen escaped.

Turkey
Kurdish opponents of ISIS have released a secret video of a Turkish ISIS leader Abu Hanzala urging president Erdogan to hit the secularist Kurdish movement owing to its support for homosexuality which violates Islam.

Iraq
An armored column of Baghdad troops reached Anbar University on the outskirts of Ramadi. Fighting continues.


---


Our America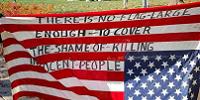 Another break through by our genuine Christian friend Chuck Carlson.

Here's the latest from We Hold These Truths: Gatekeepers Inside The Israel/Palestine Peace and Justice Movement.

In the US, one of the most effective advocates for peace and justice in Palestine is Alison Weir of If Americans Knew (IAK). We Hold These Truths founder, Chuck Carlson, and members discuss the recent character assassination attacks on Alison Weir, to discredit her and her organization, by the leaders of the pro-Palestinian group, Jewish Voice for Peace, for an alleged offense from five years ago.

Also, a follow-up inquisition by the US Campaign to End the Israeli Occupation was sent to Alison Weir. Chuck Carlson discusses the use of gatekeepers from his personal experiences that included his removal from the program at a pro-Palestinian, national student group meeting at Duke University in 2004, where he was to speak on Christian Zionism. He was prevented from speaking by actions of the ADL.

References mentioned in podcast: IAK-JVP, IAK-US Campaign, IAK open letter to JVP & USCSupport petition for Alison Weir, Gilad Atzmon blogs:"The Jewish Solidarity Spin," "JVP, Alison Weir & the Hatred of the White," and "How the Israeli Government Subverted the Solidarity Movement."

WHTT.org/gatekeepers-inside-the-israelpalestine-peace-and-justice-movement


---


Native Americans challenge Corporate & government greed.
by Sis. Karin Friedemann

On July 21, 2015 a convoy from out west calling themselves the Apache Stronghold traveled first to New York City and then to DC to protest the giveaway of their sacred lands - National Forest land - for copper mines. It is very important to understand the historical importance of this event. The American Indian Movement took hold among student groups in the 1970s but it took until now for the message to go forward, regarding indigenous rights and protection of the environment.

Photographer Kimora Merritt Brass took an iconic photo of a native woman wielding a traditional bow and arrow in Times Square, standing up for the sacred Oak Flats.

Members of the Apache Stronghold marched from Lafayette Square on Tuesday morning to the West Lawn of the US Capitol to mark the end of a spiritual journey across the country to protest a bill snuck in as a rider in the National Defense Authorization Act by Senator John McCain, and Arizona's junior Senator Jeff Flake, which was approved by Congress in the closing hours of its last session. That rider traded away Apache sacred land to allow a massive copper mine.

The caravan left Arizona in early July, traveling some 2,000 miles as part of a growing movement to save Oak Flat, where native people have held religious and coming-of-age ceremonies for generations. The copper mine would leave a huge crater - 1.8 mile wide and wipe out streams, springs and wildlife habitat. The caravan was in New York City's Times Square on Friday and arrived in Washington this Monday evening. The Apache Stronghold caravan arrived at the U.S. Capitol to conclude their spiritual journey on July 21, 2015.

Tuesday's event marks the final destination of the convoy's journey from Mt. Graham to Oak Flat in the Tonto National Forest in Arizona to Washington, DC. Apache Stronghold stopped at Native American reservations along the journey gathering prayers and strength, arrows and eagle feathers, building awareness of the Oak Flat issue as well as recognizing that many Tribes have the same or similar issues with the protection of their sacred sites. More than 480 Tribes and many environmental organizations, outdoor recreation enthusiasts, animal rights groups and religious congregations support saving Oak Flat. The group hoping to Save Oak Flat is supporting a bill introduced by Congressman Raul Grijalva to repeal the awful bill passed in December.

On July 22, Wednesday, a group of women including grandmothers went to the capitol building to talk to Arizona Congressman Paul Gosar, who has "a record of intolerance and saying vicious things against Native Americans," about statements he made in a letter.

The group of women journeyed to Washington, DC to voice their displeasure on the add-on legislation tugged into the $585 billion National Defense Authorization Act of 2015 that gives land at Apache Leap and Oak Flat in southeastern Arizona to Rio Tinto, foreign mining company, to mine. Part of a larger group called Apache Stronghold, the women earlier rallied on the west lawn of the U.S. Capitol to call for the reversal the add-on legislation.

Rather than speak with Mrs. Cassadore and the other ladies and Apache Stronghold members with her, Rep. Gosar responded by hiding behind a locked door and calling the Capitol police, threatening to have Mrs. Cassadore and her friends immediately arrested.

Apache Stronghold spokesperson Wendsler Nosie, Sr. told the press, "There is no excuse for his mistreatment of the Apache grandmothers and young ladies who came to his office. Cowering behind a locked door, refusing to come out, and then calling a squad of policemen to sweep those gentle ladies away is just terrible. Rep. Gosar should apologize for that, as well as for his strange and insulting 'Dear Colleague' letter."



2015-07-26 Sun 17:01:27 ct


NewTrendMag.org