NewTrendMag.org News # 1558

[ Click on NEWS for back issues ][ OUR BOOKS ] [ Women in Islam ][ Our America ][ Hadith ][ Kaukab Siddique's khutbas ][ Latest photos. ][ Imam Badi Ali's Thoughts ][ Muslim Political Prisoners ] [ Previous Issue ]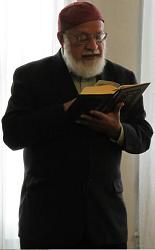 Ramadan 15,1435/July 13, 2014 # 28

---

The Muslim masses around the globe are with Gaza but the rulers are with Israel-USA.
Please scroll down to photos from Yemen and Egypt and a report from Pakistan.

---

Kaukab Siddique's analysis of CNN [Wolf Blitzer's] attempt to prepare Americans for Israel's plan for a land assault on the defenseless people of Gaza. Please scroll to end.
Also see ABC caught in its lies about Gaza.

---

Greenboro, North Carolina: USA
From Imam Badi Ali: July 11, 2014. Photo.
Children joined a big Islamic rally to condemn Israel's genocidal assault on Gaza..
Demonstrators were fasting and the weather was hot. People from Sudan, Niger, Libya, Egypt, Somalia, Palestine, Pakistan, Iraq were there.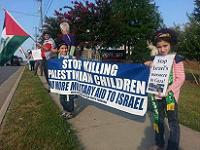 Stand for ♥ Gaza ♥

---
Imam Badi Ali, distinguished Palestinian-American leader, summed up Israeli aggression and our boycott movement in one graphic: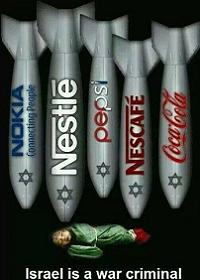 ---

Khutba on Palestine
Palestine will be Victorious, Israel will be Destroyed, inshaAllah.
Muslims should be Future oriented: Seek help in Prayer and Perseverance

On July 11, Br. Kaukab Siddique gave the Juma khutba at Masjid Jamaat al-Muslimeen in central Baltimore. The khutba was much liked. The masjid was packed owing to Ramadan. Here are the main points future countrywide distribution:

Ramadan teaches us taqwa, fear of Allah, which includes awareness and concern to do the right thing.


When the enemy has overwhelming force, that does not mean that the enemy is right.



Noah preached for ages but his enemies opposed him and he felt overwhelmed. He prayed for help and Allah saved him and drowned his enemies.



Musa [Moses] pbuh, and the Muslims with him were pursued by Pharoah out of Egypt. They looked weak but Allah condemns Pharoah, not his victims. [There were no Jews at that time.] Allah saved them.


Isa, pbuh, [Jesus] had the greatest miracles but the Jews would not accept him. They decided to crucify him. They were stronger but Isa, pbuh was right. Allah exalted him and saved him.


Muhammad, pbuh, was forced to leave his home in Makkah and was pursued by the oppressors. His life was in danger. Physically the enemies were winning but Muhammad, pbuh, was right and Allah saved him.


Never think that the fire power of Israel means that Israel is winning. These Jews are tyrants and oppressors. InshaAllah they will be defeated and Israel will be remembered only as a tale of sound and fury told by an idiot.


Look at what Israel has done: 1000 air strikes in 4 days. Did you see the people of Gaza running away? Not one. This is unthinkable in any other population. Look at Ukraine: 60,000 people ran away as soon as fighting began. [Even in Pakistan, the population of North Waziristan ran out when the military started bombing.]


Now look at the children of Palestine. You see the teenagers. Are they running away? They evade the Israeli attacks as if it is a game, though a deadly one. You see the very young ones: Can they ever like Israel? No chance! They are determined that Palestine under Islam will be victorious.



However long it might take, these children will fight and defeat and destroy Israel, the gangster entity imposed on us by the USA.



Look right here in Baltimore: See how tough and fearless the young people. They need leadership and a clear program to achieve greatness. They do negative things because our message has not reached them.


One of the key reasons for the victory of Muhammad, pbuh, was that the young people were with him. Think of the great sahaba, r.a., Abdullah ibn Zubair, Abdullah ibn Umar, Abdullah ibn Abbas, Ayesha, Asma [Allah be pleased with them]. They were all extremely young.


If our young people are with us, the enemy cannot defeat us, even with all his money and power.


Do not let the media mislead you. These are all Zionist propagandists. They are practiced liars.


The Jews are killing our children, tearing their bodies apart, destroying homes and mosques.


Muslims! Unite against the Jews helping Israel. Get the Jews out of our communities. Remember the issue is not just the atrocities Israeli Jews are committing. The issue is Israel, a terrorist entity which has been imposed on us by the western powers.


Masjid al-Aqsa, the third holiest mosque of Islam, mentioned by Allah Almighty in the Qur'an, is under Jewish occupation, being desecrated by the Zionists.


Remember the hadith about the Prophet, pbuh, about the harsh siege imposed on Madina by the united tribes of Arabia, al-Ahzab. In that seemingly impossible condition, Muhammad, pbuh, saw the overthrow of the Persian empire and the Roman empire.



Always think ahead for victory and the Hereafter.



Muslims UNITE! and rise up against Zionism. Palestine will be victorious! Down with Zionism.
---

From Imam Badi Ali: We honor those who resist:

To those who are defending our land, our people, our honor, to the freedom fighters, may Allah subhanahu wa ta'ala give you the strength to hit the enemies of humanity, hard.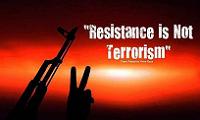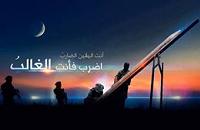 ---

Protest for Tyrone West - July, 18, 2014

by Nadrat Siddique

[A protest to coincide with the one-year death anniversary of Tyrone West will be held on Friday, July 18. The protest will be at 6 PM at Kitmore & Kelway, Baltimore, Maryland, the intersection where Tyrone was murdered.]
In a pattern of abuse of power, Baltimore's Zionist/racist States Attorney Gregg Bernstein, refused to prosecute the police officers. The West family has courageously stood outside the East Baltimore police station where the officers report each Wednesday since the murder, demanding justice for their son.

Updated on Thursday · Taken at Baltimore, MD

This was one in a series of weekly protests held by the family of Baltimore native Tyrone West. West was beaten to death on July 18 of last year by ten or more Baltimore City police officers, who alleged that the dreadlock sporting 44-year old was fighting them during a traffic stop near Morgan State University. Eyewitnesses said West was dragged from his car by the dreadlocks, hit with batons, kicked and punched. He may have ultimately have experienced myocardial infarction as a result of the beating.

After an initial period of paid suspension while an investigation was pending, the officers involved were all reinstated with full rank. These included Jorge Omar Bernardez-Ruiz, Nicholas David Chapman, Matthew Rea Cioffi, Alex Ryan Hashagen, Eric Maurice Hinton, Danielle Angela Lewis, Derrick Dewayne Beasley, Latreese Nicole Lee--all of the BPD (Baltimore Police Department). In addition, a Morgan State University police officer was involved in the beating, and was similarly suspended with pay, and then reinstated. Despite a plethora of evidence and numerous eyewitnesses, there have, to date, been no convictions in this modern day lynching.

---

Two letters on Dr. Shabazz.
Looks like NOI and W.D. groups Hijacked Dr. Shabazz Funeral and Burial.

assalamu alaikum :
It strikes me as strange that Jamaat al-Muslimeen JAM] was not mentioned on this :
http://DrAAS.info/obituary.jpg
Dr Shabazz had been working with JAM at least 7 years that I know of .
I believe he attended all the Shooras during that time .
As much money as he donated to various causes including my Chess Tournaments ,
his family is asking for money for his burial .
He did not strike me as a man that had not planned such things .
I am not a member of his family so I guess I really have nothing to say to them about this .

Br. Rich
Omaha, Nebraska

---

Dr. Shabazz' Funeral was mismanaged: Was his will Lost? Couldn't be found?

As-salaamu-'alaikum,
Death can be a surprise for all of us, no matter what the circumstances. But I am surprised that Dr. Shabazz's funeral is taking place so late. Also, just some advice: I have been told to have two copies of a Will. One goes to a trusted source (executor or executrix) and the other copy goes your attorney. Sometimes, those W.D. Muslims can be strange. I have heard stories of them looking for wills, safes, etc. Unfortunately, it is the first thing that these people do. I just pray that this is all sorted out, insha'allah.
Salaam,
Sis. 'Aisha

---

Editor: The W.D. Muhammad prayer leader in Masjid Muhammad, Washington, DC could not explain janaza prayer. He simply did 4 takbeers as quickly as he could. Most of the speeches were in praise of NOI and WD group which Dr. Shabazz passed through at various stages of his life. He was not one of them.

---

On youtube
ISIS Answers Critics: Caliphate ends Borders created by British/French Imperialists

http://youtu.be/O_dTnqlyaio [It has been removed by the authorities.]

Video shows physical demolition of the fake borders.
It outlines the humanitarian efforts of ISIS.
It provides photography of tanks captured by the mujahideeen from the puppet tregime in Baghdad.
It shows a segment of the Caliphs references in his khutba to Muslim minorfities being slaughtered in Burma and Central African Republic in which he sarcastically asks, "that is not terrorism?"

---

Oil resources now under ISIS control: 8000 views. [Watch soon.]

http://youtu.be/Hv4Ij-FUMTw

---

Terre Haute, Indiana: USA
Gain More Blessings in Ramadan by supporting Muslim Political Prisoners.
Issued by Justice for Shifa

As Salaamu Alaikum and Ramadan Mubarak!
Dear Friends and Allies,
May this beautiful month bring everyone observing fasting much blessings and tranquility and bring you closer to the Divine. May the Light of our Beloved Creator embrace and fill you and your families with peace, love and justice.

Please keep Imam Jamil Al Amin, who has been recently diagnosed with cancer at the Colorado Supermax Prison. Shifa and Haris Ahmed and their families and all Muslim prisoners and their families, and the oppressed in your prayers. May all of us be released from the shackles of oppression. Ramadan Mubarak!

Take a moment this Ramadan to write a short letter or send post cards to Imam Jamil, Shifa and Haris.

Jamil Abdullah Al-Amin # 99974-555
USP Florence ADMAX
U.S. PENITENTIARY
PO BOX 8500
FLORENCE, CO 81226

---

Syed Haris Ahmed #57987-019
FCI Terminal Island
FEDERAL CORRECTIONAL INSTITUTION
PO BOX 3007
SAN PEDRO, CA 90731

---

Ehsanul Sadequee #1524-0006
FCI Terre Haute
Federal Correctional Institution
PO BOX 33
Terre Haute, IN 47808

---

Boston, Massachusetts: USA
Trial Begins for Azamat Tazhayakov
Innocents be dragged in: Young People's Guilt by Association
by Sis. Karin Friedemann

A foreign student from Kazakhstan, Azamat Tazhayakov, age 20, is facing 25 years in prison for "obstruction of justice" and lying to the FBI. Dzhokhar (Jahar) Tsarnaev texted a mutual friend, Dias Kadyrbayev around the same time as his photo was released to the public as a suspect in the Boston Marathon bombings, saying "If you want, you can go to my room and take what's there," followed by a blushing smiley face, which defense attorney Wooldridge said was a symbol that meant marijuana to the friends.

The UMass Dartmouth students are accused of going into Jahar's dorm room along with a third friend, Robel Philipos, taking Tsarnaev's laptop and disposing of Tsarnaev's backpack, which contained fireworks. The three friends are to be tried separately. Azamat's father, a wealthy oil man and local Khazak politician, insisted on a speedy trial even though the attorneys wanted more time to prepare, so Azamat's trial comes first.

"The government will prove to you that the defendant and his co-conspirator removed the backpack for one reason, and that reason was to protect their friend who they had just learned was one of the two suspected Marathon bombers," said US assistant attorney Stephanie Siegmann in her opening statement.

The first witness was Andrew Dwinells, Jahar's roommate, who testified that Dias showed him a text that said something about Jahar leaving the country and he won't be back so Dias can go ahead and take what he wants.

Andrew testified that he saw Dias go into a drawer and take a bag of pot while the other two watched TV. He testified that he did not see any of the friends take the backpack or the computer. He never saw Jahar with any pressure cooker, BBs, or bomb making material. He also said Jahar acted normally after the marathon. Andrew says he didn't think Jahar was a terrorist. Andrew testified that he and Jahar once discussed the theory that 9/11 was a government conspiracy.

The next witness was Alexa Guevara, another UMass Dartmouth student. She said her girlfriends called Azamat "Mama's Boy" because he was always the good one among the friends. She also testified that Jahar never said anything anti-American to her. Alexa's eyes teared up when testifying that she never thought Jahar could do anything like that. Even after the FBI released Jahar's picture she did not believe it.

FBI Agent Sara Wood next testified that Azamat had told her that Dias showed him a text from Jahar on the evening of April 18, 2013 saying that he did the bombing. However, the FBI has not been able to produce this text, despite their thorough investigation of the boys' cell phones and computers.

Defense attorney Myers aggressively questioned Wood as to why she looked at the prosecutor when answering whether Azamat said he or Dias took the backpack.

The defense also suggested that FBI agents did not allow Azamat to use the bathroom until he signed a waiver of his rights.

Dias' partner, Bayan Kumiskali gave testimony on video as a cooperating witness. "The black-haired beauty from Kazakhstan attended Babson College while Dias was at UMass with Tsarnaev," tweeted journalist Laurel J. Sweet.

Bayan said she didn't want any of that stuff that was taken from Jahar's dorm room. On 4/18, she was in the New Bedford apartment and Dias left for about 1.5 hours starting around 9:30pm. Dias told her he had Jahar's backpack in the privacy of the bedroom later that night. She was "mad" when she heard this and told him to "get it out of here."

"He hadn't thought this might be something." she said.

The most clear proof that the boys did not intend to obstruct justice is the fact that inside the backpack was Jahar's homework assignment. They were clearly not hiding evidence. As an engineering major, Jahar's roommate Andrew owned a lab kit, which contained wire, wire cutters, and other items. The kit was in plain sight on his bookcase on the 18th, but Dzhokhar's three friends did not take it.

Most likely, they literally took what they wanted from Jahar's room because they knew he wasn't coming back: a laptop, marijuana, fireworks, a thumb drive, a spiral notebook and a jar of Vaseline. Most likely they took the fireworks because they wanted them.

However, they didn't take all the fireworks. The FBI also admitted in testimony last week that more fireworks were found in the dorm room. FBI agent David McCollan testified that the fireworks were torn but some explosive powder remained. Even though fireworks are not an efficient source of bomb making material, one would think that if the fireworks were used to make a bomb they would be cut cleanly at the top and completely emptied out.

Neither Aza nor Dias threw away the computer. The thumb drive was found in the trash but if there was any incriminating evidence on it I'm sure we would have learned of it.

The most incriminating thing Azamat could come up with to say to the FBI about his friend was, "that Jahar had a 'little black gun' that shot pellets, and he once witnessed him shoot at a plastic bottle.

---

St. Petersburg, Florida: USA
Thank You, President Obama. Love, Israel
Posted By Chris Ernesto On July 11, 2014 @ 11:00 pm

Dear President Obama,

We must confess, when you became President, some of us were a little worried that America's "special relationship" with Israel would come to an end.

We were concerned that the United States would no longer provide money, weapons, and most importantly, diplomatic cover to Israel.

After all, Jimmy Carter - a former President from your own political party - has been highly critical of Israel's treatment of Palestinians. He even had the nerve to say that Hamas was democratically elected, and that our policy towards Palestine is worse than South African apartheid.

We were fearful that your passionate speech in Cairo in 2009 would make Muslims believe that an Obama presidency would be a neutral player in Israel's fight against the terrorists from Palestine.

But, thankfully, through your actions as President, you have alleviated our anxieties.

Your unconditional support of Israel is on full display today. Because of your administration's financial support of our Iron Dome weapon system, no Israelis have been killed in our surge on Gaza. And although we have already killed at least 100 Palestinians, including 21 children, and have wounded over 500 people, you have not publicly condemned our actions (thanks!).

On Thursday, you offered to negotiate a cease-fire between Israel and Palestine. Since you have repeatedly labeled Hamas a "terrorist organization" with whom you are unwilling to sit down, your offer to negotiate was pretty clever - maybe Palestinians won't catch on to the fact that you are really on our side, and they will agree to have the US act as mediator. Fingers crossed.

We are thrilled, but not surprised by your absolute backing of Israel at present. You showed your true colors two years ago when you said you were "fully supportive" of Israel's bombing of Gaza in 2012.

Clearly, you are wise enough to understand that American elections are greatly influenced by pro-Israel donors. For this wisdom we say, "thank you."

Of course, you will forever be in our debt for voting against Palestinian statehood in 2012. For you to take that stand - when virtually every other country in the world wanted to formally recognize Palestine as an independent nation - wow, that was gutsy, and because of your courage, Palestine today has fewer legal remedies.

You have continued to veto those frivolous United Nations resolutions that condemn the great State of Israel. How can we ever thank you enough for that?

You have remained relatively silent as Israeli settlements rightfully continue their expansion. You even said that you would abandon your push to stop settlement expansion.

And you have been very careful to never utter the words "collective punishment" in discussing our embargo on Gaza.

Few countries understand what it's like to be Israeli or American. That's why we have to stick together, like in 2010 when we were the only two countries to vote against ending the embargo on communist Cuba.

Many of us in Israel were previously concerned about all those pesky "Free Palestine" protesters in the US. But we're not worried about them anymore because many of those same people continue to vote for you and other Democrats, thus insuring that Israel will be able to do as it so chooses.

We really appreciate your support of the coup in Egypt that ousted the Muslim Brotherhood from power. They were big supporters of Palestinians. As you know, Egypt's new leader, Abdul Fattah al-Sisi believes Hamas is a terrorist organization and an offshoot of the Brotherhood, so we don't have to worry about which side Egypt will be on in our fight against Palestinians.

We must say that we still have concerns about your support of neo-Nazis in Ukraine. As you know, we have a bad history with Nazis. But we understand your country's desire to control Eurasia and to weaken Russia, so as long as you let Israel reap the benefits of the American Empire, we can let this one slide.

The fact that your presidency has continued to demonize Iran has been very beneficial to us. It's been difficult for Israelis to get people to understand that Iran - even though they haven't attacked another country in recent memory - is a serious threat to Israel. Sure, Iran knows we could nuke them, but they just want to wipe Israel off the face of the earth, so they don't fear a nuclear reprisal.

And speaking of nuclear weapons, you sure helped Israeli officials sleep better when your administration announced that it would implement a "don't ask, don't tell" policy regarding our massive nuclear weapons arsenal.

Some people say that Israel is like the little brother who constantly runs his mouth and starts fights because he has a big brother who's always there to bail him out of any trouble. Well, to that we say, thank you big brother. Others are just jealous.

We know that if the US criticized Israel the same way it criticizes Russia, Syria, Venezuela or Iran, the rest of the world would jump on board and force Israel to change. After all, the US is pretty much in full control of the UN, the IMF, the World Bank and NATO. That's why we are particularly appreciative of your undying support of Israel.

It always warms our hearts when you say that Israel has the "right to defend itself" but you have never said that Palestinians have that same right. That really helps our cause.

In 2012 you signed a law increasing military aid to Israel just one day before your then-Presidential opponent Mitt Romney made a trip to the Holy Land. Some said it was a political ploy to prove that Democrats are just as "pro-Israel" as the Republicans. Nonsense, we say. You were just strengthening Israel's already advanced weaponry. Just like when you secretly supplied us with bunker-buster bombs.

You provided cover for Israel in 2011 by saying we had the right to kill 20 Palestinian protesters who were commemorating the Nakba. When you praised our "restraint" on this matter, a potential firestorm was avoided, particularly because our government initially blamed the killings on Syria. Because of your support, we were able to acknowledge our role in the killings without fear of reprisal.

You will never know how many pro-Israel supporters you gained when you spoke at the American Israel Public Affairs Committee (AIPAC) meeting in 2011. The crowd went wild when you said, "So make no mistake, we will maintain Israel's qualitative military edge." That was huge.

We recognize the "little" things you do, too. Like how your administration tried to stymie an independent U.N. investigation into alleged Israeli war crimes during our 2008-2009 incursion into Gaza. Thanks to WikiLeaks, we in Israel learned of your valiant efforts.

And how you refused to accept the Palestinian unity deal, which brought Hamas and Fatah together. And you really made a statement when you withdrew the US from UNESCO in response to its approval of Palestine's membership. We like it when you pound your fists on the table on behalf of Israel.

We were in a pickle when a UN probe said there was clear evidence to back prosecutions against Israel for killing and torture when our heroic troops stormed a Gaza-bound aid flotilla in 2010. The vote was 30-1, with the your country, the US, as the lone dissenter. That's a true friend.

Prior to you becoming President, some people in Israel confidently assured fellow citizens that you would be a deep supporter of Israeli interests. They believed this to be true because in 2008, just 12 hours after your victory in the Democratic Presidential primaries, you showed up at AIPAC wearing an Israel/US lapel pin, telling the crowd that you "understood the Zionist idea." Clearly this gesture was a quid-pro-quo with your pro-Israel donors, and was a way for you to prove that an Obama presidency would always put Israel at the top of its pecking order. That was a good move on your behalf.

And there were earlier signs of your unwavering support of Israel that we should have spotted. While you were just a Senator, you co-sponsored a Senate resolution demanding that the US do nothing to impede Israel's military actions in Lebanon in 2006. That meant so much to us, because you ran the risk of appearing to be a "hawk" at a time when the people of the US were growing tired of the Bush administration's foreign policy. You rolled the dice.

Well, your gamble has paid off, and you have achieved your political dreams, and at the same time you have made Israel quite happy.

For this, we say thank you. Because of you, your party, and the rest of the US government, Israel is free to act as it pleases. You, President Barack Obama, are the best friend Israel has ever had.

With warmest regards,
Israel

Chris Ernesto is cofounder of St. Pete for Peace, an antiwar organization in St. Petersburg, FL that has been active since 2003. Mr. Ernesto also created and manages OccupyArrests.com and USinAfrica.com.

---

Media Misleadingn America.
ABC News: The "blunder" of Diane Sawyer out of love of Israel

by Justin Romondo [antiwar.com]
Excerpted.

Poor Diane Sawyer - recently kicked upstairs by ABC News, she started off her Wednesday report on the Israeli assault on Gaza by giving us the Bizarro World version of the latest news. In a conflict where as of this moment 86 Palestinians have been killed - nearly all civilians, mostly women and children - and as many as 1,000 wounded, with exactly zero casualties in Israel, Sawyer directed our attention to "the rockets raining down on Israel" - while on the screen we saw Israeli jets pounding Gaza. Pointing to a still photo clearly of Palestinians dragging a mattress through the rubble, she described it as "an Israeli family trying to salvage what they can."

In Bizarro World - where up is down, black is white, and truth is falsehood - this makes perfect sense. And it kind of does in our world, too, on at least two levels.

ABC later acknowledged the "error," but one wonders: a lie, once in circulation and widely accepted, is hard to refute, no matter how many "corrections" are issued. Lots of people still think Saddam Hussein organized the 9/11 attacks, and they don't all work at the Weekly Standard. War propaganda, which is largely dependent on visual images larded with shock value, is not especially subtle. The idea is to bypass the rational mind and appeal directly to the target's emotions.

On another level, as Peter Hart over at FAIR put it, "ABC's error should be seen less as a simple mistake, and more as a reflection of a worldview." It's an intriguing idea - intriguing because we aren't told exactly what worldview. Or whose worldview. Hart vaguely describes this unidentified bias as being a sin of "the corporate media," but what does this really mean? All media is "corporate" in the sense that it consists of groups of people working to bring you the news and somehow making money at it - or, in our case, as in the case of all non-neocon nonprofits, generating some income albeit barely breaking even. So what does being "corporate" - assuming this means "for profit" - have to do with being unabashedly pro-Israel?

It isn't just the "corporate" media that's part of the hasbara echo chamber: as Max Blumenthal points out, former Israeli prison guard Jeffrey Goldberg has been the only guest to address the current conflict on the Charlie Rose Show - Public Television's toniest talkfest.

So if it's not a capitalist conspiracy, then what accounts for the all-pervasive pro-Israeli bias of the American media, which starts out every account of events on the ground with images of Israeli victimhood, downplaying or outright ignoring the suffering of the Palestinians, which is a hundred times greater? And how do we explain Sawyer's "error" in this context?

The Zionist project is a settler colony: that is, a foreign invasion, in this case one launched not by another nation-state but by a movement that was international in scope from the very beginning.

---

For Gaza in Egypt despite Sisi's tyranny.
[Courtesy Shsh Abdul Hannan.]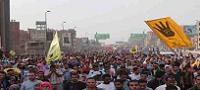 Pro-Democracy, Anti-Coup Marches Across Egypt Protest High Prices, Gaza Raids
Pro-Democracy, Anti-Coup Marches Across Egypt Protest High Prices, Gaza Raids

As new waves of protests flood Egypt's cities, towns and streets, murderous military gangs kill unarmed demonstrators in cold blood.

Friday, July 11,2014 20:28

Rallies in support of democratic legitimacy swept through Cairo and all other governorates of Egypt, in the new "Commanders crush the poor" protest week called by the Anti-Coup Pro-Legitimacy National Alliance.

Despite the violent, murderous maximum-force approach applied in cold-blooded brutality by the coup's security forces, especially today (Friday), demonstrations flooded the streets, denouncing the high price rises and the Zionist raids on the Gaza Strip.

On Friday afternoon, the National Alliance in Ain-Shams and Matareya (east of Cairo) announced the death of two people shot dead by coup security forces using live bullets against unarmed non-violent demonstrators.

Coup forces killed Aweys Nasreddin, 69, outside his home, as he returned from Friday prayers. He was the father of the Martyr Nasr Aweys, himself killed earlier on - in the Battle of the Camel - in the January 25, 2011 Revolution. Also, today, coup forces shot dead an 18 year-old student called Mazen Mohamed Sayed.

---

Analysis
CNN Preparing Americans for a Ground Invasion of Gaza, Justifying 750 Israeli Air Strikes.
by Kaukab Siddique

CNN carried out a major piece of propaganda, 6 PM EST, to justify a possible invasion of Gaza. Look at how heavily weighted it was.

Wolf Blitzer, a known hard core Zionist Jew, was put in charge of the propaganda piece.


Blitzer went to Jerusalem to report though Jerusalem is occupied territory even by UN and US standards.


His focus was on the incoming rockets from Gaza. Jews running for shelter. Isn't it terrible?
He plays the sirens as two rockets made it to Jerusalem.


In an aside he points out that 2 Israeli police were injured, one car caught fire and a house was damaged.
[My comment: These rockets are mere acts of defiance. Obviously Hamas has no radar or targeting mechanism. Metaphorically this is likethe Palestinian kid throwing stones at a huge Israeli tank.]


Blitzer proudly shows us massive Israeli tanks who might "have to" go in to stop the rocket fire.


He brings in an Israeli general to claim that Israelis actually knock on the roofs of homes [believe it, he said it with no comment by Blitzer] to ensure that people leave, and then they warn anyone remaining [by phone?] and then hit.



Blitzer keeps repeating the Israeli line that civilians are killed because Hamas hides its weapons among families!



Blitzer must have realized that the pro-Israeli propaganda was becoming surrea. So he brought a secularist Palestinian who pointed out, coyly, that how could Israel have killed 90 people and wounded 600 if it was "tapping on their roofs.!" [LOL!]


After Blitzer has done his job of extreme disinformation, he brings in his junior fellow, Ben Wedeman, also a Jew, in Gaza. He shows no running people, no terrorized children. He does show Palestinians carrying a child's body. Compared to Blitzer, he is a better reporter.
The overall impression is that: Its so sad that Palestinian civilians are getting killed but its their own fault and Israel is doing what it has to do.

Obama's call of support to Netanyahoo is mentioned and it implies if Israel stops it will be owing o Obama's good advice. So Obama will come out as the good guy.
supporters are also told by CNN that the US has stored $1 billion worth of munitions in Israel, just in case! So not to worry.


---

Pakistan
Khutbas Across Pakistan in Solidarity with Palestine
by Anwar Niazi
Palestine Solidarity observed

LAHORE, July 11: Palestine Solidarity Day was observed across the country on Friday on the appeal of the Milli Yakjehti Council (MYC) to express the nation's concern over the killings of the innocent Palestinians in Israel bombings.

The Ulema and Khatibs in their Friday addresses, condemned the Israeli bombings besides the indifference of the Muslim rulers over the Israel's attacks in Gaza resulting in large scale killings of Palestinian men, women and children. They underlined the need for the unity of the Ummah to enable the Muslim world face the enemy designs.

`Secretary General, Jamaat e Islami, Liaqat Baloch, has said that the US, the United Nations and the Muslim rulers were responsible for the delay in the solution of the Palestine issue.

In his address at the Friday congregation at Jamia Masjid Rahimya, Gulberg, the JI central leader said that the Zionist state is a US baby, and was shedding the blood of the Palestinians but there was no check on her. He said, the Muslims were being victimized in Kashmir, Burma, Iraq, Syria and in some African states but the world community remained unmoved.

Liaqat Baloch said that the people of Pakistan stood with their Palestinian brothers in their hour of trial.

---

Yemen
Mass Rallies against Israeli aggression
Courtesy Asqfish via Shehab News
Demonstrations in Yemen for Saving Gaza
مظاهرات في اليمن دعما لغزة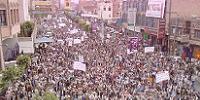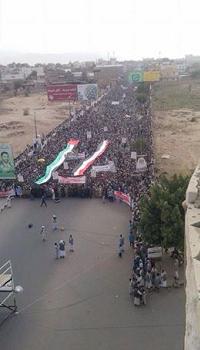 2014-07-13 Sun 08:17:40 cdt
NewTrendMag.org