NewTrendMag.org News # 1541

[ Click on NEWS for back issues ][ OUR BOOKS ] [ Women in Islam ][ Our America ][ Hadith ][ Kaukab Siddique's khutbas ][ Latest photos. ][ Imam Badi Ali's Thoughts ][ Muslim Political Prisoners ] [ Previous Issue ]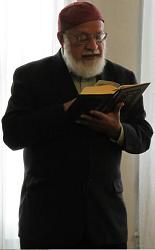 Jamada al-Awwal 16,1435/March 16, 2014 # 11

---

Bradley Smith [California] writes to the Holohoax Museum. Real Shocker. Scroll way down.

---

Breaking News: Gaza [Palestine] 3.11 to 3.14

On March 11, in one of is attacks on Gaza, Israel killed three fighters of Islamic Jihad. This time the Palestinians fired back. This led to huge escalation by Israel using artillery and jet fighter strikes. The Jihad group. undeterred, fired more rockets at Israel which was followed by more Israeli air strikes.

The US media as usual presented the Palestinians as the aggressors. Under international law, occupied people have the right to fight back.

---

We have a number of items on Israel and international Jewry. Please scroll down.

---

Breaking News: Egypt

March 15: In an attack by Islamic fighters in the Shubra al-Khayma suburb of Cairo, six Egyptian troops were killed. Earlier on March 12, an Egyptian soldier was killed in eastern Cairo.

Muslim Brotherhood has condemned the attack. The Sisi regime is blaming the Brotherhood.

More than 2000 unarmed supporters of Brotherhood have been killed by General Sisi's forces and more than 25000 wounded.

[As New Trend prognosticated, more and more young people will join the jihad groups as Sisi continues to smash the democratic Muslim Brotherhood.

---

Breaking news: Nigeria

On March 13, Boko Haram Islamic movement launch an audacious attack on the strongest Nigerian military garrison in Maiduguri [northeastern Nigeria]. Nigeria does not allow reporters owing to atrocities being committed by the army but eyewitnesses noted that this time the aermy was beaten. Scores of its troops were killed and more importantly, Boko Haram was able to free militant supporters imprisoned in the military fortress. The army then sent out Chfristian vigilantes to kill and terrorize Muslim citizens. It was too late. The prisoners escaped.

During the fighting, the Nigerian air force bombed the local university where troops were unable to dislodge Boko Haram fighters linking up with students who support them.

In a previous attack by the Nigerian air force, 20 Muslims were killed in another northern town. Nigerian army has killed hundreds of civilians and then blamed Boko Haram. This is known as the "Algerian method."

---

Breaking News: Pakistan.

March 15 Peace is becoming possible in Pakistan. After Pak Taliban declared cease fire, al-Qaida forces and Jundullah, located in Nooristan province of Afghanistan, right across the Pakistan border, have also declared cease fire. Pak Taliban have the upper hand and are demanding Pakistan army withdraw from North Waziristan and release prisoners .

March 12. Peace is hindered by the fact that there are 8 splinter groups of Pak Taliban. One group provoked by the presence of Pakistani armored cars on the outskirts of Pakistan launched a bomb attack killing 11 troops.

Paki military might be playing for time. The US suddenly delivered $1.8 billion to the Nawaz Sharif government. US is now interfering even in Islamic law matters.

[There was an attack inside a court in Islamabad which made no sense other than to derail the cease fire. Could be a rogue segnent of the military intelligence, to blame Pak Taliban.]

Jamaate Islami leader Munawar Hasan delivered a withering attack on US interference. See report and photo below. [ Please scroll to end .]

---

Breaking News: Syria
March 15: Yabroud battle. Hizbullah slaughtered but ...

The raging battles around Yabroud has brought Assad's forces to the town itself. Major Hizbullah formations entered the battle but were slaughtered by the mujahideen. Careful observers say Hizbullah lost 70 killed and 80 wounded in the week long fighting but reinforcements and weapons are pouring in from Lebanon. Al-Nusra has withdrawn from one of its positions in front of Yabroud. Assad's air forces is pounding the Yabroud defenders. Today there were 16 air strikes.

Assad's air borne troops launched a surprise attack in Hessakah, eastern Syria, but were forced to retreat owing to a join counter attack by al-Nusra and ISIL.

Fighting is also raging south of Hama and on the outskirts of Aleppo.

Exchanging women and children: Assad is holding thousands of Muslim women and children as hostages. On March 14 the Islamic forces gave him a surprise. They brought 94 women captured from Assad's home enclave of Latakia and are demanding an exchange with 2,000 women and children held by Assad.

Christians treated well. On March 10, al-Nusra exchanged 13 nuns from Maalaoula with 25 Muslim women in Assad's hands. The nuns, after reaching Damascus, had the courage to say that they were treated well by al-Nusra.

The scene was quite different in Zara, the village Assad's forces entered last week. Here is an eyewitness account of Assad forces' behavior as they killed civilians.:"Some of them were butchered inside their homes and then they set the homes on fire. Others, the tanks fired at the homes. Others were killed by snipers as they fled."

4th year begins. The conflict in Syria has taken 140,000 lives, mostly civilians killed by the Alawite military elites and death squads. The dead include 11,000 children, many of them tortured by the Alawites. To put an end to resistance in the big cities, Assad has been carrying out indiscriminate bombing including barrel bombs. More than 9 million Syrians have left their homes and of these 2.5 million have left Syria. This is the biggest movement of refugees in modern history, after Pakistanis coming from India and Palestinians expelled by the Jews.

Assad, with Iranian, Russian and Hizbullah help, is trying to open up the route from Damascus via Homs to Latakia. That's his supply route and escape route to Latakia. However parts of the Latakia hinterland is in Islamic hands. From Raqqa to Iraq is ISIL. And from Damascus to Aleppo to Turkey it is al-Nusra [with Assad enclaves here and there in fortresses.] In the south to "Israel" is FSA heavily funded by the Saudis but inactive,

---

Our web site: Are we good or what? With zero funding! This is Islam.

In February, New Trend's web site received 51076 hits from 12297 visitors.
Thank you Br. Rich for your great work as a volunteer.

In addition our direct emailing to several thousand people is doing quite well too.

In addition, thanks to an activist sister from Washington DC who has posted New Trend on 20 discussion sites.

We also distribute by hand. See latest distribution below at White Marsh, Maryland.

---

Our sister web site hadithandwomen.wordpress.com has totalled 21770 visits. Great graphics, thanks to a sister.

---

In building up the holocaust story, the "chosen people" often became over confident and did not see the big holes in their horror stories. Bradley Smith, master critic of the holo industry, writes about one of these holes. Please scroll way down.

---

Shoora on May 3, inshallah.
Boycott Israel-supporting businesses, oppose occupation, condemn Bashar & Sisi.
Hail Muslim women. Free Political Prisoners. Educate against Homosexuality & Liquor.

Islamic shoora of Jamaat al-Muslimeen will be held on May 3, Allah willing.

Organizer: Sis. Ashira

Dr. Abdulalim Shabazz [ DrAAS.info ] will speak on the connection of racism & Zionism.
Br. Robert Solano on Da'wah to the Hispanic communities.
and many others.

---

Embracing Islam

On March 14, after juma prayers, two Christian women embraced Islam at Masjid Jamaat al-Muslimeen in central Baltimore. They were given the shahada by the African imam of the masjid.
There has been an ongoing series of conversions to Islam at this masjid.

---

Outreach:
Literature on Agha Khan, Sahaba, r.a., Syria, Saudi Arabia, Munawar Hsaan Distributed

On March 14, four pages of Jamaat al-Muslimeen Literature was given to 100 Muslims after Juma in the White Marsh area of Maryland, 13 miles northeast of Baltimore. The people were mostly Arab Americans and Indo-Pakistanis. The four pages were as follows:

Extremist cut leader Agha Khan hailed extremist right wing Canadian government. [Photos.]


Dr. Kaukab's khutba on Prophet's, pbuh, sahaba, r.a., No one is greater than them after prophets.


Jamaate Islami Pak leader Munawar Hasan's outstanding role in Saudi conference.


Critique of Saudi label of terrorism on Ikhwan, al-Nusra and ISIL.
---

Our America
URGENT ACTION:
Northeastern University Suspends Students for Justice in Palestine

With profound disappointment and righteous indignation Northeastern University Students for Justice in Palestine announces it has been suspended as an organization. SJP is disappointed because Northeastern's claims of creating a diverse learning environment that encourages the free exchange of ideas and promotes Academic Freedom are impossible to reconcile with the university's decision to suppress our speech and suspend our political group. As if banning our activities from campus and denying us all use of campus resources wasn't outrageous enough, the university is pursuing expulsion-level sanctions for two students—all for participation in a mock eviction action. SJP is furious to report the only individuals to face our school's opaque disciplinary process are two young women of color; none of the white or male participants have faced any charges. This unprecedented ban and appalling prosecutions are the latest attempt by the university to suppress pro-Palestine speech, and continues the university's disturbing history of enacting injustice.

Please take action using the link below:
http://www.northeasternsjp.org/current-situation.html

---

A tribute to Rachel Corrie.
She Gave her life stopping Israeli Bulldozer Demolishing Homes
by Anwar ul Haq [Islsmabad, Pakistan]

A pretty and innocent girl Rachel Corrie
Stood like a mountain in front of gross terrorism
Although Bulldozer killed her, she is still alive
And her fight continues against terrorism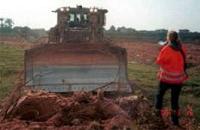 Rachel Corrie is the symbol of principle and humanity
She is the crown and jewel of human dignity
She is the voice of human conscience and morality
Rachel Corrie you will be loved and respected till eternity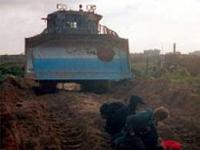 Rachel's blood drops poured in the sacred land
Giving birth to the trees of freedom in the wonderland
The beautiful flowers of those trees remind us always
The softness of her heart, firmness of her moral ways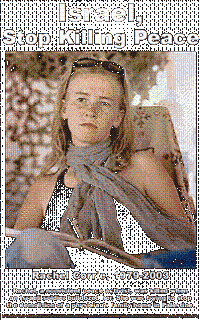 ---

The Lurking Danger Beneath
Al-Aqsa vs. Israel
by RAMZY BAROUD

Something sinister is brewing around and below al-Aqsa Mosque in occupied East Jerusalem, and it has the hallmark of a familiar Israeli campaign to strip the Mosque of its Muslim Arab identity. This time around, however, the stakes are much higher.

The status of al-Aqsa mosque is unparalleled within the context of Muslim heritage in Palestine itself. It is also the third holiest Muslim shrine anywhere. But equally as important, it is a symbol of faith, resistance and defiance. Its story of struggle and perseverance goes hand in hand with the very modern Palestinian struggle for rights, freedom and identity. Praying at al-Aqsa at times seems like an impossible feat. Many Palestinians lost life or limbs simply trying to gain access to the mosque.

In a statement released on March 7, the Palestinian Ministry of Awqaf and Religious Affairs said Israeli forces carried out 30 attacks against Al-Aqsa Mosque and other holy sites during the month of February alone. Most of the attacks targeted Al-Aqsa itself. While the recurring violations at Al-Aqsa were led by Jewish settlers, according to the statement, they have done so under the watchful eye, protection and support of the Israeli police and army.

Most alarming about these attacks is their political context, which indicates that a great degree of coordination is underway between politicians, security forces and Jewish settlers.

In anticipation of a Palestinian backlash, on March 04, an Israeli court sentenced Islamic leader Sheikh Rade Saleh to eight months in prison for 'incitement'. The Sheikh is the most outspoken Palestinian leader regarding the danger facing Al-Aqsa. Why silence Sheik Saleh now when the attacks against al-Aqsa are at an all times high?

It was on February 25, 1994, that US-born Jewish extremist Baruch Goldstein stormed into the Ibrahimi Mosque in the Palestinian city of al-Khalil (Hebron) and opened fire. The aim was to kill as many Arabs as he could.

At that moment, nearly 800 Muslim worshipers were kneeling down during the dawn prayer in the holiest month of the Muslim Calendar; Ramadan. He killed up to 30 people and wounded over 120. Exactly 20 years later, the Israeli army stormed al-Aqsa Mosque, the third holiest Muslim site, and opened fire. The timing was no accident.

Like the rest of the West Bank, Al-Khalil is facing the dual challenge of armed Jewish settlers and Israeli occupation soldiers; the latter enforcing the military occupation, while providing further protection to the settlers. The settlers, extremists from the illegal settlement of Kiryat Arba, often attack Palestinian residents of the town with complete impunity. Interestingly, many of Kiryat Arba settlers are Americans, as was Baruch Goldstein.

It was not enough that Israeli soldiers within the vicinity of the Ibrahimi Mosque allowed Goldstein - armed with a Galil rifle and other weapons - access to the mosque, but they opened fire on worshipers as they tried to flee the scene. Israeli soldiers killed 24 more and injured others. Goldstein, now a hero in the eyes of many in Israel, is often blamed solely for the massacre in al-Khalil. But in fact, it was a mutual effort between Goldstein and the Israeli army.

This symbiotic relationship between the army and settlers, which dates back to the early days of the Israeli occupation of Jerusalem, the West Bank and Gaza in 1967, continues.

While Israeli bulldozers dig into Palestinian land during the day, leveling mounds of ground and destroying olive groves for settlement expansion, heavy machinery burrows beneath the Old City of al-Quds, Jerusalem, at night. The Israelis are looking for evidence of what they believe to be ancient Jewish temples, presumably destroyed in 586BC and AD70. To fulfil "prophecy", Jewish extremists believe that a third temple must be built. But of course, there is the inconvenient fact that on that particular spot exists one of Islam's holiest sites: The Noble Sanctuary, or al-Haram al-Sharif. It has been an exclusively Muslim prayer site for the last 1,300 years.

The Noble Sanctuary, located in Jerusalem's Old City, is the home of Al-Aqsa Mosque and the Dome of the Rock. The site has been under constant threat, attacks, acts of arson and military violence for nearly five decades. The few Muslim clergy - belonging to the Islamic Trust which manages the area, along with the custodianship of Jordan - are mindful of the ever-lurking Israeli threat that oftentimes turns deadly. It was no surprise that late Israeli leader Ariel Sharon chose that exact place to carry out his proactive 'tour' of al-Aqsa compound in 2000. Many unarmed Palestinians, mostly worshipers, died on that day. Thousands more were lost in the following months and years as the entirety of the occupied territories and Palestinian towns inside Israel exploded with unprecedented fury. Sharon was later elected Prime Minister of Israel.

That same dangerous combination - rightwing politicians allied with religious zealots - is at work once more. They are eyeing Al-Aqsa for annexation, the same way the Israeli government is laboring to permanently annex large swathes of the occupied West Bank, to preclude any future settlement with the Palestinian Authority of Mahmoud Abbas.

The Israeli Knesset (Parliament) chose the 20th anniversary of the Goldstein massacre of Palestinians in al-Khalil to begin a debate concerning the status of Al-Aqsa compound. Right-wingers - which constitute the bulk in the government of Prime Minister Benjamin Netanyahu - want the Israeli government to enforce its 'sovereignty' over the Muslim site, which is administered by Jordan per the Jordanian-Israeli peace treaty of 1994. Israeli MP Moshe Feiglin, is the man behind the move, but he is not alone. Feiglin is a member of Netanyahu's Likud party, and has strong backing within the party, the government and the Knesset.

A major backer of Feiglin's initiative is Miri Regev, also a far-right Likud member. Regev is demanding that the government establish separate prayer times for both Jews and Muslims in Al-Aqsa Compound. The model she wishes to duplicate is no other than the Ibrahimi Mosque. "We will reach a situation where the Temple Mount will be like the Cave of the Patriarchs, days for Jews and days for Muslims," she said.

Of course, Regev omitted the fact that 20 years ago to the day, a Jewish extremist and Israeli troops killed and wounded hundreds of Palestinians kneeling for prayer.

On the next day following the Israeli government debate, a thundering sound was heard around 3 AM in the Wadi Hilweh neighborhood of Silwan, located south of the Old City of Jerusalem. Residents heard the "sounds of heavy duty machines digging under their houses throughout the night," Ma'an reported. Then, a large wall suddenly collapsed, while a few houses sustained damage. The Israeli underground network of tunnels is growing, as some of these tunnels connect Wadi Hilweh to the Western Wall to Al-Aqsa.

While the danger of Al-Aqsa Mosque collapsing is very real, it is a representation of the mentality that rules Israel: one of annexation and military occupation, with no regard whatsoever to Palestine's holiest site, also revered by over 1.6 billion Muslims around the world.

Ramzy Baroud is an internationally-syndicated columnist, a media consultant and the editor of PalestineChronicle.com. His latest book is "My Father Was a Freedom Fighter: Gaza's Untold Story" (Pluto Press, London).

---

Committee for Open Debate on the Holocaust

www.codoh.com
Sara Bloomfield, Director, United States Holocaust Memorial Museum
100 Raoul Wallenberg Place, SW, Washington, DC 20024-2126
Main telephone: 202.488.0400, TTY: 202.488.0406
12 March 2014
Ms. Bloomfield.

On the Website of the USHMM there is a page titled Voices on Anti Semitism http://tinyurl.com/kukxuny There I find a podcast where you make a number of interesting, morally valuable observations. On the question of "The power of hate" you say: "I think our Museum presents the Holocaust in a way that challenges people to confront human nature-the entire spectrum, from extraordinary evil that led to the mass murder of Jews to the extraordinary goodness of people who risked their lives, risked the lives of their families to save another human being . . . ."

With regard to "confronting human nature":

I believe you would acknowledge that you are aware of who Abraham Bomba was, that he is featured on your Website testifying on film to the fact that as a Sonderkommando he collaborated with Germans in the mass-murder of maybe a million Jews at Treblinka. http://www.ushmm.org/wlc/en/media_oi.php?MediaId=1079

At the same time I find no suggestion at the USHMM that any effort has ever been made to confront the "human nature" of Mr. Bomba's behavior. In fact, on your Website he is treated with respect as if he were merely a victim, even perhaps something of a hero.

The Bomba testimony on film that the Museum has chosen to display includes this text: "Mr. Bomba was chosen to cut women's hair before these women were to be gassed." At one place Bomba himself testifies:

"I knew them; I lived with them in my town. I lived with them in my street, and some of them were my close friends. And when they saw me, they started asking me, Abe this and Abe that- 'What's going to happen to us?' What could you tell them? What could you tell? . . . Can you imagine that you have to cut their hair and not to tell them a word because you were not allowed? If you say a word that they going to...uh...be gassed in five or seven minutes later, there would be a panic over there and they (the barbers) would be killed too . . . "

In short, Mr. Bomba testifies on film that he collaborated with Germans in the mass murder of Jews at Treblinka. The Museum exploits his testimony to raise money for the Museum. But there is no evidence anywhere on the Museum's Website that anyone there has made any effort whatever to confront the "human nature" of Mr. Bomba. When a man confesses on film to collaborating with Germans in the extermination of thousands of Jewish children, do you not see something there, in the "human nature" of the man, that needs to be, if not confronted, at least addressed?

I may be mistaken, but one has the impression that you are being purposefully blind to the fact that Mr. Bomba's collaboration with Germans in the mass-gassings of Jews represents what we have been encouraged to consider as a war crime for which Germans and others have been tried, convicted, and executed. Ms. Bloomberg: do you not think it time that someone at the United States Holocaust Memorial Museum confronts the "human nature" of such individuals as Abraham Bomba, their decisions to participate in the extermination of the Jews?

Why is it not time? What is it that is so very special about Abraham Bomba and his collaboration with Germans in the mass murder of Jews? To what purpose might his guilt be found acceptable, his testimony exploited, other than to raise funds for your Museum?

Looking forward to any thoughts you might want to share about the "human nature" of this particular collaborator, and the purpose of the Museum in collaborating with him.

Bradley R. Smith, Committee for Open Debate on the Holocaust
PO Box 439016, San Ysidro, California 92143
Email: bradley1930@yahoo.com, Blog: www.codohfounder.com

---

Pakistan.
US "advice" on Qadianis & Blasphemy law blasted by Munawar Hasan
by Anwar Niazi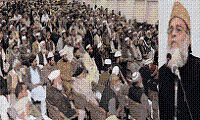 LAHORE, Mar. 15; Ameer, Jamaat e Islami, Pakistan, Syed Munawar Hasan, has strongly condemned the US demand to the government to abolish the constitutional provisions declaring the Qadyanis as non-Muslims and the Blasphemy Law ,and said that Washington's direct interfere in religious and constitutional matters was an insult to the country.

Addressing the participants of the JI central workshop at Mansoora on Saturday, he said the US could not be given the right to interfere in our religious matters. He demanded that the US envoy be summoned in the Foreign Office, issued a warning in stern wording on this score . Besides, he said, that Washington be asked to withdraw its statement and stop interfering in our religious matters.

The JI chief said that all US policies were against Islam and the Muslims, and White House had become the centre of anti Islam activities. He said that the slavish mentality of the rulers had given the US the courage to interfere in our religious matters after having control on our politics.

Syed Munawar Hasan warned that if the government tried to alter the unanimously adopted 1973 constitution, the entire nation would rise as one man. He said that the secular/ US lobby in the country had become active after some observations of the Islamic Ideology Council on family matters a few days back, and the Islamic laws were being openly criticized in the state achieved in the name of Islam. He said that after their failure in obstructing the Government- Taliban talks, the US and its agents here had started attacks on the Islamic laws in a big to create unrest and anarchy. This lobby wanted to deprive the Pakistani nation of its Islamic identity. However, he said, the nation which had sacrificed the lakhs of people for achieving this Islamic state, and for declaring the Qadyanis as non Muslims and for the enforcement of the Nizam e Mustafa, would protect its Islamic identity and the Islamic laws at every cost and would not allow the US or any other power to meddle into their religious matters. He said that the west bid to link Islam with terrorism and the US intreagues against the Islamic movements were an ample proof that the US wanted to directly target Islam to achieve its heinous designs. He also slated the US statement regarding growth of terrorism in Qatar and said Washington was now searching for excuses to attack Qatar. He urged the UN and the world community to rise for stopping the US from its anti Islam designs and the blood shed of the Muslims so that another world war could be averted.

Referring to the government - Taliban talks, he said that all the members of the government committee were bureaucrats who did not know the art of handling issues politically. He stressed that the Prime Minister should preferably head the committee, or at least, some ministers should be included in it for carrying forward the talks in a better way. He also suggested to the Taliban to include their men in their committee because their present committee had no Taliban and its over all performance could not be like the one which had the Taliban. He also urged the government to heed the Taliban allegation that their women and children were still in the army custody, and said they must be released forthwith to create a more congenial atmosphere



2014-03-16 Sun 08:32:03 cdt
NewTrendMag.org