NewTrendMag.org News # 1531

[ Click on NEWS for back issues ][ OUR BOOKS ] [ Women in Islam ][ Our America ][ Hadith ][ Kaukab Siddique's khutbas ][ Latest photos. ][ Imam Badi Ali's Thoughts ][ Muslim Political Prisoners ] [ Previous Issue ]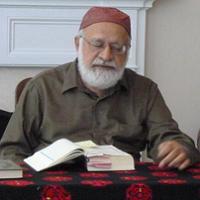 Rabi' al-Awwal 2 ,1435/January 4, 2014 # 1

---

Canadian Bosnian researcher responds to Weisenthal Center's denial of Serebernica Genocide.. V. Important.
Scroll way down.

---

A young American woman's journey to Islam. A delightful, inspiring story. Scroll to the end.

---

Breaking News: Bangladesh

On January 5, an election farce will be enacted in Bangladesh. Both the Nationalist forces led by Khalida Zia, and the Jamaate Islami Bangladesh under terrorist attacks by the regime have boycotted the elections. So the pro-India Awami League will easily "win" the elections.

On January 3 and 4, the widespread nationalist protestors burned down 100 polling booths across the country.

---

Breaking News: Egypt

On Friday, January 3, unarmed protestors came out in cities across Egypt to oppose the regime of General Sisi and to support President Morsi who was illegally arrested by the General.

Security forces tried to crush the protest marchers. At places they opened fire. At least 6 of the protestors were killed, 42 injured and 122 arrested. One of those killed was a woman.

---

Breaking News: Iraq

January 4, 2014: After intense fighting on January 2 and 3 between ISIL [Islamic State in Iraq & the Levant], and the US-installed regime's forces. the later withdrew and Islamic forces supported by local tribes took over the major towns of Fallujah, Ramadi and Termiye. The fighting began when the Baghdad Shia forces disrupted a peaceful protest camp set up in Ramadi against the policies of the Baghdad regime. [The regime forces are firing right now long range artillery and preparing for a counterattack.]

[See photo of ISIL victory parade in Fallujah. Please scroll to end. ]

---

Breaking News: Syria

January 3 and 4: ISIL [Islamic State in Iraq & Levant] forces in control of important areas of Aleppo were suddenly attacked by a coalition of rebel groups, including the West-oriented coalition. Some of the smaller groups say that ISIL is too strong and harsh in its behavior.

Similar fighting has broken out in Idlib.

As the fighting continues, it could open up the way for Assad's forces to re-take Aleppo. ISIL is suffering losses and may have to retreat,

Jubhat al-Nusra is holding on to its positions around Damascus, Adra and Maloula.

---

Breaking News: Lebanon
January 4: Majid al-Majid, commander of the al-Azzam Brigades died suddenly probably under torture while being "interrogated" by Lebanese security forces. He was a Saudi on the most wanted list of Saudi security and was said to be responsible for the recent attack on the Iranian embassy.

January 2. There has been another bomb attack in the Hizbullah stronghold in south Beirut with at least 5 killed and various injured. ISIL has taken responsibility. More than 12,000 Hizbullah fighters are in Syria helping to save the tyrant of Syria, Assad. Hizbullah's invasion of Syria has seemingly resulted in revenge attacks on Hizb strongholds in Lebanon.

---

Breaking News: Somalia

January 4: A hotel where westerners and regime officials were meeting in Mogadishu was blown up by al-Shabab resulting in heavy casualties, including a senior security officer and several troops killed on the spot.

January 1, in nearby Kenya, at the resort town of Diani south of Mombasa [known for its soft sandy beaches] , the Indian drinking bar known as Tandoori was hit with a grenade while revelers were still drinking and dancing for the New Year party. There were numerous serious injuries but the attackers escaped.

[According to BBC, southern and central Somalia are in control of al-Shabab although they retreated from Mogadishu..]

---

New Trend's Humble Web Site is doing Quite Well, Thank you!

In December 2013, New Trend's web site received 53999 hits and 12461 visitors.

The total number of hits in 2013 was 786,991, a big improvement over a little less than half a million in 2012.

Special thank you to Br. Rich in Nebraska. A very special brother. So much volunteer work. It's a record. Well done.

[In addition, New Trend is sent to several thousand people by email.]

Also, hard copies are mailed to those who want hard copies, as well as those in prison.

Hundreds of copies are distributed every month by our activists at selected mosques.

Finally, New Trend is posted on three pages on facebook.]

---

Our sister web site: hadithandwomen.wordpress.com has received 19,210 hits.
It is about Dr. Siddique's writings discussing women in Islam.
Beautiful Islamic graphics.

---


GOD IS GREAT. Better late than never! Sis. Lynne is Free!
She fought for the rights of the Blind Shaikh pro bono: America's greatest attorney.
by Robert Solano [Jamaat al-Muslimeen leader, Texas]
https://improxy.benchmarkemail.com/http://i.huffpost.com/gen1540870/thu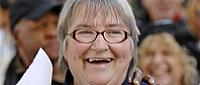 (above): Lynne Stewart
DYING LAWYER LYNNE STEWART'S JUBILANT RETURN HOME AFTER WINNING COMPASSIONATE RELEASE -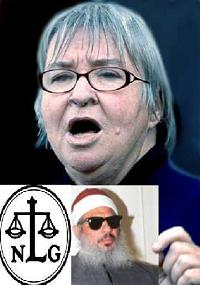 ---

Our America: University of Maryland, College Park
From Solomon Commissiong
Black Intellectual takes on Obama's Drone Policy.

Obama allegedly stating, "I'm really good at killing people", only surprises the large community of Obamites who continue to unconditionally support a man who executed more drone attacks in his FIRST year as president than did Bush in his 8 years. Even if Obama did not say this (however he probably did), his actions speak much louder than any words. His actions have been flat out deadly, especially to the thousands of innocent civilians murdered by way of his direct orders and authority. Pathetic is those who make excuses for these kinds of actions. Pathetic and does not bode well for humanity...
https://www.youtube.com/watch?v=z_x-RTI1kyA

---

Our America: Baltimore
Obama forgot those who voted for him
by David Wiggins

Black unemployment in Baltimore was twice that of whites in 1965 it is triple that of whites in 2014. Black infant mortality in Baltimore was twice that of whites in 1965, it is still twice that of whites in 2014. Black home ownership in Baltimore was less than half that of whites in 1965 it is still less than half that of whites in 2014. In 1965 Black median income in Baltimore was less than half that of whites, it is still less than half that of whites in 2014.

---

Our America: Atlanta
America's leading Muslim activist for the needy: Baitul Salaam
Helping the hungry, the cold, the homeless in this great country!
$1500 are urgently needed plus the supplies listed here.

Islamic Food Pantry Needs to be Restocked
From Sis. Hedayai Majeed
Here is our wish list:

Hot and Cold Breakfast Cereal


Canned Halal Meat, fish, chicken, milk, soups


sauces, spices


canned juice or any other shelf stable juice (Hawaiian Punch is not juice)


rice, beans pasta (one and two pound bags are the most popular sizes) we take larger sizes for larger families however we usually end up repackaging.


Spring water and distilled water

Non food items:
Bath soap, deodorants, shampoo, conditioner, body lotion, shea butter, dish washing detergent, bleach, feminine hygiene products, products for bladder leaks, floor cleaners, batteries all sizes AAAA to 9 volt, crank radios, battery operated radios, blankets, sleeping bags, small tents, first aid kits, alcohol wipes, hydrogen peroxide, white medical tape, gauze, anti-septic for burns and cuts, etc.

Call 770-255-8500 Monday-Thursday 7 am-10 pm, Friday 9 am-1 pm, Saturday and Sunday 10 am-4 pm if you get a recording leave a message.


---


Prisoner of Conscience
Abu Qatada committed no crime: British & Jordanians want him to Shut Up!

Sheikh Abu Qatada urges Syrian Mujahideen from courtroom to abandon disagreements and unite

A trial of Islamic scholar Abu Qatada al-Filistini is held in Jordan. According to Al Jazeera, Sheikh al-Filistini said about his innocence during a new "hearing". "I am not guilty, and you are a dishonest judge", the Qatari TV channel quotes the 53-year-old Sheikh Abu Qatada, who had been deported from England in July after a nearly decade-long legal battle.

Meanwhile, according to the AP, Abu Qatada addressed the judge with the following words: "You listen: Do you think you are a fair judge?" The Islamic scholar was sentenced to death in absentia by the Jordanian regime in 1999 - he was accused of "conspiracy to carry out terror attacks", including that on an American school in the Jordanian capital of Amman, but the sentence was immediately commuted to life imprisonment with hard labor, writes UmmaNews.

In 2000, Sheikh Abu Qatada was sentenced in absentia to 15 years for allegedly "plotting to attack tourists in Jordan during millennium celebrations". Sheikh al-Filistini came to England to obtain political asylum in 1993, and in 1994, he was granted a refugee status. However, in October 2002, the scholar was arrested by English police. During the search of apartments of Mujahideen involved in attacks on America on September 11, 2001, police found videotapes of sermons by Sheikh Abu Qatada, in which he called English Muslims to Jihad. And this was served as the "proof of guilt".

He was actually named as a "representative of Sheikh Osama bin Laden in Europe" and by a court's ruling he was sent to dreadful London's Belmarsh High Security Prison to serve a three-year sentence. After his release in August 2005, the scholar was again arrested on suspicion of aid to the Mujahideen who carried out a martyrdom operation in London. In April 2012, the Brits decided to release Sheikh on bail, but on very stringent conditions. Then he was arrested again, and then again released from a prison of English democracy. According to The Guardian, Abu Qatada was harassed all times not only by the Brits, but by Americans who kidnapped two of England's residents: Jamil el-Banna and Bisher al-Rawi during their stay in Africa.

Then the Americans took them to their Bagram Air Base in Afghanistan (they also were imprisoned in Guantanamo), where testimony against Shaikh al-Filistini was knocked out from them under American tortures. Abu Qatada's deportation became possible after conclusion of an agreement that evidence obtained under torture would not be used against him.

This summer, the plane with the sheikh on board flew from England to his native Jordan which he did not visit for almost 20 years. It is reported that during the beginning of the hearing on December 10, Sheikh Abu Qatada and his lawyer protested against the presence of a military judge in the hall, which is inconsistent with the agreements between England and the bloody Jordan regime

It is reported that the court permitted relatives of the Sheikh - four sisters, three brothers and son - to attend the hearings. The AP claims that in the courtroom he was asked about the Syrian Mujahideen. Abu Qatada said that they should abandon all disagreements and unite under one leader. The newspaper Al-Hayat specifies that the Syrian issue was raised by its correspondent after the first court session. First, the journalist asked the opinion of the Sheikh on a recent interview with the leader of the Jabhat al-Nusra, Abu Mohammed al-Joulani, to the TV channel Al Jazeera. Shaikh al-Filistini has praised al-Joulani. Then the reporter asked Islamic scholar's references to the disagreements between the ISIS and Jabhat al-Nusra, to which Abu Qatada replied: "Explanation will take long time, but I encourage the leadership of the ISIS and al-Nusra for unity, I urge on necessity to listen and obey as requested by Dr. Ayman al-Zawahiri". As reported, the judge adjourned the "trial" of Sheikh Abu Qatada. "You know all well I am not guilty and that this accusation is false", said the Islamic scholar in the courtroom.
[Department of Monitoring Kavkaz Center]

---

Jews Committing Blasphemy & Desecration against Prophet, pbuh & Islam:
So open that Israeli Paper is alarmed!
Via Mark Glenn
Mosque in Israel defaced by anti-Muslim graffiti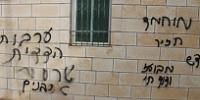 Local officials decry attack as 'despicable' and 'racist,' urge police to crack down on 'price tag' attacks.

Haaretz

A mosque in the Israeli Arab town of Baqa Al-Gharbiyye was defaced before dawn on Sunday, and windows were shattered on several cars parked nearby.

The mosque was scrawled with graffiti declaring "Mohammed is a p..," "mutual responsibility," and "regards from Boaz and David Chai", referring to two settlers against whom travel restrictions had been imposed by the commander of the Israel Defense Force's Central Command.

Baqa Al-Gahrbiyyeh Mayor Mursi Al Muh called the vandalism "a detestable act, a crime we cannot ignore".

The mosque's imam, Sheikh Khiri Askander, who is affiliated with the Islamic Movement, denounced the perpetrators as "clearly racists who have grown accustomed to committing such acts, since no one is deterring them. We've heard of dozens of such cases on both sides of the Green Line, and there have been no arrests or prosecutions."

---

The Pagan Year 2014 is here! Let's try to be better Muslims!
[This message has been circulated through various channels. Here it is for NT readers,]
[While others drink, party and dance, here is our mission & our message.]

asalamu alaikum

Dear Muslims

In 2014, let's try to be diligent about our FIVE obligatory daily prayers. Let's pray them on time and with full acceptance of the Will of Allah.

Fast! Non obligatory fasts on Monday and Thursday are sunnah & good for us.

Zakat. Spend very carefully for the most important Islamic causes.

non-Violent Jihad: Strive with the pen, email, demonstrations, rallies, speeches, conversation and by speaking against great evils like liquor, gambling, drugs, fornication and homosexuality.

Travel in the world and educate ourselves. Go for Hajj if you see the possibility

Stand against Zionism, racism, dictatorship, male dominance and oppression of all kinds.

Take care of your health. [I am eating a big apple right now!]

I need your support for Jamaat al-Muslimeen, New Trend and Masjid Jamaat al-Muslimeen.

Educate Americans about the crimes of Bashar Assad in Syria, General Sisi in Egypt, Hasina Wajed in Bangladesh, India in Kashmir and all other tyrants & oppressors.

Oppose police brutality in American cities.

Help Muslim political prisoners and their families. The great attorney Lynne Stewart has "compassionate release." Inshallah, all political prisoners should be released.

Support Muslim minorities like the Rohingyas in Burma, India's Muslims, Chechens in Russia, Sinkiang Muslims in China and the mentally enslaved Muslims of America.

Best wishes and salaams from

Kaukab Siddique,
Ameer
Jamaat al-Muslimeen

---

American Woman, Ms. Caroline, warns of New Betrayal of USA by Jewish International.
Preparing to Release Israeli spy Pollard in Spite of American Patriots.

George Tenet, former CIA Director, told Bill Clinton (who wanted to release Pollard upon Clinton leaving office, that he would resign.) Pollard was the most dangerous spy in U.S. history, sending massive amounts of Pentagon papers to the Israelis who forwarded the information on to the Soviet Union, back in the 1980's, in exchange for the release of the Soviet Jews. (Several U.S. spies were killed as a result of this.) Reagan then sent Ambassador Strauss over to the USSR to start the mass exodus, which the U.S. taxpayer fronted the bill. (A nice reward for the Israelis who should have been punished.) Those "refugees" going to Israel were given a check for $65,000, the ones coming to America got total care..housing, food, medical, full Social Security if over 65, PELL grants for full tuition at any university, plus a network to get jobs for them. There are millions of them in the U.S. thanks to Jonathan Pollard.

Why in the world would our government release the most notorious spy in U.S. history to a country that benefited from his actions and put out country in danger (back in the 1980's..or even today.)

Here it is:

Kerry reportedly says he will consider freeing Jonathan Pollard as part of prisoner swap

Published December 29, 2013

Secretary of State John Kerry will travel to the Middle East in the first week of the new year amid a flurry of reports in the Israeli press that he has said he would consider freeing convicted spy Jonathan Pollard.

Israel's Channel 10 TV station first reported Friday that Kerry offered to free Pollard as part of an exchange for the release of a fourth group of Palestinian prisoners from Israeli jails as peace talks resume between the two sides. The third of four groups is scheduled to be released Monday, the Jerusalem Post reported.

Pollard, a former U.S. intelligence analyst, pleaded guilty to passing national defense information to the Israeli government in 1986 and was sentenced to life in prison the following year.

The Channel 10 report added that the Israeli government believes Pollard is unlikely to be released since Kerry's statement was not approved by President Barack Obama. A source told Fox News that Pollard's release was in play, but it was unclear what price Israeli Prime Minister Benjamin Netanyahu would be asked to pay for it, or even if Netanyahu would agree to pay it.

Many prominent Israeli politicians, including Netanyahu, have called for Pollard's release since his imprisonment. Those calls became louder after recent reports based on documents leaked by former NSA contractor Edward Snowden revealed that the NSA had tracked e-mail accounts belonging to former Israeli Prime Minister Ehud Olmert, and former Defense Minister Ehud Barak between 2008 and 2009.

Kerry will arrive in the region amid a series of violent Palestinian attacks on Israeli targets in recent weeks. The attacks are raising concerns about the possibility of a new type of Palestinian uprising. Kerry, who became secretary of state in February, has so far visited Israel nine times.

The recent incidents do not appear to be an organized effort by militant groups, but rather a collection of individual acts.

After years of relative quiet, Israel's Shin Bet security service has reported a steady rise in attacks since Israeli and Palestinian peace negotiators resumed talks in July.

In November, for example, there were 167 attacks in Jerusalem and the West Bank, compared to 136 in October, the security service said.

The State Department confirmed late Saturday that Kerry will leave Wednesday for Jerusalem to meet with Prime Minister Benjamin Netanyahu, then go to Ramallah to meet with President Abbas. He will discuss the ongoing, final-status negotiations between the Israelis and Palestinians, "among other issues," the department said.

Israel and Palestinian officials agree that violence from the West Bank is connected to the peace talks, though they pin the blame on each other. The Palestinians say the current climate is a result of brewing frustrations over the perceived lack of progress in peace talks while Israel continues to build Jewish settlements on land they claim for a future state.

Others link the violence to the release of convicted Palestinian killers as part of the deal to resume talks. This logic goes that Palestinians are emboldened to carry out attacks knowing that they will eventually be freed from prison. A third group of prisoners is expected to be released next week.

On Sunday, a pipe bomb believed to be planted by Palestinian militants exploded on a bus in central Israel in the most serious attack inside Israel in more than a year. The next day, an Israeli policeman was stabbed outside a West Bank settlement. And on Tuesday an Israeli civilian was killed by a Palestinian sniper in a cross-border shooting from Gaza, sparking a series of Israeli air strikes that killed a Palestinian girl.

The West Bank and Gaza Strip, located on opposite sides of Israel, are ruled by different governments. Israel and the West Bank-based Palestinian Authority are engaged in peace talks aimed at ending decades of conflict and establishing an independent state for Palestinians. But Gaza's Islamic Hamas rulers refuse to recognize Israel and call for its destruction.

The situation in Gaza is far different.

Hamas opposes the peace talks and has engaged in several rounds of heavy fighting with Israel over the years. For the past 13 months, it has observed a cease-fire with Israel. But extremist Salafist groups have carried out periodic attacks in order to undermine the cease-fire. An Israeli blockade and a tough Egyptian crackdown on Gaza's southern border in recent months have created fuel shortages and economic hardship in Gaza, creating a fertile ground for extremists. Hamas was not involved in Tuesday's sniper attack

---

Al-Qaida supporters' Victory March in Fallujah, Iraq, [January 3, 2014]. Most are unarmed.
Courtesy Associated Press.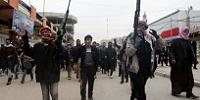 ---

Bosnian Response to Jewish Denial of Srebrenica Genocide

Efraim Zuroff genocide denier

December 30, 2013.
RABBI MARVIN HIER Founder and Dean Simon Wiesenthal Center Museum of Tolerance

Dear Rabbi Hier,

On behalf of Bosniaks in the U.S. and Canada and survivors of the Bosnian genocide, we protest the comments made by one of your activists Efraim Zuroff denying the genocide in Srebrenica and Bosnia-Herzegovina. Serb nationalist newspapers reported today that Mr. Zuroff publicly denied that genocide took place in Bosnia-Herzegovina.

According to their media, he stated there was no genocide in Bosnia-Herzegovina, thus reducing himself to a genocide denier link ( http://www.nezavisne.com/novosti/bih/Zurof-U-BiH-nije-bilo-gnocida-224134.html) It is incomprehensible that someone who works for such an important international organization whose mission includes remembrance of the lessons of the Holocaust, would allow themselves to be used by the Serb nationalists to openly deny genocide against Bosniaks during the war from 1992-1995.

In fact, it is shocking, hurtful, and disgraceful that the victims of genocide and their families must again suffer the anguish of genocide denial, not only by those who participated and supported the atrocities and the ideology of hatred, but now by those who are supposed to apply the lessons of Holocaust to promote human rights and dignity, and ensure genocide never happens to anyone anywhere.

Srebrenica Genocide is a legal fact, established by two international courts; both presided by Jewish holocaust survivors, who concluded that systematic executions of 8,000 Bosniak men and boys in Srebrenica alone constituted genocide. In the Krstic judgement by the International Criminal Tribunal for the Former Yugoslavia, presiding Judge Theodor Meron, a Polish-American Jew and a holocaust survivor, concluded that Srebrenica was Genocide (numerous other judgments found the same reasoning, including the highest World Court): "The gravity of genocide is reflected in the stringent requirements which must be satisfied before this conviction is imposed. These requirements - the demanding proof of specific intent and the showing that the group was targeted for destruction in its entirety or in substantial part - guard against a danger that convictions for this crime will be imposed lightly. Where these requirements are satisfied, however, the law must not shy away from referring to the crime committed by its proper name. By seeking to eliminate a part of the Bosnian Muslims, the Bosnian Serb forces committed genocide.

They targeted for extinction the forty thousand Bosnian Muslims living in Srebrenica, a group which was emblematic of the Bosnian Muslims in general. They stripped all the male Muslim prisoners, military and civilian, elderly and young, of their personal belongings and identification, and deliberately and methodically killed them solely on the basis of their identity. The Bosnian Serb forces were aware, when they embarked on this genocidal venture that the harm they caused would continue to plague the Bosnian Muslims. The Appeals Chamber states unequivocally that the law condemns, in appropriate terms, the deep and lasting injury inflicted, and calls the massacre at Srebrenica by its proper name: genocide. Those responsible will bear this stigma, and it will serve as a warning to those who may in future contemplate the commission of such a heinous act."

During Serb-led genocide policies in Bosnia-Herzegovina, Simon Wiesenthal himself lobbied on behalf of Bosniaks who were the victims of this aggression. See link (http://bosniakandjewishfriendship.wordpress.com/2011/02/27/azi-hunter-simon-wiesenthal-demands-weapons-for-bosnian-muslms/). If Mr. Wiesenthal were alive today, we can only imagine how he would have felt to learn that one of the activists of the organization bearing his name, reportedly, denies the use of the term genocide to refer to the heinous crimes committed against Bosniak civilians. We respectfully demand that your institute apologizes for the hurtful comments reportedly made by your activist Efraim Zuroff, and thus distance yourself from extreme Serbian nationalists who are now perpetuating revisionist history based on genocide denial. If these reports are somehow incorrect, then we ask for a public explanation from Mr. Zuroff and the Simon Wiesenthal center. We hope that you will take this matter very seriously as we believe the members of your institute understand the ultimate ramifications of holocaust and genocide denial.

Respectfully, Professor Emir Ramic, Chair The Institute for Research of Genocide, Canada

---

I Found What I Was Looking For

A Young American Woman's Journey to Islam

By Sara Bokker

Wednesday, 01 January 2014 00:00


A blanket of comforting peace embraced me. I felt so calm and sure and full of joy. All of a sudden I had a purpose in life, a reason to exist.

I grew up near a small town in South Dakota.

The only religions I was exposed to were various denominations of Christianity.

My family and I occasionally attended a Lutheran church, encouraged by my mother, and I was eventually confirmed Lutheran.

I did believe in God, but did not believe in all that "church stuff": singing, worshiping pictures of crosses and Jesus, and eating "the body and blood of Christ." It just did not make any sense to me.

For as long as I can remember, something was always missing. There was this hole in my heart, this great sadness and dark loneliness penetrating every cell of my body, mind, and soul. Nothing could fill that hole, and the pain would not go away. I turned to alcohol at a very early age to numb that deep, agonizing pain, but it was only temporary, and it always made me feel even worse after the numbness wore off.

My distance from my family and everyone else around me only increased as I grew older. I had so much disgust and hatred for myself, which caused me to be absolutely horrible to my parents. All I remember wanting was to escape — escape where I was and who I was. However, I found that no matter how hard I tried, I could not escape who I was. Therefore, I was determined to do what I could to escape where I was before I literally destroyed myself.

I dropped out of college and left South Dakota for Florida by myself when I was 19. Able to make a fresh start in an exciting new environment, I found a bit of happiness for a brief period of time. But it was only superficial. That pain and sadness, that hole in my heart, was still there.
I spent many years searching for something to heal myself. I turned to psychology, self-help books and tapes and exercise, all of which really did help me a great deal. I was able to gain some strength in order to go on with my life. I did get caught up in the Florida lifestyle though.

My various jobs enabled me to gain some easy cash, so it left as fast as it came, thanks to a lot of shopping and partying. In order to keep up with everyone else, I got credit cards — a lot of credit cards — and found myself sinking deeper and deeper in debt, but not even caring since I was just living for the day. I was also caught up in my looks. It cost a lot of time and money to look good.

I found love, and that made me happy for a little while. Then I began looking into religions

I became a slave to my looks. I was consumed by it all: hairdresser, manicurist, gym, mall, etc. After all, I was how I looked, or so I thought. And I just knew I would be happy if everyone was looking at me, if I got a lot of attention. And I did get attention, but I hated it. It made me miserable.

So What Would Make Me Happy?

I was still searching.

I found love, and that made me happy for a little while. Then I began looking into religions, all types and kinds of religions. Interestingly enough, I discovered there to be some "universal truths" in many religions. It seemed the rest was different, but the essence was the same.

My love for all of humanity and the peace in my heart increased greatly with my spiritual search and growth. I came to be most interested in "metaphysical studies," and some sort of Eastern-type meditation and yoga. I adhered mostly to these. However, I wanted more. I wanted someone to tell me exactly what to do and how to do it. I needed rules and structure. And I just could not get that as this particular field is very liberal, abstract, and free.

Eventually I went back to college, and that made me feel much better about myself. I developed a passion for international relations and after I learned the ugly truth about "American History" and "US Foreign Policy," I was horrified with all the injustice, racism, and oppression. It broke my heart. I was so saddened by the suffering in the world. I decided I must do something about it.

Looking for Justice and Human Rights

I began networking with and educating local high school and college students about the injustice in the Middle East, and eventually I began organizing local activists to travel to Washington, DC, to protest the upcoming war in Iraq. During this process, I met an amazing man — a Muslim — who was doing this very same kind of work.

I had never seen someone who had dedicated his life to the causes I cared so much for — justice and human rights. He had started his own organization, which I volunteered for so that I could learn from him and help in the struggle. As we worked together, he shared with me the stories of Prophet Muhammad (peace be upon him), the Companions, and the amazing civilization of Islam — the only instance of a just society on this planet. I was shocked to hear these stories, as I knew nothing about this history. I became enchanted with Islam and read all I could about it, eventually reading the Quran.

Islam Made Sense to Me

I found in Islam the truth I was searching for. Finally it all made sense. However, I realized I had so many misconceptions and stereotypes I was not even aware of. First of all, I was not keen on the women issue and did not yet understand why they dressed so differently.

I said resolutely, "I could never dress like that," as I still had the mindset that "how I look is who I am." So if people could not see how I looked, then I would not even exist. Also, what about "the woman stays at home and just takes care of the kids and the household and listens to her husband"? This was too much for me! There was just no way that I could understand why a woman would stay at home. Who is she if she is not "out there" climbing her way to that glass ceiling? And why should she be so obedient to her husband?

I did find the beautiful answers to these questions, which are very logical and amazingly functional. You see, Islam is not just a religion. It is a complete way of life. In it, you have the guidance and the answers to even the smallest of details, like how to eat and sleep. It is amazing!

Honestly, I felt as if a huge weight had been lifted off my shoulders.

However, I still was not willing to commit to Islam. It seemed too tough for me; it was too much responsibility and I was just too strong-headed to submit the way one must in order to be a Muslim. Then one cool January night in 2003, I was on the bus ride back from another antiwar rally in Washington, DC, I was at a crossroads in my life. I hated my job and had recently left my husband as we had grown apart. I had had enough of organizing the antiwar people.

I was 29 years old and had no idea what I would do with my life. I broke down and started crying. I said to myself, "What can I do? What can I do? I just want to be a good person and make the world a better place. But how? What should I do?" All of a sudden, the answer came to me: Be a Muslim. That's it! A blanket of comforting peace embraced me. I felt so calm and sure and full of joy. All of a sudden I had a purpose in life, a reason to exist.

One week later, I said my Shahadah (testimony of faith) at a public groundbreaking for a new mosque. As soon as I said it, two rainbows appeared in the sky! Everyone who witnessed it was very touched and all the Muslim sisters came up to me afterwards hugging me. I was crying from so much joy, as were most of the people there, happy to have me in the Ummah (community of Muslims).

The next day, eager to show the world I was a Muslim, I went to a local Middle Eastern store where they sold beautiful hijabs (headscarves) and dresses appropriate for the required Muslim dress. I bought many dresses and scarves, and from that day forward, I dressed properly. Ah ... free at last! I had broken the chains of fashion and physical enslavement enforced by a superficial society.

Honestly, I felt as if a huge weight had been lifted off my shoulders.

I no longer felt the pressure to dress and look better than everyone else. I finally respected myself and no longer based my self-worth on the reactions and attention of others. While many looked at me strangely — some with pity, some with anger, and some with curiosity — I really did get so much respect like never before.

Al-hamdu lillah (all praise be to Allah), the wonderful man who introduced me to Islam married me exactly one month after I became Muslim. Since then we have continued our work together against injustice throughout the world. We have traveled throughout the Middle East and moved from America to Egypt to be with my husband's mother and to live in an "Islamic" environment. Al-hamdu lillah, I am blessed with a beautiful family, in addition to the larger family — the Ummah — I gained when I became a Muslim.

Life is still life: It's not easy, but now I have a guidebook, a structure, a foundation. My heart is complete. The sadness and loneliness are gone. I now feel I belong. I am somebody.

And I am home, at least for now, in this millisecond we call dunya (worldly life), until I am in my final, eternal home, in the akhira (afterlife), in sha' Allah (if Allah wills), near to my beloved, the Creator and Lord of the Worlds, Allah, Glorified and Exalted is He.
http://www.onislam.net/english/reading-islam/my-journey-to-ilam/contemporary-stories/414169-beauty-and-the-east.html



2014-01-05 Sun 22:20:12 cst
NewTrendMag.org