NewTrendMag.org News # 1525

[ Click on NEWS for back issues ][ OUR BOOKS ] [ Women in Islam ][ Our America ][ Hadith ][ Kaukab Siddique's khutbas ][ Latest photos. ][ Imam Badi Ali's Thoughts ][ Muslim Political Prisoners ] [ Previous Issue ]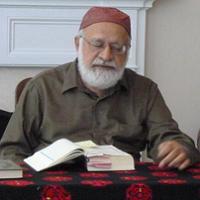 Muharram 20 ,1435/November 24, 2013 # 48

---

Think about it:
Prophet Muhammad, peace be upon him, said "The most enviable of my friends is a believer with little property who finds pleasure in prayer, who worships his Lord well, who obeys him in secret, who is obscure among men, who is not pointed out by people and whose provision is a bare sufficiency with which he is content," [Al-Tirmidhi, Hadith 1352]

[with thanks to Sis. Kristi]

---

A must read for those who think peace or a two state solution is possible with Israel, please look at this stunning article about Israel's policy of erasure. Scroll to end.
A "Must Read." [Thanks to Sis. Hamdiya, North Carolina.]

---

Jamaate Islami Pakistan ameer Munawar Hasan comments on US air attack on Islamic school. Please see news and then scroll to end for Hasan's comments.

---

New Trend's media monitor
Breaking News #1:
Assad's Air force hits civilians again. Mujahideen capture Syrian oil field.
Refugees fleeing to Lebanon as fighting rages in Qalamoun Mountains.

November 23:Syrian regime's jet fighters a market in Al-Bab north of Aleppo, killing 22 civilians. In a second air attack, in Halwaniyah area of Aleppo, 15 civilians were killed. In a third air attack, on El-Beik area of Aleppo, 7 civilians were killed. Assad is terrorizing the civilian population before a big attempt to take back Aleppo,

Earlier on November 14, the Syrian air force succeeded in killing Abdul Qadir al-Saleh, leader of Liwa al-Tawheed group which is defending Aleppo,.
On November 22, al-Nusra mujahideen drove Assad's forces from the area in Deir Ezzor where Syria's biggest [and only] oil field is located. Known as Omar field, it's capture deprives Assad of all his oil supplies and he will have to depend solely on supply from Russia and Iran.

Meanwhile heavy fighting has resumed in the Qalamoun mountains, which is a supply route for both Assad and the mujahideen. The Mujahideen had retreated from Qara, a town in the mountains to evade a big barrage of artillery fire from the Alawite army. However, the mujahideen came back and are battling Hizbullah and Syrian troops in the area.

Syria's population, mostly Sunnis, are fleeing steadily to Jordan, Lebanon, Turkey and Iraq. They hate Assad but do not have the weapons to fight the well trained Alawite militar.

---

Breaking News #2:
Beirut, Lebanon: Iranian Embassy hit hard. 25 killed, 150 wounded.

On November 19, two martyrdom operators hit the Iranian embassy located in the Bir Hasan area, a Shi'ite stronghold. The Iranian cultural attache and 4 security guards were among the 25 killed in the large explosions which shattered the area.

The Abdullah Azzam brigades, a Lebanese jihad group, have taken responsibility.

The Iranian response showed complete confusion. One Iranian source insisted that the Israelis did it. However Israel does not have martyrdom operators. Observers say that this is the Iranian way of defaming its enemies. The second Iranian response was that the Saudis did it. This too is fantasy. The Abdullah Azzam brigades have been trying to overthrow the Saudi regime. Their previous leader Salih al-Qarawi was injured in a US drone attack and handed over to the Saudis. Also, they have been involved in attacks from Lebanon on Israel.

This November 19 attack, Abdullah Azzam brigades say, was payback for Iranian troops fighting in defense of the tyrant Assad. A top Iranian commander was killed recently fighting in defense of Assad. Another senior Iranian officer was killed by Syrian mujahideen while he was supervising the laying of mines to kill Syrians opposed to Assad.

Abdullah Azzam was the mentor of Shaykh Osama bin Laden.
[November 22: One of the two attackers on the embassy has been identified. He is a Palestinian.]

---

Breaking News #3:
Stopping NATO

On November 23, tens of thousands took part in a rally to stop NATO supplies to the European-American occupation forces in Afghanistan. The rally, right on the Afghan-Pakistan border, was addressed by Imran Khan, the leader of Tehreeke Insaf [Justice Movement]. Supporters of Imran Khan and Jamaate Islami united to make the rally impressive. Imran condemned US drone attacks and said that the US had crossed all limits of decency in attacking Pakistani villages.

Imran said that this was the first symbolic step to stop supplies to the NATO forces. He promised vigorous steps to block NATO supplies and drone attacks would have to stop. The entire Pakistani nation, except thed ruling party, is united on this issue, he said.

US Air Force Bombed Islamic school in Pakistan.

On November 21, a US air force predator drone fired three missiles into an Islamic school [medressa] in he Hangu area, killing six Islamic people including three Islamic teachers, a maulvi, a mufti and a qari.

Pakistani intelligence revealed its role in the attack by claiming that a leader of the Haqqani network visited there. However, Naimatullah, the principal of the school, stated that the school had no connection to the Haqqani network. [Source Overseas Dawn.]

Retaliation by the Taliban:

Also on November 21, in Quetta, a vehicle of Pakistan's elite FC military force was blown up by a remote controlled bomb. The FC vehicle and 7 other cars were totalled. Ten FC troops were killed along with 3 police officers. Many others were wounded, A nearby bank and several buildings were damaged. [Reported in Urdu media only.]

Karachi reaction to Pindi incident.

There were bomb attacks on Shias in Karachi on November 22 near Federal B area. At least 5 people were killed and several injured. A report in Ummat daily indicates that the Rawalpindi incident involved Shias entering a mosque and killing 10 people DURING the Juma khutba. The tape of the khutba has been obtained and it does not show any comments against Shias. In fact the khateeb was praising Imam Husain.

Organization known as ahl-e-Sunnat wal Jamaat held protest rallies in six cities against the Shi'ite attack on the Pindi mosque. There was no violence. There was heavy police presence.

---

Breaking News #54: Somalia
Al-Shabab Break into Compound of Occupation forces who came from Djibouti.

City of Beledweyne near Ethiopian border.

On November 19, a small al-Shabab group attacked a fortified compound of occupation troops from Djiboutu. First a martyrdom operator in a car blew open the gate of the compound and then his companions rushed in and engaged the Djiboutians in an hour long battle before withdrawing. At least 19 Djiboutian troops [or more] were killed.

Western powers are employing non-Muslim or marginally "Muslim" troops from Uganda, Djibouti and Burundi to occupy Somalia and stop an Islamic state from being established. A Kenyan armored column is still in Somalia too as are some Ethiopian forces. [ Scroll to end for photo of bombing.]

---

Breaking News #5:
Massive Rally in Afghanistan against US-Karzai plan for 2014

Afghans protest against security deal with US --Demonstrators said a security treaty between Washington and Kabul will pave the way for a prolonged US military presence in Afghanistan. 17 Nov 2013 Afghan demonstrators have gathered on the streets of Jalalabad, in eastern Afghanistan, to protest against a security deal on the future of the US military involvement in the country. On Sunday, a large number of Afghans staged a massive rally in the eastern city of Jalalabad to show their opposition to the possible security deal with Washington. Local sources say thousands of demonstrators poured into streets of the city, chanting anti-American slogans and torching American flags and effigies of US President Barack Obama.
6 Contractors Found Beheaded in Afghanistan 17 Nov 2013 Afghan villagers discovered on Sunday the beheaded bodies of six government contractors in the country's insurgency-racked south, the apparent victims of Taliban insurgents who regularly target state US corpora-terrorists' projects, officials said. Meanwhile, the death toll from a suicide vehicle bomb attack on the site of a key national council in the capital Kabul has risen to 12, officials said, while NATO said an international service member was killed by a roadside bomb. The Taliban took credit for the Saturday blast outside the huge tent where the Loya Jirga is to be held later this week

[Both Afghan items from Citizens for a Legitimate Government, CLG]

---

Our America:
Outreach by Jamaat al-Muslimeen
Munawar Hasan's Historic Messages on Paki army & Mehsud Distributed
+ Dr. Siddique's Khutba+Africans in India+Message of Husain ibn Ali, r.a+ Damascus under Fire

On November 22, 2013 four pages of Jamaat al-Muslimeen messages were distributed to 100 Muslims after juma' prayers at Masjid Rahma in western Baltimore. This is the biggest immigrant related mosque and attracts Pakistanis, Indians, a few African Americans and a few Arabs. The khutba by a young man on nasiha was quite good. The four pages distributed were:

Munawar Hasan and Jamaate Islami Pakistan's shoora rejected army's support for America and army interference in politics. The second message from Shaykh Munawar was that the US is at war with Islam.


Why are there sects in Islam? Is Ali, r.a. the only hero in Islam and Husain, r.a. the only martyr? [Dr. Kaukab. Siddique's khutba.] Also tackled Sufiism.


Message of Husain, r.a., is to stand against injustice, not mourning & chest beating. [Br. Abu Talib. Brooklyn.]+Mujahideen closing in on Damascus.


Africans in India being mistreated owing to caste system. Indians in Africa may suffer in turn. [Br. Shaikh Hyder]
---


Little Known Facts about a Great "Ordinary" Muslim
One of the Most Pious Men I have Ever Known
Abdul Mateen Chida Passed Away on October 11. He was 73.
by Kaukab Siddique, PhD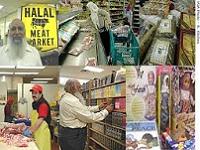 Photos above and below show Abdul Mateen Chida in his fabulous Halalco store.

He was an engineer but Abdul Mateen Chida left his career to help MSA/ISNA set up an Islamic printing business known as International Graphics. It started from scratch. He and his devoted wife Maymoona worked day and night to make the business a success. At that time MSA [ISNA] did not have the wealth it now has.

He was influenced by Tablighi Jamaat, and prayer and spirituality were manifest in every day of his life. In seven years he and Sis. Maymoona made the print shop a viable business. Often he would sleep in the workshop. By that time MSA had become ISNA and was run by a "mafia" of six people who had, allegedly, attained $600,000 from a front man in Switzerland who claimed to be ,leader of the Ikhwan [Muslim Brotherhood] [which has a branch now known as CAIR].

The "inner group" suddenly removed Br. Chida from the print shop and handed over the now smoothly running business to a relative of the "inner" gang leader Jamal Barzinji.

Br. Chida was all at once left with nothing. His faith was all he had but it was a strong faith. With the help of loans from an Iranian brother, he set up a halal meat shop in Falls Church, a town in northern Virginia. Here too, with his diligence and hard work, he was successful. The meat shop became a grocery store. Steadily artifacts, books and clothing were added to the store. It became so succesful that it had to be moved to a much larger building. Today it is a supermarket and includes a little restaurant.

Almost every week we would meet after I started publishing New Trend. He forgave ISNA and refused to speak or write against it. ISNA in turn tried to recompense him by buying meat for its expensive ISNA conferences and he would drive the load all the way to Indiana and Ohio.

Dealing with ISNA which had victimized him was part of his forgiving character. But he had not lost his moral backbone. He allowed New Trend to be placed for distribution regularly in his store much to the chagrin of ISNA bosses. My book The Struggle of Muslim Women was one of his favorites and he sold several hundred copies through his store as well as quantities of my other books. Remember that ISNA, through its entire network, had boycotted my books and we did not have the Internet as we have now. At that time people did not know how corrupt and White House-Saudi oriented ISNA is. In fact ISNA fooled people so completely that most mosques were taken over by ISNA's financial branch known as NAIT.

Recently I called Br. Chida's business known as Halalco to order a book for a prisoner. His sister picked up the phone. I asked to talk to him. She told me he had passed away. It was a real shock.

Such are the people who make Islam real in America. They pray and fast and work hard. May Allah bless him.

---

Our America
Native Americans Call for release of Leonard Peltier while Opposing US control of Native tribes.
Peltier is said to be the longest held political prisoner in USA.

Photo: Courtesy Paulette D'Auteille [November 17.] [via Nadrat Siddique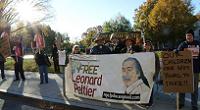 Native Americans are incorrectly called "Red Indians" by immigrants from Muslim lands.

---

Israel's policy of erasure
[With thanks to Sis. Hamdiya in Charlotte, North Carolina.]
[Courtesy Los Angeles Times.]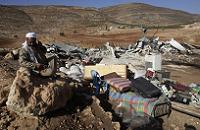 A Palestinian man sits by the remains of his house destroyed last month in Aqraba village near the West Bank city of Nablus. The Israeli military said it demolished four structures that had been built illegally in the village. (Nasser Ishtayeh / Associated Press]

By Saree Makdisi
November 18, 2013

The revelation last week that Israel wanted to plan for 20,000 new settlement housing units received the usual outraged responses from around the world. Prime Minister Benjamin Netanyahu, mindful of a backlash in the midst of the Iran nuclear negotiations, walked the revelation back, but not very far.

Just a few days earlier, Secretary of State John F. Kerry, in Israel trying to keep peace talks afloat, reiterated the U.S. view in an interview: "We do not believe the settlements are legitimate. We think they're illegitimate."

Settlement expansion, we are constantly told, is the stumbling block to the fragile negotiations between Israelis and Palestinians. The settlements are eating up the territory that is supposed to provide the basis for the creation of an independent Palestinian state. If only there were a settlement freeze, some say, one last chance for peace might be salvaged.

All of that may be true enough as far as it goes. But in fact, Israeli settlement expansion is meaningless when it's considered in isolation. And that is how it is usually considered, given how much media attention the word "settlement" garners every time it comes up.

There are, however, other, individually quieter, smaller, less visible - but collectively far more significant - events taking place on a daily basis.

Indeed, the settlement program is only one component of a broad complex of Israeli policies that has come to define the rhythm and tempo of life for Palestinians, not only in the occupied territories but inside Israel itself. These policies express Israel's longstanding wish to erase the Palestinian presence on land it considers its own.

Consider, for example, this stunning statistic from the United Nations Office for the Coordination of Humanitarian Affairs, or OCHA: On average, every week so far this year, Israel has demolished about 13 Palestinian-owned structures in the occupied territories (up from a weekly average of about 12 last year). The structures include water cisterns, barns and family homes that Israel claims violate the draconian rules it imposes on Palestinian life.

Sometimes these demolitions effectively obliterate entire communities at once.

On Aug. 19, according to OCHA, Israel destroyed all the structures in the East Jerusalem Palestinian community of Tel al-Adassa. The same week, Israel re-demolished the Palestinian village of Araqib, in southern Israel, as it has done more than 50 times since 2010. On Sept. 11, Israel bulldozed almost all the structures in the West Bank herding community of Az Zayyim, rendering dozens of people homeless. Days later, Israel demolished all the homes of the village of Mak-hul in the Jordan Valley, and declared its ruins a closed military area, preventing the villagers' return.

And so it goes - a litany of catastrophes occurring on a small scale, in communities you have never heard of, all the year round.

These acts of eradication are a matter of routine practice, so routine that they rarely attract international media attention. Neither does the regular vandalizing, bulldozing or burning of Palestinian-owned olive trees , either by Jewish settlers - who generally act with legal impunity - or by the Israeli army.

According to the U.N., settlers cut down 100 trees Nov. 9; they damaged 400 trees from Oct. 29 - Nov. 4, and 30 the week before that. And, again, so it goes-week in, week out. More than 38,000 trees have been destroyed in the last four years , a devastating loss for Palestinian farmers.
Individually, these acts of violence affect only a dozen people or a single tiny community. But they add up. If I may borrow a phrase from Charles Dickens, it is like being stung to death by single bees. Slowly, methodically, deliberately, Israel is attempting to grind an entire people into the dust.

The expansion of Jewish settlements in the occupied territories is part of Israel's project to gradually suffocate the Palestinians. But it's only one indicator, and a misleading one at that. Because even if no new settlements are built, Palestinian homes will still be bulldozed and Palestinian olive orchards will still be uprooted; Palestinian water wells will run dry and Palestinian fields will brown and crack for lack of irrigation (Israel denies Palestinians access to water from the Jordan River and makes it almost impossible for them to dig new wells, even as it uses, according to a World Bank estimate, more than 80% of the West Bank's groundwater).

Palestinians will still be held up at Israeli army checkpoints and harassed or arrested by Israeli soldiers; they will still be prevented from tending their crops or getting to their schools and clinics, or even to the ruins of their bulldozed homes.

Finding a path to a just peace between Israelis and Palestinians, such that both peoples truly live side by side rather than one living at the expense of the other, requires not simply dealing with the settlements but with the whole complex of displacement, suffocation and erasure. And the first step is noticing its very existence.

Saree Makdisi, a professor of English and comparative literature at UCLA, is the author of "Palestine Inside Out: An Everyday Occupation."
http://www.latimes.com/opinion/commentary/la-oe-makdisi-settements-israel-palestinians-kerr-20131118,0,1866660.story#ixz2lR6Mr2uQ

---

Africa's Women
Obama's Kenya has the Worst record for women's rights. Now Hope Emerges with this message.
The Courage of an 11 Year old who was Raped but decided to fight back.

[Appeal Courtesy Avaaz.org.]

Dear friends,
Kaia* was eleven years old when she was assaulted and raped on the way to school. A teacher took her to the hospital, but the police demanded bribes for even taking down a statement.

So Kaia did something incredibly brave. She sued the police for failing to protect her. What's even more incredible is what happened next.

In Kenya where Kaia lives, a woman or girl is raped every 30 minutes. Police there routinely turn a blind eye, further isolating terrified young survivors and reinforcing the notion that rape is ok.

Kaia and ten other young survivors challenged that. On the day of the case, ignoring threats to their safety and a blockade from court security, they marched from their shelter to the courthouse, chanting "Haki yangu" - Kiswahili for "I demand my rights." And then the judge issued his ruling: The girls had won!

The amazing advocates and human rights lawyers that worked with Kaia are ready to bring similar lawsuits against police forces across Africa and beyond, but they need funding to do it. We won't process pledges until we reach our goal, but if just 30,000 of us pledge a small amount now, we can repeat this game-changing victory in other countries, remind police that rape is a crime, and take a powerful step forward against the global war on women:

Click to pledge what you can -- we'll process your contribution only if we hit our goal of 30,000 donors:

YES, I'LL PLEDGE $2
YES, I'LL PLEDGE $4
YES, I'LL PLEDGE $8
YES, I'LL PLEDGE $10
YES, I'LL PLEDGE $20

When Kaia's story began, she looked set to become just another of the countless victims of child rape ignored by the police. But Kenyan child rights advocate Mercy Chidi and Canadian human rights lawyer Fiona Sampson joined forces to challenge this injustice in the courts.

The plan was hatched in Kenya by a group of colleagues from Canada, Kenya, Malawi and Ghana -- it seemed like a long shot to sue the police force for failing to act, but they stuck with it and took risks... and made legal history. The work has just begun: like any win, it takes time, effort and money to make sure the ruling sticks, and to use it as a springboard to wipe out violence against women.

If we raise enough, here's how we could turn a huge victory for Kenya into a win for countries across Africa and even the rest of the world:

help fund more cases like this, across Africa and around the worlduse hard-hitting campaign strategies to make sure these groundbreaking judgments are enforcedpush for massive, effective public education campaigns that strike at the root of sexual violence and help erase it for goodrespond to more campaign opportunities like this case -- with super smart strategies that turn the tide in the war on women.

Click to pledge what you can to start this important work right away -- we won't process any contributions unless we hit our goal of 30,000 donors:

YES, I'LL PLEDGE $2
YES, I'LL PLEDGE $4
YES, I'LL PLEDGE $8
YES, I'LL PLEDGE $16
YES, I'LL PLEDGE $20

As citizens, we often appeal to political leaders and other officials to get serious about protecting women's rights. It's important to keep doing that, but when they fail to hear their consciences, we need to appeal to their interests, and take them to court. That sends a powerful message: not only that there are new consequences for their crimes, but that the era of unchallenged misogyny in the culture of our societies is coming to end.

With hope,

Ricken, Maria Paz, Emma, Oli, Nick, Allison, Luca and the rest of the Avaaz team

* Kaia is a pseudonym, but her story is real. She is not pictured here.

PS - To pledge an amount other than the ones listed above, click here.

MORE INFORMATION:

In Kenya, a Victory for girls and rights (The New York Times)
http://www.nytimes.com/2013/06/05/opinion/global/in-kenya-a-ictory-for-girls-and-rights.html
Canadians force Kenyan police to answer for 'inexcusably' neglecting reports of sexual abuse against girls (National Post)
http://news.nationalpost.com/2013/05/31/kenyan-police-forcedto-answer-for-neglecting-reports-of-sexual-abuse/
Chance meeting led to justice for rape victims (Toronto Star)
http://www.thestar.com/news/insight/2013/06/13/chance_meetin_led_to_justice_for_rape_victims_porter.html
African women the worst off - report (iOl News)
http://www.iol.co.za/news/africa/african-women-the-worst-offreport-1.1537277#.UcqVaOthpFR
Africa: Violence Against Women Is Epidemic (AllAfrica)
http://allafrica.com/stories/201307160410.html
India's Rape Crisis Undermines the Country (The Daily Beast)
http://www.thedailybeast.com/articles/2013/06/07/india-s-ape-crisis-undermines-the-country.html
Malawi country report (UNICEF)
http://www.unicef.org/infobycountry/malawi.html

---
Aftermath of the Al-Shabab attack in Beledweyne, Somalia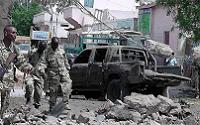 Somali policemen stand next to a damaged car at the scene of an explosion in Baladweyne in central Somalia on Tuesday.
Anadolu Agency/Getty Images

---

Jamaate Islami leader condemns US attack on Islamic school.
NATO is supplied by Pak government, while US Drones kill Pakistanis.
by Anwar Niazi

LAHORE, Nov. 21: Ameer, Jamaat e Islami, Pakistan, Syed Munawar Hasan, has strongly condemned the drone attack at a Hangu Madrissa resulting in the death of Madrissa teachers and students and said the cowardice of the rulers had emboldened the US.

In a statement here on Thursday, he said the statement of the Interior Minister at the floor of the house that drones were targeting only the most wanted terrorists, had given a free hand to the US which had targeted a Pakistani towns beyond the tribal areas for the first time.

He said if the government did not break its silence to deliver a strong message to Washington, the drones would keep on targeting our innocent citizens any where in the country.

Syed Munawar Hasan said it was a matter of shame that the US was killing our citizens while the government was allowing the NATO supplies that carried arms and ammunition besides food for the enemy troops. The government had allowed the killing of thousands of our citizens only for some commission and given a free hand to the Americans only to prolong their rule.

Condemning the statement of the Foreign Advisor that the NATO supplies could not be stopped, he said if the government could not protect the life and property of the people, it had no right to remain in power and should quit. He said if the US did not agree to stop drone attacks, the government should stop the NATO supplies and the nation would fully support the move.

The enemy, he said, was trying hard to unleash sectarian clashes in the country to promote the menace of sectarianism in the country in order to plunge the country into a civil war. He said if the people did not demonstrate a complete unity and harmony among themselves, the enemy would achieve its designs.

He said it was also the responsibility of the security institutions not to allow any one create law and order situation during the public protest.



2013-11-24 Sun 11:25:06 cst
NewTrendMag.org