NewTrendMag.org News # 1521

[ Click on NEWS for back issues ][ OUR BOOKS ] [ Women in Islam ][ Our America ][ Hadith ][ Kaukab Siddique's khutbas ][ Latest photos. ][ Imam Badi Ali's Thoughts ][ Muslim Political Prisoners ] [ Previous Issue ]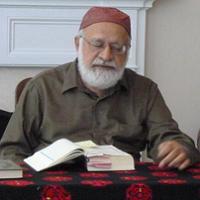 Zulhijja 22 ,1434/October 28, 2013 # 44

---

Jamaat al-Muslimeen's new leadership and organizational style. See below.

---

Baltimore, Maryland. For a report on the shoora meeting, please scroll down. Good reading.

---

National Islamic Shoora of Jamaat al-Muslimeen, October 26, Expresses the thinking of US Muslims from coast to coast.

Resolutions discussed and approved by the central planning committee in Baltimore.
Domestic Issues ["Command the Good and Oppose the evil." The Qur'an]

Jamaat al-Muslimeen opposes police brutality widespread in America.. Police who kill unarmed people shouldbe removed from the police force and charged with murder.


We deplore the political prosecution and political imprisonment of Ziyad Yaghi [ FreeZiyadYaghi.info ] , Imam Jamil Al-Amin, Tariq Mehanna, Tarigq El Hassan, Kifah al-Jayyousi, Dr. Ali Timimi and others, and call for their immediate and unconditional release.


We protest the maltreatment of political detainees held by the U.S., for example physical assaults on them by guards, the withholding of their prayer materials, the withholding of their mail, the posing of obstacles to their receiving visitors, and much else.


We oppose the objectification of women in the U.S., and deplore their use as sex objects.


We deplore the desecration of the planet, whether by U.S. armed forces (and their allies) using chemical weapons, big corporations given free reign to dump toxins far and wide, or by an oblivious public accustomed to living large and bleeding the rest of the world of resources to sustain its lifestyle.


We call for an immediate, impartial review of the U.S educational system, and the removal of, or--at the very least, recognition of--its support for war, Zionism, racism, and homosexuality.


We call for reparations for slaves' Afro descendants, and deplore the withholding of reparations for 500 years of suffering--even under a "Black" president--while Jews receive reparations for five years of suffering.


We urge every Muslim to write to prisoners and to their families, and to help the familiesof the incarcerated. They should not be forgotten or marginalized. (For addresses of prisoners, contact butshikana@gmail.com .)


We condemn the omnipresence and broadspread use of liquor, gambling, and drugs, for "These are the mother of all evils" (Hadith of the Holy Prophet, PBUH) which are destroying communities.

Foreign ["The believers are none other than ONE Brotherhood/Sisterhood." The Qur'an.]

We condemn the genocide against the people of Syria. We urge the entire Muslim world to oppose Assad. People fighting Assad deserve the support of the Muslim ummah.


We urge all Muslims to oppose Israel, which Muslims do not consider a legitimate entity.


We urge a boycott of all businesses invested in Israel.


We condemn Western interference in Africa, from the U.S. and NATO in Somalia, the French in Mali, U.S. drone attacks in Yemen, Western support for the Nigerian army which is killing civilians.


We condemn all drone attacks, whether in Pakistan, Somalia, Yemen, or elsewhere.


We condemn the Ethiopian government's arrest of a large number of imams.


We oppose the introduction of western ways of life to the Muslim world, with its induction of AIDS into the ummah.


We condemn the Bangladesh regime atrocities against Jamaate Islami and Hefajate Islam.


Kashmir is under Indian army occupation. We call on the Muslim ummah to support the people of Kashmir.


Chechnia is under Russian occupation which has wiped out entire cities. Muslim Ummah should recognize the rights of Chechens.


We condemn Saudi support for the coup in Egypt.


We call upon Iran to release its Islamic political prisoners.


We hail Turkey's support for the people of Syria.


We urge Muslims to build ties with the Hispanic community in general, and with the Muslims in Mexico in particular.


We call for an impartial inquiry into the alleged desecration of monuments in Mali, withthe awareness that the U.S. and Israel are masters of propaganda.


We urge the recognition and honoring of Muslim women activists, leaders, and scholars across the Muslim world--by the world community. Such women have done far more than Malala, and are worthy of having the U.N. name a day after them
---

Breaking News
: Syria. Assad Forced to release Muslim Women hostages.
On October 24, Assad was forced to release 61 Muslim women. It became possible because al-Nusra mujahideen captured 9 Hizbullah fighters who had joined Assad's forces attacking Aleppo. Assad's Alawite gangsters have been locking up Muslim women who wear hijab and are thus suspected by Assad of siding with the mujahideen. These are random arrests and the women would have stayed indefinitely in prison if the Hizbullah fighters had not been captured. These Shi'a fighters from Lebanon are so dear to Assad that he agreed to release the women for the Shi'as.

Also, on October 23, Islamic fighters blew up the gas pipeline in Damascus. The explosion was huge and took the shape of a fireball which could be seen for miles. Assad's repair crews are busy but electricity has been out in most of the fancy Damascus areas where Alawites supporting Assad live.

October 25: Late reports indicate a bomb explosion by Assad agents killed 40 people at a mosque, including children.

---

Breaking News #2: Iran: Battling Sunni mujahideen: On October 25, Iran's border security forces in the Saravan area of eastern Iran, near Pakistan, fell into an ambush by Jaish al-Adl. At least 14 Iranian troops were killed. Jaish al-Adl said on its web site that the attack was in response to a massacre carried out by Iran's Quds force in Syria.

The next day Iran hanged 16 Sunnis in a prison in Zahedan to take revenge for the attack although they had nothing to do with the border attack. [BBC & Fars.]

---

Breaking News #3: Islamic Raid in Nigeria: Troops hit hard: Army killing Civilians in Borno State

On October 25, Boko Haram mujahideen raided the town of Damaturu in Yobe state. Military response took one hour. Gunfights went on for several hours. The islamic fighters took away hospital supplies and drove away in ambulances. Scores of troops were killed. Meanwhile in neighboring Borno state, Nigerian military is killing civilians at random accusing them of being "Boko Haram." At least 75 people have been killed by the military [allegedly the military is funded and armed by Israel and the US.]

---

Breaking News #4: Bangladesh: Backlash Against Nobel Prize Winner supporting Homosexuality.

The founder of Grameen bank, Muhammad Yunus, personal friend of Bill and Hillary Clinton, awarded the Nobel Prize by the Zionists, finds himself in hot water after reports came out that he supported homosexuality. He had in fact, with three other nobel prize winners, signed a statement against the prosecution of homosexuals in the eastern African country of Uganda.

Bangladeshis want him expelled from their country. The backlash is so strong that the government known for its ant-Islam policies decided to join the public outrage against Yunus. He is being supported by Taslima Nasrin whose attack on Islamic values led to similar outrage and her exile to India. [Source AFP]

[Homosexuality is condemned by the Qur'an. President Obama and the entire Zionist lobby supports it. Thus it is seen as an aspect of cultural imperialism in the Islamic world....Editor. NT]

---

Voices of US Muslims
New Leadership of Jamaat al-Muslimeen Emerges:Support for all Oppressed People.

On October 26, the National Islamic Shoora of Jamaat al-Muslimeen met in Baltimore, Maryland. It was an intense 10 hour planning committee meeting which discussed peaceful means to spread the uncompromising message of Islam in America. Lunch was served at a halal restaurant of Bengladeshi-Indian origin.

The day long program was organized by Nadrat Siddique and Ashira Naim. Br. Ali and Sis. Ayesha from Virginia brought new vigor to the shoora. Local issues were brought by Br. David and Shorty Davis [a non-Muslim friend of the masjid].

A mosque has been desecrated in Delaware. A paper sent by Br. Shamim Siddiqui of Long Island was used to discuss the dawah role of mosques and the process to achieve support from non-Muslim populations.

The keynote presenter was Dr. Abdulalim Shabazz [ DrAAS.info ] , a world famous mathematician who has just returned from a trip to South Africa. He presented the latest documentation of the links between racism and its 20th century manifestation, Zionism.He presented a devastating critique of the education system in America including the roots of leading universities in the traditions of slavery. He noted that American racism becomes dangerously aggressive when it is transplanted in Africa and Palestine through America's surrogates.

A major presentation on the needs of children in Africa, particularly in Ethiopia, was made by Sis. Ashira Naim, the Secretary General of Jamaat al-Muslimeen. She is calling for a feeding program.

Nadrat Siddique, veteran human rights activist since age 14, spoke at length about the history of Jamaat al-Muslimeen from day one till today. It's a history of consistent opposition to tyranny, occupation and Zionism.

Nadrat also brought a booklet she has prepared to factualize the struggle of Palestine and the genocidal activities of Israel.

Br. Robert Solano discussed the history of Islam among Latino-Latina communities with particular empasis on Mexico. He brought forth the methodology to be used for Da'wah among Hispanic people.

Dr. Kaukab Siddique, ameer of Jamaat al-Muslimeen, outlined the issues facing the Muslims of America and the need to be uncompromising but non-violent and cognizant of the law of the land.

Br. Abu Talib provided insights into political activism in New York and the shortcomings of the Muslim community owing to lack of leadership.

The chairpersons of the 10 hour shoora were Sis. Ashira, Br. Solano and Br. Kaukab.

A number of Islamic teachers and community people attended as observers.

---

With thanks to Imam Khalil Abdur Rahman, North Carolina
Message of Imam Jamil al-Amin to Jamaat al-Muslimeen Shoora and to all Muslims.
[From prison in Florence, Colorado.]

IN THE NAME OF ALLAH, THE MOST GRACIOUS, THE MOST MERCIFUL.

From the slave of Allah: Jamil Al-Amin To : Those who dare to struggle

As-Salamu ' Alaikum! All Praises are for Allah! I send salaams to those I know and to those I do not know. I earnestly ask you to use my case and others to raise your level of struggle and to increase your ibadah. Truth is the cry of all, but the discipline of the few ... there is no worse lie than Truth misunderstood by those who say they knew. Truth is a trust and falsehood is a treason. Truth is absolute ... Truth is never relative

. "In the time of universal deceit, to speak the Truth is a revolutionary act."

Raise my name in any and every venue (tv talk shows,radio talk shows and social networks). Talk about the case and the political and religious issues surrounding my case. Get grass-roots people actively involved in calling for my transfer and release.

Work to educate and organize the masses to be active in demanding the release of all political prisoners.

In Peace Strong!
In Battle Strongest!!!

---

Answering Western Media's Malala Blitz
These Islamic Women speak Perfect English, grew up in the West and Chose Islam
ABC INTERVIEW WITH MUSLIM YOUNG WOMEN | EDUCATION | MALALA YOUSAFZAI | WESTERN WOMEN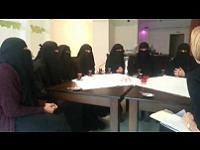 https://www.youtube.com/watch?v=B_bQQgT8Yj8&feature=youtube_data_player

---

Zulhijja 18 was the anniversary of Usman, r.a., the third greatest male Companion of the Prophet, pbuh, and third Caliph of Islam, after Abu Bakr, r.a., and Umar, r.a. . During his caliphate, his commander Muawiyya, r.a., destroyed the COMBINED FLEET of the Roman empire in one day.

Muhammad, pbuh, loved Usman, r.a., so much that he arranged the marriage of his own daughter, Ruqayya, r.a.to him. Owing to participation in the great struggle against oppression, she did hijra with him and died. Then the Prophet, pbuh, married his second daughter to Usman, r.a.

Usman, r.a., compiled the Qur'an we have today, with the participation of the entire Muslim community. Later, sectarians attacked and murdered him. He died with the Qur'an he had compiled in his hand.

Br. Noori has written a tribute to Usman, r.a., from hadith literature. This is only for Muslim readers. Please scroll to the end to read it.

---

Thinking Outside the Box. Hitler was not the enemy of Muslims.
Here he is with the Mufti of Palestine. The only Europrean leader to support Palestine.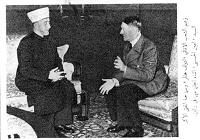 ---

Hindu India in Action
Documentation of the Suffering of Muslims in Muzaffarnagar, India.

DELEGATION OF MUSLIM COMMUNITY LEADERS
C/o D-250, Abul Fazal Enclave, Jamia Nagar, New Delhi-110025 India
OBSERVATIONS OF MUSLIM DELEGATIONS
visiting camps of the uprooted in and around Munzaffarnagar
in the light of the narrations of the uprooted

It was a one-sided attack by pro-BJP Jats, Almost no other Hindu community participated in the carnage.


The carnage took place only in villages where Muslims are in a small minority.


The carnage was pre-planned. Many meetings and three "mahapanchayats" were held before the carnage started. The so-called "eve-teasing" angle has now been proved false - it all started with a collision of motorcycles which was exploited by people who were waiting for a spark.


Police were helping and abetting the rioters before, during and after the carnage. Arms and other defence objects like ballams, gadansas and knives were collected by the police from Muslim homes BEFORE the carnage while arms were brought in from outside and distributed among the rioters.


SHO of Phugana (Omvir Sirohi), where it all started, gave the Hindus two hours from 8 am to 10 am on 8 September 2013 to do their job to teach a lesson to the Muslims.


Some Muslims, especially the elderly and children, are still trapped in some villages but police is not ready to bring them to safety. Denied of food and water, they may die soon if not already killed by the rioters.


Cattle in large numbers have either been looted or are left unattended in many abandoned homes without food and water and according to reports they are dying out of thirst and hunger if not already looted by the rioters.


People fled their villages at a notice of just minutes, hence they came out in the clothes they were wearing. They need clothes and bedding most.


Govt is supplying inadequate quantities of ration and liquid milk as well as some medical help at places where a bulk of the uprooted people are staying but not where they are staying in small numbers or in homes of villagers or relatives.


The uprooted urgently need items which are not provided by the govt like clothes, bedding, soap, dried milk, baby food, durries, chadars, utensils, etc.


Relief should be provided to all who have been forced to flee their homes until they are repatriated or a solution is found to resettle them somewhere else.


Many of uprooted people have farmlands where crops are ready to be harvested. These will either be stolen or lost if people are not given security to go there and harvest them.


Most homes have been burnt down with corpses inside.


Young girls have been abducted and there is no attempt by the police to recover them.


We did not find a single man or woman ready to return ever to their abandoned villages. Even uprooted people of "higher castes" like Mulla [Muslim] Jats are not ready to return to their villages. They want to start life afresh at other places. They should be encouraged to return to their homes and adequate security in the form of permanent police pickets should be posted there until normalcy returns completely.


Muslims of the area have come out honourably to help these uprooted people, thousands are lodged in homes in Muslim-dominated villages, others are housed in madrasahs, mosques and Eidgahs and other places.


Hindus too have come forward to prevent the violence and to help the victims as seen in Kandhla town were some 7500 uprooted people are sheltered in the Eidgah. The role of Kandhla S.P. (Harish Chandra Johsi) has been honourable and praiseworthy.


A proper documentation of all the uprooted is necessary at the earliest so that compensation and rehabilitation are done without injustice to any.


Adequate help should be given to all to rebuild their destroyed/burnt houses or to build new houses at other places of their choice.


Adequate compensation should be given to all the affected by the carnage for loss of life, injury, houses looted and burnt, and for cattle and crops lost.


FIRs should be filed individually and collectively in all cases of murder, attack, arson, loot, forced eviction, abduction, etc.


The police is not allowing any photography of the burnt houses in the affected villages. When it escorted some of the victims back to their homes to retrieve some of their belongings, police did not allow them to photograph the burnt homes some which were still smouldering. Police even collected their mobile phones in advance so that no photograph could be taken. Police in Kandhla were ready to provide some of us escort to go to some affected villages with the condition that we will not take any photographs. We think that the proofs will soon be destroyed. Therefore, documentation should include still and video photography of the looted and burnt homes.

The Son in Law of Muhammad, pbuh.

---

The tragedy of Germany hidden by Zionists.
Polish Town Removes Statue Recalling Rape of Millions of German Women by Soviet Soldiers
Daily Mail (Britain)

http://www.dailymail.co.uk/news/article-2458778/Komm-Frau-Gdnsk-tears-statue-marking-rape-millions-German-women-Russian-oldiers.htmlA statue that shows a Soviet soldier raping a pregnant woman as he holds a gun to her head has been removed and the artist arrested by authorities in northern Poland. The statue, entitled "Komm, Frau" (Come, Woman), appeared on Gdansk's Avenue of Victory on Saturday evening. Artist Jerzy Szumczyk told Polish Radio he had researched the subject of rape by the Red Army, as it made its way across Eastern Europe between 1944 and 1945 towards Berlin. The fifth-year student at Gdansk's Academy of Fine Arts was so emotionally affected by what he read, he felt compelled to express his feelings through art and created the sculpture.

---

Our America
Vietnamese Convert to Islam wanted to help Syrians. Arrested as al-Qaida sympathizer
Anyone Helping Islamic fighters is trapped as "terrorist." Helping Israel is okay!

[This report from Los Angeles Times is very supportive of the government story. Read with care.]

October 21, 2013, 12:34 p.m.
An Orange County security guard accused of planning to become an Al Qaeda operative had been enlisted to train terrorist fighters for an ambush on coalition forces in a planned December attack, federal prosecutors said in court Monday.

Sinh Vinh Ngo Nguyen, 24, was arrested this month boarding a Mexico-bound bus in Santa Ana. Investigators allege he was heading to Mexico City, with plans to fly to Pakistan and train terrorist fighters.

His trial is scheduled for Dec. 3 in federal court in Santa Ana.

Nguyen is charged with attempting to provide material support - "namely himself," the indictment says - to the terrorist group. He also is accused of lying on a passport application, making false statements about his name, his date of birth, his place of birth and other information.

He was traveling under the name Hasan Abu Omar Ghannoum when arrested, authorities said.

During a hearing Monday, Nguyen was attentive and had trimmed the shoulder-length hair and thick beard he wore in his initial court appearance. He has pleaded not guilty.

Assistant U.S. Attorney Judith Heinz said that Nguyen confessed to federal agents during a 90-minute interview about his plans after agreeing to waive his Miranda rights.

"At that time he talked about his activities in Syria and also admitted his intent to train Al Qaeda fighters to execute an ambush against coalition forces," Heinz said.

U.S. Federal Judge John F. Walter questioned whether Nguyen, who was rejected from enlisting with the U.S. military because of a hearing condition, had the skills and ability to train 30 Al Qaeda foot soldiers, as alleged.

Nguyen owned two guns, trained at shooting ranges and had a notebook with detailed instructions on how to train shooters, Heinz said.

Prosecutors are expected to present hours of audio recordings and Facebook posts in which Nguyen allegedly admits to killing at least one person during a five-month trip to Syria late last year, Heinz said.

Nguyen admitted to going to Lebanon and Syria for the purpose of "help[ing] the Free Syrian Army," according to federal documents.

He initially planned on flying to Pakistan, faking his own death and applying for a Pakistan passport, according to court documents. However, an undercover FBI agent reportedly posing as an Al Qaeda recruiter told him he could apply for a fake passport instead.

The federal agent gave Nguyen an application and said sympathetic "brothers" within the U.S. government would issue the passport, Heinz said. Nguyen was carrying that passport when he was arrested Oct. 11, authorities said.

Nguyen also had $1,850 in Syrian currency when he was arrested, Heinz said. Agents reported finding three swords and a copy of Sun Tzu's "The Art of War" at the Garden Grove home he shared with his family.

A friend who attended the hearing said Nguyen never spoke to him about taking a trip to Syria.

"He talked about that with his other friends, I just know he left without us knowing," said Robert Pham. "Of course we were surprised, that's why we're here to know what happened."

---

Usman, r.a., Compiled the Qur'an the Muslim World Reads Today.
Tribute compiled by Br. Noori.

On the 18th of Zul Hijjah, 35th year of the Hijrah, the companion of our beloved Prophet (SallAllahu Alayhi wa Sallam), Sayyiduna Uthman Al-Ghani (Radi Allahu Anhu) was ruthlessly martyred. He was the third Khalifah (caliph) amongst those known as the Khulafah al-Rashideen. His patronymic (Kunyah) is Abu Amr. He is also known as Zun-Nurayn (i.e. Possessor of two Lights), because the Noble Prophet gave two of his honorable daughters' hands in marriage one after the other to the Honorable Uthman Al-Ghani (Radi Allahu Anhu).

He embraced Islam at the very advent . He is also known as "Sahib al-Hijratayn" (the one who migrated twice) because firstly he migrated to Habshah (Ethiopia) and then to Madinatul Munawwarah.

Ameer al-Mu'mineen, Sayyiduna Uthman Al-Ghani (Radi Allahu Anhu) was an ardent follower of the Beloved Prophet (SallAllahu Alayhi wa Sallam). He was, in fact, the embodiment of love of the Holy Prophet (SallAllahu Alayhi wa Sallam). Absolute submission to the Sunnah manifests in his words and deeds.

One day Sayyiduna Uthman Al-Ghani (Radi Allahu Anhu) sat by the entrance of the Masjid and asked for the meat of the limb of goat and consumed it. He, then, offered Salah without redoing the Wudu and explained that the Noble Prophet (SallAllahu Alayhi wa Sallam) also consumed the same sitting on the same place, and did in the same way. [Musnad Imam Ahmed bin Hanbal, Vol. 1, Page 137, Hadith 441]


Once Sayyiduna Uthman Al-Ghani (Radi Allahu Anhu) smiled whilst performing Wudu. The people asked the reason, to which he replied, "Once I saw that the Holy Prophet (SallAllahu Alayhi wa Sallam) smiled having performed Wudu at this very place." [Musnad Imam Ahmed bin Hanbal, Vol. 1, Page 130, Hadith 415]


Sayyiduna Abu Hurairah (Radi Allahu Anhu) narrates, "Uthman bought Jannah twice from the Prophet. Firstly, on day of 'The Well of Ruma' and secondly, when the Muslims were in a very poor state." [Al-Mustadrak li al-Hakim, Vol. 3, Page 107; Tarikh Dimashq al-Kabir, Vol. 41, Page 49; Al-Kamil li Ibn Adi, Vol. 2, Page 464]


When the migrants came to the blessed city of Madina Munawwarah, they did not like the taste of the water. A man from the tribe of Bani Ghaffar possessed a well, named Ruma, full of sweet water. He used to sell this water to the people. The Prophet (SallAllahu Alayhi wa Sallam) asked him if he would sell his well for a spring in paradise. The man replied, "O Prophet of Allah! This is my only income." Hearing this, Syyiduna Uthman (Radi Allahu Anhu) came and bought the well for thirty-one thousand. He then came to the Prophet (SallAllahu Alayhi wa Sallam) and asked, "Will I be able to get the spring of Paradise like you said, if i w ould buy the well from him?" The Prophet (SallAllahu Alayhi wa Sallam) said, "Yes." Thus, Sayyiduna Uthman (Radi Allahu Anhu) stated, "I have bought the well of Ruma and given it to the Muslims." [Al-Mu'jam al-Kabir, Vol. 2, Page 41-42, Hadith 1226; Tarikh Dimashq al-Kabir, Vol. 41, Page 49; Kanz al-Ummal, , Vol. 13, Page 35-36, Hadith 36183]


When the Prophet (SallAllahu Alayhi wa Sallam) was preparing for the battle of Tabuk, the Muslims were in needy of some financial support. At this moment the Prophet (SallAllahu Alayhi wa Sallam) sought the help of Sayyiduna Uthman Radi Allahu Anhu. Hadrat Uthman (Radi Allahu Anhu) gave 10,000 Dinars, thereafter the Prophet said, "O Uthman! May Allah forgive your outer and inner mistakes and forgive all that which you commit till the Day of Judgement. Uthman can do whatever he wills." [Kanz al-Ummal, Vol. 13, Page 38, Hadith 36189]


Sayyiduna Abdullah bin Umar (Radi Allahu Anhuma) has stated that Uthman bin Affan's (Radi Allahu Anhu) absence from the battle of Badr was because the daughter of the Prophet of Allah (Ruqayyah), who was his wife, fell ill. Allah's Prophet (SallAllahu Alayhi wa Sallam) said to him, "You will receive the same reward and share (of the booty) as anyone of those who participated in the battle of Badr (if you stay with her)." [Sahih al-Bukhari, Vol. 1, Page 523; Musnad Ahmad ibn Hanbal, Vol. 2, Page 101; Jaami' Tirmidhi, Vol. 5, Page 395, Hadith 3726]


This was the specialty of Sayyiduna Uthman (Radi Allahu Anhu) as whosoever does not attend the battle does not get his share of the booty. Hadrat Abdullah bin Umar (Radi Allahu Anhuma) has said, "The Prophet (SallAllahu Alayhi wa Sallam) allocated for him his share and did not do so for anyone else who was absent." [Sunan Abi Dawud, Vol. 2, Page 18]


Sayyiduna Shurhabil bin Muslim (Radi Allahu Anhu) has reported, "Ameer al-Mu'mineen, Sayyiduna Uthman Al-Ghani (Radi Allahu Anhu) would feed the people with lavish food, and he himself would go home and remain contented with vinegar and olive only." [Az-Zuhd lil Imam Ahmad, Page 155, Hadith 684]


He was known for his modesty, generosity and braveness. The beloved Messenger of Allah (SallAllahu Alayhi wa Sallam) said, "Should I not show modesty to one whom even the Angels show modesty." [Sahih Muslim, Hadith 2402]


Ameer al-Mu'mineen, Sayyiduna Uthman al-Ghani (Radi Allahu Anhu) has said, 'The hand by which I committed Bay'ah (spiritual bond) in the blessed hands of the Most Noble Prophet (SallAllahu Alayhi wa Sallam), I have never touched my genital organ with that (i.e. right hand) thereafter.' [Az-Zuhd lil Imam Ahmad, Page 155, Hadith 685]


Sayyiduna Uthman al-Ghani (Radi Allahu Anhu) has said, "I swear by Allah! I never committed fornication during the pre-Islamic era of ignorance nor have I committed it after embracing Islam." [Sunan Ibn Majah, Vol. 1, Page 99]


Sayyiduna Hasan al-Basri (Radi Allahu Anhu) has mentioned explaining the extreme modesty of Ameer al-Mu'mineen, Sayyiduna Uthman al-Ghani (Radi Allahu Anhu), "If he had been in some room with the door properly shut, even then he would not put off his clothes for taking the bath nor would he straighten his back out of modesty." [Hilyat al-Awliya, Vol. 1, Page 94, Hadith 159]


Ameer al-Mu'mineen, Sayyiduna Uthman al-Ghani (Radi Allahu Anhu) would always observe Nafl (supererogatory) Fasts. Having taken rest during the initial part of the night, he would stand vigil (for worship) for the rest of the night. [Musannaf Ibn Abi Shaybah, Vol. 2, Page 173]


Whenever Ameer al-Mu'mineen, Sayyiduna Uthman al-Ghani (Radi Allahu Anhu) would get up for offering the Salah of Tahajjud at night, he would himself arrange water for performing the Wudu. When it was asked, 'Why do you bother yourself; let your servant do it for you', He replied, "No, the night is theirs; it is for their rest." [Ibn Asakir, Vol. 39, Page 236]


Sayyiduna 'Abdullah bin 'Umar (Radi Allahu Anhuma) has reported that the beloved Prophet (SallAllahu Alayhi wa Sallam) prophesized a heretical event and informed Sayyiduna Uthman Al-Ghani (Radi Allahu Anhu) that he will be wickedly martyred in that. [Tirmidhi, Vol. 5, Page 395, Hadith 3728]


Sayyiduna Abdullah bin Salam (Radi Allahu Anhu) has stated: When the rebels had laid siege to the sanctified house of Uthman Al-Ghani (Radi Allahu Anhu) even a single drop of water was not allowed to supply his blessed home. Sayyiduna Uthman Al-Ghani would feel restless due to severe thirst. He was observing fast during the day and I went to see him. He looked at me and said, 'O! Abdullah bin Salam, I beheld the Noble Prophet (SallAllahu Alayhi wa Sallam) through this skylight. The Most Merciful Prophet (SallAllahu Alayhi wa Sallam) said in a very sympathetic manner, 'O Uthman! These people have made you restless by thirst b locking the water?' I respectfully replied, 'Yes.' So, the Noble Prophet (SallAllahu Alayhi wa Sallam) immediately lowered a bucket towards me that was filled with water. I quenched my thirst. I can still feel the soothing effect of that water between both of my breasts and both of my shoulders.

The Prophet (SallAllahu Alayhi wa Sallam) then said, 'O Uthman! If you wish, I'll help you against these people; or if you like you may come to me and break your fast in my company.' I respectfully replied, 'Ya RasoolAllah (SallAllahu Alayka wa Sallam); breaking my fast in your graceful court is dearer to me.' Sayyiduna Abdullah bin Salam stated that he returned that day and Sayyiduna Uthman was martyred on that same day by the rebels. [Kitab al-Manamat, Vol. 3, Page 74, Hadith 109]


Imam Jalal al-Din Suyuti (Alayhir Rahmah) has narrated that Shaykh Ibn Batish (Alayhir Rahmah) deduced that this event (of the sighting of the Noble Prophet SallAllahu Alayhi wa Sallam) was not a dream, rather it took place whilst awake. [Al-Hawi lil Fatawi, Vol. 1, Page 151]


Sayyiduna 'Adi bin Hatim has stated that on the day when Sayyiduna Uthman Al-Ghani (Radi Allahu Anhu) was martyred, I heard with my ears that someone was saying aloud, "Give Uthman Al-Ghani the glad tidings of comfort and fragrance; tell him the delightful news about meeting with Rab (Azza wa Jal). Who is not displeased; also give him the glad tidings of forgiveness and the pleasure of his Rab (Azza wa Jal)."

Shaykh 'Adi bin Hatim has further stated that he looked around, but he did not see anyone. [Ibn Asakir, Vol. 37, Page 355; Shawahid al-Nubuwwah, Page 209]


It has been reported that some of the close companions of Uthman Al-Ghani (Radi Allahu Anhu) took his body to Jannat-ul-Baqi' at night taking advantage of the darkness. They were digging the grave when suddenly a large number of riders entered Jannat-ul-Baqi'. The devotees got frightened. The riders said loudly, 'Do not fear; we are here to take part in his burial.' Hearing this, people's fear abated and Sayyiduna Uthman Al-Ghani (Radi Allahu Anhu) was buried in peace. After returning from the graveyard the Sahaba al-Kiram (Alayhim ar-Ridwan) swore to the people that the riders were in fact angels. [Shawahid al-Nabuwwah, Page 209]
---

Benediction be upon the ascetic of Mosque of Ahmad
Countless salutations be upon the wealth of army of poverty
Countless salutations be upon the bride groom of two lights of chastity
who was indeed the excellent chain of the scattered pearls of the Holy Qur'an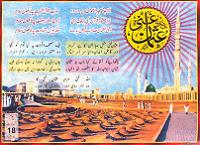 2013-10-28 Mon 19:03:53 cdt
NewTrendMag.org