NewTrendMag.org News # 1510

[ Click on NEWS for back issues ][ OUR BOOKS ] [ Women in Islam ][ Our America ][ Hadith ][ Kaukab Siddique's khutbas ][ Latest photos. ][ Imam Badi Ali's Thoughts ][ Muslim Political Prisoners ] [ Previous Issue ]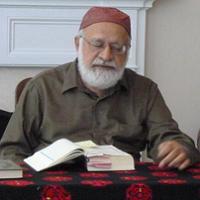 Shawwal 3,1434/August 11, 2013 # 33

---

Major Islamic breakthrough in Syria. Please scroll.

---

Biggest educator in Swat, Pakistan, is an Islamic, Hijabi woman, Ayesha Syed, who is so popular, she has been elected to the National Assembly. She speaks Pushtu, Urdu and English. [Malala came nowhere near her achievements.] Scroll to end for photo. What a surprise!

---

See below an American Aisha's letter to Canadian Prime Minister about Momin Khawaja. Scroll way down.

---

Another beautiful message for Latinos from Br. Solano in Texas. Please scroll down.

---

Zionists Have No Compassion for Lynne Stewart
by Abu Talib [Jamaat al-Muslimeen, Brooklyn, New York]

Lynne Stewart's appeal to Judge John Koeltl for compassionate release has been denied as was her earlier appeal to Bureau of Federal Prisons Dir. Charles Samuels.

She has filed another appeal with the Bureau of Prisons. Call Pres. Barack Obama (202) 456-1414; Atty Gen'l Eric Holder (202) 514-2001; Bureau of Federal Prisons Dir. Charles Samuels (202) 307-3250. Tell them to send Lynne home alive!

If you haven't signed the petition, do so now:
http://www.change.org/petitions/petition-to-free-lynne-stewat-save-her-life-release-her-now-2

---


Local News: Correct Eid al-Fitr
In Baltimore, Against the Incorrect Eid of the Majority: Pioneering Step Worked.

On August 9, Masjid Jamaat al-Muslimeen organized Eid al-Fitr prayers at its masjid in center city. It was a pioneering step because major mosques in this area went for the wrong date: August 8, without sighting the crescent or even trying to sight it.

Br. Kaukab Siddique led the Eid prayers and gave the khutba. The gathering was small but impressive for a first time at short notice.

Br. Kaukab explained why this step was taken. He said: For years we have been advising the big mosques that sighting of the crescent is required for Ramadan and both Eids. Qur'an and hadith are clear on this matter, but the heavily funded groups don't budge. Dunya, not deen, is their quest.

The reasons for the deviance of the majority are:

Assimilation, wanting to have a "christmas" for Muslims with fixed dates.


Blind following of leaders.


Nationalism. Calling Saudi Arabia, Egypt, Jordan to find if it is Eid.


Munafiqueen working for Eid dates which will bring them biggest crowds and funds.


Puppet organizations linked to the US government & Saudi Arabia. [4 letter groups.]


Ignorance of Muslims who don't know that "new" moon is not visible. The world is not flat.

Text: "Musa said gto his people: Allah commands that you slaughter a cow. They said: Do you make fun of us. He said: I take refuge with Allah from being among the Ignorant." [The Qur'an 2:67.] 1.

Text #2: "Maazia 'Udawiya, r.a., narrates that: I asked Ayesha, r.a., the wife of the Prophet, pbuh, did the messenger of Allah, pbuh, fast three days in every month? She said: Yes. Then I asked her : Which days of the month did he fast on? She replied: He did not select any specific days to fast on." [Sahih Muslim, Sunan of Abu Dawud, Tirmidhi, Ibn Maja and Musnad of Ahmad ibn Hanbal.] 2.

In his khutba, Br. Kaukab called on Muslims to make a new start with the spiritual & physical detoxification provided by long, hot, July fasts. Beware of the evil of the general corruption of America which is seeping into Muslim commu nities, he said. Prayers and fasting have renewed us. Now, OBEY Allah & the messenger. Without obedience, the evils of society will affect us and our families either marginally or fully. The major evils are:


Liquor.


Heroin & other hard drugs.


Cigarettes and fast foods.


Gambling and TV propaganda.


Fornication and pornography.


Violence against women and children.

Br. Kaukab said: Allah ordered the community of Moses, pbuh, to sacrifice its cow which they worshippped. Unless we sacrifice our "baqarah" [cow] [title of longest sura], our fasting will have gone in vain. Are we worshipping one of these six cows? Slaughter it and worship Allah alone..

Continue the spirit of Ramadan with a few Sunnah fasts every month, he said. The 6 fasts of Shawwal are extremely important to maintain continuty.

---
For detailed tafseer see Maulana Maudoodi's Tafhim ul Qur'an.


This narrative is a good example of the validity of ONE woman's witness. Here is one woman narrating from one woman in a matter of religion, accepted by 5 collectors of Hadith.
---

A sumptuous brunch followed. Delicious and international!

---

Some of the worshippers of Allah stayed till Juma' came in and were joined by others, including Arab brothers from other mosques.

The juma khutba was given by an African American Muslim, Br. Kalem, who emphasized that the khateeb standing at the mimbar [pulpit] is representing the Prophet Muhammad, pbuh, and we are like his Companions. So, he said, focus on the imam, don't talk, turn off cell phones and don't be distracted during the khutba. Da'wah should be part of our daily lives, he said.

Sis. Ashira, the administrator of the masjid, organized both the Eid program and the post-Juma get together.
Donated booklets about zikr, favorite prayers of the Prophet, pbuh, sent by Asqfish, were distributed. Very nice printing.

---

Yemen
Yemeni researcher Rebuts President Obama's Claims of the al-Qaida threat August 3 to 10.

At least 35 people have been killed in Yemen's Mareb province by US drone strikes. These are presented as al-Qaida militants who were a threat to the security of the US.
A rebuttal to these claims has been written by Abdul Razzaq al-Jamil, a researcher for the Yemen Post newspaper of August 10 when he was interviwed bt the Toronto Star. According to the Yemen Post, he has access to senior al-Qaida figures in Yemen. His rebuttal of President Obama's claims is as follows:

The people killed in the drone strikes are civilians and some are ordinary supporters of al-Qaida. None of them were leaders at any level and certainly posed no threat to the USA.


Al-Qaida in the Arabian Penisula [AQAP] is an autonomous organization and does not need a phone call from Dr. al-Zawahiri to carry out its activities. Thus Obama's claim of an intercepted phone call is incorrect.


AQAP does not have the numbers or the resources to take control of any major city. All it can do is to hold on to the areas it already controls such as Mareb province.

[The editor of Yemen Post has written that the drones constantnly hovering over Yemen are a greater threat to the Yemeni people than AQAP.]

---

Egypt
Coordinated Israeli-Egyptian air attacks on Islamic fighters near Israeli borders.

On August 9 and 10, air strikes were carried out against Islamic fighters trying to attack Israel. The strikes were only ONE mile from the Israeli frontier. Egypt claims it did it on its own but reports from Sinai indicate this was a coordinated, joint operation with Israel. Five Islamics were killed on August 9. The casualties on August 10 are not clear yet.

Meanwhile in all Egyptian cities, supporters of President Morsi carried on large demonstrations calling for his release and the re-affirmation of the Constitution and the Assembly.

The demonstrators were attacked in some cities by the police and ex-dictator Mubarak's supporters but they remained peaceful; The US has urged the army to be restrained for fear that internal war may break out.

---

Syria: Situation changing against Assad
[This is why Russia and USA are coming together for "peace" in Syria.]

Assad's Air Force Attacks Islamic village near Latakia Border.
On August 10, Syrian jet fighters bombed and strafed a village very near Alawite stronghold of Latakia killing 20 people, including 10 civilians, 6 al-Nusra Syrians and 4 Iraqi mujahideen.
[Eyewitnesses say Assad is desperately trying to stop the Islamic advance into Latakia. ]

Assad's Motorcade Hit: Dictator Survived.
On August 8, Assad's motorcade on the way to Eid prayers, was hit by Islamic mortar fire near a Damascus suburb.. Looks like the dictator escaped unhurt. The regime was very worried and he was shown on State TV [praying like a Sunni ! but he didn't have his head down and was sneaking worried looks all around. ]. The photo might be an old one. State TV is trying to dismiss the attack.

Minnig Air Base Captured. Strategic Victory for Mujahideen
August 7: Mujahideen finally captured Assad's helicopter air base Minnig northeast of Aleppo from where helicopter attacks were launched against Aleppo for the last one month. The last Assad fortress on the base was blown up by an Al-Qaida-in-Iraq-and-the-Levant martyrdom operator who was driving an armored car packed with explosives. Now the Islamics have an unbroken corridor all the way to Turkey.

6 Villages in Latakia captured.
August 7. Islamic forces have captured 6 Alawite villages in the mountains of Latakia. [Assad recaptured 2 of the villages but with 175 Assad troops killed in the fighting, it was a heavy price to pay.]

August 5: On the second day of fighting in the Jabal al-Akrad mountain area of Latakia province, mujahideen made a major breakthrough and captured more than 400 Alawite gunmen. In the fighting, 32 of Assad's troops and 19 mujahideen were killed. The prisoners have been moved into an area under secure control of the Free Syrian army. Assad's Alawite troops had been shelling Sunni villages from the mountain stronghold but they collapsed in front of the Islamic thrust.

However, Assad is launching ferocious counterattacks as his life line is threatened. If the mujahideen can hold on in spite of air attacks, Assad's situation could become serious.

---

Assad firing Huge Missiles into Populated areas with no military Targets.

BEIRUT — Human Rights Watch says the Syrian military is firing ballistic missiles into populated areas where it is battling rebels, killing hundreds of civilians.

The U.S.-based group said in a report released Monday that it has investigated nine apparent missile attacks that killed at least 215 people, half of them children, between February and July.

HRW activists visited seven sites of the nine attacks. There were no apparent military targets near the inspected sites, the group said in a statement, calling on President Bashar Assad to stop indiscriminate attacks.

Government officials could not immediately be reached for comment. The military has repeatedly denied it is targeting civilians during the 2-year conflict, saying its troops are fighting "terrorists" hiding in civilian areas.

---

Pakistan:
Entire Police Leadership wiped out in Quetta.

August 8: Funeral prayers were about to begin for a senior police officer killed early in the morning when a martyrdom operator struck. The huge explosion wiped out the entire top leadership of the police in Quetta, 21 officers, plus 15 ordinary police, a total of 36. Many others were injured.[AP]

---

Top Pak Military officers killed

On August 10, Pakistani military launched an offensive in the Chilas area, 250 miles from Gilgit in the extreme northwest of Pakistan.

This follows the August 5 killing of two senior military officers and one police officer by gunmen who escaped. They earlier killed 15 mountain climbers from foreign countries.

---

Occupied Kashmir
Hindus armed by Indian Army attack Muslims but are countered.

August 9: In the town of Kishtwar, 200 km south of Srinagar, Hindus attacked Muslims celebrating Eid who were shouting slogans against Indian occupation. The Hindus burned one Muslim alive. The enraged Muslims threw a barrage of stones at the Hindus, killing one and injuring 24. They also burned several Hindu businesses.

India imposed a curfew and sent armored vehicles to enforce the curfew.

---

Photo shows Indian security force beating up Muslim demonstrators on Eid day.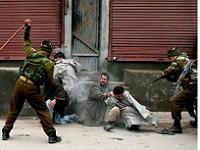 ---

Earlier, August 8, on the LOC, line of control, between Indian and Pak troops, mujahideen killed 5 Indian troops in an ambush. India blamed Pakistan but Pakistan denies involvement in any incident.

In Indian firing at Pakistani troops, one Pakistani soldier was killed,

---

Who is behind the Homosexual Movement in America?
[With thanks to famous California researcher Mark Weber.]

Jewish Leaders Drove Gay Marriage Changes, Says VP Biden. The Associated Press

http://news.yahoo.com/biden-jewish-leaders-drove-gay-01220223.html

Vice President Joe Biden is praising Jewish leaders for helping change American attitudes about gay marriage and other issues. Biden says culture and arts change people's attitudes. He cites social media and the old NBC TV series "Will and Grace" as examples of what helped changed attitudes on gay marriage. Biden says, quote, "Think - behind of all that, I bet you 85 percent of those changes, whether it's in Hollywood or social media, are a consequence of Jewish leaders in the industry." Biden says the influence is immense and that those changes have been for the good.

---

Dawah to Latinos
How to Introduce Hadith to People affected by Anti-Hadith Stories?
by Robert Solano [Jamaat al-Muslimeen Shoora leader, Texas.]

There is some dispute among Muslims regarding Hadiths. Some say that we should ignore them.
Others say that how can we if they provide light and guidance. The truth of the matter is that some are not authentic. But we should "not throw out the baby with the bath water," for many of them are true Islam. This is the message we should convey to those spanish speaking persons that want to revert to Islam and ask "what is the Sunnah and the Hadiths?".

We find that Abu Al-'Abbas, Sal Ibn Sa'd As-Sa'idi (may Allah be pleased with him), said to us in a Hadith: A man came to the Prophet (pbuh) and stated: O Menssenger of Allah, point out to me an act that if done it will give me Allah's love and those of people, He replied (spanish translation):

"No desees la vida mundanal y Dios te amará, y no desees lo que la gente tenga, y la gente te amará."

Its a Good Hadith and it was transmitted by Ibn Majah and others.

Show it to a spanish reading person and ask him/her what it says and means. If he likes it and shows an interest tell him/her that there are forty with similar messages and you can get a copy of a book in Spanish entitled "The 40 Hadiths" for him/her by contacting Conveying Islamic Message Society in Alexandria, Egypt at site: www.islamic-message.net or email: info-sp@islamic-message.net

---

Canada
Abuse of Momin Khawaja Shows Canada has Outdone USA in hatred of Islam

Dear Prime Minister Stephen Harper of Canada:

I am angered by the shameful mistreatment of Islamic prisoner Momin Khawaja in Canada's prisons and I urge you to pay close attention to his conditions in prison.

This demonstrates built-in prejudice and unfair treatment towards Muslims and the people of Arab origins mostly covered by the term "terrorism."

The important points are
What evidence-based or justifiable criteria is implied to deliver an exceptionally harsh and unfair sentence to Momin Khawaja? The original sentence of 10.5 yrs was increased to a life plus 24 years consecutively to be served with 10 years for parole. The final judgment lacked any evidence-based reasoning to substantiate the conclusion except political and religious animosity.


Momin Khawaja was acquitted by the trial judge of involvement in the London bomb plot. He has no criminal record and never posed any threat or violence to anybody on this planet.


Momin was not considered for double credits of the time served (almost 10 years) as it is applicable to all inmates under the Canadian laws and justice system.


There were wide range of opinions and discussions amongst the judges at the final Supreme Court hearing in June 2012, questioning the previous unfair verdict of the Ontario Appeal Court. But at the end, they all signed the document full of injustice.


There is no balancing act between the original sentence of 10.5 (ten and a half years sentence with 5 years for parole) and unusually increased harsh sentence to Life with 24 years to be served consecutively - 10 years for parole. This is clearly a travesty of justice.


Currently, M. Momin Khawaja is kept in a high security prison where there is no provision/system to apply for legally sanctioned parole after 10 years. This shows that the Canadian authorities are denying his basic legal rights to justice.


Recently boiling water was thrown on him in prison and it burned large parts of his body. Is this how Canada's prisons work?

This would not happen EVEN in America's prison system! I strongly urge an impartial REVIEW of case / a retrial or to free Momin Khawaja..

Sincerely,
Aisha Shaheed
Muslim & Concerned U. S. Citizen

---

David Irving Defies Hotel Ban in Berlin, Plans Tour in Poland The Local (Germany)

http://www.thelocal.de/national/20130807-51279.html ... David Irving said on Wednesday he would push ahead with his controversial trip to Germany, despite calls to ban him from every hotel in Berlin. He told The Local he had been "inundated with offers" of accommodation in the city since the German Hotel Association said its members would not allow him to stay. The British writer, who was banned from Germany for ten years in 1993, said he would also take a 30-strong group on a tour of Poland's concentration camps as part of the trip in September ... They also plan to go to Hitler's former eastern Europe headquarters, the Wolf's Lair in northern Poland, and Himmler's former headquarters Hochwald, which is also in the country.

---

Pakistan
Islamic Woman, Ayesha Syed, Elected to National Assembly, joined Jamaate Islami.
She coordinates 18 schools in Swat. Helping Flood Affected people.
Photo below, with Urdu write up, shows her distributing food packages to 250 widows.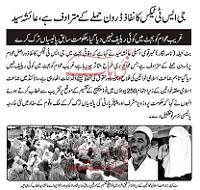 2013-08-11 Sun 12:25:47 cdt
NewTrendMag.org