NewTrendMag.org News # 1467

[ Click on NEWS for back issues ][ OUR BOOKS ][ Previous Issue ]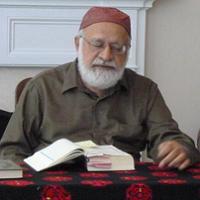 Zulhijja 3, 1433/October 19, 2012 # 47

---

A Bangladeshi Muslim has been arrested by the US on terrorism charges. One-sided reports are being parroted by Zionist media. See what his father has to say. Get both sides. Please scroll.

---

Bangladesh's pro-India regime is violating the rights of innocent Islamic leaders. Human Rights Watch noticed that the offices of lawyers defending the Islamics have been raided. This news from Bangladesh was totally ignored by US media. Please scroll to end.

---

We stand for understanding, not hate.

October 17: Knoxville, Tennessee
Photo: A brother from Jamaat al-Muslimeen stands among non-Muslims with a message from Prophet Muhammad, pbuh. It was the funeral of a soldier who returned from overseas two years back. He did not get involved in any fighting, nor was he "gay" but some people were mistreating his memory after his death while others were exalting him.
Many people stopped to talk to the Muslim brother, to ask him about Islam. Others honked their horns while driving by to show approval. The message was given that Jamaat al-Muslimeen opposes Zionism and occupation of Muslim lands but we do not hate ordinary Americans who are themselves victims of government propaganda.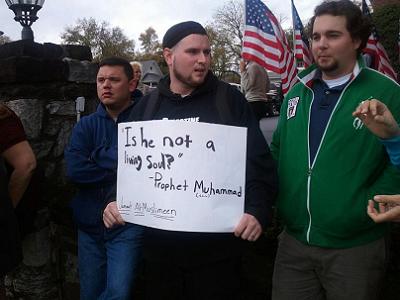 ---

Christian leader Charles Carlson joined Islamic demonstrators protesting the Israeli occupation of Jerusalem. Then he went on to picket a pro-war Christian Zionist church. Scroll way down.

---

Spotlights from Imam Badi Ali, North Carolina
Understanding Hate: What does it do?

Spotlight #1:

Living is not enough. Be effective. Build something useful. Plant fruits and vegetables.



Spotlight #2:

Life is too short. Learn to love and care.



Spotlight #3:

Worship, not hate, is your gate to heaven.



Spotlight #4:

Hate is the weapon of the weak.



Spotlight #5:

Between love and hate, within one second faith goes up and down



Spotlight #6:

If you can transform hate into love, you are in control.



Spotlight #7:

Hate is an emotion. Do not let it destroy you.



Spotlight #8:

It is okay to hate evil.



Spotlight #9:

As a superpower, we are hated but we hate too.



Spotlight #10:

Some justify hate by calling it patriotism.



Spotlight #11:

Be careful, You may hate something in a person but you may have it too.

---


Republicans don't understand America
by Kaukab Siddique

After four terrible years, Obama might still win the elections, unless the revulsion felt by the southern states unseats him. The two debates have shown that Obama has nothing new to offer. He will keep plodding through the muck he has created.

Obama may still win because the Republicans are out of touch with America. These are the White elites who do not realize how much America has changed. Here are a few realities:

America is no longer a Christian nation. The people profess to be Christians but most of them do not know even basic facts about the Bible. A new version of Christianity has emerged in which one can do whatever and still be considered Christian. It doesn't mean anything in everyday life.


Single women head numerous households and this has changed the meaning of "family."


Millions of single women, at a young age, are involved in random sexual intercourse. Dating has become the conduit to pre-marital sex. Children as young as six claim that they have dates. There are young grandmothers.


Poverty is widespread. There are homeless people in America. Many seem to be living comfortably but are often one paycheck away from homelessness.


Crimes against women are so common that growing numbers of women want to stay away from men and claim to be lesbians.


Homosexuality has been cleverly legitimized. Homosexuals moved from civil rights to the demand for homosexual "marriage." Black churches are resisting this but young people see it as "okay" owing to the influence of Tv, videos and movies. Thus the religious concepts against adultery and fornication have lost their content.


Republicans look down on Hispanics and have a very insulting attitude towards them. The Hispanic vote might prove to be decisive. Republicans think that one is rich with an income above $250,000, so most Hispanics are below their respect.


African Americans vote en bloc for Democrats. The racial and racist history of America has cut off the almost all-White Republicans from African Americans. Obama has let down and even insulted African Americans but they have weak leadership and will probably vote again for Obama.


Islam does not allow Muslims to vote for a kafir leadership, and certainly not for a non-Muslim leader who is an oppressor of Muslims. However, segments of the rich American Muslims who have lost most of their religion will vote for Obama because he said a few nice things about Islam. Some Muslims will vote for Romney. The upper elites of Muslims are thoroughly "integrated" [de-Islamized].


ROLE of the JEWS and Christian Zionists


America's Jews are very highly organized and united in support for Israel. They are good businessmen and have infiltrated all positions of influence all the way from universities, Hollywood, Wall street and media to political organizations. They do keep some support for Republicans just in case the Republicans win. They are reinforced by Christian Zionists who believe that support for Israel will bring about the return of Jesus, pbuh. Thus, whichever party wins, support for Israel does not waver. In fact the two parties accuse each other of not showing enough support for Israel, thus conveying their own loyalty to the Zionist entity.

---

Letter: Re: Photos in New Trend of Paki girl Malala with US Military officers & Zionist Holbrooke

Dear doctor sahib:

The images you posted are eye-opening. Our yellow press has not published them here. Had that been done many innocent, naive Pakistanis would have come to learn a little more of what was really going on at Malala's end and what induced the "Taliban" to do what they did.

Malala fraternized with the crusaders. (I really should be calling them Christianist Terrorists. If any Muslim who resists is labeled a Mozlem Terrorist, a similar label should be applied to the other side. Fair is fair.) She has been given a VVIP treatment including being flown to UK at taxpayer expense. The two other girls injured in the same attack have gone unnoticed. Had they too called Obama their hero they might also have received similar treatment.

Have our presstitutes ever mentioned the girls burnt to death at Jamia Hafsa? Were they stray dogs? Have the children killed or injured by the Christianist terrorist's drone attacks ever been mentioned?

I am not condoning ANY attack on ANY one, least of all by foreign powers in an independent land. All I am saying is please give equal coverage and treatment to ALL human beings. At present any one murdered by the Christian invaders is a dispensable commodity that is best forgotten as collateral. People killed by those resisting foreign illegal invasion are being mourned. What hypocrisy!

In any civilized society an accused is given a fair chance to plead his defense. The Christian press bends over backwards to blame the "Taliban" for every atrocity. Has any one ever interviewed and published the Taliban's point of view. No one ever will. If that is done Christian citizens might demand peace with them. Now that won't be healthy for American Military Manufacturing Industry.

May Allah Kareem protect you from harm, ameen.

Mir Salim Ullah
[Pakistan]

---

[Courtesy The Ugly Truth. Mark Glenn, Idaho.]
Bangladesh father denies son involved in New York bomb plot

Reuters - 6 hrs ago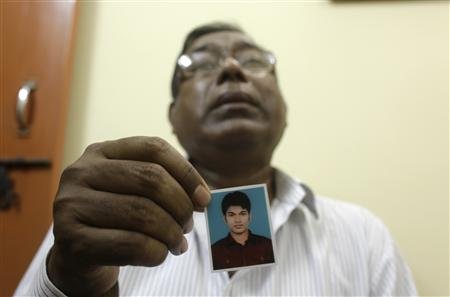 Reuters/Reuters - Quazi Mohammad Ahsanullah, father of Quazi Mohammad Rezwanul Ahsan Nafis, holds a photograph of his son inside his residence at Uttar Jatrabari in Dhaka October 18, 2012. REUTER

DHAKA (Reuters) - The father of a Bangladeshi man accused of attempting to blow up the New York Federal Reserve Bank denied on Thursday that his son was involved and said he was the victim of a "racist conspiracy".
Quazi Mohammad Rezwanul Ahsan Nafis, 21, was arrested on Wednesday and faces charges of attempting to use a weapon of mass destruction and attempting to provide material support to al Qaeda.
"This is nothing but a conspiracy. There is still a racist conspiracy there," his father Quazi Mohammad Ahsanullah told reporters in the Bangladeshi capital Dhaka.
"The intelligence of the USA is playing with a mere boy whom we sent for higher study. The allegation against my son is not true at all. He could not even drive a car. How was he caught with a van?"
Nafis appeared in a Brooklyn court on Wednesday. The criminal complaint against him said he had entered the United States in January and that he had said he was in contact with members of al Qaeda overseas.
The complaint said he had travelled by van with a man to a New York warehouse where Nafis assembled what he thought was a 1,000-pound (450-kg) bomb.
The man he believed to be an accomplice was in fact an undercover agent working for the FBI and the explosives were not in working condition. He was arrested later in a hotel near the bank.
Nafis had been a business student at North South University, a prestigious private institution in Bangladesh, before leaving to study computer science in the United States.
His father, a senior vice president of a private bank, said Nafis was the more religious of his two children, but in no way a fanatic. He told reporters he had asked the government for help "so that our son will not fall victim to an arranged story".
"He fell into trap," he said. "We talked with him 24 hours before he was arrested."
(Reporting By Serajul Quadir; Editing by Ron Popeski and Pravin Char)

---

Sent by Sis Aamira Ibrahim [Philadelphia]

Our Sisters ae denied Education if they follow Islam: Never Reported in US Media

Five Muslim girls have been denied right to learn after a head teacher of a school in Russia's North Caucasus region banned them from attending classes while wearing a hijab.
More details: http://ow.ly/evIUa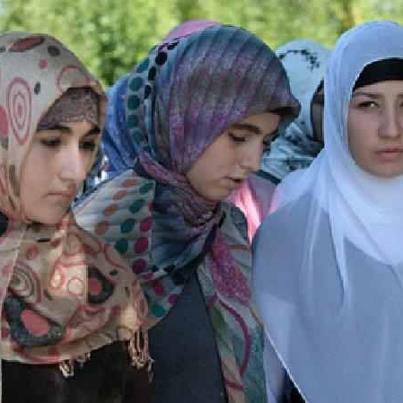 ---

Al Quds Day, and a Demonstration for Peace at Mclean Bible Church
by Charles E. Carlson [Colorado]

My story begins with my speech at a Rally for Peace in Jerusalem on August 25, organized by Muslim friends and held at Sheridan Circle, Washington DC, a few blocks from the U.S. Capitol Building. It ends 48 hours later, in front of a war-making church that is actively engaged in blocking the path to peace.
Al-Quds means "Jerusalem" in Arabic. Peace-seeking speakers from Christian, secular, and pro-peace Jewish groups added their voices to the Muslims, first in Jerusalem, and then world-wide. The rally began not far from the Capitol Building, where war upon Iran is being planned by war-making lobbies and a willing Congress, and ended with a dinner in St Stephens Church. I was moved by the hospitality of our Muslim hosts.
In my talk, I concentrated on the warring impact of evangelical church teaching that the state of Israel is the fulfillment of Biblical prophesy, and that to them Israel can therefore do no wrong and all the land of the Philistines, including Al-Quds, belongs to Israel. I explained that one such evangelical church, McLean Bible Church, was only a few miles away, and is one of about 3000 mega-churches that may be the single biggest obstacle in the U.S. to freedom for the Philistines.
How can it be that a Christian church is a greater stumbling block to peace than the Israeli occupiers and the Congress that finances them? America is a war-based economy and certain identifiable evangelical churches have elevated Israel to Jesus level support the political forces who bring war upon us. Rally attendees of all ages let me know they understood.
Christian Zionism, as I define it, is the last grass roots stronghold of the institutionalized war machine in the U.S. Polls now show clearly that more than half of all Americans trust neither their elected Congress, nor the media that filters and distributes the news and the political ads. Fox News, USA Today, and MSNBC are rated at the bottom for believability. Other polls show the trust rating for Congress is even lower than the media. *1. (Pew Poll)
I ask, who are the 49% of Americans who still trust the media? If 75% of the public did not believe Congress or the media, the war-based economy would be cooked...no politician or TV station could withstand such exposure. The answer is that Americans who are brainwashed weekly in Christian Zionist churches are a large part of the 49% who still go along with the war makers.
We must realize that these churches are a part of the media, and that about one third of all churchgoers in America are taught that political Israel has a right to occupy the land of the Philistines, and that killing, maiming, and destroying for Israel's interests is just.
The vast majority of the 40 to 70 million Americans who identify with churches like McLean Bible Church accept the notion that America's internal problems can be solved by political regime change, so long as the new regime supports Israel's interests. This is what "Christian" TV networks and two or three national bible study groups preach. The luckless Philistines are simply in the way of Christian Zionists' support for Zionism, which often trump the teachings of Jesus Christ.
Thirty-six hours after addressing the Muslim crowd in Sheridan Circle, I joined Francis, a former member of McLean Bible Church, for a vigil outside that most successful Christian Zionist church in the DC area, led by Lon Solomon, who writes in his audio biography, what is "a nice Jewish boy like me" doing making his living in this "business." Some will find it odd that a self-professed, proclaiming Jew runs a huge "Christian" church. It is not unusual.
Indeed, Mclean Bible Church is ostensibly a very good "business," occupying a group of massive structures that includes a two-story concrete parking garage that will hold about 3500 cars at one time. Located next to a busy freeway in Vienna, Virginia. A one mile long, four-lane private highway encompasses the church. A private forest shields the entire front of the complex from the highway so that only two corners of the complex can be glimpsed through the trees. McLean Bible Church reeks of power and money. It has two entrances off the freeway, where on-duty local policemen spend their morning and early afternoon directing traffic in and out at taxpayers' expense.
I stood at one entrance supporting a visual display that read WHO WOULD JESUS BOMB in the face of every auto that came in or went out past my post. Francis stood at the other entrance, a quarter mile north of me, with a similar message. Each of us held up a second symbolic display depicting a crucifixion with "PALESTINE" AND "IRAN" on the crossbars of bloody crosses.
I would guess a minimum of 10,000 to 15,000 attendees and thousands of passersby read our messages. The only way an attendee could fail to see our message was to stiffen his neck and force himself to look away, but for most it was too late. Children and youth stared as they passed. Most mothers tried to appear indifferent, perhaps sensing that Pastor Solomon would not approve if they read the signs. Some offered an encouraging honk or wave; a few marred the day with an obscene gesture; fewer still slowed down to exchange words..."don't you know there never was a state of Palestine", one challenged.
Two young men came out and reported how Pastor Lon explained our presence to the congregation: "We are being picketed...they are against Israel." Pastor Lon may be a "nice Jewish boy" as he claims, but on August 19th he played his media card, creating his own version of the truth, just as MSNBC and Fox news do. He knew we were not "picketing" the church, but challenging what he teaches. He wanted his flock to think we were there to attack them, not to correct his own errors of scripture.
We know Pastor Lon knew our purpose, because we sent him and most members of his large staff a two-page letter that told them exactly what we would do and why we were doing it. *2.
One of those few who came out made my day. He is a former Air Force veteran, and he showed me the spot on his substantial forearm where he said he would soon have the words from our message tattooed: "WHO WOULD JESUS BOMB." He said something like this: I want this on a tattoo because it is the essence of the conflict between war and Christianity. He is one who was not afraid to face the truth....that the McLean Bible Church is part of the war-making problem.
Wrapping it up:
An Imam who spoke at the park is right, America is part of the Philistines' problem. Fortunately, an ever increasing percentage of all our people, are willing to say our media cannot be trusted. America's evangelical Christian Zionist churches are part of this media, and their false doctrine is the largest obstacle to correcting the course of our war-based economy to one that seeks justice and peace for all men.
Who would Jesus Bomb? Maybe I am just the right age for my first Tattoo!
*1. Further Decline in Credibility Ratings for Most News Organizations
*2. Letter to Pastor Lon Solomon
*3 Click View Vigils at many churches
This entry was posted in Chuck Writes, Project Strait Gate and tagged Al-Quds, Christian Zionist, evangelical, Jerusalem, McLean Bible Church, Muslim, Palestine by Charles E. Carlson. Bookmark the permalink. Edit
If you do not want to continue on our list please click the remove link at the very bottom of the page
About Charles E. Carlson
Charles E. (Chuck) Carlson is a pro-peace activist who, with others,organized We Hold These Truths in 1996, and phased out his business interests soon thereafter. A renewed whtt.org website is under construction.
WELCOME TO OUR NEW INTERIM WEBSITE
After 10 years of an all-volunteer mission, WHTT.ORG website is being rebuilt, meantime, you will find our new posts and a few of the classics. Suggestions: Living With Failure, Milestones, and Project Strait Gate.
*You are now invited to post your comments and questions at the end of each story, each serious and reasonable comment will be read, displayed, and answered.
*WE HOLD THESE TRUTHS' archives are still available to you at: www.whtt.org.
*If you wish to volunteer to help our mission, Choose Life, Not War, please tell us how your can help. (cecarl@whtt.org)
*If you receive this notice from someone else, or if you are not sure you are a subscriber, go to our website and sign-up on the right side of the homepage...it's free. http://charlesecarlson.com/

---

[From New Trend reader Salim Mansur Khalid.]
Bangladesh: End Harassment of War Crimes Defense Counsel
Armed Raid on Defense Offices Gross Interference with Trial Process

October 17, 2012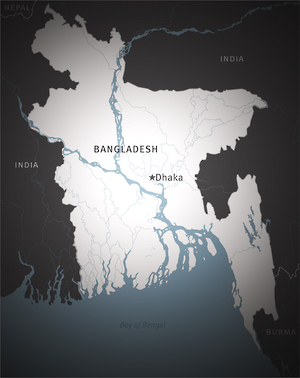 © 2012 Human Rights Watch
Related Materials:
Bangladesh: Stop Harassment of Defense at War Tribunal
A raid by armed intelligence officers on the offices of defense lawyers without a warrant and for no discernible reason marks a very dangerous turn in an already flawed process. The Bangladeshi government needs to publicly condemn this action or risk the appearance of being responsible for this egregious violation of fair trial standards.
Brad Adams, Asia Director
(New York) - The raid, without any justification being given, by armed police on the offices of a prominent defense lawyer in the war crimes trials taking place in Bangladesh is a grave affront to the basic tenets of fair trials. The Bangladeshi government should take action against those who ordered the raid on the offices of defense counsel Mohammed Tajul Islam and take steps to ensure that lawyers are not subject to threats and intimidation.
"A raid by armed intelligence officers on the offices of defense lawyers without a warrant and for no discernible reason marks a very dangerous turn in an already flawed process," said Brad Adams, Asia director at Human Rights Watch. "The Bangladeshi government needs to publicly condemn this action or risk the appearance of being responsible for this egregious violation of fair trial standards."
On October 9 at around 4:30 pm, 10-12 police officers who identified themselves as members of the Detective Branch of the police gathered outside the Dhaka law offices of Islam. When questioned about their presence by lawyers in the office, they denied any interest in the chambers, but afterwards entered the offices saying that they wanted to search the premises. Lawyers present at the office demanded that they produce a search warrant, but the officers could not produce one. The officers then started questioning staff and clients who were present in the offices, taking down names and addresses. The police left of their own accord after about twenty minutes.
On October 10 defense counsel requested both the first and the second trial chambers of the International Crimes Tribunal (ICT) to investigate the raid. The second chamber directed them to file a written application and to make a General Diary complaint to the police. The presiding judge in the first trial chamber said the matter was beyond his authority.
Lawyers representing the accused before the ICT have previously reported being harassed by state officials and threatened with arrests.
Abdur Razzaq, a senior lawyer who heads many of the war crimes trials, has been harassed, threatened with criminal charges, and reports ongoing surveillance of his home and office. Defense lawyers allege that they are often unable to bring witnesses to court because of threats and intimidation of witnesses by persons working for the prosecution.
Both Bangladeshi and international law recognize the importance of the need to protect the ability of lawyers to work freely without intimidation, whether on the prosecution side or the defense. In the absence of such protection, the accused are unable to freely communicate with their counsel, and counsel are then unable to represent their clients fully. The related concept of lawyer-client privilege is similarly undermined by this kind of harassment and intimidation.
Human Rights Watch repeated its call for the establishment of a Defense Office, similar to those established in international criminal tribunals. A Defense Office would help ensure that the core principle of "equality of arms" for both sides is recognized, and thus would go a long way to establishing fairness in ICT proceedings. Defense Offices are accessible only to authorized members of the defense teams, and all evidence and work product in those offices are considered privileged and protected. The creation of a Defense Office, properly staffed and supported, would give a clear signal that the defense teams should be treated as an equal and indispensable of a fair trial process.
The ICT, which Human Rights Watch has long supported so long as fair trials are carried out, was set up to provide justice for victims of atrocities during the 1971 war of independence from Pakistan. Human Rights Watch has however, expressed concern over certain aspects of the ICT Act, and has called on the government to rectify these flaws. These include:

Amending the definition of crimes to articulate more clearly the relevant definitions of war crimes, crimes against humanity, and genocide as they existed under domestic or international law at the time of the offense;


Amending the act to allow challenges to the constitution of the tribunal and the appointment of its members;


Amending the act and rules to ensure that the due process and rights of the accused are consistent with Bangladesh's international legal obligations;


Repealing Article 47(A) of the Bangladesh Constitution to allow the accused full protection of their constitutional rights, including the right to enforce their fundamental rights under Article 44, which protects fundamental rights; and


Creating an effective and well thought out victim and witness protection plan well ahead of the trials, to address protection and support needs before, during, and after proceedings.

"It is only when both sides are treated as equals, and when codes and laws of professional conduct are strictly adhered to, that victims of atrocities and the wider public can be confident that the justice they have sought for so long is based on a legitimate trial process," said Adams.



2012-10-19 Fri 22:59:12 cdt
NewTrendMag.org