NewTrendMag.org News # 1438

[ Click on NEWS for back issues ][ OUR BOOKS ][ Previous Issue ]



Jamada al-Thani 1,1433/April 23, 2012 # 18

---

Outreach: Are we good even with our simple web site?

New Trend's web site received 31,679 hits during March 2012, with a daily average of 1021 hits.
[WebMaster's note : more than 200 unique visitors every day]

---

Spotlights on Marriage [continued from last issue]
An Invitation to think from Imam Badi Ali, National Shoora Leader, Jamaat al-Muslimeen.

Spotlight #1: A husband should look after and care for his wife's mind and soul too. His partner has a mind and a soul, not just a body.

Spotlight #2: Problems in marriage can be helpful like spices in food. Spice your life with them.

Spotlight #3: Your partner may be right. Good doubts are a recipe for success. Always give the benefit of the doubt. That is a recipe for a good marriage.

Spotlight #4: If your wife decides to leave, it's okay to say that you are going with her!

Spotlight #5: Let your wife think that she has power over you, because she has, and because this is the key to peaceful marriage.

Spotlight #6: Give your wife proper attention. Women need attention. Men need it too, but women more.

Spotlight #7: My wife suggested a book to enhance our relationship. She said, the title is "Women are from venus, men are wrong." I laughed but then I thought I am wrong in laughing.

Spotlight #8: All of us are raised by parents before marriage. When you get married, give each other the opportunity to be raised by your partner.

Spotlight #9: In the West, partners insist on knowing each other before marriage, but the beauty of marriage is to discover each other AFTER marriage.

Spotlight #10: Marriage is garden for men and women to grow together for life.

---

Unbelievable but true: The al-Khalifa regime of Bahrain and the Jewish President of the Grand Prix have joined hands to hold the sports event in Bahrain where people are mourning their dead and treating their wounded and tortured..
Please scroll way down for an appeal for Bahrain from the Islamic Human Rights Commission.

---

For a brief but powerful spiritual message from Sis. Najat Amatullah in Spanish, please scroll to end.

---

An unusual comment by Baltimore activist Ms. Ameejill Whitlock on US attacks inside Pakistan. [See at end.]

---

Jamaate Islami of Pakistan completed one week of blocking NATO supply route. [Photo] See end.
Also, a movement to free Dr. Aafia holds impressive rally in Karachi. [Photo]. [see end.]

---

How to call a Muslim a terrorist without calling him a terrorist? Read J.M. Berger's attack on Jamaat al-Muslimeen, Kaukab Siddique [mostly], Dr.Abdulalim Shabazz and Imam Badi Ali posted on West Point's CTR web site.
We publish Berger's attack on JAM, UNCUT followed by our rebuttal. [Scroll down please.]

---

This may be Jamaate Islami's B team.
What is happening in Baluchistan? Can a disaster for Pakistan be averted?
Imran Khan addressed a large rally there on April 20. We give a full report. Please scroll to end.

---

Breaking War News: #1
[New Trend was right: Assad was allowed to kill Muslims big time.]

April 21: SYRIA's Assad and his sectarian military continued to kill civilians to the very day that cease fire monitors entered the torn apart city of Homs. People rallied against Assad in numerous cities again.
Assad suffered a setback in Quneitra where his troops were blasted by "hidden" forces who killed 10 of them.
Vogue magazine has removed from its web site a laudatory interview with Assad's wife which was published before the uprising. Western publicists like VOGUE always support anti-Muslim dictators but then appear as self-righteous "humanists" when the Muslims rise up against the tyrants.

---

#2
April 19: Nigeria's Boko Haram fighters carried out a series of attacks in Maiduguri and other cities.
April 12: Boko Haram leader Abubakar Shekau appeared on a 14 minute video to challenge Nigeria's Chiristian leader Goodluck Jonathan who had declared that he would destroy Boko Haram and set up a prison for "suspects." Shekau said that life and death is only in Allah's power and the Nigerian military can never defeat Boko Haram.

---

#3
In Mogadishu, Somalia, a Somali teenager, a girl about 16, tried to enter a National Theatre being inaugurated by western backed Somali clique. She tried to enter three times and failed. Fourth time she succeeded and blew up the theatre killing numbers of top artists and injuring ministers. She was a bomber sent by al-Shabab who are coming back to Mogadishu.

Earlier, Somali pirates returned a rich British lady they had abducted from nearby Kenya, to her son who arranged a ransom of $1.1 million for her. She had been treated very well over a 7 month period by the Somalis and is in good spirits.

---

#4
In Afghanistan, Taliban mujahideen continued daily attacks on NATO. US media are completely silent about the fighting other than the news of a Black Hawk helicopter which went down in western Afghanistan on April 20 killing four US troops. It was responding to a human bomber attacking Afghan troops working for Karzai.
According to data collected by icasualties, 23 NATO elite troops have been killed in the first 21 days of April.

---

#5
In Iraq, security forces working for the al-Maliki regime installed by the US came under attack in six cities all the way from Bagdad to Kirkuk. At least 35 troops were killed and 150 wounded. Car bombs and road side bombs were used in the attacks. [Al-Qaida in Iraq is suspected.]

---

Our America

Israel has made a home for itself in University of Pennsylvania

The Penn Club of Israel is a community of alumni, faculty and students from the University of Pennsylvania who live in, research or care about Israel. The Club's core membership are the 500 alumni living in Israel who conduct social, business, philanthropic and recreational activities throughout the country. The club also facilitates networking with Penn Alumni abroad and other Ivy League Clubs in Israel.

---

[NT Editor's note: Britain and France divided and plundered Africa among themselves. By the magic of propaganda, they painted Hitler's Germany as racist and anti-African. Hitler inflicted so much damage on the allies that they could no longer hold Africa captive. Here is a report which indicates how little we know about Germany and Africa.]

Hitler's Pilot Helped Ghana's Women to Fly The Guardian (Britain) http://www.guardian.co.uk/world/2012/apr/16/hitler-pilot-womn-fly-ghana?newsfeed=true
It is the strange story of Hitler's private pilot, a wandering English engineer and the first black woman - or woman of any race for that matter - to be qualified in building light planes ... The potential for light aircraft to play a role in development has long been recognized in Ghana. In 1962 independence leader Kwame Nkrumah founded sub-Saharan Africa's first flying school, after he formed an unlikely friendship with Hanna Reitsch, Hitler's private pilot and a record-breaking aviation hero of wartime Nazi propaganda. After the war Reitsch, who refused to renounce Hitler and was poorly received in postwar Germany, lived in Ghana, where she helped encourage a generation of Ghanaians to embrace aviation.

---

From the web site of West Point's "Combating Terrorism Center [CTR]."
Baltimore's Jamaat al-Muslimeen: Promoting a Radical but Disciplined Message on Jihad
Author: J.M. Berger
As concerns about homegrown terrorism mount, Department of Homeland Security (DHS) officials are increasingly focused on initiatives targeting radicalization in an effort to preempt violence. In congressional testimony in early February, DHS officials touted interagency and "whole government" efforts to counterprogram against radical narratives.[1] Such efforts open the door to a complex problem-set that defies traditional policing. A case study on the challenges ahead can be found in Jamaat al-Muslimeen (JaM), an Islamic organization in Baltimore, Maryland with a decades-long track record of extremist rhetoric.
Although JaM explicitly discourages acts of violence by Muslims in the United States, it advances a number of ideological points closely linked to violent radicalism, while excusing virtually all Muslims convicted of terrorism as victims of government persecution. Even with its careful qualification regarding violence in the United States by its adherents, JaM's message contributes to a permissive environment for violent radicalization by validating core assumptions shared by nearly all homegrown Islamist terrorists.
Background Headquartered in Baltimore, JaM members hold leadership positions in at least three mosques in the Baltimore area. The organization also has representatives in Tennessee, New York, North Carolina and Pennsylvania.[2] Its active membership is estimated to be between 100 and 200 people.
JaM's primary function is da`wa, or calling Americans to Islam, and supporting Muslims imprisoned in the United States, including a number of convicted terrorists. It also endorses military jihad in Muslim-majority countries and in situations where Muslims are perceived to be under physical attack. This support is mostly rhetorical, but JaM also raises funds for legal costs for the families of Muslims in the United States accused of terrorism.[3]
Ideologically, JaM is openly critical of American values and morals and supportive of jihad in several theaters overseas, but it repeatedly emphasizes that violent action is not permitted in the United States.[4] Islamic thinkers cited by the group include `Umar `Abd al-Rahman, Ayatollah Khomeini, Abu al-A`la Mawdudi and Sayyid Qutb, with the consistent thread being movement-oriented Islam and a focus on the establishment of Islamic states.[5]
JaM carries out its da`wa function through personal appearances by group leaders at mosques and conferences around the United States, as well as through an online newsletter called New Trend Magazine, which has been published weekly since the 1970s. JaM claims its speakers draw crowds often in the low hundreds for Friday khutbas (sermons) at its own mosques and as guests at unaffiliated mosques.[6] The organization also hosts conferences, protests and rallies of varying size, but usually including at least dozens of participants.
Leadership and Organization Lincoln University English literature professor Kaukab Siddique is JaM's leader and the dominant editorial voice of New Trend.[7] During the 1970s, Siddique was involved in the publication activities of the Muslim Students Association (MSA)[8] and later with its sister organization, the North American Islamic Trust (NAIT), but MSA documents indicate he was fired in 1977 for unspecified reasons.[9]
Embittered by what he saw—with some justification—as the Saudi government's use of money to buy religious influence over American Muslim groups, Siddique began publishing a controversial newsletter, New Trend Magazine, around the same time he departed MSA. At some point, his activism congealed into the organization, Jamaat al-Muslimeen.[10] JaM's national leadership is rounded out by a shura council consisting of five members who are located around the United States, including in Brooklyn, Texas, North Carolina and Louisiana.[11] The shura members individually take part in both Muslim and minority activism but are less vocal and visible than Siddique. One of the more prominent members, Abdulalim Abdullah Shabazz, is a former member of the Nation of Islam and a distinguished mathematician who received a presidential award for math mentoring in 2000.[12]
Positions
Jamaat al-Muslimeen's primary communications vehicle is New Trend Magazine, a weekly newsletter. New Trend claims "a bigger circulation than any of the other Muslim media," which is difficult to credit.[13] The newsletter was distributed in print for decades, but switched to online-only distribution in recent years due to financial reasons. Issues of New Trend from 2000 forward are available online.
JaM activists travel to unaffiliated mosques around the country to speak and distribute pamphlets and publications, the latter at times without the approval of local mosque leaders. In New Trend issues since 2000 and in khutbas by members of the shura council, JaM reveals a mix of views that defy easy categorization. The organization is inclusive toward both Sunni and Shi`a Muslims, but dismissive of Sufis. Although it is stridently conservative, virulently condemning homosexuality and American moral values in general, it also supports leadership roles for Muslim women and condemns those who it feels distort Islamic teachings to oppress women.
JaM's website states that "jihad is considered a sixth pillar [of Islam] in countries where Islam is the majority religion." In its preaching and in the newsletter, the organization has repeatedly supported armed struggle in overseas theaters commonly associated with Islamist terrorism and extremism.[14] During khutbas given in the Baltimore area in 2004, Siddique cited conflicts in Iraq, Afghanistan, Kashmir, Chechnya and the Palestinian Territories as part of a worldwide war against Islam and examples of aggression against Islam by the United States and others.[15] In New Trend, JaM characterizes the war in Afghanistan as part of a "clash of civilizations":
"The American troops [in Afghanistan] seem aware that it's a war between two ways of life: the Islamic, inward, spiritual, family oriented, non-consumer, and the American, entertainment oriented, sexually easy going, based on multinational corporations. It's a strange fate which has brought the poorest country in the world, devastated by war, brimming with the energy of resurgent Islam, up against the most powerful country in the world, overflowing with destructive power and backed by endless Jewish finance."[16]
During a khutba given in Greensboro, North Carolina, Imam Badi Ali, a member of JaM's shura council, similarly argued the case for an Israeli-controlled global war against Islam, citing Afghanistan, Iraq, Kashmir and Chechnya as connected fronts in that single conflict.[17] One issue of New Trend celebrated Iraqi insurgents in Falluja not long after the killing of four American military contractors, whose burned bodies were paraded through the streets and eventually hung from a bridge:
"April 10, 2004 was a day of glory for Islam and the Islamic resistance in Iraq. The most powerful military power in the world could not conquer FALLUJAH. The Iraqi people are UNITED AS NEVER BEFORE, Shi'ites and Sunnis joining hands to resist the American elite army installed in their country...America has not understood the Islamic spirit of martyrdom and the concept of the Hereafter. Muslims with that spirit can be killed but they cannot be defeated...As the resistance continues, American power will gradually be undermined, as was the Soviet power in Afghanistan. Over the years, FALLUJAH will be an example for Muslims. An Islamic will to fight back is gradually developing."[18]
Despite its celebration of military jihad opposing American "occupations" abroad, Siddique clearly and repeatedly advises readers of New Trend that they cannot undertake violence against Americans in the United States, where Muslims are a minority:
"In America, Muslims have the duty of peacefully giving the message of Islam. The jihad with the sword is not applicable to a Muslim minority living in a non-Muslim country. Jihad with weapons is appropriate where Muslims are being physically attacked."[19]
Despite this important qualification, Siddique in a 2005 khutba blasted an anti-terrorism fatwa issued by mainstream Muslim leaders as dajjali (a reference to the anti-Christ in Islamic eschatology).[20] JaM clearly defines jihad primarily as armed struggle and explicitly refutes arguments by mainstream U.S. Muslim leaders in favor of a non-violent definition prioritizing the spiritual struggle against temptation and wrongdoing:
"The fact is that Islam teaches Jihad as ARMED STRUGGLE against oppressors. The verses of the Qur'an and the teachings of the Prophet Muhammad (pbuh), make it absolutely clear that JIHAD MEANS ARMED STRUGGLE AGAINST OPPRESSORS, OCCUPIERS, TYRANTS. Many in the Muslim world consider America and Israel, along with India and Russia, as oppressors and exploiters who should be fought. The idea that Jihad is a peaceful, inner, spiritual development is absurd and without foundation."[21]
While overtly repudiating violence on U.S. soil, JaM nevertheless supports a wide range of Muslims accused of taking part in such violence, most notably `Umar `Abd al-Rahman, who was convicted of seditious conspiracy in relation to multiple terrorist plots in New York, including the 1993 World Trade Center bombing. JaM leaders dispute al-Rahman's guilt and claim he is a political prisoner. Other so-called political prisoners include al-Qa`ida member Jose Padilla, convicted killer Jamil al-Amin and Ahmad Ajaj, who was convicted of conspiracy in the World Trade Center bombing.[22] According to an article in New Trend, even World Trade Center bomber Ramzi Yousef was tortured and coerced into a questionable confession, which was responsible for his conviction.[23]
During khutbas, Siddique has stated flatly that "no American Muslim is a terrorist."[24] In a 2005 khutba in New York City, he told audiences to support Muslim political prisoners, saying, "We assure you, they are not guilty. They have been railroaded. Not one of them is guilty!"[25]
In addition to these mixed messages, Siddique denies most of the historical account of the Holocaust, a view shared by others in the organization to varying degrees. While insisting the organization is not anti-Semitic, New Trend routinely rails against what it perceives as the ubiquitous influence of Jews in American politics and media:
"It is not anti-Semitic to note that even the most idiotic book written by a Jew will get published in America and will even be introduced by an adviser to the President. By contrast, the books of a great historian like [Holocaust denier] David Irving are barred from all book chains like Borders and Barnes & Noble because he honestly could not find any evidence of gas chambers at Auschwitz or of the claim that the Nazis killed six million Jews...Irving is NEVER invited to C-Span. Why? Because a Jew named Lamb decides which books will be introduced on C-Span. Is that view anti-semitic or a fact?"[26]
JaM also has little use for mainstream Muslim organizations, such as the Islamic Society of North America and the Council on American-Islamic Relations. During a khutba to students at Johns Hopkins University in Baltimore, Siddique said:
"For years, these self-proclaimed leaders obtained funds from overseas and tried to impose themselves on the Muslim community on the basis of their financial power. Thus the richest, not the best, became the leaders of America's Muslims. There are leaders here who do not reveal their incomes or their sources of income. As a result, most Muslims do not know the real allegiance of their leaders."[27]
Transitional Media
New Trend presents an interesting example of English-language extremist propaganda in flux. During the 1990s, the scene was dominated by print newsletters such as al-Hussam (The Sword), published most Fridays during the 1990s by followers of `Umar `Abd al-Rahman in Boston.[28] The paper newsletter was costly, running about $1,000 per month for printing and distribution, and the newsletter was frequently banned by mosques for its radical content,[29] a problem also faced by JaM.[30] New Trend's switch to online distribution provided greater reach with fewer costs, while circumventing the firewall at moderate mosques.
Al-Hussam had a single-minded focus on supporting military jihad. New Trend is more cosmopolitan, mixing commentary on overseas jihad with discussion of women's issues and other Islamic topics. New Trend is also more aggressively anti-American, continually attacking the state of U.S. politics and lamenting America's "war against Islam."
New Trend's online distribution, diverse topics and careful parsing of language concerning violence foreshadowed the new breed of radical websites most effectively represented by Revolution Muslim (now rebranded "Islam Policy"). Like New Trend, the Revolution Muslim family of blogs focuses on a wide range of Islamic issues and voices with enthusiastic support for radical figures, while carefully hedging against anything that could be interpreted in court as an actionable incitement to violence. New Trend, however, is far more disciplined in its message that jihad within the United States is forbidden (no matter how grievous the provocation might be).
Impact
If estimates of JaM's membership in the low hundreds are accurate, JaM is miniscule in comparison to the mainstream Muslim population, but strikingly large given the strident tone of its political views. Its reach extends beyond the committed membership, thanks to khutbas given around the country by JaM leaders.
The most directly comparable movement, Revolution Muslim, is estimated to have peaked at about a dozen active members, although its reach on the internet and visibility in the media have been substantially larger. Revolution Muslim's status as the target of law enforcement action is correspondingly larger, leading to several arrests of members and affiliates. In comparison, no known JaM members have been arrested for terrorism or related crimes despite scrutiny from law enforcement.[31]
JaM stays on the right side of the law through its extraordinary message discipline. More than 10 years of New Trend issues reviewed by this author show a remarkably consistent set of principles and an extremely careful and considered sense of where the line should be drawn. Despite being against violence in the United States, JaM's message contributes to violent radicalization by supporting arguments shared by nearly all homegrown Islamist terrorists:
- The United States is conducting a military war against Muslims. - The United States is persecuting Muslims on U.S. soil. - The U.S. government and media are controlled by Israeli/Zionist/Jewish manipulation. - Those who militarily resist the United States and Israel, including the Taliban and Iraqi insurgents, are heroes acting within their Islamic beliefs. - Those killed while fighting the United States and Israel are martyrs.
The problem is accentuated by JaM's blanket denial that American Muslims are capable of terrorism and its characterization of virtually all such cases as political persecution. A possible example of how this background noise can lead to more aggressive actions may be found in Antonio Martinez, a Muslim convert accused of attempting to bomb a Maryland military recruiting center. He attended one of the mosques controlled by JaM in Baltimore. Martinez began attending the mosque about six months before he was arrested in December 2010.[32] No evidence has emerged, however, to indicate Martinez was a member of the JaM organization proper.
Because its message is so carefully crafted and controlled, JaM presents a challenging target for traditional law enforcement and counterterrorism techniques. JaM's strong stand against mainstream Muslim "collaborators" also makes it a highly unlikely partner for the sort of community-based outreach that DHS hopes to use in its counterradicalization efforts. Other radicalizing organizations, including those more closely tied to violence, are already learning to adapt by adopting an approach similar to the strategy that has kept JaM viable and operating in plain sight for decades. In 2010, Revolution Muslim renamed and revamped its operation under the flag of "Islam Policy," shifting its focus to a more expansive range of Islamic issues and calibrating its public face to present a less violent and controversial image.
Counterterrorism, while challenging in its own right, is made possible by the illegality of terrorism. Counterradicalization is a much different problem-set due to the legality and protections afforded to free speech under the U.S. Constitution. JaM's durability illustrates just how little latitude the government has to take concrete action against radicalizing actors. Approaches to this problem-set will require especially innovative thinking, and metrics should be devised to quantify the cost-benefit ratio of new counterradicalization efforts compared to traditional counterterrorism, rather than trusting an intuitive hope that this path will lead to a more stable homeland threat environment.
J.M. Berger is editor of INTELWIRE.com and author of the forthcoming book, Jihad Joe: Americans Who Go to War in the Name of Islam.

[1] Testimony of Michael E. Leiter, director, National Counterterrorism Center, Committee on House Homeland Security, February 9, 2011.
[2] "Accused Bomb Plotter's Mosque Tied to Radical Group," IPT News, December 16, 2010; "National Islamic Shoora of Jamaat al-Muslimeen Highlights Central Issues Facing Muslims of America," www.jamaatalmuslimeeninternational.org, accessed on February 12, 2011.
[3] New Trend Magazine, December 27, 2004; New Trend Magazine, May 7, 2005. These are just two examples. Many other issues of the magazine contain similar content.
[4] "National Islamic Shoora of Jamaat al-Muslimeen Highlights Central Issues Facing Muslims of America."
[5] "Great Islamic Thinkers of Modern Times: Glimpses," www.newtrendmag.org, accessed on February 12, 2011.
[6] Personal interview, confidential source, February 12, 2011; "National Islamic Shoora of Jamaat al-Muslimeen Highlights Central Issues Facing Muslims of America"; New Trend Magazine, May 19, 2005.
[7] For more details, see "Far-Right and Muslim Extremists Gather in Baltimore: Jamaat al-Muslimeen & Kaukab Siddique," Anti-Defamation League, August 19, 2008.
[8] "Islam in America: Muslim Students' Association Collection," annual report, The Islamic Teaching Center, DePaul University, August 25, 1977.
[9] "Islam in America: Muslim Students' Association Collection," Minutes of the Board of Trustees Meeting, North American Islamic Trust, DePaul University, November 26-27, 1977.
[10] New Trend Magazine, June 4, 2004.
[11] For details, see www.jamaatalmuslimeeninternational.org.
[12] "President Clinton Honors Science, Mathematics and Engineering Mentors," National Science Foundation, September 7, 2000.
[13] New Trend Magazine, April 30, 2008.
[14] New Trend Magazine, August 7, 2005.
[15] New Trend Magazine, December 25, 2008.
[16] New Trend Magazine, April 1, 2004.
[17] New Trend Magazine, July 1, 2006.
[18] New Trend Magazine, April 12, 2004.
[19] New Trend Magazine, April 8, 2004.
[20] New Trend Magazine, August 7, 2005.
[21] "Husein Ibish of ADC Makes a Fool of Himself Talking About Jihad," New Trend Magazine, accessed on February 13, 2011.
[22] "America Post-Bush: What is our Role as Muslims?" www.jamaatalmuslimeeninternational.org, accessed on February 13, 2011.
[23] "Voice of the Oppressed Masses," New Trend Magazine, accessed on February 13, 2011.
[24] New Trend Magazine, December 25, 2004.
[25] New Trend Magazine, January 17, 2005.
[26] New Trend Magazine, May 12, 2004.
[27] New Trend Magazine, May 31, 2004.
[28] U.S.A. v. Muhamed Mubayyid, Emadeddin Muntasser, and Samir Al Monla, District of Massachusetts, 2005.
[29] Ibid.
[30] New Trend Magazine, July 11, 2006.
[31] "National Islamic Shoora Meets in Pennsylvania: Anti-Israel, Interracial, Strongly pro-Woman, anti-War, Based on the Qur'an and Hadith," www.jamaatalmuslimeeninternational.org, accessed on February 13, 2011.
[32] Scott Calvert, "Man Charged in Bomb Plot Appeared to Drift into Islamic Extremism," Baltimore Sun, December 9, 2010.

---

Rebuttal of Berger by Kaukab Siddique:

Assumptions: Berger begins with two loaded words: "extremist rhetoric." Labeling is the worst way to start an article. Does Berger give an example of "extremist rhetoric?" No: Labeling requires that there be no examples which would help the reader to decide if the writer's assumption is sound. Berger goes on this vein. No examples.
Another assumption of Berger is that Muslims accused of terrorism got a fair trial. Which Muslim got a fair trial? No answer from Berger.
How many Muslims were trapped by informants who wanted their own criminal records to be excused or expunged? How many were actually led to fake acts of violence by government agents? Mr. Berger won't touch that.
If two people say the same thing such as: US is a blind supporter of Israel, does that mean the two are working together.? Mr. Berger would get an F in a class on rational thought and logic.
Then Berger complains that Jamaat al-Muslimeen helps the families of convicted "terrorists." Even in America, families of convicts are not considered criminals who cannot be helped. Mr. Berger forgets that USA has as yet not become Israel. Should families of innocent people unjustly convicted be abandoned? Would you like that to happen to the families of convicted Zionists?
A major assumption Berger works with is that anyone who opposes Israel is an enemy of America. This favorite Israeli tactic manufactures enemies for America. Thus Hamas and Hizbullah who fight Israel are listed as enemies of America. Similarly, al-Shabab has been forced into the list of America's enemies. It's a self-fulfilling prophecy.
Conveniently short memory is another of Berger's problems. He "forgot" that Dr. Omar Abdel Rahman was not tried or convicted for the first World Trade Center bombing. He was never an enemy of America. In fact he came to seek refuge in America and was trapped by Hosni Mubarak's intelligence service working with the US. He was convicted and sentenced by a Zionist Jew, Michael Mukasey, based on a concocted plot which never happened.
Berger whines about distribution of literature by JAM and khutbas against war and Israel. Dumbo Berger, this is not Israel. We have the right to speak, mobilize and publish. Zionist Jews control the vast empire of corporate media which tells lies to the American people 24/7, yet he complains that Muslims have New Trend. Boo hoo!
Where did he get this absurd figure of a couple of hundred people supporting JAM and New Trend? Tens of thousands support us but no one is going to tell a Zionist Jew or ISNA: Yes, I support New Trend. We are opposing war, occupation, Zionism, media monopoly and the lies told to the American people. Our truth destroys Zionist lies wherever it goes.
Berger has concocted the story that Martinez, arrested in an alleged bomb plot, had attended JAM's mosque. The reference Berger has given from the Baltimore Sun does not make any such claim. There can be no doubt that Berger is a liar and a fool. [A digitally manufactured image of Kaukab Siddique together with Martinez was posted on line, probably by Zionists.}
No Mr. Berger, you don't have a chance against Islam. So, stop rumbling. Remember, if you have been lying to the FBI, you could be arrested. Your tribe has used America for your dirty little Israel's plunder of the world, but your sh..ty little county's days of triumph are over. [That word for Israel was used by a French diplomat.]

In a desperate attempt to create the sense of "terrorists under every bed," Berger tries a comparison of JAM with "Revolution Muslims." What's the point Mr. Berger? That's not a national level group, and again like a shoddy writer, Mr. Berger fails to show any similarity. You can see Berger's desire. Why no one from JAM has been arrested? He might end up getting arrested himself for organized fibbing.
In the middle of a discussion about terrorism, Berger suddenly brings in the "holocaust." Even in an undergraduate essay on terrorism, a professor would mark it as "irrelevant." However, we will have to presume that mentally Berger thinks criticism of the holocaust story is a form of "terrorism." He puts the words "holocaust denier" in front of the name of the world famous historian David Irving. If I were a betting man, I would bet that Berger has not read any of Irving's books. Mr. Irving not only DOCUMENTS the suffering of the Jews but according to revisionist scholars has gone too far in accepting holocaust stories' credibility. Irving became persona non grata with the pro-Israel media after he found that there is no order from Hitler calling for the extermination of the Jews and no evidence of gas chambers in Auschwitz.

Why should the holocaust not be discussed? Is the story so weak that it starts crumbling as soon as it is tested by scholarly critics like Germar Rudolf, Bradley Smith, Prof. Butz, Mark Weber, Faurisson, Thomas Dalton and many others? These are not raving Nazis but scholars who document every statement they make because they know what they are up against.

So, Mr. Berger, you can't blame Kaukab Siddique for critical studies of the holocaust. It's not my field of expertise. I am more interested in the 400 years of slavery and the extinction of major Native American civilizations. Mr. Berger, your people cannot face Mark Weber or Bradley Smith and certainly not Irving or Germar Rudolf in any open forum. Let's try you or any of your tribe in this narrative. Don't run now!
Here is an example of what Berger's people, Zionist Jews, have been saying against Muslims. Berger "researched" New Trend but conveniently missed this item. Here Mr. Berger, enjoy:

---

What do Jews Really Want? Ayn Rand's Brook Pulls no Punches.
"Destroy their homes, their economy, their mosques. Reduce their Cities to Dust."
By Buut Shikan [Idol Breaker]

On December 17, 2004 an educated Jew, Yaron Brook, a Ph.D from Austin, Texas, appeared on the O'Reilly Show on behalf of the Ayn Rand institute, a famous Jew who wrote a book titled Atlas Shrugged.

Yaron Brook was unhappy with the extent to which America has used its military power in Iraq. He thought more should be done. He wants the Muslims to be hit harder. We should destroy their homes, their economy, their mosques, reduce their cities to dust, Brook declared calmly.

He was exactly the picture of Nazi murderers whom the Jews have concocted in many movies.
The holocaust of the Muslims being enacted under Jewish direction has this element of banality in it: the idea that if their cities are reduced to dust, the armies of Islam will surrender and the green banners of Islam will be lowered. How stupid can Yaron Brook be?

He wants Fallujah to be reduced to dust. Poor fool does not know that Fallujah has already been reduced to dust with NO AFFECT ON THE SPIRIT of ISLAM.

Even O'Reilly, veteran Islam hater that he is, was appalled at the Ayn Rand vision of "what should be done." He tried to point out that such American violence might get the Muslims even more fired up! Brook, however, insisted and O'Reilly, very politely told him: "I disagree."

HERE YOU HAVE UNVARNISHED JEWISH THINKING ABOUT ISLAM and MUSLIMS.
As honest observers point out, as long as the THUG ENTITY known as "Israel" remains planted illegally in the middle east, illegitimate child of superpower treachery, the hope for peace will remain a mirage.


---

What happened to Martinez? Who was the Informant?
On April 6, 2012, Matinez was sentenced to 25 years in prison. He would have gotten more but it appears that he plea bargained. This hidden "agreement" has not been clarified in the media. According to news reports, he was led on by an government informant who then hooked him to an intelligence agent. The two led him on to insist that he wanted to carry out violent acts against US troops. He had wanted to do something violent against US troops by himself, but now that he thought he had two people on his "side," he was enthusiastic, so to avoid the charge of entrapment, the two told him that he should not do this. This motivated him further.

Finally, they gave him a dummy car bomb. He tried to detonate it. As soon as he pressed the button, he was arrested.

As for Berger's claim that he was at mosques run by Jamaat al-Muslimeen, the lie has been nailed by a researcher named Lauren Brady.

Here are the relevant quotes:

"Martinez worshiped at two different mosques, the Faizah-e-Madina Mosque and the Al Madina, located in shopping strips in his hometown of Woodlawn, Maryland. Worshipers at the Faizah-e-Madina Mosque were surprised by his arrest, and said that they only knew Martinez as someone who prayed at the mosques. Naeem Rafiq, a Pakistan native and local grocery store owner, said that he prayed with Martinez two or three times a day at the Faizah-e-Madina Mosque beginning about a year before his arrest, but that Martinez had left to attend the Al Madina and he had not seen him in six months.16 "

"It thus seems that he did not have direct or indirect support from the Muslim community."

"The day after Martinez's arrest, the Justice Department released a statement expressing that he was never a threat and the plot he attempted to carry out was controlled by the FBI and never involved an actual bomb.58"

Brady is incorrect in the name of the first mosque. It should be "Faizan," not Faizah. The government has not blamed the two mosques, let alone Jamaat al-Muslimeen. So, Mr. Berger lied and carried out defamation. Will he apologize now? Berger did not even know the names of the two mosques.

It's a disgrace for West Point to permit such bogus "research" to be posted on its web site.

---

My advice to people like Martinez:
Asalamu alaikum dear angry Muslim
If you are angry or upset about the occupation of Afghanistan, Chechnya, Kashmir etc., learn to take your message to the people of America through peaceful demonstrations, protests, emails, leaflets, placards. Learn to speak clearly without the call for violence. You should know that MILLIONS in America oppose the occupation of Afghanistan and Iraq and condemn Israel for its genocide in Gaza. You are not alone.

Prophet Muhammad, pbuh, has taught us to give the message of truth to the people. Ideas cannot be defeated or imprisoned. Unfortunately mosques in America have been so de-politicized, they do not teach Muslims how to respond to oppression through non-violent resistance.
While getting angry at the US military, you might be drinking coffee at starbucks, or sodas such as Coca Cola or eating burgers at McDonald's. These are all supporters of the Zionist entity. There is a Starbucks at Guantanamo Bay and US troops love Starbucks.

Learn to respond as the Prophet, pbuh, did in Makka. The Qur'an and the Sunnah cannot be defeated. Millions want Islam, especially in the Hispanic community. Don't use violence. America is already one of the most violent societies in the world. Your adding violence to the existing violence will not solve any problem. Look at Malcolm X: He led millions to Islam and though stern against government policies, never committed an act of violence.
As a Muslim you must oppose oppression but do it by non-violent resistance which will persuade people to support you.

---

Pakistan : From our Pakistan observer

Blocking NATO Supply lines has become a decentralized movement Affecting all of Pakistan

A week after the secular Pakistani government decided to open the NATO supply route, it is still blocked owing to peaceful activism by thousands of Pakistanis. Rallies against opening the supply line have become a daily affair and have appeared at the local level.
In this photo from an Urdu daily, Jamaat e Islami holds a "block NATO" rally in Gulshane Iqbal township of Karachi [East]. In the inset, A local leader, Usama Razi, hand raised, is addressing the rally.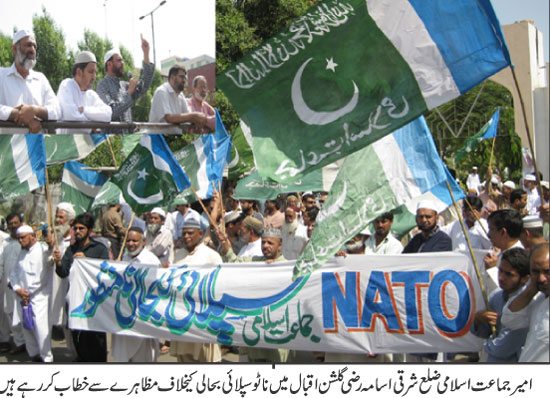 ---

Pakistanis have not Forgotten Dr. Aafia: There is an "Aafia Movement" in Action

April 17: Mass rally in Karachi calling for the release of Aafia Siddiqui [in a cell in Ft. Worth, Texas.]

Photo below: Inset: Dr. Fawzia, Aafia's sister, addressing the Aafia Movement rally, followed by Altaf Shakoor and other youth leaders.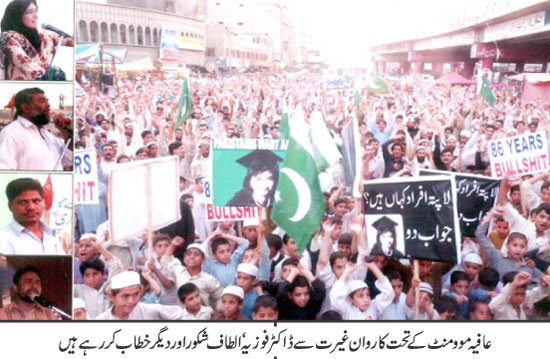 ---


from Najat Amatullah
Si Allah contesta a tus oraciones, Él quiere aumentar tu fe.
Si Allah tarda en contestar tus oraciones, Él quiere aumentar tu paciencia.
Si Allah no contesta a tus oraciones, es que Allah tiene algo mejor para ti.

Translation.
If Allah answer your prayers, he wants to increase your faith.
If Allah takes too long to answer your prayers, perhaps he wants to increase your patience.
If Allah does not answer your prayers, it may be that Allah wants something better for you. )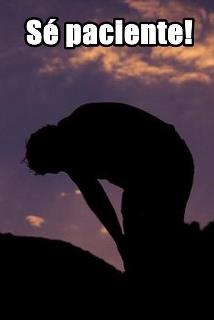 ---

Zardari, Gilani can't change US defeat in Afghanistan into victory:
Munawar Hasan addresses Friday prayers and Conference of United Ulema.

By Sarfraz Hussain

LAHORE, Apr. 20: Ameer, Jamaat e Islami, Pakistan, Syed Munawar Hasan, said that mentally Europeanized people like Zardari and Gilani cannot not change the US defeat writ large on Afghanistan mountains into victory.

Addressing the Friday congregation at Mansoora mosque, he said that the rulers in Islamabad were prepared for a war with the nation by agreeing to restore NATO supplies in exchange for dollars.

Syed Munawar Hasan noted that actually a war was going on between Islam and secularism in which the rulers were siding with secularism.

He also condemned the suggestion for unilateral troops withdrawal from Siachen and said that politicians have a soft corner for India and desiring demotion for Pak-India border were making such suggestions. He said the whole world knew it was India which moved its troops to Siachen in 1984 and this compelled Pakistan to follow suit.

Continuing, Syed Munawar Hasan said that not only Zardari and Gilani were corrupt, but their children had also adopted the same path. The present government which was steeped in corruption was the main hurdle in the establishment of a peaceful and just society. He said the ordinary thieves and dacoits were no match to Zardari and Gilani as there was no bigger thief and dacoit than the two all over the world.

The JI Ameer said the government was keeping the nation in the dark by saying that arms and ammunition won't be allowed in the NATO supplies and asked who would check the containers. He said that the arms and ammunition carried through our route would be used against our Afghan brethren and also in Silala like attacks. How could the rulers allowing these supplies be termed patriotic, he asked.

Syed Munawar Hasan said, the recent Taliban attacks in Afghanistan had reduced the position of the US militarily to untenable. It was interesting, he said, that while the Taliban were accepting the responsibility of these attacks, Washington was blaming the Haqqani network. He was sure that the NATO supplies won't be allowed to pass through this country and thousands of people would be on the roads to stop these.

Later, addressing the All Pakistan Ulema Conference under the aegis of the Rabita-ul Madaris al Islamia, Syed Munawar Hasan said that the religious movements were not fond of bringing the masses on the streets every day but they noticed that there were conspiracies to snatch their freedom and sovereignty and the rulers were also involved in that. The enemy has found out its agents in our institutions, he said.

Stating that the US was the main cause of all the problems being faced by the world, he urged the Ulema to play their role in uniting the nation on one platform and for the defense of the country's independence and sovereignty and to foil the enemy designs.

Ittehadul Ulema [Unity of the Ulema] Pakistan chief, Maulana Abdul Ma'lik, also spoke on the occasion.


---

Imran Khan pledges rights for Balochistan
21 April, 2012 [Courtesy Pak Tribune.]

QUETTA: Pakistan Tehreek-Insaf (PTI) chief Imran Khan on Friday vowed that his party would give Balochistan its due rights, hold dialogue with Baloch leaders and bring the province at par with developed areas of the country.

The PTI chief said this while addressing a rally at the Ayub Stadium Hockey Ground, where a large number of people had gathered to hear his speech amid rain and inclement weather.

Khan said the PTI would bring the killers of Akbar Bugti to justice. He blamed the incumbent government and some opposition leaders for the deteriorating situation in the province.

The PTI chief advised the estranged Baloch leaders to hold negotiations to reach a mutual settlement of the Balochistan problem, pledging he would fulfil all his promises.

He expressed his shock and dismay over the extra-judicial arrests, killings in custody, recovery of mutilated and bullet-riddled bodies, target killings of innocent people, general lawlessness and kidnappings for ransom.

Khan said a sizable number of people had left Balochistan and migrated to other provinces in fear following target killings of people from all walks of life, mainly teachers and educationists.

He was of the view that Balochistan could not develop as a model province without peace and tranquility in the province and protection of citizens.

The PTI leader said no serious efforts had been made in the past to develop Balochistan and beat back its backwardness, adding that the government had laid more emphasis on launching military operations against its own people for no reason. All the past military operations in Balochistan had failed to provide any results, he said.

Khan said the rulers had always depended on military operations and were inefficient and incompetent to resolve the pressing problems of the people of Balochistan.

He blamed Pakistan Muslim League-Nawaz (PML-N) chief Nawaz Sharif for the current situation in Balochistan. Khan alleged that Nawaz was instrumental in instigating the Baloch nationalists to boycott the past elections. Balochistan suffered the most for this decision, the PTI chief told his audience. If Baloch and Pakhtun parties had not boycotted the last general elections, the political situation would have changed on the ground, he observed. No one in this province would have been unsafe, he said. The Baloch, Pakhtuns and Hazara would have been living in peace and enjoying law and order in the province, the PTI leader added.

He defended the stand of some Baloch leaders, asking whom they should talk to for resolution of their issues and problems as no leader in the past had heard their issues. Now they were forced to seek complete independence, he said. Khan said Zardari, Gilani and Nawaz were incompetent rulers and they had failed to bring killers of Benazir Bhutto to justice. "If PTI got a chance to form a government, we will bring the killers of Akbar Bugti to justice," he told his audience in a firm manner.

"Nawaz Sharif is collecting people by distributing laptops and we will gather the people of Balochistan to bring lasting and durable peace," he added.

He claimed that some people had tried to scare him from visiting Quetta, adding that he had refused to submit to such false alarms and came to Balochistan to contribute his share in restoring peace in the province. "Where are the Rs 110 billion given to Balochistan under the NFC Award?" Khan posed a direct question to the provincial government. "Development of Balochistan is not possible as long as corrupt rulers are ruling this province and the country as a whole," he said.

The PTI chief promised to provide substantial development funds for Balochistan without any interruption, ensuring balanced development of the province. The process would continue till Balochistan is brought at par with other provinces, he said. "Development funds will not be handed over to MNAs or MPAs. They will not be granted any development funds. We will spend it directly on welfare of the people of Balochistan," he added. If the money received under the NFC Award was spent on the people of Balochistan, the ground situation would have been totally different, he said. Khan said he would bring justice to the entire country, adding that his plans would not be confined to Balochistan only. He said all the palaces built by the corrupt rulers would be converted into hospitals and educational institutions.

Khan said he was the first to raise voice against extra-judicial arrests and murders in custody as he believed that it would create hatred only and not serve any positive purpose. He said if PTI was given the opportunity, it would end the extra-judicial arrests and killings at once and the law of the land would be held supreme. The PTI leader invited the estranged Baloch leaders in self-exile to return to Pakistan and hold meaningful dialogue to resolve the pressing issues of Balochistan. He said he would fulfill all the promises he was making before the public gathering.

PTI president Makhdoom Javed Hashmi condemned the atrocities on the people of Balochistan, saying he remained a jail mate of Akbar Bugti during his political struggle. Akbar Bugti had announced to fight for the rights of Balochistan, Hashmi said. He advised Sardar Akhtar Mengal, Harbyar Marri, Brahmdagh Bugti and all other estranged Baloch leaders in self-exile to return and wage a struggle to liberate not only Balochistan but the whole Pakistan.


---


Ameejill Whitlock
End the US attacks on innocent Pakistani citizens!!!!! Over the past year there has been a series of episodes, including the shooting of two Pakistanis in Lahore by a C.I.A. contractor, the Navy SEALs raid in Abbottabad that killed Osama bin Laden and the deadly airstrike in November.



U.S. Plans No Disciplinary Charges in Strike That Killed 24 Pakistanis
www.nytimes.com
American officials, finding a chain of mistakes by both sides, have decided no service members will face disciplinary charges in a November airstrike that killed 24 Pakistani soldiers.


---
600 Political Prisoners in Tiny Bahrain. Grand Prix is a great Insult.
---

20 April 2012
Action Alert: - Write letters denouncing the Grand Prix in Bahrain

Contents
1. Summary 2. Background 3. Action required 4. Sample letter 5. Addresses for sample letters
1. Summary
The complicity of Formula One in the continuing abuse of human rights by the al-Khalifa regime is a gross insult to the people of Bahrain. The green-light for the 2012 Grand Prix to be held in Bahrain between 20-22 April illustrates this disregard for democratic reform amidst the injustice.
Write letters to Formula One demanding to know why they have not cancelled the race.
2. Background
The al-Khalifa regime in Bahrain has attempted desperately to ensure that the 2012 Grand Prix is held in the country. It has been backed by politicians, as well as business and sporting interests that have aimed to convince the world that Bahrain is a functioning democracy.
Since February 2011, at least seventy people - including women, children and the elderly - have been killed by Bahraini security forces and Saudi-led troops. There are at present at least six-hundred political prisoners in Bahrain, including many opposition leaders. Activist Abdulhadi al-Khawaja has been on hunger strike for over seventy days.
It is clear that democratic reform is not underway in Bahrain. The Grand Prix is being used as a political tool by the Bahraini regime to legitimise its disregard for human rights, and as a smokescreen to cloak its brutality. The situation is increasingly dire.
To hold the Grand Prix in Bahrain will be a gross insult to the Bahraini people - whose calls for freedom have been callously ignored by a regime that continues to murder, torture, arrest and intimidate ordinary people. There is still time for Formula One's management to stop the race to legitimize torture and oppression.
3. Action Required
IHRC requests its campaigners and supporters to write letters and emails to the President of Formula One Management demanding the Grand Prix is cancelled and the protestors are legitimised.
4. Sample letter

---

Sample letters are given below for your convenience. Please note that model letters can be sent directly or adjusted as necessary to include further details. If you receive a reply to the letter you send, we request you to send a copy of the letter you sent and the reply you received to IHRC. This is very important as it helps IHRC to monitor the situation with regards to our campaigns and to improve upon the current model letters.

---

a) Bernie Ecclestone c/o Formula One Management
Bernie Ecclestone c/o Formula One Management 6 Prince's Gate London SW7 UK

[Your name] [Your address]
[Date]

Dear Bernie Ecclestone,
Re: Race to legitimise torture and oppression in Bahrain.
I am writing to convey my disappointment that you have chosen to allow the Grand Prix to take place in Bahrain this year.
In seeking to ensure that "law and order" and "stability" are guaranteed at the Grand Prix, the Bahraini regime - encouraged by yourself, the FIA, and British MPs - have increased their efforts to terrorise the country's opposition movement. These have included early hour crackdowns and arrests on those that have engaged in previous protests.
Since February 2011, at least seventy people - including women, children and the elderly - have been killed by Bahraini security forces and Saudi-led troops. There are at present at least six-hundred political prisoners in Bahrain, including many opposition leaders.
Security forces frequently disperse demonstrations using tear-gas, rubber bullets and live ammunition - and reports of politically motivated kidnappings are on the rise. All activists live in fear of government reprisals against their protests.
Given the conditions in Bahrain, how can you justify allowing a sporting event to be held there? To allow the Grand Prix in Bahrain lends legitimacy to the al-Khalifa regime, whose heightened repression has continued unabated since February 2011.
There is till time to stop racing over the blood of innocent protestors.
I look forward to you reply so that you can explain your complicity in the Bahraini regime's state of repression.
Yours sincerely,
[Your signature] [Your name]

---

Please help IHRC by visiting http://www.ihrc.org.uk/catalog and making a donation or buying an item from our on-line store.



2012-04-23 Mon 18:53:25 cdt
NewTrendMag.org